Hey friends! Welcome to week six of the One Room Challenge! If you noticed, last week we didn't have an update and that's because of the black lives matter movement that's been happening. They (rightfully) decided to not have any of us post our rooms in support of what was going on.
If this is your first time joining us today, we'd love for you to catch up on the first few weeks of this challenge. We are renovating our daughters bedroom into a Peruvian themed room. Here are the last few weeks: Week 1, Week 2, Week 3, and Week 4.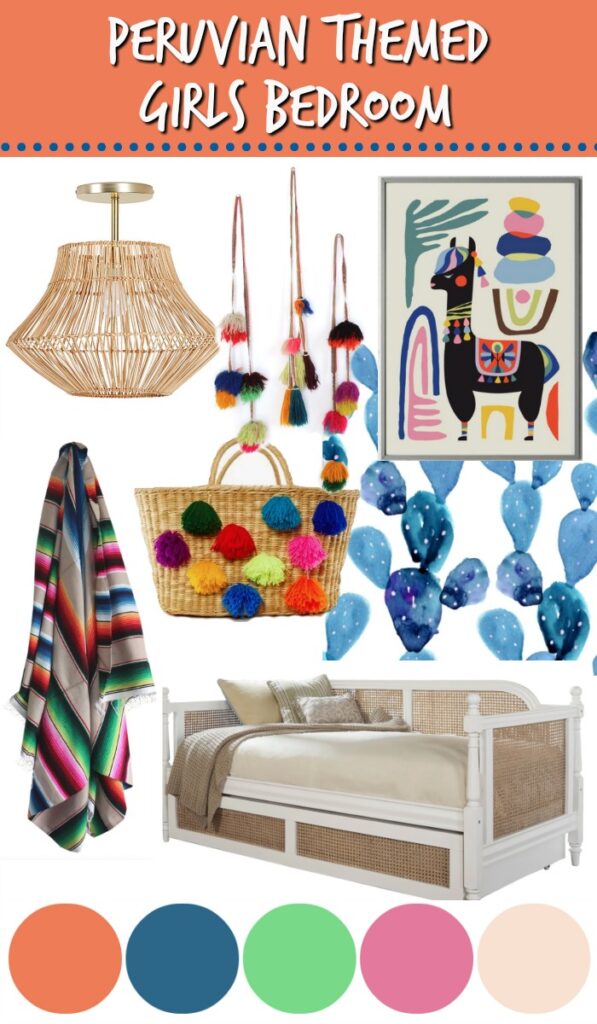 This weeks update is all about paint! I absolutely LOVE the transforming power of paint. If you've been following us along our previous One Room Challenge journeys, you'll likely remember that we've generally played it pretty safe with paint. We've sticked to mostly white and then in the odd case a blue board and batten wall in our powder room and a black wall in the boys bedroom. But typically, we've gone down a very neutral colour palette for the walls while letting the furniture and accessories do the talking.
But in this room, I decided to swap that completely! When I was doing research online for what was traditionally in Peruvian decor, I noticed right away that there was LOTS of colour. Many of the examples I saw online, however, had plain walls and had the furniture and accessories colourful. Because I had done that already so many times, I decided I would flip the switch and splash colour all over the walls and keep the furniture neutral. This decision was also made with my daughter who also wanted really colourful walls…now. What I mean by saying she wants that now is that we all know kids ideas change. Heck, our ideas as adults tend to change. What she likes today might not be what she likes in a couple of years. So another reason I wanted to do it this way was because it's much easier to repaint her walls if she ever tires of the colour palette rather than swapping out her furniture.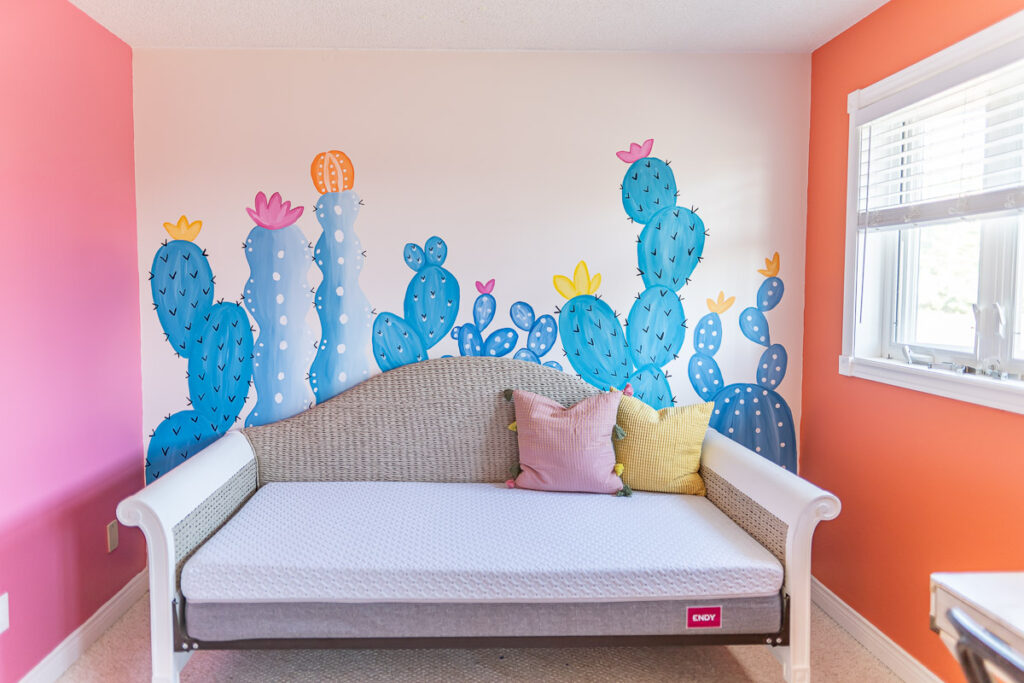 We are delighted to have partnered up with Valspar Paint for the paint in this room! We've partnered with them on a number of projects before and we absolutely love their Signature paint collection.
For the walls, we decided to go with "Spanish Dancer" for the orange wall and "Peruvian Pom Pom" for the pink walls. I actually wasn't seeking out colours with names that matched our theme – I was looking based on the colour palette I had in mind. But when I found those two colours I thought it was clearly the perfect indication that we were on the right track with those paint names!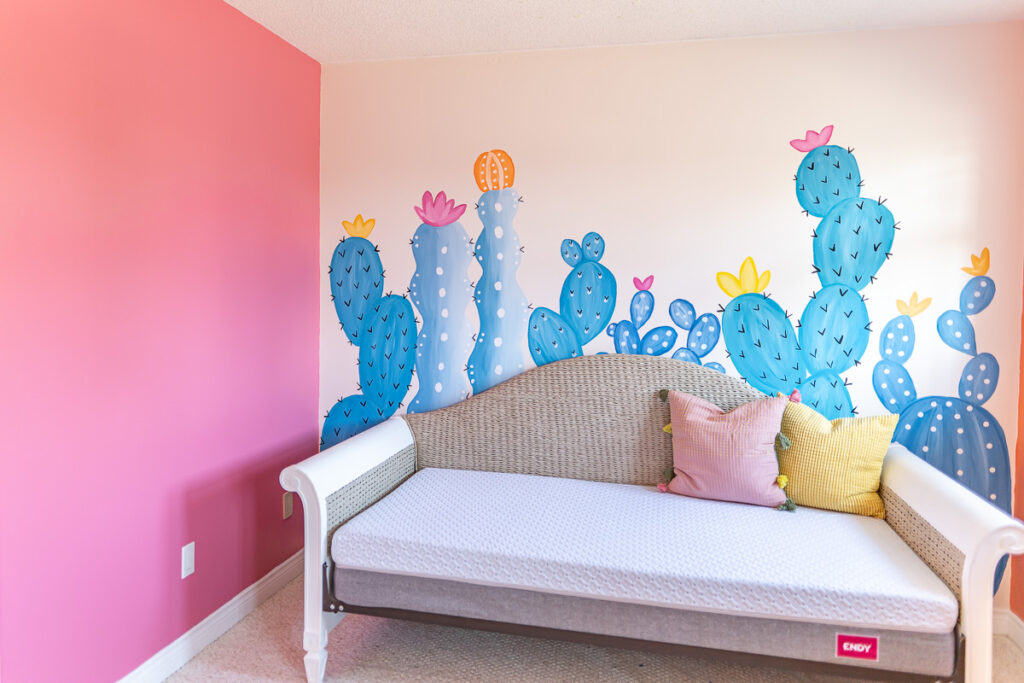 Peruvian Pom Pom is such a beautiful colour of pink. It has such a richness and depth to the colour and truly a gorgeous shade of pink. When it comes to Spanish Dancer, I'll be honest, I was a little more apprehensive. I've never painted a wall orange before so I wasn't 100% confident in how it would look. Being even more honest, I wasn't 100% sure I loved it after I painted it – not because I didn't love the colour itself, but the way the light reflected on it. Because it's on the window wall, I find it looks much darker than what it does on the actual swatch. I actually called a few friends on video chat and asked them their opinion, including my daughter and rest of the family, and everyone agreed that it was perfect!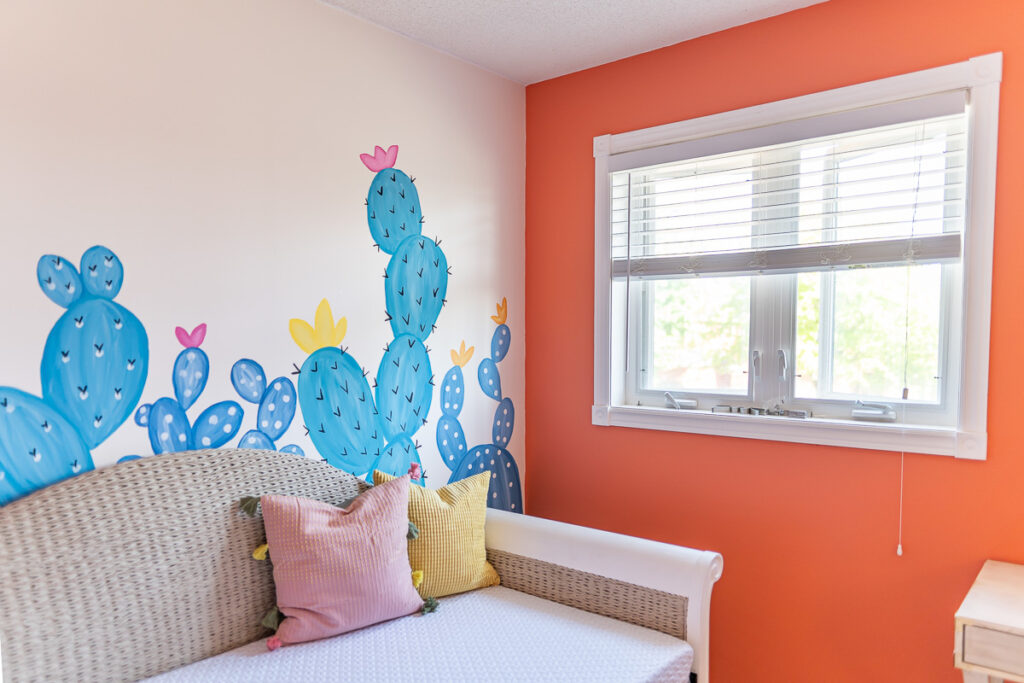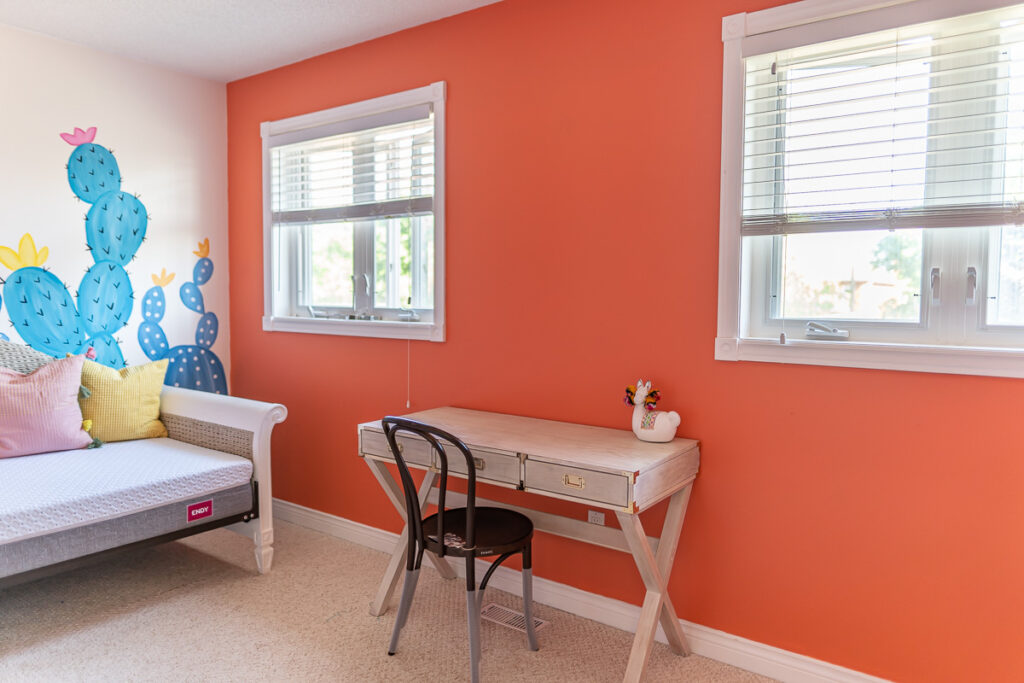 I think part of my second guessing comes from the fact that I've mostly painted mostly white walls or neutral colours the last few years. Back in the day, when we were first married, I remember painting a red wall in every apartment we lived in! I didn't shy away from colour then, so why would I now?!
I think that once we get all the styled elements in the room, all of the colours will work SO well together! I can't wait to see it all come together!
Finally, I have to talk quickly about the cactus wall. I will do another post and video tutorial on exactly how I did it, but for now, I wanted to share this DIY mural with you! I'm by NO means any artist whatsoever. I can't draw to save my life. But, like I did the last time I painted a mural in my daughters room, I just free handed it and went for it! Using just a pencil and following a couple of designs of cacti I found online, I was able to replicate it on the wall.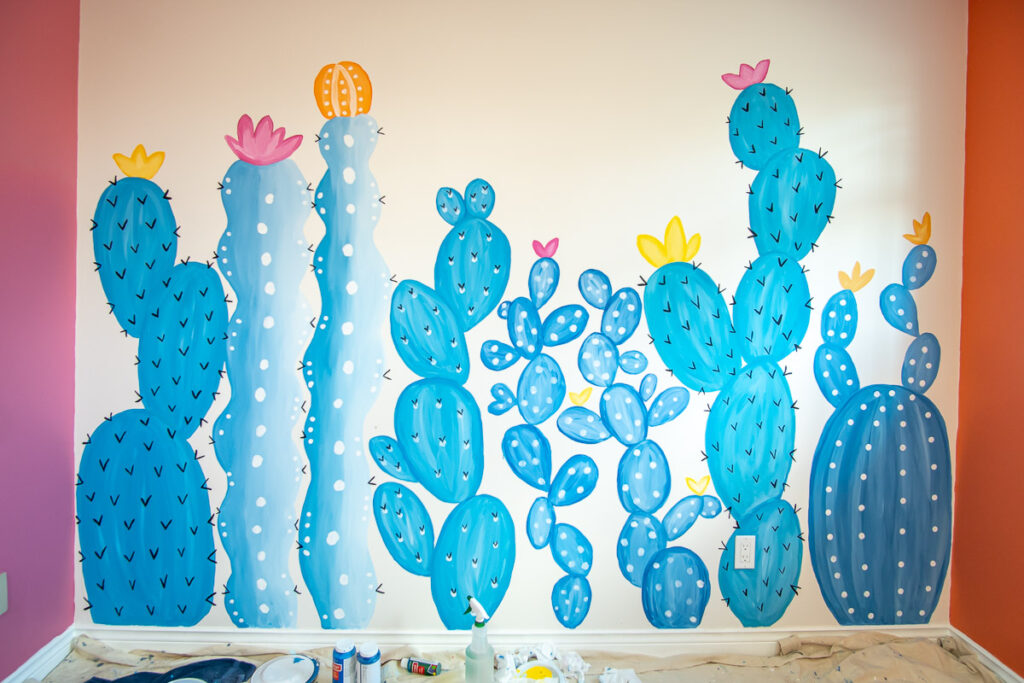 When it came to the paint for these, I just used craft paint from the craft store. I did dilute the paints with water as I was painting it to give it a more watercolour look to it. I also used three different shades of blue paint and lots of white to make new shades for each cactus I was painting. Again, I'll have more on this soon!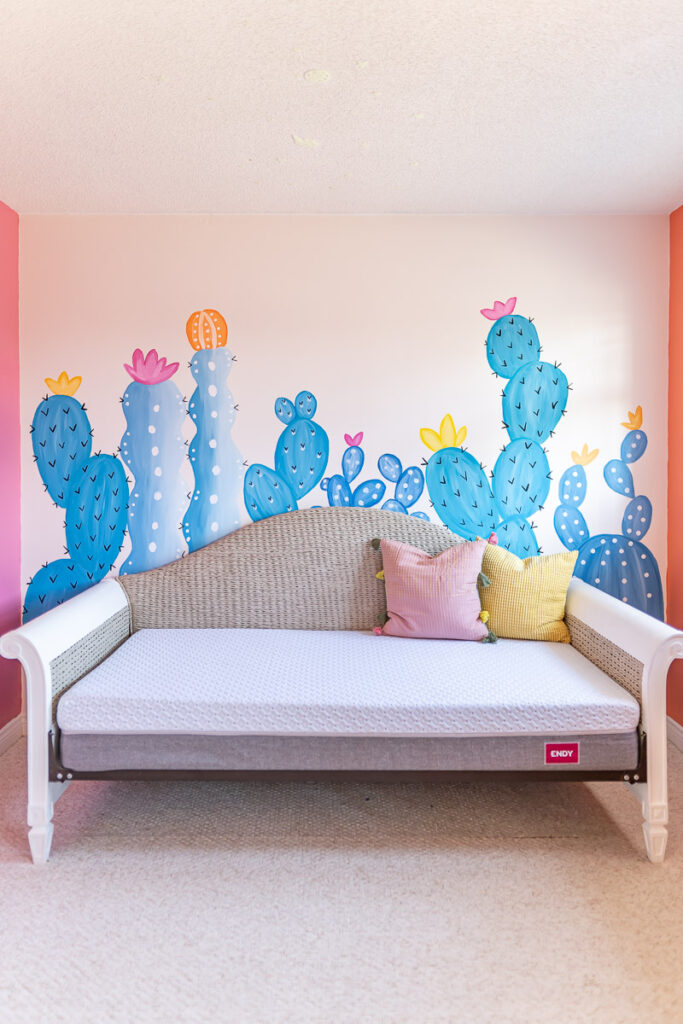 That my friends is your week 5 and 6 update! Only two weeks left and it's reveal time! I cannot wait for you to see it all come together!
Stay tuned!
Love & Blessings,
Christine
Note: This post was sponsored by Valspar Paint Canada. As always, all thought and opinions are 100% my own.