Welcome to Week 7 of the One Room Challenge! It's hard to believe we are nearing the finish line with only one week – the FINAL reveal week of this Spring challenge! We have spent the last seven weeks renovating our daughters bedroom and transforming it into a Peruvian themed, coloured oasis!
If you are new here, we'd love for you to catch up on what we've been doing in this room for the last six weeks: Week 1, Week 2, Week 3, Week 4, Week 5 & 6.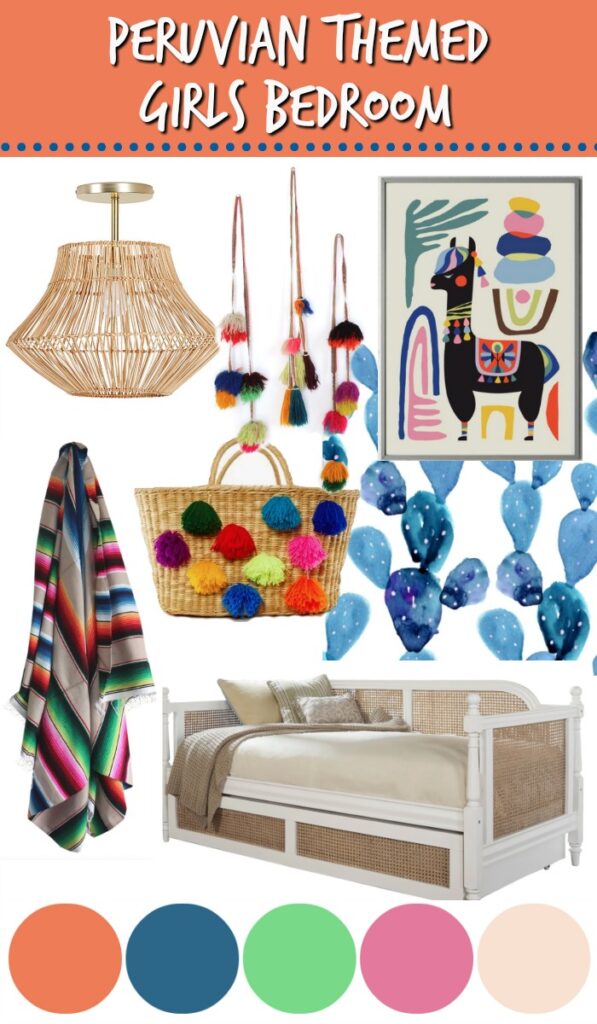 Renovating this lifeless room the last seven weeks has actually been more about infusing paint and upcycling items rather than doing lots of heavy construction work. Sometimes makeovers can be done on smaller budgets without much building or construction work yet can completely transform a space. And that's been our experience with this room.
The one thing we did build for the room, however, was a trundle bed for under the daybed. We knew that when we downsized my daughters queen bed to a twin that we would need to build another bed for when she has sleepovers. Once we got the bed from Facebook Marketplace, we realized there was in fact enough room to build a trundle bed to slide in under her daybed.
We looked a few different tutorials (as we normally do) and ultimately came up with our own version (also, as we normally do)! It took Chris just a couple hours to complete it – we will have a full tutorial of how we built the bed in a few weeks time. It's honestly so easy and affordable, so make sure to stay tuned for that!
Today, though, I wanted to talk about the mattresses we chose for our daughters new bed! If you follow me over on Instagram, you will know that we partnered with Endy last month to test drive their King size mattress for our room. We are currently still doing the 100 night sleep challenge, so I'll keep you posted on my final thoughts for that.
But when we got the king size mattress, we also got two twin mattresses for my daughters room, knowing we would be building this trundle bed. Truth be told, besides her crib, my daughter hasn't had a new mattress in her 10 years of life to sleep on. She's always had hand-me-down mattresses. For the last 5-6 years, since she's been in her "big girl bed", she's been sleeping on our old Queen bed. While there was nothing wrong it, in this room in our new home, the bed was just way too big for the space. It took up 2/3rd's of the rooms floor space.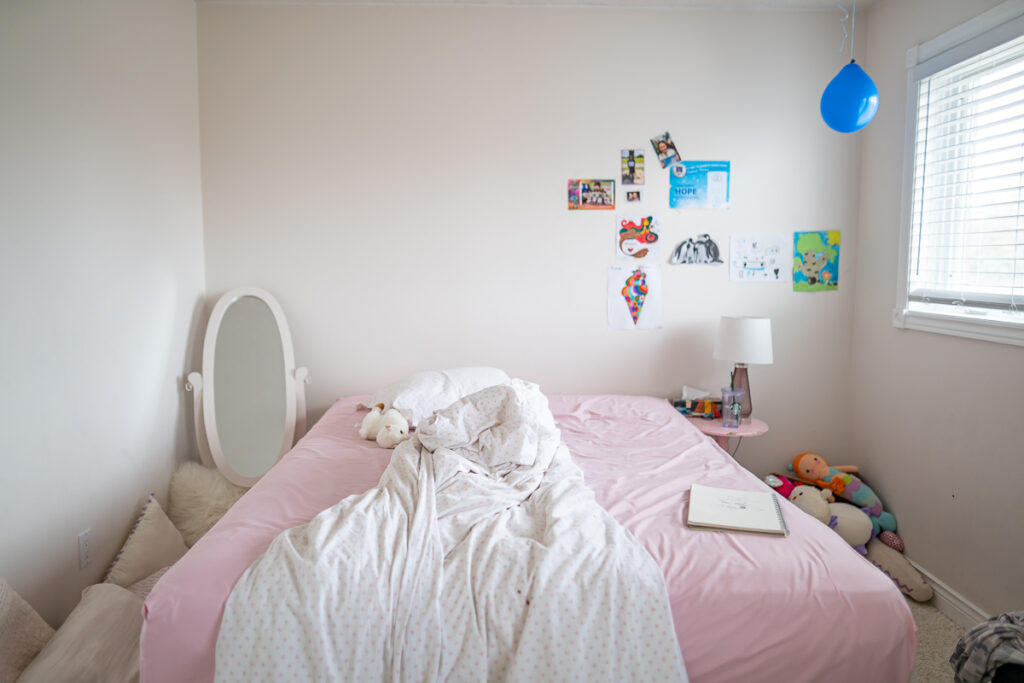 So it was time for a change!
So why Endy, you might ask? Let me tell you!
For starters, we love that Endy is a Canadian company. It was not only founded in Canada, but it's made by Canadians, for Canadians. This helps lower the costs significantly for Canadians are you don't have to deal with cross border taxes and long distance shipping fees. They are also able to source the materials locally here in Canada making it more sustainable and affordable.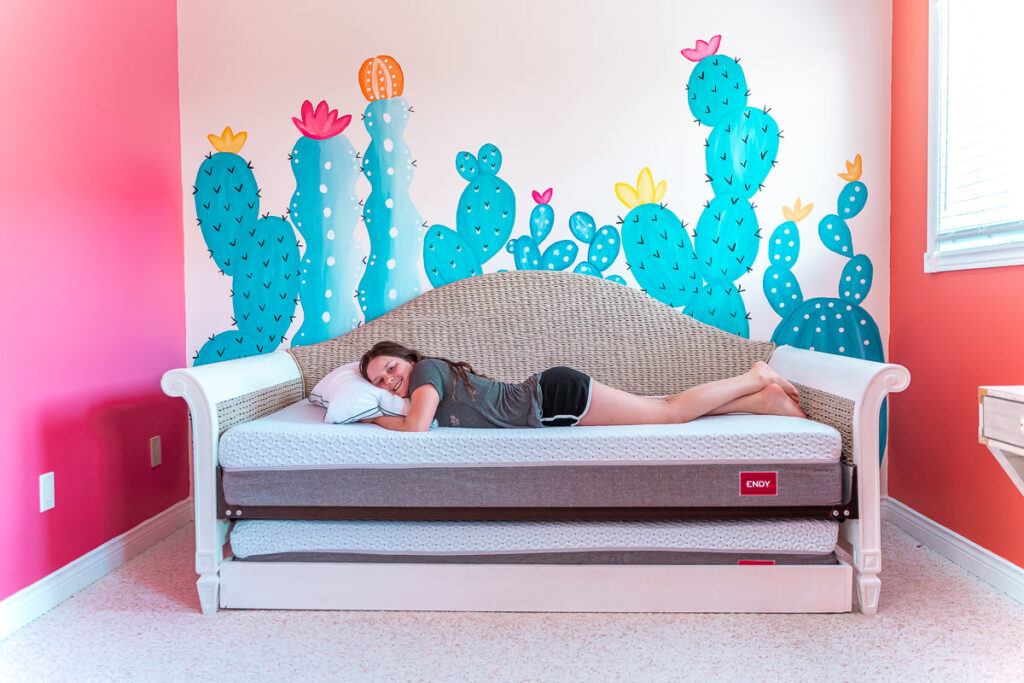 It's also one of the first Canadian companies that decided to bypass the traditional brick and mortar store and ship it directly to the consumer, giving them the ultimate flexibility when purchasing a mattress. Going a step beyond that, they are backed by their 100 night sleep guarantee – if you don't like it after 100 nights, simply ship it back!
But beyond being proudly Canadian and having a great selling/shipping model, the mattress itself is unlike any other memory foam mattress. Endy's mattress are built with four different layers, allowing for the best night sleep possible. The mattress adapts to your body by evenly distributing the pressure evenly on the top layer. It calms the movements you make in order to create more peace for your partner sleeping beside you. It responds to your bodies shape in order to help you find a comfortable position fast in order to sleep sooner (and longer). It also cools – unlike other memory foam mattresses – it disperses and releases the heat your body creates in order to create a cooler sleeping environment.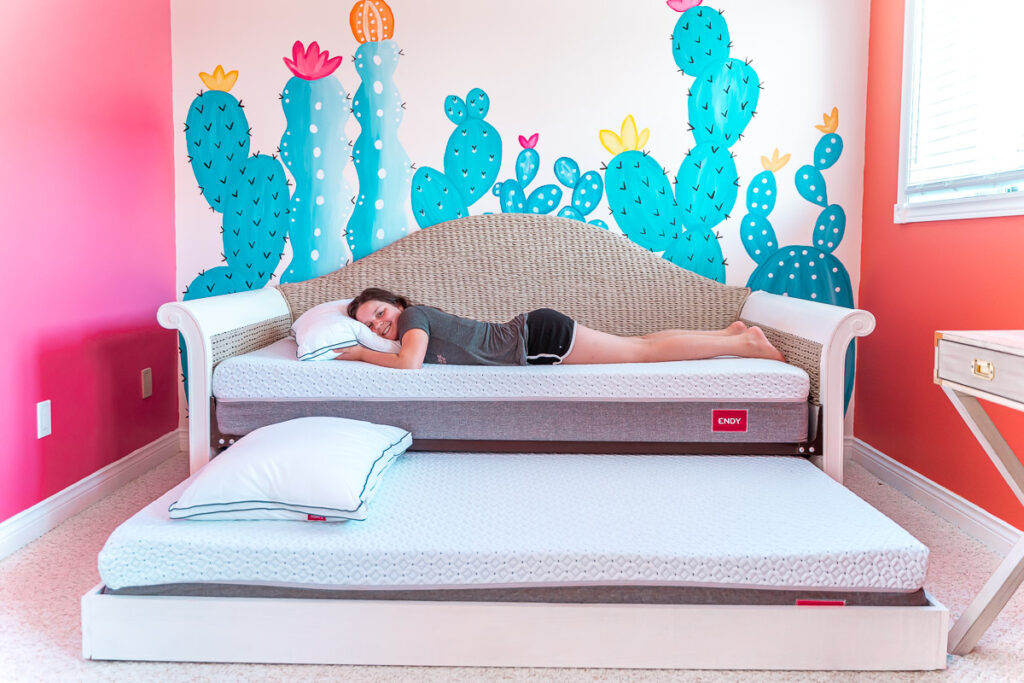 My daughter has been sleeping on it for about a week now and she has said it's the comfiest mattress she's ever tried! I'm finding she's actually been sleeping in longer than before – no joke!
It didn't take us long to get sold on the Endy mattress! I still have a couple more weeks in my 100 nights challenge, so make sure to be watching my Instagram for that report coming soon! For now, if you'd like to learn more, you can shop Endy HERE! They are currently having a Canada Day sale on so it's the perfect time to take one for a test drive!
But for now, we are resting a little easier and more comfortably thanks to Endy!
And – make sure to come back NEXT WEEK for the FINAL reveal of this space! I can't wait for you to see how we pull it all together! STAY TUNED!
Love & Blessings,
Christine
Note: This post was sponsored by Endy. As always, thoughts and opinions are 100% my own.