Welcome to Week 3 of the Spring 2019 One Room Challenge! If this is your first time here, I'd love for you to catch up on the previous two weeks of this challenge: Week 1 and Week 2. We are renovating our main floor powder room in a maximalistic French design. Here is the mood board and let me tell you, we are SO excited to see it come to life.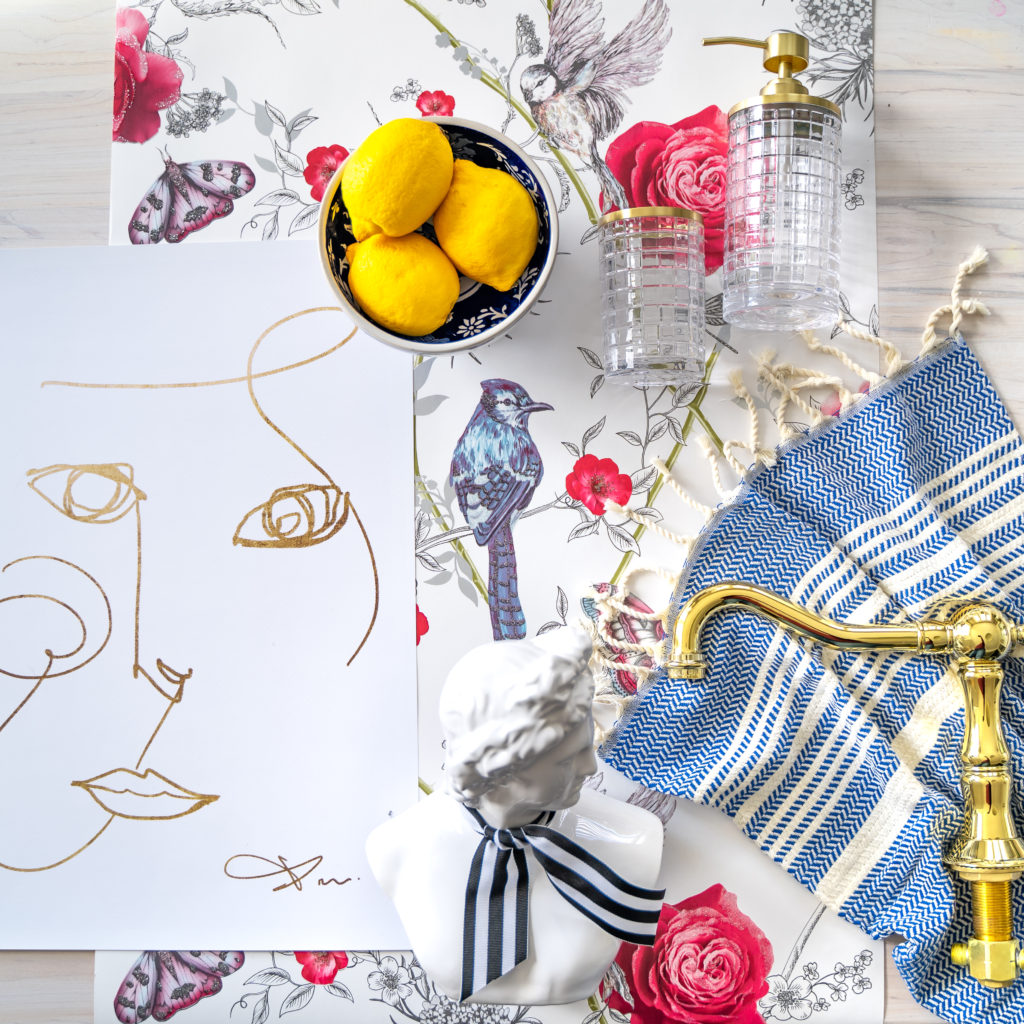 It's hard to believe that this week marks the halfway point of the ORC. I think what makes it even more difficult for me to wrap my head around that fact is because we have barely done anything in our powder room! *insert gasps*
To be fair, the room is completely demo'd, the design is set and we have (almost) of all of the parts we need. But that's where the issue lies – missing parts! We are waiting on the critical plumbing parts in order to get things started. Before the drywall goes up, before the tile is laid, and before any paint is rolled on, we must get the plumbing for the sink in place.
So as you can see, we are at a bit of a standstill with this renovation. We've actually taken on two other renovations while we've been waiting, but we will save those details for another time (if you follow me over on my Instagram, I've been sharing behind-the-scenes sneak peaks on my stories!). But this happens often time during renovations is that you get delayed because either a certain part hasn't shown up or perhaps you're waiting on a permit or maybe even the contractor or tradesman called in sick.
There are so many variables when it comes to home renovations and as I shared a few weeks ago, not many people talk about the things that go wrong, break down or come to a standstill. But the reality is that it happens to EVERYONE! Especially when you are ordering custom parts or very specific pieces (often times coming from other countries), it can take awhile to get everything in on time. And that's exactly what's happened to us.
So while we are at a standstill and have nothing really to show or report this week on our renovation other than the exposed walls, I thought I'd share with you the sink we decided to go with and why we ended up having to order specific plumbing pieces to fit with it, which ultimately is the reason we are in this holding pattern until they arrive!
I knew very early on when designing this powder room that I wanted a console sink. I had seen this image from Ashley Manfred while searching on Pinterest for inspiration and my jaw hit the ground! STUNNING!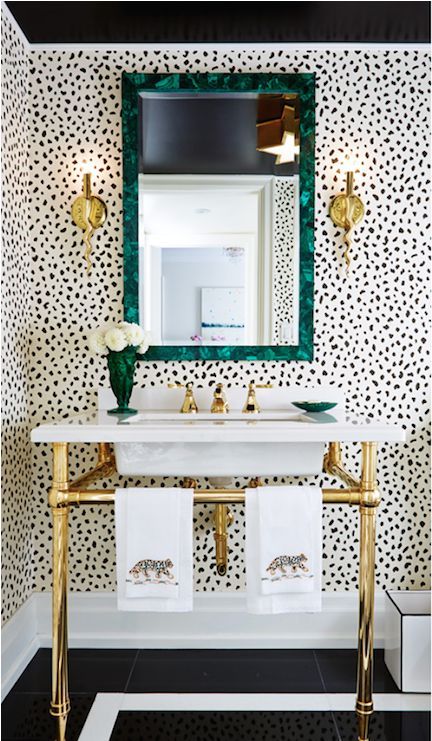 I have always loved the look of a console sink with brass legs and an exposed underbelly of the sink. I've always thought the look had a real old school Victorian vibe which goes perfectly with the French theme I was inspired by for this room.
It's probably the perfect time to tell you that we are partnering with Wayfair.ca for this renovation and we honestly can't wait to show you the AMAZING products we found on their site. Another post for another day will be about what it's like to design a room entirely online, without seeing any of the items in person. The one thing I'll let you in on now though is MEASURE, MEASURE, MEASURE! Because you can't see the scale of the items as pictures are often deceptive when it comes to actual size, reading the measurements in the items description and then stacking those up against your room measurements is CRUCIAL to having online items be a success for a home reno.
The reason I bring that up is because after I saw the above sink and fell in love, I started searching Wayfair. Let me tell you, I was blown away by the options on there for not only bathroom vanity's but specifically for console sinks. Here's the first option I LOVED!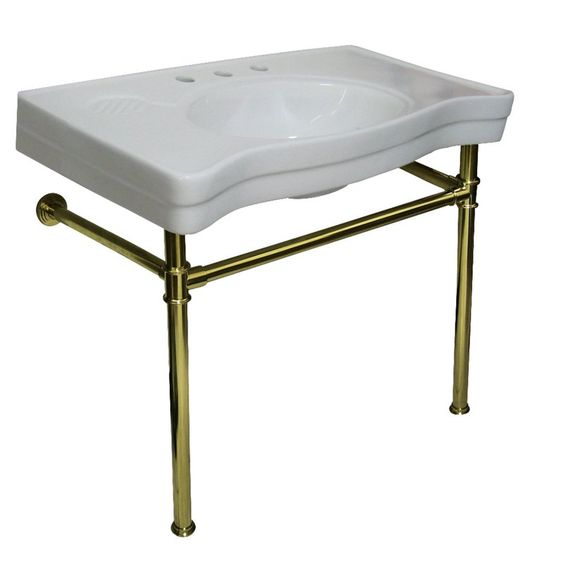 Isn't she gorgeous?! Not only did I love the white ceramic against the brass legs, I absolutely LOVED the curved front detail. I feel like it adds a real delicateness to the piece. But alas, when I went to measure, I realized that this console sink is a BEAST! There is no absolute way it could fit in our tiny, 25 square foot powder room (unless we decided to forego the toilet, but that might be weird!) So it was back to the drawing board.
Next, I saw this console sink and liked it too. I didn't love the back plate as much though, but I did love the carrara marble countertop! SO gorgeous! But again, it was just way too big for our small space.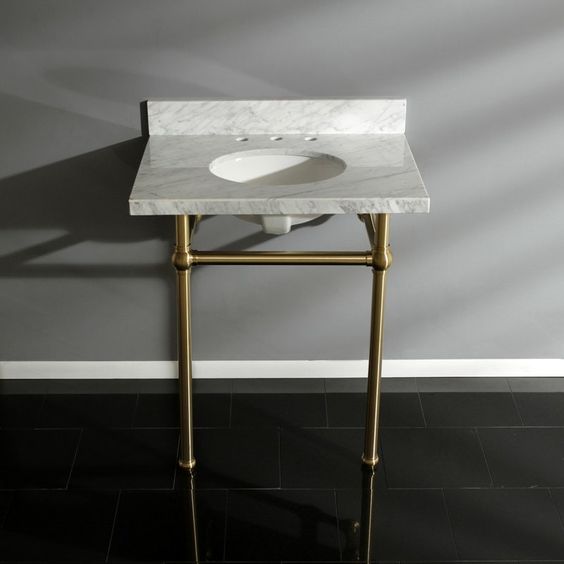 I finally came across this 24″ white ceramic console sink from the Whitehaus Collection and knew it was the one! For starters, it was the perfect size for our tiny bathroom and second, it fit in exactly with the style I was looking for with the brass legs and white top sink. It even has an optional towel rack that you can add to either side of the legs.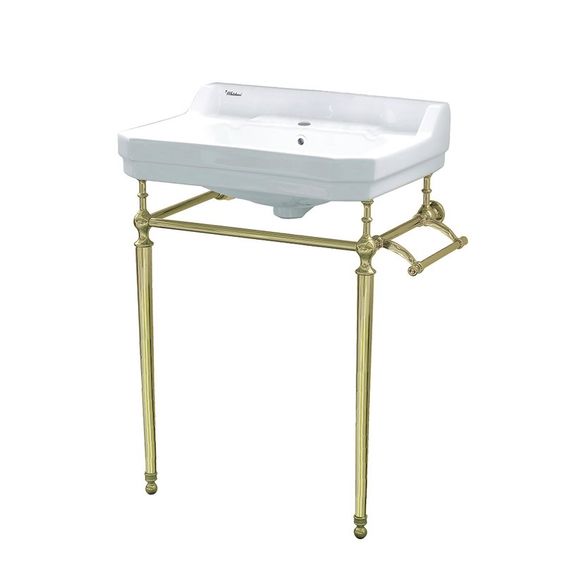 So that my friends, is the sink that we are going with! SO different than any vanity we've ever had in our previous homes which makes me SO excited! The sink has arrived (in the craziest packaging, making sure it was well protected) and it is GORGEOUS! Oh man, I can't wait to install it and show you guys!
But as you can see, all of the plumbing that is needed to get the water from the pipes up into the sink will be exposed. And because of that, we need it to be brass so that it will match the legs and frame of the sink. Because we've never installed a sink like this before, it took as awhile to figure out the kind of pipes we needed and where we could find it all in brass. We actually didn't have to look too far once we figured out the materials we needed as Wayfair.ca had them in stock! They are coming from California though, so because of that, it's taken a little longer to arrive. But we should have them by this coming Monday which means, we should have the plumbing all worked out by next week and our renovation back up and running!
Well there you have it friends, the real, not-always-so-smooth sailing side of renovations that can sometimes mess up your schedule! If you've done the math, you will realized that we will really only have about two and a half weeks to finish this space rather than the full six weeks, but we are confident that we can get it all done and it will be well worth it!
Come back next week to see if we received the plumbing in time and the progress that we've made!
Love & Blessings,
Christine

Thank you to Wayfair.ca for being a sponsor on this project!