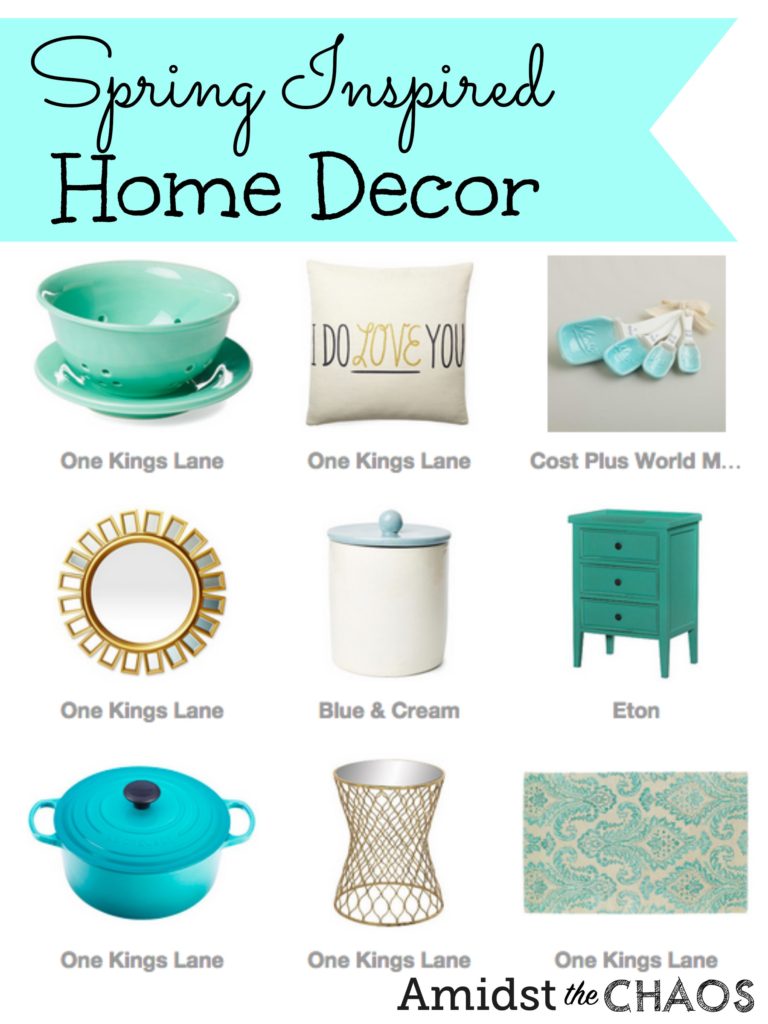 We are so excited to be sharing with you our latest "Obsessed With" curated board! This week, we are feeling the spring vibes and have been inspired by everything soft blue/teal and gold! Such a perfect color combination for spring as we start to usher in the warmer temperatures and the budding trees!
I've included two mirrored pieces: mirrored decor serves a few functional purposes other than just looking awesome! First, you can always catch a quick glimpse of how you're looking! But more importantly, it helps reflect the natural light into your room. If you have an especially dark room, without much natural light, try adding a mirrored piece of decor and you will be amazed at how your space not only brightens but also feels bigger!
We are also so excited to share that we've partnered up with ShopSense: a way that you can now shop directly from my BLOG! That's right…all of the images you see below, you can click on them and they will take you directly to various online stores, where you can buy that exact item! How exciting is that?! People often ask me "Where did you find THAT?!" Well now I have a place to share with you exactly where you can get similar and if not, the same items, directly at your fingertips!
Most of today's items come from the lovely One Kings Lane while the spoons are from World Market. Some items as low as $5!!! Happy shopping!
1. Small Strainer, Aqua: One Kings Lane
Handcrafted of earthenware, this adorable mini strainer is perfect for rinsing your favorite fruits and vegetables. A matching plate turns it into the perfect vessel for holding the produce after washing. Talk about the perfect hostess gift?!
2. "I Do Love You" 20×20 Pillow, White: One Kings Lane
Tell them how you feel with this faux-linen pillow, reading, "I do love you." I just absolutely love pillows with words on them! Expresses how you feel and adds a personal touch to any home!
3. Mason Jar Ceramic Measuring Spoons: World Market
Our Mason Jar Ceramic Measuring spoons are embossed to capture the look of vintage blue mason jars. These chic measuring spoons are tied with cotton ribbon and nest for easy storage. I'm ordering these now! How cute are they?! The perfect little gift for your girlfriend next time you visit!
4. Sunburst Beveled Wall Mirror, Gold: One Kings Lane
With its gold-leaf frame, mirror will add depth and visual interest to any wall. Sunburst decor is as "hot" as ever, especially as we get set for summer! Make sure your walls are sizzlin' in style with this mirror!
5. Medium Canister, Blue: One Kings Lane
Topped with a blue lid for a hint of color, this earthenware canister is perfect for holding cookies, candy, coffee, and other dry goods. Can one have too many canisters? A perfect addition with a pop of color to add to make your countertops spring-ready!
6. Eton, Three-Drawer Nightstand, Teal: One Kings Lane
This three-drawer side table features a gallery-style top and bold teal finish. It's constructed of durable mahogany with brass hardware drawer pulls. This is stunning piece can be used also as an end table in your living room to bring in a pop of color!
7. Le Creuset 5.5qt Round Dutch Oven, Caribbean: One Kings Lane
Braising or searing meats before making a stew in the same pot keeps kitchen messes to a minimum: this 5.5-quart, brightly colored, round French oven is up to the task. The spacious interior accommodates larger ingredients and holds enough servings for a crowd. I absolutely love my dutch oven and wonder where it's been all of my life! While you're cooking, be whisked away to the Caribbean with this beautiful aqua colored pot!
8. Laurie Side Table, Gold: One Kings Lane
This iron side table is topped with a glamorous mirror. Its round, curved design is enhanced by a chic antiqued gold finish. Mirrored decor is all the rage right now and adds a depth to your room as the light reflects of its surfaces! Let more of that glorious sunshine, shine in with this piece!
9. Lia Area Rug, Various Sizes, Turquoise: One Kings Lane
Traditional motifs get a modern update with bold, fashion-forward hues. A rug pad is recommended to keep this foundation securely in place. Talk about an amazing area rug, available in five different sizes, this unique rug will have all your guests talking!
I hope you've enjoyed shopping the blog today! What a fun new feature we are excited to offer our readers! Let us know in the comments below which were your favorite pieces and if you purchased any for your home!
Love & Blessings,