I love music. I also love Barbie. And so when my daughter came to me with the idea of a Rockstar Barbie birthday party, I was pretty excited.
She originally just wanted a rockstar party. She has always been into music and loves dancing. This was a party theme she had been thinking about for a long time and was excited to watch Mommy bring it to life.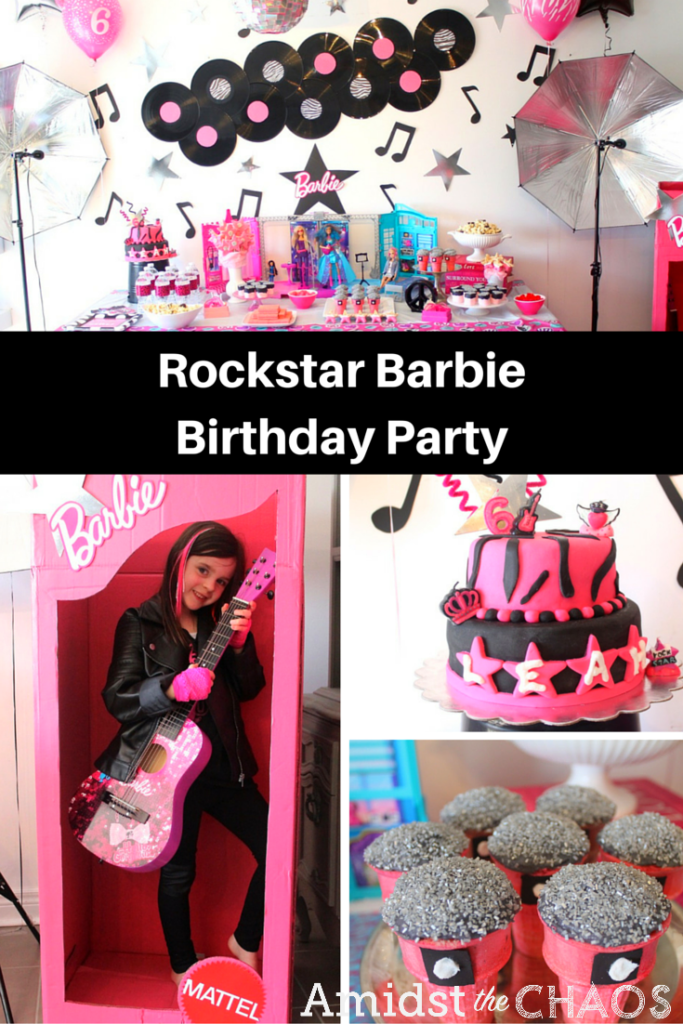 Then, back in early March, I was invited to a Barbie #YouCanBeAnything event where I was able to bring my daughter and she could choose whichever Barbie she wanted. Naturally, she chose the rockstar.
What I didn't know was how amazing this event would be, where my daughter would quite literally get the opportunity to become a rockstar! We are talking everything from an actual guitar, headphones, leather jackets, colored hair extensions, gloves, etc! She was even selected to receive a special rockstar Barbie stage for her to take home and have Barbie shows for all her dolls!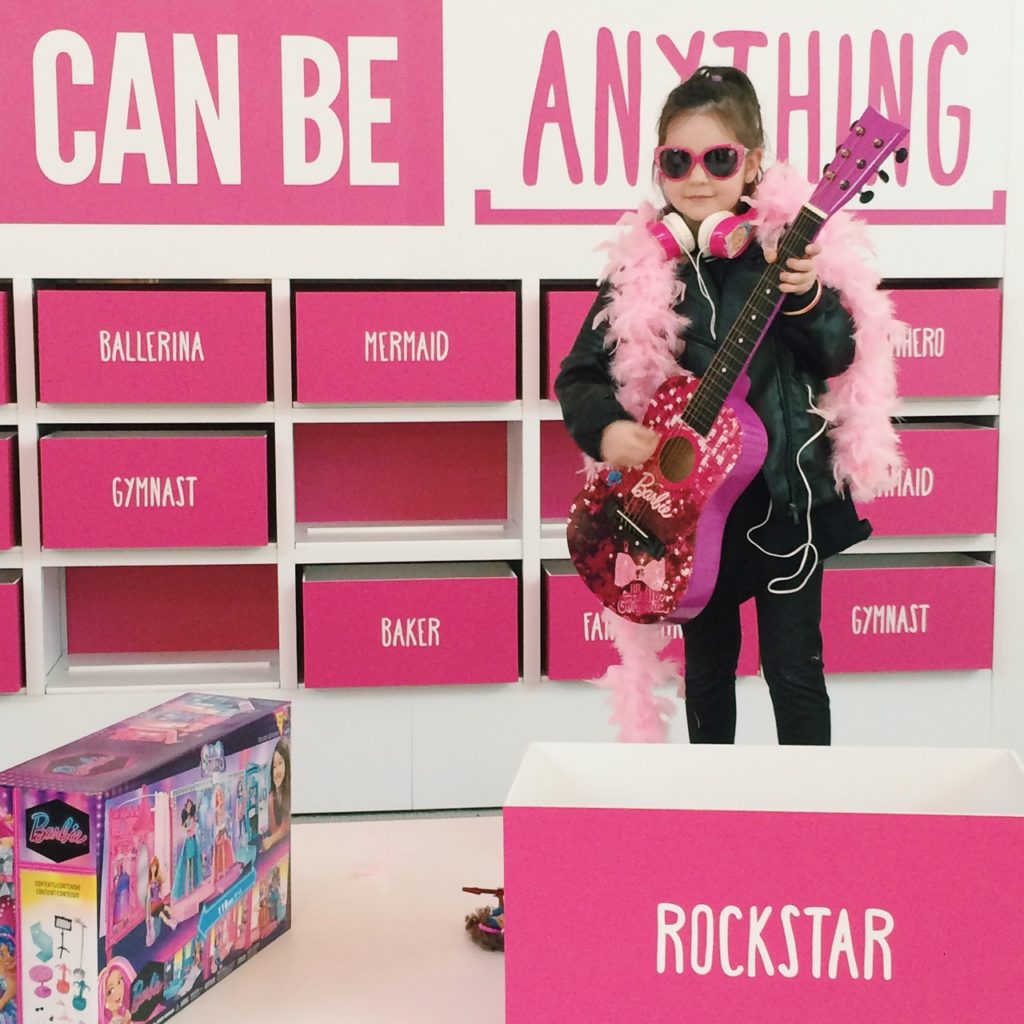 Well, needless to say, after that incredibly fun time, my daughter's vision for her Rockstar party shifted somewhat and now HAD to include Barbie!
Using many of the props and gifts that she was given at the event, we used those as the jumping off points for the party decor. The Barbie stage was the main centrepiece for the table, including Rocstar Barbie herself.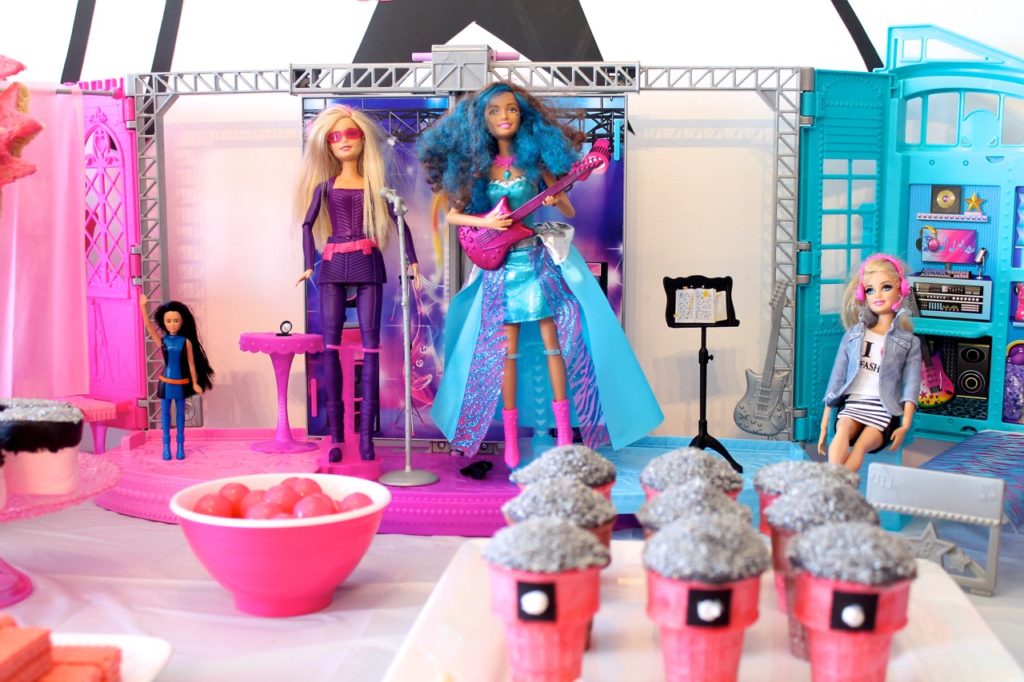 For the backdrop of the table, I found some old records at my local thrift store and cut out pieces of cardstock to cover their labels. This served as the main piece directly behind the table. Then using bristol board, we traced and cut out musical notes and stars for added affect.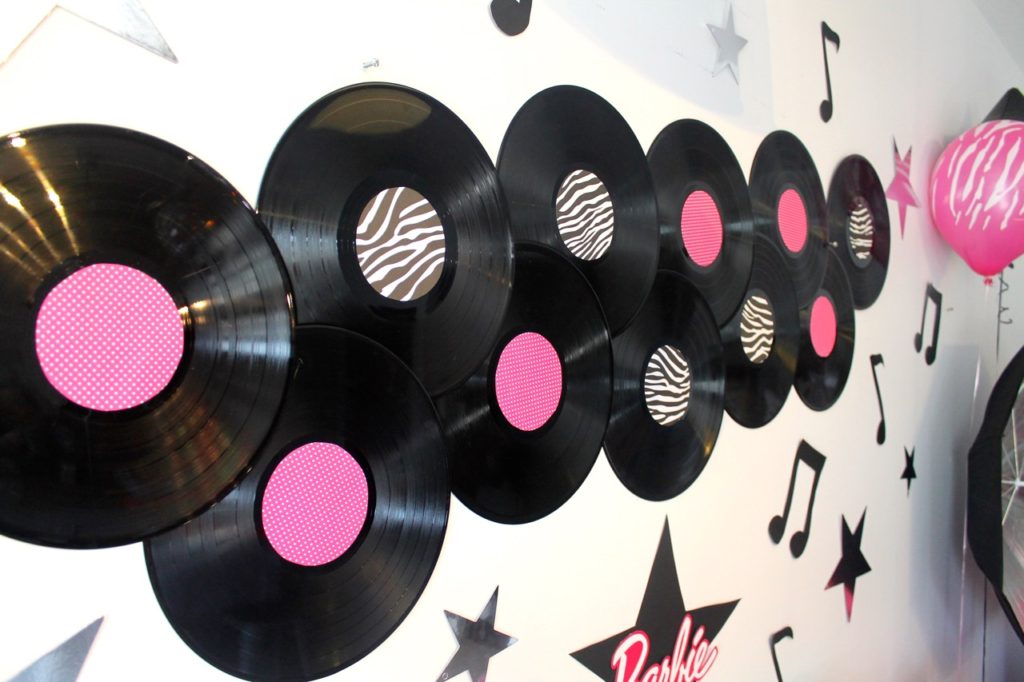 Most of the treats, I created myself, trying to keep everything within the pink or rockstar theme. The microphones were actually cupcake ice cream cones and the kids just thought that they were the coolest thing!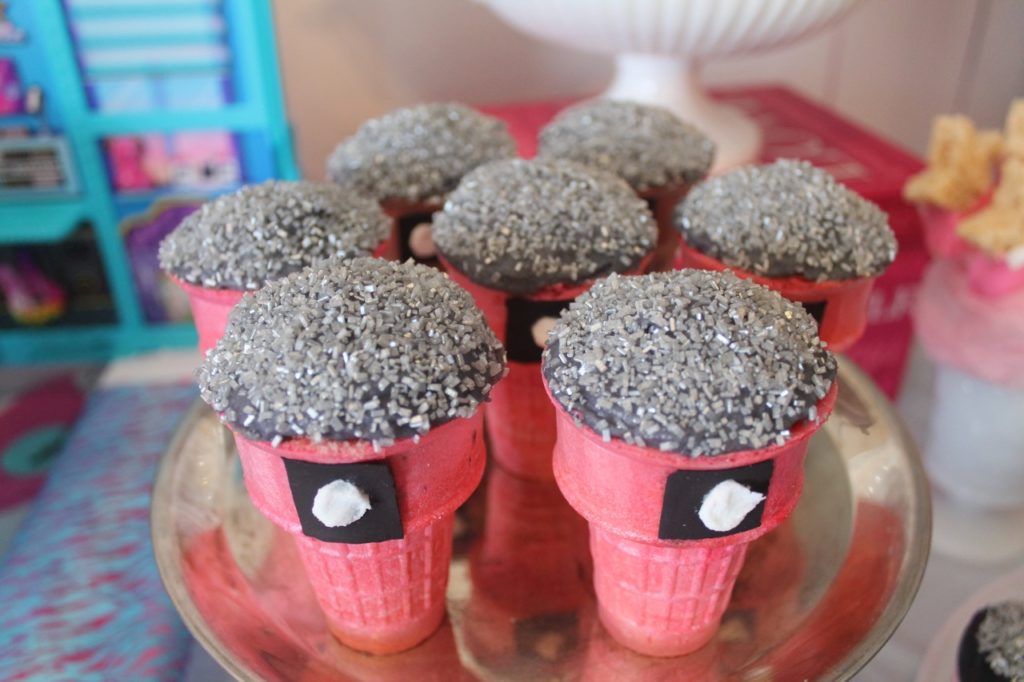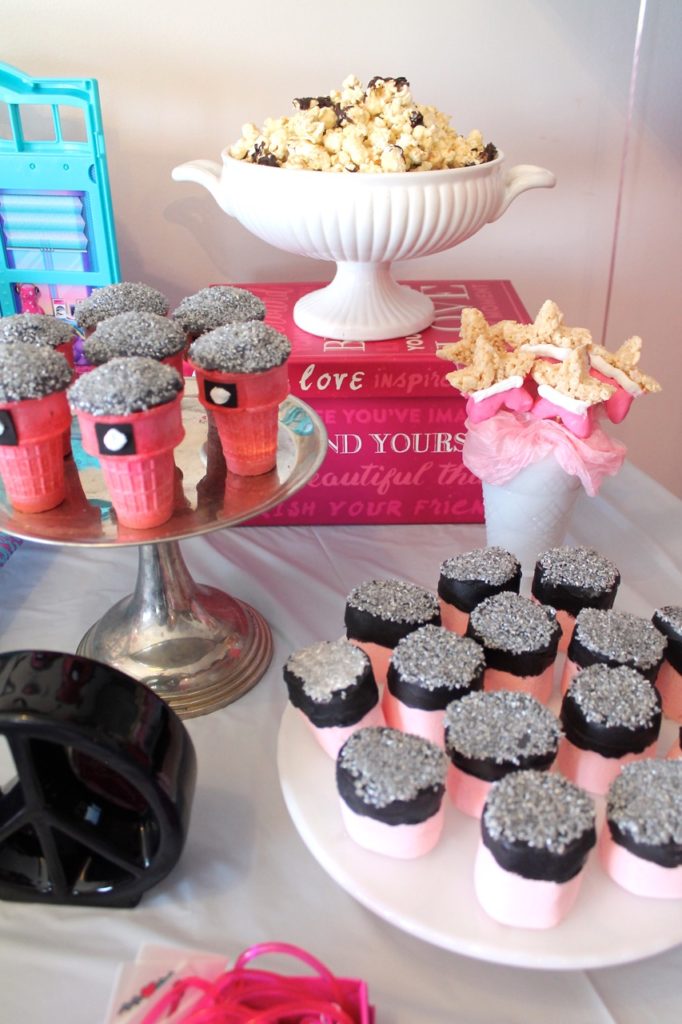 I made the cake myself and will be doing a tutorial very soon about how you can make tiered cakes too! I've been studying how to do these for the last few months and while they are time intensive, they aren't that difficult to make. So make sure to stay tuned for that tutorial!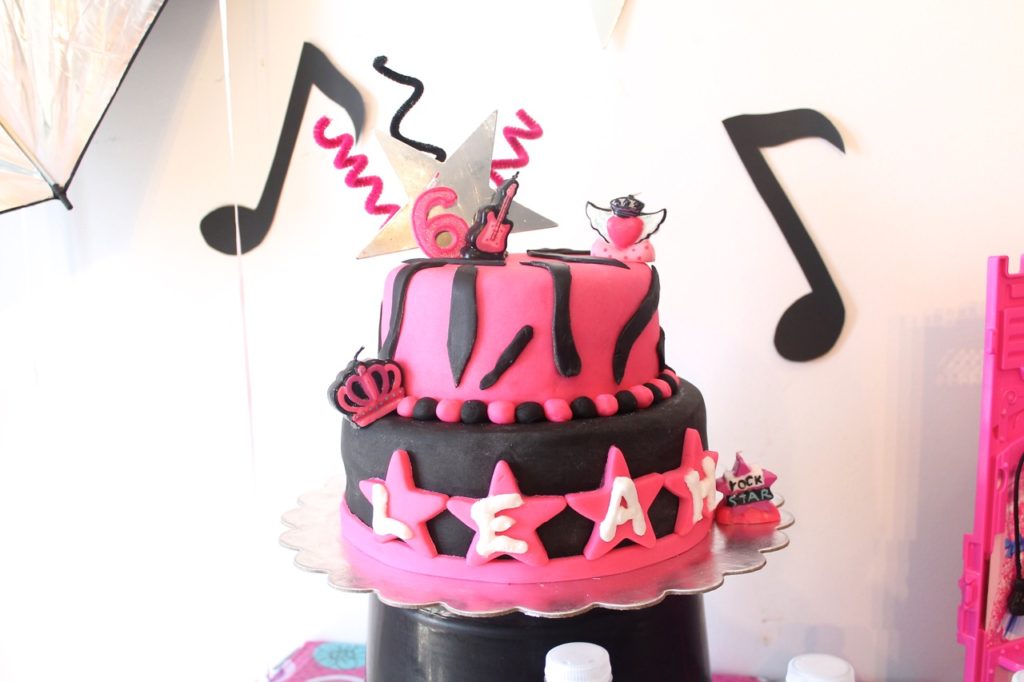 One thing that I did make for this party that I regretted about 10 minutes into it was this repurposed CD disco ball. Just cutting that many old CD's took forever and actually gave my husband a bruise on his hand. And it took A LOT more CD's than I originally anticipated. In the end, it did look awesome and sparkled all over the room, when the lights were on it, but lesson learned…save yourself the time and hassle and just buy (or rent) a disco ball!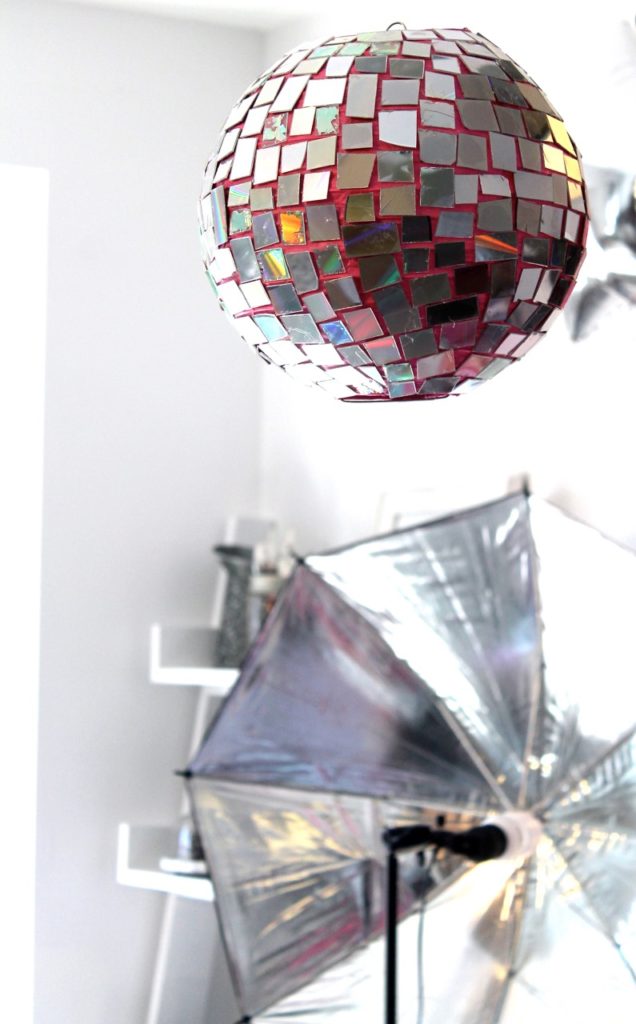 One project that took a bit of time but was totally worth it was the Barbie box! The girls LOVED getting inside, grabbing the guitar and posing like they were the original Rockstar Barbie.
For this, I went to my local department store and asked if they had any empty refrigerator boxes that they were getting ready to throw away. They had a small one and it worked perfectly for the girls. We traced the cut out, printed some logos offline, painted it pink and it was a HIT!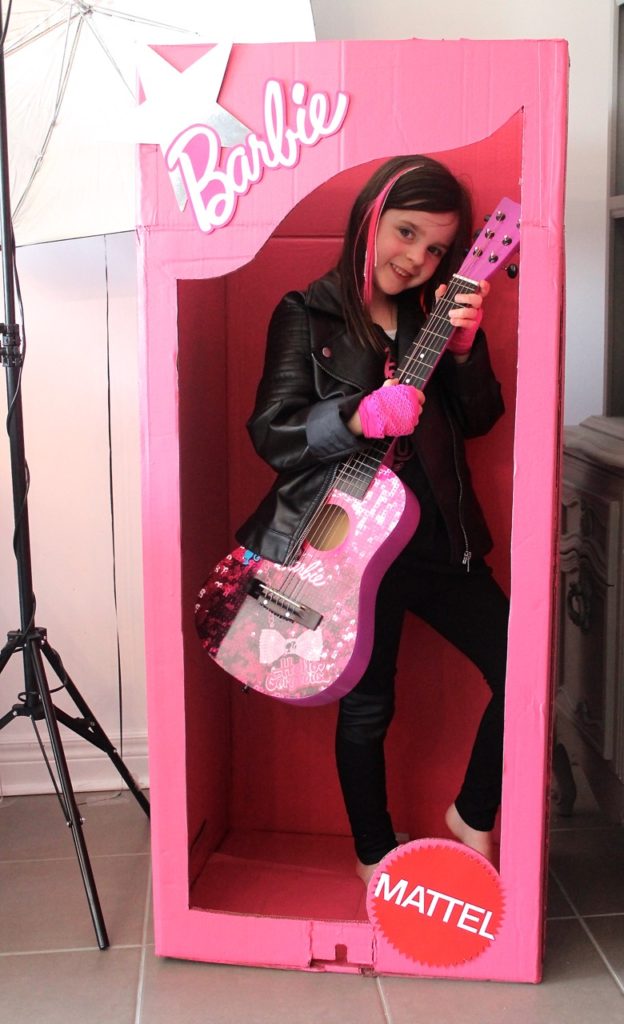 For craft time, we cut out cardboard guitars and gathered up a bunch of craft supplies to decorate them with. And for favors, the girls received hot pink hair extension clip-ins and Barbie bracelets!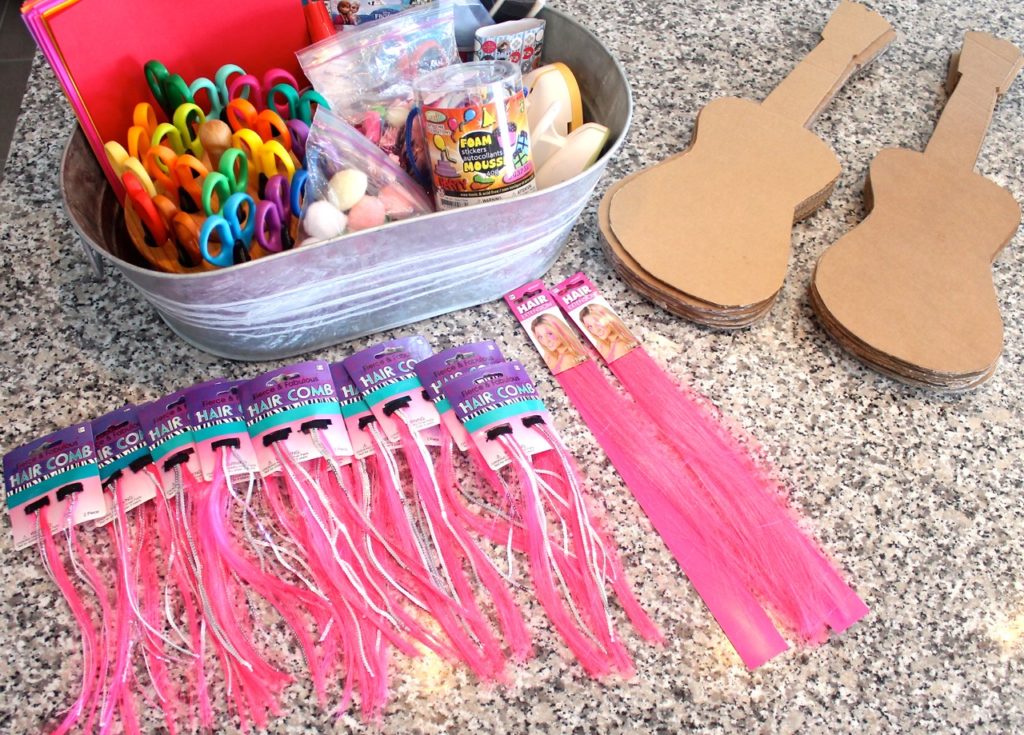 Like any party, it always turns out to be a success. I do put a lot of work into them and this one was no exception. But with a little bit of elbow grease and enough planning, there's no reason why you're next party can't shine like a star!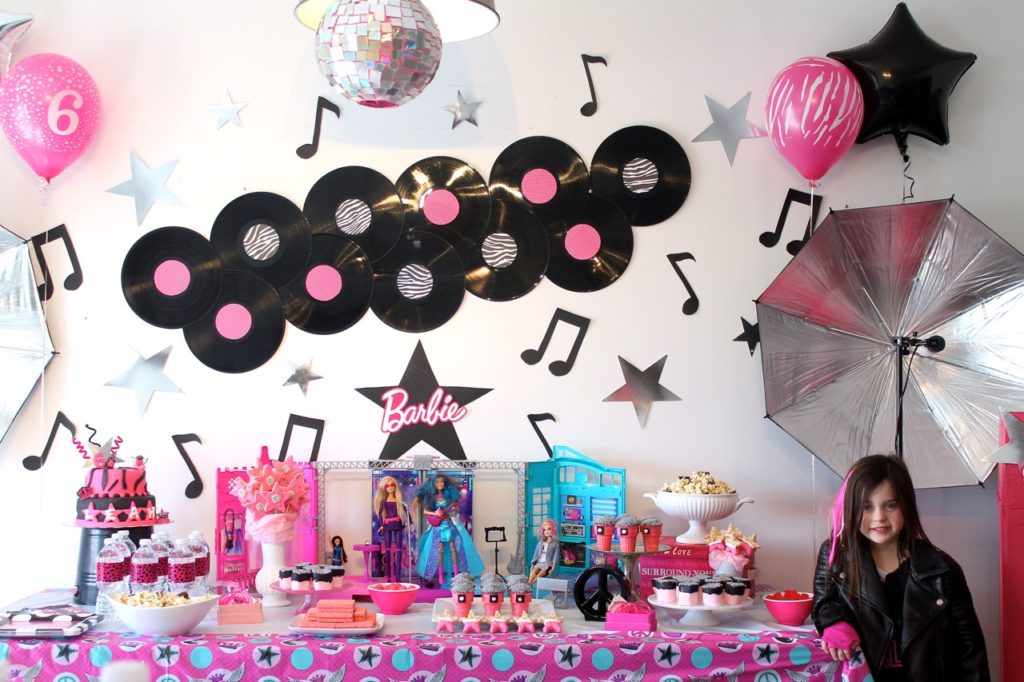 Also, I'm really excited to be giving away the very same Rockstar Barbie that my daughter received and was ultimately the motivation behind this party theme! All you have to do to enter is click on the giveaway below and then leave a blog comment, telling us what you wanted to be when you grew up! Barbie is all about empowering young girls to dream that they can be anything that they want to be with their new campaign. As a woman who used to love playing with Barbies and now has a daughter who loves playing with them, I am excited to see the new direction that Barbie is headed in with this #YouCanBeAnything campaign!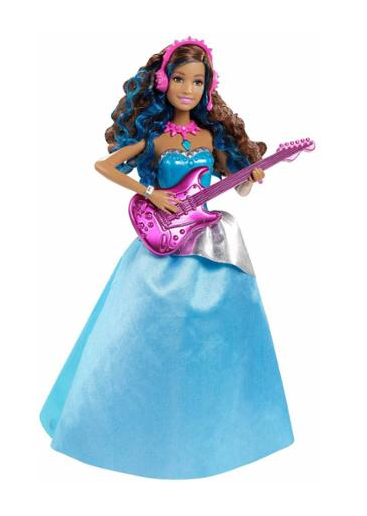 a Rafflecopter giveaway