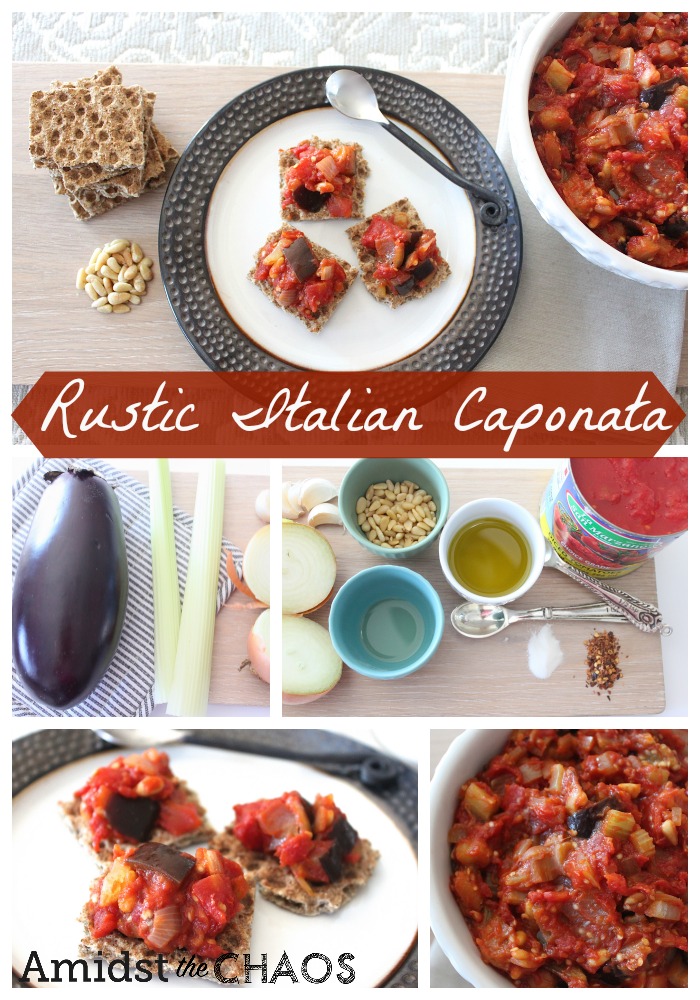 I'm a dessert person; always have been. My husband, on the other hand, is an appetizer person. He would much rather buy an appie and an entree and skip dessert when dining at a nice restaurant. I, NEVER want to skip dessert, so I would forgo an appetizer in order to save room (and money, let's be serious here).
Over the many years of dating and marriage, he's definitely turned me into a foodie, and one distinct difference I've noticed is that I have started gravitating more and more towards appetizers. It's absolutely incredible what chefs can do with certain foods…mouth watering! There are some places we've eaten at where we just order a bunch of appetizers and skip the entree all together. They can be THAT GOOD!
When I entertain now, I find myself always trying to serve up a nice appie before dinner. This serves a few purposes: for starters, it gets food in people's bellies! Nothing worse when going to someone's house for dinner, starving, and having to wait an hour before it's ready! I've been both that host (unfortunately) and that guest and both stink! Give your guests something to eat almost as soon as they arrive! Secondly, it helps keep your guests entertained and busy while you are finishing up the main course. This is also an important reason!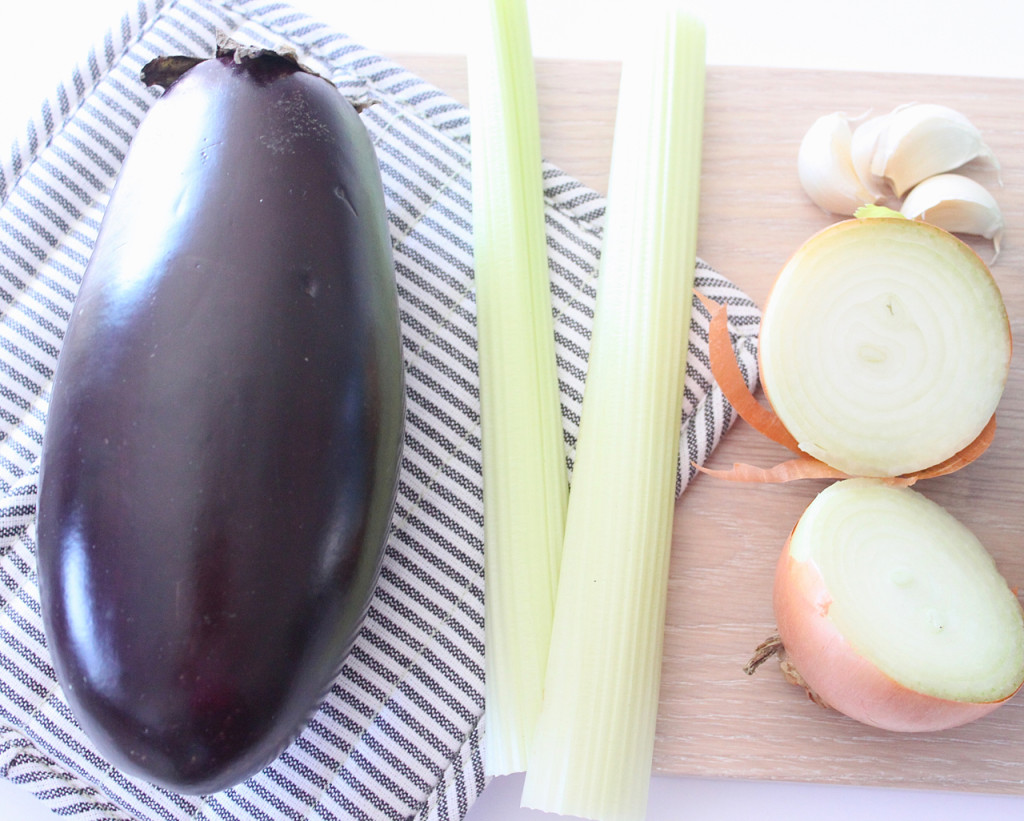 So with all of that in mind, today, I want to bring you an amazing italian appetizer: Caponata (pronounced ca-pu-nata). This dish originates from Sicily and is considered a warm salad made with eggplant and celery, in a sweet and sour sauce. The flavor profile of this dish is honestly out of this world! The are so many layers from the sweetness of the sugar to the sourness of the vinegar to the heat of the chili pepper to the acidity of the tomatoes to the woodiness of the pine nuts…I could keep going. Then let's talk about the "chew factor", as my hubby and I like to call it: how do all the elements hold up in your mouth and how to they contrast each other to make a supremely satisfying bite?! You have the softness of the eggplant, the crunch of the celery, the chewiness of the pine nut and the liquid bursts of the tomatoes! AH-MAZING! Like really, what more could you ask for in a dish?!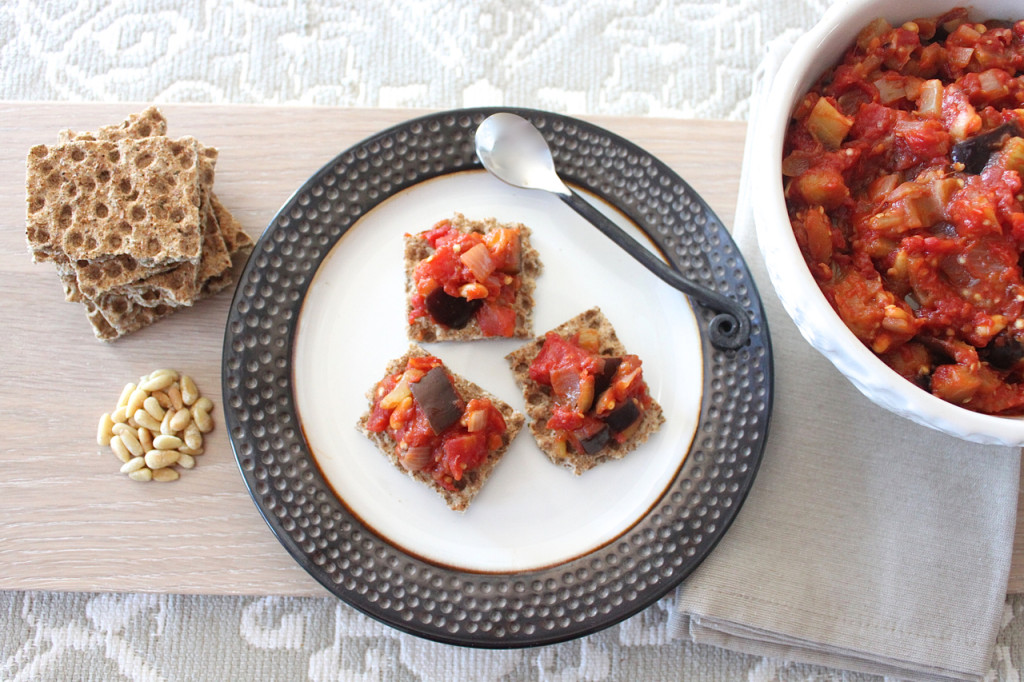 I originally found this recipe while watching Buddy Valastro's short lived "Kitchen Boss" series on TLC. I found he made very flavorful, relatively quick and easy dishes, so I really enjoyed watching! This is where I first heard of Caponata. It sounded so delicious to me that I ran out the next day and bought my first eggplant! I had never cooked with that veggie before, so it was time to get acquainted!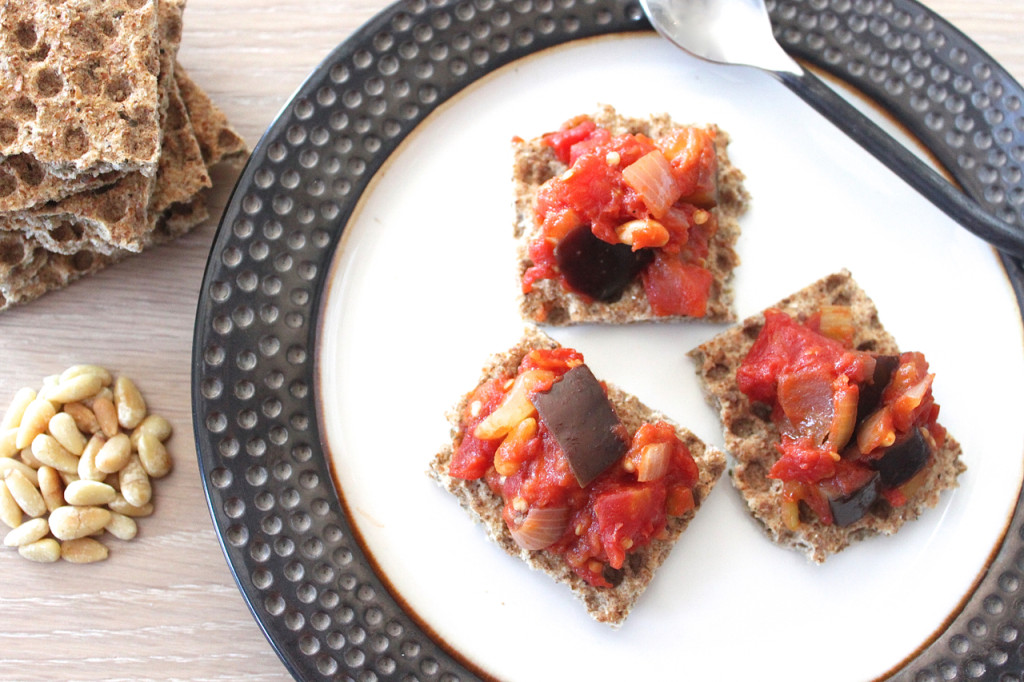 Over the years, I've adapted my own variation of the recipe, based on our personal preferences. For instance, the traditional recipe calls for capers. We quickly discovered that we are not big caper fans! It also calls for raisins and for us, that component of raisins didn't jive with our "chew factor." It felt weird…almost distracting (is it weird to talk about food in this way?!) But what we've ended up with is such a delicious and flavorful treat, that you can really eat it whenever and however you'd like: as an appie, as a side dish, on top of chicken, hot or cold…you name it! It's versatile and it delicious! And if I'm totally honest, the flavors change a bit each time I make it, depending what I have on hand and what food mood I'm in. For instance with this last batch of caponata (the one pictured here), I felt like adding more tomatoes. The recipes only calls for half a 28 oz can but I just kept adding more in and you know what? It tasted just as good as it always does!
Scroll below for the recipe card (which you can download into your recipe manager app or save and print!).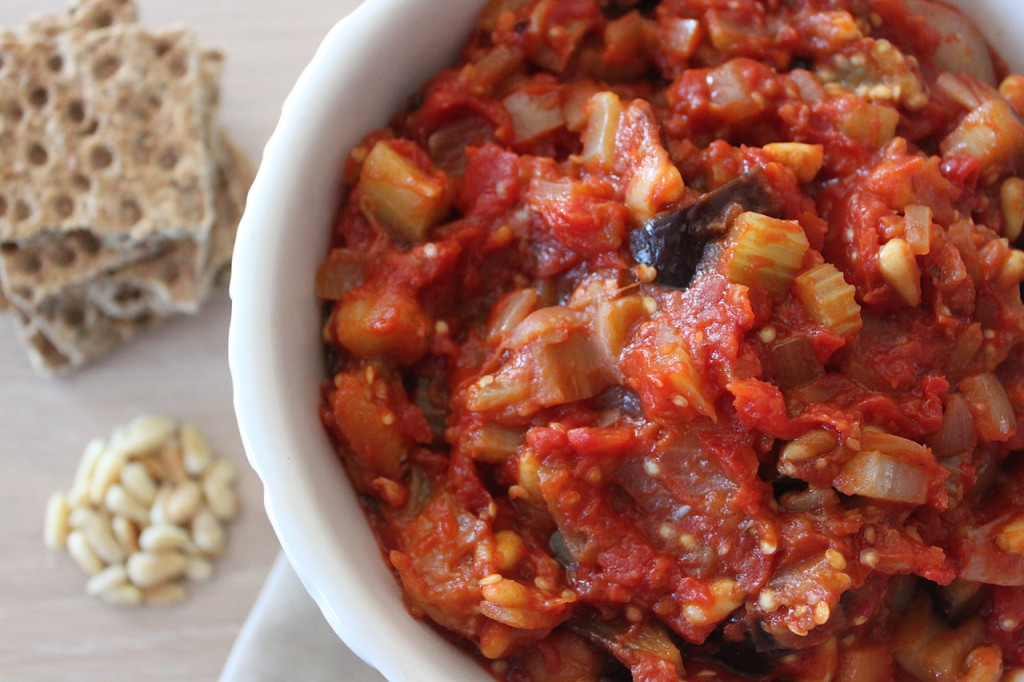 Rustic Italian Caponata
2015-04-21 05:26:51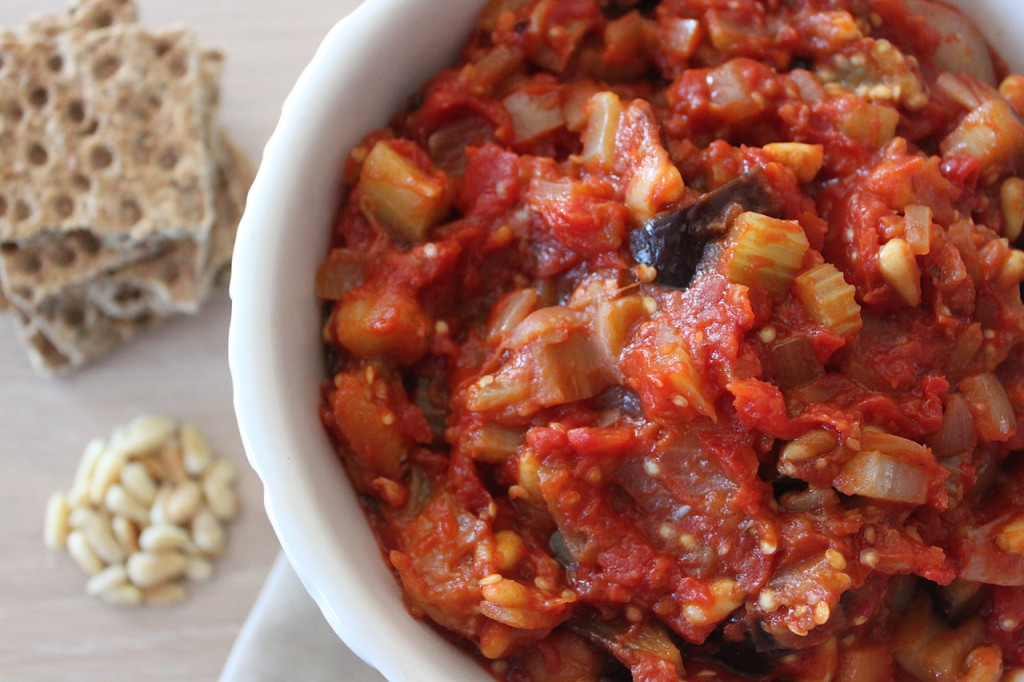 This rustic Italian dish will have your taste buds soaring to new heights! This dish is so versatile that you can serve it as any which way, hot or cold, and you will still be coming back for more!
Ingredients
1 medium eggplant, cut into 1/2" dice
1 medium onion, cut into small dice
2 large stalk celery, cut into thin slices
3 plump cloves garlic, minced
1/2 teaspoon crushed red pepper flakes (more or less to taste)
1 14 ounce canned diced tomatoes (use some of the liquid)
2 teaspoons rice wine vinegar
1 packet of stevia (or 1 tbsp of white sugar)
2-3 Tablespoons toasted pine nuts
1/4 cup extra virgin olive oil
Salt
Instructions
Heat a large skillet (12") medium high. Add the ¼ cup olive oil.
When shimmering, add the eggplant and a pinch of salt. Stir and let cook, stirring occasionally until softened and browned (roughly 5 minutes). Remove and set aside in a bowl.
Add the onion and celery, pinch salt. Cook, stirring until slightly softened and somewhat translucent.
Add garlic and red pepper, stir and cook until fragrant, about 30 seconds.
Add the tomatoes, vinegar and stevia and stir well to combine.
Add the eggplant and combine. Cook at a low simmer, stirring occasionally. Cook until richly flavored, 15-20 minutes.
Remove caponata from heat and fold in the pine nuts. Check for salt and correct if more is needed. Serve this hot or let cool, up to you! Serve with grilled crusty bread or on top of your favorite cracker!
Notes
* Adjust any of the ingredients depending on your preferences. There are many different kinds of recipes for Caponata out there, lots with various added ingredients such as capers, raisins, olives, carrots, etc.
* Most pine nuts are sold raw. You will want to roast them in a frying pan on low heat. Make sure to keep a close eye on them and stir frequently to avoid burning.
Adapted from Buddy Valastro
Adapted from Buddy Valastro
Amidst the Chaos https://amidstthechaos.ca/
Well I hope you've enjoyed this recipe! I know eggplant is not the most popular veggie out there to cook with but why not try something new?! I almost guarantee you'll love it! Let us know in the comments below how this dish turns out for you!
What are some of your favorite appetizers to serve for a dinner party? Leave your answers in the comments below!
Love & Blessings,