Welcome to Week 5 of our Modern French Kitchen Renovation with the One Room Challenge. Not going to lie, this week it's feeling like not much was finished as we kept working on the tedious job of building all the cabinets but I'm reminded that the progress is in the details and that couldn't be more true when working with our trim and casings from Metrie.
But before we get into this week's update, if this is our your first time here, let's catch you up. We are renovating our 30 year old, u-shaped kitchen but gutting and doubling the size and turning it into the modern french design. You can catch up on the updates by checking out the previous weeks here:
Week 1 | Week 2 | Week 3 | Week 4
As I mentioned, this last week felt like the progress was slow, which I'll admit cause a bit of anxiety as we only technically have one week left (more on that later). As in life, sometimes the progress is in the small details, not in the big pieces and that was what we found this week with our renovation.
Chris was continuing to work on installing the cabinets – what a crazy journey that has been which I will detail once we've completed this journey. With still some missing parts, it's really hard to see it all coming together but it is….slowly!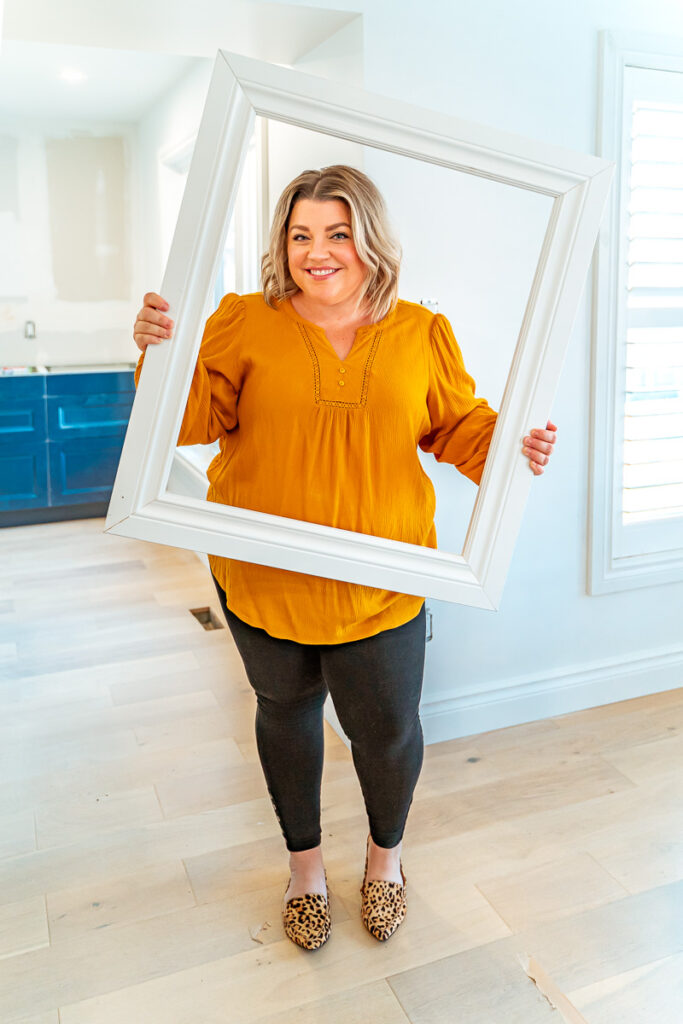 Then the focus was on the trim and casing from our friends at Metrie. We've worked with Metrie before – in fact, one of the most asked about items in our home is where are interior doors on our main floor are from – and the answer is Metrie!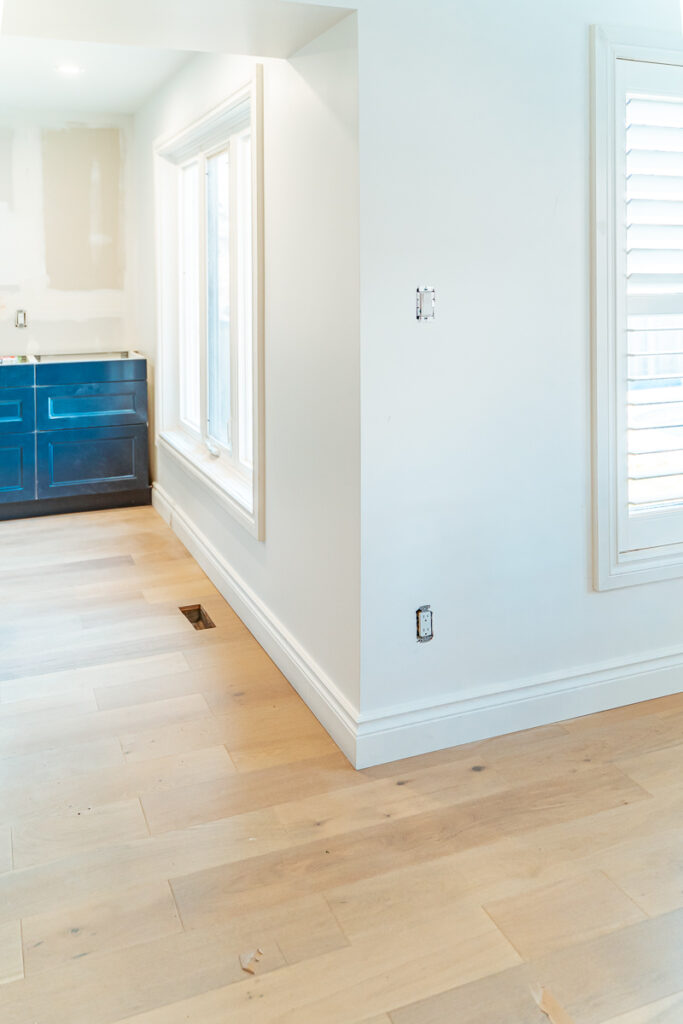 So we knew that to help us complete this renovation that we wanted to partner with Metrie again as their interior finishes are so superior to anything we've ever seen.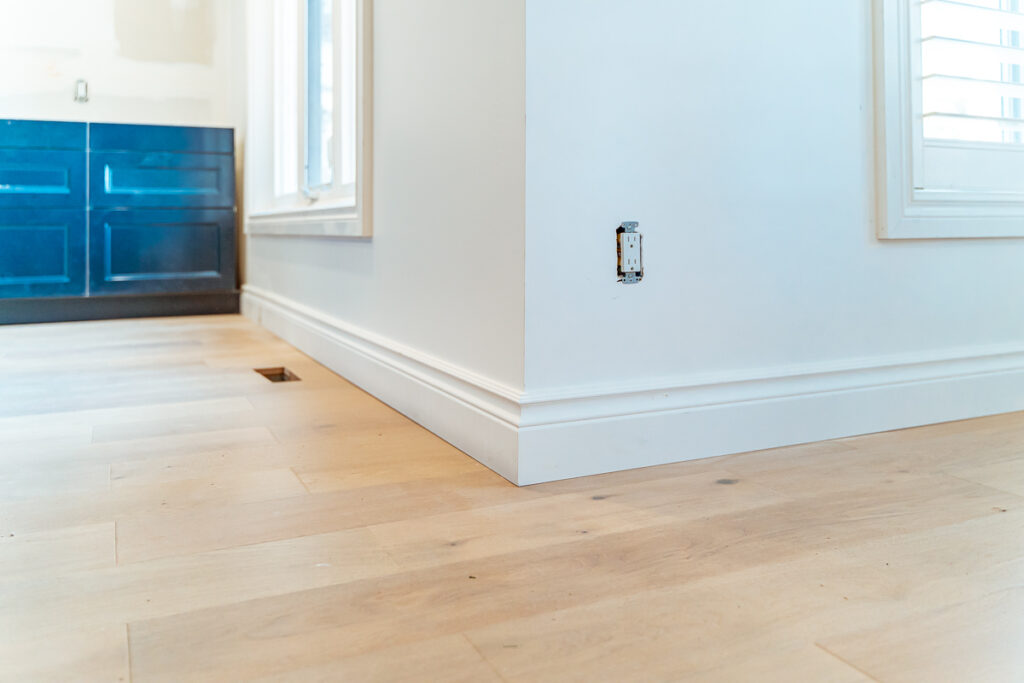 Like I said, the progress is in the details and while you may never stop to really think about window casing and trim work, when you walk into a space that has really great finishes, it just elevates the entire room. That is how we feel as we've slowly incorporated more of Metrie's finishes in our home.
We chose to go with the French Curves Collection it came to the trim and casing in our kitchen renovation. As we mentioned in Week 2, our design theme for this space is a modern French kitchen – mixing in old world charm elements while fusing it with some new, more modern design. We felt that this collection brought the old world charm to it – specifically designed to reflect the look of the glamorous curves and classic forms found in European French styles. While there is symmetry in the design, it's also highly decorative and sculptural, bringing in rich heritage feeling, which we absolutely love!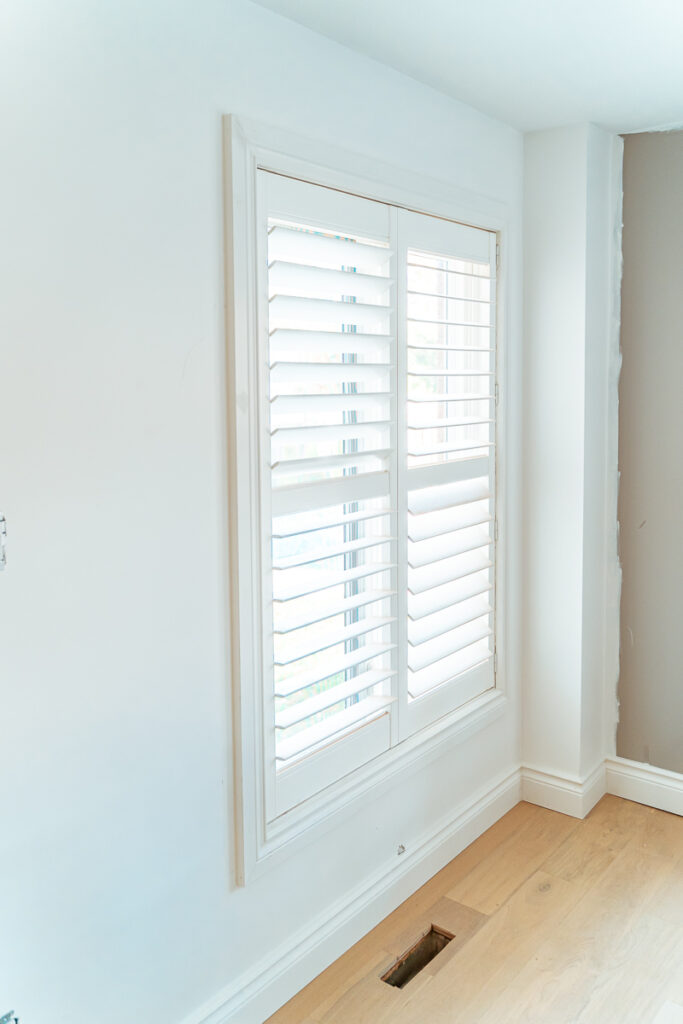 For the trim, we went with the 5 1/2″ MDF Baseboard and for the window/door casing we went with the 3 1/2″ MDF Casing.
Chris admittedly has struggled with doing trim work before, so this time he did A LOT of research to figure out the best way to get the job done efficiently and well. One tip he recently discovered when talking to a contractor friend was actually glueing the joints on the window casing before nailing it to the wall. This ensures that the joint has no gap once it's nailed to the wall. Chris found that this technique really helped with putting up the window moulding.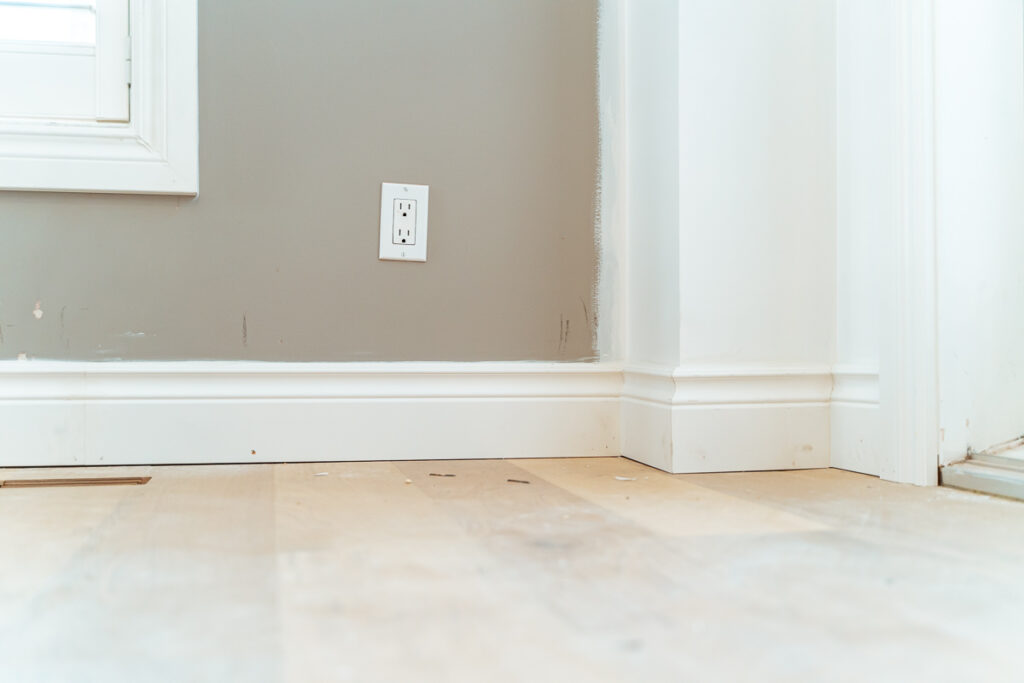 As you can see, there are some gaps in some spots where the floor is uneven – which is common in production homes. To fix that, we are going to be adding some quarter round trim along the bottom that will cover up these imperfections in the floor. That is a project for this weekend and then do one quick top coat of paint on the trim (we do love that Metrie trim comes pre-painted, so no need for priming) and then we trim work is done!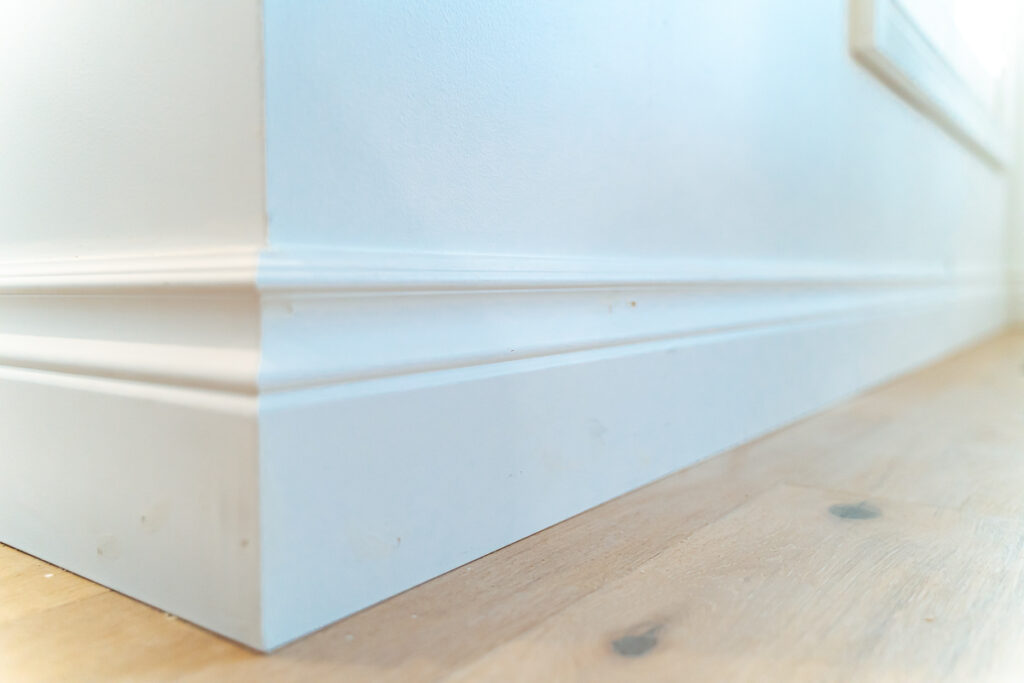 As I mentioned above, our renovation is technically supposed to be done next week, which is the sixth week fo the One Room Challenge. Due to Covid delays, the ORC has given everyone a two week extension, should they need it. Unlike the Spring ORC, however, they've not officially added two more weeks (in the Spring it turned into an 8 week challenge instead of 6), however, this time, people can simply reveal their rooms anytime starting this coming week until the 26th November.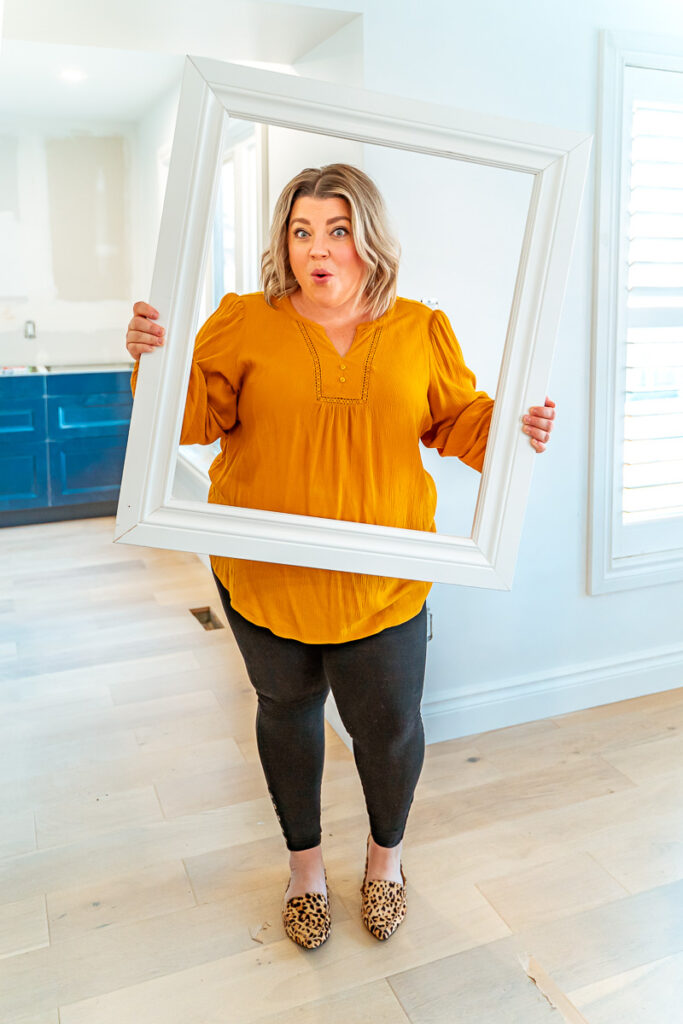 Because our project scale has been SO large, as well as we've had a number of product delays and because we are doing most of the work ourselves, we have decided to turn this into an eight week challenge and our final reveal will be on Nov. 26th. So you can expect two more progress posts – Week 6 and Week 7 and then Week 8 will be our final reveal of the space! So make sure to mark your calendars, because I can promise you, it will be EPIC!
That's all for this week, friends! Make sure to come back as next week will be a HUGE week for us – the countertops are going in!
Love & Blessings,
Christine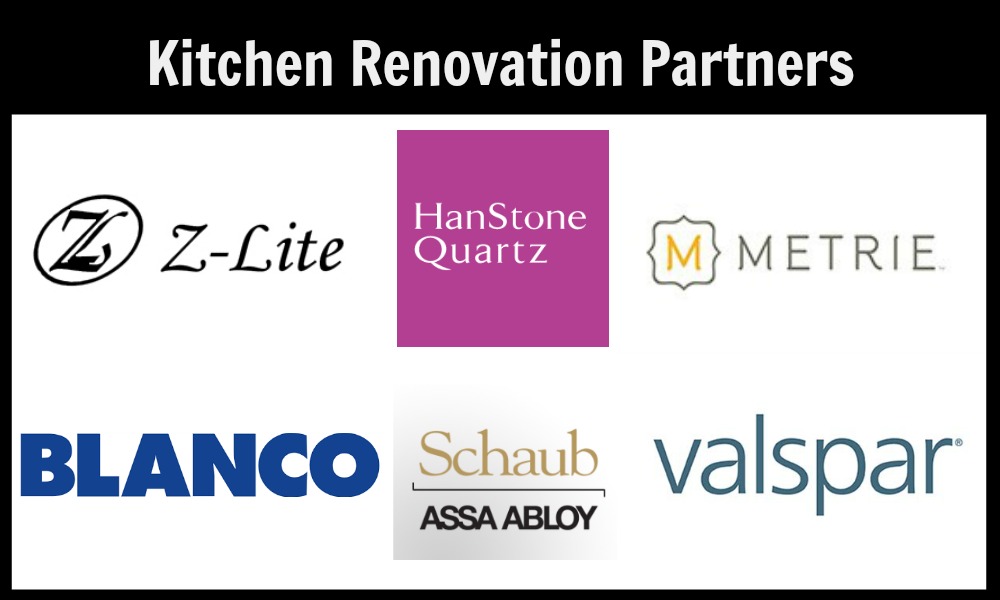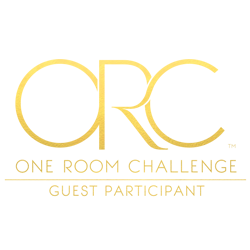 Note: This post was sponsored by Metrie where I have received product and/or compensation in exchange for my honest review. As always, the thoughts and opinions are 100% my own.