Two years ago, Chris and I had the pleasure of visiting Paris, France for the first time ever. This had been a bucket list item for both of us for some time and it was also the first time we were ever away for that long from our kids.
We spent weeks preparing for the trip, doing tons of research on the various places to visit and must-see's of Paris. But one of the areas we researched the most was the food! As you know, we are big time foodies and so when visiting one of the culinary capitals of the world, you've got to do your research and be prepared!
We were lucky enough to eat at some of the most incredible places while in Paris – including Le Procope – which is the longest continuously running restaurant in all of Europe. It's where coffee was introduced to Europe and where some of the most notable historical figures dined including Napoleon.
One of the best meals we had while we were in Paris was Beef Bourguignon – a classic French beef stew that is made with red wine and beef stock and has loads of root vegetables like carrots, onions, garlic, mushrooms, etc.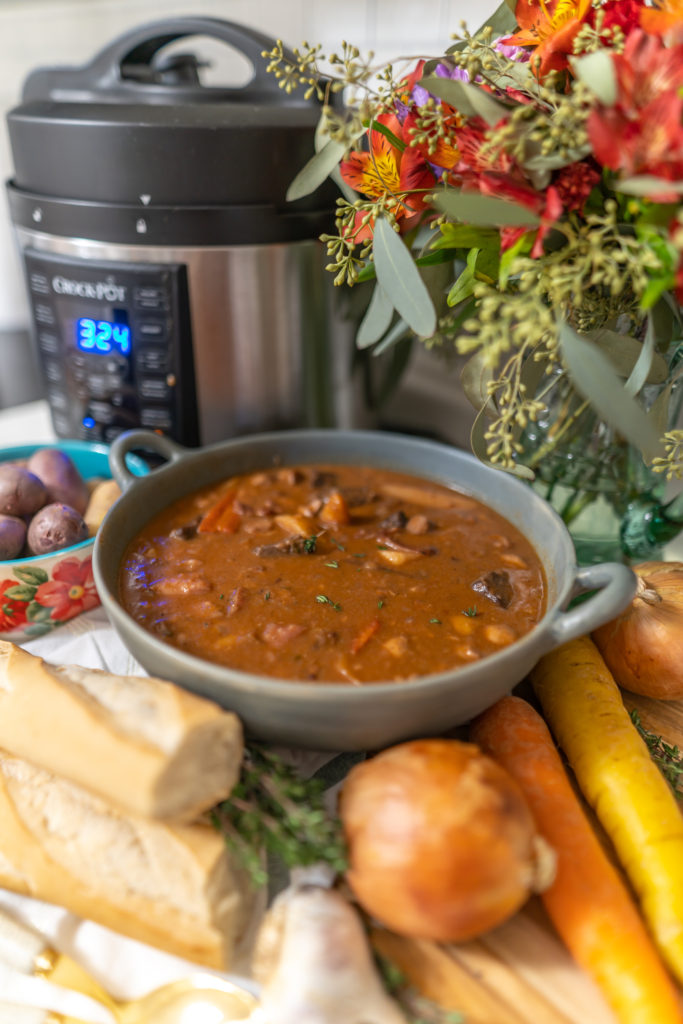 As soon as we came home from France, beef bourguignon was at the top of the list to learn how to make. Chris being the amazing home chef that he is, scoured the internet for all kinds of recipes to come up with his own unique take on the stew. He made it over and over again (which I didn't mind one bit) and while he perfected a recipe to call his own, the time in which it took to properly prepare and cook this dish was far too long. From braising the beef to letting it stew all day long, it was often times a 24 hour process – and who really has time for that?!
So today, we thought we'd attempt to make it in our brand new Crock-Pot® Express Pressure Cooker, where it can be done in a fraction of the time. One of the things we are so impressed with is how fast this pressure cooker gets the job done! We are talking going from a 24+ hour process to now less than ONE HOUR start to finish and you have the juiciest, most tender beef bourguignon you could ask for!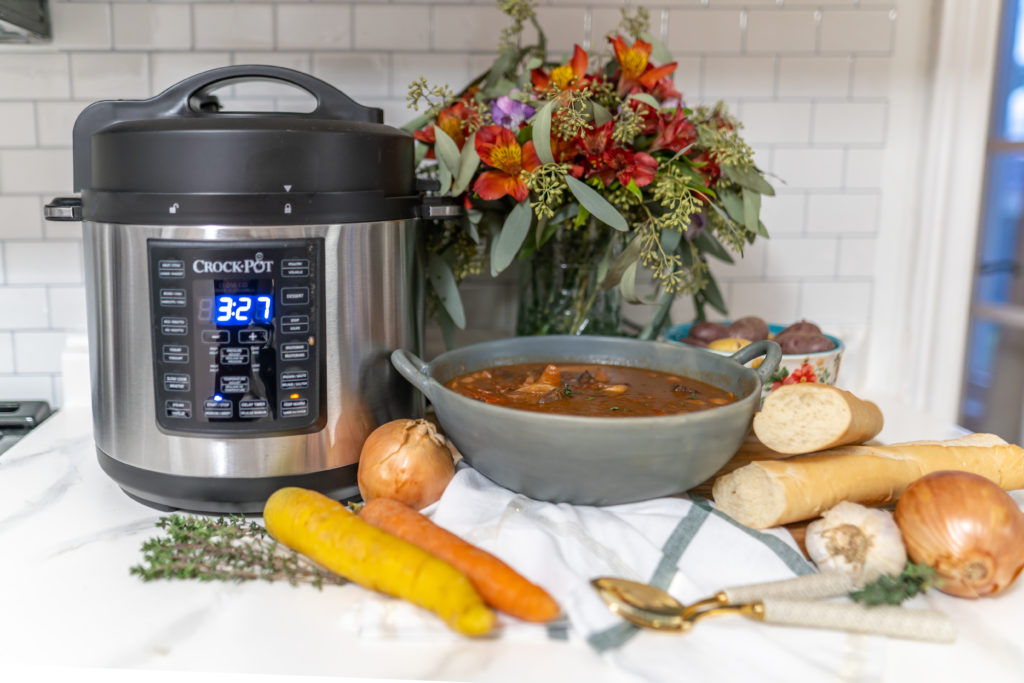 Not only is the Crock-Pot® Express Pressure Cooker super quick, but one of the amazing features about it is that you can do everything you need to in that one pot. For any home cook, you know what a time savor this is by not having to dirty and wash three different frying pans! With the Crock-Pot® Express Pressure Cooker you can sautee right in the pot before sealing it and bringing it up to pressure to cook.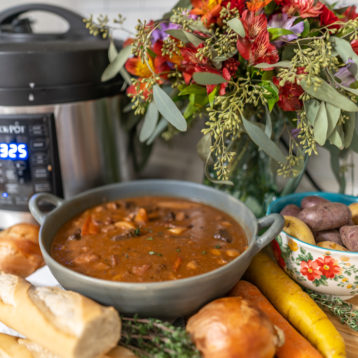 Beef Bourguignon with Crock-Pot® Express Pressure Cooker
Equipment
Crock-Pot® Express Pressure Cooker
Ingredients
1.5

lbs

of either boneless short ribs or boneless chuck roast

4

strips

thick cut bacon

1

large, yellow onion

1

lb

carrots

3

cloves garlic

1

lb

fingerling potatoes

2

cups

small, button mushrooms

1/3

cup

all-purpose flour

1.5

cups

beef broth

2

cups

red wine

2

tbsp

tomato paste

3

sprigs

fresh thyme

1

bay leaf

salt and pepper, to taste
Instructions
Begin by patting your beef dry, then cut it into 1 inch cubes and liberally season the pieces  won all sides with salt and pepper.

Turn on your Crock-Pot® Express Pressure Cooker and put it into sauté mode. As the pot is heating up, cut your bacon into small pieces. When the pot has reached temperature, add the bacon and cook until crispy. Once crispy, remove bacon and place on a paper towel. Leave the rendered bacon fat in the pot.

With your Crock-Pot® Express Pressure Cooker still in sauté mode, place the beef in the bottom of the pot, but only do a few pieces at a time. Make sure each piece of beef has room around it. This will allow the beef to develop a nice crust and will add depth and richness to flavour of your final product. Brown at least two sides of each piece and remove from pot. Repeat this step until all of your beef had been nicely browned. Place the cooked beef in a small bowl in order to capture any juice that drip off… you'll want every drop of this to go back into the pot when the time comes.

Peel and slice your onion and begin to sauté them in the pot. Once the onion becomes translucent, add your carrots and sauté. While the carrots are cooking, roughly chop 3 cloves of garlic and add them to the pot. Stir everything together and sauté for 5 minutes.

Cut your fingerling potatoes, lengthwise, into quarters then clean your mushrooms. Beside to wipe the mushrooms but do not rinse them. They will absorb water while washing and release it during the cooking process. This additional water could prevent the Beef Bourguignon from thickening properly. After onions, carrots and garlic have cooked together for 5 minutes add the potatoes and mushrooms. Stir everything together.

To the pot, add beef broth, tomato paste, thyme leaves (remove them from the stem), 1 bay leaf and stir until everything is thoroughly mixed.   

If there are drippings in the bowl that your beef is resting in, pour them into your pot. Mix the pieces of beef with 1/3 of a cup of flour and ensure that each piece is coated on all sides. The flour with help to thicken the sauce as it cooks.

Place your pieces of beef into the pot so that they sit on top of everything else. Add your wine to the pot until the pieces of beef are almost covered… allow the tips of the the pieces to just peak out of the liquid.

Place the lid on to your Crock-Pot® Express Pressure Cooker in the locked position. Ensure that the steam release valve is in the "closed" position. Now, simply press the Meat/Stew button and let the magic happen. Once pressure is reached the Meat/Stew feature takes only 35 minutes. Once the Meat/Stew program has finished, allow the Crock-Pot Express Pressure Cooker to slowly reduce pressure for 10 minutes before turning the steam release valve to open.

Once pressure has been reduced and you remove the lid, allow the beef bourguignon to cool for 8-10 minutes. As it cools, the sauce will thicken. Once it has cooled, add salt and pepper to taste and serve with fresh baguette.
And that my friends is how you make delicious, authentic French beef bourguignon in less than hour in your Crock-Pot® Express Pressure Cooker! Let me tell you, from having had it in Paris, this method of cooking it is just as good!
BONUS: You can get this 6 GT Express Crock-Pot Walmart Canada during Black Friday is the feature of the week starting 11/29 with rollback pricing at $59.88! Click here to get it!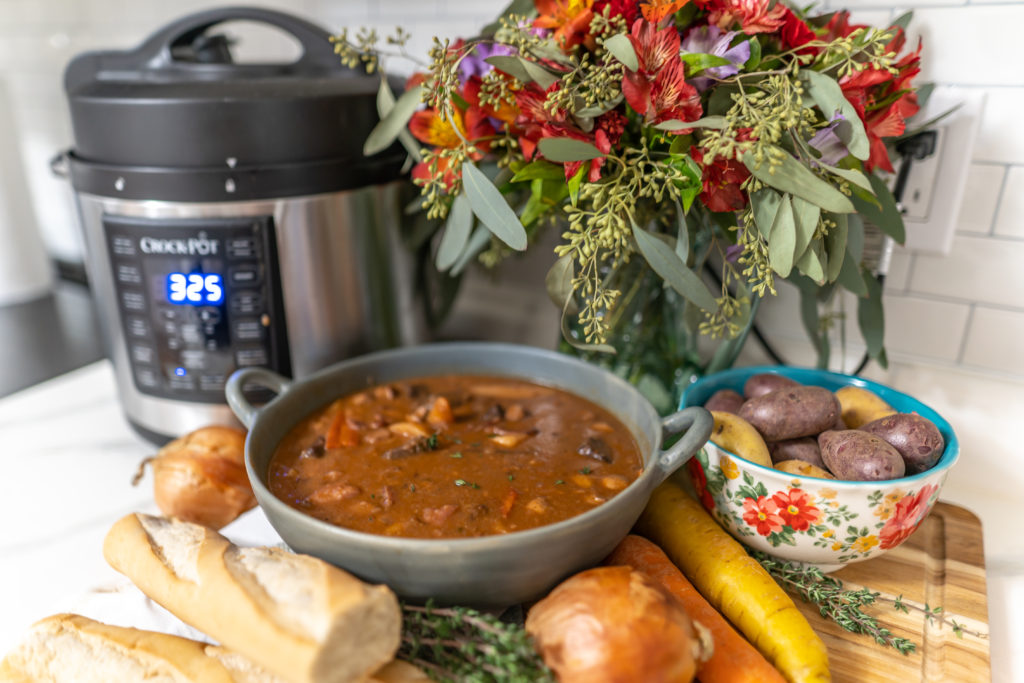 Bon Appetit!
Love & Blessings,
Christine
Note: This post was sponsored by Crock-Pot® Express Pressure Cooker where we have received product and/or compensation in exchange for our review. As always, the thoughts and opinions are 100% our own.