When it comes to sweets, there is absolutely nothing better in this world than the combination of chocolate and peanut butter. NOTHING. Whenever given the choice, I will always, 100% of time choose chocolate and peanut butter, in any form: chocolate bar, ice cream, cake, even just a spoonful of peanut butter with chocolate chipits on the top! So it's no surprise that my all time favorite chocolate bar (well cups) are Reese's Peanut Butter Cups. It is pure perfection. And the most incredible ice cream I've ever had is PC Loads of Chocolatey Peanut Butter Swirl. UNREAL. I don't think I've EVER had a chocolate + peanut butter combo that I haven't loved. Seriously.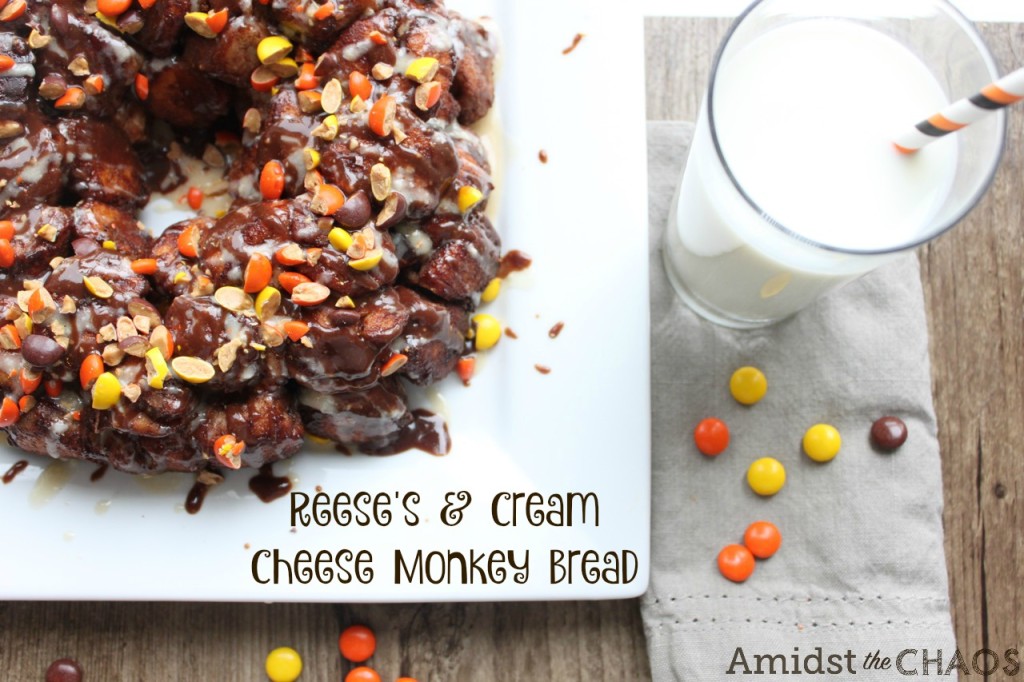 So when I discovered that Reese's made a chocolate SPREAD of their already incredible chocolate cups, I was sold! I didn't actually have to try it to know that I would love it. And let me tell you, it didn't disappoint. I actually got TWO jars of the Reese Spreads and I'm a little bit embarrassed to admit that I ate almost the entire first jar, alone, by myself, just with a spoon! AH! I admit it, I have a bit of a problem when it comes to chocolate + peanut butter.
So let me just say, Reese Spreads tastes JUST like the peanut butter cups. Exactly! So incredibly delicious. Rich, yet smooth. Chocolatey and creamy. Sweet but salty. Is your mouth watering yet, cause mine sure is just typing this!
I wanted to create a fun recipe, that the kids could not only help me make but also enjoyed eating. I've seen all kinds of monkey bread recipes floating around and yet I've never made one before. So I thought I would try to come up with my own take on it, while including this incredible Reese spreads.
Let me walk you through this step by step and then I'll have the entire recipe below.
So to start, you need two packages of refrigerator biscuits. Cut each biscuit into four pieces and flatten each piece out.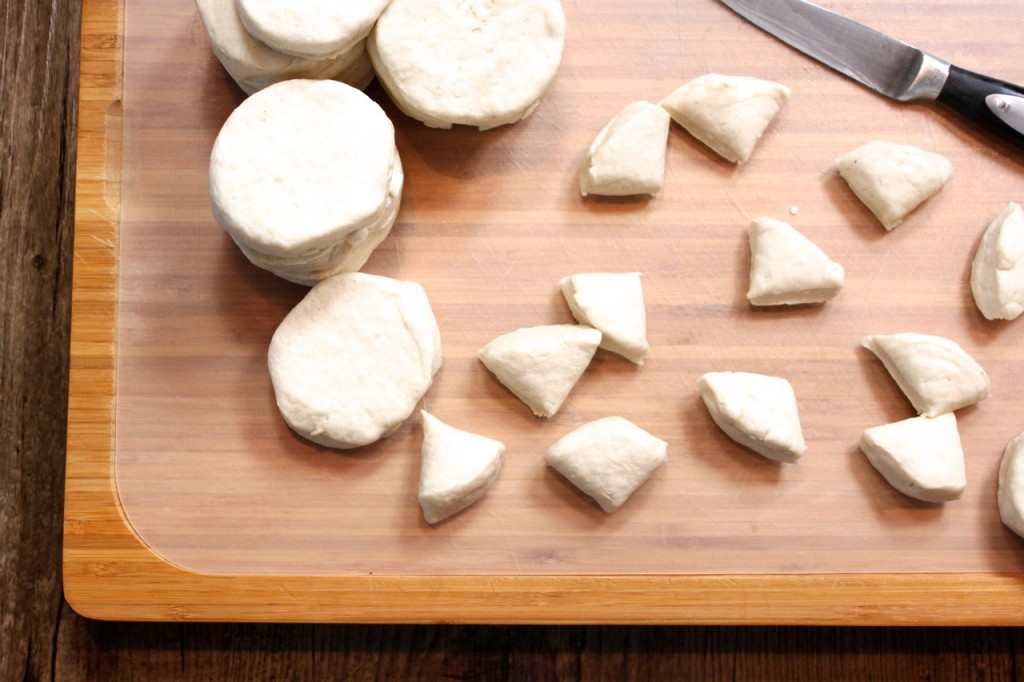 Once flattened, spread some of Reese Spreads onto the biscuit. Next, add in a small piece of cream cheese. Then, fold the biscuit up, making sure all sides are pinched in. Once all sealed, reshape into a ball by rolling in between the palm of your hands. Repeat this for all the biscuit pieces. It's a bit of a lengthy process but it will be worth it, trust me. It's also something you can get your kids to help you with.
Once you've stuffed all the biscuits and turned them into balls, roll each ball in a sugar, brown sugar and cocoa coating and toss into a bundt pan.

Once the pan is full with all the balls, drizzle with the Reese Spreads glaze. This is a simple glaze, made with the spread and some butter. This is what will bind the bread together when baking.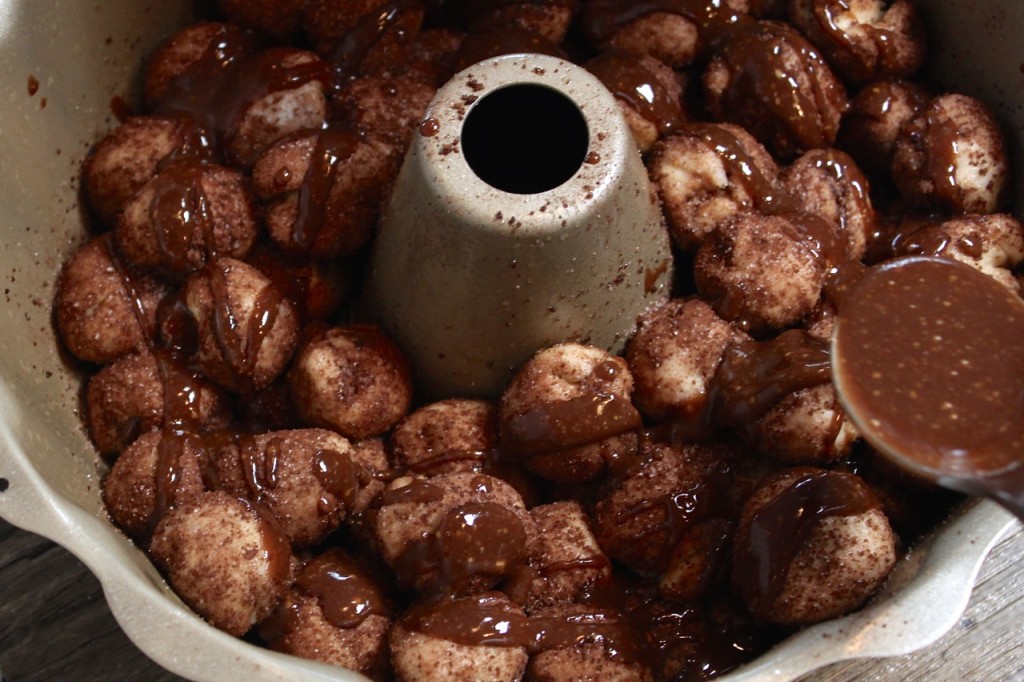 Bake in the oven for 30-35 minutes and then let cool in pan for about 5-10 minutes. Then drizzle with cream cheese frosting and more Reese Spreads glaze. Final step is to top with crushed Reese's Pieces and serve with a big glass of milk!
This is a fun recipe for the kids to not only get inovolved with helping, but to also eat because you eat it with your FINGERS! And what child doesn't love that, right?! Gently pull apart the balls of biscuits and sink your teeth into that ooey-gooey, warm Reese Spreads and cream cheese filling!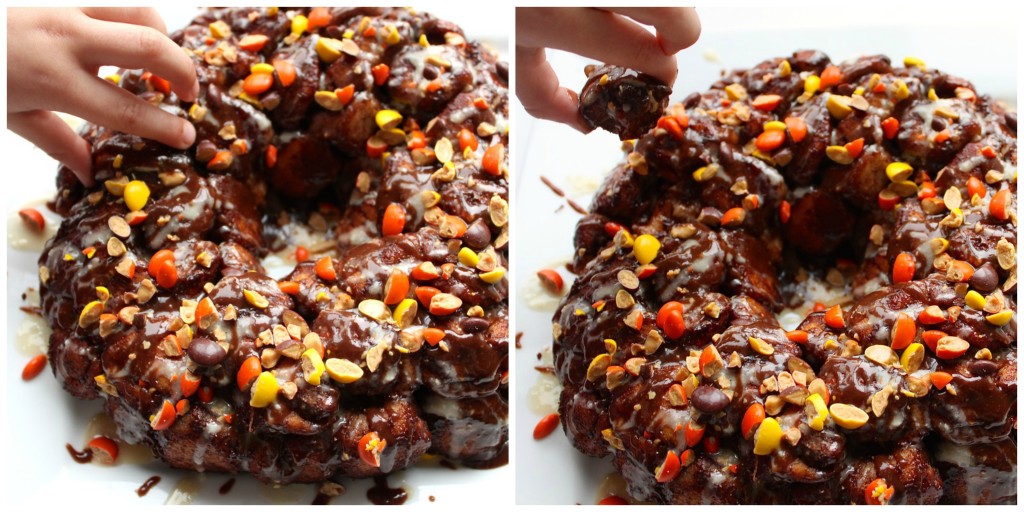 And finally, from a purely aesthetical perspective, I love how this dessert fits right in with our current season: Fall | Thanksgiving | Halloween! So why not grab a jar of Reese Spreads from your local grocery store today and include this on your Thanksgiving menu for the kids?! I can almost guarantee you'll win "Mom of the Year" status with this one!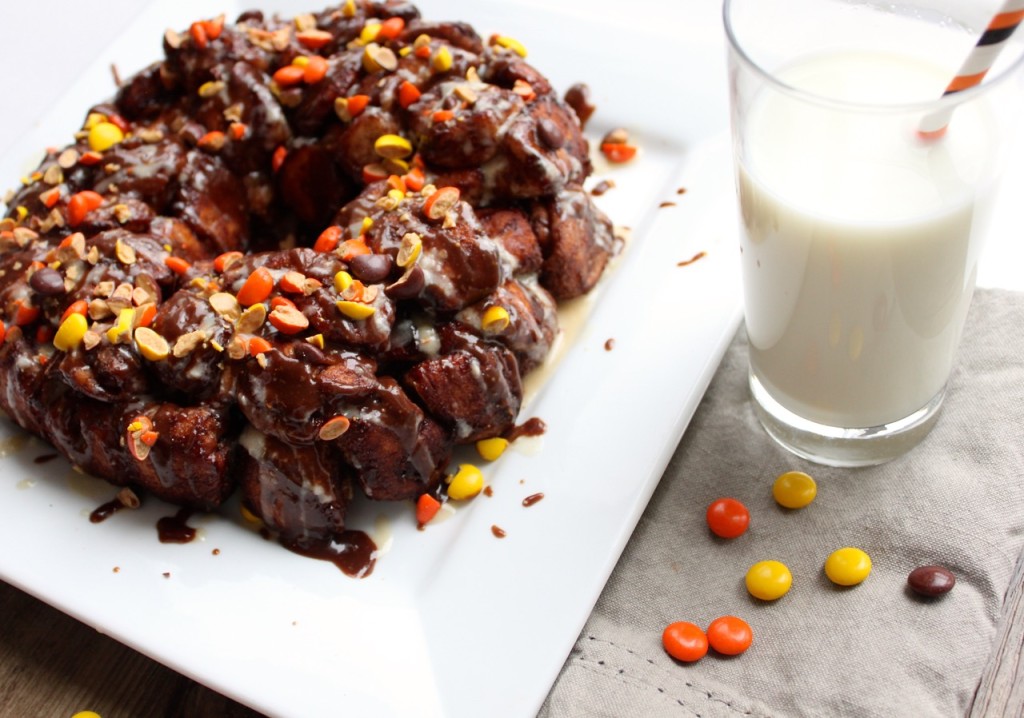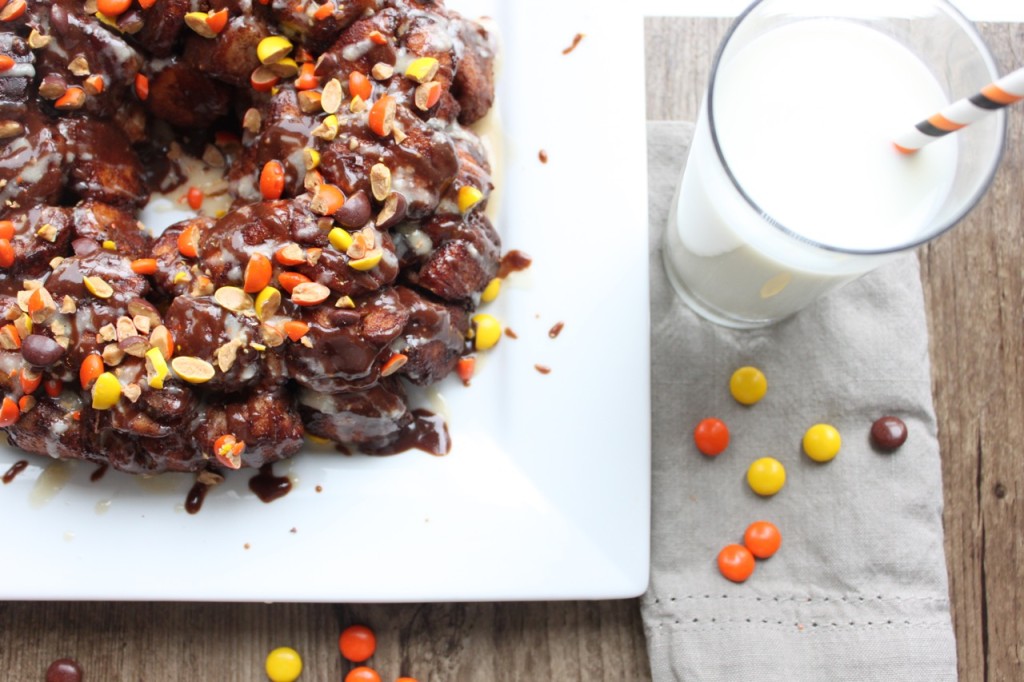 Reese Spreads & Cream Cheese Monkey Bread
2015-10-09 13:09:21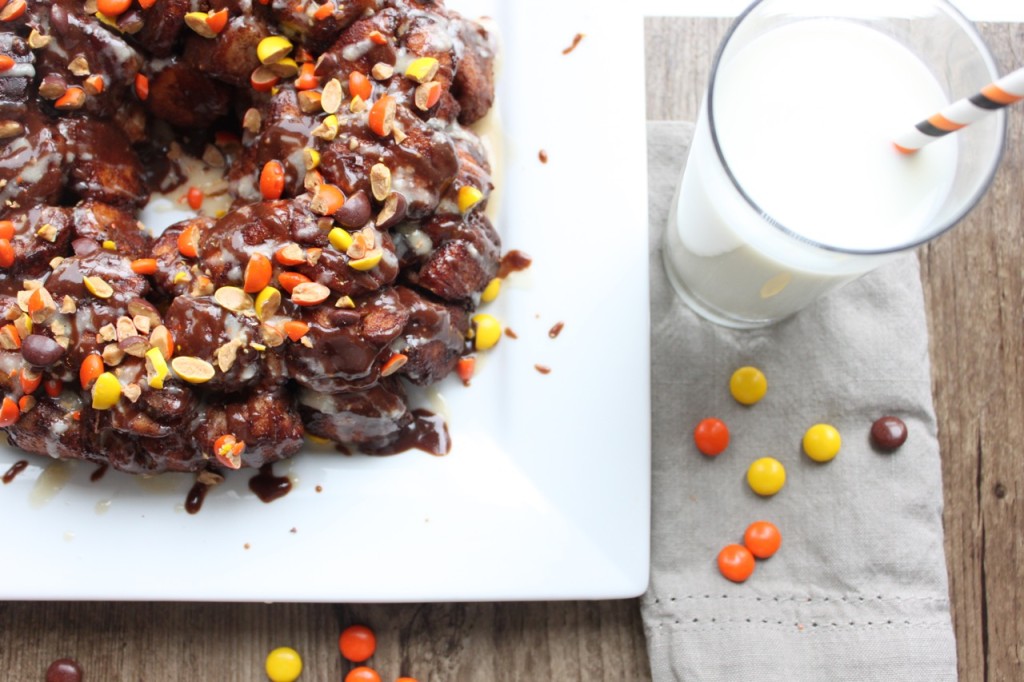 Using the new Reese Spreads and cream cheese, we've come up with our own unique version of the classic Monkey Bread that is sinfully delicious!
Bread
2 packages of refrigerator biscuits
1 package of cream cheese (250 grams)
1 jar of Reese Spreads
Sugar Coating
1/4 white sugar
1/4 brown sugar
1 tbsp cocoa powder
Reese Spreads Glaze
1/2 cup reese spreads
2 tbsp butter
Cream Cheese Frosting
1/2 package of cream cheese (125 grams)
1 1/2 cups of icing sugar (more or less, depending on taste)
1 tbsp vanilla
3 tbsp milk
Crushed Reese's Piece for topping (optional)
Instructions
Preheat the oven to 350 degrees
Spray bundt pan with a non-stick spray
Remove biscuits from packages and cut each biscuit into four pieces. Also, cut cream cheese into small half-bite sized pieces
Flatten each piece of biscuit
Take 1/4-1/2 tsp of Reese Spreads and spread it onto the biscuit
Then take a small cube of cream cheese and place it on top of the spread
Fold over the biscuit and seal all sides by pinching it. Then form into a ball between the palm of your hands
For the sugar coating, simply mix together both sugars and cocoa in a shallow dish.
Then take each biscuit ball and roll into the sugar coating.
Next place each ball into the pan.
For the Reese spreads glaze, simply microwave the spread and butter for one minute or until a smooth consistency.
Then, drizzle the glaze over the balls in the pan, making sure it gets down into the crevices.
Bake the bread for 30-35 minutes
Remove from oven and let rest in pan for 5-10 minutes
For the cream cheese frosting, beat the cream cheese in an electric mixer, on medium, for 3-4 minutes or until smooth consistency.
Add in icing sugar, vanilla and milk and continue to beat on medium until smooth.
Flip pan upside down onto a plate and remove bread
Drizzle bread with cream cheese frosting
Next, drizzle with remaining Reese Spreads glaze
Finally, top with crushed pieces of Reese's Pieces and serve!
Notes
* Oven times may vary
* You will want to cover the bread after about 15-20 minutes with tin foil, to avoid burning the top
Amidst the Chaos https://amidstthechaos.ca/
Wishing all my Canadian readers a VERY Happy Thanksgiving! Hoping you get to spend it with those you love the most, eating ridiculously good food and having a time of rest! And don't forget to add this dessert to the menu! Happy Baking!
Love & Blessings,

Disclaimer: This is a sponsored post by Hershey's Canada and I was compensated both monetarily and with product to create a recipe and review. All thoughts are my own, including the recipe, and are an honest and true reflection of how I feel about the product.
Linked up to The Weekend Retreat Party