If you know my kids in real life, you would know how crazy they are. I've often referred to them as monkeys, not just because they are silly, but because they love to climb on EVERYTHING! If there is an easy way to get somewhere versus a more complex way that involves climbing something, guaranteed all three of them would take option B!
So when Springfree Trampoline Canada approached me about working together this summer, it was a complete no-brainer for our family!
We've always wanted a trampoline but to be totally honest, I didn't think one would really fit in our yard. We live in a townhouse and our backyards leave MUCH to be desired. The one great thing though about our yards, is that none of the neighbors have installed side fences, closing off their own individual yards. So essentially, the five homes in our row that are all linked together have one MASSIVE yard space.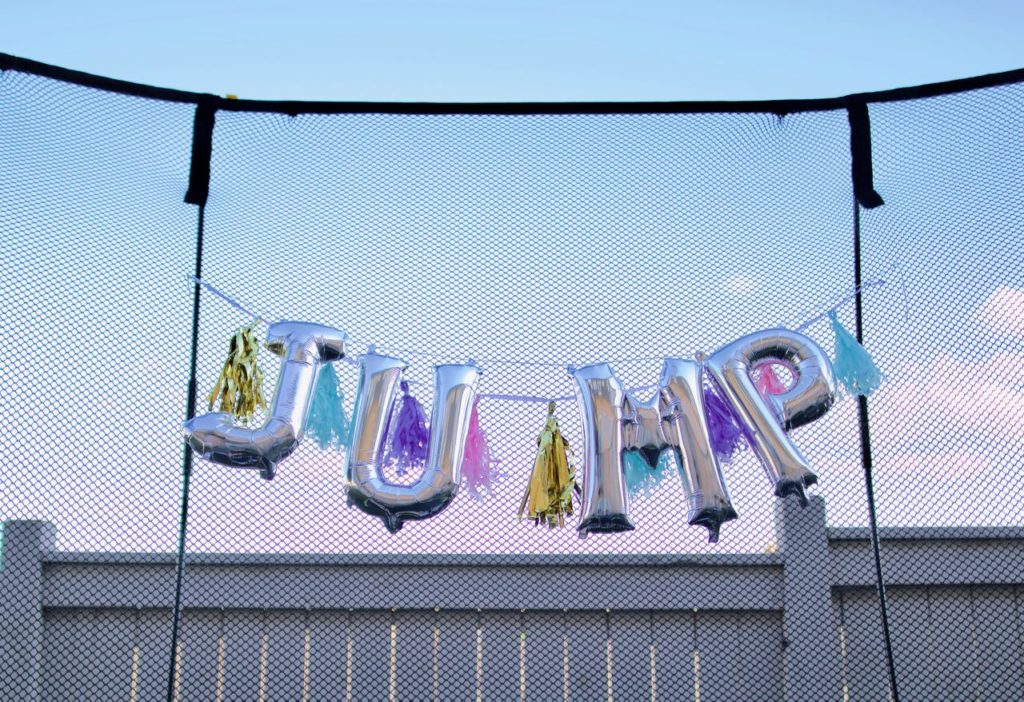 So I approached our neighbors and asked if they would be ok with sharing a bit of yard space to fit a larger sized trampoline, ensuring that their son would be welcome to use it, and they were more than happy to agree.
The truth is, the smaller sized trampolines would have fit just fine in our personal yard, but with having three kids and wanting to open it up to our neighbors to join in the fun too, I knew it had to be one of the larger sizes.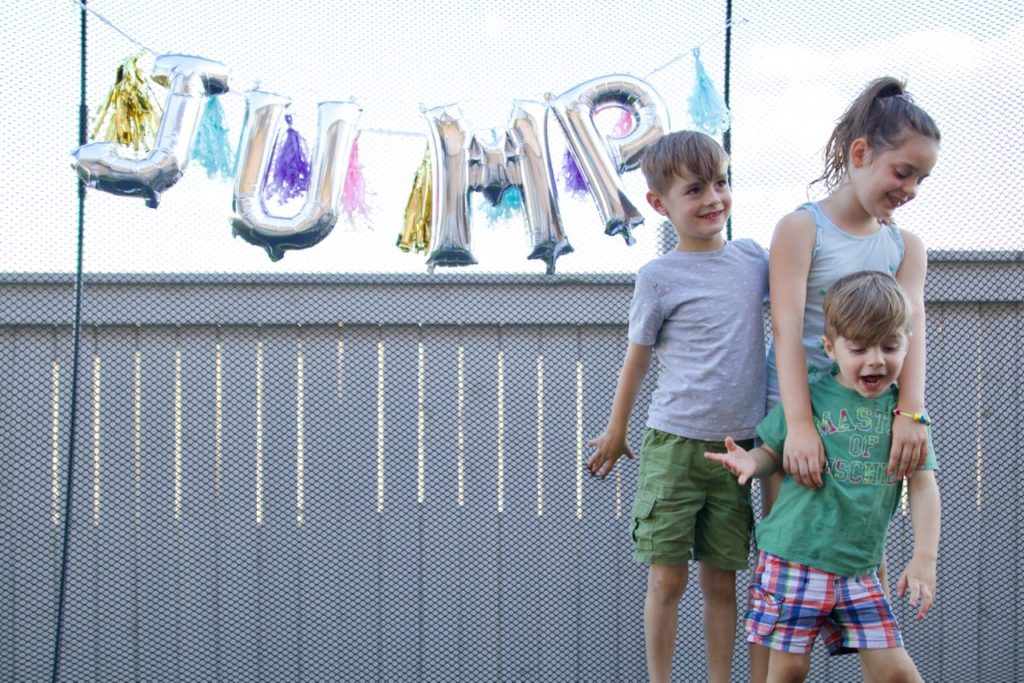 We kept the trampoline a secret from the kids and I was so GIDDY to show them after school, the day it was installed. It had been raining that day, so I didn't think the kids would go on it, but one quick look into our yard and the kids FREAKED OUT! Squeals and screams and sheer excitement from all three of them! They ran onto the trampoline before I could even say "It's wet!" That didn't matter to them! Soon enough, two of the neighboring kids were outside and joining in the fun too!
I cannot even begin to tell you what an incredible gift this Springfree Trampoline has been to our family. If I'm totally honest, my kids probably watch more television than they should, as I am usually quite busy with work, housework or meal prep. Our house isn't massive and so we are somewhat limited in the amount of toys we can have inside as well.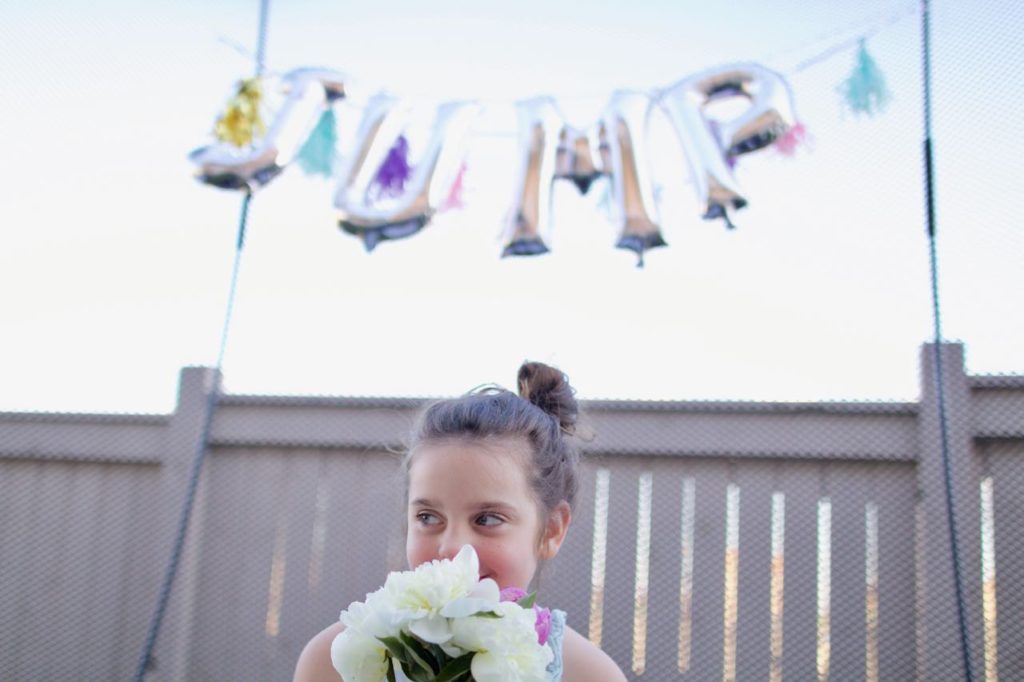 Since this trampoline has been installed, they have honestly been outside EVERY SINGLE DAY, jumping their little hearts out! This last Saturday, they were on it for SEVEN HOURS! We made sure to keep them well hydrated, lathered in sunscreen and fed. They also have learned quickly when they need a break and how to pace themselves so that they don't get too tired.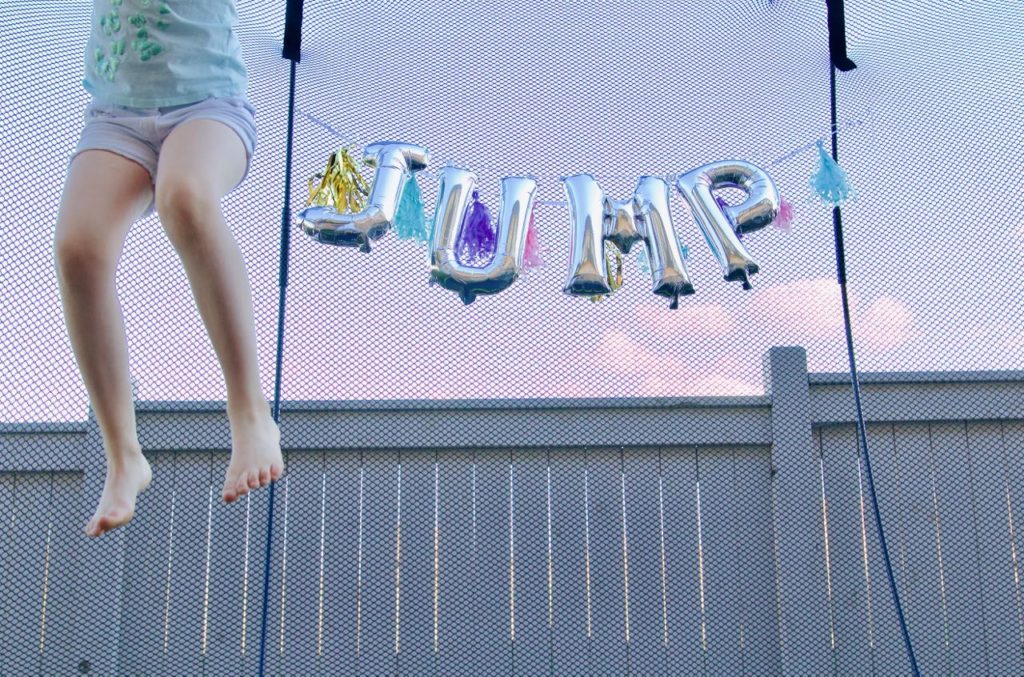 They don't even jump all the time though. I've overheard them playing all kinds of made up games, as well as using the basketball hop and even soccer! We've put the sprinkler underneath the trampoline and they've gone out there in their bathing suits and splashed around! We've even had water balloon fights on there!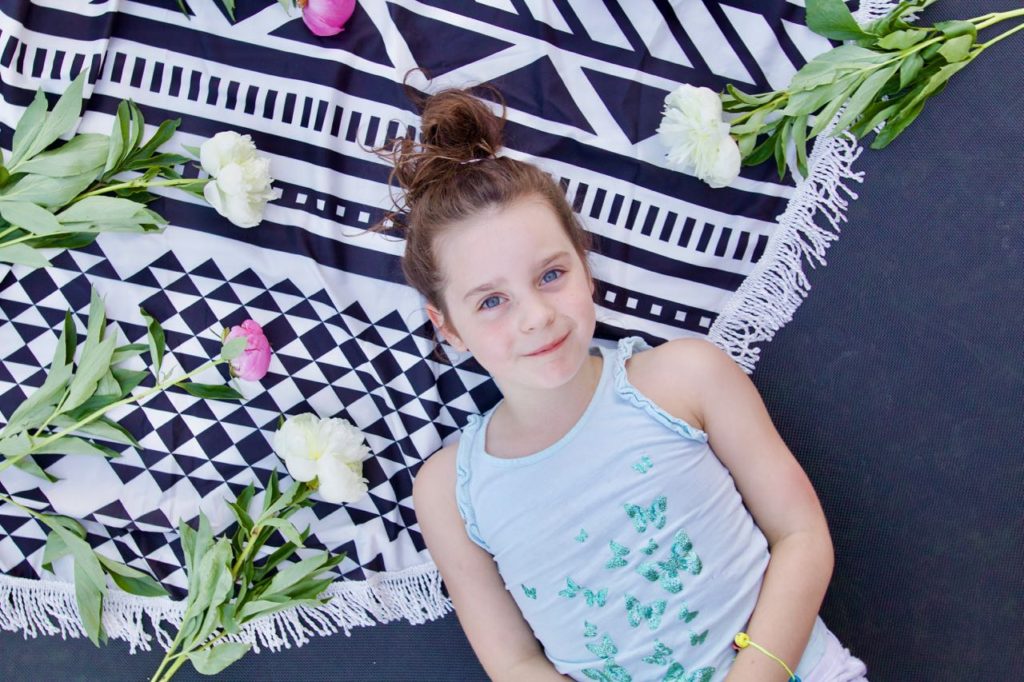 But one of the things that I love the most about the trampoline is how safe it is for our kids. Without the springs on the surface of the trampoline as well as the net enclosure, I truly feel that it's a safe place for our kids to get all their energy out while getting a good dose of vitamin C!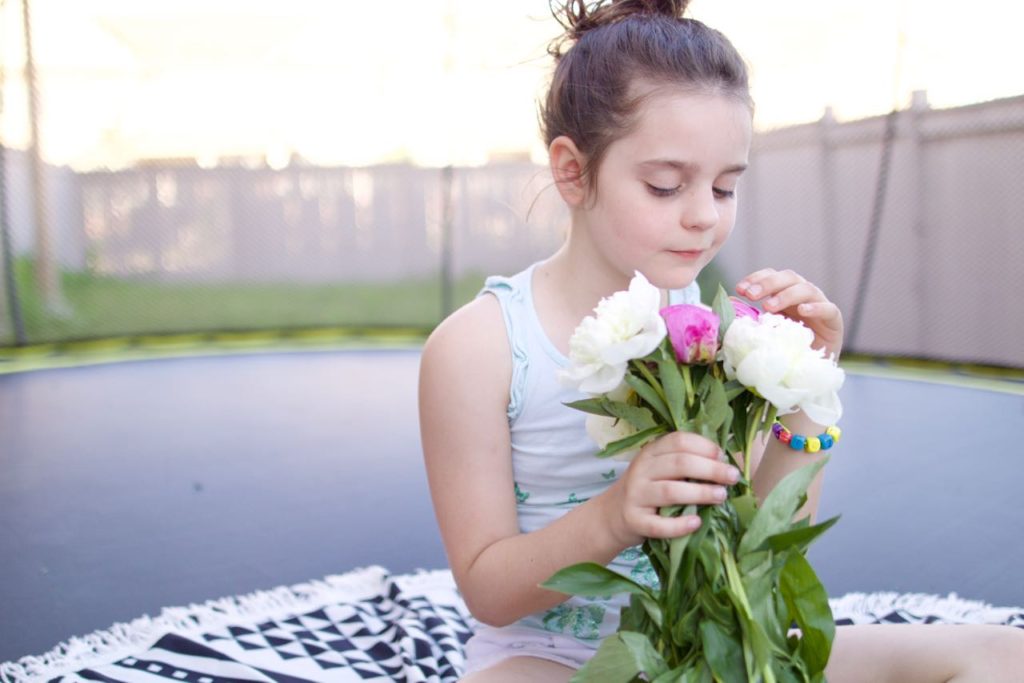 This Springfree Trampoline comes equipped with the TGOMA system which has sensors all around the trampoline that connect to an app and the kids can play games through their jumping. But honestly, we haven't even set it up yet…because the kids have had so much fun on their own! I'm going to report back in a few weeks once we get that app up and running! It's going to add a whole other level to their outdoor trampoline experience.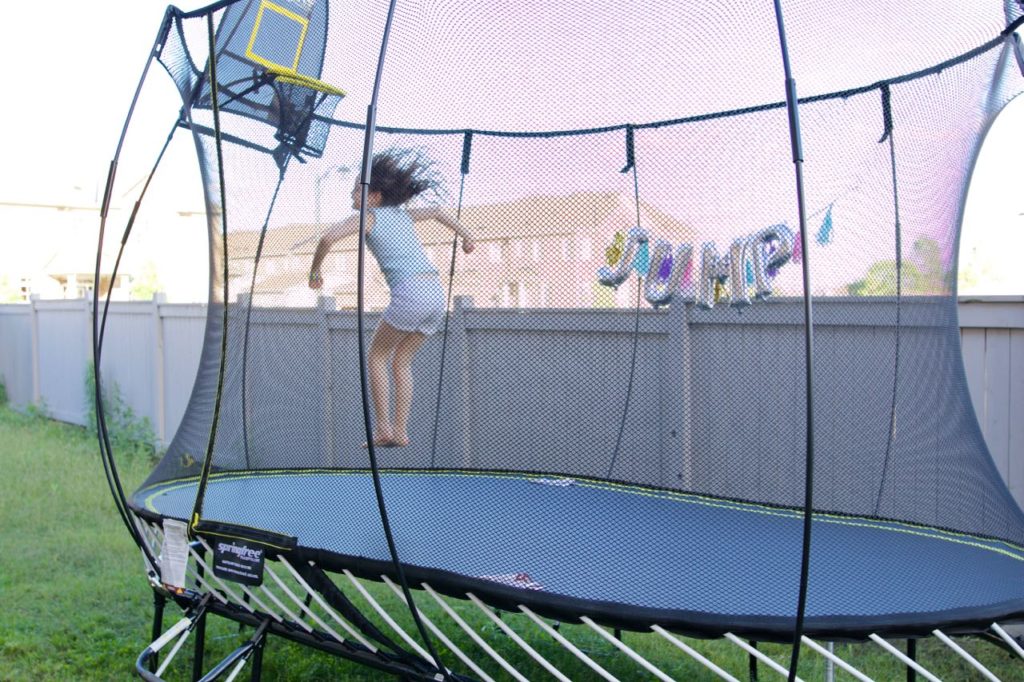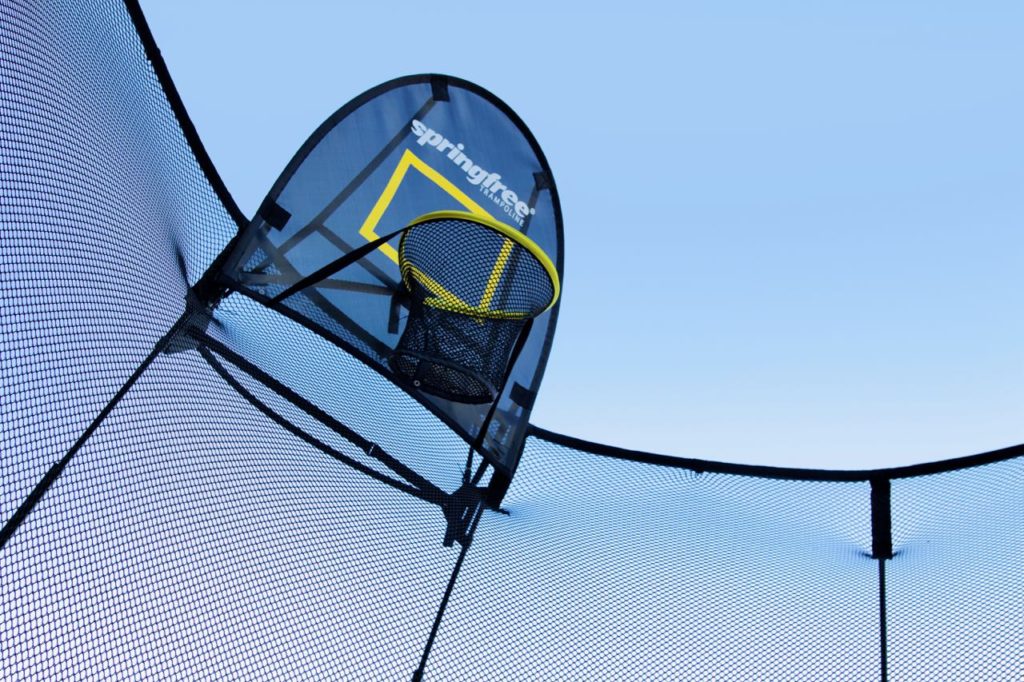 If you've been on the fence about whether or not to get a trampoline for your family, I encourage you to jump off and into a Springfree one! To sweeten the deal, I have a special gift for you! Springfree Trampoline Canada is excited to offer our readers an exclusive offer that gives you the TGOMA system FREE with your trampoline purchase! Just use code SpringInto150YYZ2. That's a $399 GIFT! I guarantee you it will be one of the BEST purchases you make for your family!
I know our kids will be bouncing away the summer day away with Springfree!
Note: This post is sponsored by Springfree Trampoline Canada. In exchange for this post, I have received perks in the form of products and/or compensation in exchange for my honest opinions. All opinions on this blog are my own. Thank you for supporting that brands that help make Amidst the Chaos possible!