Here at Amidst the Chaos, we really believe in supporting and empowering women. Especially when it comes to supporting other female entrepreneurs, such as bloggers. Since I have started blogging, I have realized just how important it is to network and build good relationships with other bloggers. I have been SO blessed to have found an amazing network of strong, passionate and amazing female bloggers. There is no comparing, no judgment, but rather a real sense of camaraderie and wanting to help spur each other on and support one another. As women who are trying to ultimately make a business and provide for their families, there's a mutual trust that it built where we want to see each other succeed.
So with that said, I want to do my part in supporting and showcasing some of my favorite bloggers work! And in the same way that when I work with brands, I promise to only bring you the best of the best, that will be my promise to you with these bloggers too. These are women that I have become fast friends with (some I know personally and others I only know online or through texts!). But these are blogs that I've grown to love and be inspired by and I want YOU to be inspired by them as well.
So I decided to ask my friend Pam to be my first guest blogger. She blogs over at Clean Life, Happy Wife. Not only is she probably one of my most beautiful friends, inside and out, she is such an inspiration when it comes to diet/health and exercise. She is actually the one who got me started on the 8 Week Challenge. You can read more about that here.
So without further ado, here is Pam!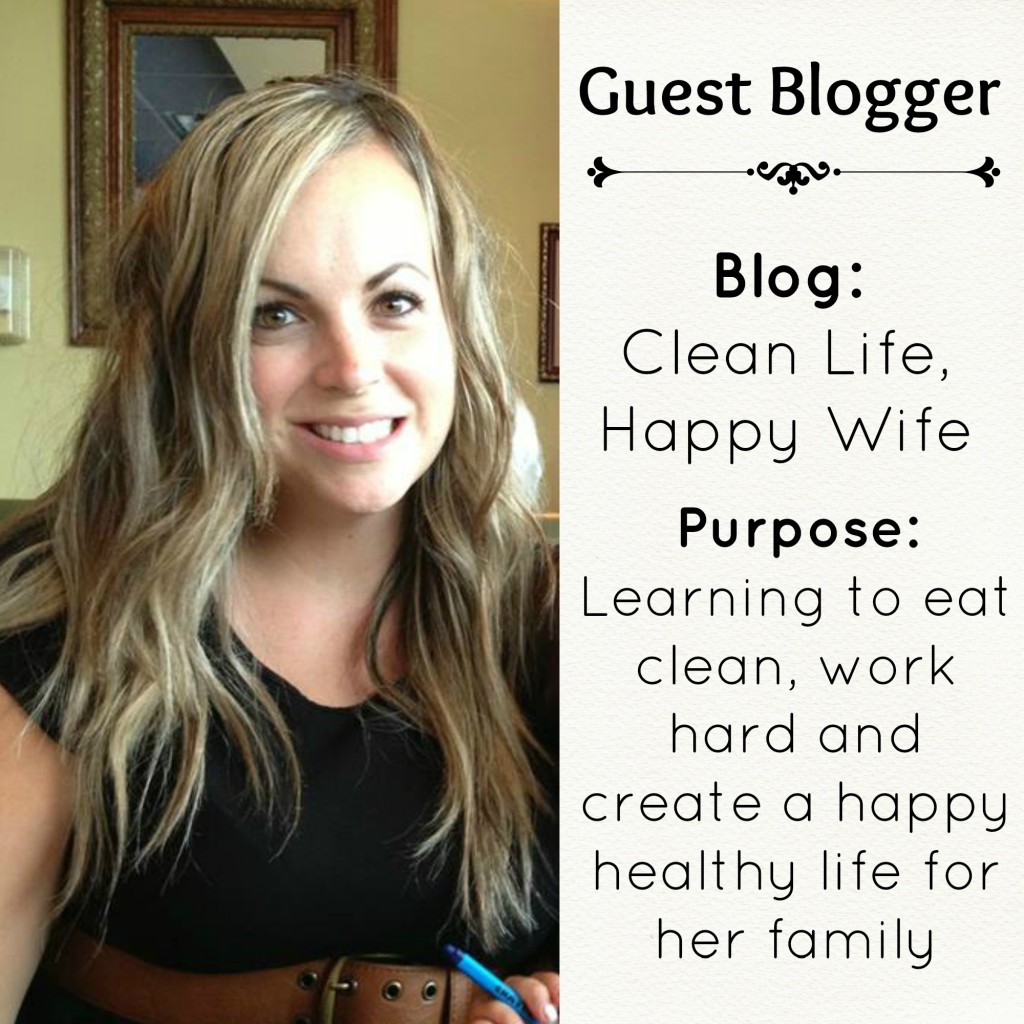 My sweet little 4 year old son has inherited many traits from my side of the family, most notably is his sweet tooth! My boy loves cookies, cupcakes, and chocolate…actually it's hard to think of a sweet treat that he doesn't like! There is an amazing little bakery near a park that the kids and I like to visit in the summer. This is no ordinary bakery! Everything is made fresh from scratch each day! They offer some of the MOST amazingly delectable desserts you will find anywhere!
The first time I took my son to the bakery, I told him and my daughter that they could each pick out one treat. My daughter instantly went to the brightly iced butterfly cookies and chose one for her treat. My son slowly ventured away from the kids desserts and toward the cabinet that held the more delicate sweets. He had his eye on one dessert in particular: a mini carrot cake. My son had never tried carrot cake before and I had a feeling that after one bite he may not be so interested in it anymore. I tried to direct him back towards the brightly iced cookies and sprinkle topped cupcakes.
He gave those more "kid friendly" treats a considerable thought, but was still drawn back to that carrot cake!
"You know this cake has a vegetable in it right?" I tried to persuade.
"You know it's not like a regular chocolate or vanilla cake…AND that you are going to hit little chunks of carrot in each bite?"
He looked at me with his brown eyes wide and nodded his head "yes".
"Cole" I tried to reason, "you don't even like carrots! Mommy has tried to feed them to you many times and you won't eat them"
"I don't like REGULAR carrots Mommy, only carrot CAKE" he countered in an exasperated tone.
"Well, what's the worst that can happen? He doesn't eat it. No big deal right?"
So, we left the bakery with one butterfly cookie, one mini carrot cake, and one smiling little 4 year old boy.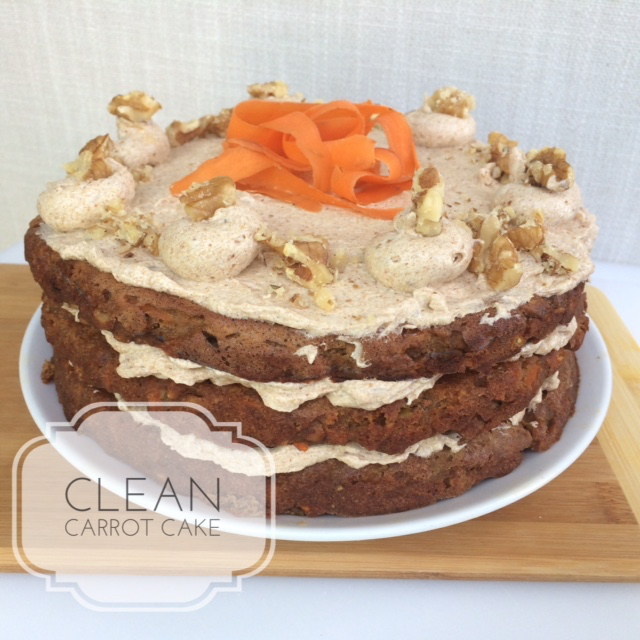 The kids were each holding the paper bag with their goodie inside as we drove 5 minutes to the park. I pulled into a parking space, hopped out of the driver's seat and opened the back van door. My son was sitting in his car seat with an empty bag and a face full of cream cheese icing. "Oh no" I thought "What a mess! Where is the rest of the cake?" I started looking on the floor by his seat and even crouched down to look under his seat. No sign of the cake.
I asked my Son, "Where is your cake?"
"I ate it" my son innocently replied.
"I see that you have eaten some of it but where is the REST of the cake?" I asked
Again he replied, "I ate it".
I stood there in disbelief.
Surely he didn't devour an entire mini carrot cake with his bare hands in the 5 minute drive to the park!
But, by all accounts the cake was gone.
I stared at him in astonishment.
"Well, what did you think of it?" I asked
He threw his hands in the air and exclaimed "I LOVE carrot cake!"
What a kid!
I grabbed some baby wipes for his fingers and made a mental note to register him for the upcoming pie eating contest at our local summer fair. This kid has skills!
Needless to say, carrot cake has made some pretty regular appearances since that day at the bakery! I tinkered with a few recipes to come up with a "clean" version of this family favourite. This recipe can be made as a cake as I did here or into little muffins/cupcakes.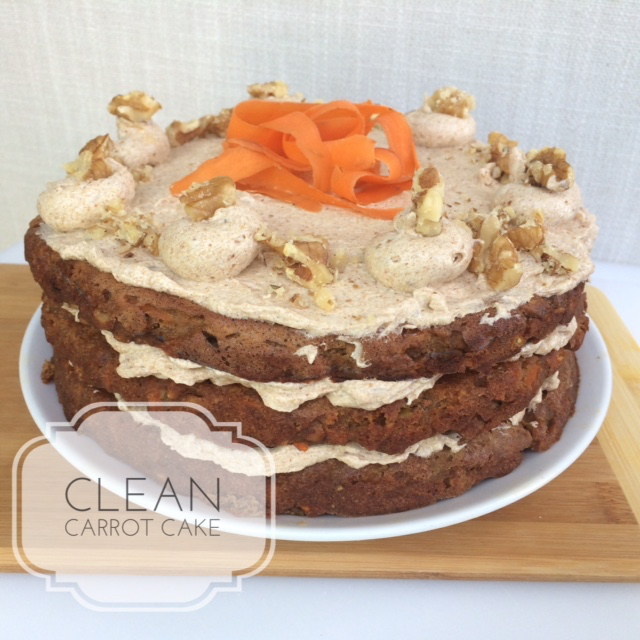 Clean Carrot Cake
2015-05-31 19:31:16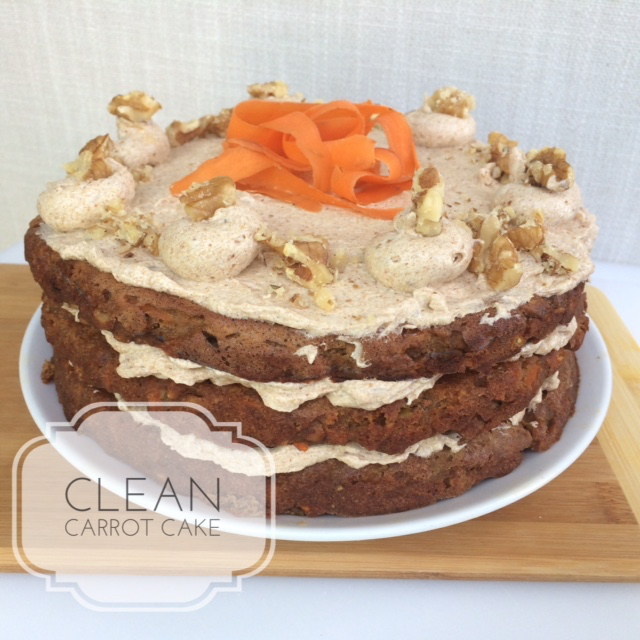 This cake is great as a dessert but is also healthy enough to have a piece (or two) for breakfast!
Dry
1⁄2 Cup ground pumpkin seed 1⁄4 Cup coconut flour
1 Tsp baking powder
1 Tsp cinnamon
1⁄2 Tsp nutmeg
Wet
1⁄2 Tsp vanilla
2 Cups shredded carrots
3⁄4 Cup apple butter
3⁄4 Cup date butter
4 eggs
Chopped walnuts or raisins optional
Icing
1 Cup coconut milk (place a can of coconut milk in the fridge overnight. Gently open the can and scrape out only the hard coconut that has risen to the top)
1 1⁄2 Cups Palm oil shortening (you will find this at a health food store)
1 Tsp vanilla
2 Tbsp coconut flour 3⁄4 Cup date butter
2 Tbsp Apple butter 1⁄2 Tsp cinnamon
Instructions
Preheat oven to 325F.
Line a round cake pan with parchment paper and grease the sides.
In one bowl combine all dry ingredients and mix well.
In a separate bowl combine all wet ingredients and mix well.
Pour the mixed wet ingredients into the dry ingredients and mix well.
Pour the batter into your cake pan (or 3 separate cake pans if you want to layer it like I did).
Bake for 30 minutes.
Icing: Mix the shortening and coconut milk in a mixing machine for approx 5 minutes. Slowly add in remainder icing ingredients.
Once the cake is cooled, icing it to your liking, sprinkle with nuts, and serve!
Amidst the Chaos https://amidstthechaos.ca/
This cake is great as a dessert but is also healthy enough to have a piece (or two) for breakfast! I hope you enjoy this cake as much as we do!
xox Pam
*********************************
I hope you've enjoyed this post and are excited to try this recipe! Carrot cake is one of my all-time favorite desserts and this recipe is going to the top of the list! If I can still enjoy my desserts while eating clean, I'm in!