With Mother's Day just one short week away, I thought I'd pull together a few of the most fabulous gifts I could find to help express your love and appreciation for the Momma in your life! As a Mom, I know that we often don't spend a ton of time or money on ourselves…there's always something to buy or do for someone else. So I've curated some great options, some as low as $10, to help you find that perfect gift for Mom! And remember, you can shop the item by clicking directly on the picture! Happy Shopping!
1.The Body Shop's Japanese Cherry Blossom Body Butter
Why not get the Body Shop's best selling body butter to show Mom how much you love her? Japanese Cherry Blossom extract is known for its soothing properties so help Mom relax and feel rejuvenated this Mother's Day! And it's half price right now! Bonus!
2. Kate Spade "One In A Million" Initial Pendant Necklace
The perfect gift to show Mom your affection with this monogrammed necklace! Choose whichever initial means the most to her (whether it's M for Mom or her name) and on the back it is inscribed with "One In A Million!" The pendant is 12k gold plated and Momma is sure to love this!
3. One Kings Lane Copper Medium Candle, London
We all love the ambiance that candles create, plus with the added beauty of a copper jar and a marble lid/base, this is such a beautiful gift to help Mom relax while taking a bath! With a fresh outdoor scent, this is sure to be winner with Mom!
4. Street Level Reversible Vegan Leather Tote & Wristlet
We know that Mom has to carry alot of things when she is out and about, so this purse is perfect to grab and go when running errands. It is reversible and comes with a wristlet for nights out! Available in different color combinations, this faux leather tote will have your Mom shopping in style!
5. Michael Kors "Amelia" Moon Phase Rosegold Bracelet Watch
If you really want to spoil Momma this Mother's Day, this Michael Kors watch is the perfect gift! Complete with a unique moon phase indicator, this watch is sure to set her apart! From the elegant links to the delicate rosegold color, this watch will have Momma swooning with affection for you!
6. Fergalicious Happy Floral Slip-On Sneaker
Is your Mom fun with her fashion? This is the perfect gift as we enter into summer to help your Mom's feet feel comfortable and fashionable on the go! With florals being on trend this season, this is a fun gift for your fashionista Momma!
7. Marc Jacobs Daisy Eau So Fresh
Instead of giving Momma a bouquet of flowers, why not give her this lovely and whimsical smelling perfume, topped with a beautiful floral arrangement! Help your Mom channel her inner youthful self with this fresh and simple perfume that has notes of raspberry, wild rose and plum!
8. Kate Spade Square Stud Earrings
Who doesn't love a fabulous gem stud earring? Fun for everyday apparel, Mom is sure to fall in love with these "gems". With over 12 different colors to choose from, these 12k gold plated, faux-gem studs are sure to make Momma smile!
9. Smythson "Everyday I Love You" Journal
A perfect gift to help Momma reflect at the end of a busy day! This journal is made with pink lambskin and pale blue featherweight paper! A beautiful gift for the busy Momma to help unwind!
Well I hope you've enjoyed this post and that it's given you lots of great ideas for Mother's Day gifts! Whatever you do end up buying for Momma, just make sure that at the end of the day, she feels loved and appreciated!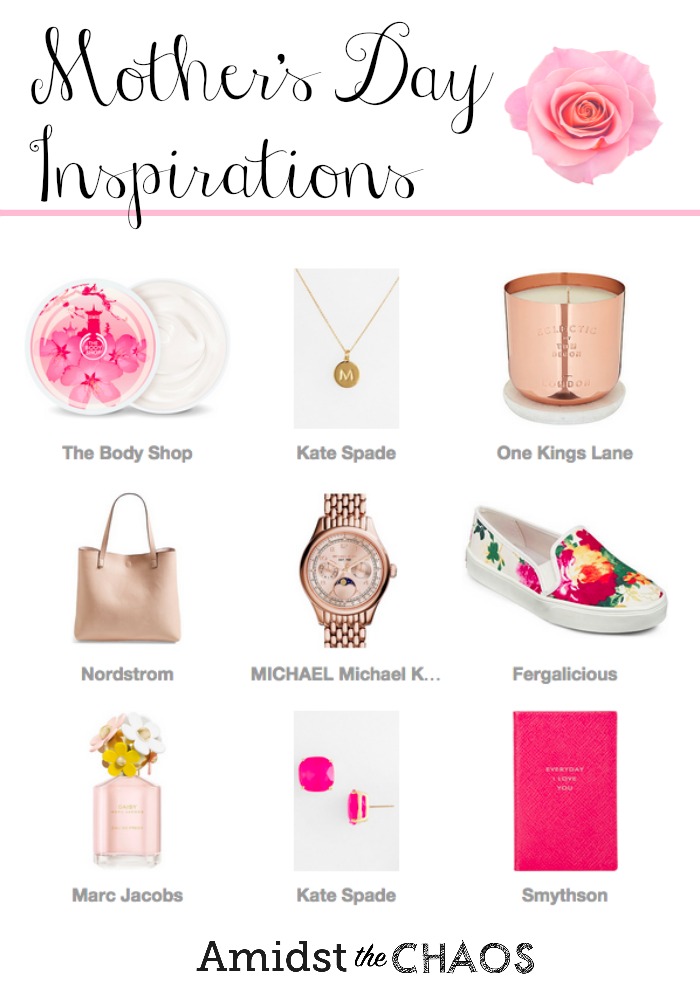 Love & Blessings,