From the outset, I want to make a statement about this birthday party that I'm going to feature. This was NOT the typical party I like to prepare for, set up and execute. I am well aware that this party will probably never be featured on a party website that is curated with the prettiest parties out there. BUT…this birthday was exactly what my son asked for and we had an absolute BLAST. As much as I love decorating and event planning and making sure every last detail is in perfect place, I also realize that needs to be balanced and that sometimes packing everything up and heading to the beach for a party on a cold and windy day is just as fun too!
My middle son is coming up on his fourth birthday and so as I'm starting to plan what we should do for it, I'm remising about his previous parties from years past. I've also been thinking about this party because he actually keeps asking for us to do it AGAIN! Yup, you read that right. My son remembers his pirate beach birthday party from two years ago and wants us to do a repeat of it because it was so much fun!
Because G's birthday falls in August, usually when everyone is getting in those last minute vacations, it's hard to plan something big, not knowing if many people will even be in town to celebrate with us. And as you know by now, we don't have any family close to us (in proximity) so we rely heavily on our friends to celebrate life's biggest milestones with us. Also, can I just point out how much I love that our friends get right into it, like these guys below!! I bought eye patches and pirate hats from Party City, originally thinking only the kids would wear them, but tons of our friends joined in the fun and decked themselves out!
Also, with his birthday being in the summertime, I decided that it would be nice to just head to the beach and enjoy the nice weather while it's here (at the time we lived in Northern Ontario and the summer's were not very long and the winter's were brutally cold). I like the idea too of a party outside of the home because it means a) I don't need to clean my home BEFORE the party (amiright?!) and b) I don't have to clean my home AFTER the party! Sense a theme there?!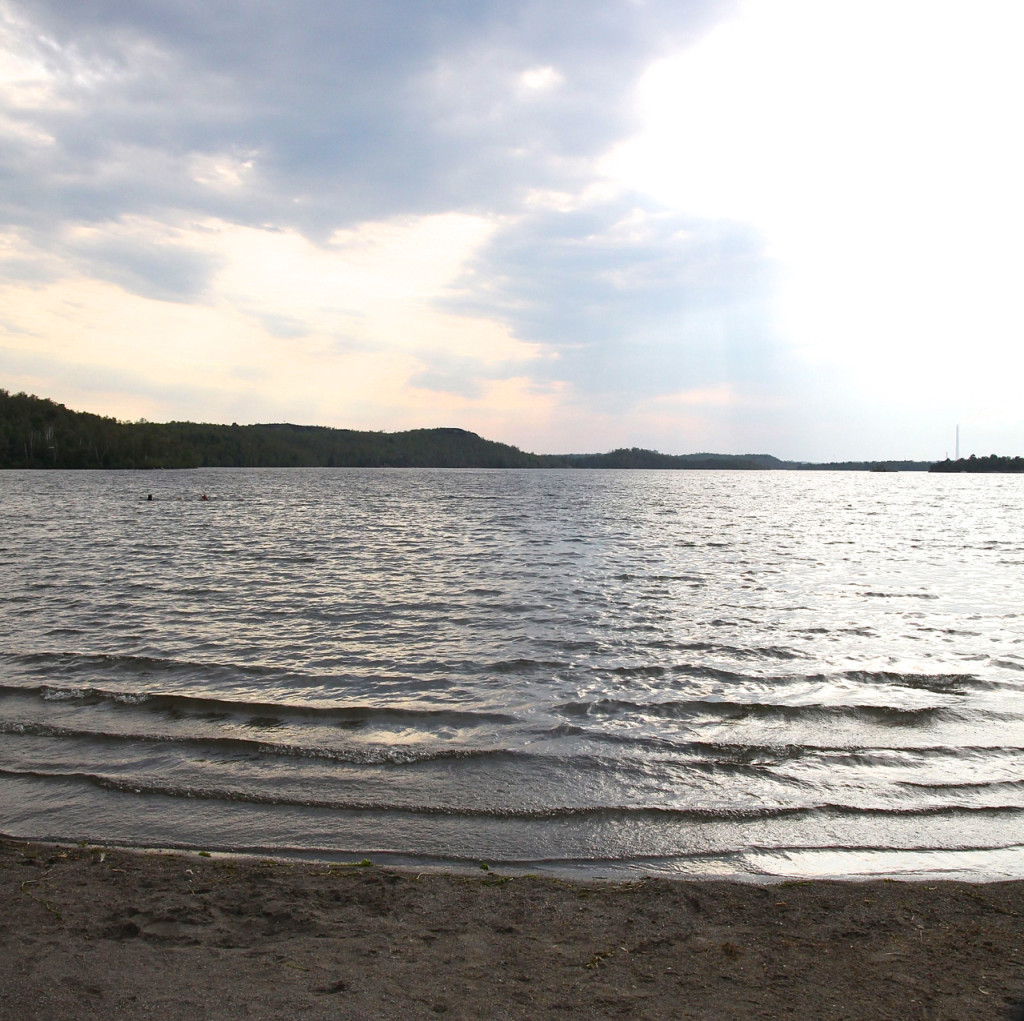 Now, this does take a bit more logistical work in terms of planning everything out properly, packing all your supplies, scouting out the area beforehand and then making sure you arrive early enough to set everything up. We did forget a few things (nothing essential, only water! Ha!) and we definitely didn't leave ourselves enough time to set up before the party goers arrived. Another issue that we encountered was that it was SUPER windy that day so as you will see from some of the pictures, the little decor that I did have planned, was blowing all over the place. But you know what, while Pinterest might notice that, the kids at the birthday definitely didn't and loved every minute of it.
So let me walk you through this and explain how I did this party.
For starters, I found free online printables for the party. This is honestly where I ALWAYS start, with ANY event I do. Prints really set the tone of the party. I usually pay for prints, but this time I was lucky enough to find free ones. These fabulous pirate prints are from Cottage Industrialist. I used the bunting banner and then I added in some plain black cardstock to make it longer. As you can tell, it was mega windy and caused the banner to not fully be seen! I also used her pirate flags for my fruit skewers.
Printing items such as these is so easy and really affordable (we are talking less than 50 cents a page!) All you have to do is create an account with a copy and print center, such as Staples, upload your items, select the paper finish and quantity and you're done! They will email you once your ordered has been processed and is ready for pick-up! On average, I would say I spend less than $5 printing party printables! So it's worth it to give your party that extra punch!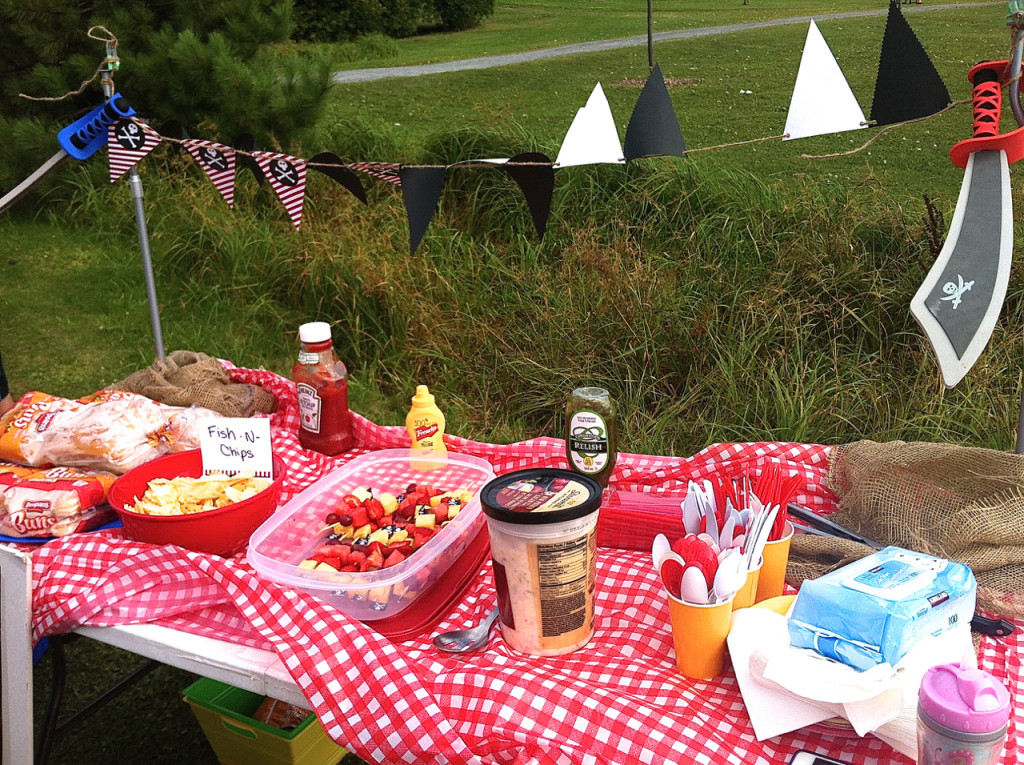 For the food, we kept it super simple: hot dogs (we brought a little hibachi BBQ to grill on the beach), potato salad, fish-n-chips (gold fish crackers and chips) and fruit kabobs. And for dessert, we had popsicles! Typically, my tablescape would be MUCH nicer than this, but again, working with what I had at the beach and fighting mother nature, we had to improvise (aka that's why there is a package of wipes on top of the napkins!)
Now let's get to the really fun part, the activities!
We brought a pin-the-eye-patch-on-the-pirate game, which is always a fun classic birthday party game. I did forget a bandana to cover their eyes so we improvised and used eye patches!
We also had the kids "walk the plank", which was just a 2×4, supported by two buckets. This was super fun for the kids and such a cheap and easy activity.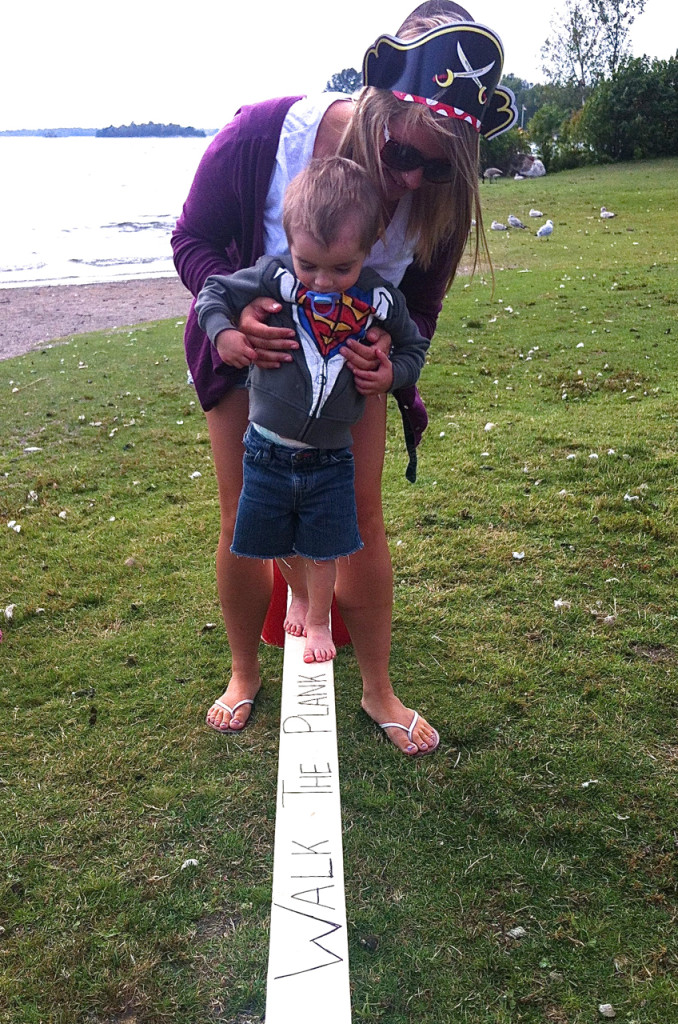 After walking the plank came the best part of the party (which my kids still talk about to this day). The pirate dig for buried treasure. While I was setting up the food and so on, I had my hubby set up the pirate dig. He sectioned off a part of the beach with rope and wood dowels and then buried party necklaces and gold coins all throughout it.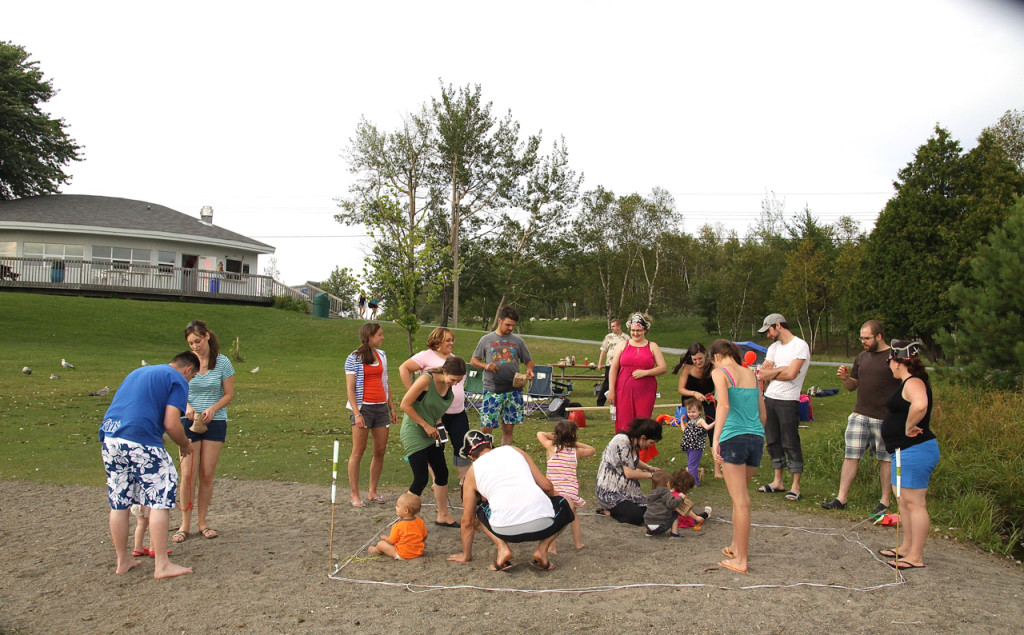 Everyone really got into this. It turned out to be way more of a hit than I expected. I made brown paper bags with stickers and various sayings such as "Buried Treasure" and "X Marks the Spot" so the kids could put their loot in them.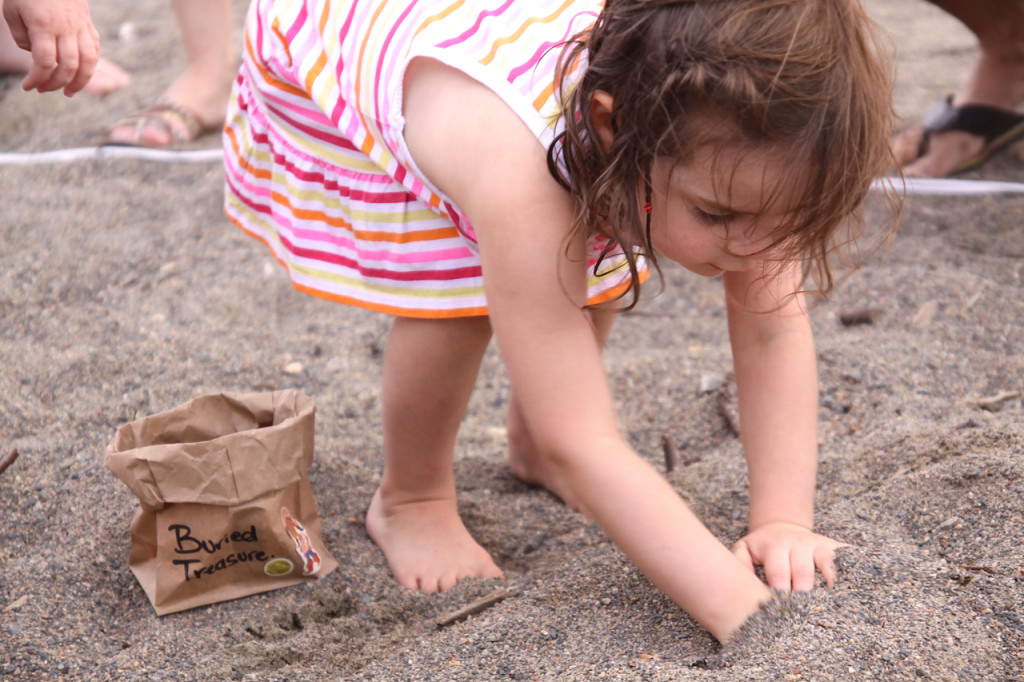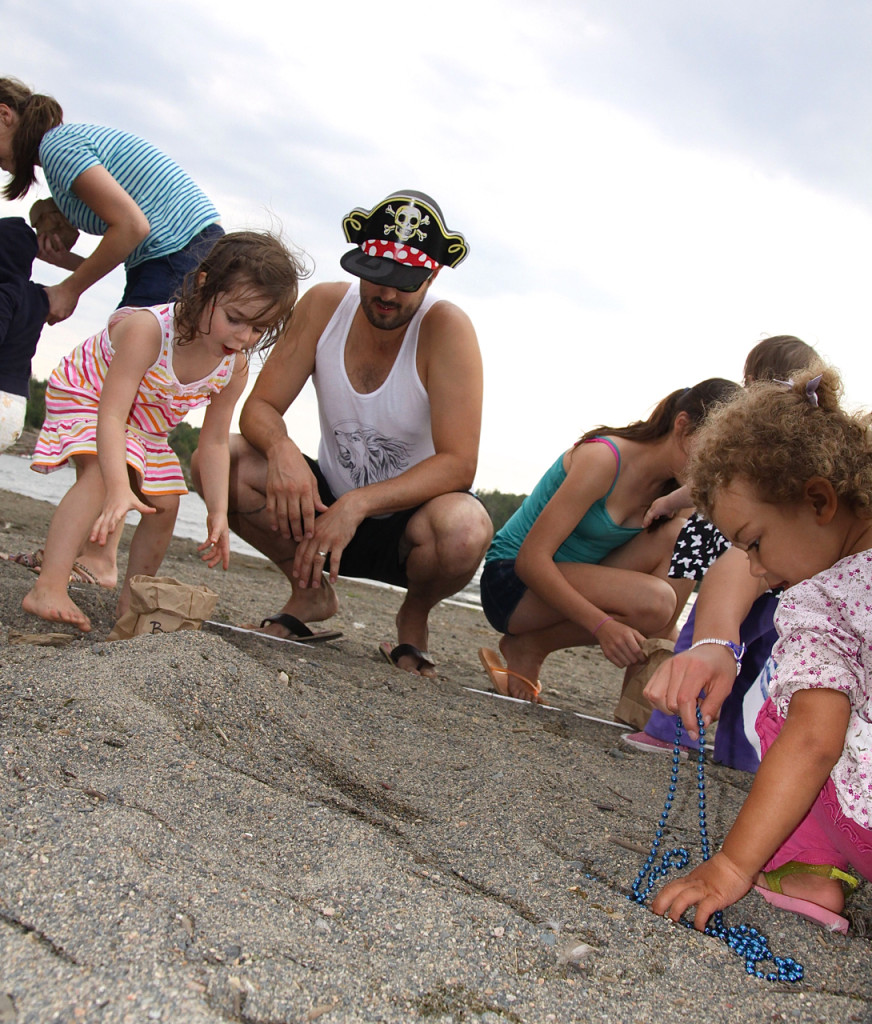 Here's the birthday boy, counting up all his loot!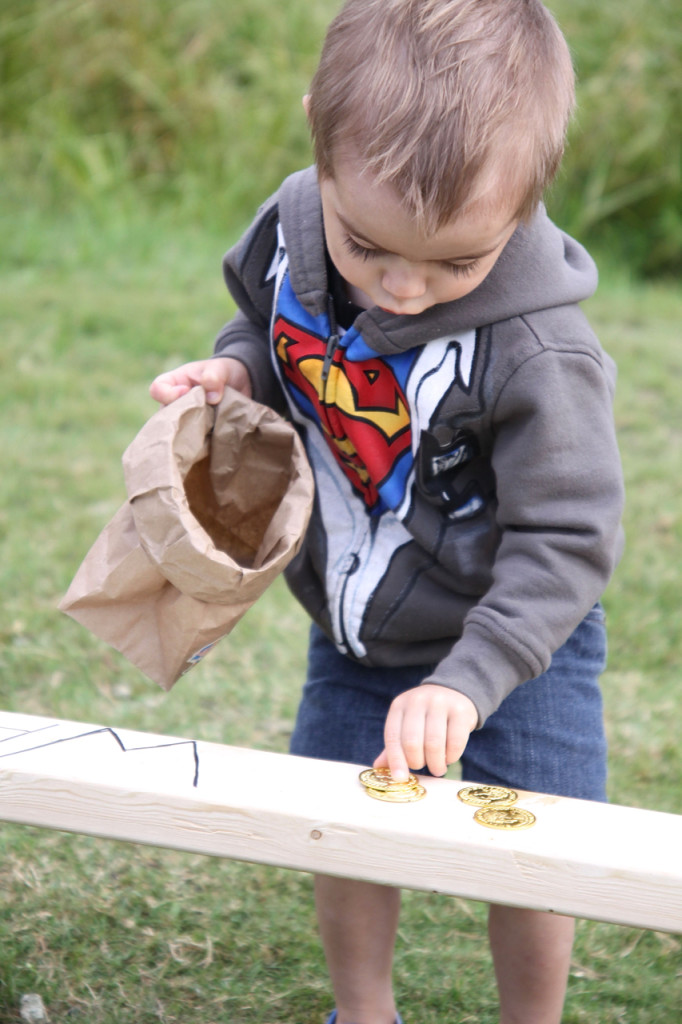 And even though it wasn't the nicest day out, at the end of the party, most of the kids (and parents) went into the lake for a swim! It was honestly such a fun birthday party. With just a little bit of creative thinking and making use of a free outdoor space, this party was made truly memorable for all who came, but most especially, for the birthday boy himself!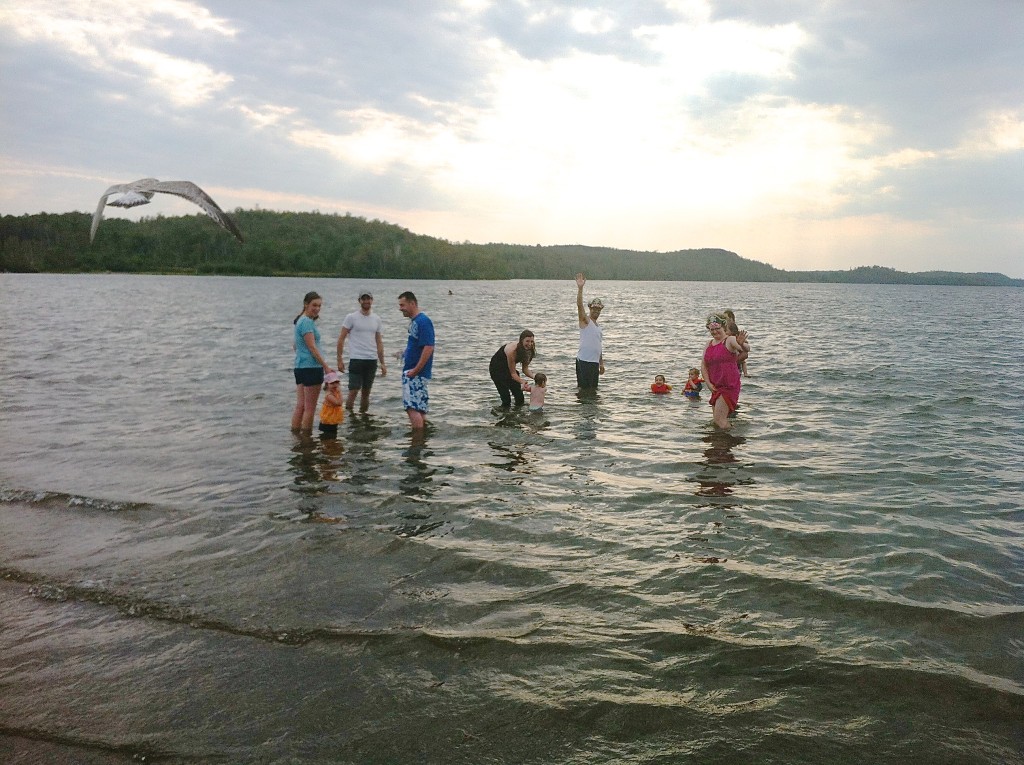 Love & Blessings,