Welcome to our third and final instalment of our Taco Tuesday series. In case you missed the two previous posts, make sure to check out our Southwest Chicken Tacos and last weeks Fish Tacos (my personal favourite).
I feel as though most people have one signature dish that they are known for. It might be a baked good or a full meal, but we all seem to have our "thing" that we excel at in the kitchen.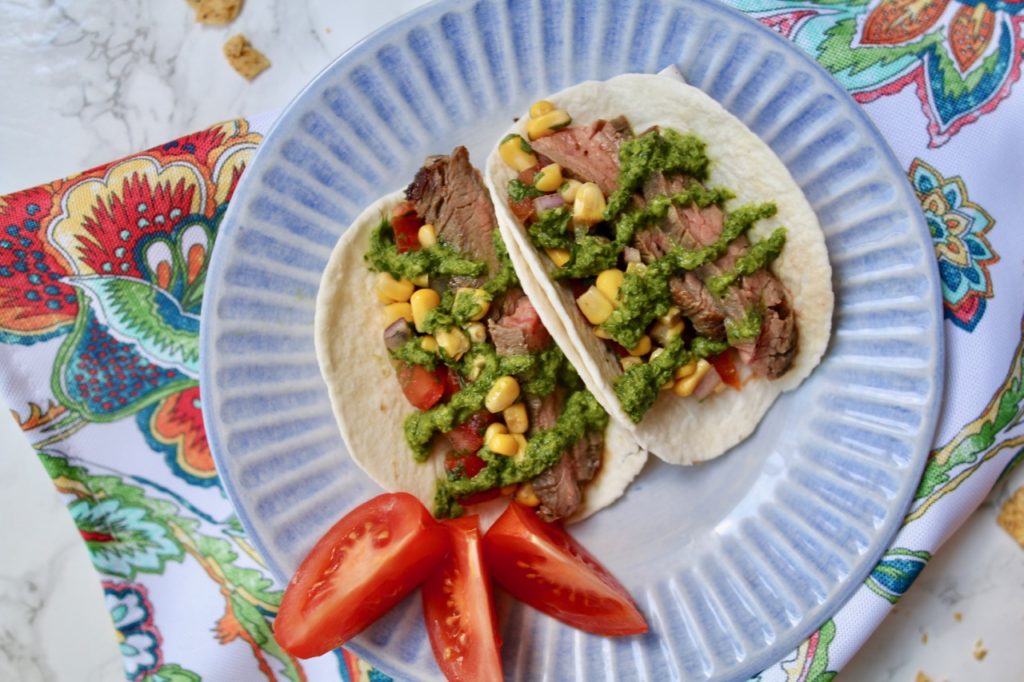 For my husband, it's hands down tacos (although gourmet burgers would be a close second). He has worked hard to perfect three different styles of tacos over the last couple of years. These tacos are legitimately BETTER than most tacos I've tasted in restaurants (and trust me, I've tasted A LOT of them). I think as we've eaten lots of different tacos around the world, Chris has really honed in what makes each taco so delicious and made his own pairings that honestly will make your taste buds soar!
So today I'm excited to share with you these amazing chimichurri steak tacos. If I had to rate all three, I would place the fish ones first, these steak tacos second and the chicken tacos third. And as I place those in first, second and third place, know that the points that separate them as SO few…they truly are ALL amazing!
So for these steak tacos, there are three main components to put together, which make them the simplest of all three tacos to assemble.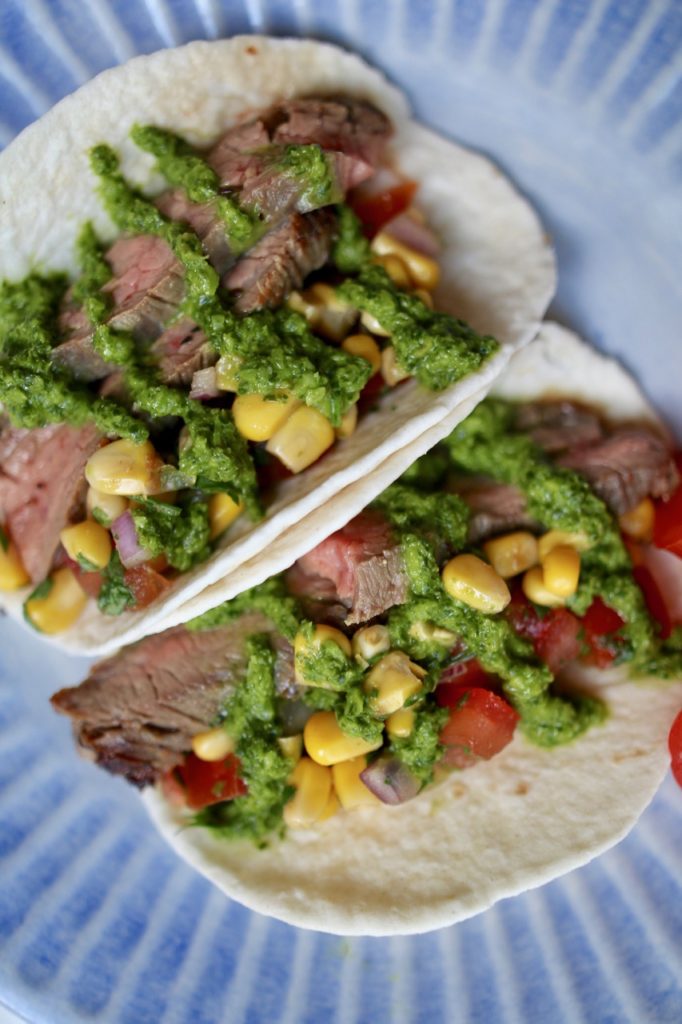 You've first got the steak. You are going to want to get flank steak for these as they are a great cut and provide great flavour for this kind of dish. All you are going to do with the steak is marinate it for at least an hour (but best overnight, if possible) with simple fresh garlic, salt, pepper and some olive oil. And that's it! You will cook it whole and then cut it into strips.
Next is the pico de gallo. We already covered how to make this in the Southwest Chicken taco post. This is the same recipe and is used for both kinds of tacos.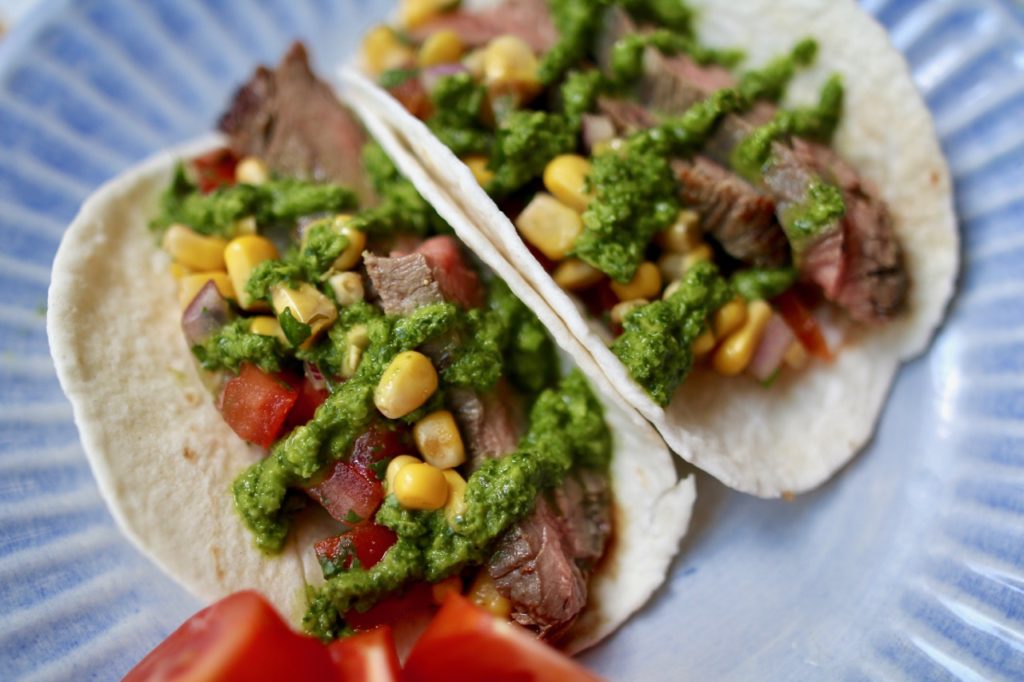 The third component for these steak tacos is the chimichurri, in my opinion, the star of the dish. Chimichurri is a fresh and very flavorful sauce for grilled meat, that is popular in South America, particularly in Argentina. It offers an amazing flavour contrast when paired with savoury meats. I'm convinced that once you try this, you will be wanting to spread it on ALL your meat dishes! It's SO good!
So let's get to the recipes!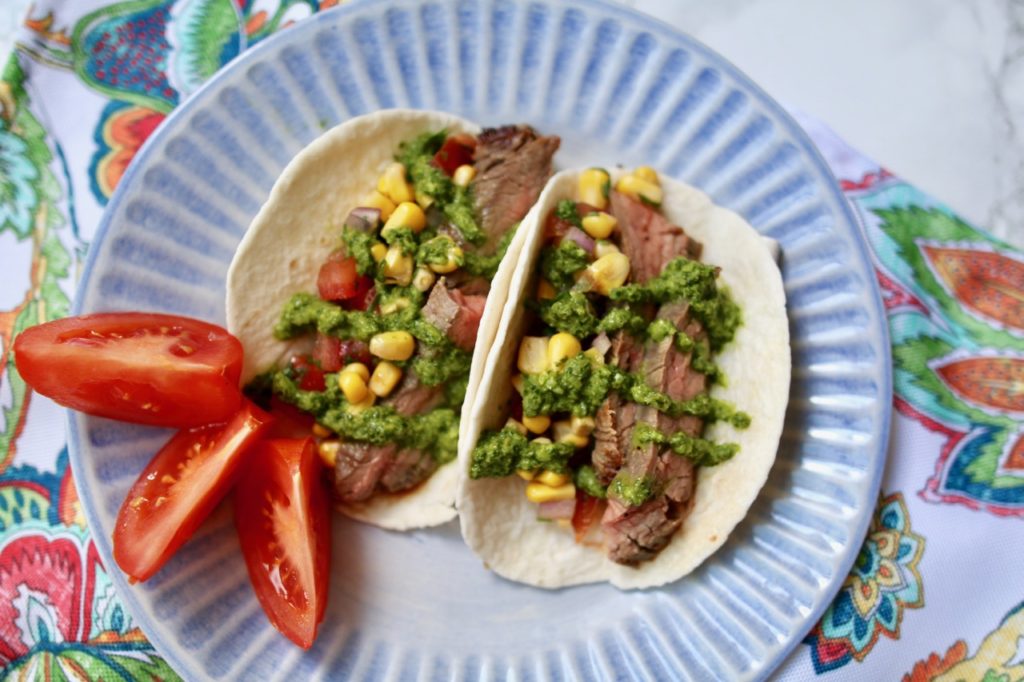 Chimichurri Steak Tacos
2017-07-24 09:10:26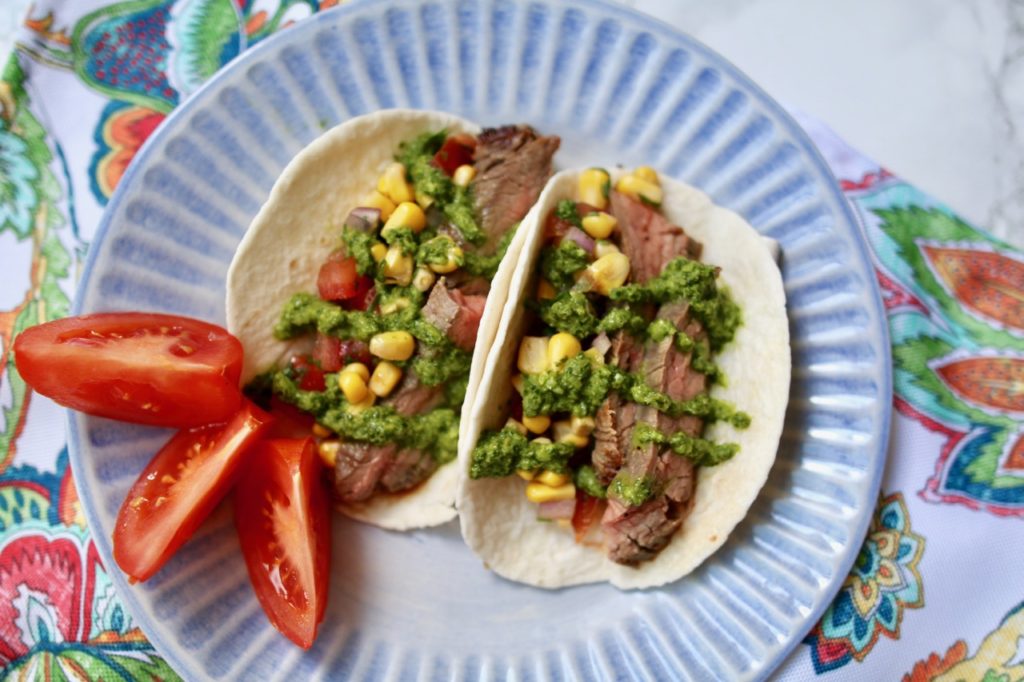 Steak
1 flank steak
4-6 cloves of crushed garlic
Salt and Pepper
Drizzle of olive oil
Pico De Gallo
6 plum tomatoes, filleted and diced
1/2 white onion, minced
1/2 lime, juiced
1 clove garlic, minced
1/4 cup chopped fresh cilantro
Salt and ground black pepper, to taste
Chimichurri
4 fresh garlic, crushed
1 cup fresh oregano, chopped
2 cups fresh flat leaf parsley, chopped
2 cups fresh cilantro, chopped
1/2 cup olive oil
1 tbsp red wine vinegar
1 tsp salt
2 limes, freshly squeezed
Instructions
Steak
Lightly drizzle with olive oil to cover entire steak. Spread the crushed garlic over the entire surface, as evenly as possible. Season liberally with salt and pepper. Place in resealable bag for at least one hour or overnight, in the refrigerator.
Once ready to cook, grill on either the BBQ or a cast iron skillet. Once cooked, cut into stripes across the grain.
Pico de Gallo
Combine and mix thoroughly
Chimichurri
Stripe the leaves off the herbs and place oregano, cilantro, flat leaf parsley into the food processor. Add in remaining ingredients and blend in food processor until combined.
Amidst the Chaos https://amidstthechaos.ca/
And there you have it! The best Chimichurri Steak Tacos you will find!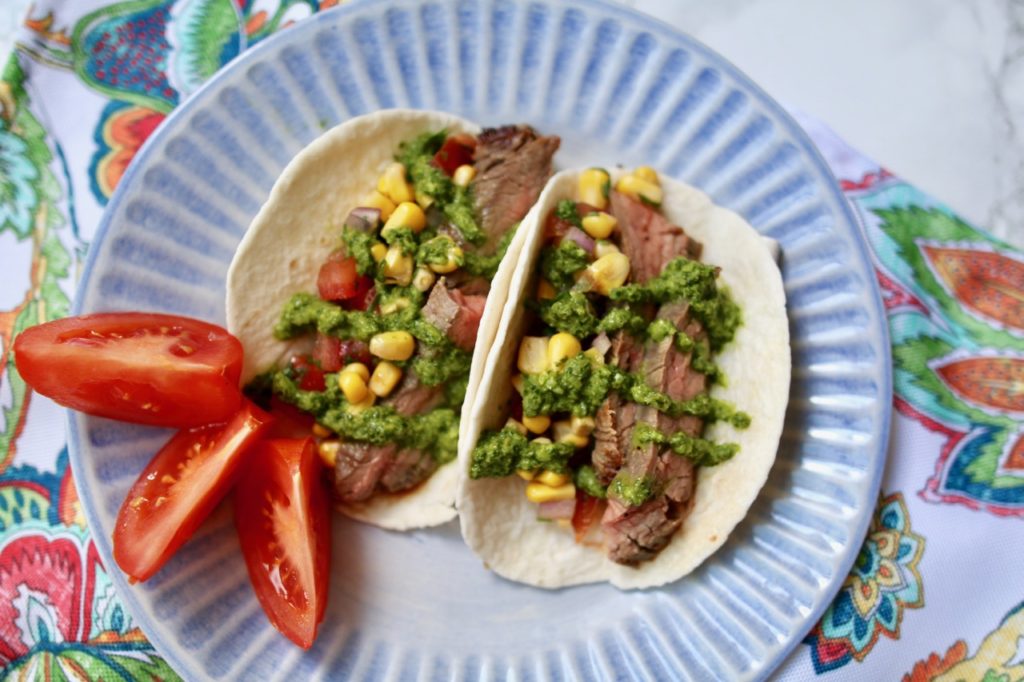 Have you tried the other two tacos in our series? Which ones are your favorites? Let me know in the comments below and if you make some for your friends and family, be sure to send me some pictures! I'd love to see how they turn out!
Love & Blessings,