So here is my first main course recipe entry! Awhile back, I came across a Fish & Veggie Curry recipe online. I spent awhile reading past the actual recipe to the comments from other users (something I'm quickly learning is PARAMOUNT, especially for recipes!). It seemed that everyone LOVED the recipe however everyone had made significant changes to it. So I decided to write down a few suggestions and then try to tweak it myself.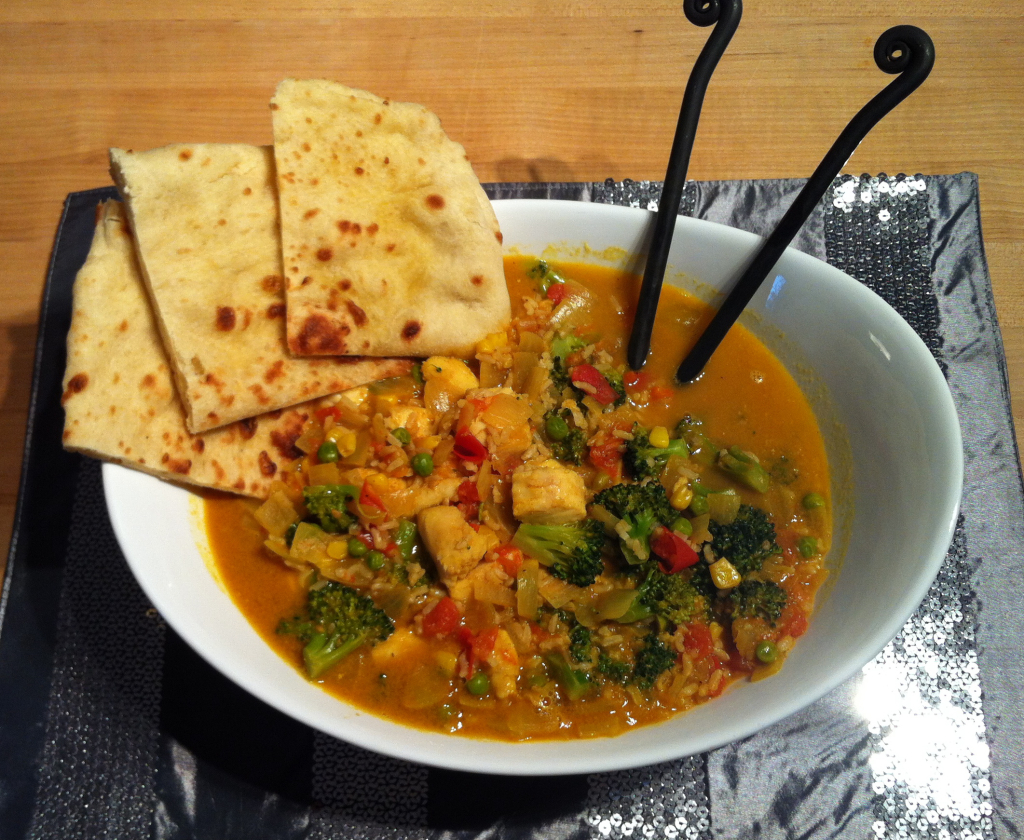 I've now made this half a dozen times and feel like this has truly become one of my own recipes…even down to the name! I hated it's original name of Fish Curry…I honestly found the name alone was slightly off-putting. The reason for "Basa" is this: The recipe calls for lincod or any other white fish. I tried regular cod as I couldn't find lincod. It was good, however still a slight fishiness to it. Recently, I came across this white fish at Costco called Basa and decided to give it a try. It is honestly SO delicious! There is ZERO fish smell to it…it's so meaty and juicy and goes PERFECTLY with this recipe…hence why I'm now calling it "Basa Curry!"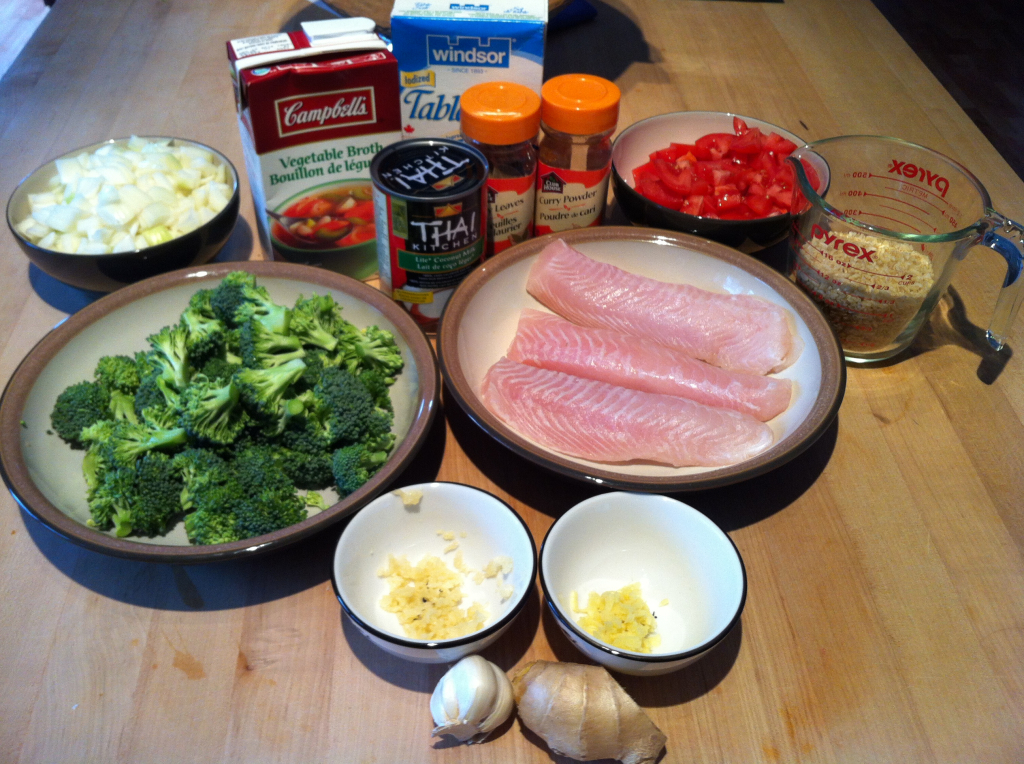 This recipe is SO easy…ONE POT! (well two if you cook the rice separately, which I do recommend!) And it's honestly SO delicious…and you won't believe how much one serving fills you up! My picky 2 year old eats it! I had a friend stop by the other day around dinner time and offered her a bowl (she is mega scared of spice!) and she loved it as well and asked for the recipe! So here it is!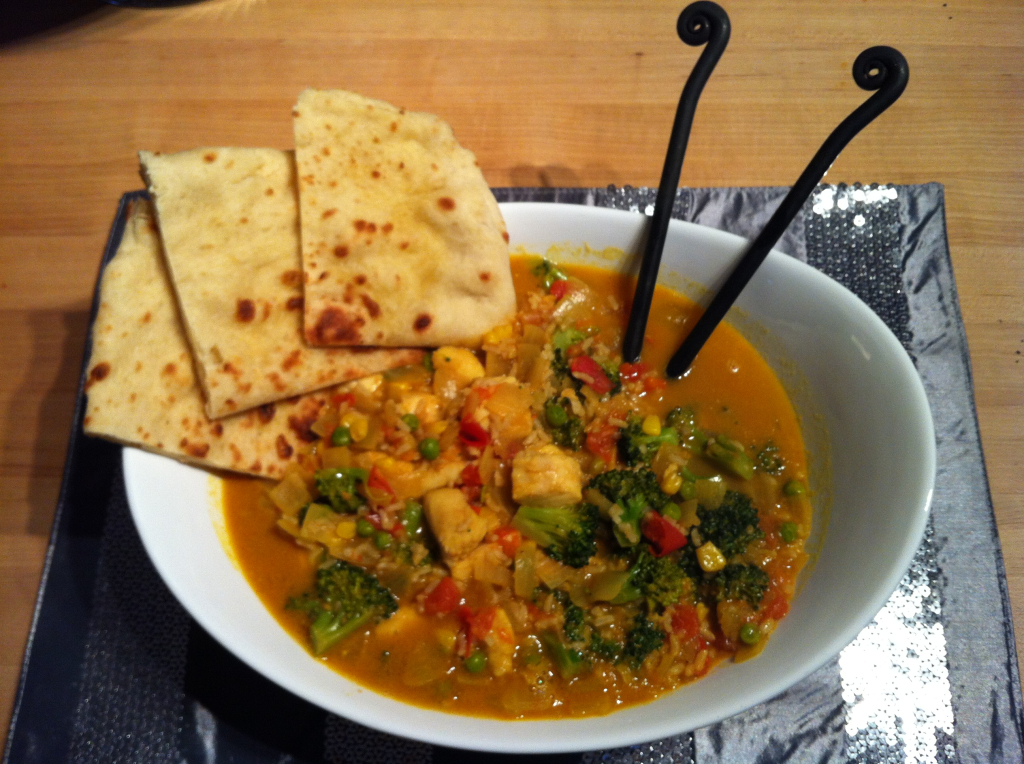 Basa Curry
2014-12-19 14:29:32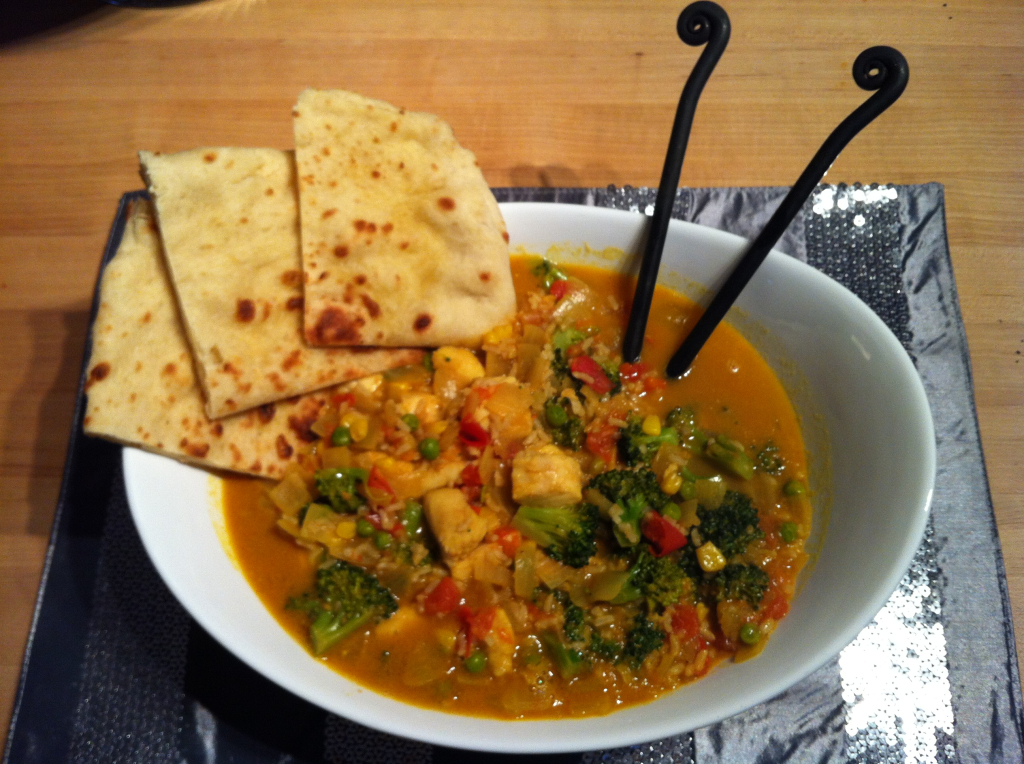 Serves 8
Ingredients
3 sprays cooking oil
2 tsp vegetable oil
3 cloves garlic, minced (or more, if you want)
1 tbsp ginger root, fresh, minced
2 large uncooked onions, chopped
3 tbsp curry powder (I used Clubhouse)
1 bay leaf
3 medium fresh tomatoes
1 cup coconut milk
2 cups vegetable broth
1/2 cup frozen peas
1/2 cup frozen corn kernels
3 cups broccoli florets
1.5 lbs uncooked basa loins, cut into 1 inch cubes
1 cup brown rice, cooked separately, according to package (I use Minute Rice)
Instructions
Gather all your ingredients and prep. Wash and cut anything that needs it. I find this makes the cooking go faster when you have everything already ready!
Coat a large heavy pot with cooking spray and set over medium heat; add oil.
When oil starts to shimmer, add garlic and ginger; cook until fragrant, stirring occasionally, about 1 or 2 minutes.
Add onions; cook, stirring often, until translucent and beginning to turn golden, about 5 to 8 minutes.
Add curry power and bay leaf; mix well and cook until curry becomes fragrant, scraping bottom of pot while it cooks, about 1 to 3 minutes. Make sure to really scrap the bottom as it does tend to stick.
Stir in tomatoes, coconut milk and veggie broth; bring to a boil over high heat.
Stir in broccoli, peas & corn and cook for 3 to 5 minutes.
Add fish and cook until done, about 6 to 8 minutes more.
Serve over cooked rice and/or some toasted naan and enjoy!
Adapted from Weight Watchers
Adapted from Weight Watchers
Amidst the Chaos https://amidstthechaos.ca/