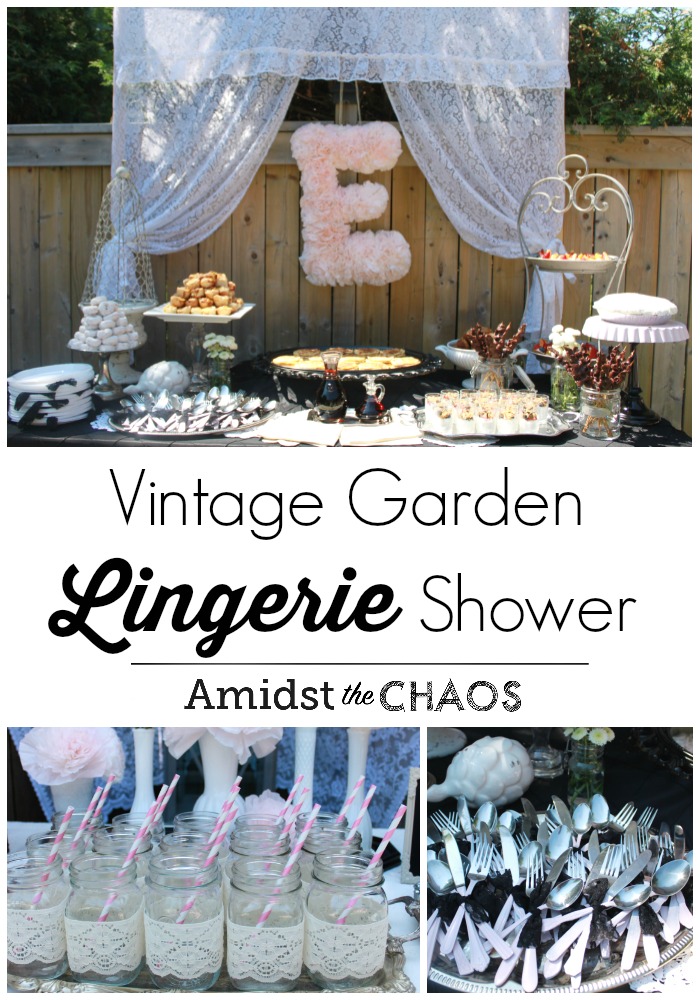 I've always had a passion for event planning. A few years ago, I launched my own wedding planning company called "Pure Potential Weddings". In a short time, the business became very successful and I was lucky enough to plan some incredible weddings! When the time came for my family to move, I had to make the hard decision on whether or not I would re-launch the company in our new city. At the time I was on maternity leave from my other part-time job, with a 4 month old…and a few months later, I found out I was expecting again! Plus the fact of settling into a new place (and by new I mean new to us…it is actually quite old and needed alot of love, which also required alot of my time!)…all of these factors led me to decide to put the event planning business on hold. I do think it will be something I will get back into professionally, when the time is right, but for this time in my life, I have so many other things on the go that I feel it would be unfair to my family, as well as my own wellbeing to start it up again.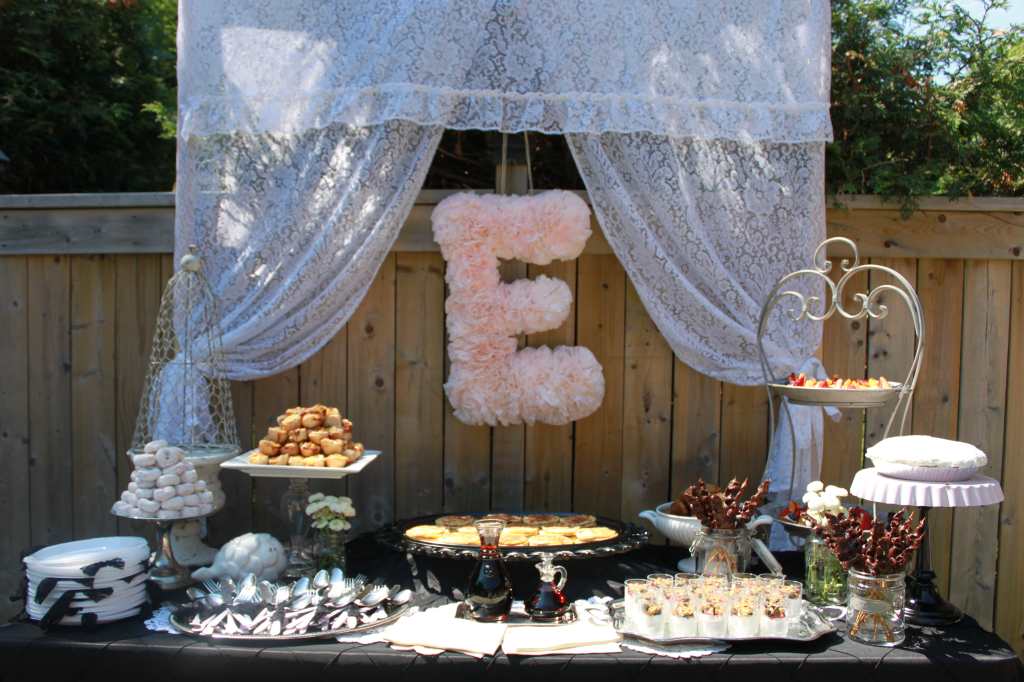 So all that said…I love when I do get the opportunity to plan a party for friends and family…for fun! When my good friend came to me and asked if I would plan her shower a few months ago…I was pretty honored to be asked by the bride herself to put something together! She wanted a lingerie shower and almost immediately, I knew what I was going to do! I was inspired by all the vintage love I've been seeing on places like Pinterest and other design shows. I've never been one to decorate my home or even have my own style reflect decades past, but I thought this would be the perfect opportunity to challenge myself with something new (or old…I guess!).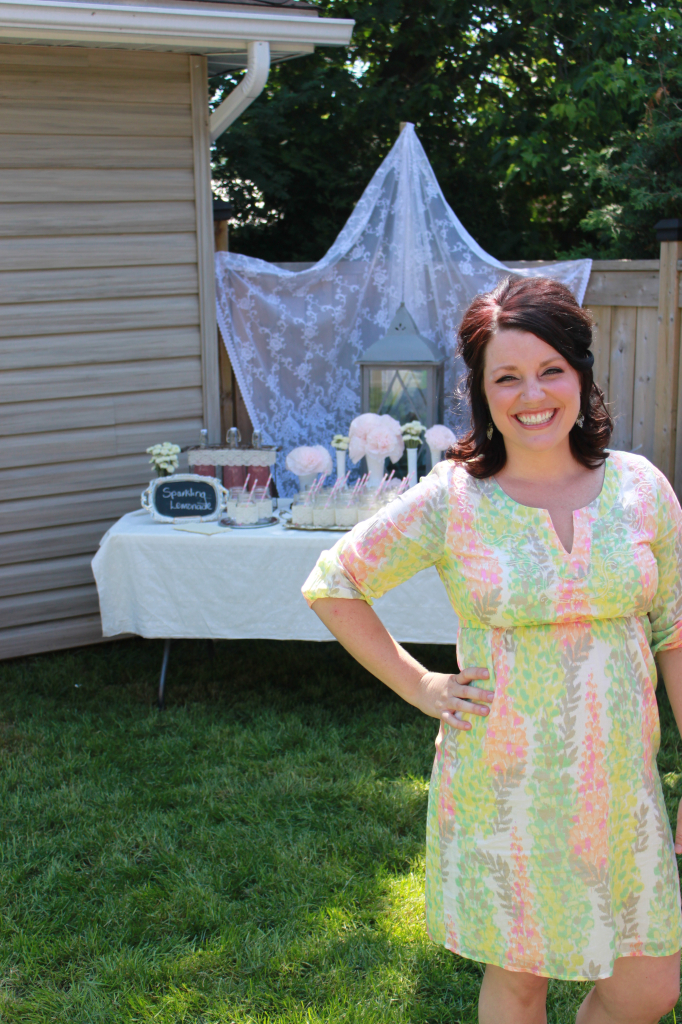 So my theme was vintage garden! This included everything from lace to pearls in shades of light pink, soft whites and creams and classic black! I spent the weeks leading up to the shower scouring the local thrift shops and yard sales to find unique pieces that would take this event from average to fabulous! I also decided to make it a brunch shower just before lunch, for something different! So I came up with a classy version of all the traditional breakfast foods including many "mini" versions of most items so everyone could have a little bit of everything!
I had a couple favorite features from the party that I wanted to mention! One of my favorite DIY's that I came up with was spray painted silverware! I decided that instead of always using plastic utensils for parties that you always throw out, why not buy mis-matched silverware and spray paint the handles to match the colors of your party! This took alot of time to find all the silverware and tape them off to protect the top portions, but I think it was well worth it!
Another favorite of mine were the mason jars covered in vintage lace with striped paper straws! I ordered the straws from Etsy and while they were much more pink then I originally wanted when they arrived, I think it all worked together nicely in the end!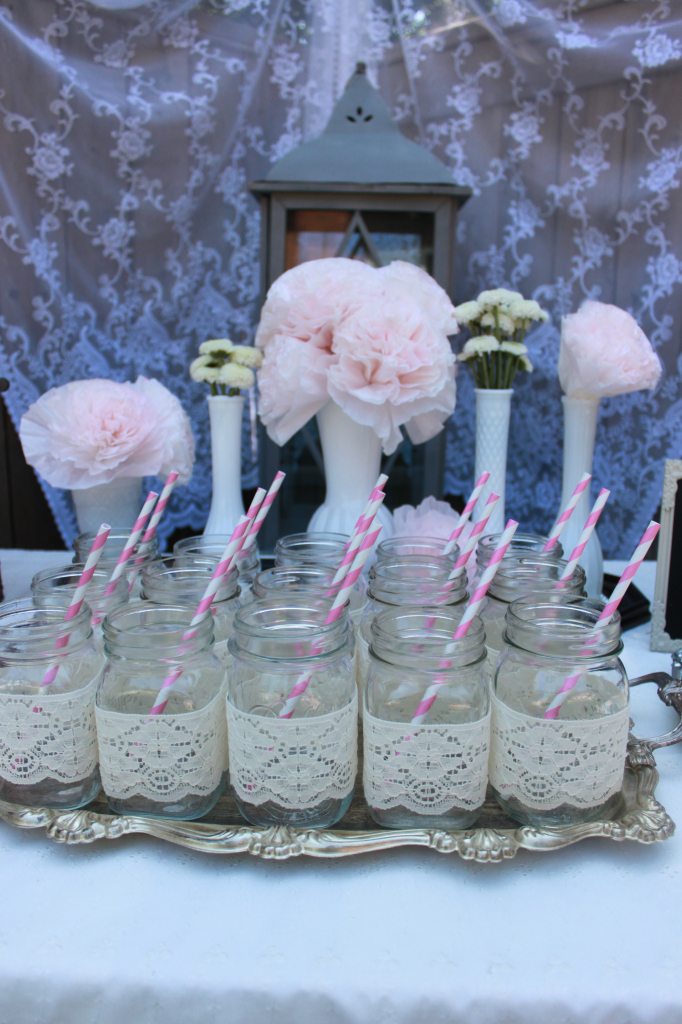 And while I have to say I did love all the DIY's from the party, the final one that stands out to me (and to many of my guests!) were all the chalkboard painted frames and trays! While this was also a little time consuming (you need many layers, especially on glass to get it thick & no longer see-through), this added such a personalized element. I had actually many more frames and trays as I had intended to label all the individual food items, but after we put all the food on the table, there wasn't any more space and I didn't want to overcrowd! So I opted to not set those ones out! But this is such an easy DIY you can do to add personal flair to any event!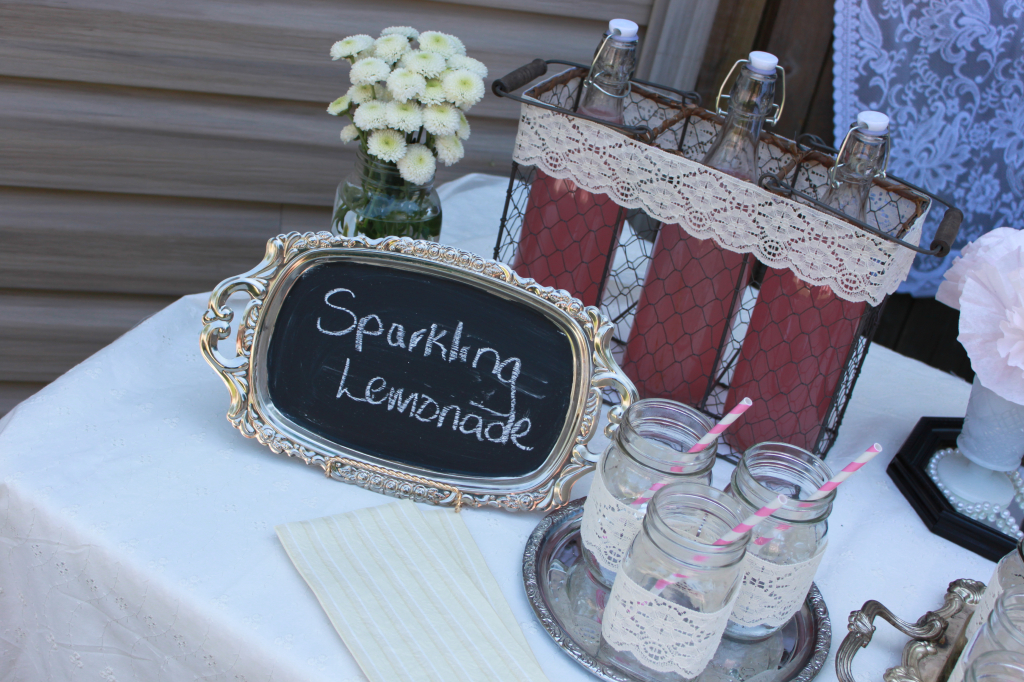 Finally, I wanted to mention that a few of the crafts and recipes I used where found online from other blogs. I will post the links to those at the bottom of this post for you to all enjoy as well!
Hope you enjoy this party recap and all the pictures!
Love & Blessings,

Theme: Vintage Garden Lingerie Shower
Time: 11:00am-1:00pm
Menu: Golden Penny Pancakes with Maple Syrup, Bacon & Leek Mini Quiches,
White Powdered Mini Donuts, Chocolate Covered Maple Bacon,
Mini Chocolate Banana Muffins, Strawberry Yogurt Parfaits with Almond Raisin Granola,
Mini Deep Dish Fruit Pizza, Strawberry Lemon Whipped Pie
Drinks: Sparkling Lemonade, Vanilla Iced Coffee & Water
Party Favors: Guests could select their own accessory