Last year, for my 30th birthday, my husband and I went for a mini-vacation to Montreal. I was about 6 months pregnant with our third child and we left our older two in Ottawa, with my parents. This was only the second time I had left them overnight and I was definitely anxious. But I knew they were in excellent hands with my parents and it was also comforting knowing we were just under two hours away, if anything happened.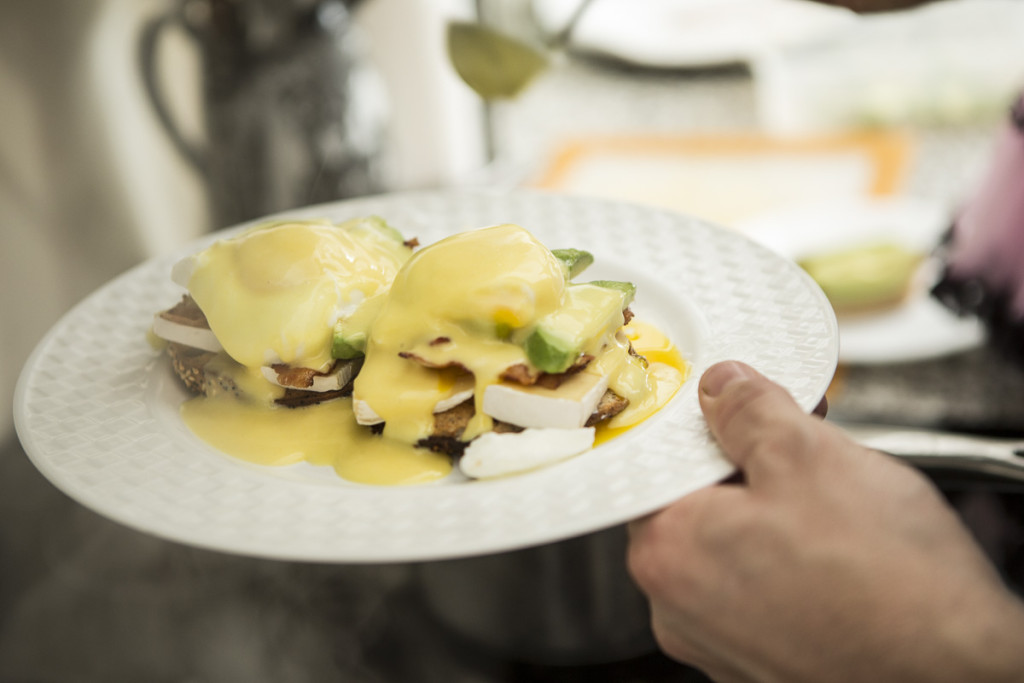 We did lots of research before our trip as we wanted to experience some of the best cuisine we could while in MTL. You see, Chris and I are kinda foodies. What's a foodie, you might ask? Wikipedia describes us as this: "A foodie is a person who has a refined interest in food. A foodie seeks new food experiences as a hobby rather than simply eating out of convenience or hunger." Yup. That's us! I never used to be like this…until I met my husband, 13 years ago! He was always into dining out at nice places and exploring new kinds of foods, thanks to his mom. He laughs when he remembers back to first meeting me that my favorite meal was chicken, rice and salad (sound about right, mom?!). I had never tried Thai, Indian, Greek, Sushi…to name a few kinds of cuisines. I can remember, at first, being a little hesitant to dive right in. I actually remember Chris took me to the revolving restaurant, Cloud 9, downtown Vancouver for one of our anniversaries. I ordered the chipotle chicken (surprise, surprise) and I actually began to cry! I had NEVER tasted chicken like that in my life! And I think that's around the moment when I fell in love with food and broadening my pallet.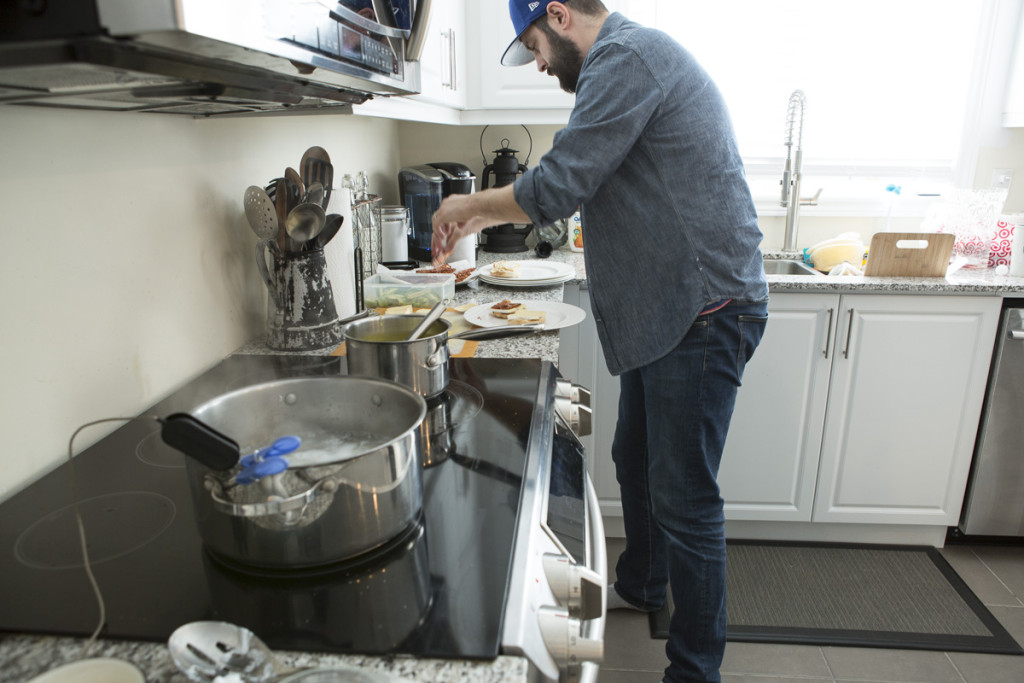 So back to our Montreal trip. We basically ate our way through the city and then found some things to do in between meals! We ate at some of the most exquisite places we've ever eaten! Tried some of the most mouth-watering meals I've ever tasted! We explored some foods we had never tried before and quickly fell in love with them.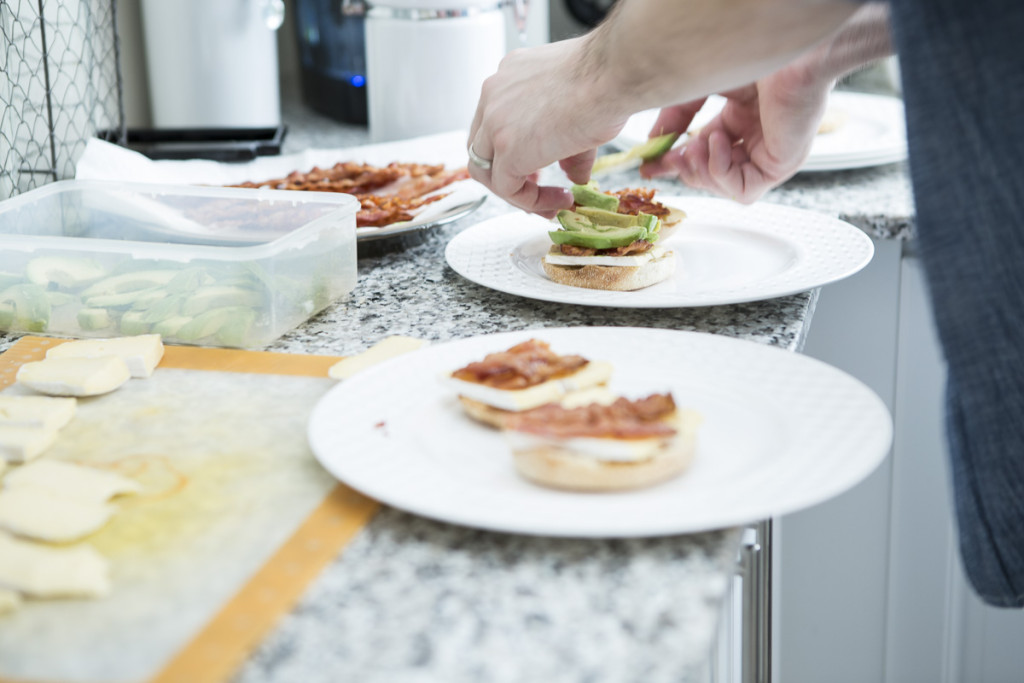 One of the last places we went for brunch, before we drove back to Ottawa, was called Le Vieux Velo (they don't seem to have a website, so the link is to their Yelp reviews, which is where we originally found them!) We had read many of the reviews and everyone kept referring to the restaurants famous "B.A.B." Eggs Benedict. Comments like: the best you've ever had, mouth-watering, to die for…these statements got us very intrigued!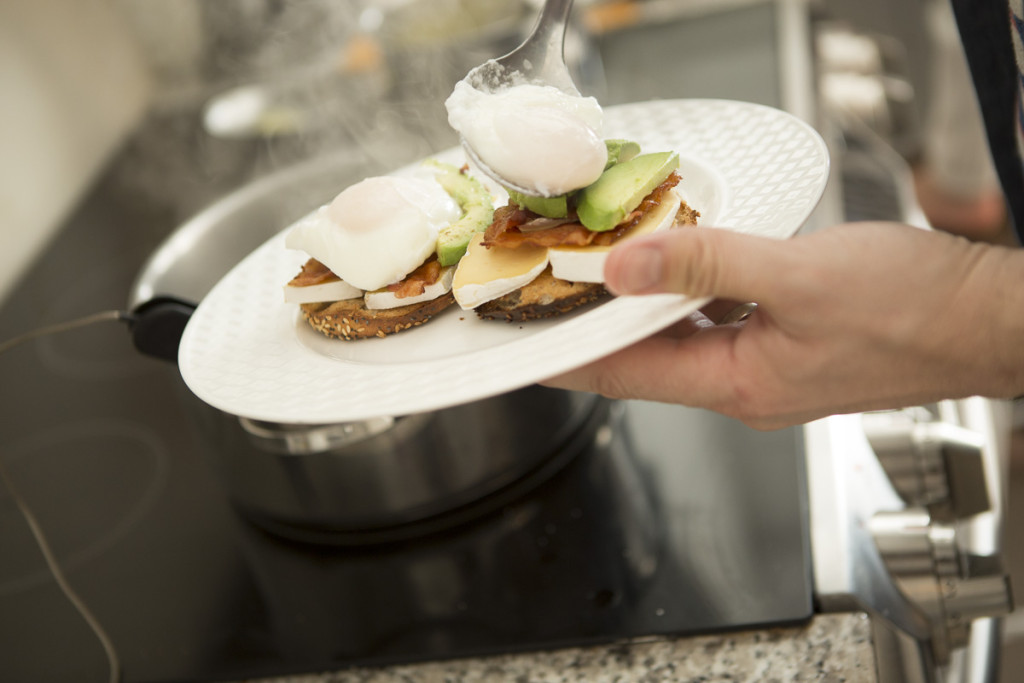 So we decided to take the subway from our hotel and check it out. The cafe was very small yet PACKED full of people. We had to wait at the adjoining coffee shop next door before we could be seated. Once we were finally seated, we knew exactly what we wanted…the BAB!
Let me tell you this…Chris is an eggs benny connoisseur. It's his favorite breakfast choice whenever given the option. He has eaten MANY of these in his 30something years of life. And naturally, having been with him for over 13 years, I've tried a few too. Let me say, hands down, without a doubt, cross-my-heart, this IS THE BEST. EVER. No questions asked.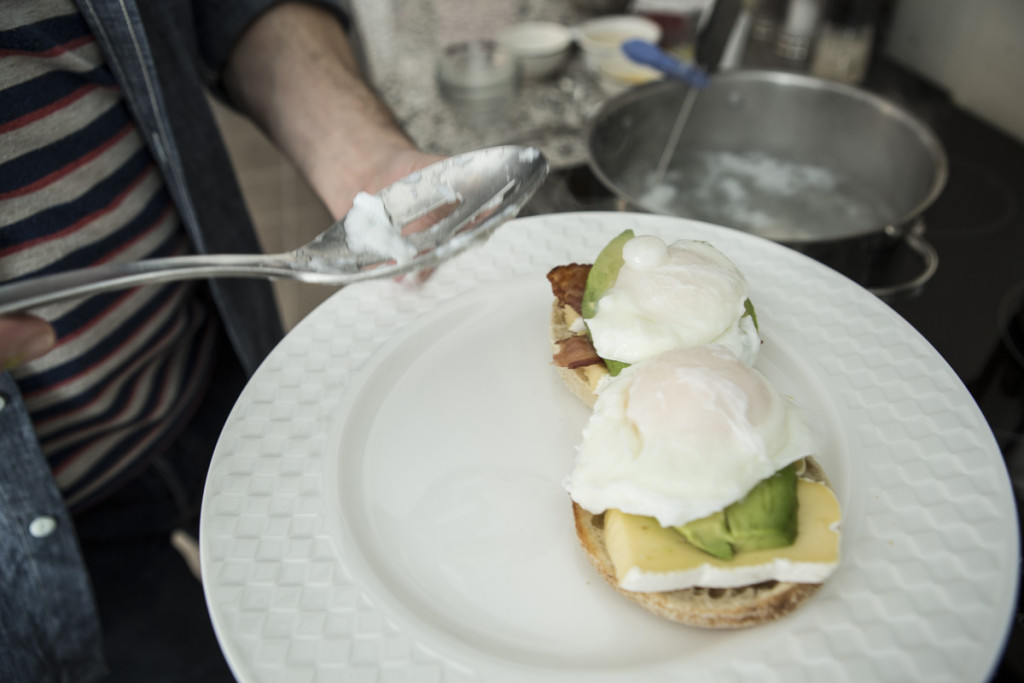 We've recreated this dish a few times and it is just exquisite! So I knew that when it was time to serve something special for my blog launch party, this was IT! So let's get down to the details of this piece of perfection!
What makes this eggs benny so incredible delicious is the perfect pairing of these three contrasting ingredients: brie cheese, avocado and bacon. The creamy, softness off the brie cheese, that warms up slightly when the hot sauce runs down over it…just amazing! Then you add the crisp, saltiness of the bacon…incredible! Followed by the cool, freshness of the avocado…exquisite! These three items, paired together, is pure genius. Your taste buds will soar to new places they've never been before! And you will wonder where this dish has been all of your life!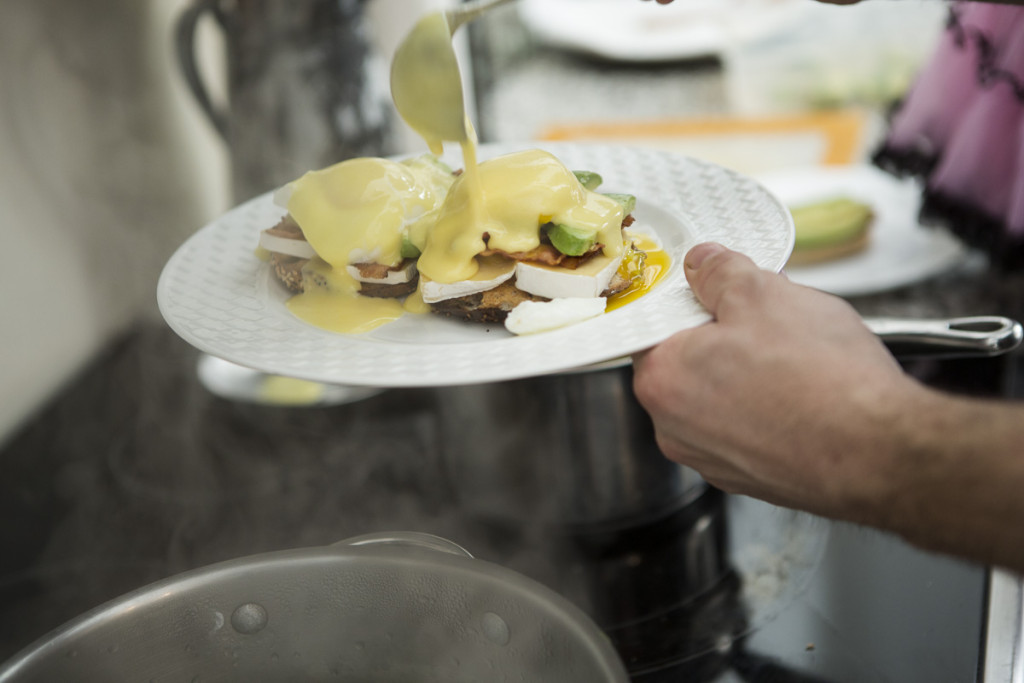 What makes up the rest of the eggs benedict are the usuals: english muffins, poached egg and hollandaise sauce. The sauce is really something incredibly tricky to make from scratch. If you want to impress your guests even more than you already are, you can try your hand at making it yourself. However, the packaged ones are also very good and will work just fine.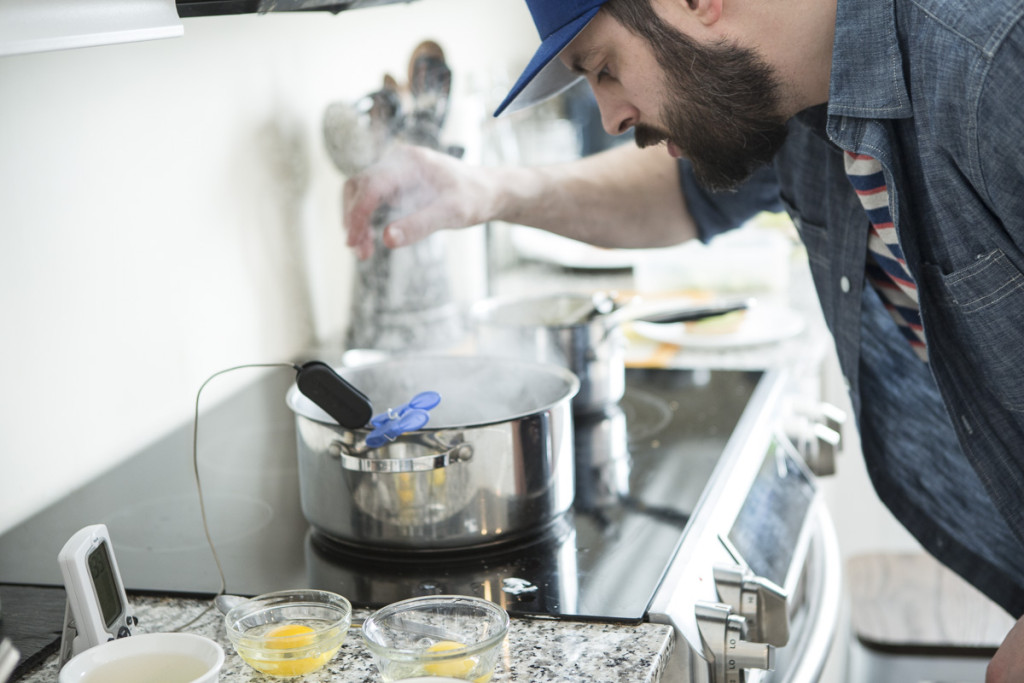 When it comes to poaching the eggs, my hubby has a few tips to share:
1. Use the freshest eggs possible. Older eggs have a tendency to disintegrate in water. If you can't get farm fresh eggs, put a tbsp of white vinegar in your water.
2. Use a thermometer in your simmering water. Keep it around 150F.
3. Gently place the eggs in the water for 5-7 minutes and then immediately plate and serve!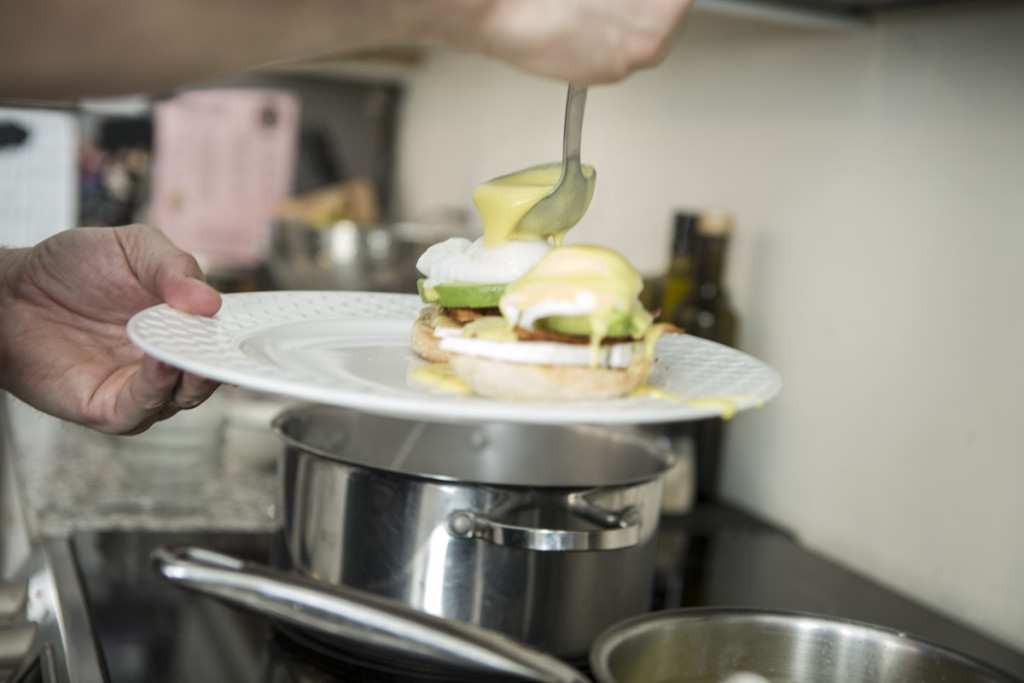 Well, there you have it! The best eggs benedict you will ever taste! Why not invite some friends over this weekend and try this out! You will NOT regret it, this I promise you! And let me know how it turns out!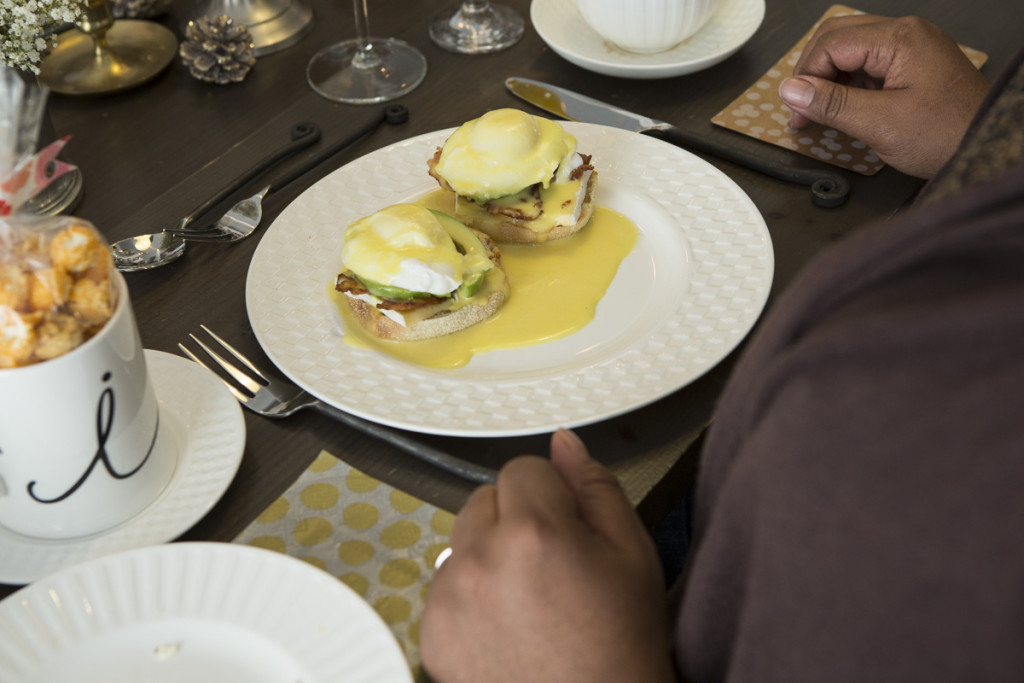 Love & Blessings,