We absolutely love going out to eat for date night. From very early on in our dating life, we have always enjoyed going out for dinner. Even when we were broke college students, we always tried to set a little bit of money aside to try new restaurants and escape from dorm life at least once every couple months, especially for special occasions such a Valentine's or anniversaries.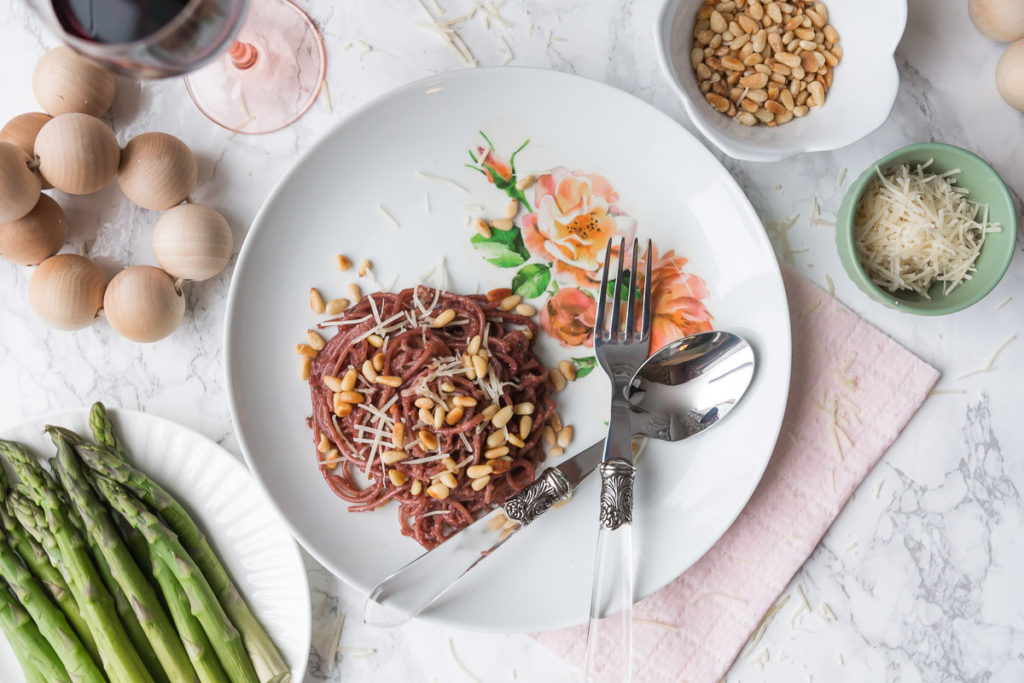 Chris: My favourite Valentine's was two years ago when we ate out just the two of us at a small restaurant where the tables were so close, we became friends with our neighbours and the food was all designed to share. That was such a cool experience.
Christine: Oh ya, that was such a fun night! You also had flowers and chocolates delivered to the table which was so sweet and romantic.
But that wasn't the first time you had flowers delivered to the table. Do you remember our first Valentine's Day together?
Chris: Of course I do! I planned it!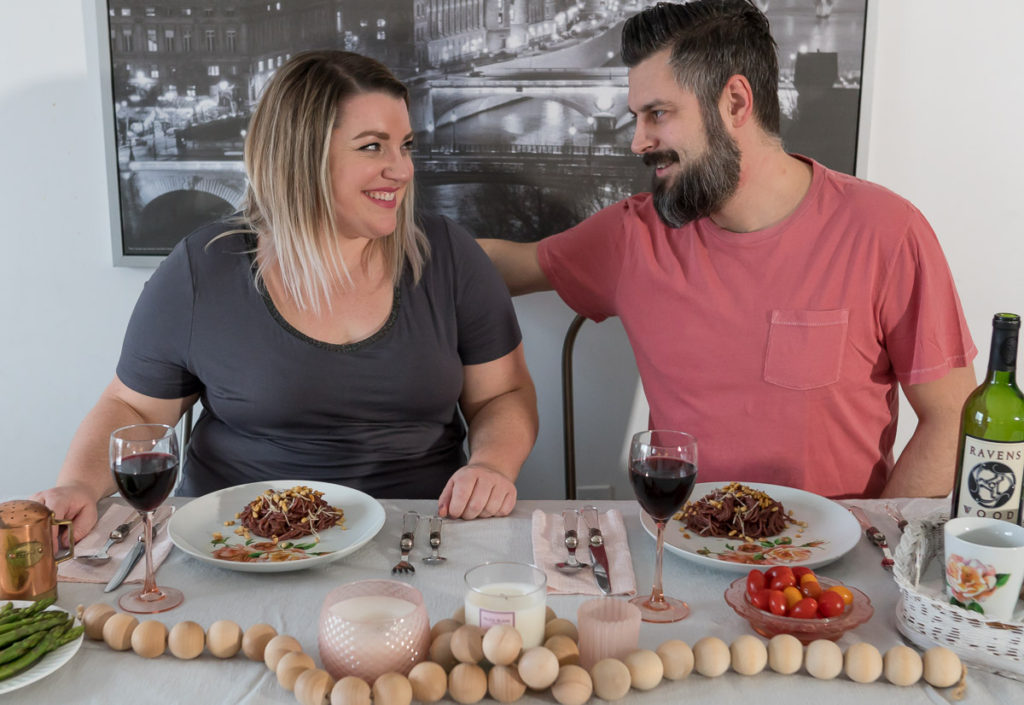 Christine: You took me to this little Italian restaurant that had the cutest red checkered tablecloths for a truly Italian vibe and when we arrived for our reservation, you had lavender roses (my favourite) waiting at the table! That was the first time any boyfriend had ever done something like that!
Chris: I was setting the bar high!
Christine: You sure did!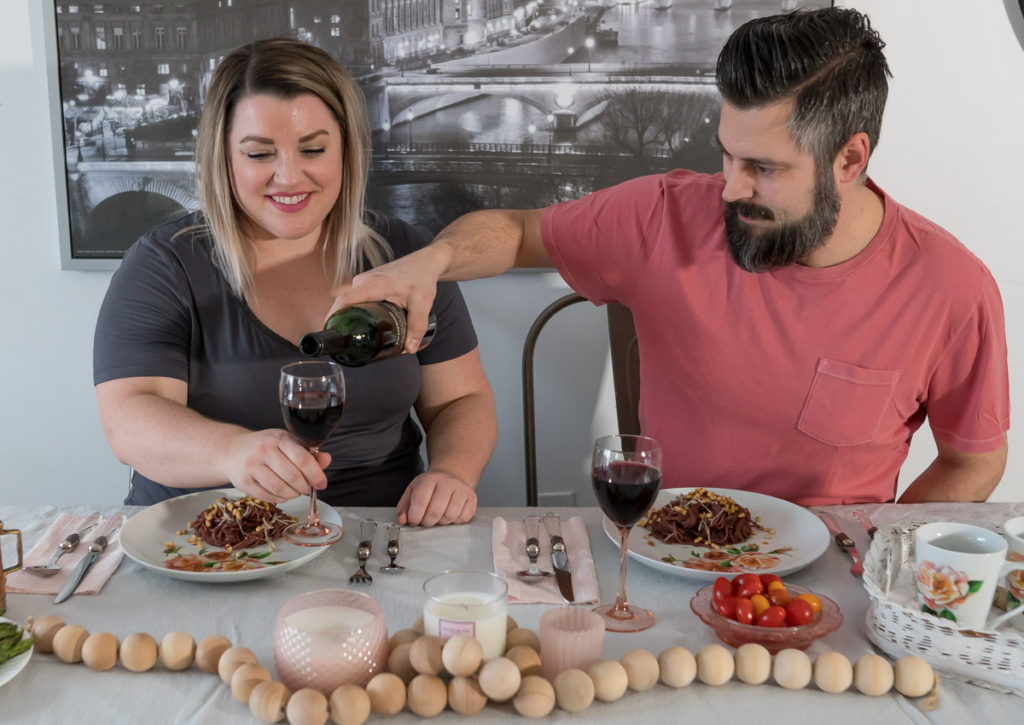 But as we've added children to the mix and with not having any family around, we've found it increasingly difficult to get out just the two of us on a regular basis. As much as we love dining out and still try to when we can, we've also found it's often easier to just plan a romantic night in, once the kids are all asleep. And because we've been travelling so much recently, we've decided to stay in for this upcoming Valentine's Day and cook one our of favourite foods – pasta!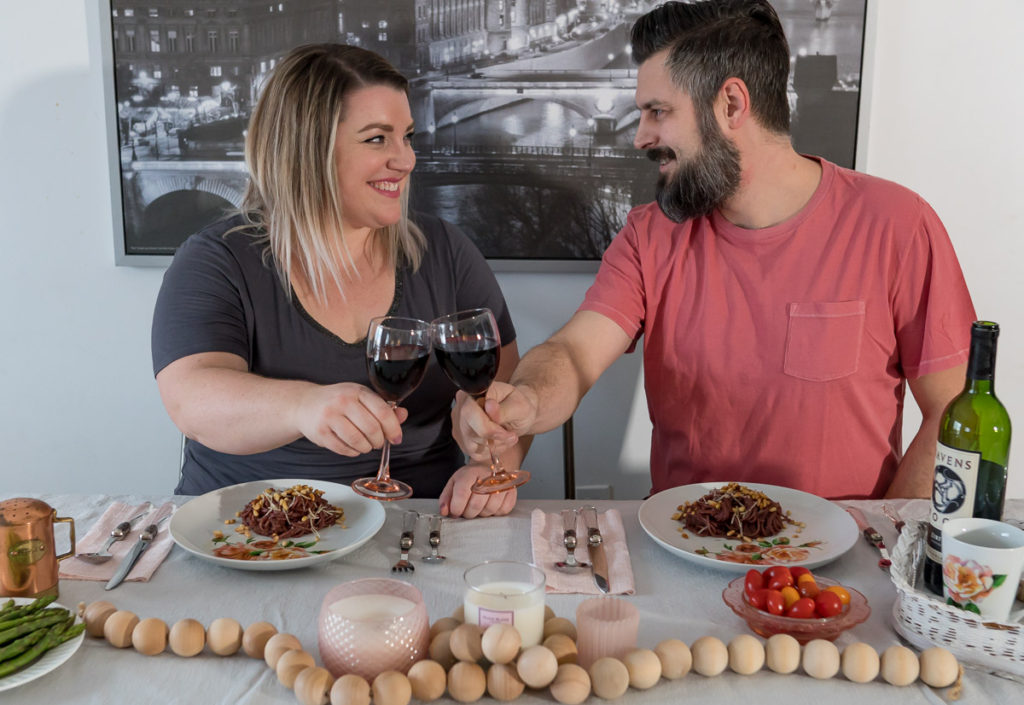 Chris: I absolutely love pasta! I am half Italian, so I think the love for pasta runs deep in my veins. In fact, there isn't a pasta variety that I don't love. I really enjoy trying new recipes, creating fun twists on classics and cooking for Christine and the kids.
Christine: To be honest, I wasn't a huge pasta lover before I met Chris. We didn't grow up eating much of it as kids. So Chris really was the one who sparked my love for Italian cuisine early on in our relationship.
So for this Valentine's Day, we are trying a new recipe from Italpasta called Red Wine Spaghetti. What I love about Italpasta is not only that they are the only 100% Canadian-owned pasta manufacturer in Canada, but they also offer a wide variety of pasta, including a Gluten Free pasta!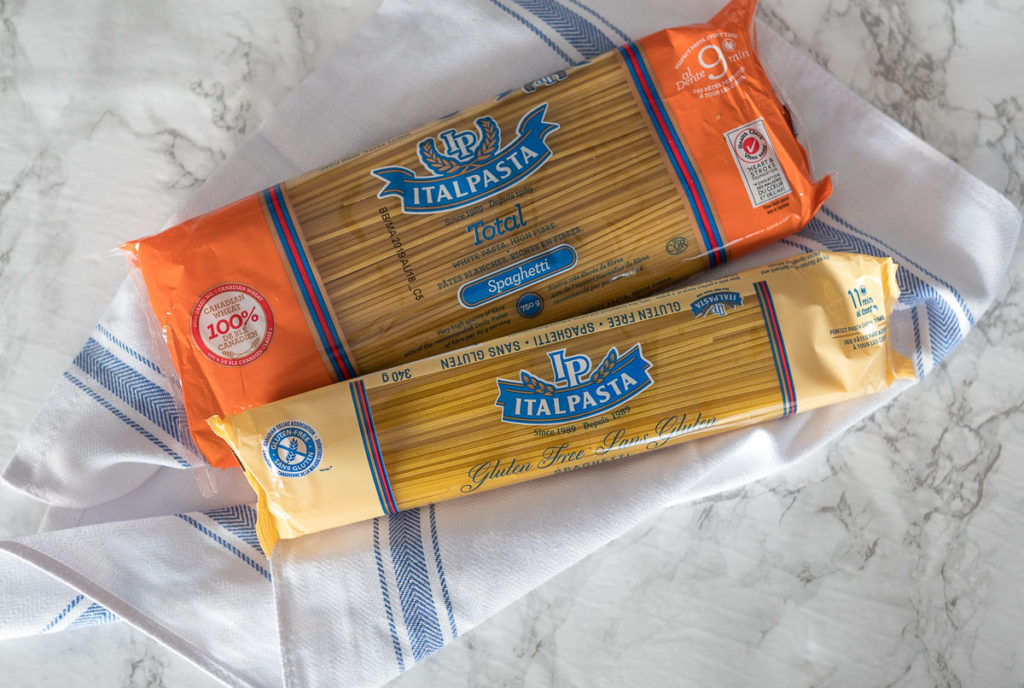 This recipe has more of a sweet flavour profile, but we've decided to add in some chili flakes for heat as well as some toasted pine nuts for a more nutty flavour to enhance the flavour profile even more. The added bonus with chili flakes and pine nuts is that they are both considered aphrodisiacs, perfect to help set the mood for our romantic night in!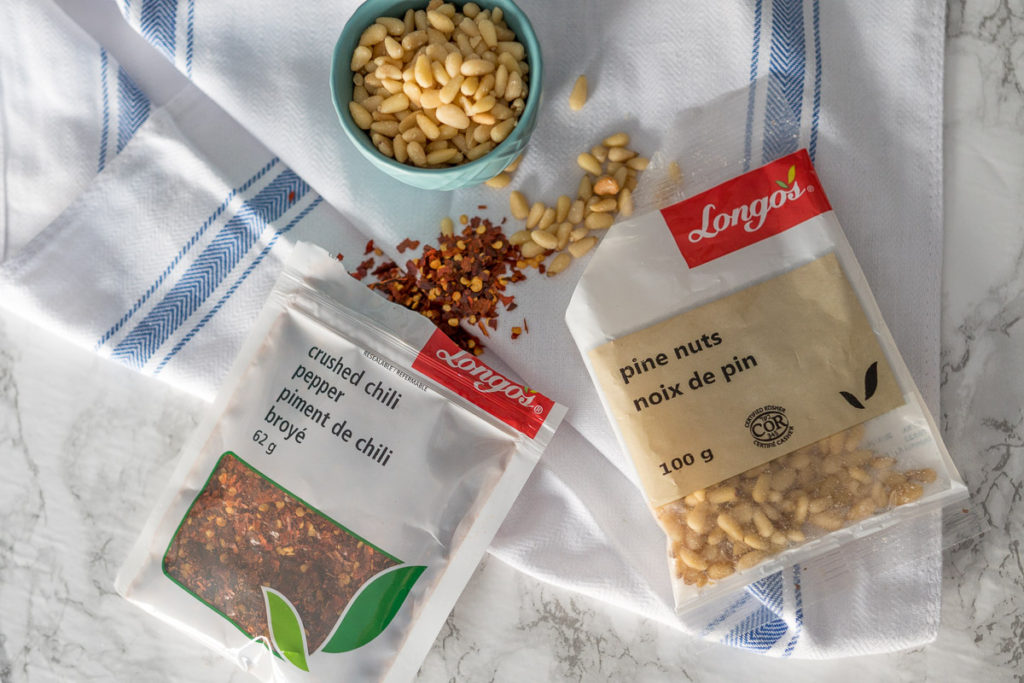 We got all our groceries through Grocery Getaway by Longo's delivery service. One of the first online grocers in North America, their site is curated with over 12,000 items to offer you the best and most fresh groceries that are delivered right to your door! I mean really, how much easier can this night in get?! To get the ingredients for this recipe visit the Italpasta CartStarter on Grocery Gateway.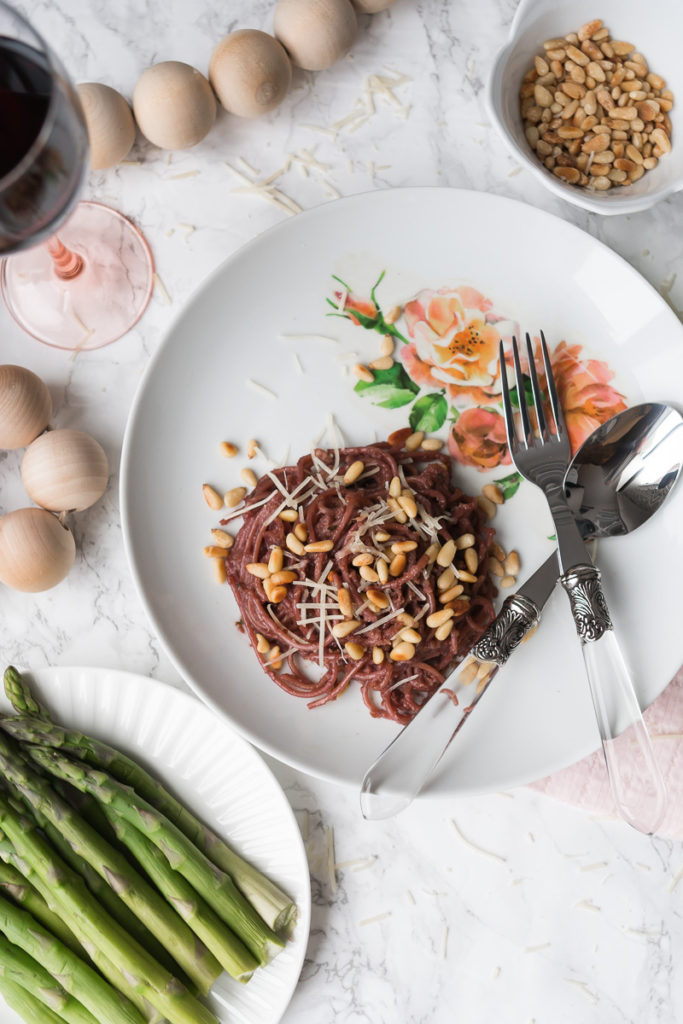 We made the dish and then set up a nice, romantic tablescape using the DIY dishes we made last week and enjoyed a quiet night in with each other.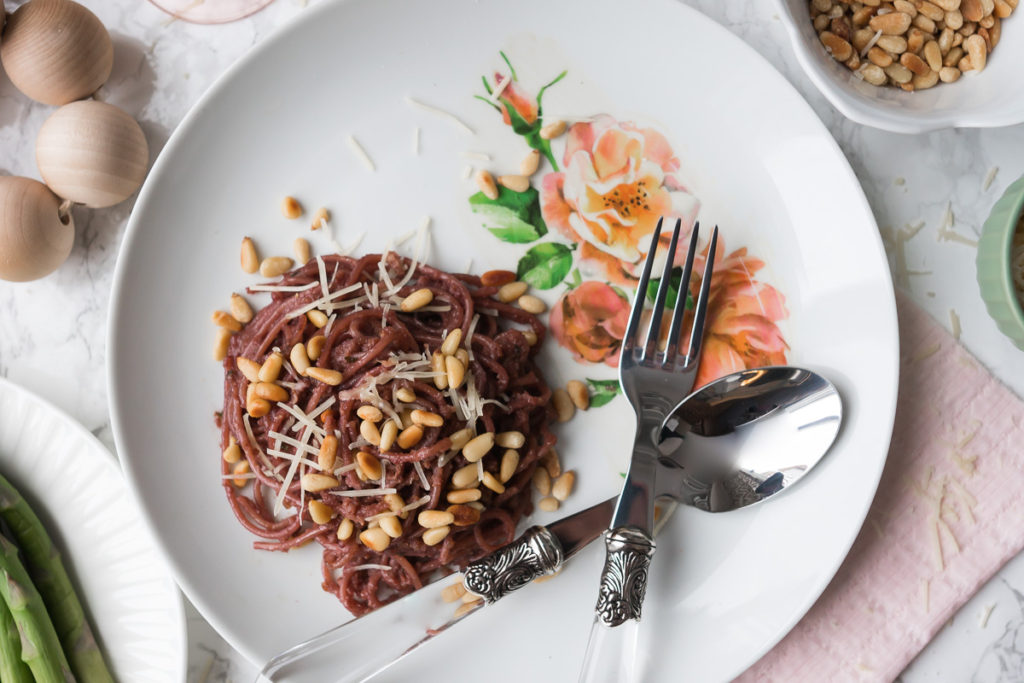 So let's get to the recipe!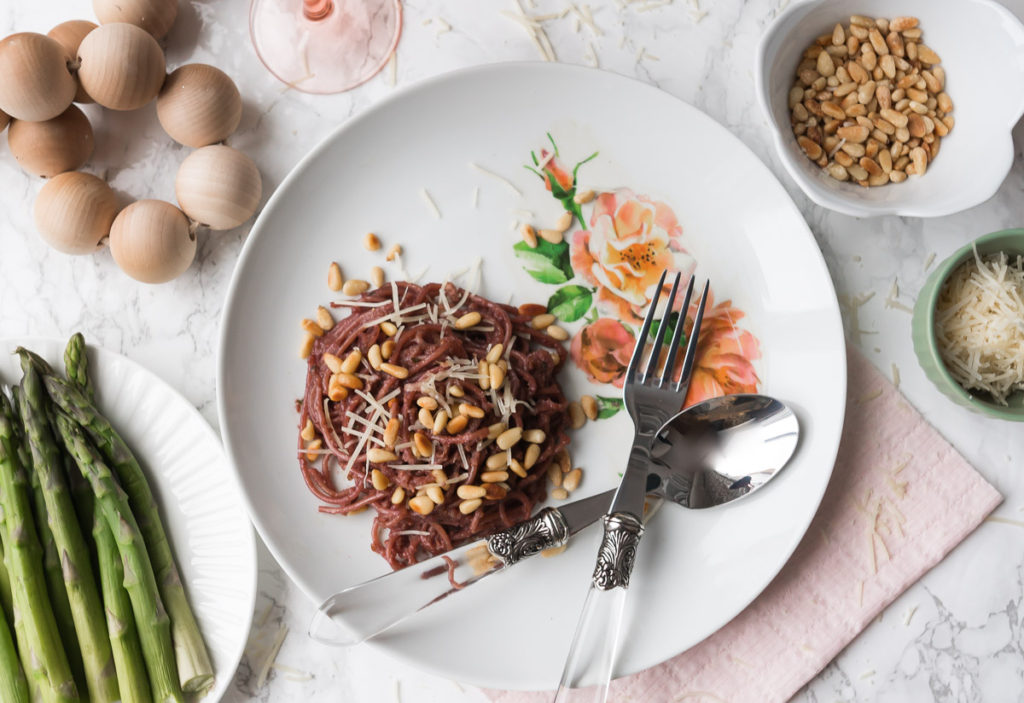 Red Wine Spaghetti
2018-02-07 05:26:34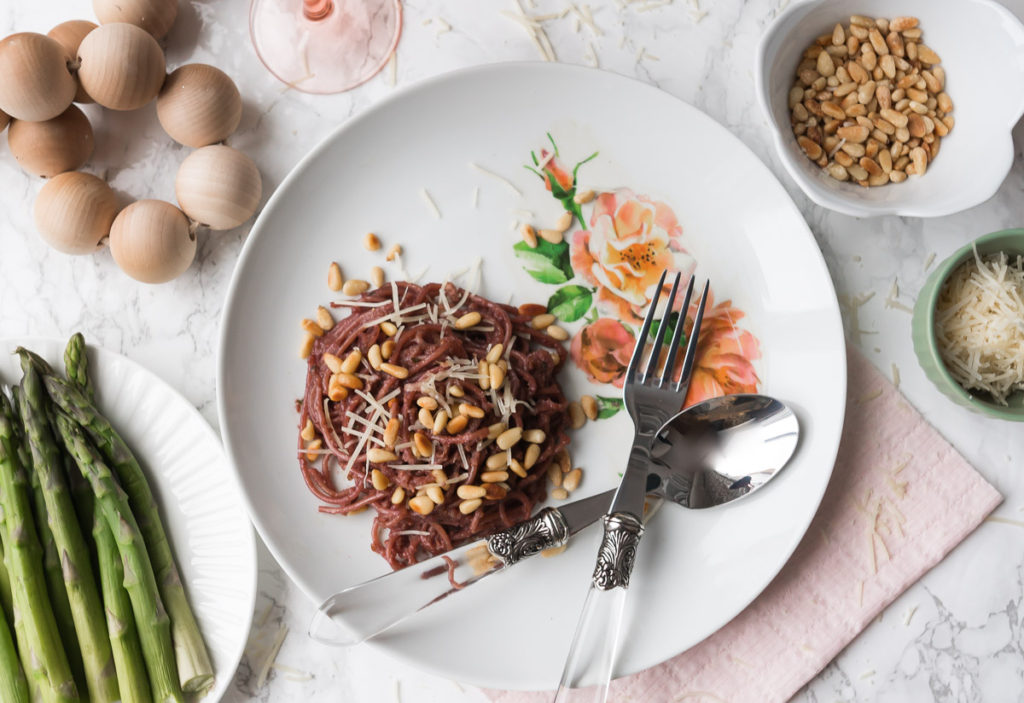 Ingredients
½ pound (225 g) Italpasta Total Pasta Spaghetti
½ bottle (375 mL) red wine (preferably Zinfandel)
1 tsp (5 mL) sugar
2 garlic cloves, finely chopped
pinch red chili flakes
¼ cup (60 mL) Italpasta Extra Virgin Olive Oil
½ cup (125 mL) Italpasta Seasoned Breadcrumbs
salt and pepper
¼ cup (60 mL) freshly grated Parmesan cheese
Instructions
Cook pasta in a large pot of boiling salted water for 4 minutes. Drain pasta and return to the pot. Place the pot back on the stove over medium-high heat. Add the wine and sugar and bring to a boil. Cook for 6 minutes, stirring frequently to prevent sticking.
While pasta cooks, heat oil in a non-stick skillet over medium-low heat. Add the garlic and chili flakes and cook for 30 seconds or until fragrant. Add the breadcrumbs and continue to cook until toasted, about 5 minutes. Season breadcrumbs with salt and pepper.
Increase skillet temperature to medium-high heat. Add the spaghetti and any remaining liquid, toss for 1 minute. Remove from heat and serve garnished with Parmesan cheese.
Amidst the Chaos https://amidstthechaos.ca/
Well there you have the perfect recipe for a romantic date night in with your spouse or partner! Serve the remaining wine with your dinner and enjoy the quiet and calm date in the comfort of your own home this Valentine's Day!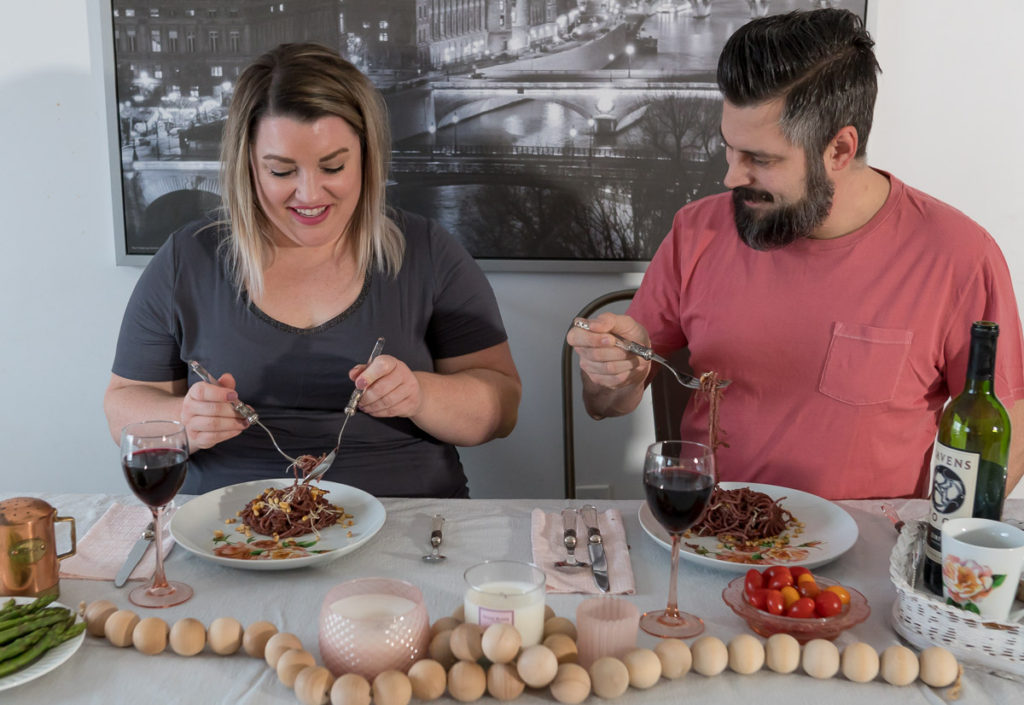 Love & Blessings,
Christine & Chris
Note: This post was sponsored by Italpasta, where we have received product and/or compensation in exchange for our honest reviews. As always, the thoughts and opinions are 100% our own.