As I've been on my healthy journey for 2016, I'm wanting to share with you various meals and snacks that I am enjoying. Just because I am trying to lose weight, doesn't mean I have to eat only rabbit food! In fact, if that was the case, I wouldn't ever lose weight. As someone who thoroughly enjoys food: from grocery shopping, to meal prep to cooking to eating, my meals have to be something exciting. Even when I have a salad for lunch, it's almost a game I play with myself to see how creative I can get with what I add to the salad, while still keeping it healthy (cause you can actually have unhealthy and fatty salads).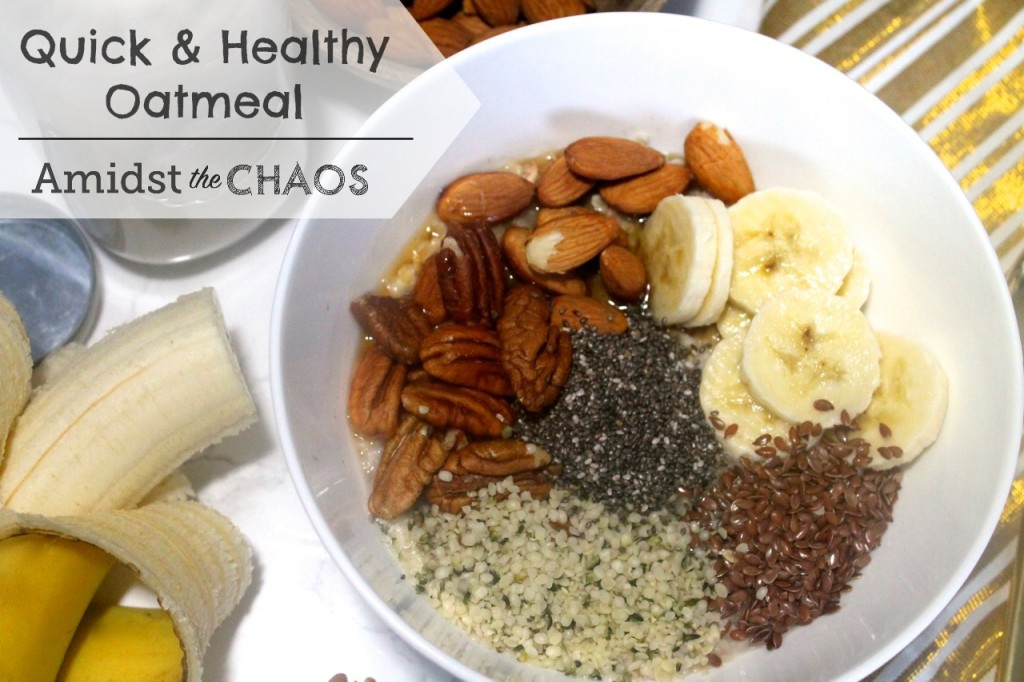 So today, I wanted to share with you my quick and healthy and super tasty oatmeal. Oatmeal in itself can sound plain and boring, but with adding in a bunch of extra goodness, I guarantee that you will not only feel satisfied for longer but enjoy every bite!
Starting with quick oats, I microwave the oatmeal, according the package instructions. Then, I add in all the goodies! Let's start with the seeds: chia seeds, flax seeds and hemp hearts. These are all an excellent source of protein, fibre and antioxidants that are so good for your body. To be honest, you barely taste any of them (probably the hemp hearts have the most flavor) but they really help bulk up your oatmeal and will help keep you fuller for longer.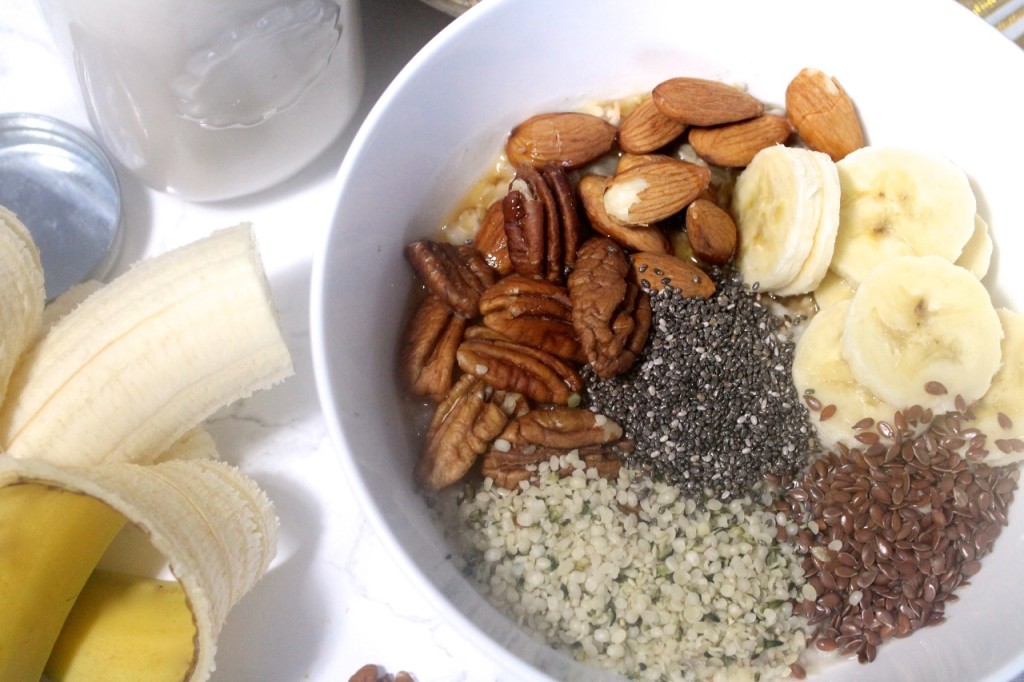 Then I add in my nuts. I LOVE nuts in oatmeal. I think it's because I really enjoy a "crunch" factor when I eat. That's probably why I'm not always the hugest fan of smoothies (although I do have them). So adding in nuts is a great way to take this boring oatmeal into full on meal status for me. My two favorite nuts to add in are pecans and almonds. Let me just say that pecans are my favorite nut. Cold, warm, roasted, sugared…you name it! I love them all! I've also added in walnuts when I feel like changing it up. I should mention that the nuts I add are all plain: not salted/sugared and not roasted. They are in their most natural state, which is truly the healthiest (and least fattening) way to consume them.
I usually like to add a fruit in as well. Lately I've been vibing on bananas in my oatmeal. Totally changes the flavor profile. I've also added in blueberries and strawberries before. Or sometimes I will add in dried fruit like raisins and/or craisins.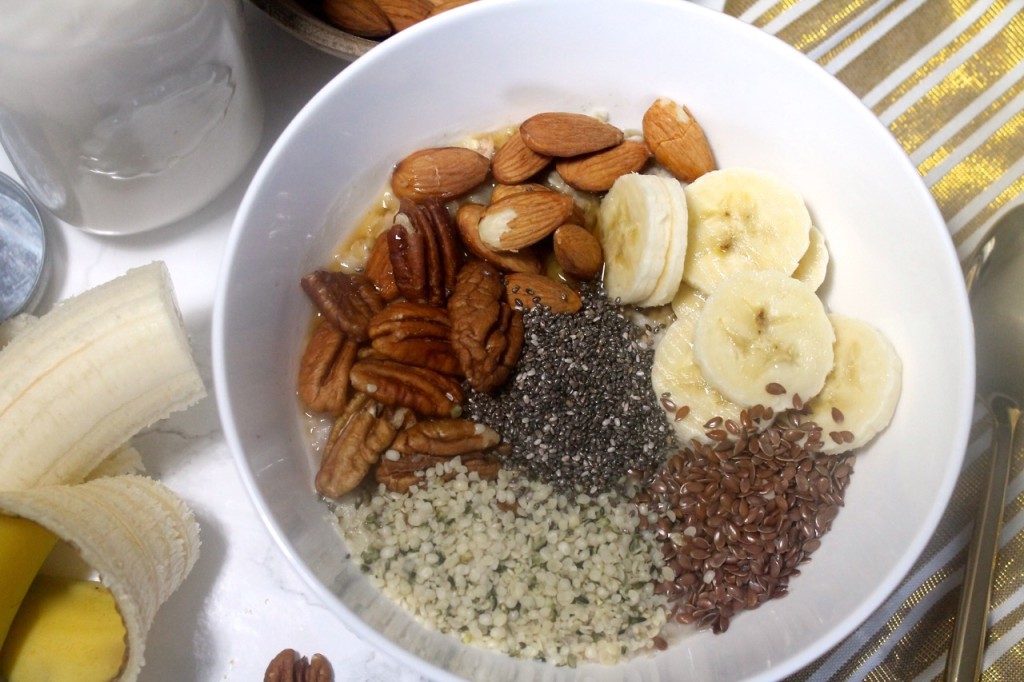 For some sweetness, I add in about a teaspoon of pure maple syrup. Maple syrup is nature's clean and pure answer to sugar! While it is still "sugar" it is completely natural and the best type of sugar for your body to digest. And we aren't talking about putting in a whole lot…just a teaspoon (probably even slightly less) does the trick to sweeten it up just slightly.
And finally, I add in almond milk. Again, trying to stick to a clean and more holistic approach to my diet right now, I'm trying to cut way back on my dairy intake. But not only that, almond milk in oatmeal is SO good! It is thicker than regular milk, so it helps thicken up the oatmeal. But because it's made with almonds, it really enhances the flavor of your oatmeal to give it a deep and rich nutty flavor! So good!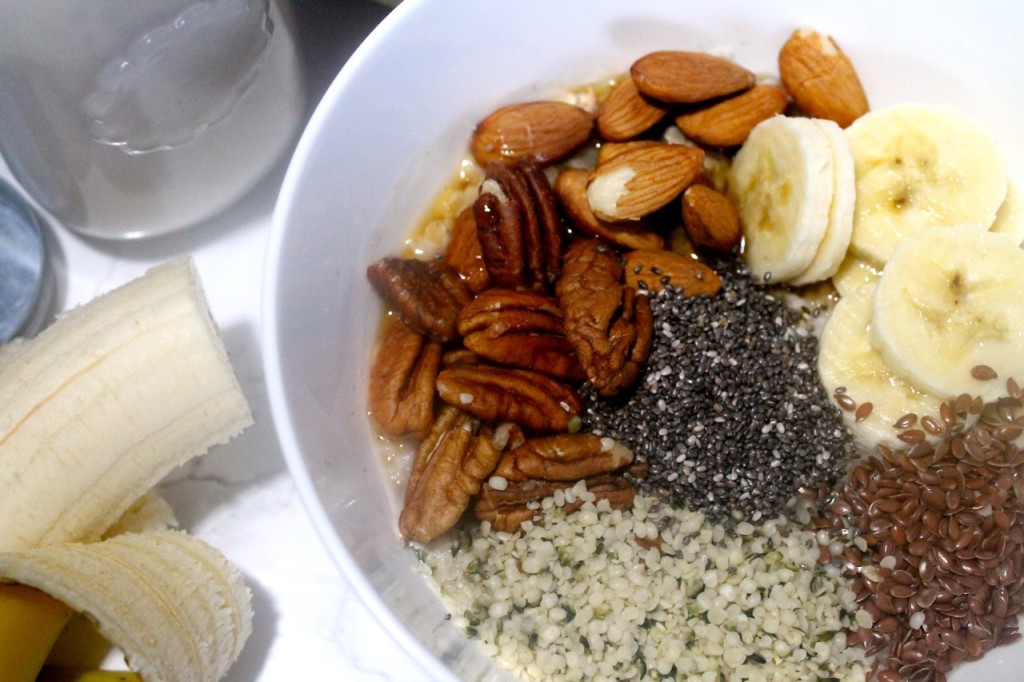 And that is how I eat my oatmeal! Quick, healthy and so delicious! By adding in all these extra proteins and healthy fats, you are giving your body a great kickstart to the day and I guarantee that you will be fuller, for longer!