So let's talk about this look.
Specifically, let's talk about this skirt and how it's so much more than a pleated skirt. Because I know that SO MANY WOMEN, big or small, struggle with body love, especially while in the change rooms trying on clothing.
So I thought I'd be vulnerable and share this story about my journey to find, embrace and ROCK a pleated skirt, as a plus sized momma.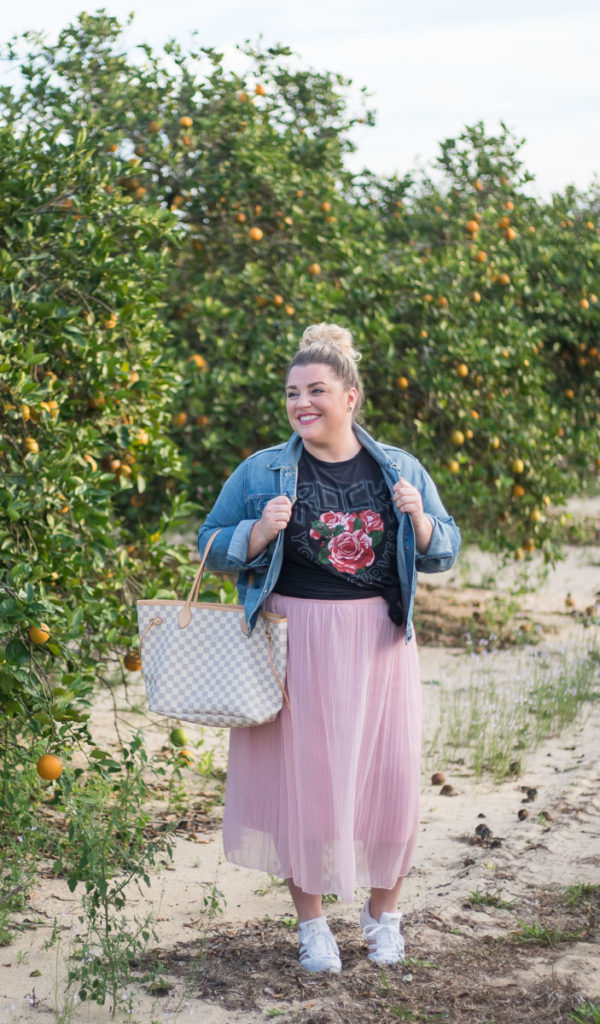 I've always wanted one of these pleated skirts. Since they became trendy a year or so back, I've looked for them high and low and every time I would find one and try it on, I would usually tearfully take it off in the dressing room. One thing I've grown to learn about myself since embracing my plus size curves is that I don't like the way skirts look on me, especially the high waisted ones. You see, my stomach is one of my problem areas and many of these skirts sit above the stomach and then flare out, which end up making me look bigger than I am. I can remember last year trying one of these skirts on and saying to myself, "Well, I guess you'll just never be able to own one." Yet every single time I'd see a fashion friend post a picture of their pleated skirt, I would just wishfully hope that one day I'd be confident enough to rock it too.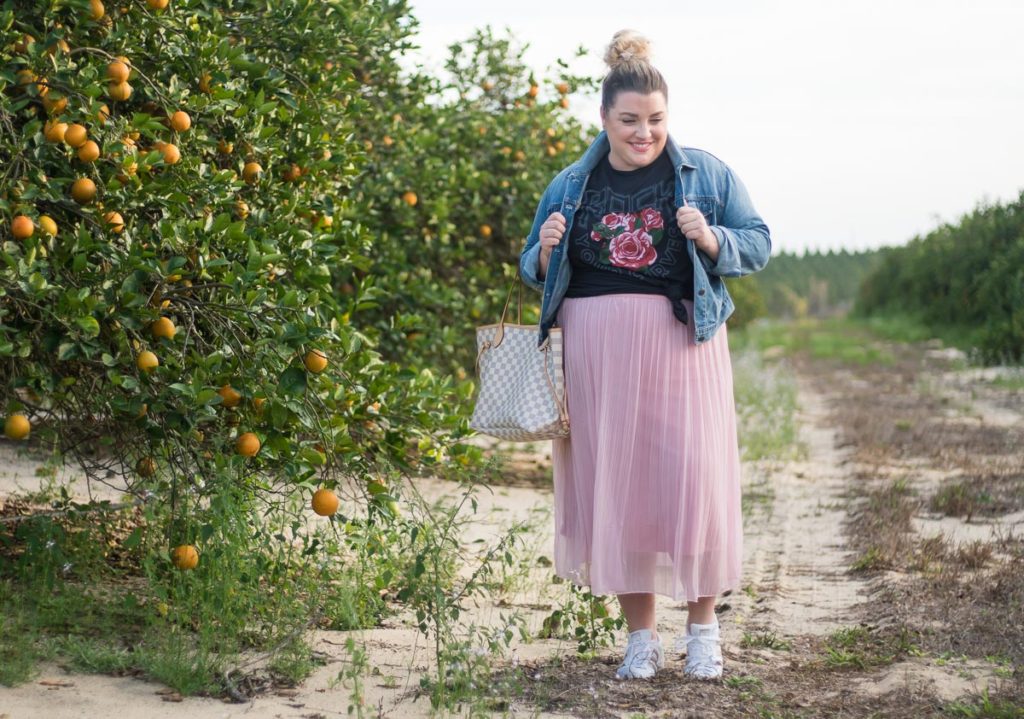 I can remember going to a fashion event right before Christmas that invited mostly plus sized girls to try on their various holiday dresses. I remember seeing one of the girls, Sara from @theprepgal, walk in with a high waisted, pleated skirt and I gasped because she looked FIERCE! I told her how amazing she looked and I mentioned my insecurity about these pleated skirts on my plus sized body and she so quickly shot that stupid thought down! Actually a few of her friends, including my girl Assa from @mycurvesndcurls, were all standing there and spoke so much confidence into me about rocking one of these skirts that I decided that maybe I shouldn't write them off completely and try again!
Over the Christmas holidays, I found a black jersey knit pleated skirt online in a plus size for only $18. I decided to give it a shot and ordered it. While it does fit, it's actually way too big on me and really does make me look a lot bigger than I am. I tried to exchange it for a smaller size, but they were all out.
So I put the skirt away at the back of my closet, disappointedly, and forgot about it.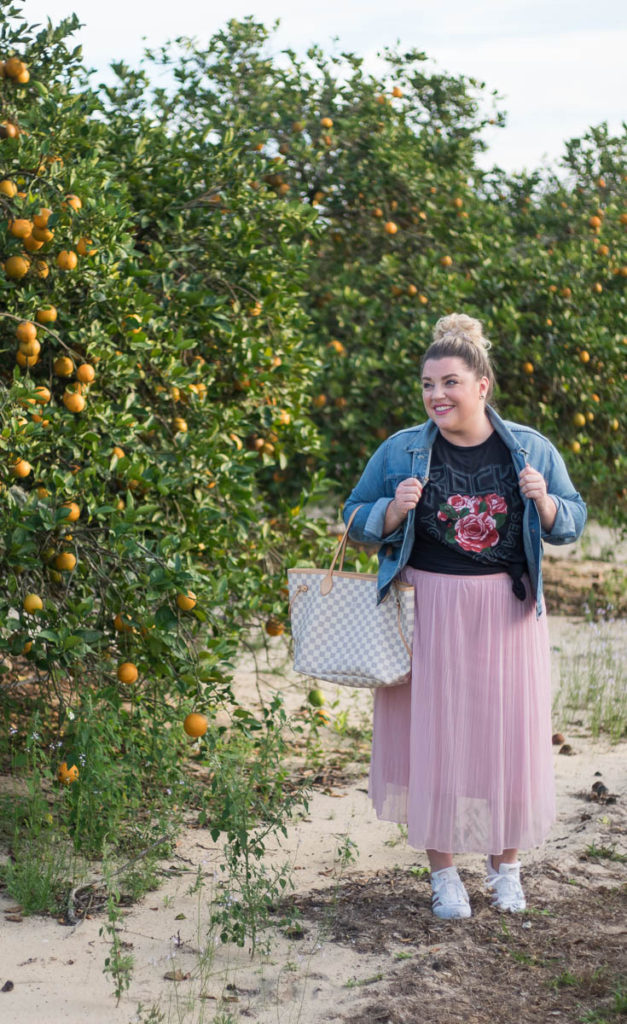 Until I was back in Florida this February and I stumbled across THIS gorgeous pink chiffon pleated skirt. I was shopping in the plus size aisle of one of my favorite stores, Ross, and the skirt was in the regular sizes but kept catching my eye, likely because I'm obsessed with this light color pink. So I decided to walk over and just investigate what this garment looked like and I gasped when I realized it was a pleated skirt! I quickly scoured the entire section to find their largest size and was able to find one in an XL. I could tell it was stretchy and had some extra room in it, so I decided to grab it and just see what would happen.
I also decided another thing on the way to that change room that day — I wouldn't be so hard on myself while trying all of the clothing on. If I really liked the piece, I would force myself to see the positive and not fixate on every wrinkle and dimple my body was making.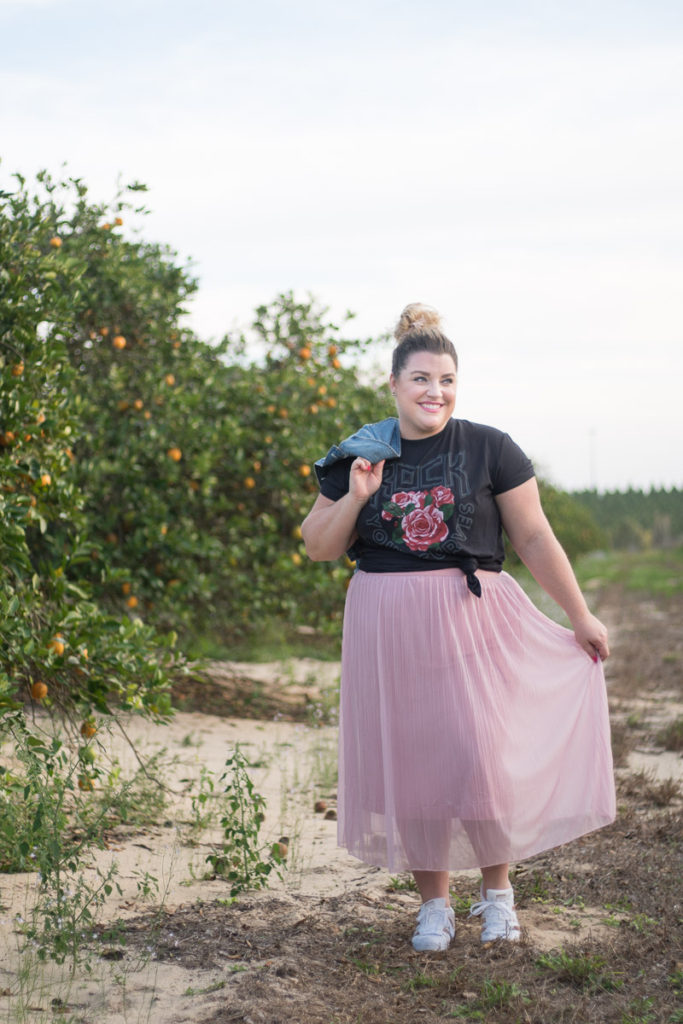 I tried everything else on first and kept this skirt until last. I think I was really nervous to try it on. Do you know that feeling? You've wanted something for so long and finally find it and you get this twinge of nervousness that it might disappoint you and not work out?! That was me on that day.
I kept waffling back and forth in my mind, "It's an XL…not a plus size…be realistic Christine. This just might not fit" to "Girl, be confident and rock that skirt!"
I had also grabbed this cute "Rock Your Curves" t-shirt off the rack that I figured would match perfectly with the skirt…also giving me the added encouragement I knew I would need!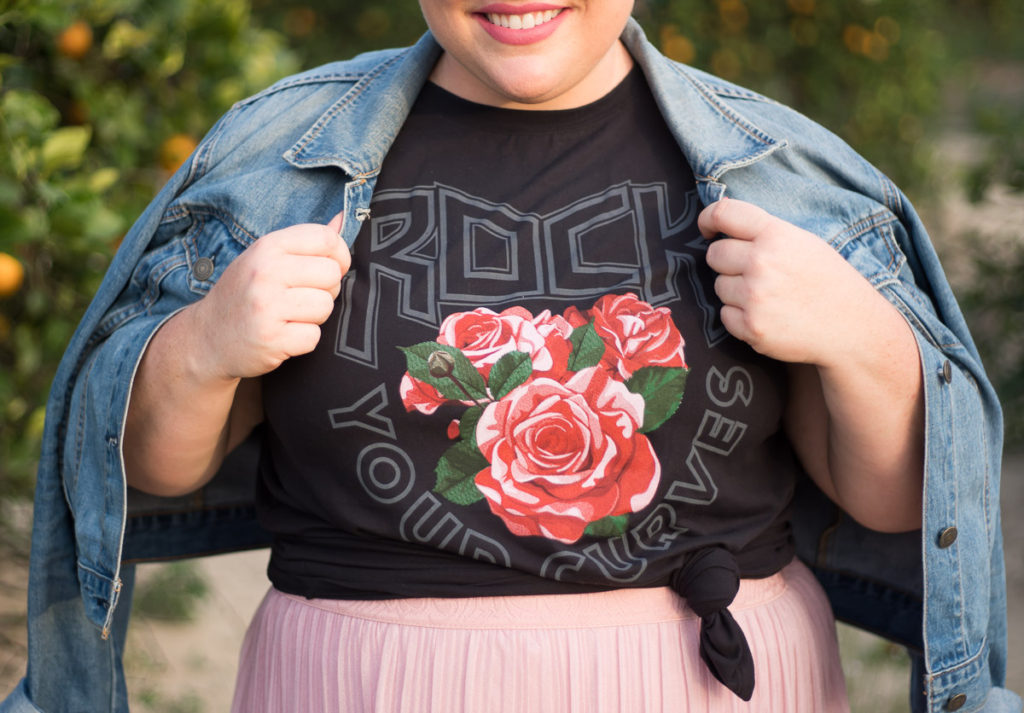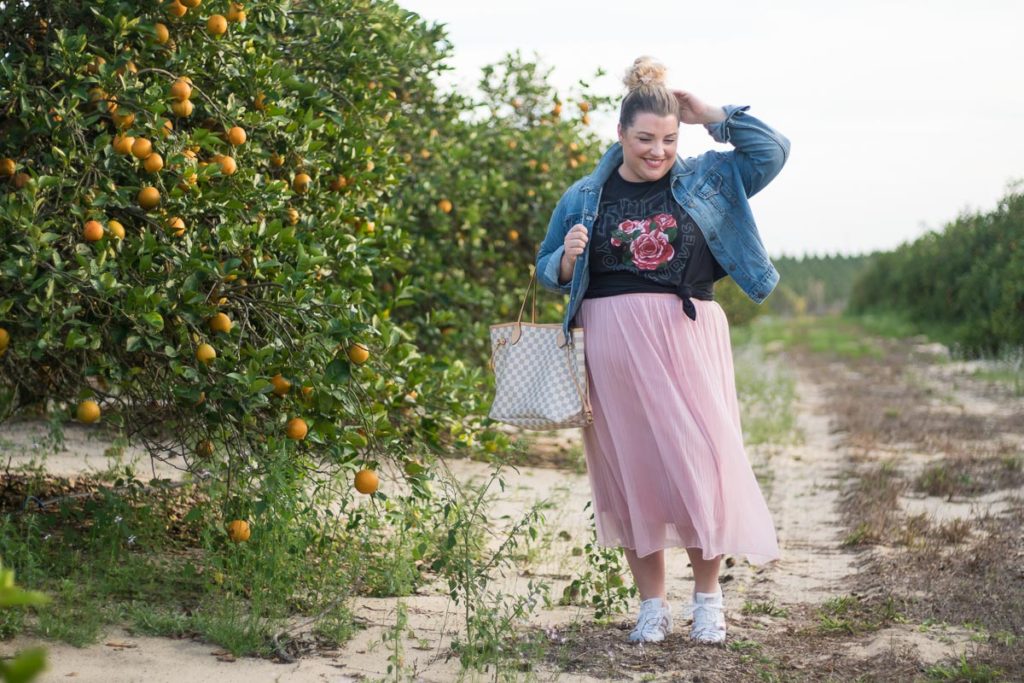 I had tried everything else on in the change room and it was finally time to dawn the skirt. I stepped my feet into it, one after the other in a very dramatic fashion and I slowly inched it up my legs. I couldn't look in the mirror until I knew it fit. It slid on no problem…with even room to spare I'd say.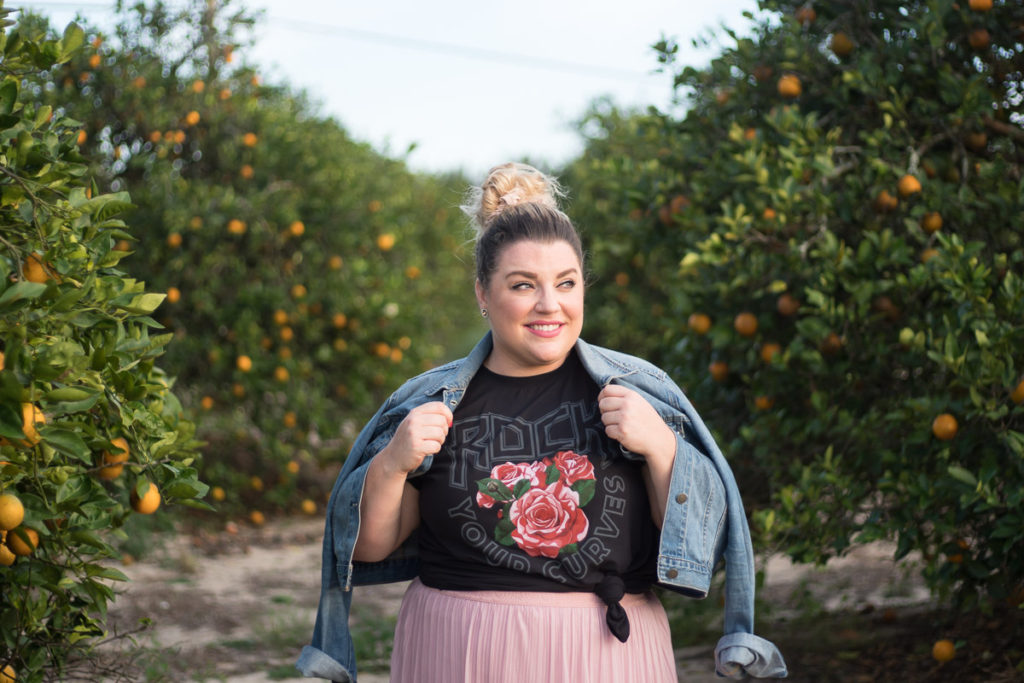 Shocked.
Excited.
Nervous…to turn around and look in the mirror.
I put on the t-shirt, tied the bottom into a knot, threw on my jean jacket that I had been wearing that day and braced myself to see the entire look.
I slowly turned around and to my shock…I…LOVED…IT!!!
Like not just a little bit, but a LOT!
A huge smile crossed my face as I remembered back to that fashion event when those ladies spoke those encouraging words to me, "YOU CAN ROCK A SKIRT!"
And that day, in the fitting rooms of a discount store in central Florida, I had a beautiful moment of finally realizing that I COULD!
I knew not everyone would like it but I really didn't care…because I loved it. I felt good in it. I felt beautiful wearing it.
And at the end of the day, that's all the really matters.
We are all so similar as women — we are our own worst critics. We struggle to love and accept our bodies, both big or small. We see all the flaws and fixate on them. We get concerned about what people will think and if they will like it.
WHO CARES!!!
If YOU like it, that's ALL that really matters.
Rock it.
Own it.
Make no apologies about it.

Love & Blessings,