We are Canadians. We live in the Great White North, truly one of the best and most beautiful countries in the world. From the multiple mountain ranges to the oceans that surround on three sides and everything in between, this country is filled with some of the most spectacular sites this world has to offer.
One of the greatest things about Canada is that it gets to experience all four seasons: spring, summer, fall and winter, in their truest forms – wet, hot, cool and frigid. Because I've grown up in Canada, I'm used to living through all the seasons, which mean you have to have a wide variety of clothing appropriate for each season. From rain jackets to bathing suits to chunky sweaters and parkas, as Canadians, our closets are ready for whatever mother nature may choose to throw our way!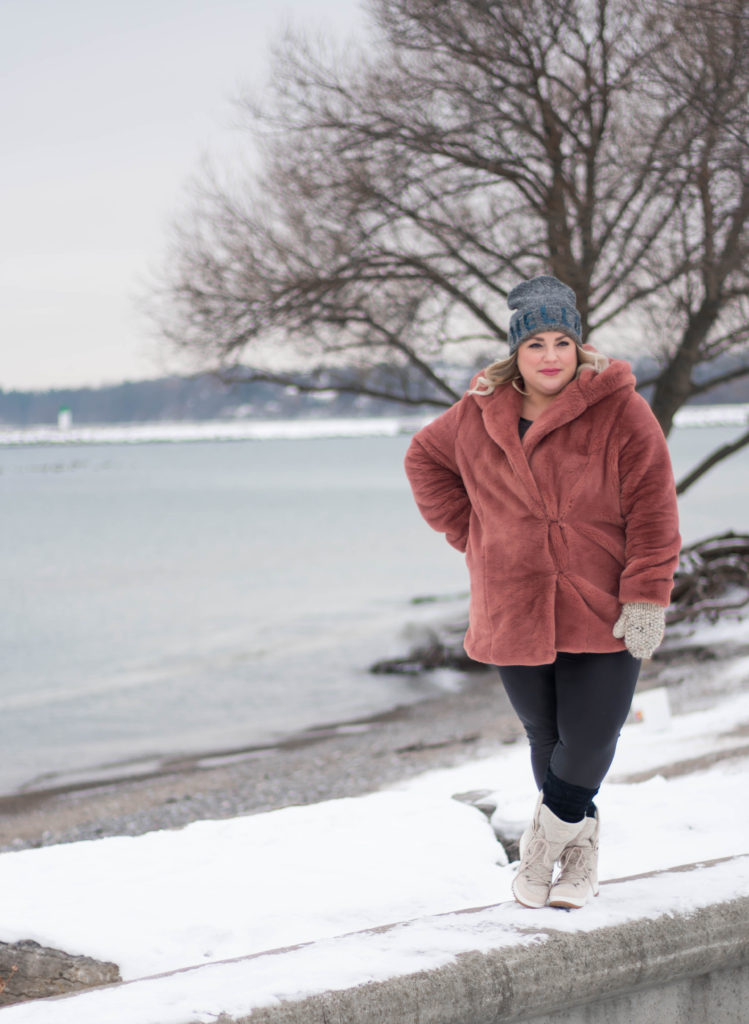 This is also true for our footwear – we must have the appropriate shoes for each season or it could get ugly real fast. We are talking rain boots in the spring, flip flop sandals for the summer, little booties for the fall and bulky insulated boots for winter. For each of the seasons I find that there are great options out there for women that are stylish and yet functional, keeping your feet looking super chic yet making sure it's weather appropriate.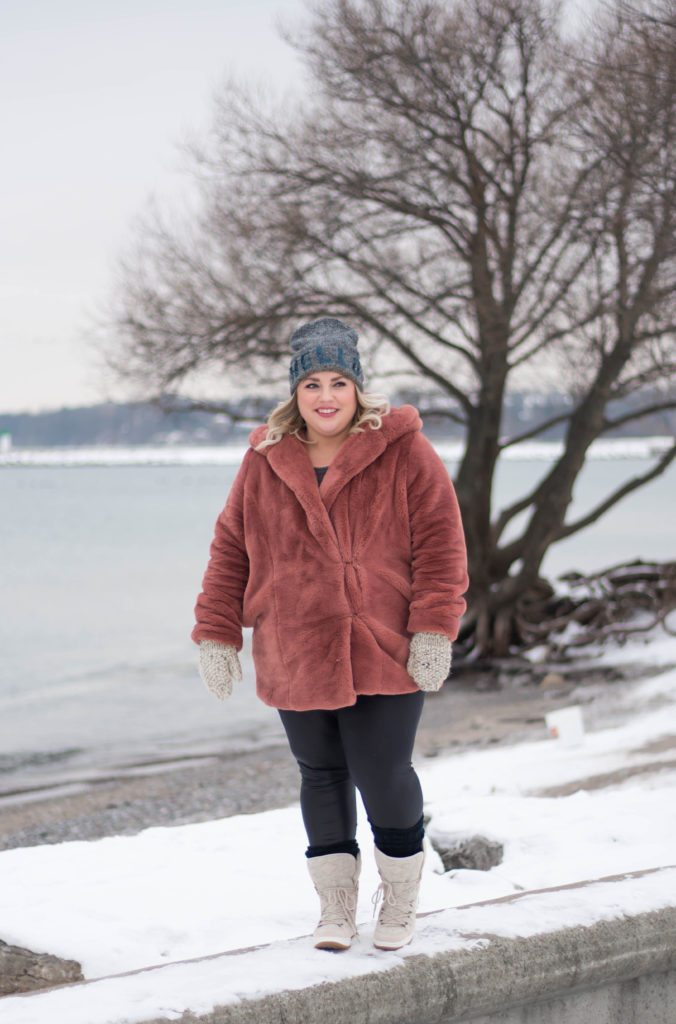 But if I'm totally honest, winter is where that falls short for me. I've never really found a boot that worked for me. I've always had to sacrifice something – it seems like it's either function or style, but I've never really been able to find a pair of boots that do both.
That is until I recently discovered the new Women's Powder Artic Grip Winter Boots from Mark's Well Worn. These are legitimately the first boot where function meets style and I LOVE them!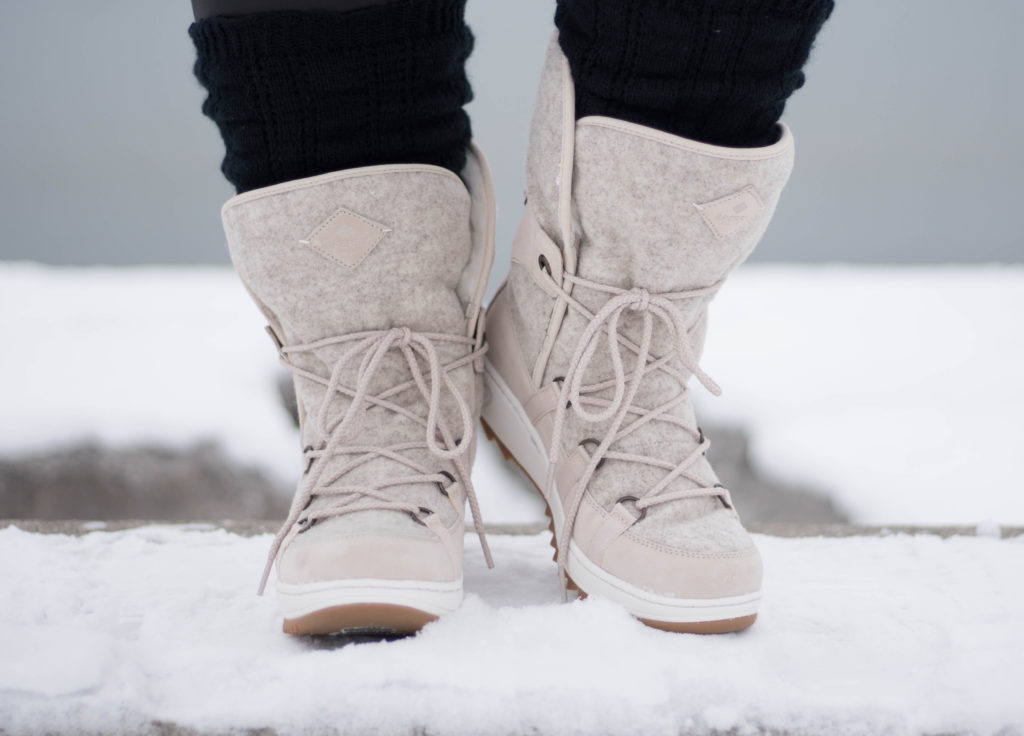 From the lined inside of the boots to keep your feet warm to the mix of suede and leather on the outside, these boots are both stylish and warm. But where they stand above and beyond the rest of the boots I've ever had is with their Vibram Artic Grip technology. The soles have unparalleled traction on wet and icy surfaces that make these one of the best slip resistant boots on the market.
I'll be honest, that sounded way too good to be true so I decided to give them a test drive before getting my own pair. I was invited to the Eaton Centre in downtown Toronto a couple of weeks back to take the boots for a run down the INCLINED ICE RUNWAY! I won't lie…I was totally scared to fall in front of HUNDREDS of people in the middle of the mall and make a complete fool of myself. But after watching a few others walk the runway and not slip one bit, I was more confident that I would have the same success!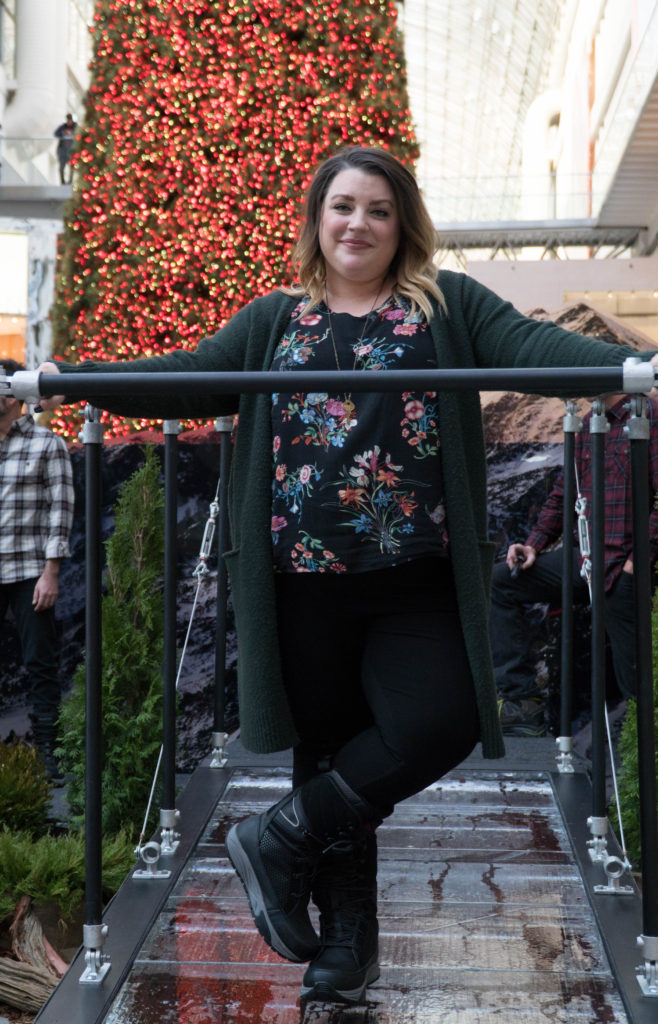 And let me tell you…I DID NOT SLIP! I started off by holding the handle bars for added safety, but within minutes I warmed up to the ice and soon enough, I was even dancing on ONE FOOT!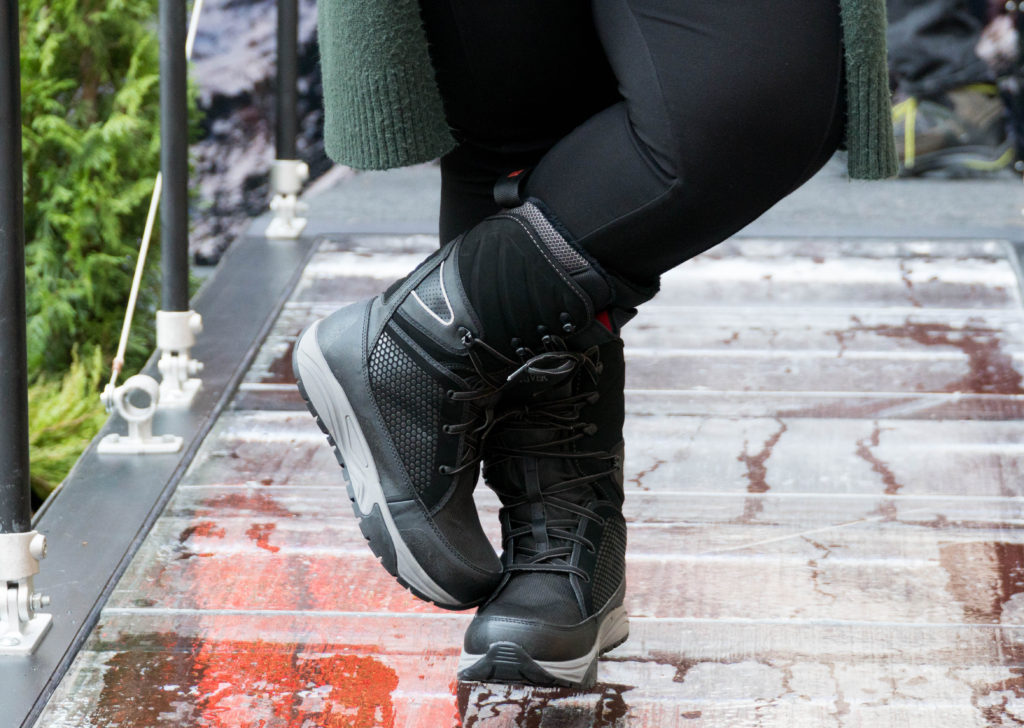 Guys, you need to understand just how much of a CHICKEN I am on ice. Last year, in fact, I thought it would be a great idea for our family to go ice skating downtown on the outdoor rink at the harbourfront. It just felt like a very Canadian thing to do. Well, within MINUTES of stepping foot onto the rink, I remembered how much I HATE ice and really have no business thinking I can actually skate. Unfortunately all three of my kids had a similar experience and it quickly unravelled into a bit of a nightmare situation for my husband, trying to keep us all from falling! HA! But that's another story for another time.
But I say that to say, I am really nervous on ice. I've had a few bad slips in the past that have ended with me being in various treatments for months, trying to heal up my bad back afterwards. As a busy mom with three active kids, I don't have time to be flat out on my back, nursing an injury from a preventable fall.
That's why I'm honestly SO excited that I've discovered these new boots. They really do work…no slip, no worries! Adding in the warmth, the water resistance and of course the chic factor, they are a MAJOR win in my books!
Not only are they on sale RIGHT NOW on the Mark's Well Worn site, BUT, so many of you responded to my Instagram stories at the event asking about the boots, that I asked Mark's if they would be willing to let me GIVE AWAY a pair to one lucky reader…and they said YES! YAHOO!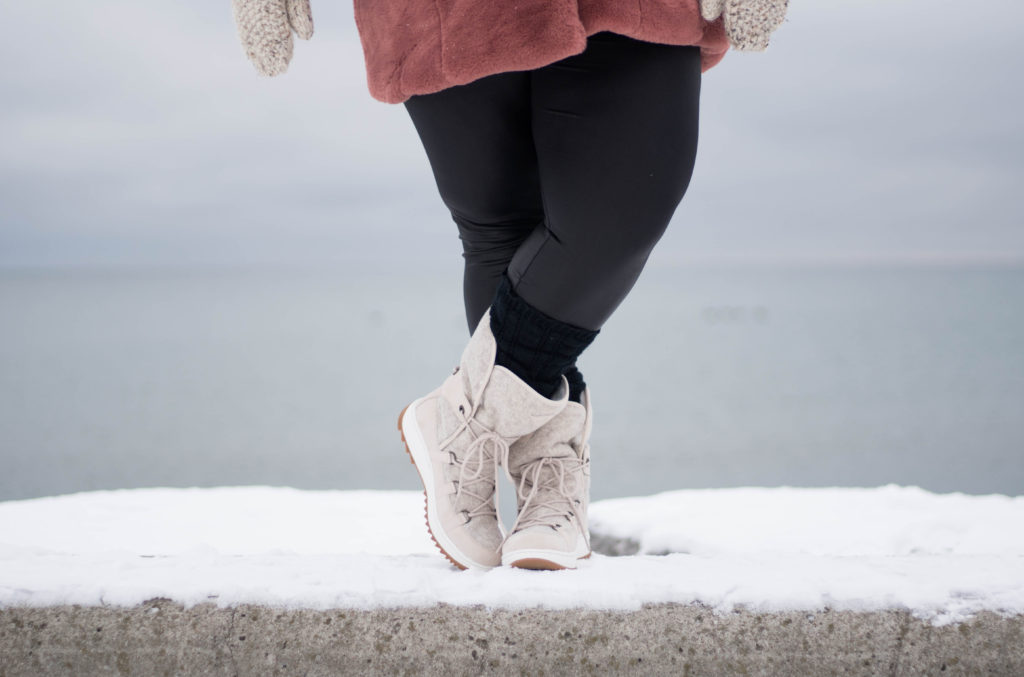 So get ready to enter below. Contest is open to Canadians and will run from December 23rd til January 2nd. Winner will be notified via email. GOOD LUCK!
This winter it's time to get a grip and ditch the slip with the RIGHT boots for you! Thanks to these winter boots from Mark's, my fears for the ice have taken a hike!
Love & Blessings,

Note: This post was sponsored by Mark's Well Worn where I was given free product and/or compensation in exchange for my honest review.