It's hard to believe that it is the LAST day of August today! Not sure where the summer has gone but alas the temperatures have cooled off (well, to be fair, they never got that hot in the first place here in Canada) and it's time to start focusing on FALL!
I wanted to share with you a few of my current favorite things that will be helping me transition from summer into fall with a few fun added treats I found on our recent trip to Chicago! Also, make sure to read til the end because we are doing a FLASH giveaway with GEOX and you can win your own pair!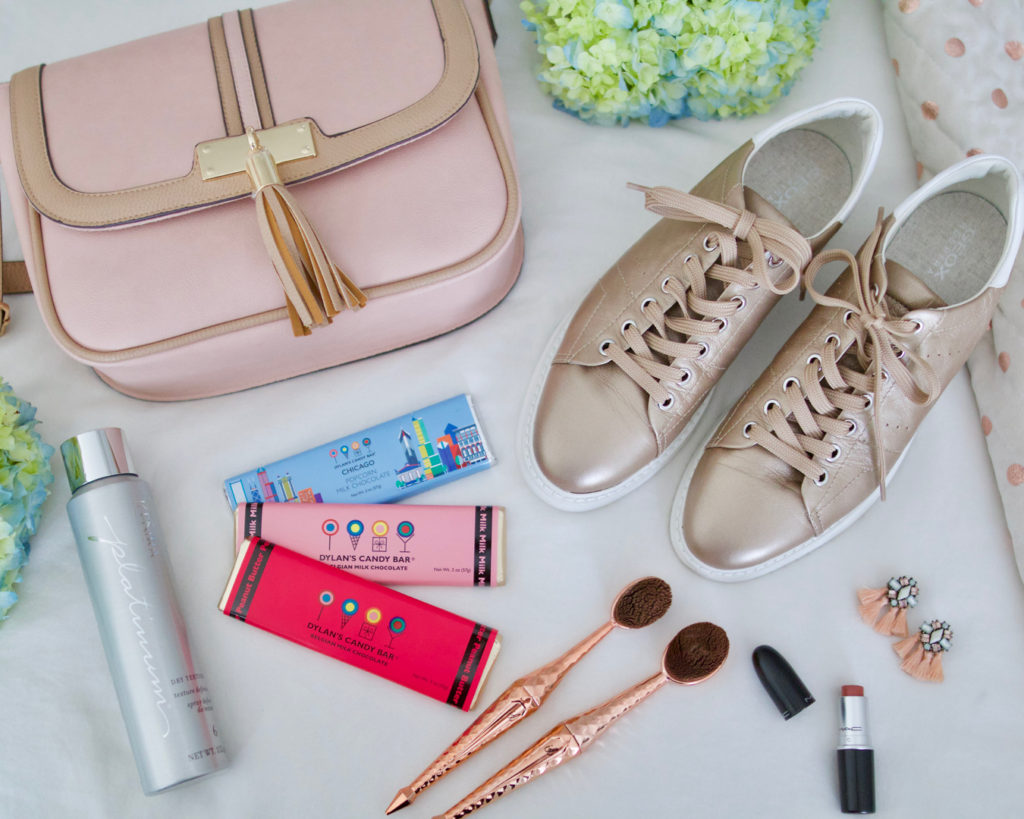 So let's talk beauty items first. I picked up these gorgeous copper oval brushes at Marshall's when I was in Chicago after seeing every beauty blogger use them the last few months. I HAD to try them! And I gotta say, they work really well and feel amazing on your skin! You can shop similar ones HERE!

Next we've got my all-time favourite MAC lipstick in the shade Velvet Teddy. Every SINGLE time I wear this shade and go out in public, I am asked by at least one person what I'm wearing. It's such a fabulous year-round shade that works on many skin tones. What I love about it is that it's quite neutral without being a full on nude. It has a bit of a reddish, brownish color to it and is the perfect color to wear when you want something on your lips but not a bold lip. Get yours HERE (and remember, MAC cosmetics has a recycling program that is one of their best kept secrets! Keep SIX empty containers of any of their full-sized products and return them to receive either a free lipstick, lipgloss or eyeshadow! It's amazing!)

Next up, I finally picked up a can of Kenra's Texturizing Spray. I have the FLATEST hair ever! I mean there is literally no volume to it whatsoever. It's also incredibly FINE and therefore struggles to hold a style in it, especially when it's clean. I've heard multiple hair and beauty bloggers talk about this and so while I was in the US, I ran into Ulta (first time in there) and grabbed a can. I'm really enjoying the results so far as it adds INSTANT texture, helping create more volume in your hair!

I picked up these jewelled tassel earrings a little earlier in the year at Target when I was in Florida and I'm still loving on them hard! Again, they are one of those that I get asked about a lot when I wear them as they are just so gorgeous! If you want to make a statement with your earrings, here are some similar looks you can shop!

Next up, we got this beautiful pink and cream crossbody bag with a tassel on it. Believe it or not, it's from Sears! I'm so impressed with them and how much they are changing up their stock and making really awesome pieces, at great prices. I couldn't find the exact bag on their website, so here are a few similar purses, all under $50!

Next up, we gotta have some sweet treats! If you watched my InstaStories from when we were in Chicago, you would have seen when we went into Dylan's Candy Bar! It was like walking into candy HEAVEN! I've never seen such a place before! I picked up a few of their chocolate bars and let me tell you…they are UNREAL! If you haven't tried Dylan's before, check them out here! They also make for great gifts due to their magical packaging!

Last but certainly not least are these brand new GEOX sneakers in the most gorgeous champagne color! If you've hung around this blog long enough, you know that we are BIG fans of GEOX shoes. They are one of the few shoes that my kids won't destroy and are truly one of the comfiest shoes any of us have ever worn. That's thank to their breathable, Italian leather and these sneakers are no different! You can grab a pair here!

Now…it's time to ENTER our GEOX giveaway to win your very own pair! Whether you want to buy something for yourself, your partner or your kids, make sure you enter now for a chance to win.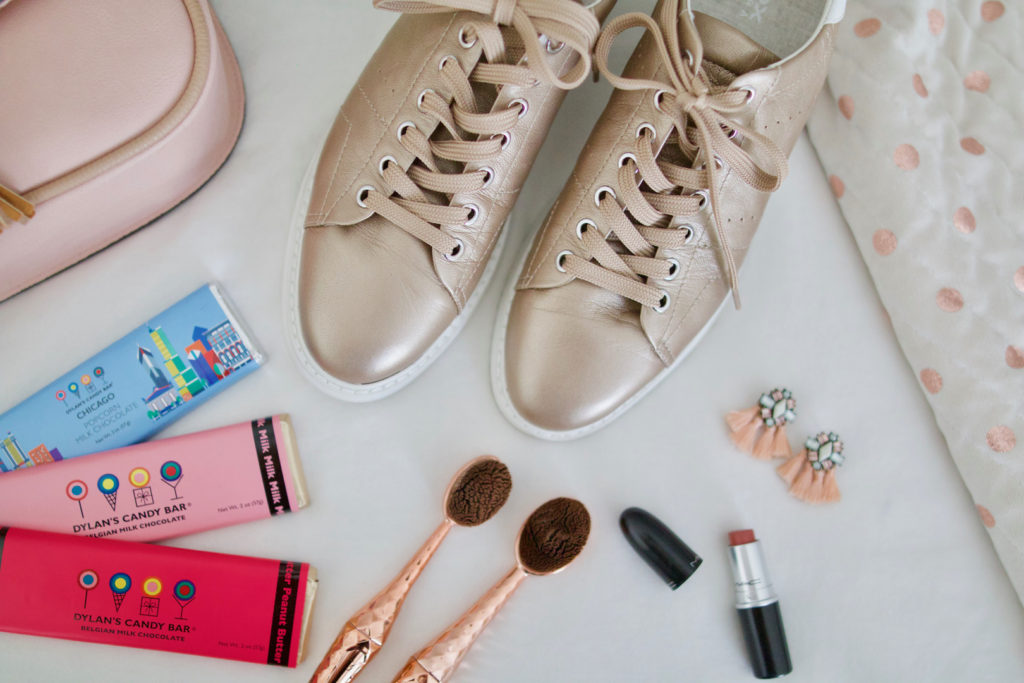 Enter to win pair of your choice from the Geox Fall/Winter 2017/2018 collection and give your feet the gift of breathability and comfort all season long! Follow the below steps to qualify:
3. Comment below on this blog post to let us know you've entered (this is your official entry)
We will be checking, so please make sure you are following both on Instagram and make sure you comment below so we know you've entered!
Contest is open to Canada and US residents and will run from August 31st, 2017 til September 5th, 2017. Winners will be notified on Instagram and will have 24 hours to claim their prize. Winner will be announced here after they have claimed the prize. A gift card will be sent to the winner and they will be able to select their own pair at their local store. Best of luck to all who enter!
Happy end of summer!
Love & Blessings,