Yesterday marked the first day of SPRING! While this winter hasn't been that bad in terms of weather (especially considering that all the networks were predicting it would be one of the worst we'd seen in decades), I've personally found it to be a tough season. I shared more about this on my Instagram yesterday, if you want to check it out.
I'm just REALLY excited to see a new season begin, bringing in not only warmth and sunshine but also new beginnings and possibilities! Can I get an "Amen?!"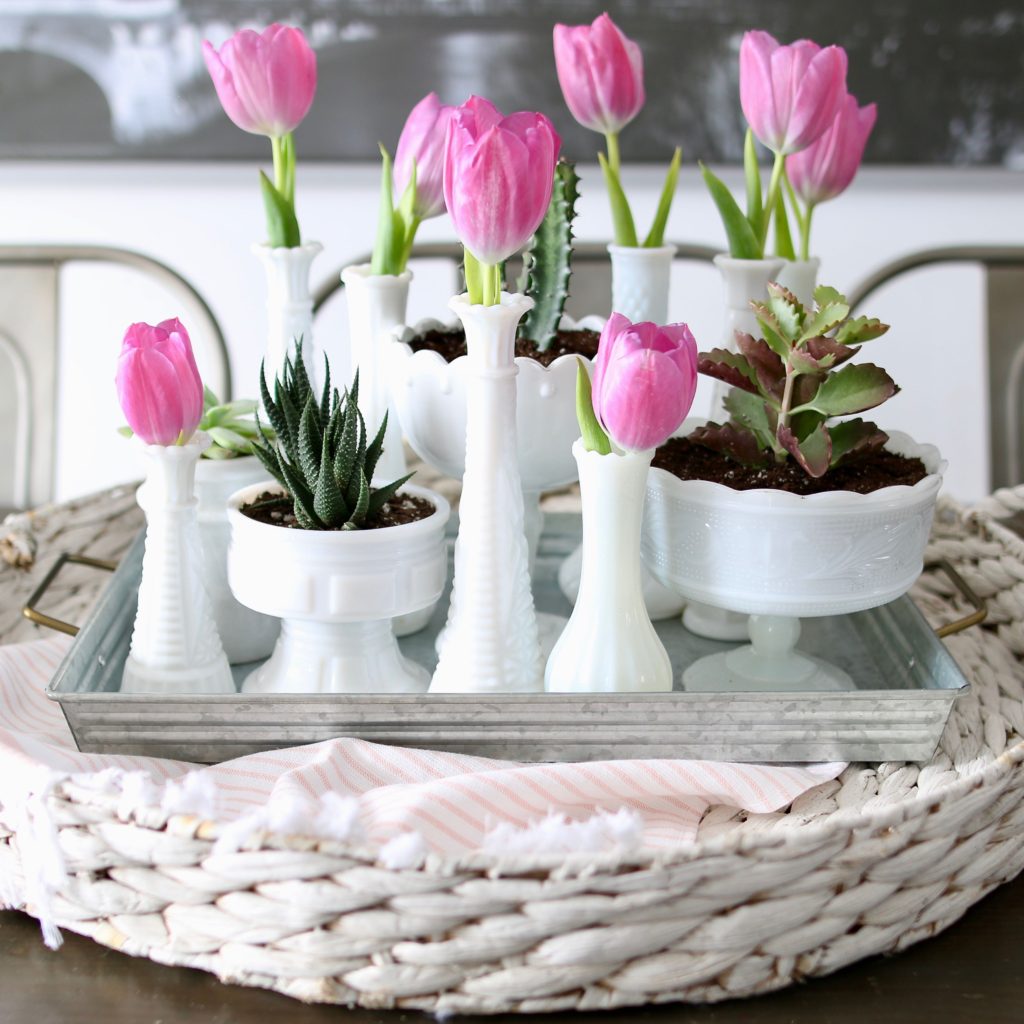 When it comes to decorating my home for the seasons, I honestly don't typically go all out, other than for Fall and Christmas. I find especially around this time of year, I'm usually getting into the spring cleaning thing and purging anything and everything I can get my hands on! And this year has been no different.
But with that said, I also think that adding in some seasonal florals, perhaps swapping out a couple throw pillows and maybe splurge on a new piece of artwork or seasonal decor can really help spruce up your space and bring the sunshine IN!
So today I'm linking up with a number of other fabulous Canadian Home Decor bloggers to share with you how I've spruced up my home for spring! Make sure to go all the way to the bottom to see all their fabulous posts too!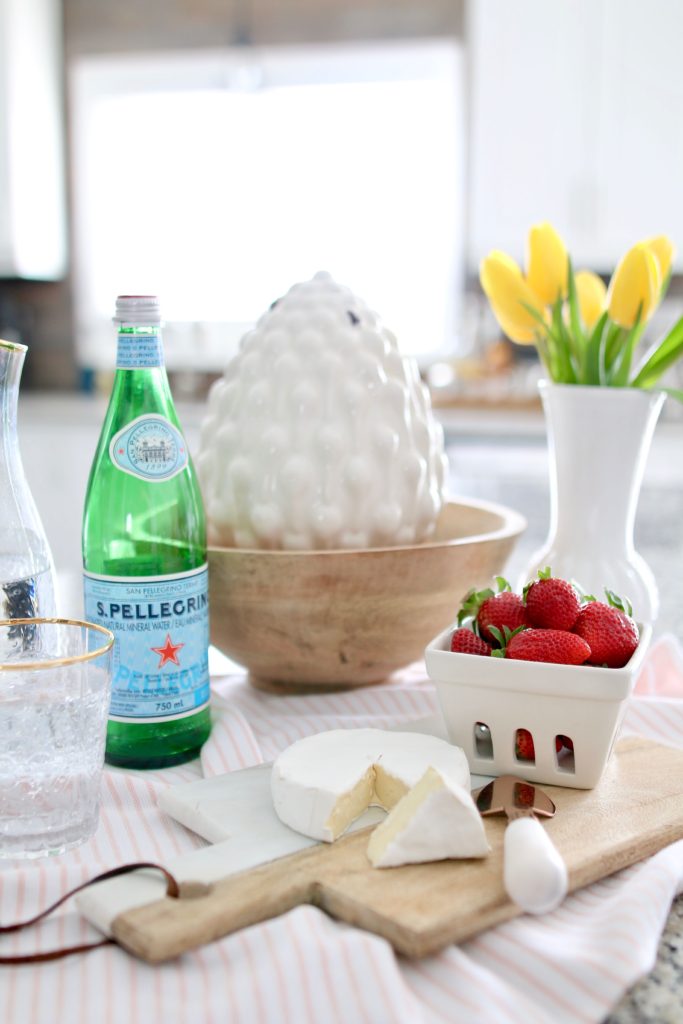 So let's talk about flowers first! Tulips are the flower of spring (well, at least here in Canada they are). And the great news about them is that not only are they gorgeous, but they are super inexpensive, which means you can add in even more and swap them out once they pass on from this life!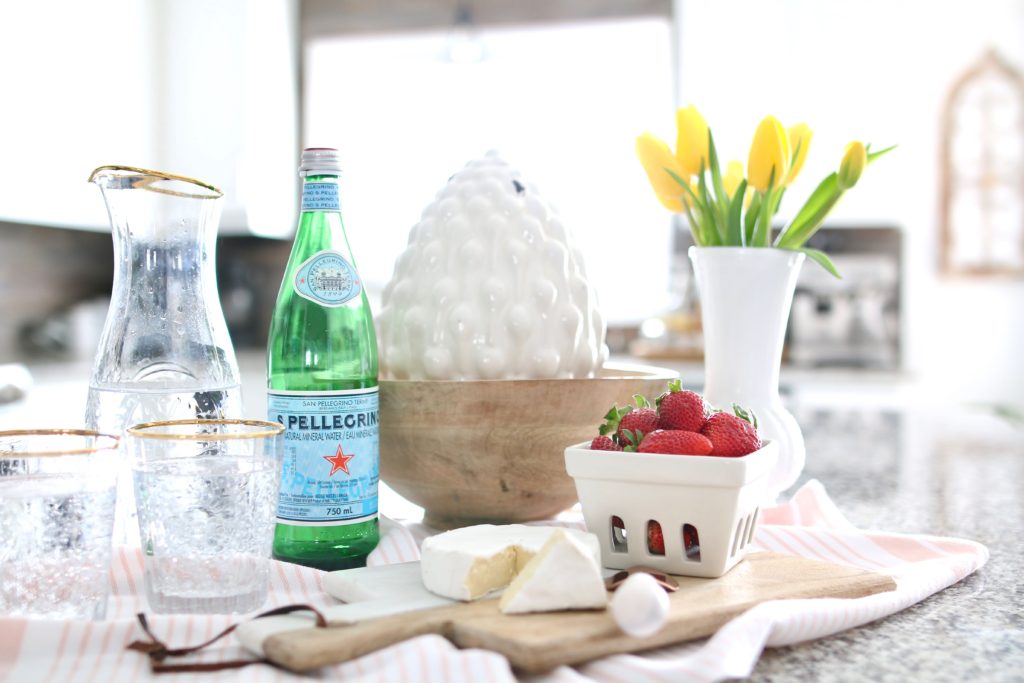 Mixed in with tulips, I decided to add in some of my favorite succulents. I don't think these will ever go out of style or out of season, for that matter. I absolutely love the juxtaposition between the hard, prickly edges of the cactus next to the soft, delicate tulip petals.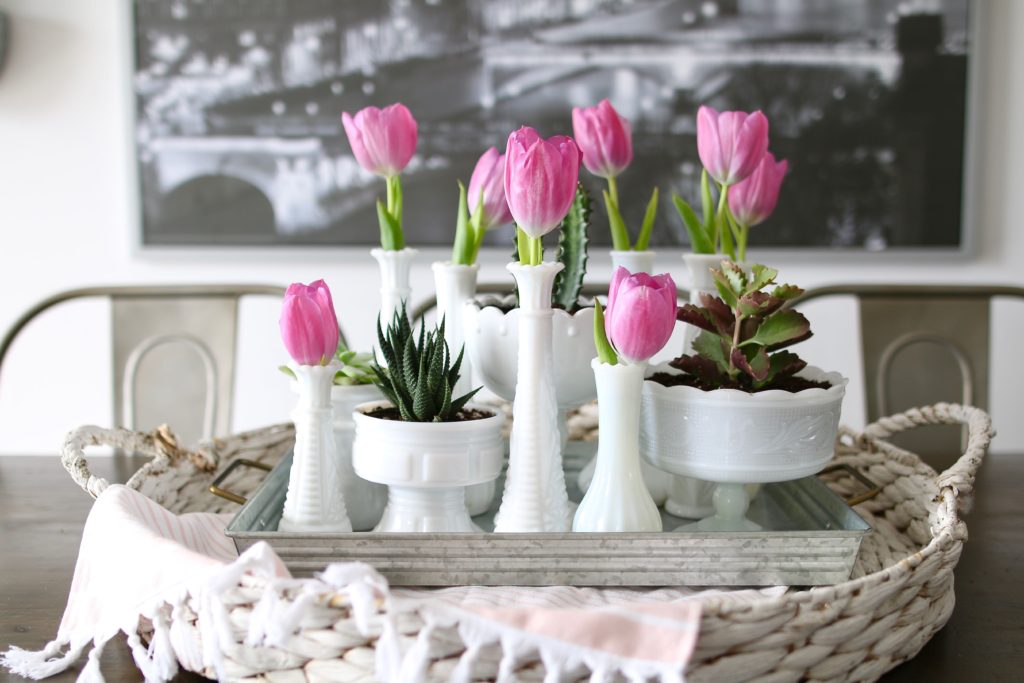 I also LOVE white milk glass vases! Like cannot get enough of them! It's so funny because at one point in my adult life I would have thought these to be so tacky, particularly the single stemmed vases. But over the years, they've grown such a fond place in my heart that I always find myself searching for new pieces to add to the collection whenever I'm in a thrift shop! I love gathering various shapes and sizes together and creating a beautiful centrepiece such as this one!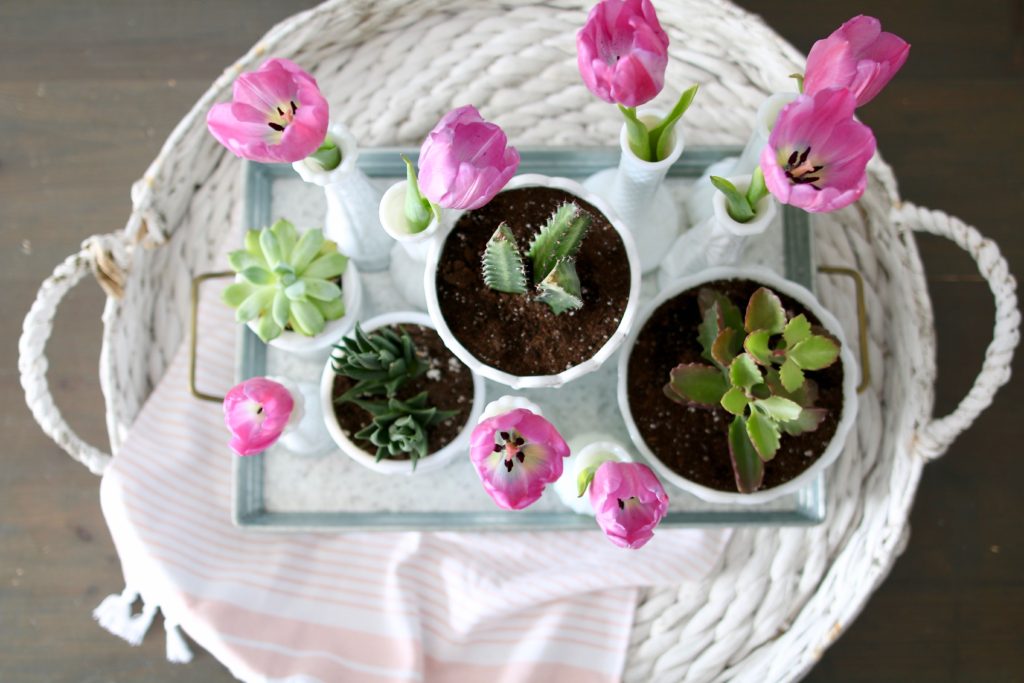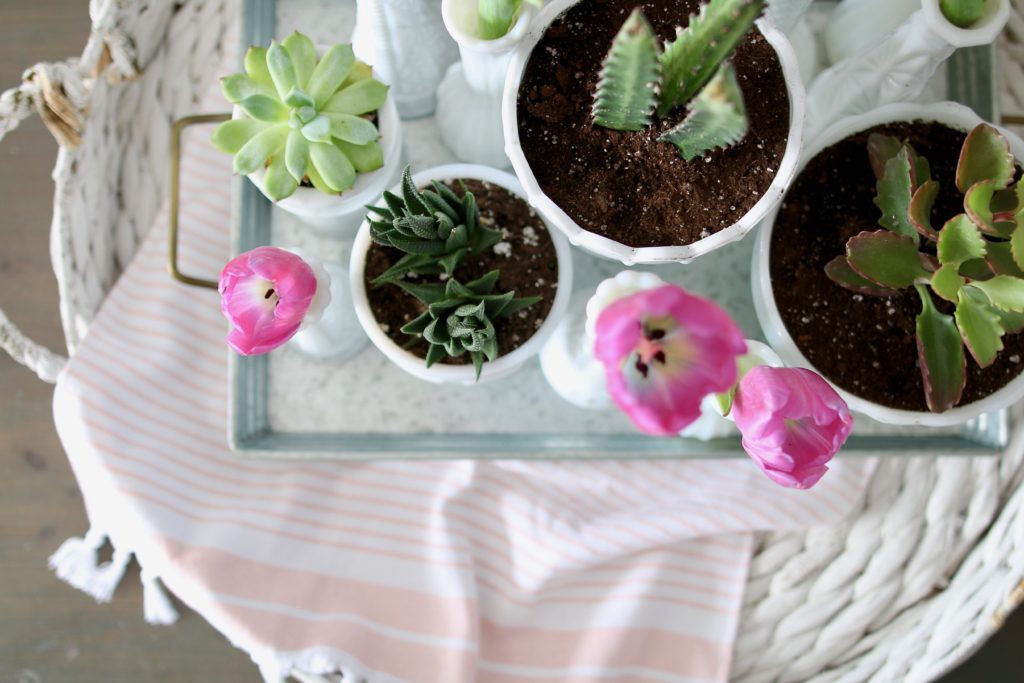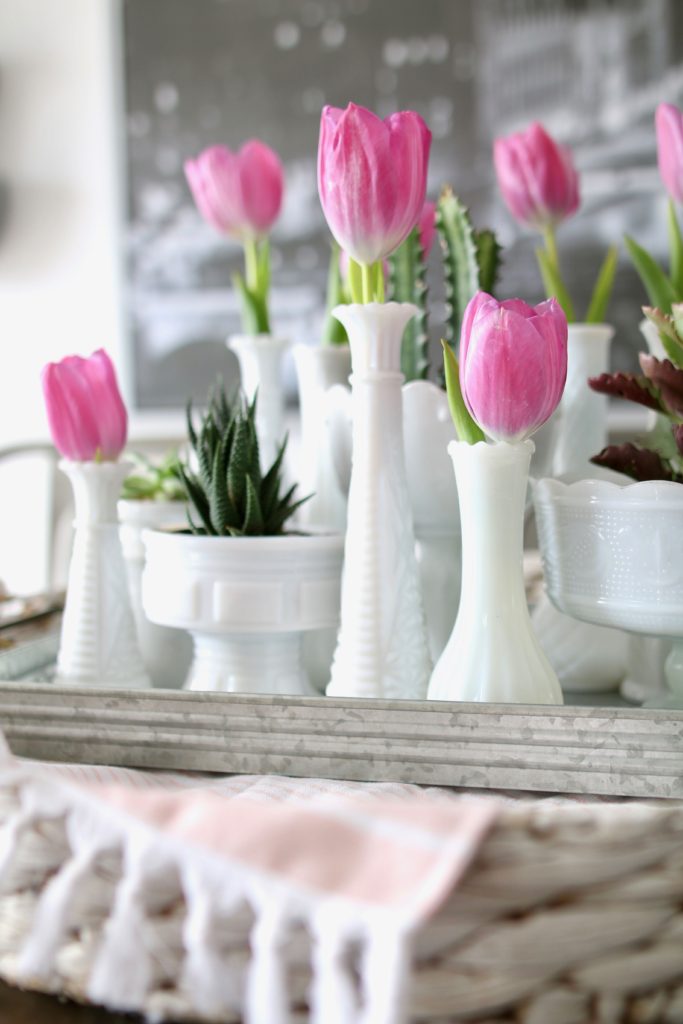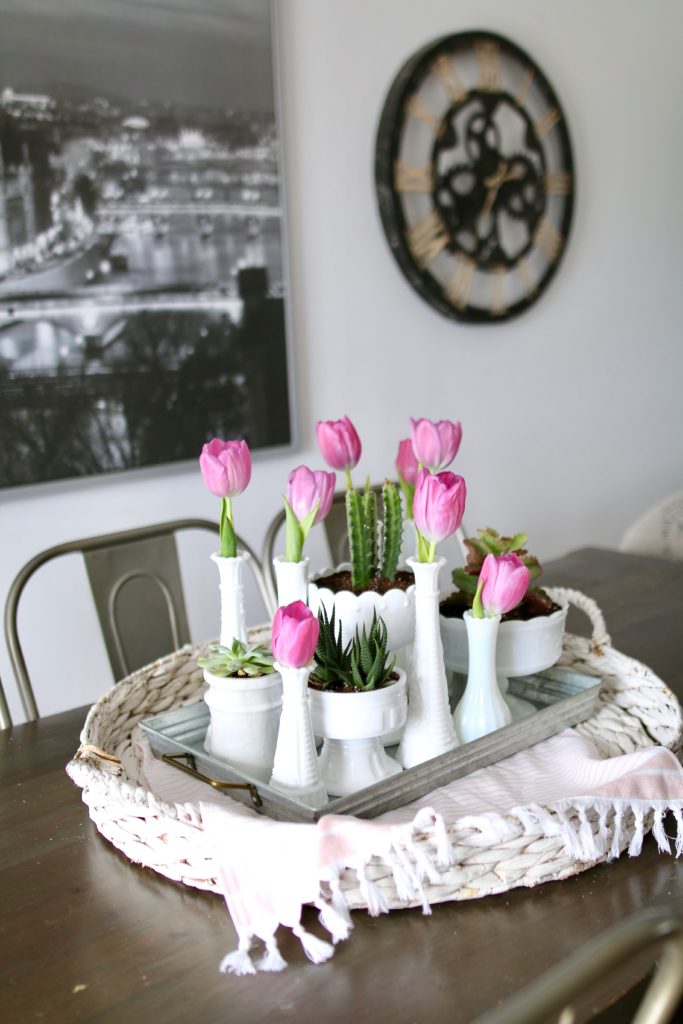 Moving into the living room, this is where I spent a bit more time (and money) to spruce things up. I will admit it, this living room (which is actually a joint room with our playroom) has been a sore spot for me the last three years that we've lived here when it comes to home decor. It's such an awkward space being a high traffic area to get between the upstairs and the downstairs of our home. So while I want it to look beautiful, it still needs to be a place that has a high function level.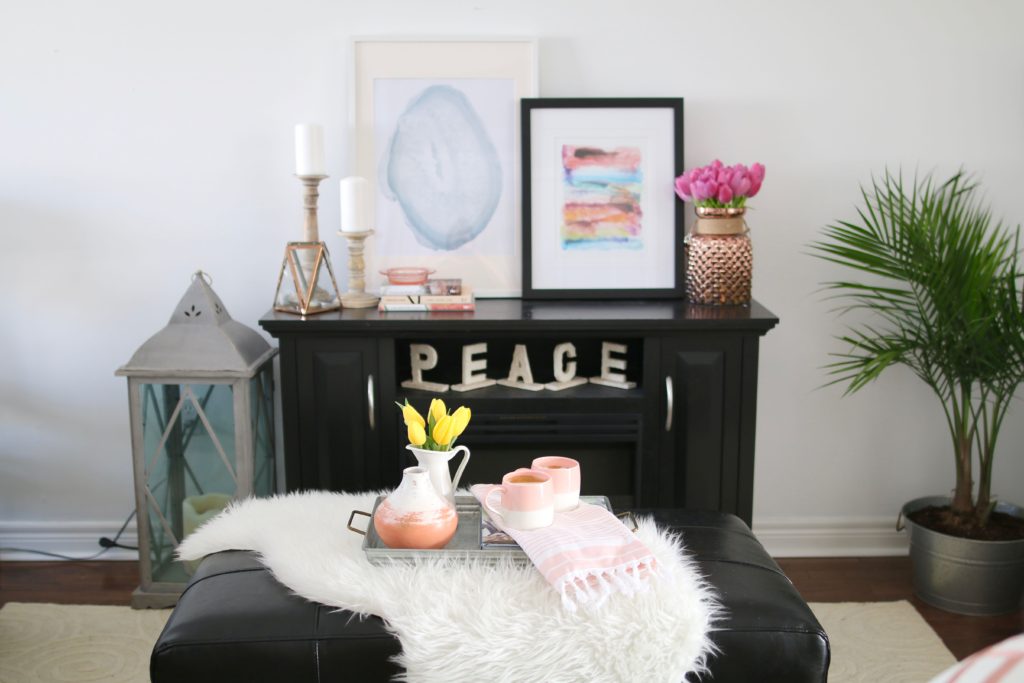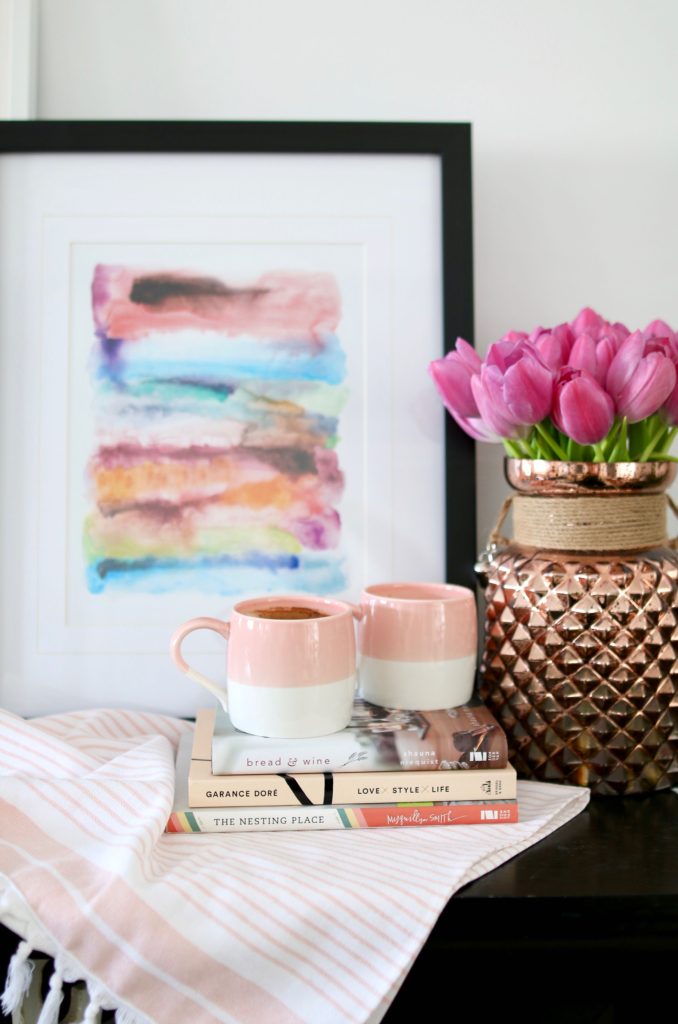 So for this mini-makeover, I decided it needed more color. I found this gorgeous watercolor print from HomeSense and that set the tone for the space, bringing in shades of blues, oranges and pinks.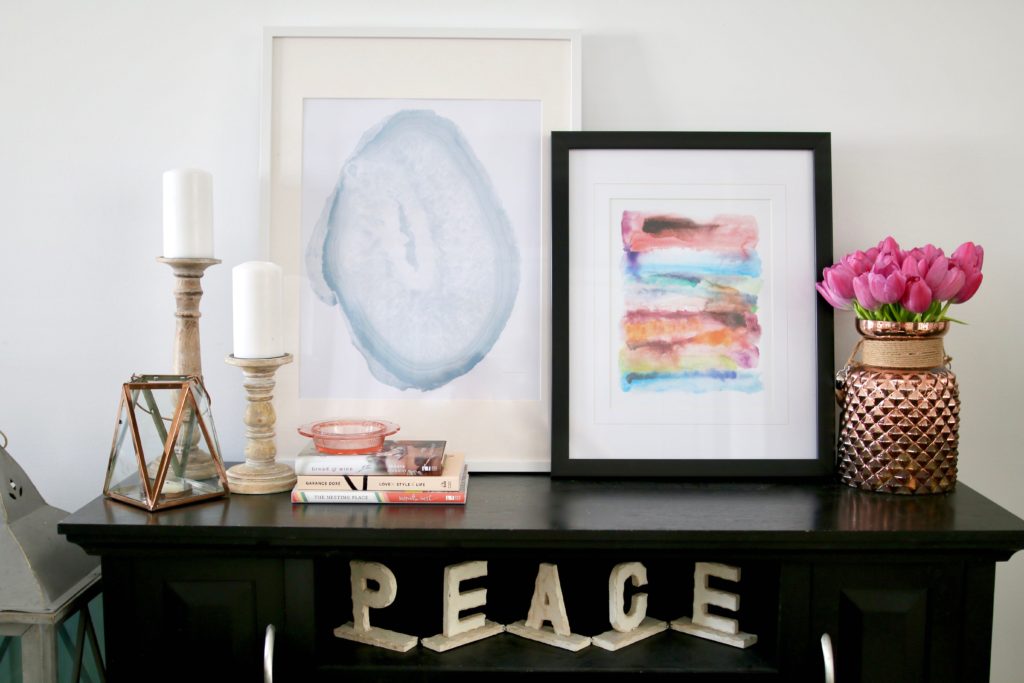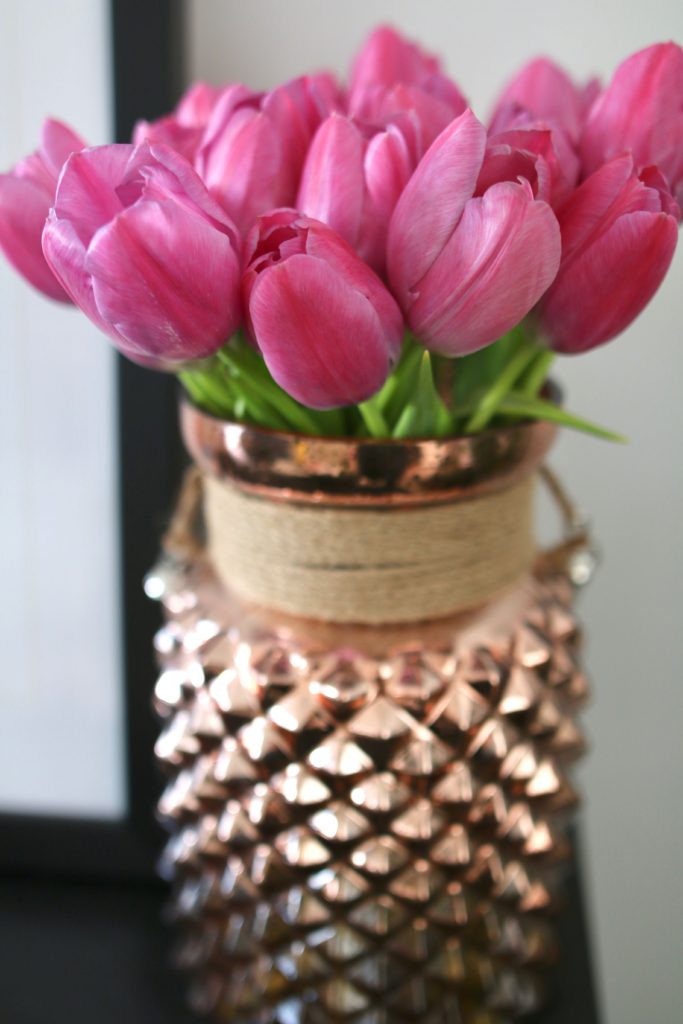 I also added in the palm tree which brought in some much needed greenery and LIFE into the space. Let's see how long I can keep this baby alive!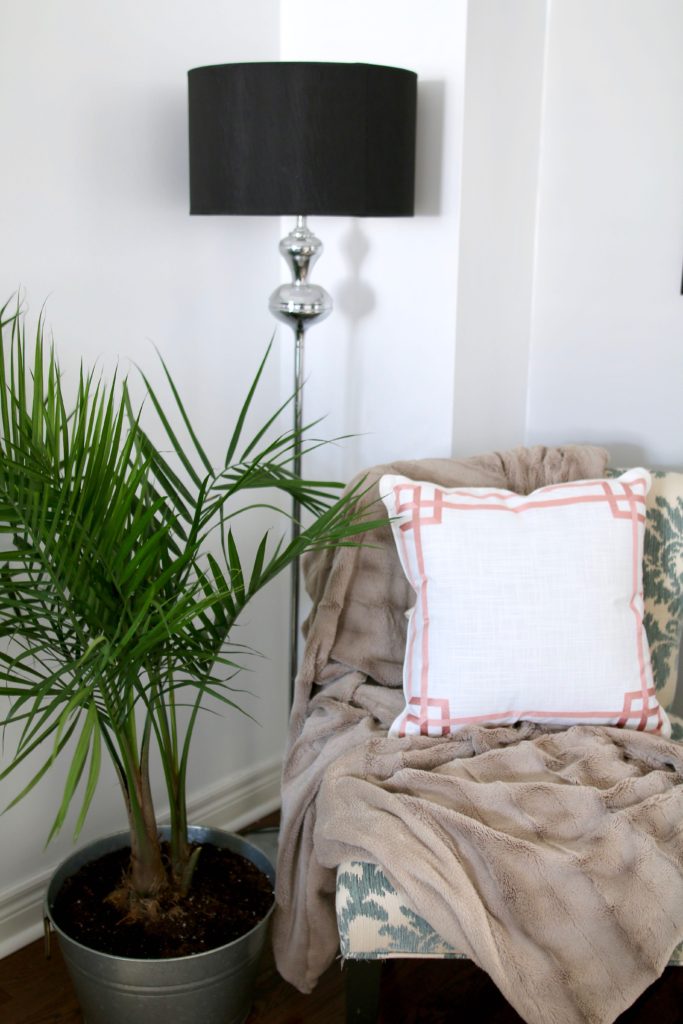 I absolutely love this galvanized tray from Walmart…yes, you read that right, it's from Walmart! In fact, many of the items I found were from Walmart: the tray, the plant planter, the two wooden pillar candle holders, the geometric lantern and the copper studded vase! All for less than $90!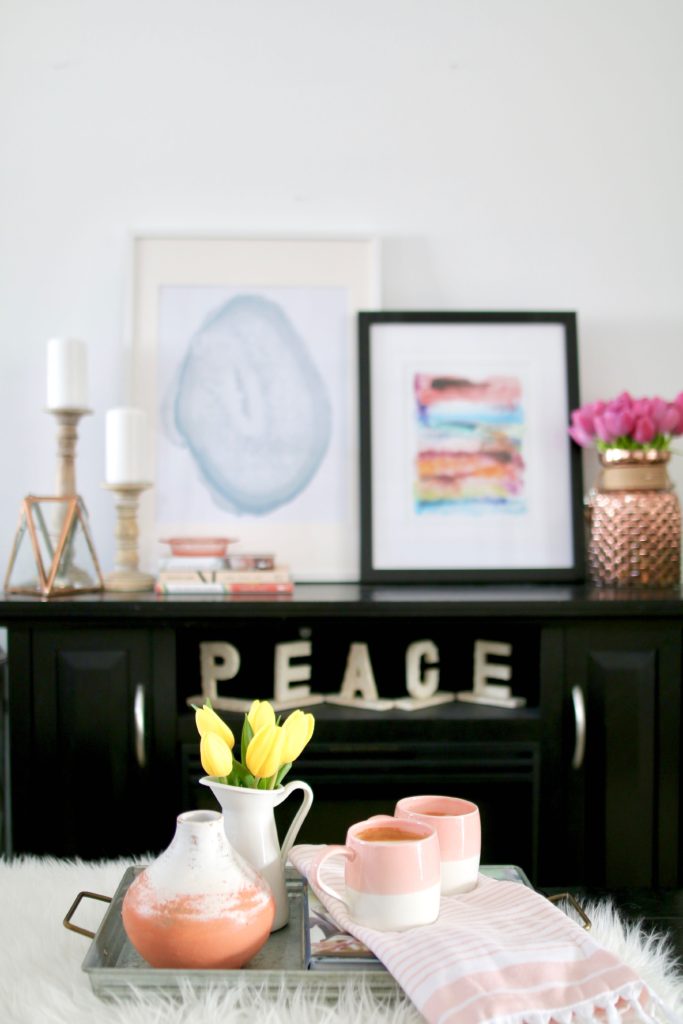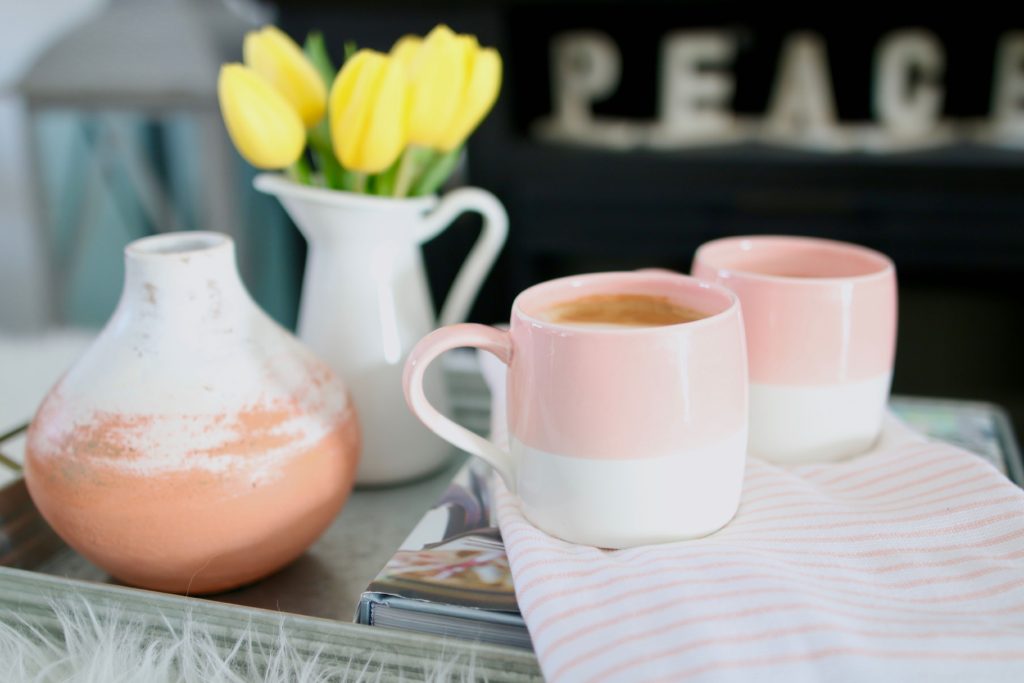 One final rule I always follow when sprucing up my home for any new season is to always SHOP MY HOME FIRST! It's incredible what you can find in one room that might work better in another space…even if it's just for that season.
We recently did our Master Bedroom and added in lots of beautiful rose gold and soft pinks to the space. I found a few items in there that I knew would be perfect for the living room for this spring season. Try mix and matching decor from various parts of your home and you'll be shocked at the new life it can give to not only the space but that piece of decor!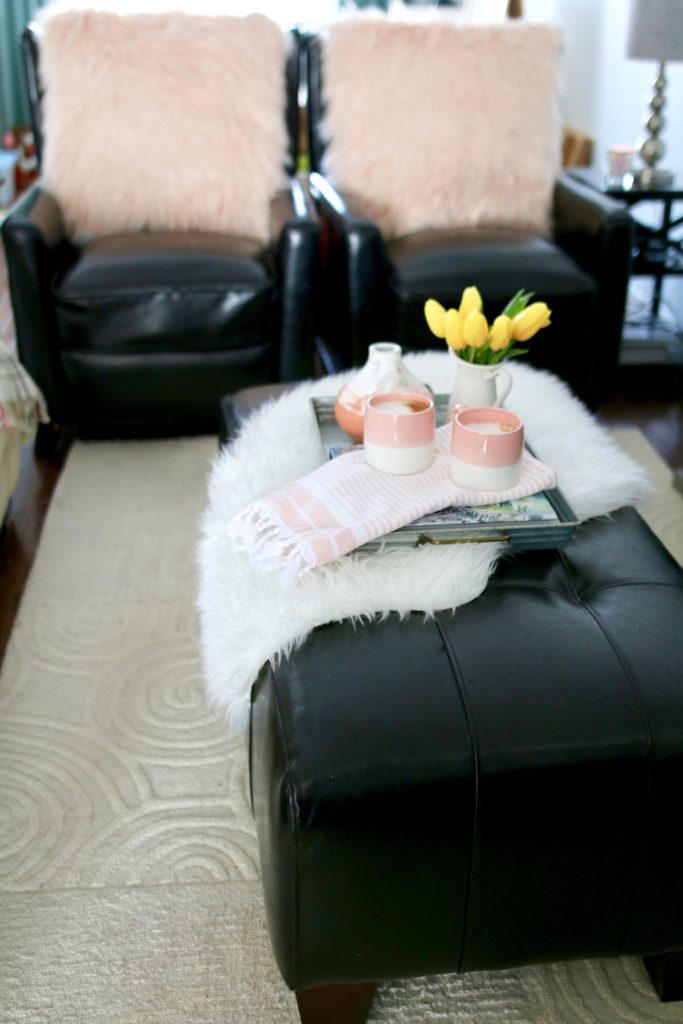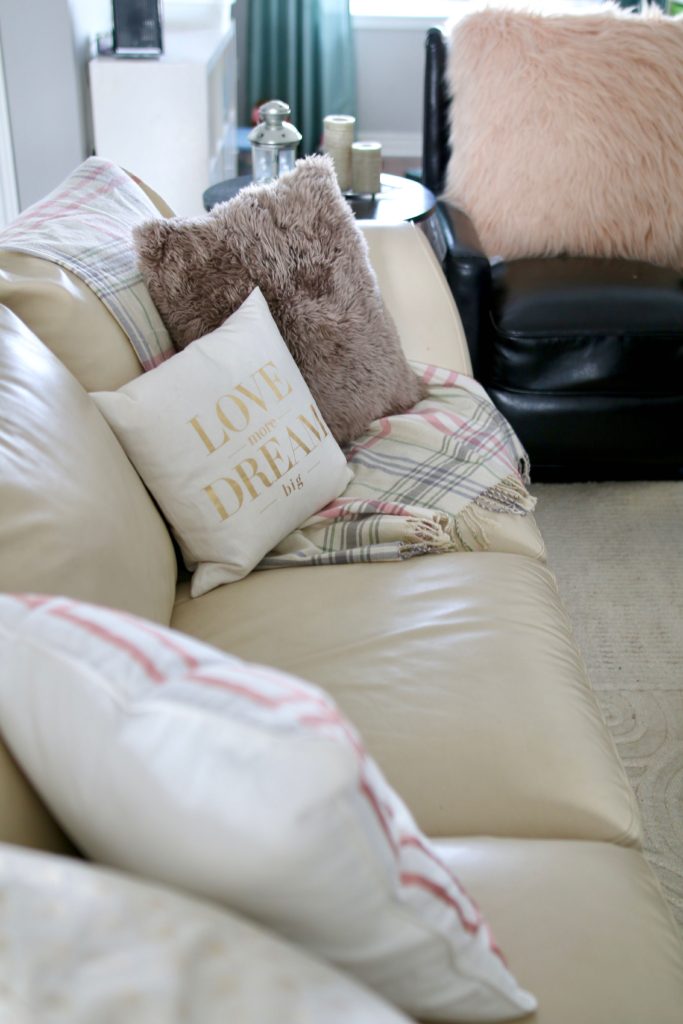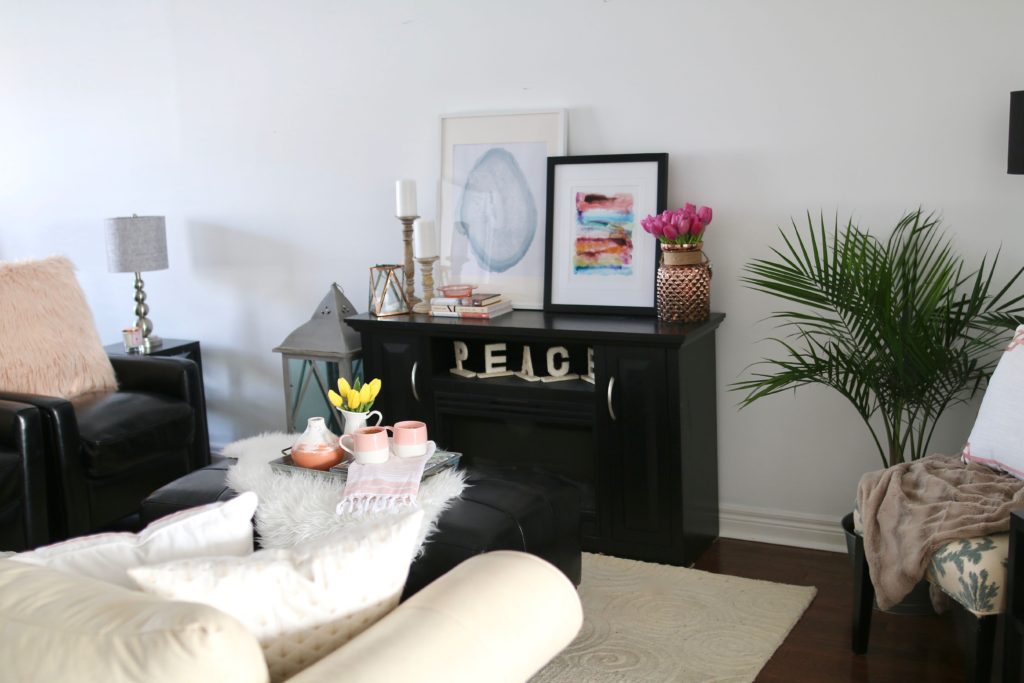 Well there you have it: my spring home tour! I hope you enjoyed it and that it inspired you to bring a little sunshine and color into your home this season! Make sure to check out all the other fabulous bloggers spaces below! I promise you will love them!
MONDAY
AKA DESIGN – LIFE IS A PARTY – LEMON THISTLE – CLEAN AND SENSIBLE
TUESDAY
BROOKLYN BERRY DESIGNS – AMIDST THE CHAOS – THE HAPPY HOUSIE – PMQ FOR TWO – ELLIVEN STUDIO
WEDNESDAY
SATORI DESIGN FOR LIVING – SUBURBLE – SO MUCH BETTER WITH AGE – POP OF PRETTY – THIS LITTLE ESTATE
THURSDAY
THE DIY MOMMY – A PRETTY LIFE IN THE SUBURBS – WOMEN IN REAL LIFE – KIM POWER STYLE – THE LEARNER OBSERVER
FRIDAY
THE CREEKLINE HOUSE – LOVE CREATE CELEBRATE
Love & Blessings,