Welcome to week FIVE of the One Room Challenge! You know what that means? Only ONE MORE WEEK LEFT!! We have been hustling HARD to get this room done and I am excited to tell you that it is, in fact DONE!
BUT, today is NOT reveal day…although you will get a few sneak peaks!
Today we are talking window treatments!!!
Before we dive in, let's recap for a minute. Week one, I shared with you my inspiration board for this space. Week two, I shared the dreaded "before" pictures. One word: YIKES! Week three, I shared with you how to build and install a simplified board and batten to give your room instant depth and character. Then last week, I showed you how to build a platform bed to add height to your bed without needing bed rails and a boxspring.
Ok, so now that you are caught up to speed, let's dive into this week's update: window treatments!
From the moment we moved into our master bedroom, two years ago, I always knew I wanted to do a "wall" of curtains over the windows. You see, we only have two windows in the space and they are both on the south facing wall. One window is actually a door to a little Juliet balcony. Here it is before. *Shudder*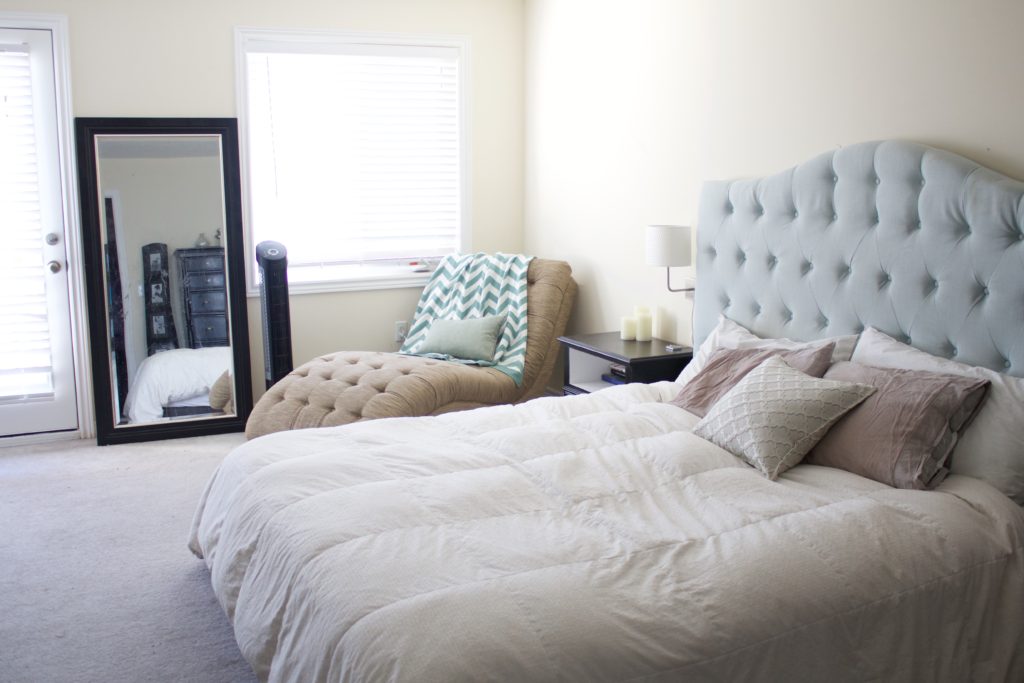 If you remember from the first week, I had purchased four panels of gray and white, wide stripped curtains a few years back. They remained hanging in our closet all this time as I never had a chance to install them. I thought they were still going to work with our room design, but as this challenge went on, I quickly realized, they would no longer fit with the design.
I searched high and low for curtains and just couldn't find what I was looking for. I wanted a pattern, but I wanted something soft. The gray and white lines were just too bold.
Then, I found Tonic Living and I never looked back! For starters, let's just talk about how cute their storefront is! It's tucked away in this industrial part of the city and is seriously a rose among the thorns.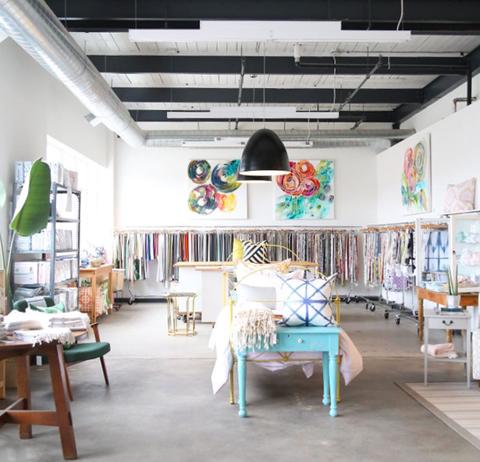 *Photo from their website
Having custom drapes and/or pillows made from Tonic Living is not like any other experience. Getting to walk into a space like this, where you get to meet with a designer who will help you choose the perfect fabric for your needs is a truly unique experience.
I met with the owner Janine, shared with her my inspiration board and talked through the various design elements. She knew instantly the look and feel I was going for and selected this incredible aqua blue and creamy white, patterned fabric. I knew these would be the perfect fit, tying everything in the space together. And I was right!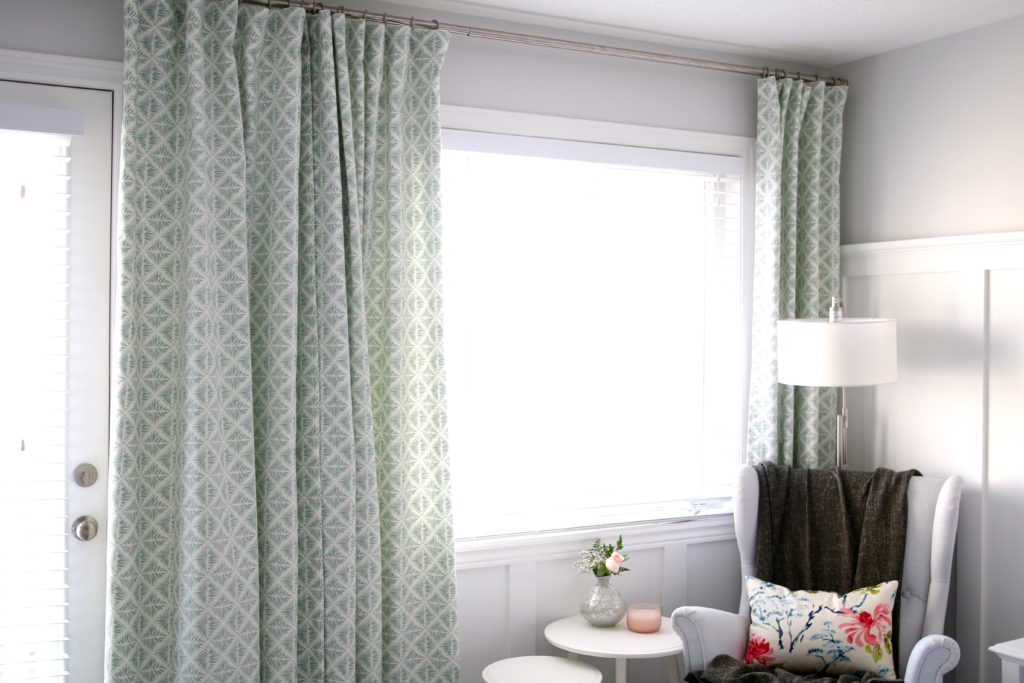 To go along with the dreamy curtains, Janine threw in two additional decorative pillows to compliment the space in a beautiful exotic, hibiscus floral fabric. Talk about a "wow" factor! Hang tight, you will see the second pillow next week for the reveal!
But back to the drapes for a minute, window treatments are EVERYTHING when it comes to finishing a room off. Some might think they don't need them, especially if they have blinds in the windows, but I think these before and after pictures show why curtains are SO important in interior design.
In fact, as soon as we hung these curtains (they were literally the very last piece to go into the room), we finally felt that it was complete. Probably largely because we chose the perfect fabric for our space, but it completely tied the room design all together and it gave it instant comfort and warmth. Window treatments are a powerful thing!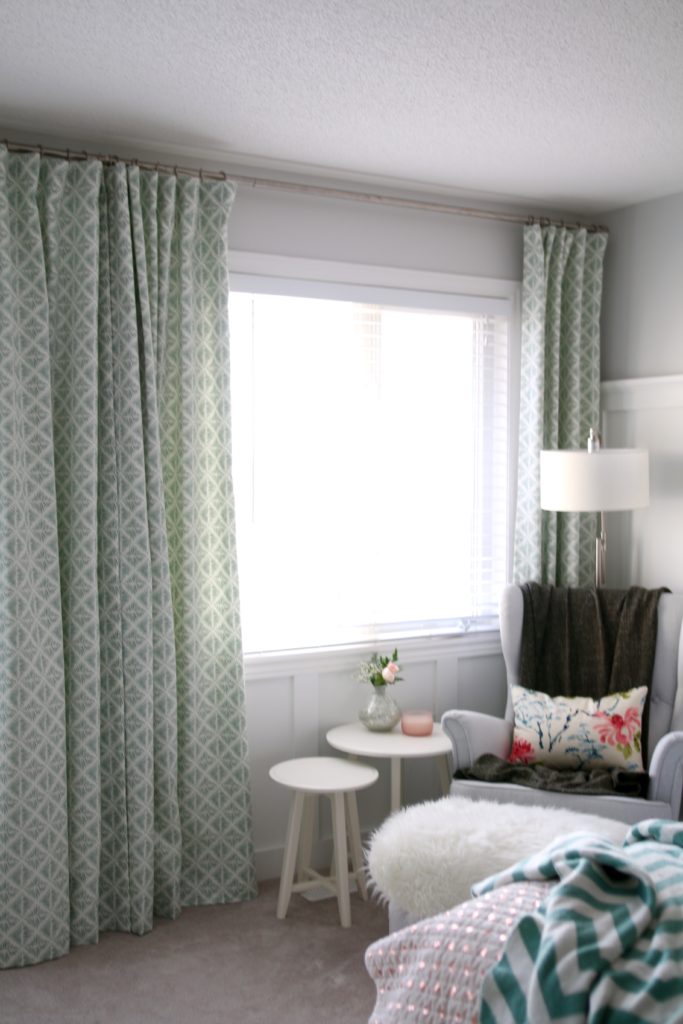 I'm going to be totally honest with you for a minute here: when I first went into Tonic Living to get the custom drapes made, I had the thought of "Oh man, I've arrived! I can't believe I'm getting CUSTOM drapes made." I shared that with Janine and we both laughed, while she told me that for many years, custom window treatments were considered somewhat out of reach and reserved only for the elite.
Because of this, I always thought I had to stick to what I could find pre-made in the stores.
This is so NOT the case at Tonic Living. They have curated a showroom with the very best and modern fabrics for you to choose from. Instead of walking into a fabric store with bolts upon bolts upon bolts of fabric, they have a smaller, yet better selection just for you. But they also have the designer that you get to meet with and help you figure out what you need. And all of this for only a few hundred dollars. That's it! For the most beautiful, durable and well-made and totally custom curtains I've ever owned!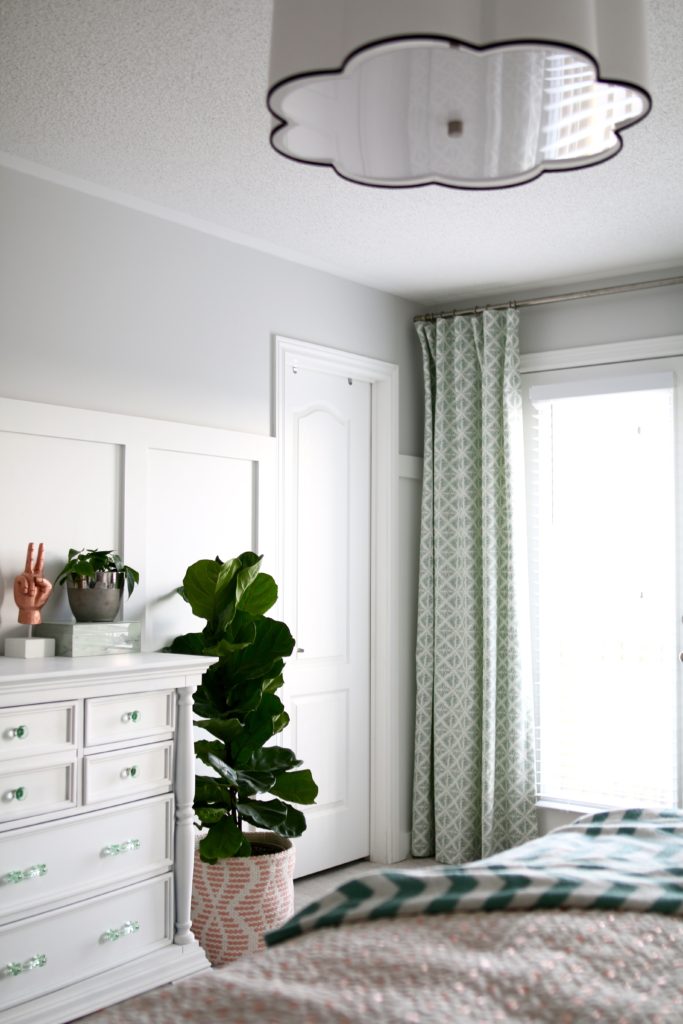 After this experience with Tonic Living, I can assure you that I won't ever be going back to buying "off-the-rack" curtains anymore. Not because there's anything wrong with them, but because there's everything RIGHT with these custom drapes!
Make sure to come back next week for the grand finale!! The big reveal! I just received all the pictures today from the photographer and let me tell you…you won't want to miss it!
Love & Blessings,