Fall is HERE and I've never felt more ALIVE! Autumn is truly my favorite season, for so many reasons. The changing of the leaves, the cooler air, everything pumpkin, apple picking, farm visits to pick the perfect pumpkin, Thanksgiving, turkey, comfy sweaters, cute boots, Halloween…to name a few things!
To kick off this Fall season here on the blog, I thought I'd share with you my new Fall tablescape and a few decorations I've used around my kitchen.
I'm also excited to let you know that I am part of the Canadian Bloggers Fall Home Tour, happening this week! Starting today, four bloggers will be sharing their home/fall decor and linking up all together for you to be able to follow along. There is a schedule listed below of all the blogs that will be go live, each day this week. So make sure to come back and check them ALL out! Trust me, you won't want to miss these incredible home tours!
So back to my love for Fall…over the years, my decor aesthetic has really changed. As my colors have lightened up in my home, so has my preference for Fall decor. I don't find that orange and reds really match anymore inside my very white and gray kitchen. Luckily for me, white pumpkins exist and make my world a better place!
So let me walk you through this tablescape!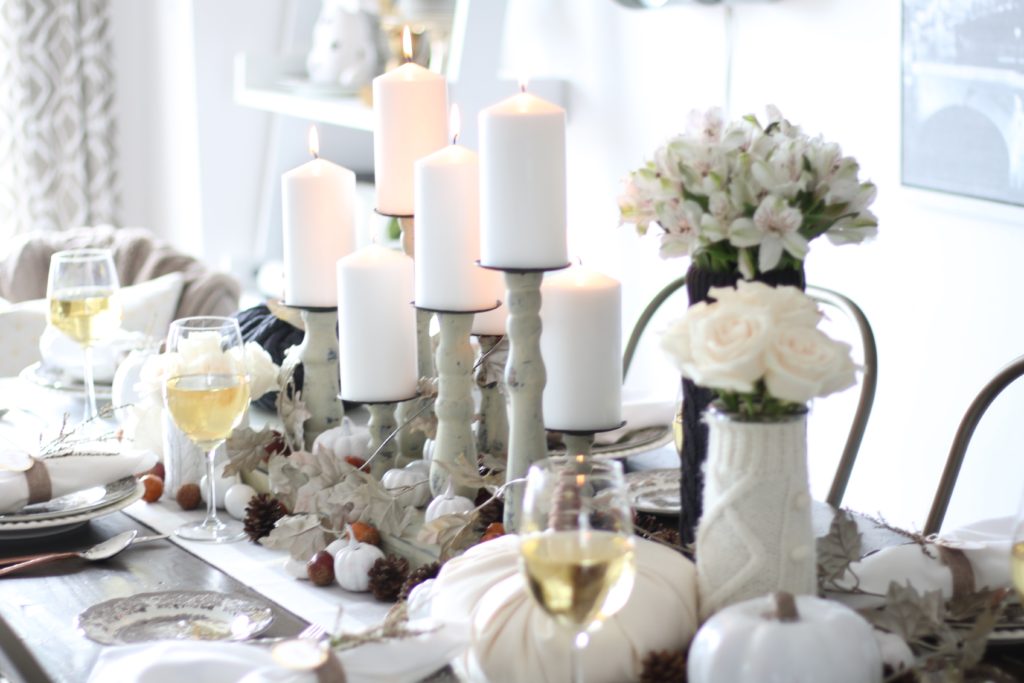 I started the whole set up with this multiple pillar candle holder that I actually found at Value Village! It was one of those START THE CAR moments and at least THREE other women shopping in the store that night tried to convince me to not buy it so that they could! #truestory
This was set overtop of a grayish blue, white trimmed, denim table runner. I like incorporating something like a runner (or even a placemat or charger) to group your piece all together.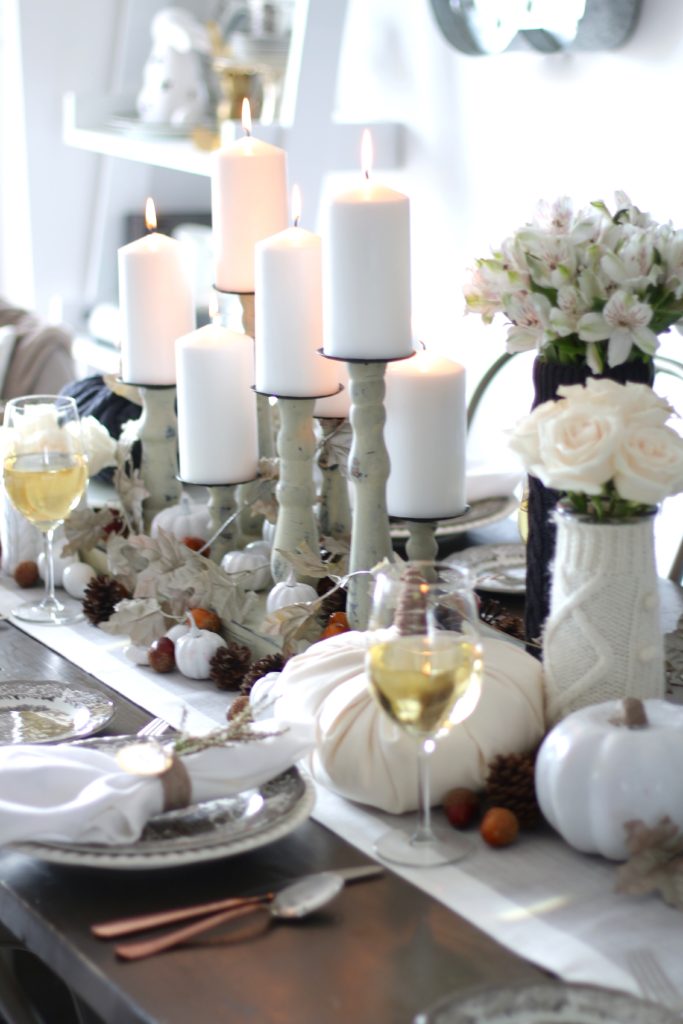 Obviously having a white kitchen, I wanted lots of whites and creams and soft browns incorporated. Some people might think that white on white on white (or various shades of white) could get boring, but I don't. And that's because I layered in various textures, within the white color scheme. So you will find wood, glass, fabric, real flowers, real pumpkins, fake pumpkins and wax/fire. These differing textures make the very monochromatic color scheme come to life.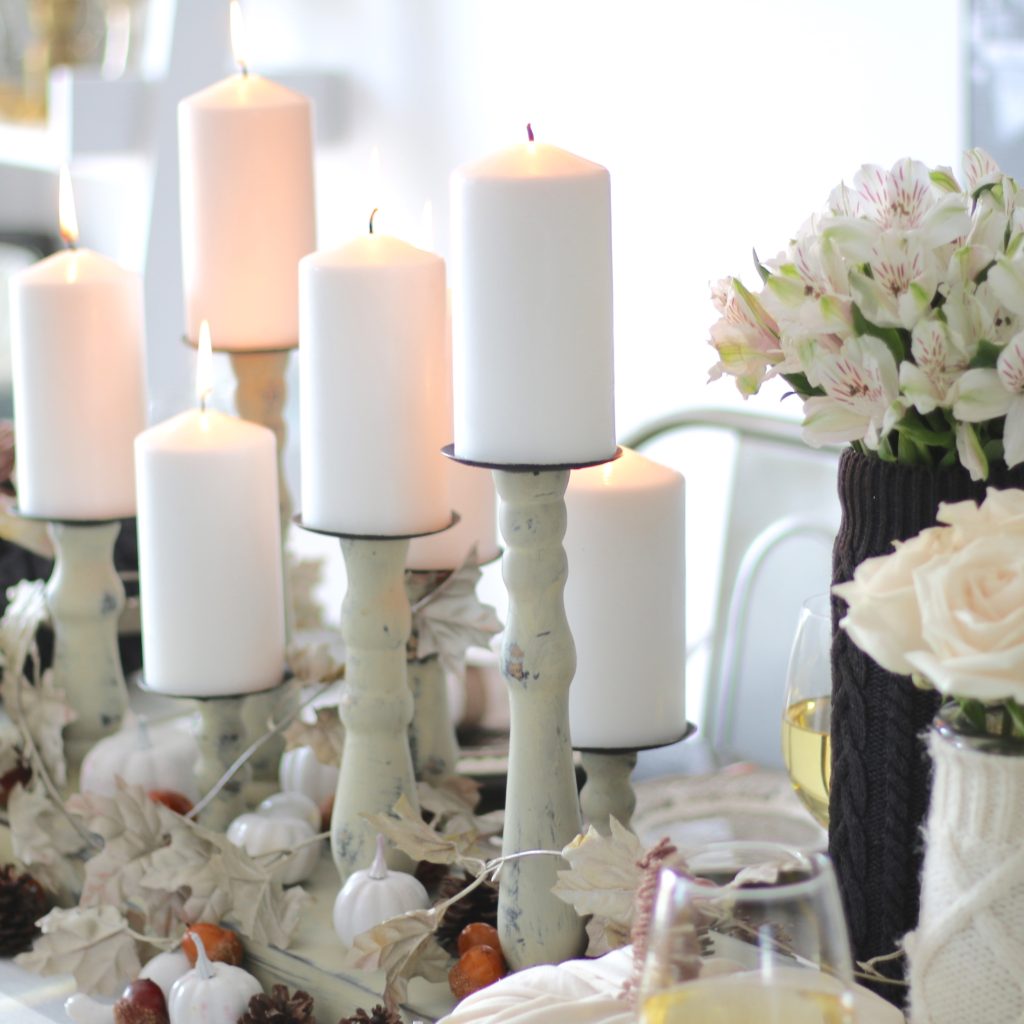 As mentioned, to achieve this overall look, I incorporated many different textures and differently sized pieces.
Let's start with the vases. I didn't want a very glass-ey look (with the exception of the milk glass cake tray that I used) because I wanted the table to have a more cozier, soft feel to it. Therefore, I decided to create vase cozies, using upcycle sweaters, also from Value Village. Make sure to come back Wednesday to read all about how I made these cozies. It's honestly SO easy and yet changes the entire look.
And then to finish off the vases, I added in two different kinds of fresh florals: white roses and white alstroemeria to give it "LIVE" feeling.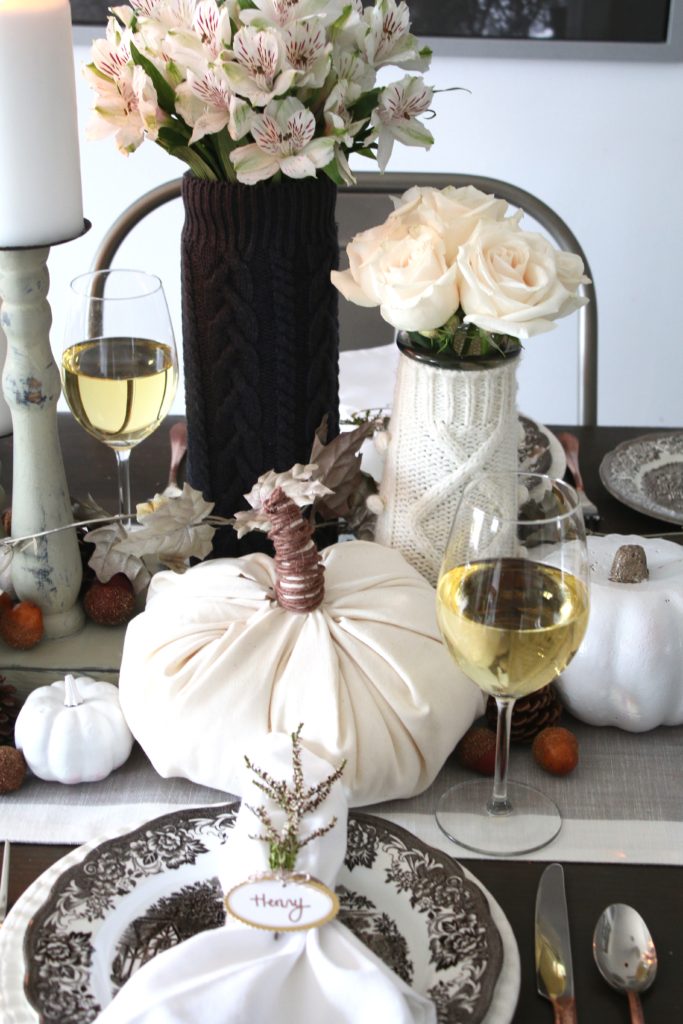 Along with the vase cozies, I used the same sweaters to make sweater pumpkins. I'm sure you've seen similar pumpkins in home decor stores that cost a mint, but each of these DIY'd pumpkins cost me about $2 a piece to make. Again, I will be sharing more about this on Wednesday, so be sure to come back!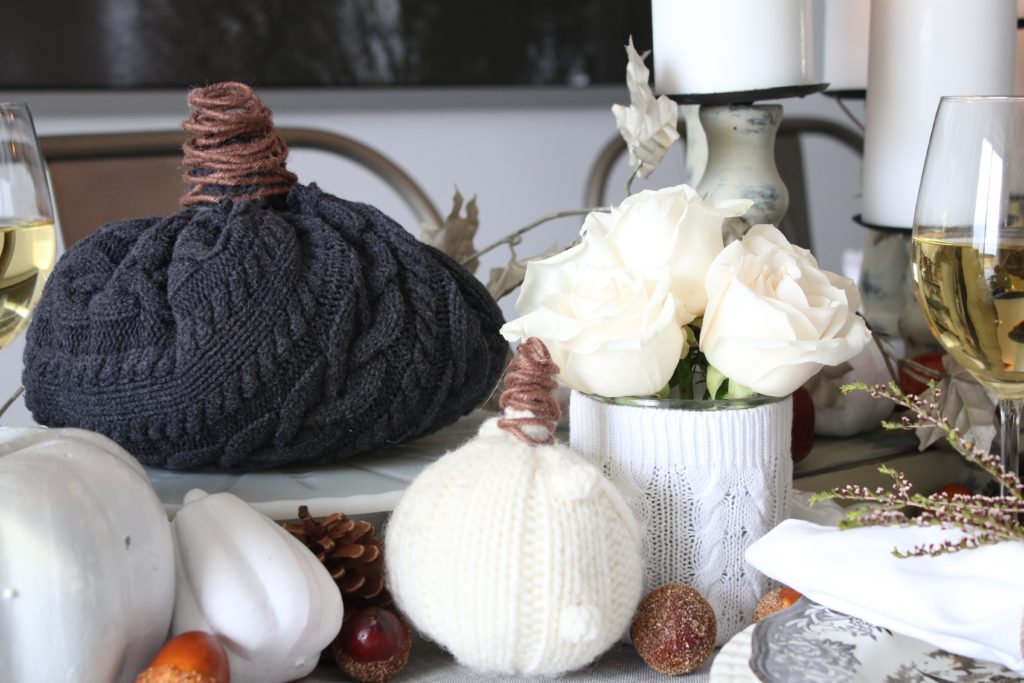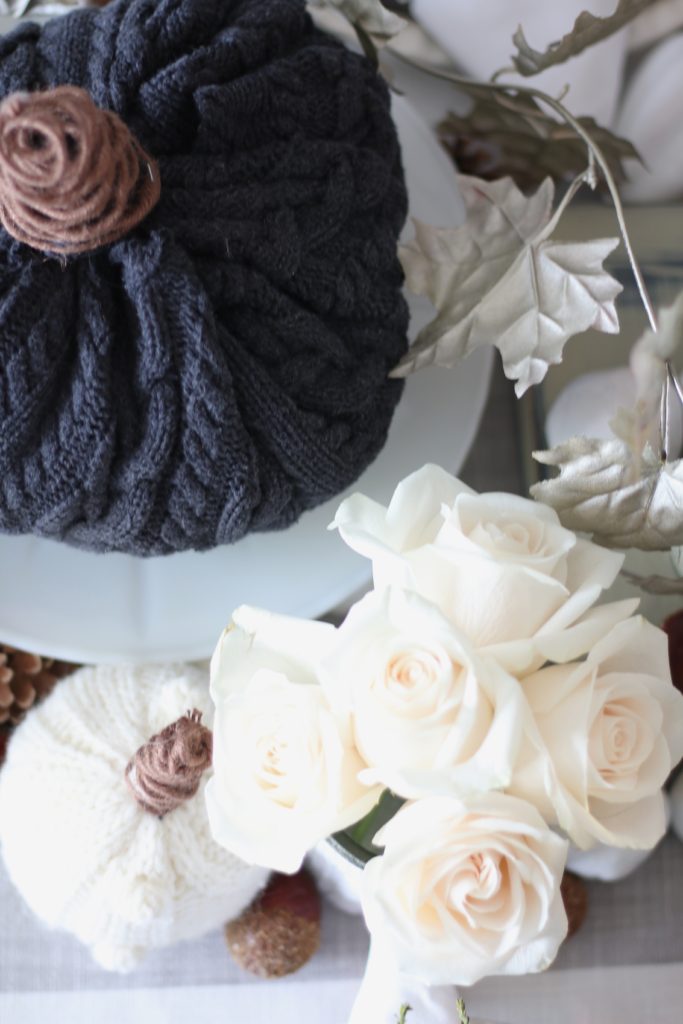 After those larger pieces where added in, including a few fake pumpkins that I sprayed painted white, I started layering in the smaller items. These included pine cones, small pumpkins and gourds, acorns and leaf garland (which I also spray painted).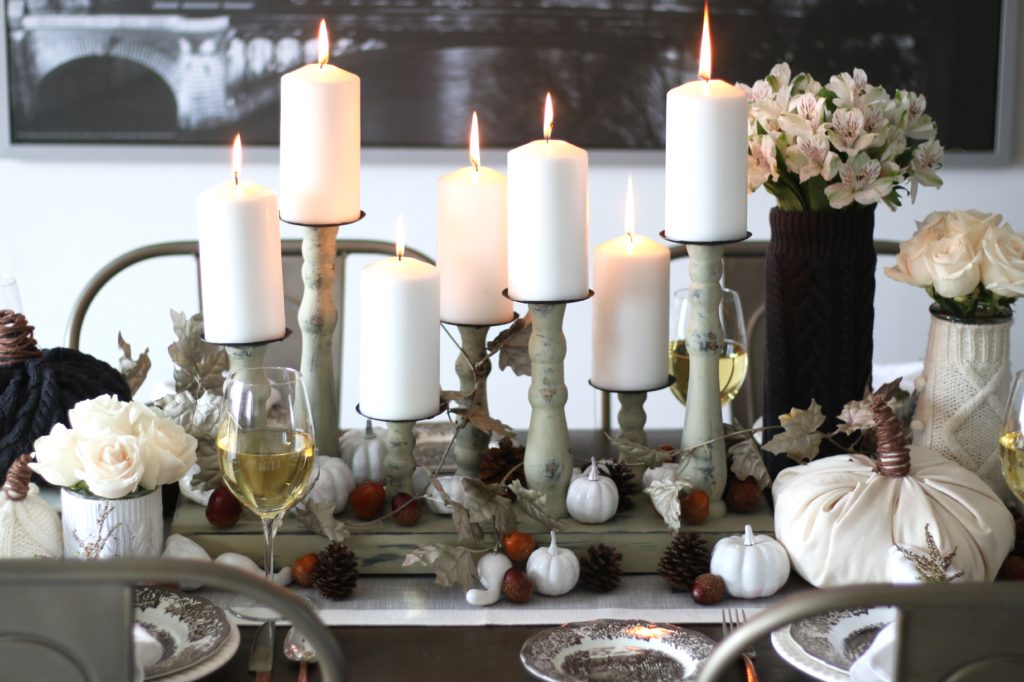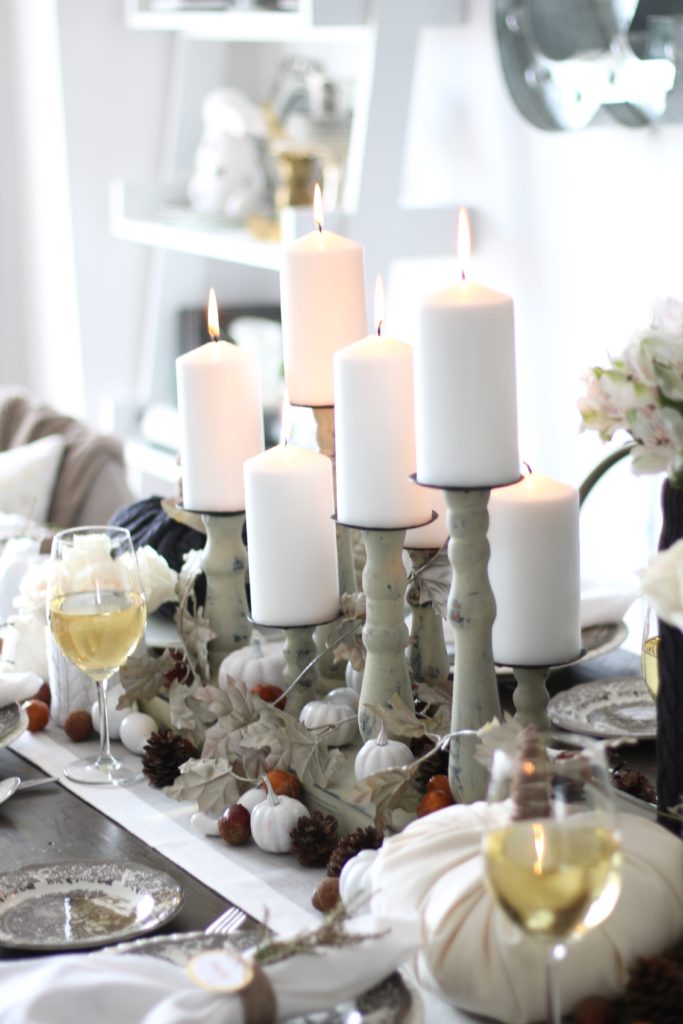 Moving on to the dinnerware, I decided to use my mom's vintage English Ironstone plates to really create this table set. These plates were one of the very first purchases my mom ever made for her trousseau, many years ago. It's funny because for as long as I can remember, these plates have caused quite the family debate on whether they are in fact grey or brown. We are pretty split down the middle on this one, After my mom gave them to me to use in my home, I think I've decided that they are a perfect blend of a grey-brown and that's why they fit so perfectly in our space!
I set the dinner plate on top of a larger off-white plate, to act as a charger and then I used copper flatware to flank both sides, for a nice pop of color.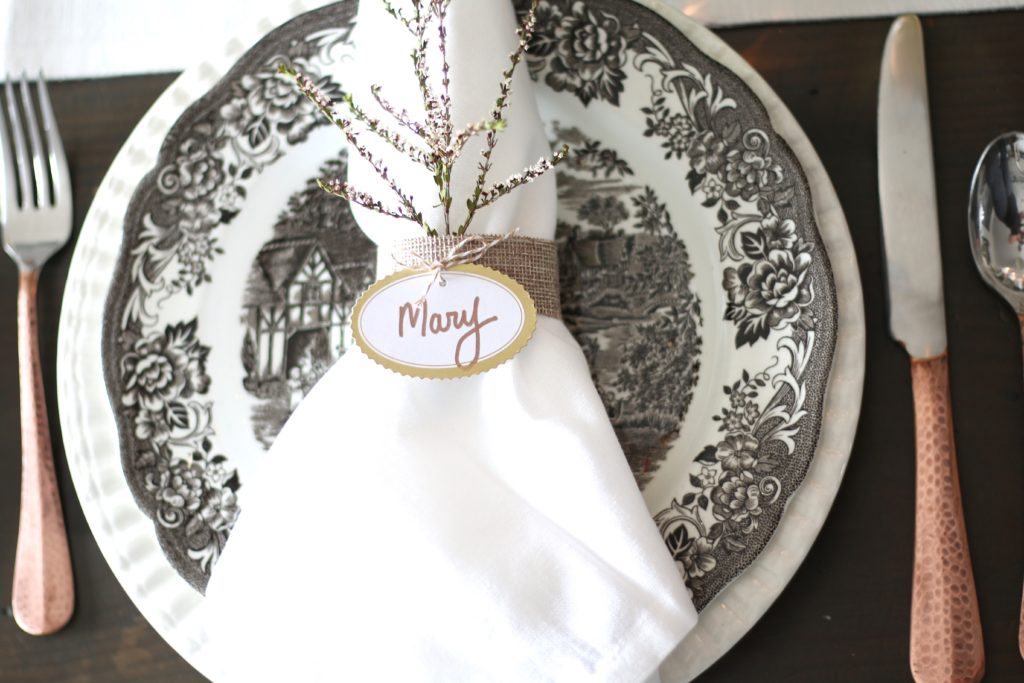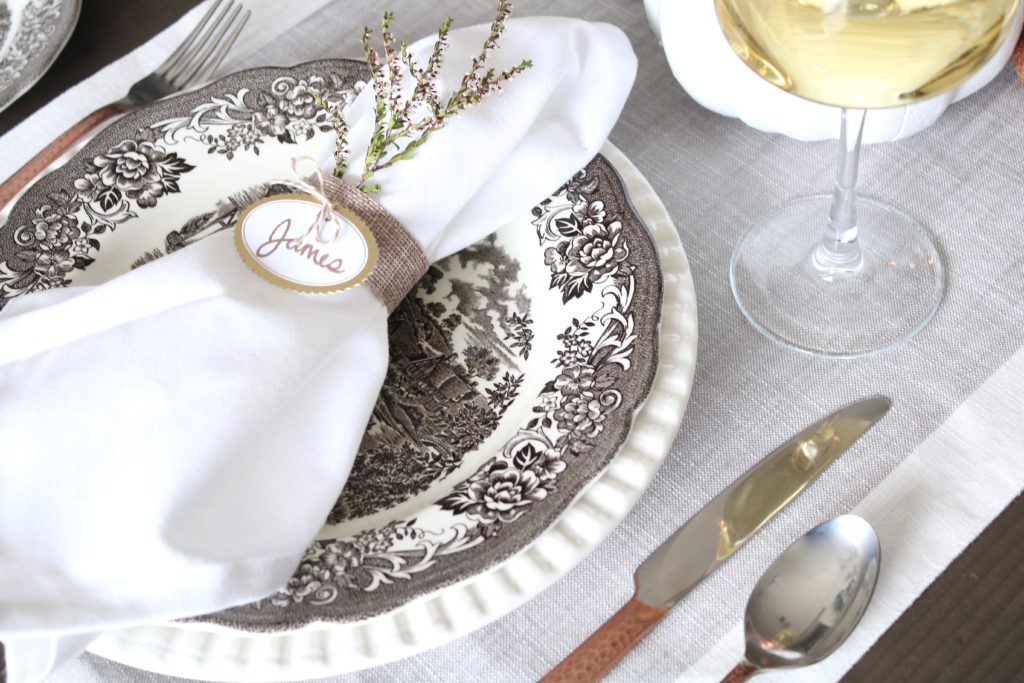 A third tutorial that you will see on Wednesday is how to make these incredibly easy but equally lovely napkin ring holders.
I've always had a tough time with napkin ring holders. Either I can't seem to find the right ones or if I do find them, they are way too pricey. I guess I feel that I don't want to invest a ton of money into an item that is not used nor displayed in my home on the regular.
So these DIY'd holders are the perfect solution. Add in a name tag and a sprig of greenery and your place setting is ready!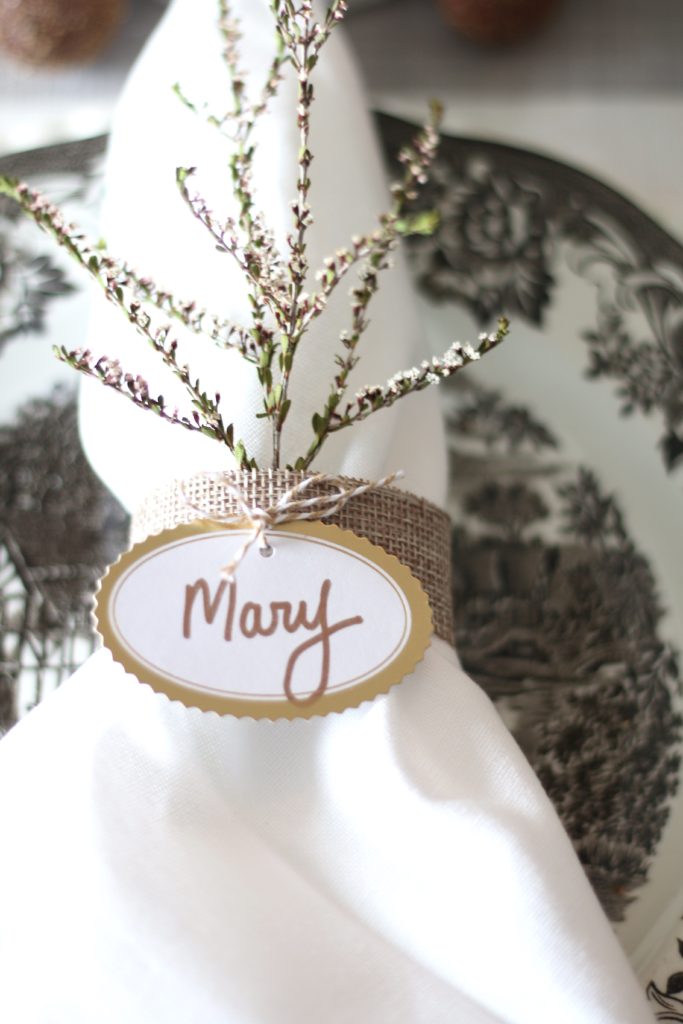 Moving over to our hutch, I wanted to give it a little fall facelift, but not go too crazy with color. I did find this fabulous muted orange Jamaican pumpkin, which honestly, I'd never seen before and thought it would be the perfect touch for my Fall decor. And then of course I added in a couple of mini white pumpkins to complete the look!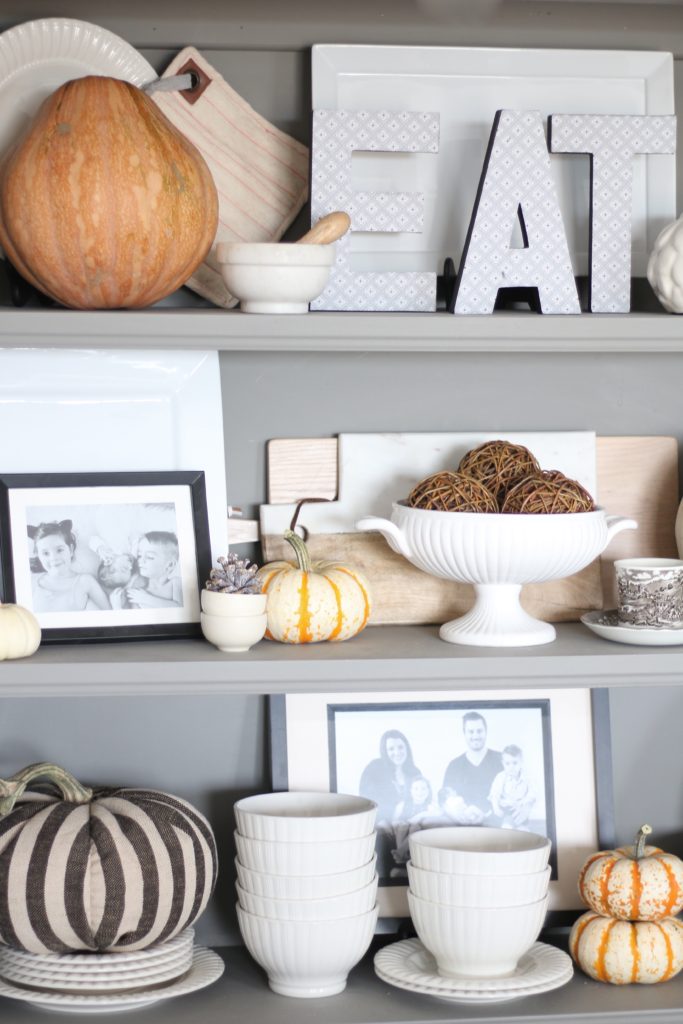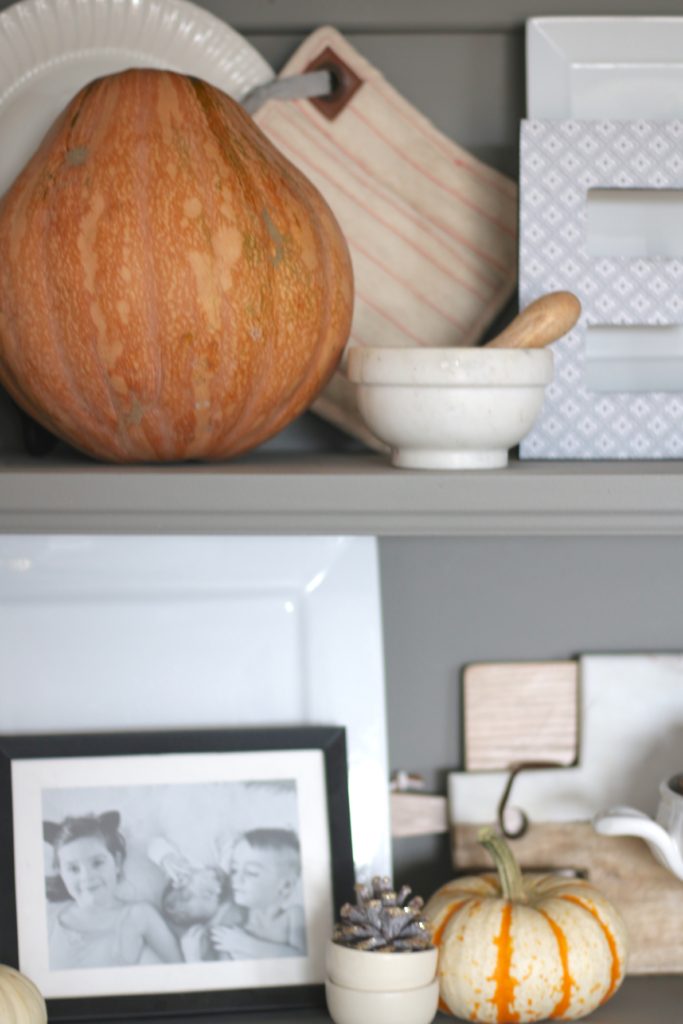 For the rest of the kitchen, I simply added in some fresh sunflowers and pumpkins to finish the Fall transformation. It doesn't have to be over the top or take a ton of decor to dress your space for Fall. A few simple touches is all it takes to make your place feel warm, inviting and ready to embrace the season!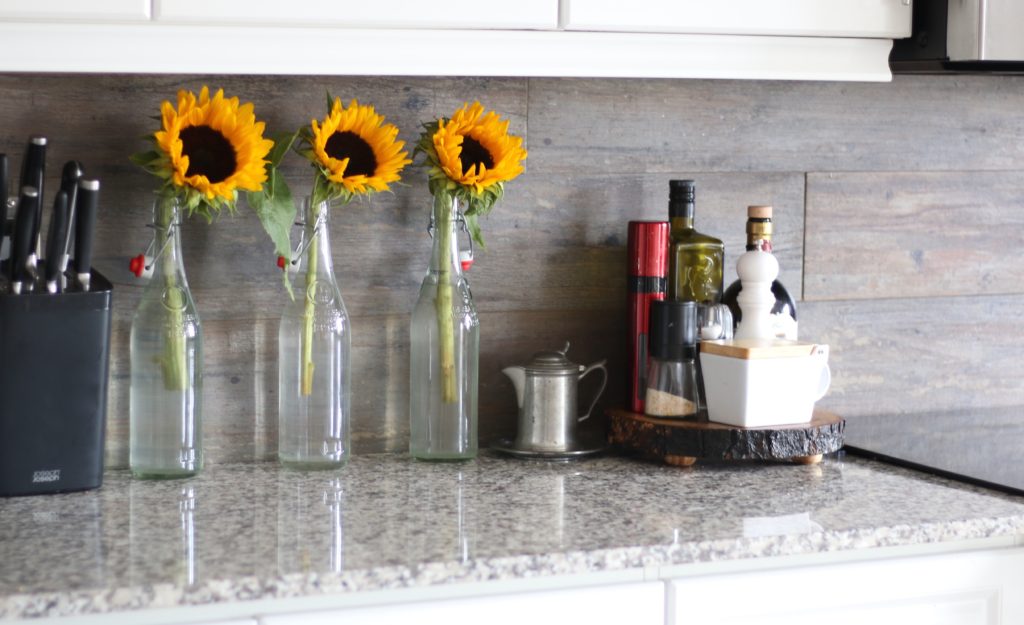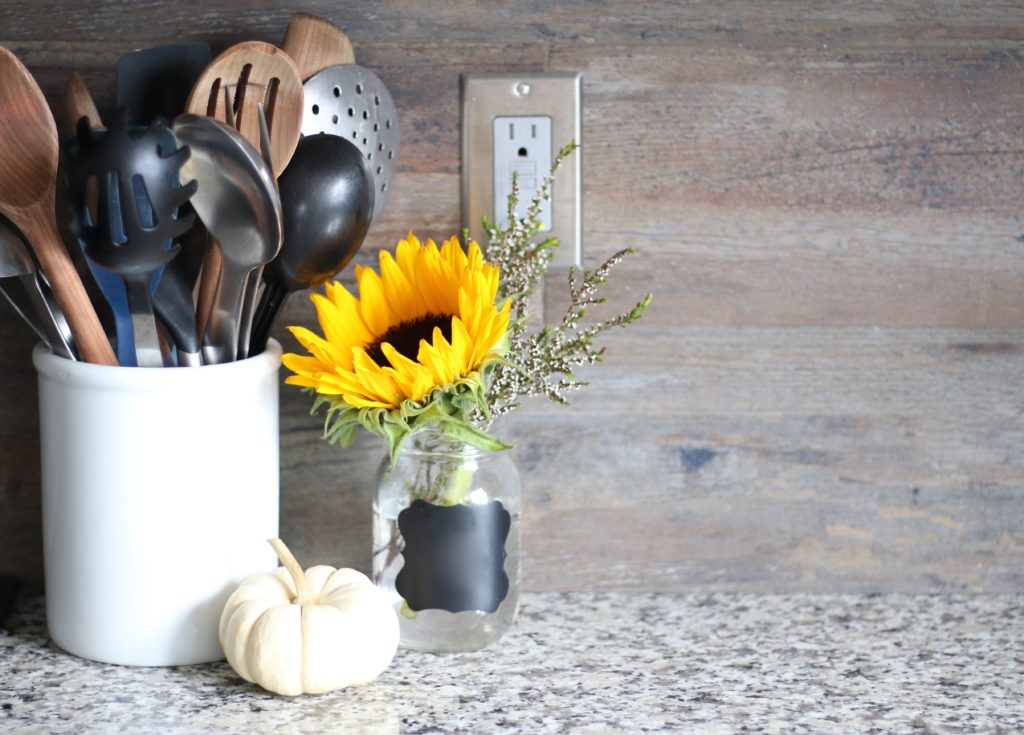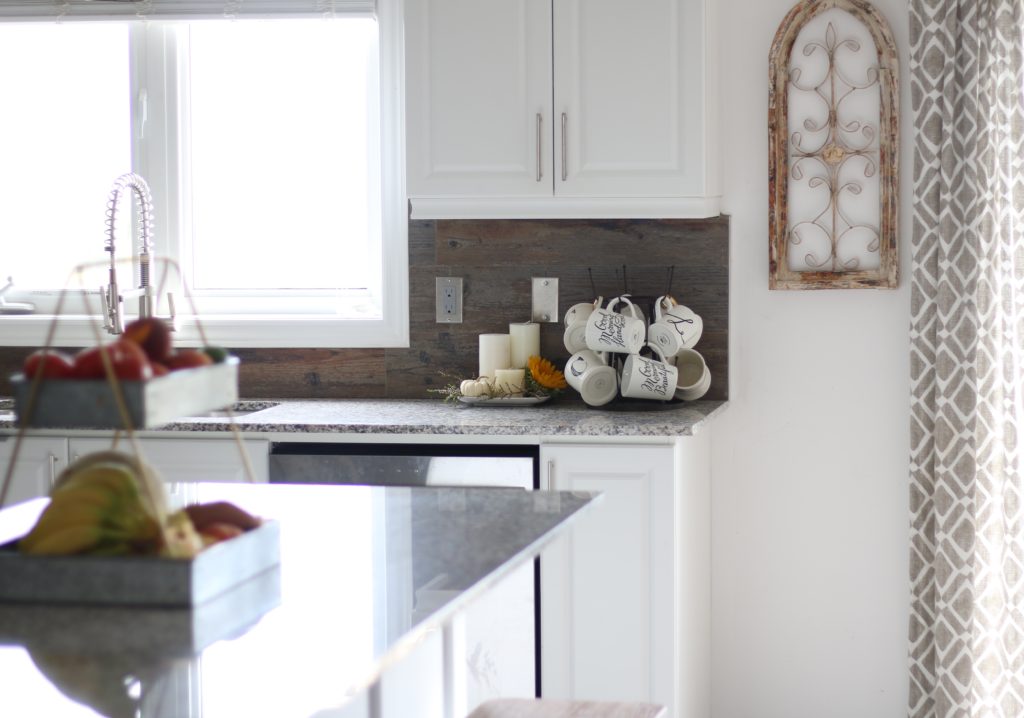 One final thought, try adding a blanket and pillow on your end chairs around your table to give it a real cozy and inviting feeling for your guests!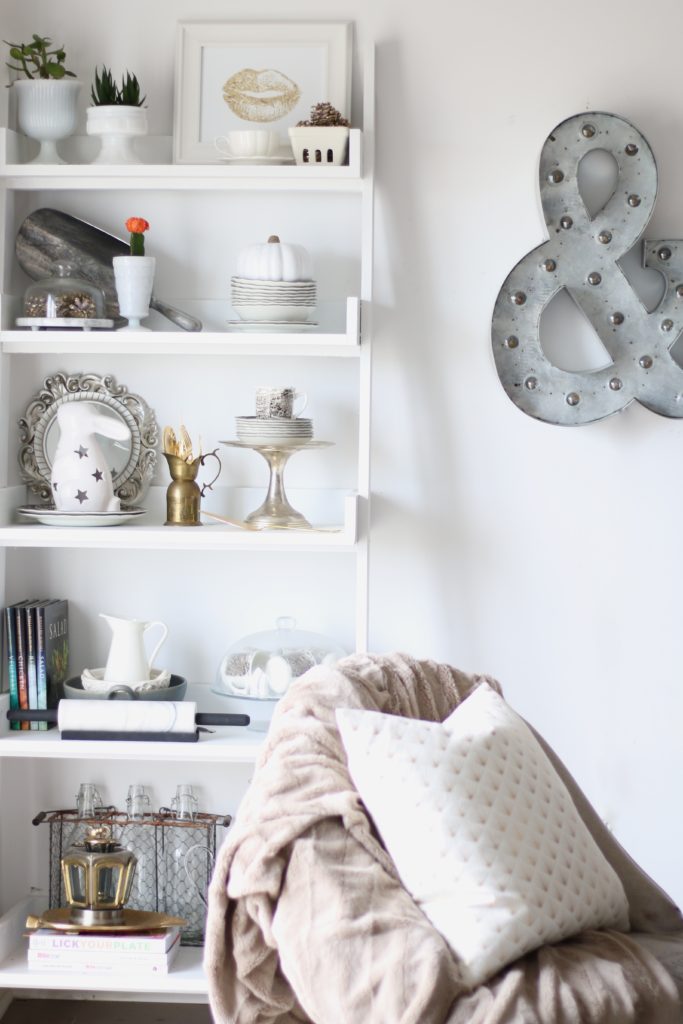 And that, my friends, is our Fall tablescape and kitchen tour! I hope you've enjoyed the set up and are inspired to create your own tablescape in your space this season!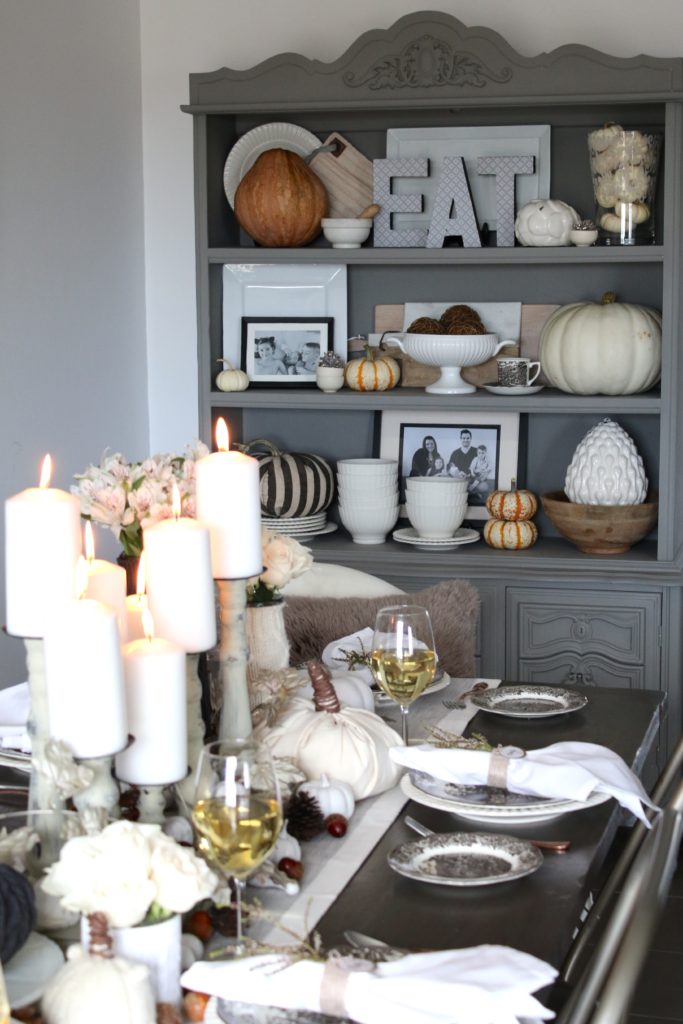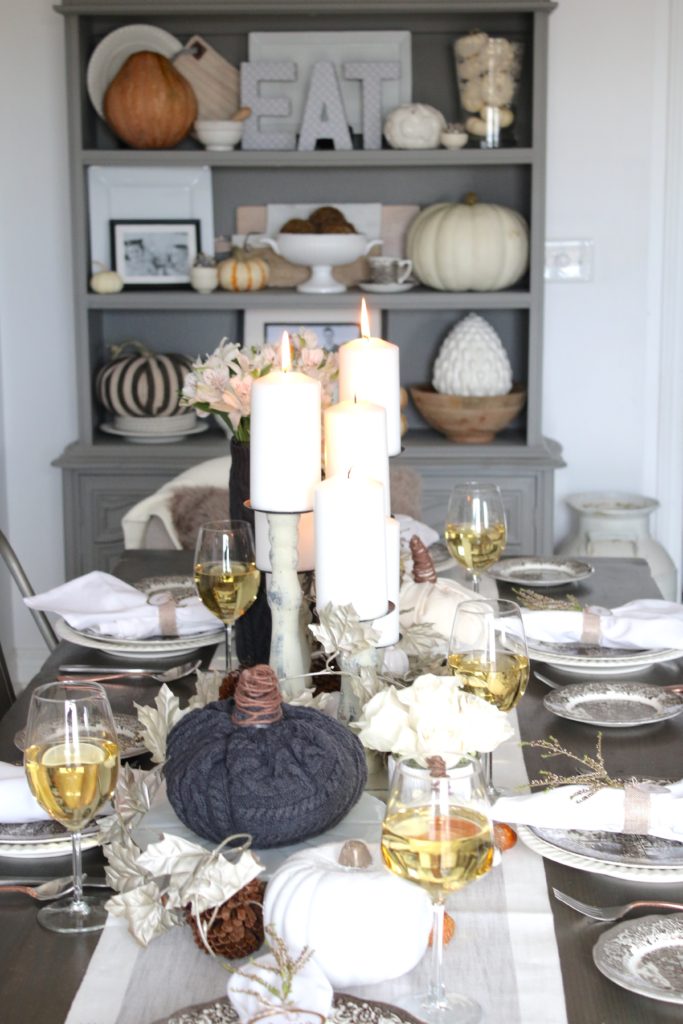 Now it's time to check out everyone else's spaces! Each day, four more reveals will go live, so make sure to come back and check them all out!
There are three others that are live right now, so head on over to their blogs and get ready to be inspired! I know I sure am!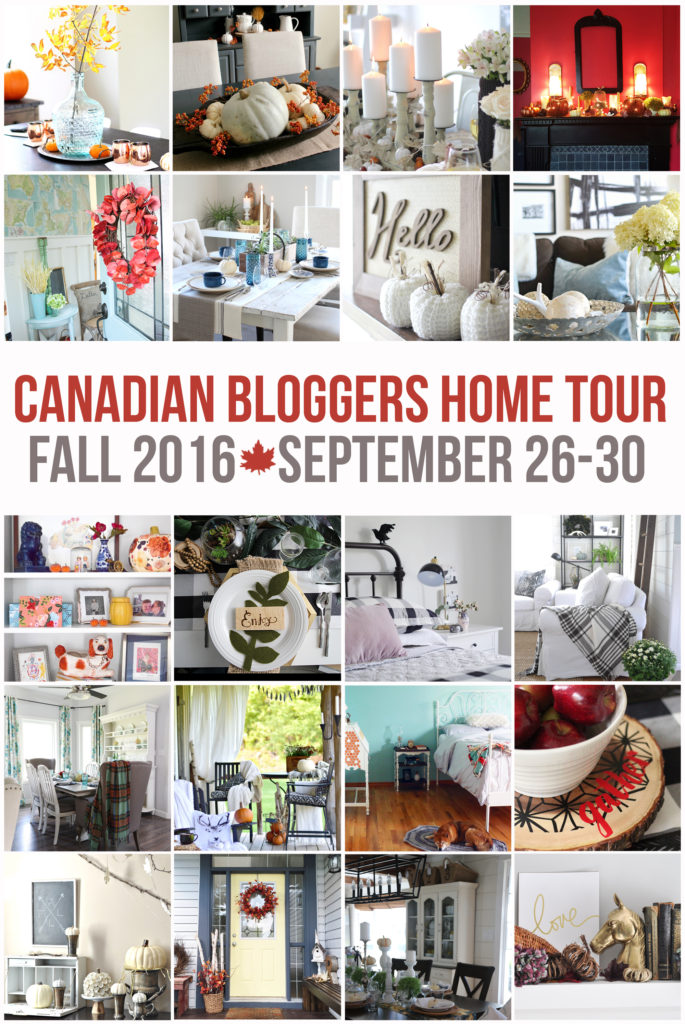 I'm taking part in the Canadian Bloggers Home Tour this week! Each day, a new group of Canadian bloggers will be sharing their Fall decor. Visit each home tour by following the links on the days below.
Monday
Northern Style Exposure
Clean and Scentsible
Amidst the Chaos
Heather In Heels
Tuesday
The Happy Housie
Satori Design for Living
Love Create Celebrate
A Pop of Pretty
Wednesday
PMQ for Two
Brooklyn Berry Designs
Rambling Renovators
Kim Power Style
Thursday
The DIY Mommy
Vin'yet Etc.
Home To Heather
Fresh Crush
Friday
Life is a Party
A Pretty Life
This Little Estate
Suburble