Last night I brought my middle child, Gabriel, to his Junior Kindergarten orientation. I still am not sure where the last four years have gone and finding it hard to believe that it's almost time for him to enter school! You know that saying "The days are long, but the years are short?" Well never has that rang more true then with my son Gabriel.
The first two years of his life there were moments when it felt as though time stood still. I mean REALLY still. Gabe was a tough baby. He had severe eczema and was basically in excruciating pain for the first six months of his life. We went from doctor to doctor in search of answers and nothing seemed to help until we finally saw a dermatologist who prescribed a whole slew of medications and within three treatments, he was a different boy. Problem was, by that point, he had developed the absolute worst sleeping habits and it would take us another full year of sleepless nights to try and correct them. There was alot of pacing the floors, alot of crying (from both him and me!) and alot of praying!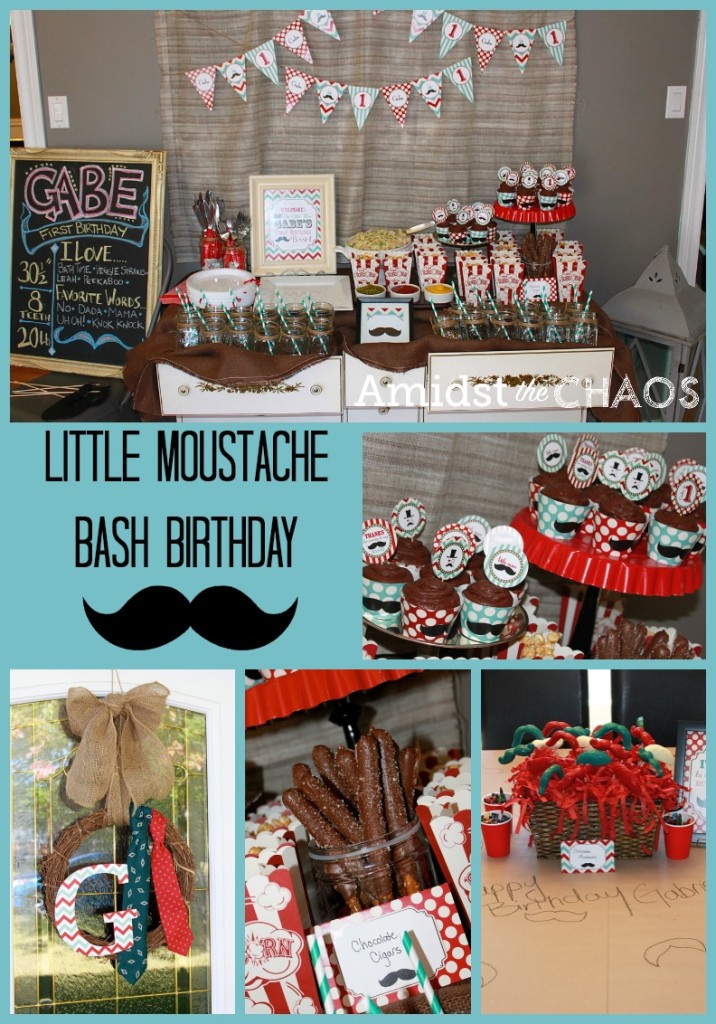 Needless to say, the first few years were really tough. But once we finally got him over the sleep issues and his eczema came under control, it was like a whole new boy emerged. If you know Gabe now, you know that he is one of the sweetest, funniest and most loving little boys you'll ever meet. I can't count how many times in one day he will stop what he is doing, come over to me, wrap his arms so tightly around me and say "You're the mommy I always wanted! I love you!" This boy is so special. And it's hard for me to wrap my head around the idea of sending him off to school in just a few short months.
So with that, I wanted to go back and reminisce with you about his first birthday. I struggled long and hard to come up with a theme that I felt reflected his funny personality (that by this point was starting to come to life). I finally settled on "Little Moustache Bash" and wanted to share that with you today! Please note, that these pictures were taken almost four years ago…wayyyyyy before I knew how on earth to take good quality photos with our SLR. So don't mind the flash and other issues you may notice!
We did a lunch BBQ for our family and friends. The menu included hotdogs and sausages, potato salad, caramel popcorn, chocolate pretzel "cigars" and homemade chocolate fudge cupcakes!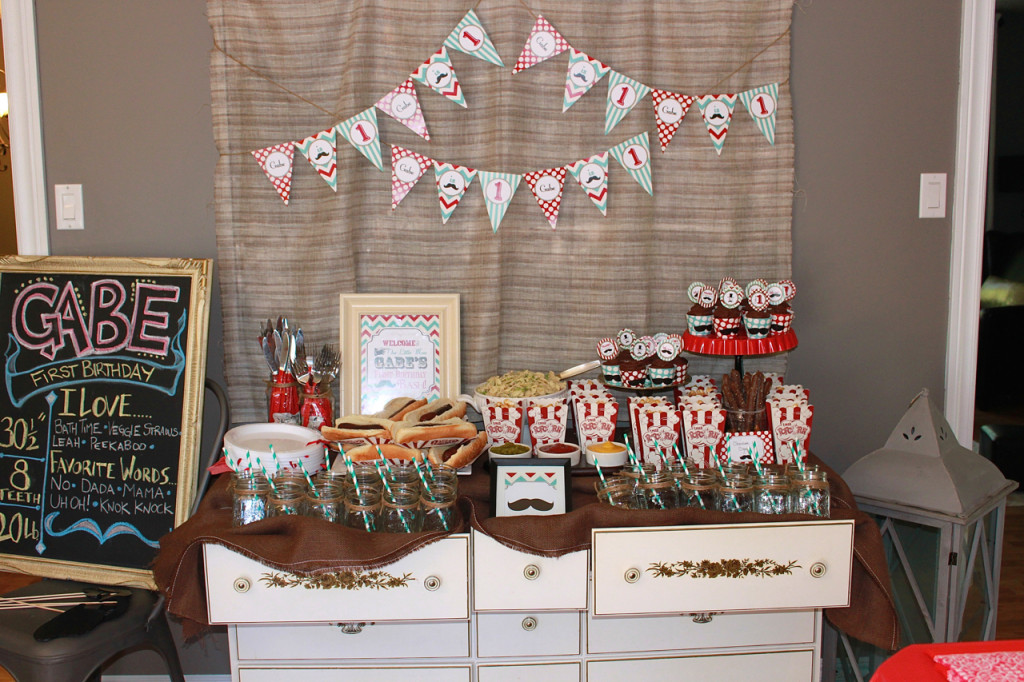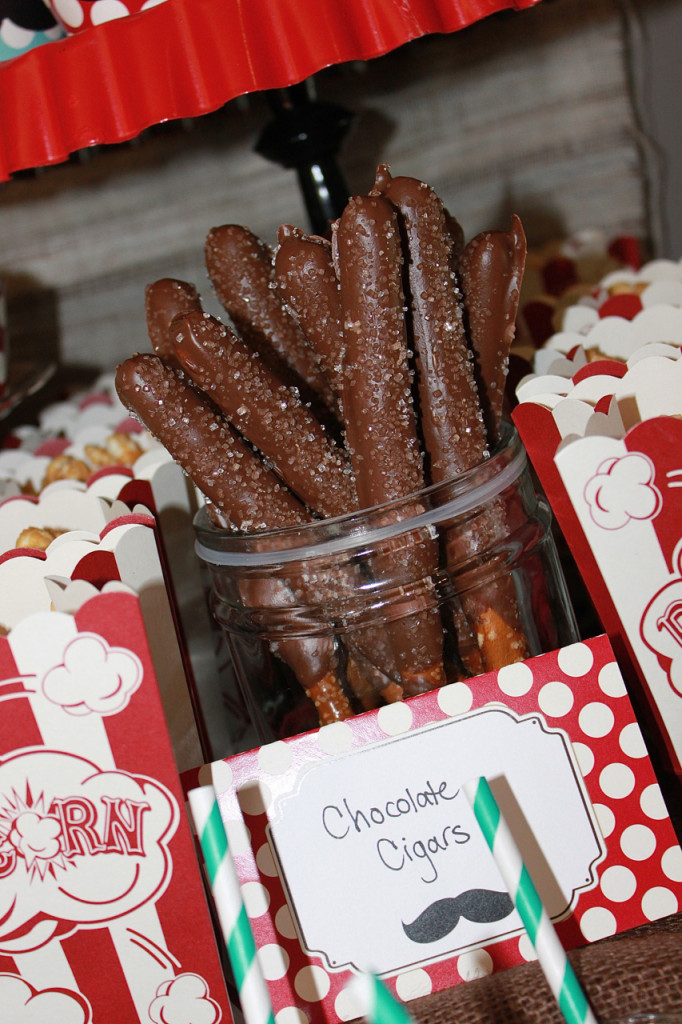 I bought chocolate molds from Michaels and made chocolate moustaches which were such a hit!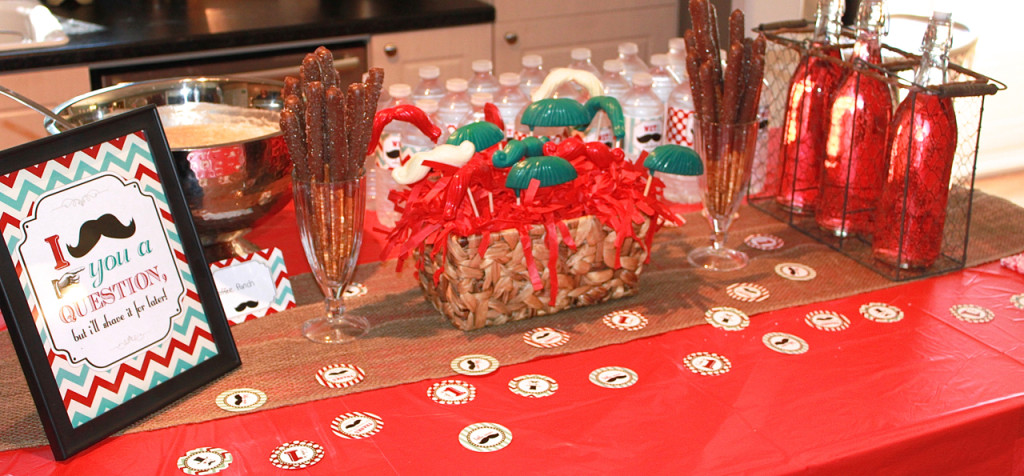 We had the table set up so the kids could color while they ate.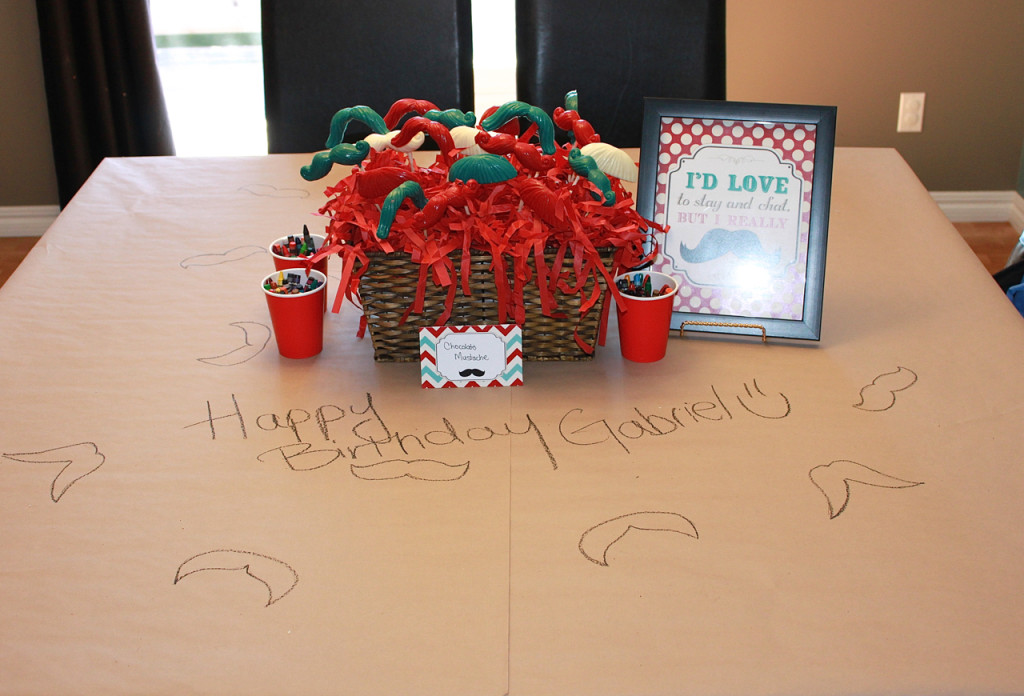 I raided my dad's old tie collection and used a bunch of them to decorate! I love that it added a personal touch from Grandpa as well as some true vintage!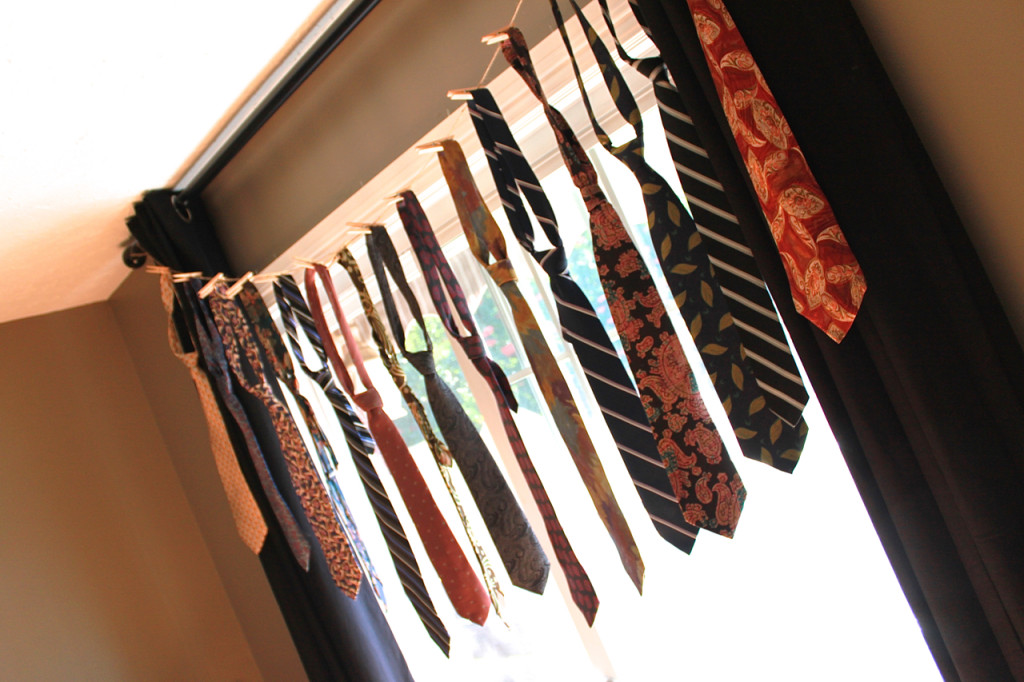 I always try and put something on the front door when I throw parties. I really feel like this helps set the tone for your party, before your guests even walk through your doors.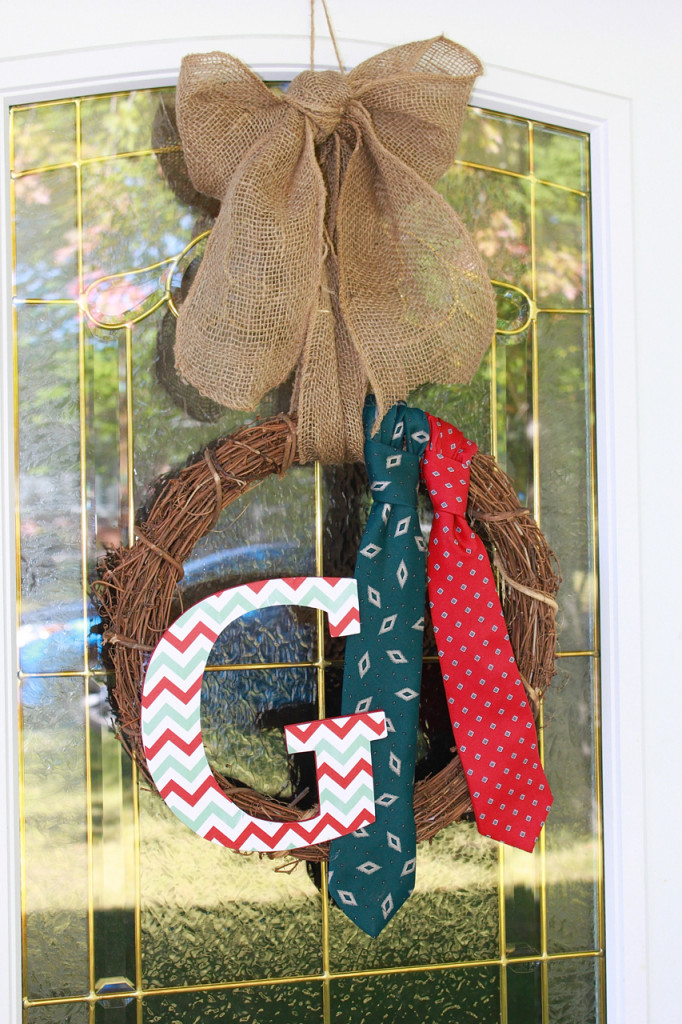 I wanted a fun craft that kids of all ages could do and then take home to remember the party. I also really like the idea of incorporating the craft as the kids take-away from the party. When you make something fun, you don't need extra loot bags filled with stuff that the kids will likely break or loose. I don't think parents appreciate that either (ok, maybe it's just me!). This was so easy, albeit extremely messy, and cheap!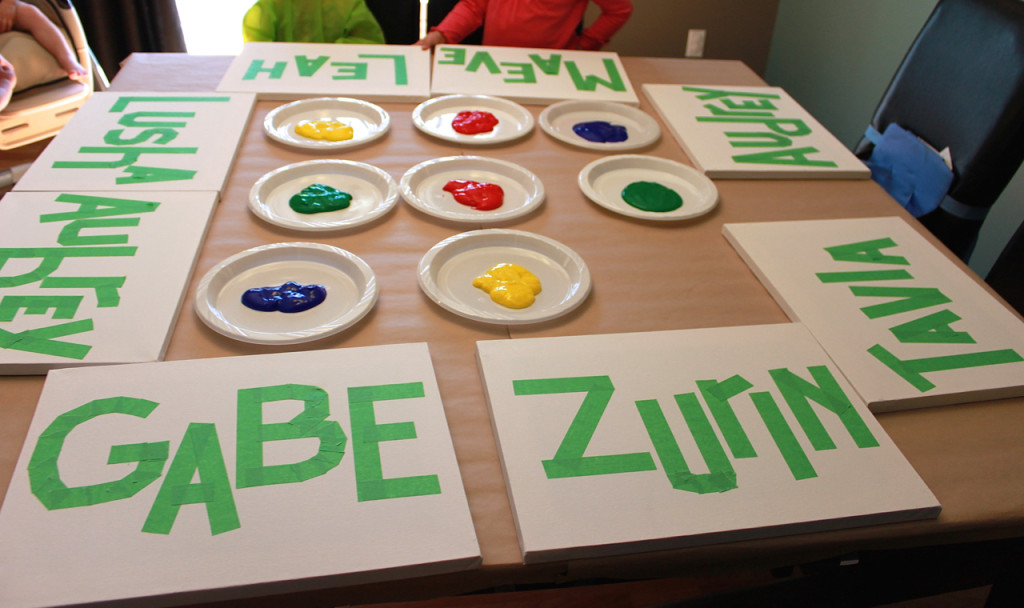 I purchased these canvases from the Dollar Store and then used painters tape to tape off each kids name. Then we let the kids go at it with finger paints. It was super messy and we probably went through three packages of baby wipes, but they all had a blast! Once the canvases were dry, we removed the painters tape to reveal their names.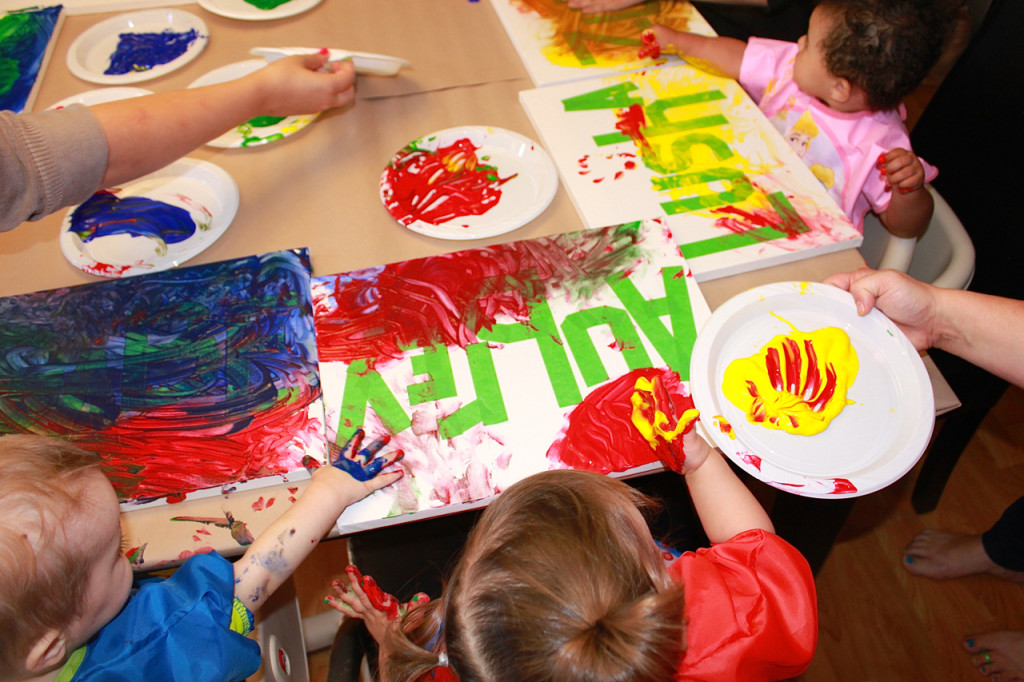 Here is what a finished one looked like. I think this was one that turned out the best!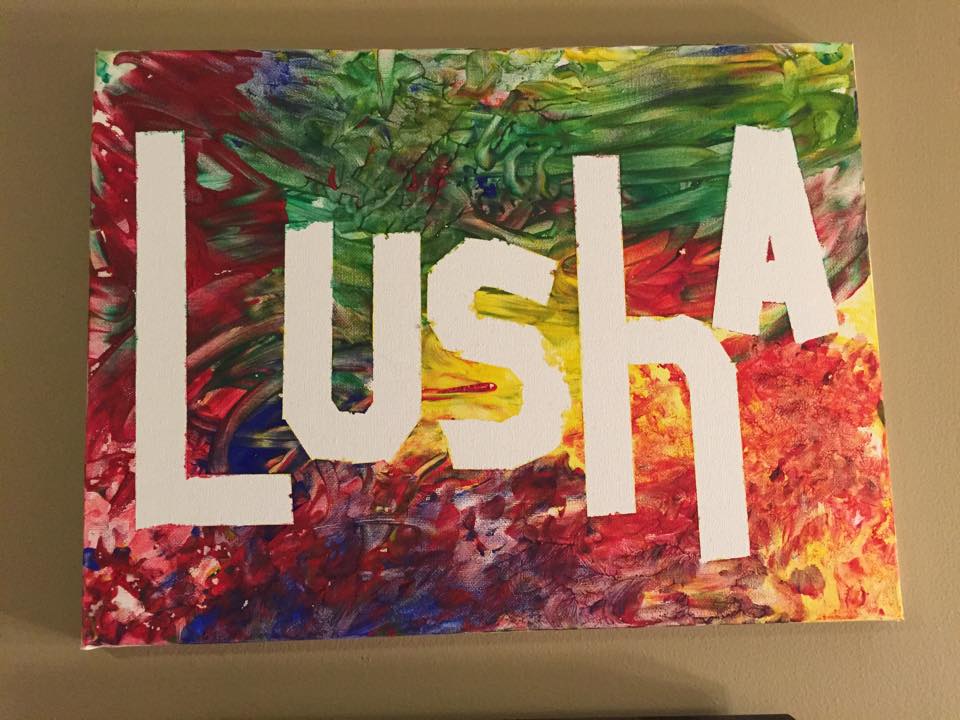 Well there you have it! Our first birthday bash for our not-so-little-anymore, little guy! Do you have a birthday party that you've planned for one of your children that you'd like featured right here on the blog? If so, please fill out this form to apply. We have a guest reader birthday post coming up THIS weekend that we can't wait to share with you.
[Tweet "Little Moustache Bash Birthday Party for your little man! #amidstthechaos"]
Happy Friday friends!
Love & Blessings,