Magic Kingdom : The Most Magical Place on Earth. The place that almost every child (and adult, for that matter) aspires to visit at least ONCE in their lifetime. And while many people do visit Magic Kingdom every single day (about 53,000 to be exact), there are many people that will simply never be able to due to the sheer cost of a Disney vacation.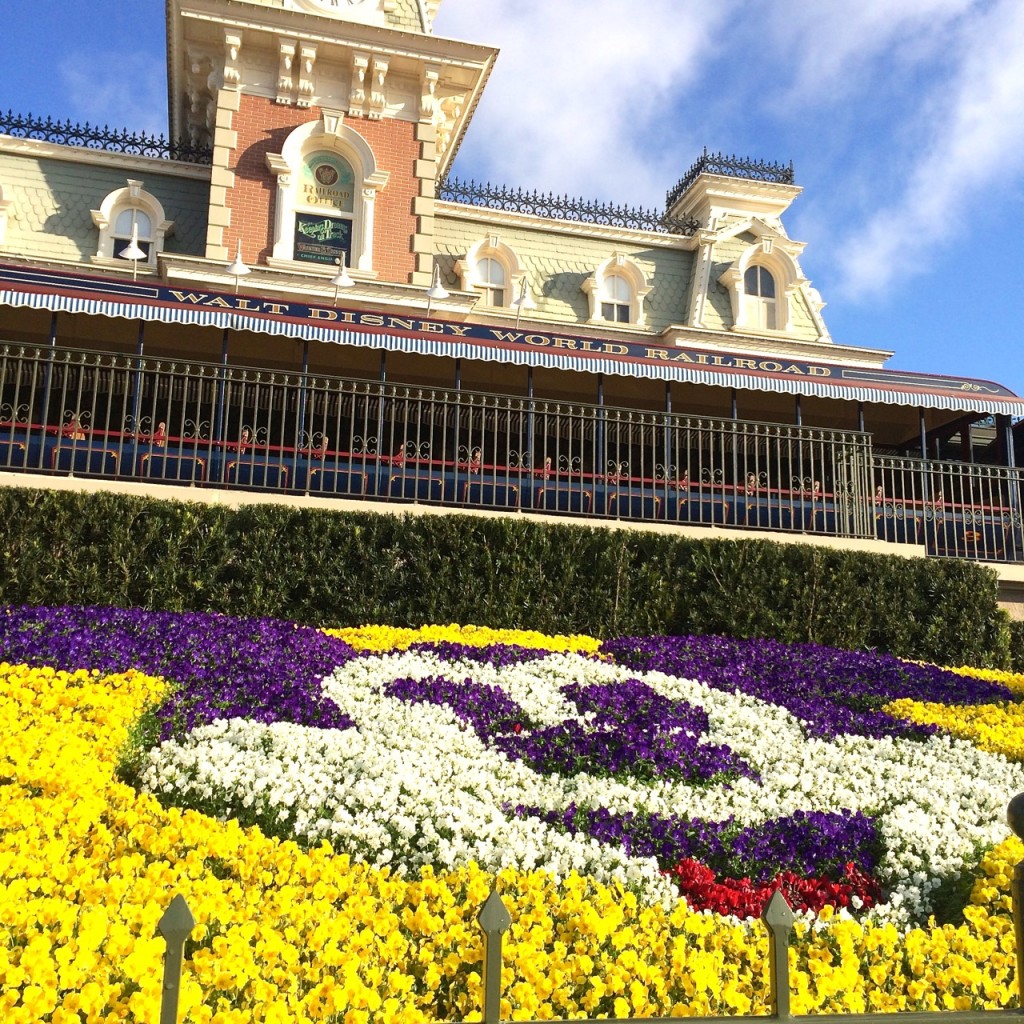 Let's talk numbers for a minute here. The average price of an adult ticket to Magic Kingdom for ONE day is roughly $110 US (about $140 CAD) and only $6 less for a child between the ages of 3 – 9 years old at $104 US. So take my family of five for instance, a regular one day admission cost to Magic Kingdom would be a whopping $544 CAD and remember, our youngest is FREE because he is only two years old, meaning next year, our total will go up to $648 CAD. FOR ONE DAY! That's just to get INTO the park. Then you need to add everything else: parking which is $20 a day, minimum of two meals on site…which for a family of five would run you easily an additional $200, MagicBands for five run around $75, Memory Makers so you don't have to worry about taking your own pictures but let Disney do it for you is another $150, souvenirs are another $100+, depending on what you buy and so on and so on.
The list is ENDLESS and can be seriously financially crippling. And this is just ONE day! Don't even get me started on how much a three day park hopper pass is for a family of five!
Now don't get me wrong, I'm not knocking Disney. I'm a huge Disney fan. Now, more than ever, that I have kids that have fallen in love with the magic that is Disney and I get to live it all over again through them. BUT we also are a family that lives on one very average salary in an urban setting with three kids, two vehicles and a mortgage to pay.
So if anyone knows the struggle of wanting to be able to take your kids to a place like Magic Kingdom but then adding up all the numbers and thinking it's completely impossible…it's me!
But I am a determined person and when I want something, I usually won't stop until I make it happen. And so after talking it over with my husband, we came up with a plan on how we could possibly make Magic Kingdom happen for our family, even for just ONE day.
And I'm here to tell you that WE DID IT! And we did it for only $40! That's right, a day that should have cost us upwards, if not more, than $1,000, cost us about $40!
The good news is that I'm here to share with you how we did it, so that you can start planning your day of magic for your family!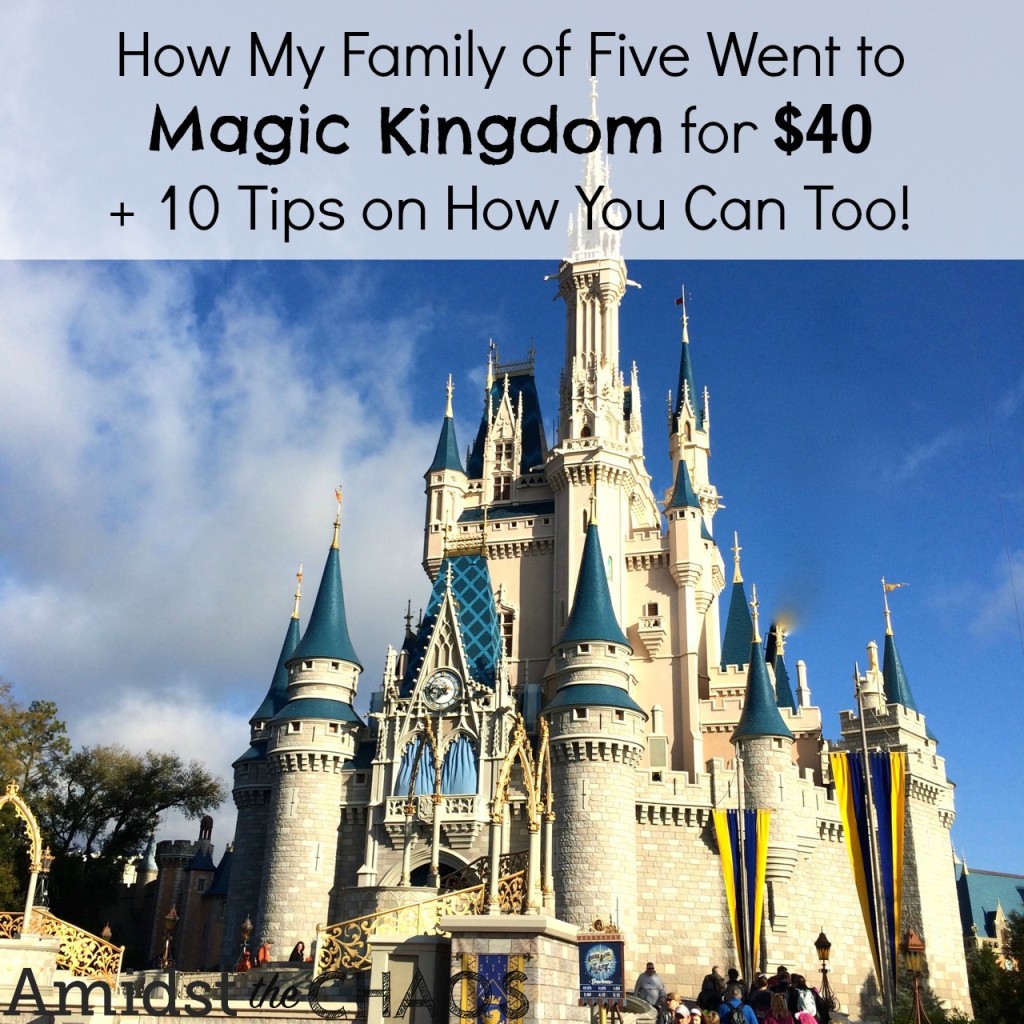 10 Tips on How to Visit Magic Kingdom for Less Than $40
1. Ask For the Park Passes as Christmas/Birthday Presents
The reality is, our kids have about a million and one toys. They really don't NEED any more. Yet every birthday and Christmas, they get more and more and more. We decided last year that instead of asking for more presents, we would ask for an experience: for park passes to Magic Kingdom. We knew that we wanted to take the kids to MK while we were going to be in Florida for our family vacation, but we also knew that the tickets are about $100 per person. So we decided to ask my family to buy us and the kids our park passes as our Christmas gifts.
Instead of having your family buy more toys that the kids probably don't need, why not ask them to invest in a memory for your family instead! If this is really somewhere you've been wanting to take your family but simply can't afford the $500+ entrance fees, then asking for them as gifts is the perfect way to get in!
2. Take Advantage of Free Entrance Passes for Kids Under Three Years Old
There is much debate out there about how young is too young to experience things like Disney and other amusement parks, but the great news is, most of them are FREE for younger children! And MK is no exception. Kids under three years old can enter Magic Kingdom free of charge, with an accompanying adult, who has a pass.
A few years back we went to Animal Kingdom and only paid for ourselves as BOTH of our kids at the time, were under three. Last year at Magic Kingdom, our youngest was under three, so that was one less ticket to worry about.
3. Buy Souvenirs BEFORE You Go
Yes, you read that right, you want to buy your Disney souvenirs BEFORE you go. I'm sure you've noticed that there isn't a lack of Disney paraphernalia all around us, in just about every single retailer out there. Even more so in Florida, close to the Disney parks. There is store, after store, after store selling discounted Disney souvenirs that will cost you a fraction of what they will at the park. Even check out your local dollar store for items like Minnie Mouse ears and autograph books. Quite the comparison between $2 versus $20+ for a headband with mouse ears!
4. Set a Budget for Souvenirs Before You Go
Ok, so I realize that this contradicts my previous point, but you have to allow for a little bit of fun in the park! Although we bought our Disney gear BEFORE we went to the park, we also knew that there was something special about each kid buying a little souvenir directly from Magic Kingdom. So we set a budget of $15 each that they could spend on an item of their choosing (Note: this was for the older two as our youngest wasn't even a year old and slept most of the day away). One item each…one souvenir…and that was it!
5. Pack Your Lunch and Snacks
This is one of the things that I love about Disney. I feel like they know that their price for food is astronomically high and therefore, they will allow you to bring in your own. From water and drinks to sandwiches, fruit and veggies, there are very few limitations as to what you can bring into the parks (although there are some, so it is worth checking before you go).
By planning ahead and doing a little bit of meal prep, you can save your family mucho dollars on food and drinks while at Magic Kingdom.
6. Bring A Small Amount of Cash
Naturally, there will be some incidentals that come up, like mommy desperately needing a coffee midday! HA! We had about $20 cash on us and we were able to buy coffee's and ice cream cones mid-afternoon for a little pick-me-up (and ended up with cash to spare!). It was a nice treat for the kids, refueled the adults and didn't break the bank!
7. Skip the Bibbidi Bobbodi Boutique and Do Your Childs Make-Up At Home
Ok, at this point you might think that I'm starting to sound like a Scrooge, but I'm guessing that the reason you're reading this is because you ARE interested in learning how to save money and actually be able to afford Disney, right?! As much as I have always wanted my daughter to have the experience of having her hair and make-up done by fairy godmothers right at Disney, at the end of the day, you have to evaluate if that's something you are willing to pay for or not. When I found out that packages STARTED at $60 and ranged up to $200 US, I figured I could achieve the same look for A LOT less!
So I opted to take my daughter shopping BEFORE we left for Disney and picked out special make-up, nail polish and glitter hairspray. Then on the day of our Disney adventures, we woke up a little extra early and my daughter had her princess transformation with yours truly!
8. Just SAY NO!
Of course we COULD have spent more than $40 but the point is that we didn't WANT to. Nor did we NEED to. Was our Disney experience dimenished because we didn't go all out and get every toy, dine with the characters or get our hair and make-up done there? Absolutely not! Am I knocing those experiences and saying they are not worth it? Definitely not! I'm just saying that Disney is TOTALLY affordable for people who are on a tighter budget. It just takes some creative planning and will power. Trust me, I WANTED that magical looking Mickey Mouse Balloon that is inside a clear, glass-like balloon! But I just wasn't willing to spend $15-$20 on something that will be in the garbage in a few days.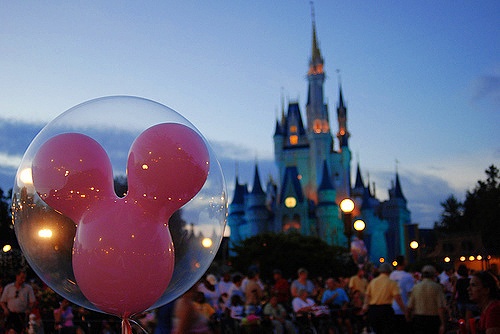 9. Explore the FREE sides of Disney
So I realize that this is a little off from spending a day at Magic Kingdom, but did you know that Disney has completely FREE attractions that you and your family can visit?! Why I include this on this list is because sometimes people think that they need to spend ridiculous amounts of money to completely enjoy Disney, but from my personal experience, that just isn't true.
Starting with the newly reconstructed Disney Springs (formerly known as Downtown Disney), this place is alive all day and night long with tons of options that are just as magical for your family to experience.
Another amazing place for your kids to explore is one of Disney's Resorts like Art of Animation. These are completely FREE and open to anyone to come in for the day and visit. At this resort, you will find four incredible outdoor scenes featuring Cars, The Little Mermaid, Lion King and Finding Nemo. We spent the entire morning walking around from building to building and ended at the cafe having a snack before heading home.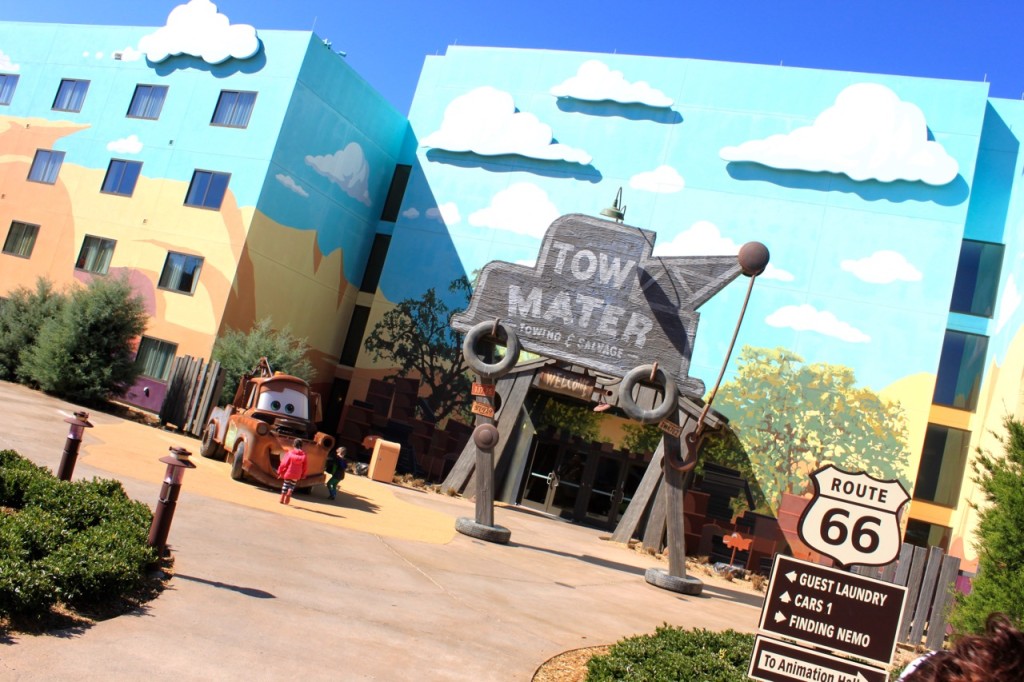 10. Plan to Go in the Off Season and Use Discount Retailers
If you do end up needing to buy your own tickets, plan to do Disney during the off season, which is generally from mid-January to mid-March and then from September through to November. There are MANY online retailers that have discounted tickets as well as hotel packages that can help you save. Additionally, if you are part of various clubs like AAA/CAA, Costco, Air Miles/Aeroplan, there will often be special offers for discounted park passes available to you.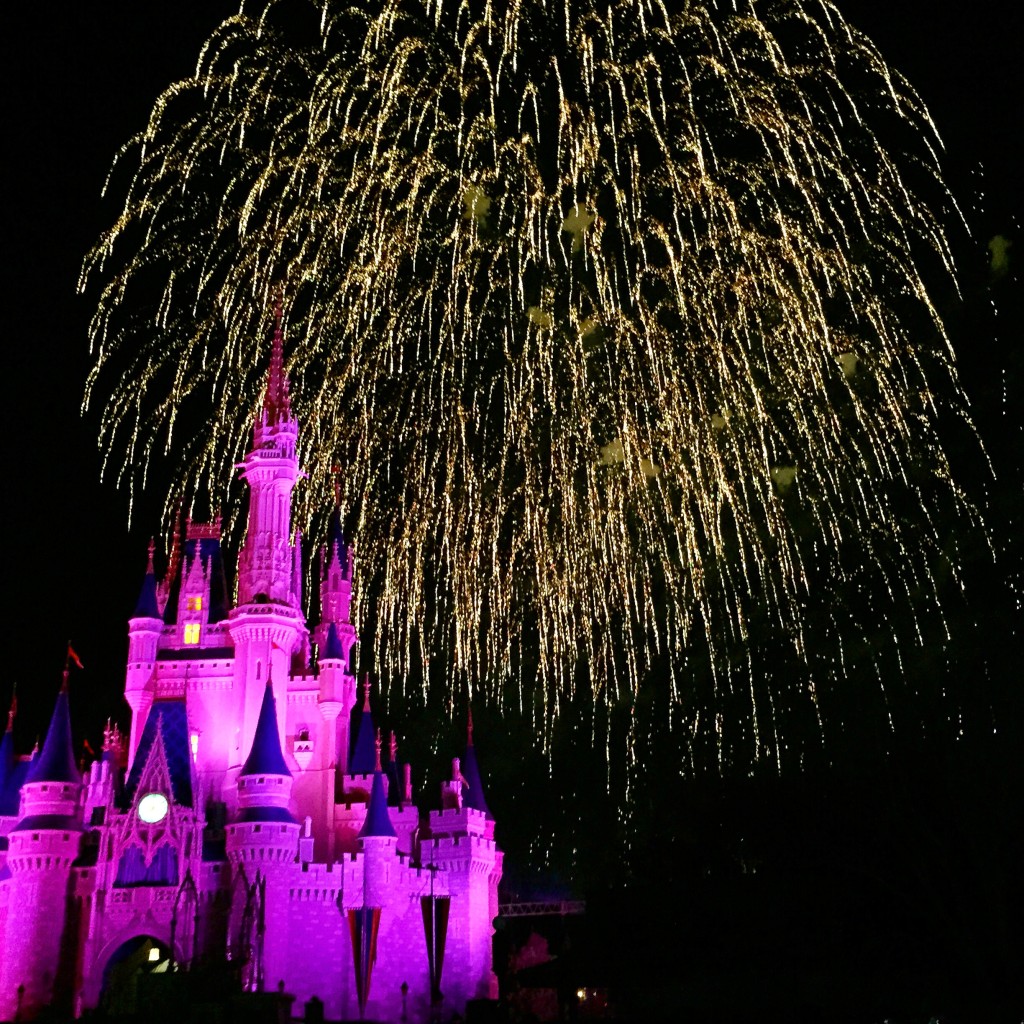 Going to Magic Kingdom is truly a magical experience like no other. And it really is worth it and an experience that everyone should be able to experience at least once in their lifetime! Now with these cost-saving tips, hopefully you and your family can start planning your magical getaway soon!
Love & Blessings,