Subscription boxes seem to be all the rage right now. I won't lie, it can be somewhat overwhelming as a consumer to know which are worth trying out and which are better left alone.
Well I'm here today to talk to you about one of my absolute favorites right now! When something THIS good comes along, you just can't help but share with your closest family and friends, right?!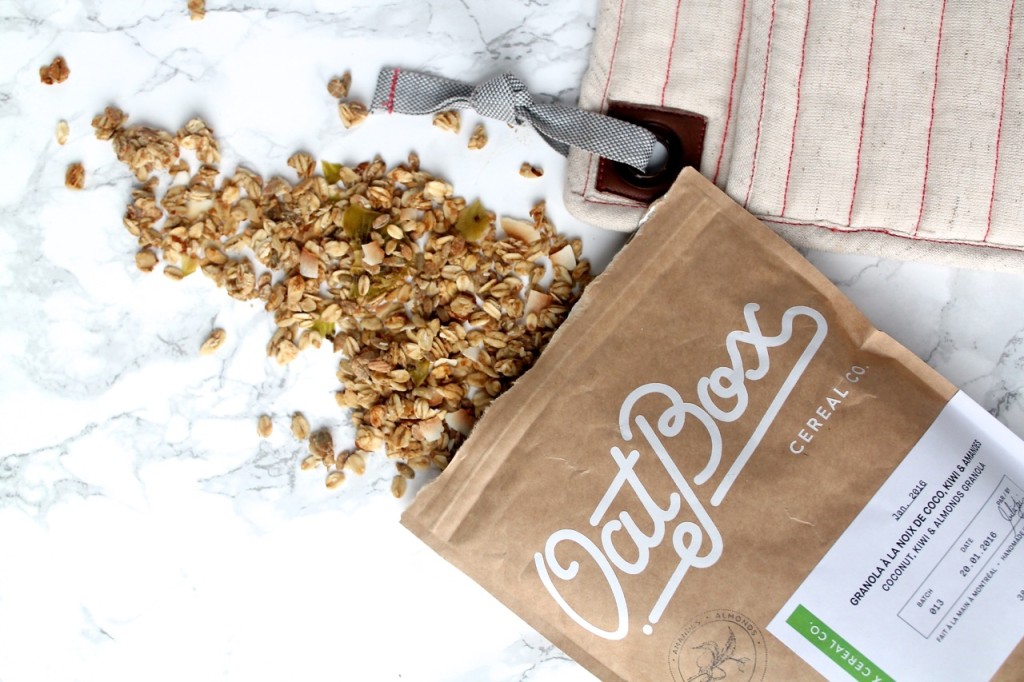 Let me introduce you to Oatbox! Oatbox is a monthly subscription with some of the greatest tasting, healthy and natural granola out there. Each month, you will receive TWO full bags (380g) of their featured mixes, right to your door. And let me tell you, the packaging is one of the nicest I've seen in anything that I've had shipped to my door! These mixes are HANDMADE in Montreal, by chefs, with wholesome ingredients and shipped fresh to you!
Oatbox is all about helping bring the healthy and tasty back into breakfast. So with that in mind, you will also receive a FREE glass jar so that you can take your breakfast on-the-go with you! How thoughtful, right?!
So let's talk about these mixes. This last month, I was able to try: Banana, Pecan & Walnut along with Coconut, Kiwi & Almond granola.
Have you ever been that parent to HIDE candy or a special treat so that your kids won't eat it and you can indulge in it all to yourself?! Well, I will admit, that happened for me with THIS! I have honestly NEVER had granola THIS good in my life! No exaggeration. I actually ate one ENTIRE bag to myself (insert monkey covering his eyes emoji right here).
I've always been a fan of granola but have never tried FRESH granola with HEALTHY ingredients like these. You CAN taste the difference! And I don't need yogurt or cereal to add it to…I can just eat it straight up, out of the bag! SO GOOD!
Every month, Oatbox features two NEW flavors, like for February, they have Double Chocolate & Goji Berries as well as Raspberry, Wild Blueberries and White Chocolate, to fit in perfectly with Valentine's Day!
Amazing taste and pretty packaging aside, Oatbox has made it a point to give back and do their part to help. For every Oatbox that is shipped, a child in Canada receives a complete breakfast, through the Breakfast Club of Canada. So by signing up for a healthy breakfast for you and your family, you are also helping kids in need, around the country!
The good news doesn't stop there! I'm excited to let you know that I've teamed up with Oatbox to help you SAVE on your monthly subscription! By clicking HERE, you will automatically receive $5 off your subscription! So for only $15 a month, you get the most incredible granola (two kinds) mailed directly to your door! And did I mention shipping is included?!
So my question is, what are you waiting for?! I guarantee that you will LOVE Oatbox! I know I can't wait to get my new box in!!
Love & Blessings,

*Disclaimer: I am a part of Oatbox's affiliate program and I was sent free product in exchange for my honest review of the product. All opinions are my own and 100% honest.