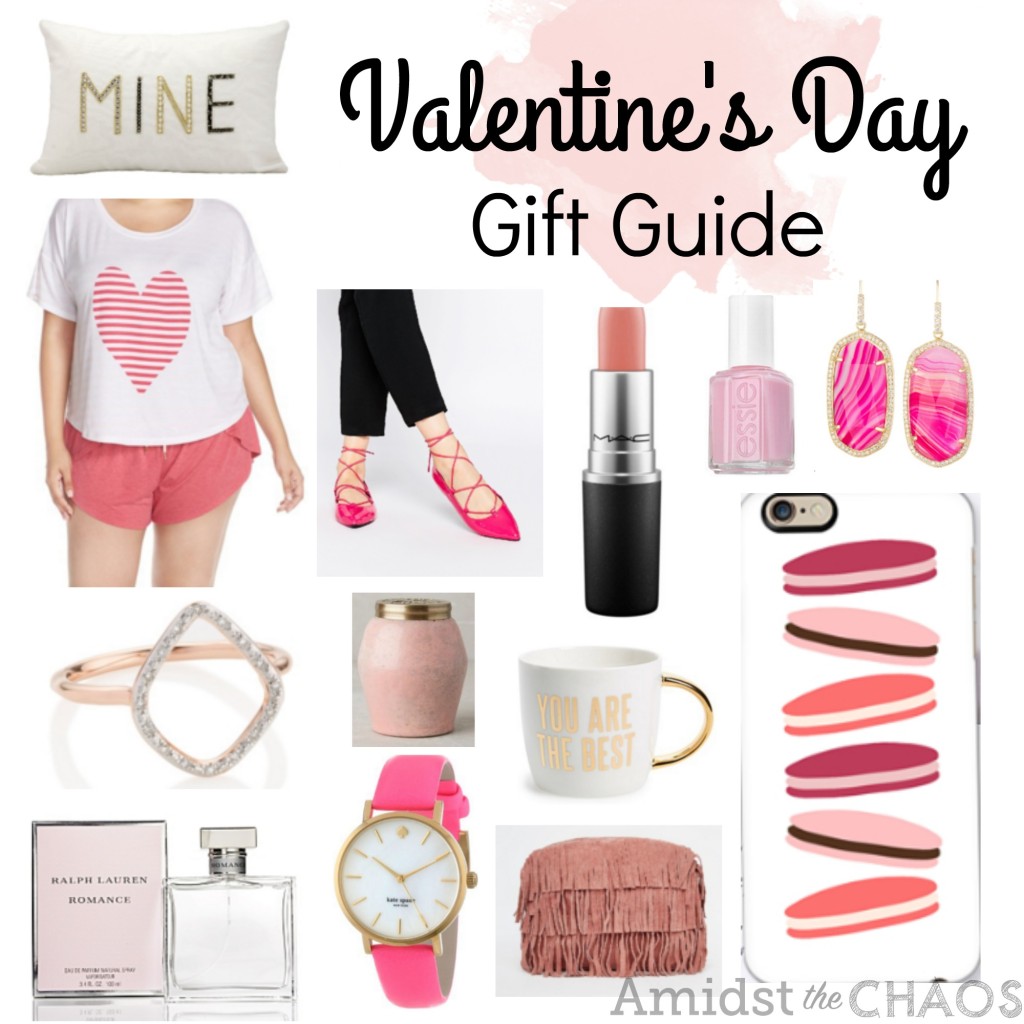 Mine Pillow | Sleep All Day Pyjamas | Lace Up Ballet Flats | MAC Lipstick 'Kinda Sexy' |
Essie Nail Polish 'Guchi Muchi Puchi' | Kendra Scott Drop Earrings | Monica Vinader Hoop Ring | Anthropologie Candle | 'You Are the Best' Mug | Ralph Lauren 'Romance' Perfume |
Kate Spade Mother Watch | Suede Fringe Clutch Bag | iPhone 5/6 Macaron Case
I actually just said to my hubby this morning, "Is Valentine's REALLY THIS SUNDAY?!" It's been such a busy start to the New Year and I'm left wondering where on earth January disappeared to and how it's almost V-Day!
Last night, I stayed up late with the kids to write out all their Valentine's cards for their classmates. Being pro-active, I bought them in January, when I first saw them in the store. But then also being forgetful, I forgot about them until the 11th hour!
So in keeping true to form, I thought I would put together a last minute Valentine's shopping list for those of you who also haven't given this day of love much thought! Ladies, this is the PERFECT post to send your mate as some light, suggested reading (wink, wink). Think of the favor you are doing for them! They don't even have to go out shopping…but rather shop online!
UPDATE!!! I just received AMAZING news that a few of the retailers I've featured have special sales and coupons JUST FOR YOU!!! To help make your Valentine's even sweeter, make sure to use these codes when shopping!
Nordstrom: up to 40% off Presidents Day clearance (until Feb. 22nd)
ASOS: 25% off sale with code LINCOLN (until Feb. 14th)
Bloomingdale's: 30-7-% off selected styles (until Feb. 15th)
Kate Spade New York: 25% off sale with code SPOTON
And here are a few other favorites that I thought you might love!
Target: 25% off clothes and shoes with code PRES (until Feb. 14th)
Banana Republic: 40% off with code BRFIT (until Feb. 15th)
Pottery Barn: 20% off with code FRIENDS (until Feb. 15th)
Here are my top picks for this Valentine's Day!

HAPPY SHOPPING!
Love & Blessings,