The world has changed drastically for everyone in the last few weeks, causing many of us to feel like we've been whiplashed and leaving many high levels of stress and anxiety. Some of us have lost our jobs, others are at risk of losing their homes – there's just so much uncertainty out there right now. While there's so much we can't control, we've realized that in order to help reduce some of the anxiety, there are things we can do at home. Structure, schedules, lists, etc – that can all help us feel somewhat "normal" in this "new normal" that we are all facing. So with that said, today, we wanted to share with you 30 self-care activities that you can do while at home, during this time of social distancing! While some of these are obvious activities that many of us practice already when it comes to self-care, there are a few in there that I hope will inspire you to time so time to relax, focus on yourself and melt that stress away!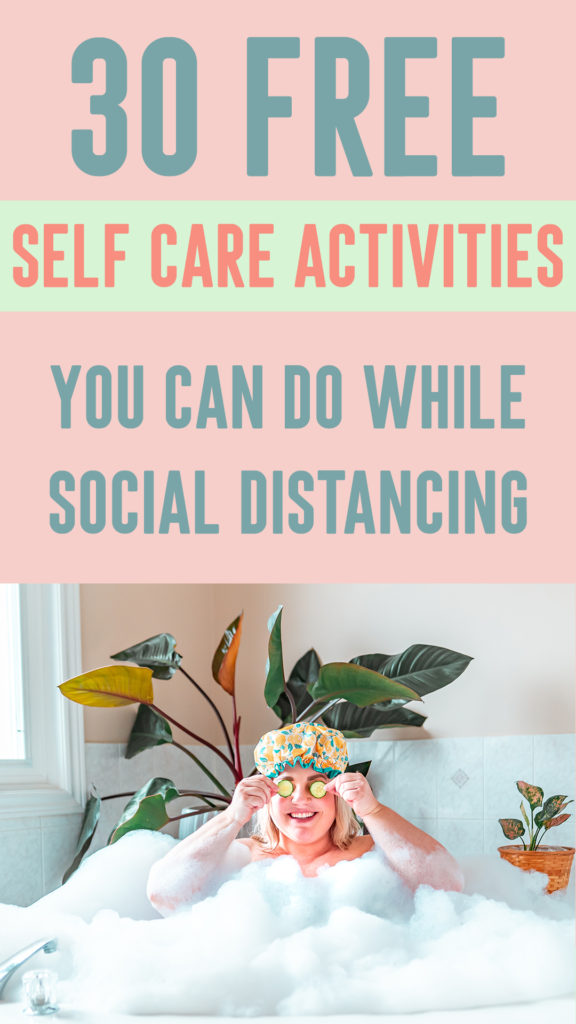 30 Self-care Activities to do at Home:
Take a Bath loaded with Epsom salts, bath bombs & bubbles – this is an obvious option for many, but try adding in Epsom salts which can help detoxify. Change it up and add in a bath bomb or bubbles too!
Face Masks – Now's the time to try all those face masks you've been collecting in your various subscription boxes or received for free as samples! If you don't have any, order one online and try it throughout the week. Add some cucumber slices for the eyes to help de-puff!
Meditation/Prayer – Whether you're religious or not, spending time in meditation or prayer can really help recenter yourself and feel connected while keeping you grounded. It's an important part of self-care that anyone can do!
Walks alone – Especially if you are quarantining with your family, you will need some alone time. Getting out in nature, in the fresh air, can really help ease anxiety. Take deep breaths and breathe in the fresh air while exhaling the stress.
Listen to music – Music has such powerful affects on our mind, body and soul. Make a chill playlist that helps settle your mind, soul and body and listen to it as you heading to bed.
Paint nails – Again, this is another more frivolous self-care option, however, it can help to focus our minds on a creative task. Google some creative nail art and try to recreate on your nails!
Diffuse Essential oils – If you haven't gotten into essential oils yet, this is the perfect time to hop on the bandwagon! There are so many options for stress relief and mood enhancers that can really work to decrease the anxiety in your home. Diffuse throughout the home or even use some on a roller to rub behind your ears, wrists and neck.
Gratitude journal – Most of us know that practicing gratitude as a daily ritual can have a significant impact on our long term mental health. Whether it's a journal or a jar, make sure you are writing down the things you are grateful everyday!
Yoga/Stretching – When anxiety grows inside your body, it's so important to try and let it out! You can find some great yoga or stretching videos on YouTube and focus on stretching through the tension in your body.
Bake Something New – Since we are all home, it's a great time to get your bake on! Try a new recipe that you've wanted to for awhile. Bake extra and deliver some to your elderly neighbours too!
Dance party – I don't know about you, but I'm a firm believer that a really good dance party can fix just about anything! LOL! Crank those tunes and dance like no one is watching, cause truthfully, no one is really around to see!
Binge watch a new show – This is the perfect time to binge watch shows you've wanted to on whatever streaming app of your choice.
Go to bed early – I can't stress this enough – we need our sleep! A lack of sleep can have detrimental affects on our mental health. So try and go to bed early!
FaceTime date with girlfriends – Having face to face time with your girlfriends is so important to feeling sane. While we can't actually do that in real life, we have amazing apps like FaceTime, Zoom or Skype that allows us to stay connected with our friends and family. Set up a wine FaceTime night with the girls!
Purge & Organize wardrobe – We have a lot more time on our hands, so this is the perfect time to purge and organize our wardrobes. There is something so cathartic about riding ourselves of excess!
Craft something – Pull out your craft supplies and get creative!
Buy flowers – Having flowers in the house can brighten anyone's mood. So next time you or your partner are out getting groceries, grab a bunch of flowers to brighten the home!
Work in the yard (if you can) – If you aren't still buried in snow, get out in your yard and start getting it ready for summer! Clean up any trash, rack the leaves and get the garden beds ready!
Read a new book – You know all those books you've bought thinking you'd read them when you had time? Well, now's the time!
Drink more water – Keeping ourselves hydrated has so many positive affects on not only our physical health but also our mental health! So drink up!
Come up with a new mixed drink – Speaking of drinking, try coming up with a new mixed drink. This can be alcoholic or not – get out various juice mixes, sparkling water, fresh lemon or lime and create a delicious drink that will lift your palette and mood!
Do Something Nice for Someone Else – Often times when it comes to self-care, we usually just think about what we can do for ourselves to help bring peace and calm. However, it's been proven that helping others can have huge effects on our mental health. Whether that's baking for a neighbour or picking up extra groceries for your elderly neighbour when you're out, we can all do small things to help others during this time.
Light candles – Having candles lit around the house can really help soothe the mood, especially in the bath or master bedroom.
Create a vision board of positive things – This is a great time to create a mood board. Perhaps you aren't sure what the future holds for your job, but you can absolutely make yourself a positive mood board to help focus on positivity!
Listen to podcast – Finding inspirational podcasts to listen to can help you focus on something while giving you practical tips, advice on various areas of your life.
Take a break from social media – I will admit, that while my job is largely based on social media, we all do need a break from time to time. Especially in times like this where it seems every news article is negative, giving yourself some social media distancing, even for a short time, can have huge beneficial affects on your long term mental health.
Redecorate your space – Pick a spot in your home to redecorate! Shop your home and move things around to try and spruce up the area!
Exercise – There are so many gyms and health programs right now offering FREE online exercise classes! Join one!
Play a game – Pull out a deck of cards or an old board game and play with your family. If you are alone, try playing online with some of your friends!
Leave positive reviews for things you've purchased and loved – This might be my favourite tip! Think about the best products you've purchased in the last year and go online to their websites, Google or Amazon and leave positive reviews! It can have such a great affect on our moods when we focus on the positive!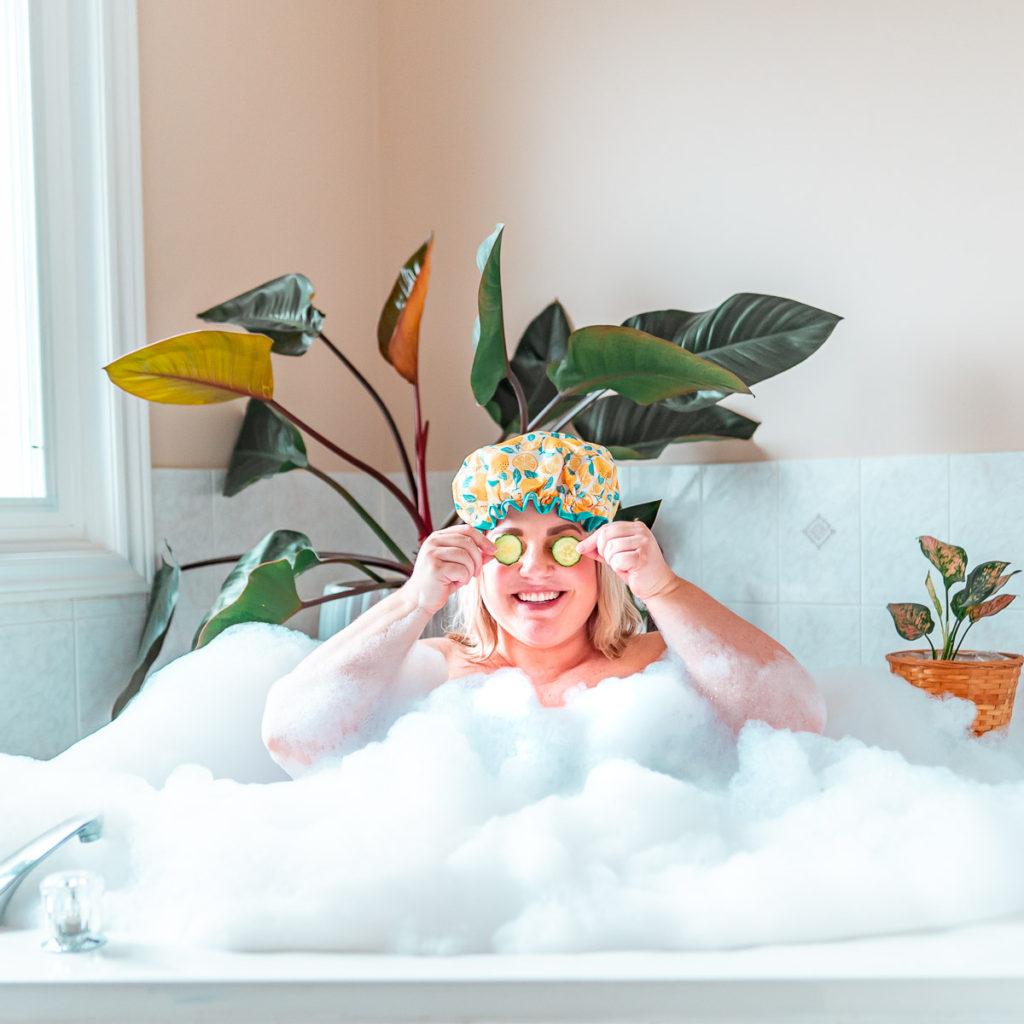 Well there you have it friends, 30 self-care activities you can while at home that will help your anxiety and stress and ultimately lead to a better head space. These aren't a cure – we are all going to have moments where the anxiety runs high, but practicing these daily can hopefully help the anxiety and stress stay at a minimum during this uncertain time!
Also, don't forget to check out this list of 50 Free Activities you can do as a family that we shared last week! There's indoor, outdoor and online ideas to help keep you and the kids busy!
Love & Blessings and stay safe friends,
Christine