I tend to be an all or nothing kind of girl. Either I commit to a project fully or I don't want to even get involved. I either loose 40 lbs or don't start dieting at all…because what's the point of only loosing 5 lbs?!.Speaking of dieting, I either eat the whole tub of ice cream or none at all…because one bowl full is just never enough. For the holidays, I either go crazy and decorate the ENTIRE house or you won't find any decor set up anywhere. All or nothing. Never half, part way or only one bowl full!
But like any good rule (or weird personality quirk), there's always times to break them, to make exceptions. And I find that during the Fall season, I stray away from my all or nothing rule. Perhaps its because I don't own a ton of fall decor (nor do I have room to store it all) or perhaps it's because it falls right between back to school, Halloween, my birthday and Christmas. I find September – December are crazy busy months in our home and I'm always trying to catch up on time.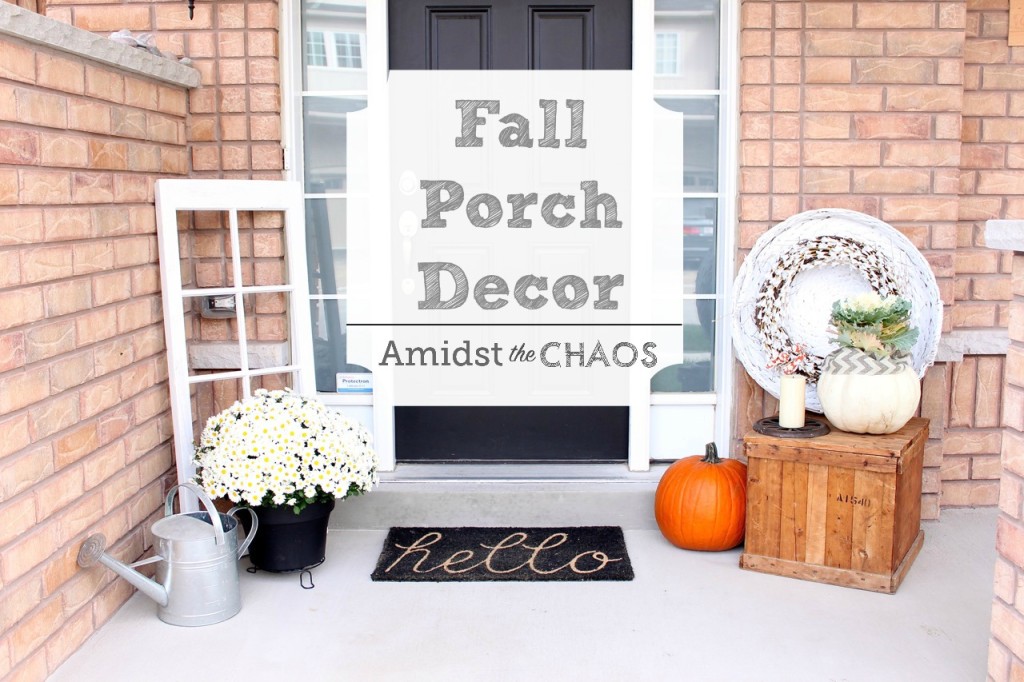 This year, being busier than ever, I thought I would just fall into the "nothing" side of decorating for fall because time is just escaping me (sidenote: do all you Canadians realize it's Thanksgiving THIS weekend?!) But the other night, at the grocery store, somehow the pumpkins and fall Mums just jumped right into my cart and I decided that I would set up at least my front porch for the fall season.
Trying to keep things very basic and inexpensive, I grabbed one Mum, one potted cabbage, one white pumpkin and one yellow pumpkin…all costing around $20 total.
I am obsessed with neutrals this year and so I knew that I wanted to keep this fall porch decor fairly on par with that. White pumpkins just excite me and I was thrilled to find them at my local grocery store. Problem was, they were all missing their stems. So I knew that a good solution to this would be by planting the cabbage into the pumpkin! I simply carved out the pumpkin and then popped the potted cabbage into it. And because the stem was a little tall on the cabbage, I wrapped a small piece of chevron burlap around it. Adds a little more fall rusticness as well!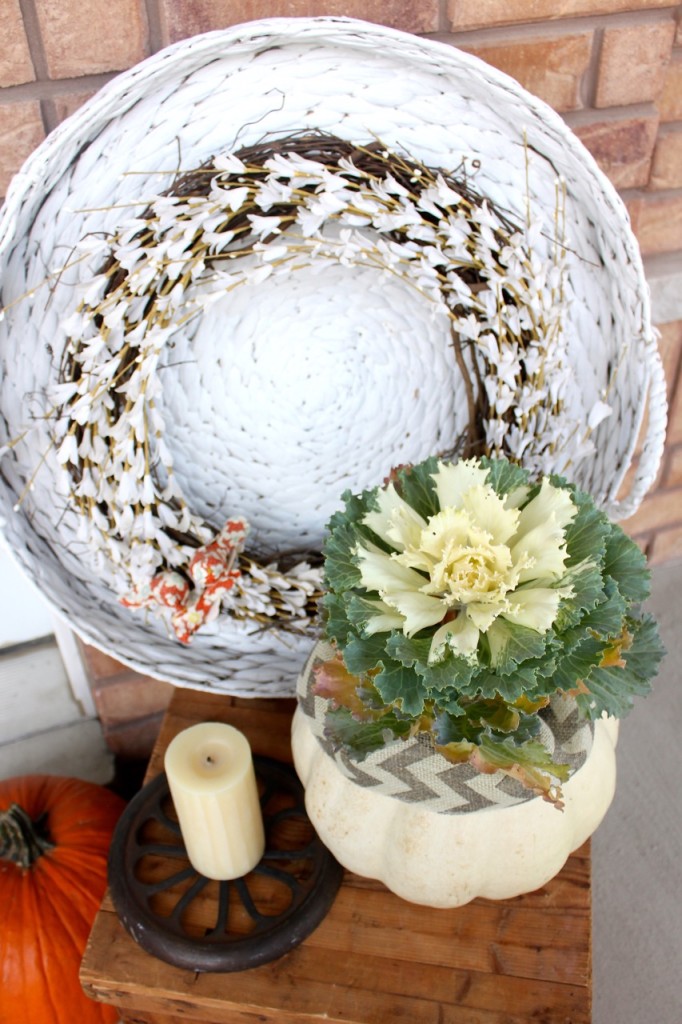 I gathered up a few items that I had laying around the house to complete the look. First, I always want to create height when doing any sort of decor, whether that's a tablescape or a larger scale set. And not only do you want to create height, but you want varying heights. This will create interest to anyone viewing your decor.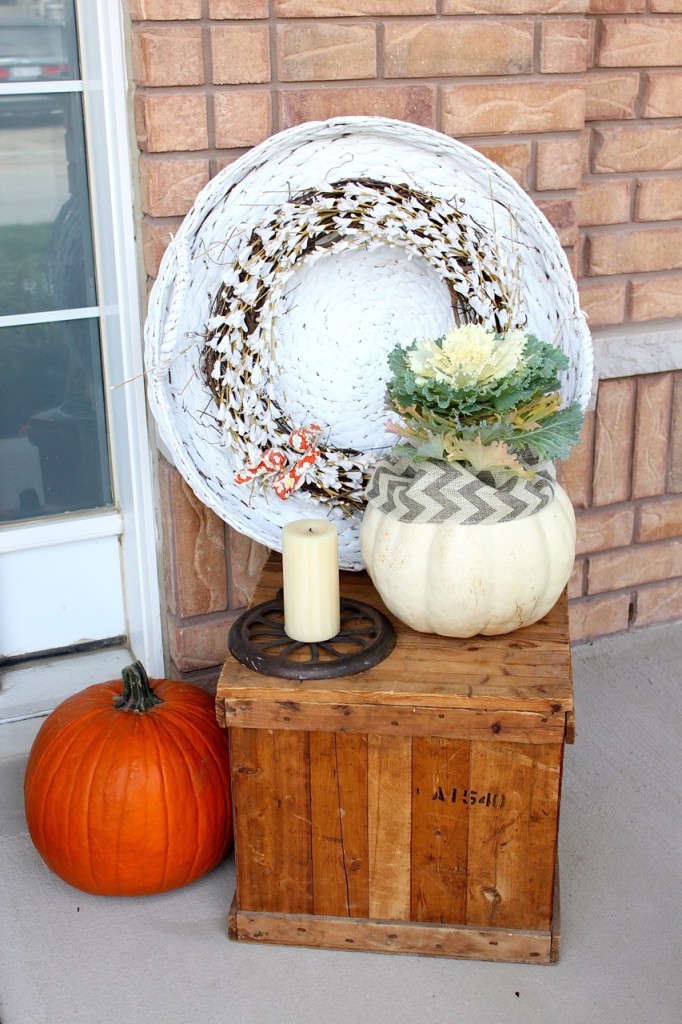 So I brought out a vintage paint crate that I picked up a few years back at a yard sale. To be honest, I've never found the perfect spot for this in my home but for this fall porch decor, it was perfect!
I have this wicker tray that I painted white, with intention to put it on my wall, but haven't gotten around to it yet. So I thought it would add a touch of rustic and yet keep it neutral. Layering in a wreath I made a few years back, it is a nice backdrop for the pumpkin and cabbage. I finished off the little table with another antique that I found at that same yard sale and a pillar candle. To be honest, I have no idea what that antique is…some have suggested it was an old stovetop burner…but I'm not sure. Either way, I still like the look of it!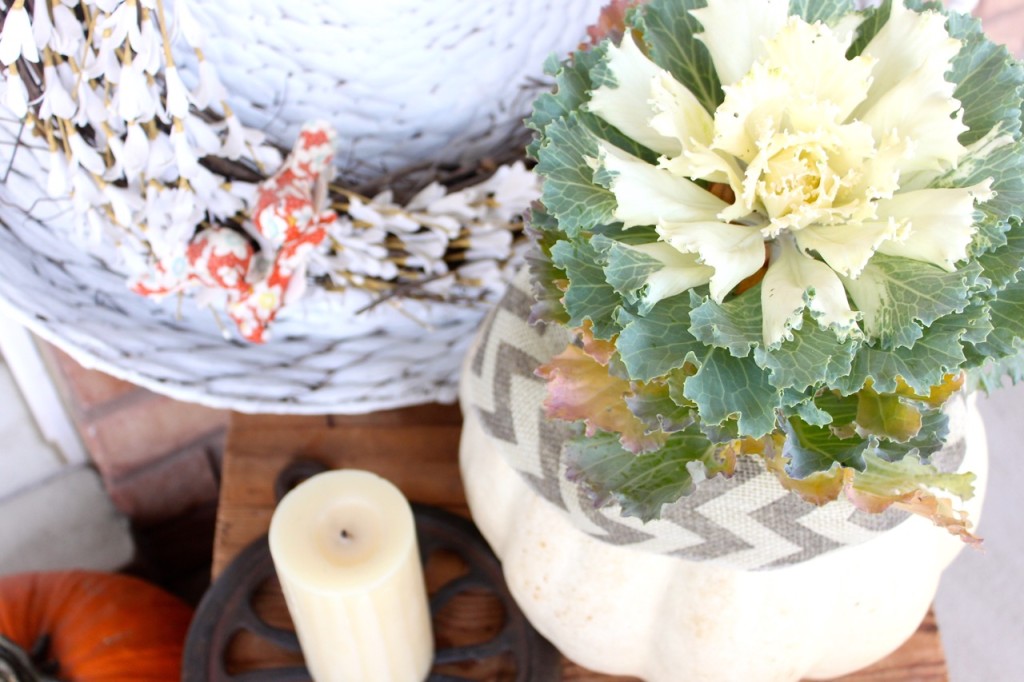 Over on the other side of the porch, I placed my fall Mum on top of a small planter stand, to add some height. And then I framed it out with a antique window pane (from that same yard sale), which I've also painted white.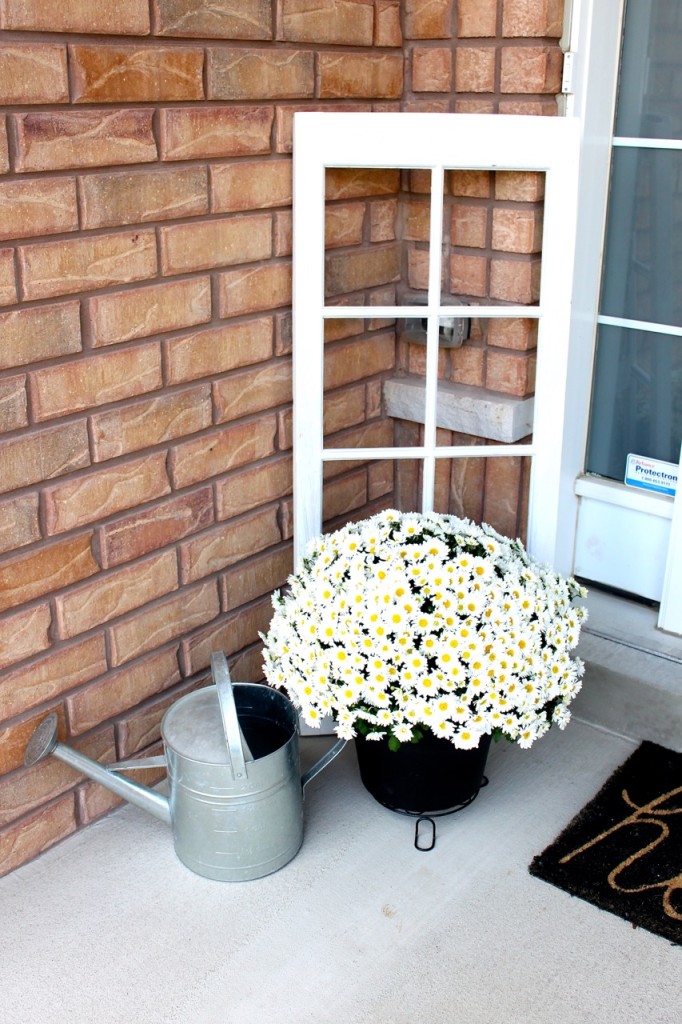 I kept my summer doormat and watering bucket out there because they still fit with the look and feel of the set up. In the end, I was able to create an inviting fall porch that wasn't very costly and didn't take much time. Our porch isn't very big (we actually share it with out neighbors) but even if that's the case for you, there's not reason why anyone can't spruce up the front of their home with a few pieces to be fall decor ready!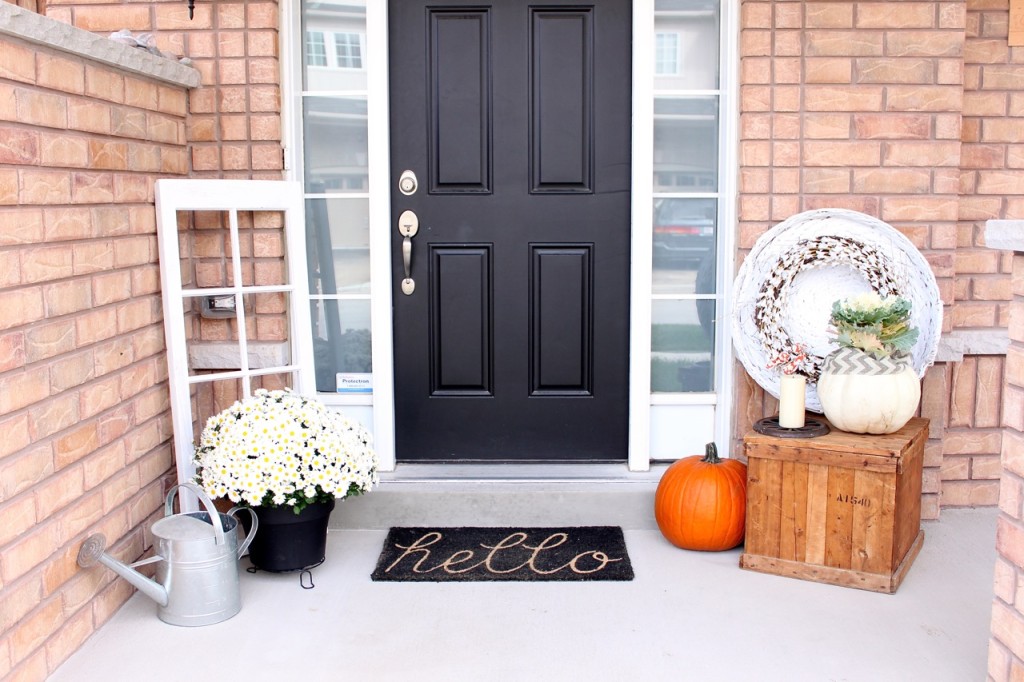 If you like this look, I've put together a few similar pieces that you can shop right from the comfort of your own home. Just click the pictures below to be taken to the various sites where you find similar items. Happy decorating!