This post is part of the YummyMummyClub.ca and Ontario's Southwest Build Your Best Beach Vacation, #YMCBestBeaches sponsored program. I received compensation as a thank you for my participation. This post reflects my personal opinion about the information provided by the sponsors.
Did you realize that there is an extra week of summer this year? Let that sink in for a minute…an EXTRA week of holidays! This is such great news, especially for many of us in Ontario who didn't have the greatest start to the summer with unusually low temperatures. The hope is that it's going to stay warmer a bit later this year! So my question to you is, what are you doing with your extra week of the summer?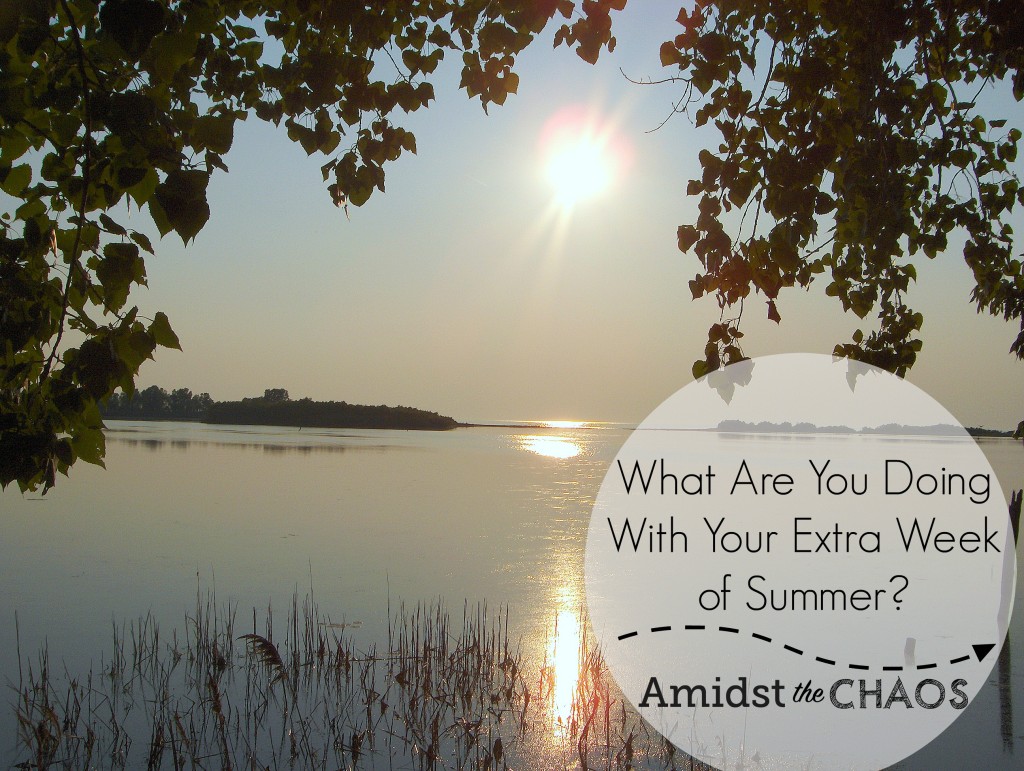 For my family, I'm pretty sure you will find us enjoying every last minute of beach time that we can. My kids and I have been absolutely LOVING the local beaches along the shores of Lake Ontario this summer. I have a beach bag always packed in our van with towels, swimsuits, extra clothing and beach toys. I should also mention that we usually end up taking half the beach sand home with us in the van after each trip!
Did you know that some of the nicest beaches in Ontario are within a few hours drive southwest from the GTA? We are blessed in Ontario to have so much waterfront and truly spectacular beaches to visit. Ontario's Southwest has actually made it easier than ever to find beaches close to you with their "Beach Cheat Sheets" that includes a map of where all the best beaches are located along with driving times and various activities that can be done there. What's ideal about the locations is that they are SOUTH of Toronto, which if you live anywhere near the GTA, you know that this is a bonus to avoid cottage country traffic that you find both north and east bound. Many of these beaches are also located less than a two and a half hour drive from the GTA including Rock Point, Port Dover, Long Point and Turkey Point, to name a few.
We have had the privilege to travel and spend some time along the shores of Lake Huron and Lake Erie in the last 10 years. A few of the beaches that are featured on Ontario's Southwest, including Grand Bend, Fish Point and The Pinery, we've been able to visit and thoroughly enjoy. I'd love to share with you my experiences and many of the attractions that these fabulous beaches have to offer! And just maybe, you will decide to spend your bonus week of this summer at one of these fabulous locations!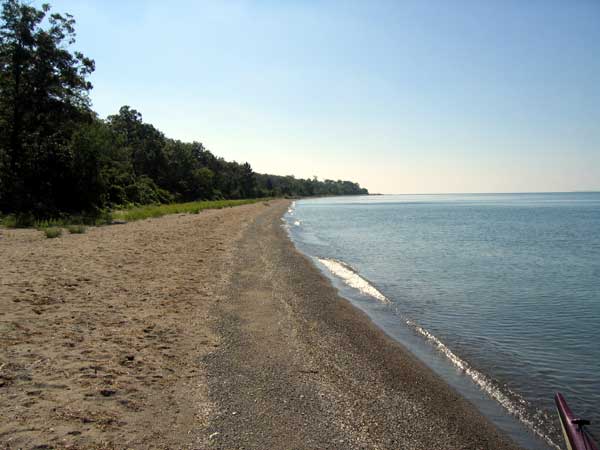 1. Fish Point
Fish Point is located on the small, intimate island called Pelee Island, just off the coast of Leamington, Ontario and one of its claim to fame is that it is Canada's southernmost beach. With an expansive beach that is very family-friendly, Fish Point is one of the best places to swim off of Pelee Island. You can bring a tent and camp at the point or stay at one for the numerous bed and breakfasts located on the island.
When my hubby and I were first married, we actually lived in a small town called Kingsville, just outside of Leamington, along the shores of Lake Erie. For our one year wedding anniversary, we did a weekend trip to Pelee Island. We wanted to take in the nature sights as well as visit the famous Pelee Island Winery. You need to take the ferry from Leamington, Ontario to get over. And while you can drive your car onto the ferry and bring it to the island, we took our bikes over and rode all over the island. Pelee Island has a well developed trail system that includes over 34 kilometres of on-road bike trails, 10 kilometres of ecological multi-use trails and five kilometres of walk trails.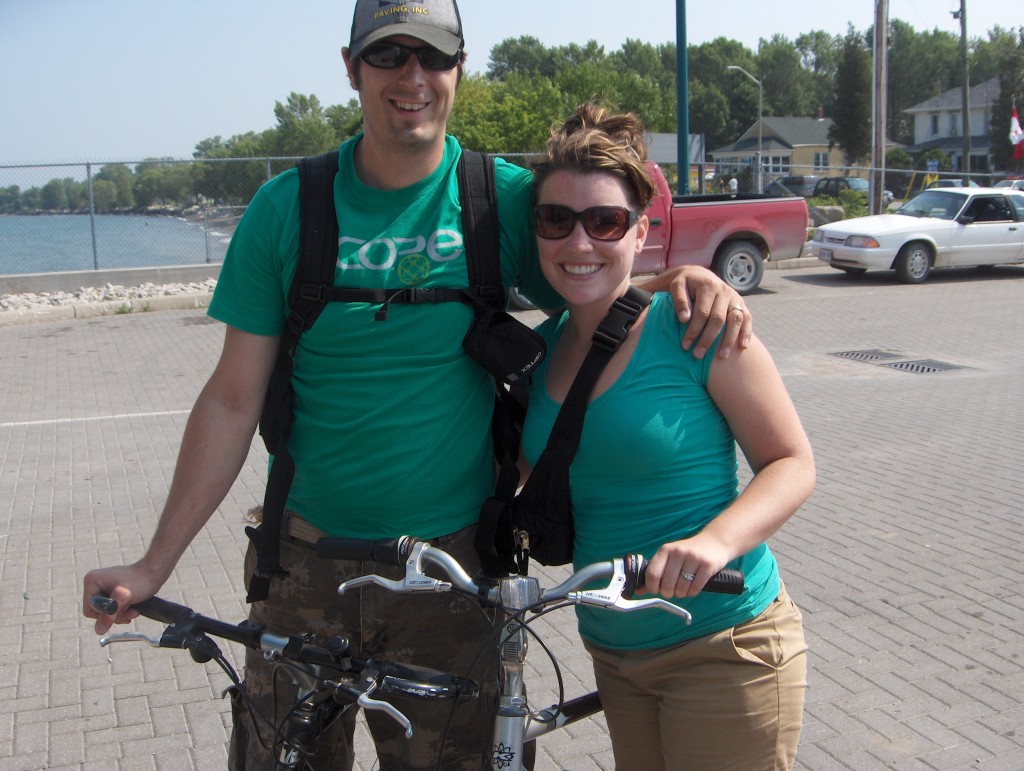 While exploring Fish Point make sure to take in the Fish Point Provincial Nature Reserve that includes several rare plants like the prickly pear cactus as well as rare animals such as the fox snake and the giant swallowtail butterfly. And before you leave, make sure to check out the Pelee Island Bird Observatory with over 310 species of birds and can be found in plenty along the shores of Fish Point. A bird lovers delight for sure!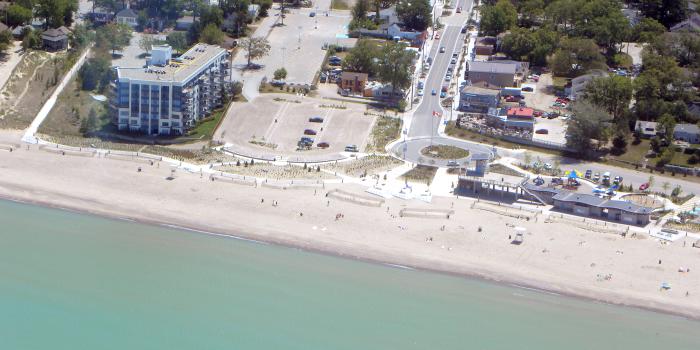 2. Grand Bend
Heading northwest, across to Lake Huron, Grand Bend is one of Ontario's best beach towns and has earned Blue Flag Status, which only 24 other beaches in all of Canada have earned for their commitment to clean water and safety standards. Not only is the beachfront amazing, but their entire community is a happening place in the summer time. Filled with little beach shops and amazing local eats, this is definitely a family-friendly place that you and your kids will be sure to enjoy!
By planning your trip using Ontario's Southwest Beach Cheat Sheets, you are sure to find the best activities and local eateries that these beach front communities have to offer. In Grand Bend, you will find parasailing, jet skiing and tubing as well as some local live theatre.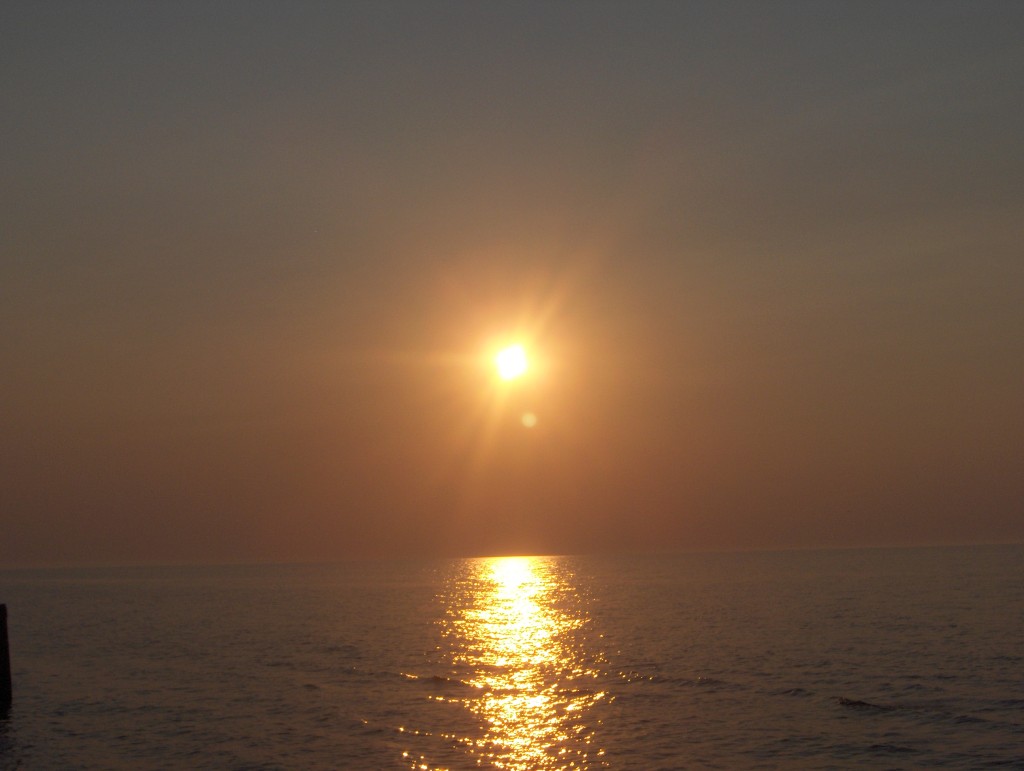 Complete with a playground and splash pad right on the beach, Grand Bend is a fabulous destination to take your family for this years extra bonus week of summer! My hubby and I have visited this beach sans kids and it was one of the best beaches I had been to in Ontario. With its warm water and pristine beaches, we have definite plans to bring our kids there soon!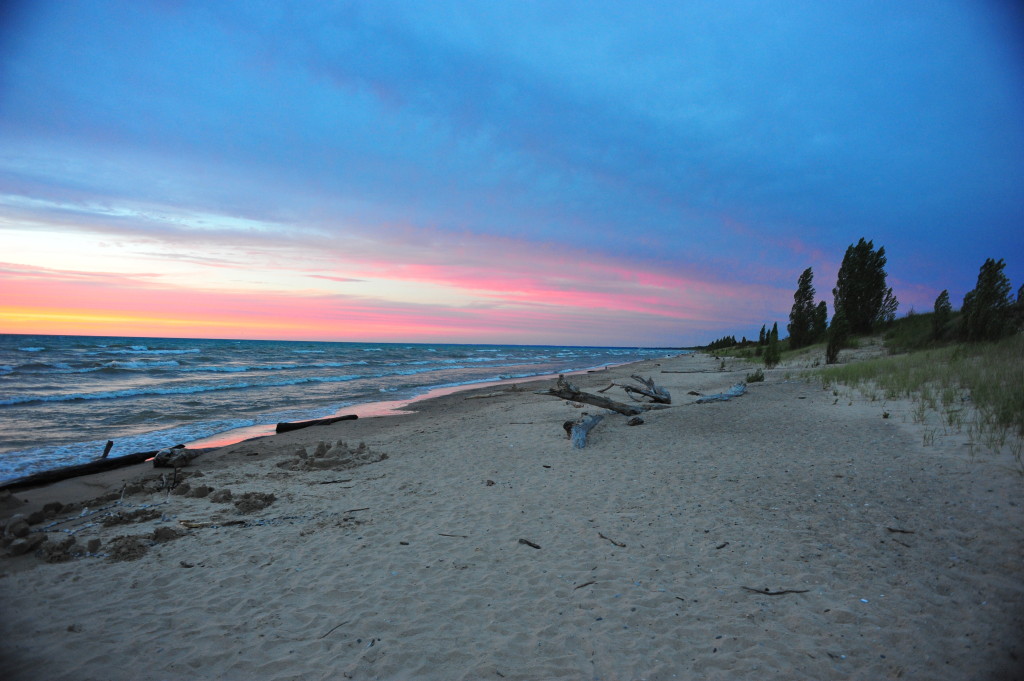 3. The Pinery
Heading just south of Grand Bend, along the coast of Lake Huron, you will come across The Pinery, which boasts over 10 kilometres of sandy beaches. This area has also been described by the National Geographic as having the "top ten sunsets in the world." And guess what?! I can testify to that! While we were in the Grand Bend/Pinery area of Lake Huron, we witnessed almost nightly these sunsets and they were breathtakingly beautiful!
What makes The Pinery stand out from the rest of these beaches is that is has 12 onsite yurts available for rent. I am not a huge camper. My experiences with camping have been few and far between. When I think about the idea of camping, I think about how much work is going to be involved, as well as not having any of our own gear. That is why this idea of a yurt, or "glamping" appeals to me so much.
A yurt is a circular tent-like structure that is insulated, heated and furnished to make camping a little more enjoyable. It is equipped with bunk beds and lighting and has a BBQ and fire pit outside for cooking. This is really ideal for someone like myself who isn't really into camping but more than that, someone who doesn't have the necessary camping gear. Everything you need is already there at the yurt, all you have to do is bring your food and family! Sounds easy enough to me!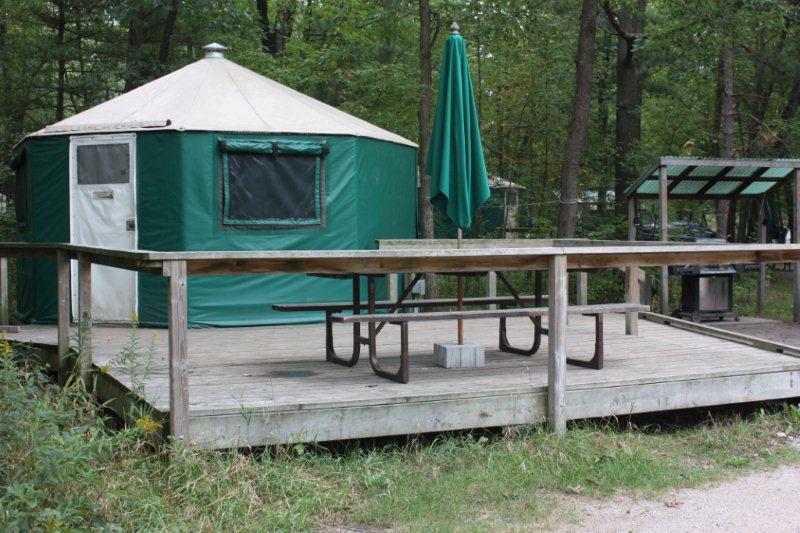 So getting back to my original question, what are you doing with your extra week of the summer this year? With so many fabulous beaches to discover in Ontario's Southwest, you should definitely plan on taking your family to explore one of them during that bonus week of summer! What better way to cap off the summer than on the beach?
Ontario's Southwest has such an amazing website that you must check out with all 13 beaches listed, including points of interest, driving directions, places to eat and explore. It's never been easier to plan a last minute getaway before! And right now, Ontario's Southwest has over 30 special travel deals to many of their fabulous beaches, including some of the ones I've mentioned here. Be sure to check it out and book today here.
Life is definitely better on the beach and that is where you will find me and my family during the extra week of summer!
Love & Blessings,

This summer, instead of getting steamed up in cottage country traffic, chill out on some of the province's best beaches in Ontario's Southwest. Don't miss out on the "Best Beach Adventure" contest. One lucky family will enjoy a four-day beach adventure for four on Lake Erie, featuring amazing outdoor adventures—a prize valued at $2,500! Check out more great stories and information about beaches in Ontario's Southwest: