You guys! I am SO EXCITED to share this post with you! Not only because I think the content is fabulous, but this is the start of our guest reader posts! Well what on earth does that mean, you might be asking yourself?! Let me explain!
Many blogs out there have guest posts: this is where they invite another established blogger to post on their own blog. This is great, for so many reasons, and we are just reaching out to specific bloggers that we want to feature on here as well! BUT, that is not this! THIS is all about YOU, my readers!
I have absolutely loved connecting with my readers over the past few months and getting a glimpse into your lives as well through various social media connections. So many of you have amazing ideas to share, yet not all of you are going to start a blog. So I thought, why not feature some of my readers work! Whether it be a recipe, a fun idea, an event you've planned…if it's fabulous, fun and helps foster a sense of community, I'm all over it!
You see, especially as women, I truly believe that we are better together! Too many of us have faced drama and petty issues with other women…and here at Amidst the Chaos, we want to help break that and celebrate women! We don't want to be intimidated by others success…we want to celebrate it and be inspired by it! Cause at the end of the day, with everything stripped away, we are all the same: moms, daughters, sisters…all wanting to love and be loved and make this life count!
So let's celebrate each other, learn from one another and be inspired to be better!
With that said, I'm super excited to share our first ever guest reader with you!
Meet Tricia!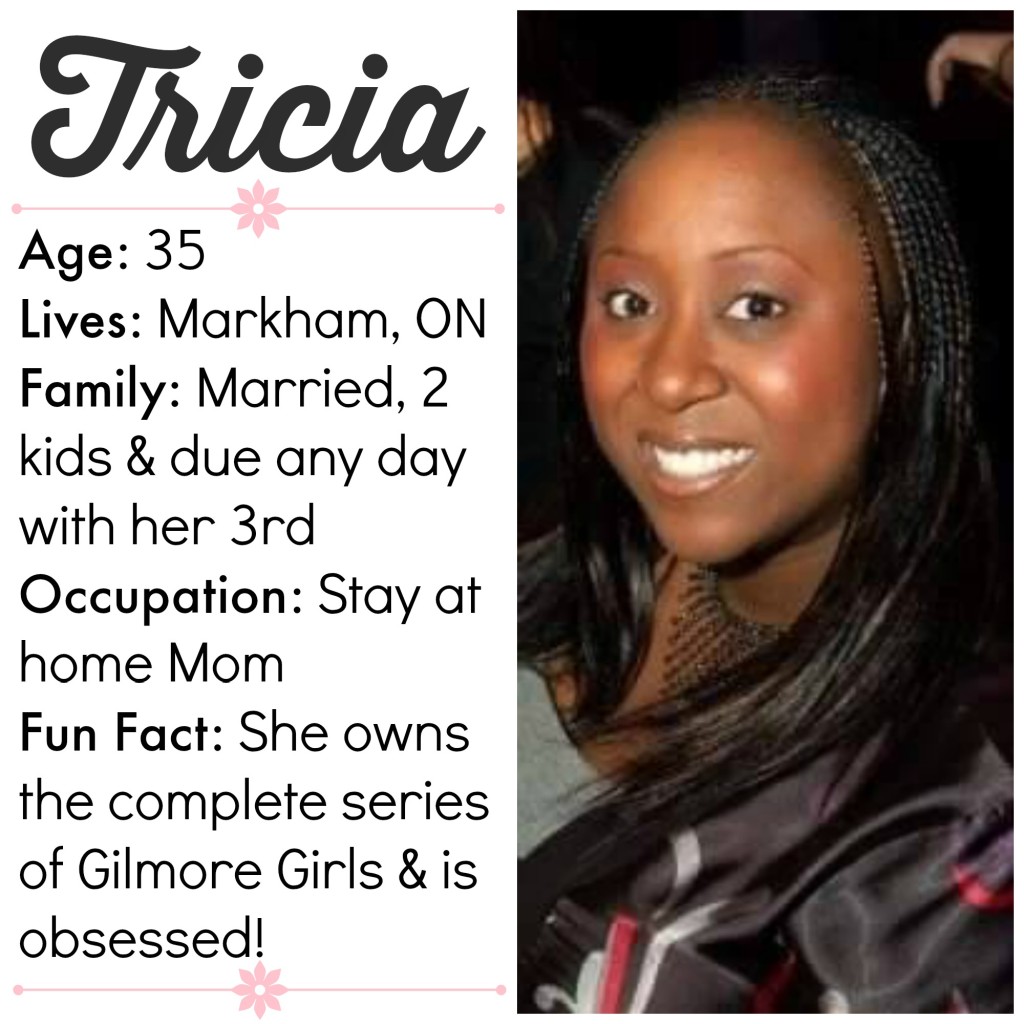 So a little bit from me on Tricia! You know when you "know" someone online, through all your mutual friends, yet you've never actually met them?! Ya, that's me and Tricia! We have so many mutual friends and when I started this blog, we connected and she's honestly been one of my biggest supporters! I just love when friendships can bloom over social media (that's the redeeming factor of some of the negative aspects of it!)
Tricia posted a picture to Instagram a few months back of a fun twist on lunches for her kids and I absolutely loved it! It was actually right then and there that I thought, "How can I feature this idea on my blog?!" And that's when I came up with reader posts and have been working hard to organize this for you all! So let's get to it!
Here is what Tricia posted: "Getting a head start on making lunches for my little man. Found this great idea on Pinterest to make sandwich kabobs. Such a fun idea & I'm actually having fun making them."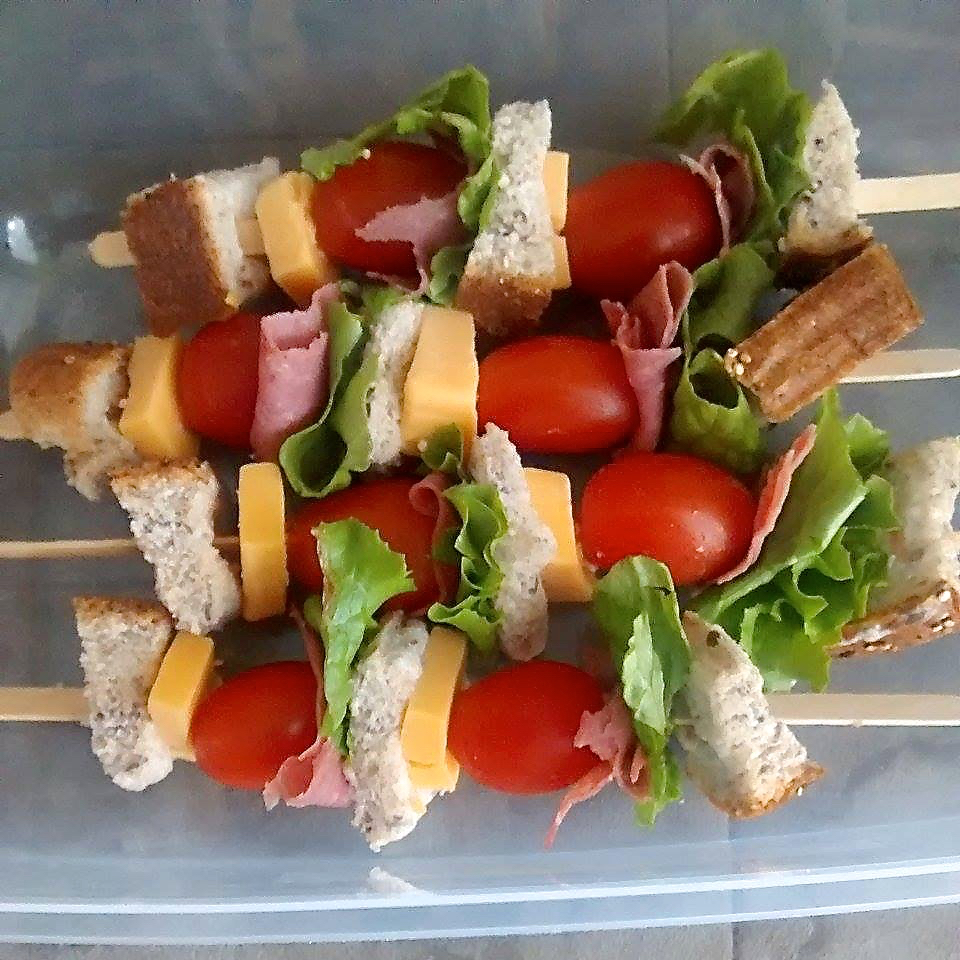 When I saw this, I absolutely loved it! Now that I've been making lunches for a good four years for my kids, I find myself often time getting stuck in lunch ruts: making the same things over and over again.
What I loved about this was that it's really not changing the FOOD, it's just changing the presentation! And for kids, that's sometimes all it takes to bring back excitement in eating!
Here's a couple questions I asked Tricia about the kabobs:
Q: What made you look for new lunch ideas?
A: I was in a lunch rut with my son. He was getting tired of having the same things over and over again. I truly can't blame him as it was quite repetitive and boring.
We as adults like variety when we eat and I've realized that kids do too. I am so thankful that my son was vocal about not always loving his lunches so that I could do something about it.
Q: What inspired this idea of sandwich kabobs?
A: I headed over to the beloved site that has an abundance of idea's: Pinterest! I looked up school lunches and came across this site. The first idea about sandwich kabobs caught my attention immediately. I thought to myself, "Yes, I can do this."
Q: How was the response from your son when he tried them?
A: I made it for my son to take to school and he devoured it. He said the teacher said his lunch looked very cool. I like how easy it was to pull this off and add healthy vegetables into it. My kids seem to love anything with sticks in them.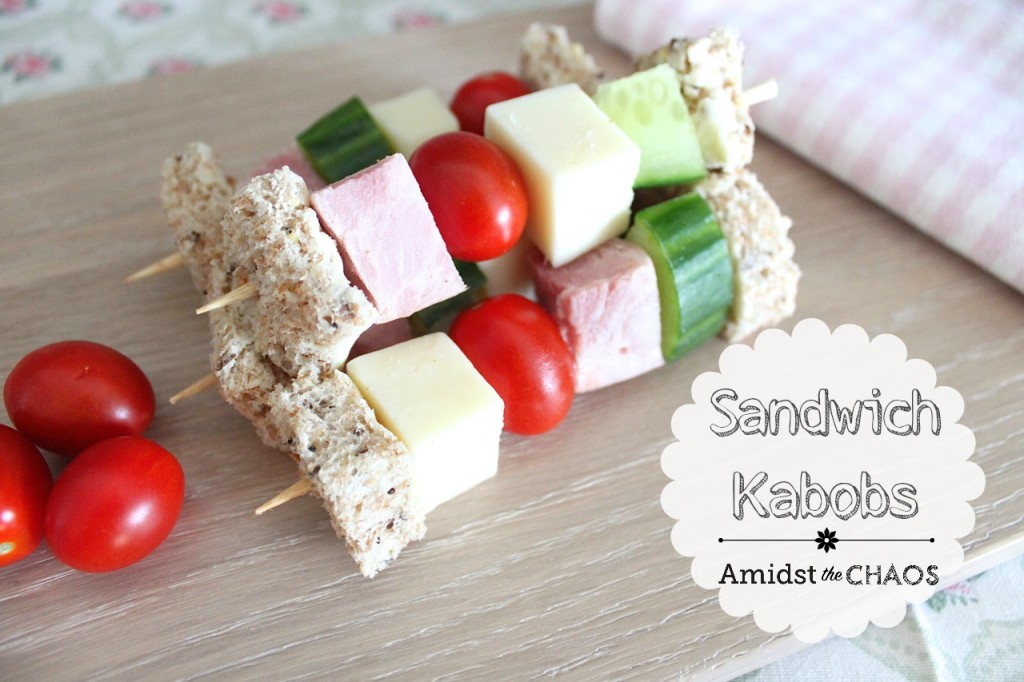 I was so inspired by Tricia that I decided to give these a try in my home and see if my kids would react similarly! Guess what?! They DID! My daughter thought it was coolest thing when she saw these in her lunch box! And my son, the picky eater in the family, who usually takes about an hour to finish ONE meal (that's NO exaggeration), was giggling while eating and finished in about eight minutes tops!
I made mine with buttered bread, grape tomatoes, english cucumbers, mozzarella cheese and pork kolbasa. I'm also going to try adding in hard boiled eggs and avocado. Really, the possibilities are endless with what you could add! We see these done all the time with fruit, but the idea of a sandwich on a stick is just as fun!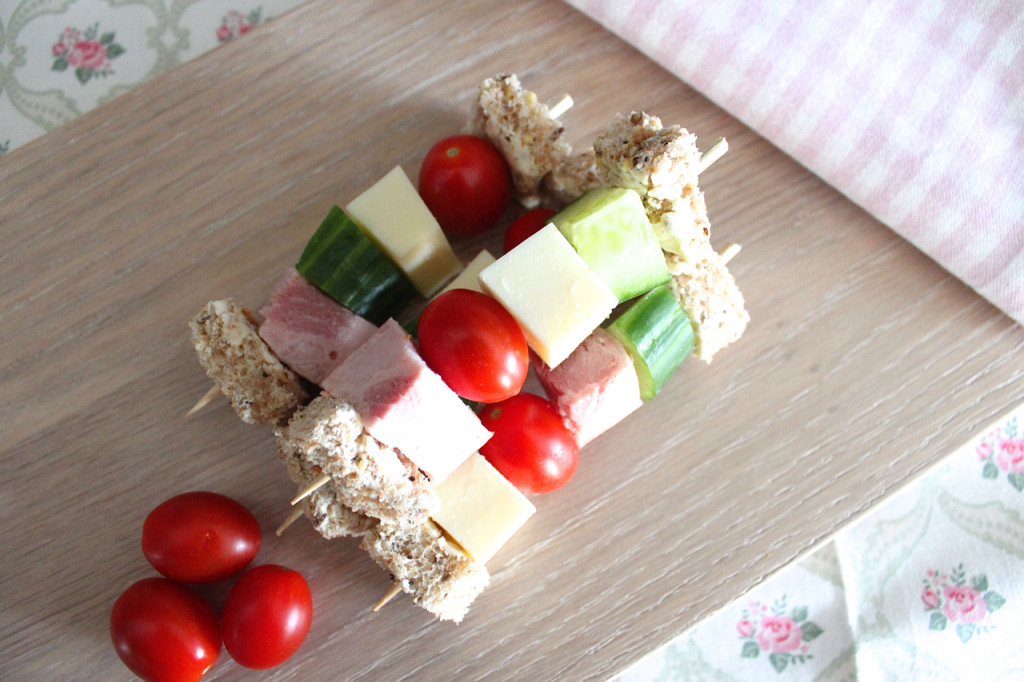 Again, there is nothing different, food-wise here…it's just a deconstructed sandwich! But for kids, who are super visual, it's like a whole new world of food! The flavors and health factors are all the same, the only difference is that they are actually inspired to eat it because it's fun and different!
Now it's YOUR turn! Do you have something awesome that you'd like featured here on Amidst the Chaos?! We would LOVE to hear from you. If you are interested, please fill out this short form letting us know what your post idea is and a little more about you and we will be in touch very soon!
[Tweet "Want to be featured on the blog?! Send in your post submissions for a chance!"]
Hope you've enjoyed this and can't wait to feature YOU!
Love & Blessings,