Phew! Welcome to Week 7 of our Bohemian Glam Office Renovation update! I can't believe the reveal is ONE WEEK AWAY! And if I'm being totally honest, I am not confident that we will get it done. While we've cut it close before on these challenges (and I mean the last two have been SO CLOSE we were up all night finishing it before the reveal), I seriously am unsure if we can pull this off in seven days. So that's what I want to chat with you about in this weeks update – what we still have left to do and if you think we can pull it off!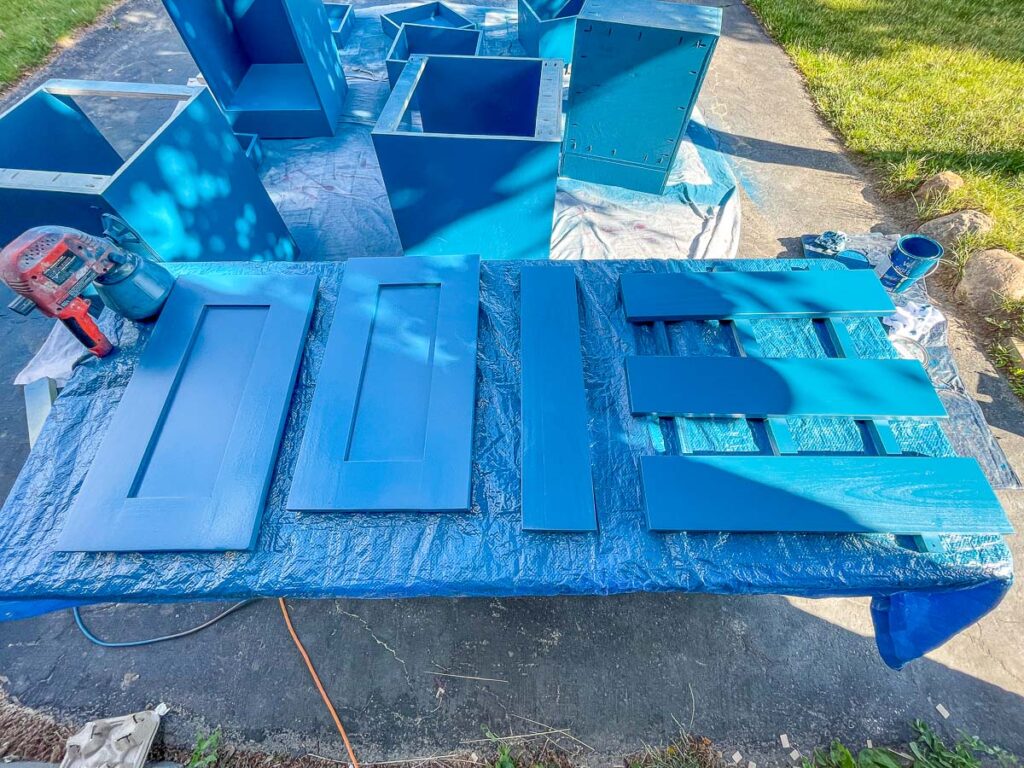 The term "bite off more than you can chew" is definitely something I think we could apply to our office renovation, especially when it comes to building our custom desk and wall unit. We knew what we wanted a few months ago and tried finding it at the local hardware and big box stores, but with the simply down due to Covid and the unique dimensions of our space, we just weren't finding what we needed.
So after a little more research, we decided that we could design and build the desk ourselves (meaning, I'd help design and Chris would build). It all sounded great, but then the actual building part started and it's A LOT of work. Meticulous work. And it's just taken so much longer than we gave ourselves time for.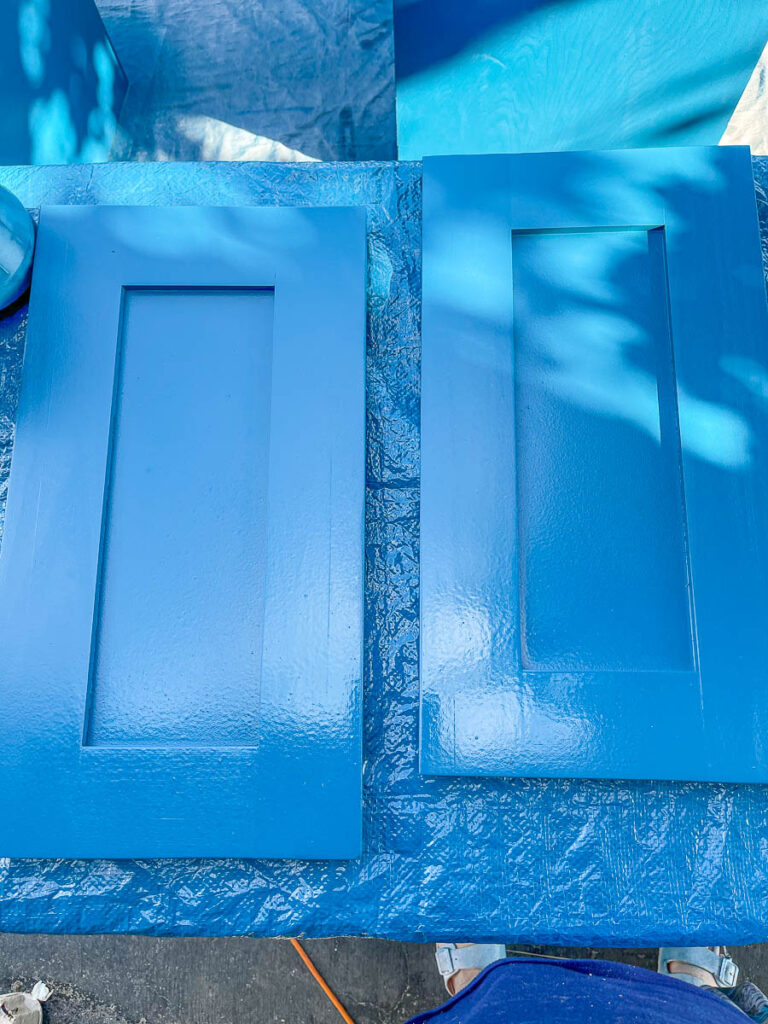 Chris finished the lower cabinets for our desk, including the drawer construction yesterday, so I was finally able to paint them today. We decided to try and spray paint them using our spray gun and while there was a little learning curve and A LOT of overspray, I'm really happy with how relatively easy it was and how they look. The colour we chose for the cabinets is Valspar "Shaded Lake." We absolutely love this colour – it's actually a perfect match the loveseat that we will have in the space. The pictures are a bit deceptive – it looks more bright blue than it really is in real life – which in person it's more of a dark, teal-ish blue. It's beautiful!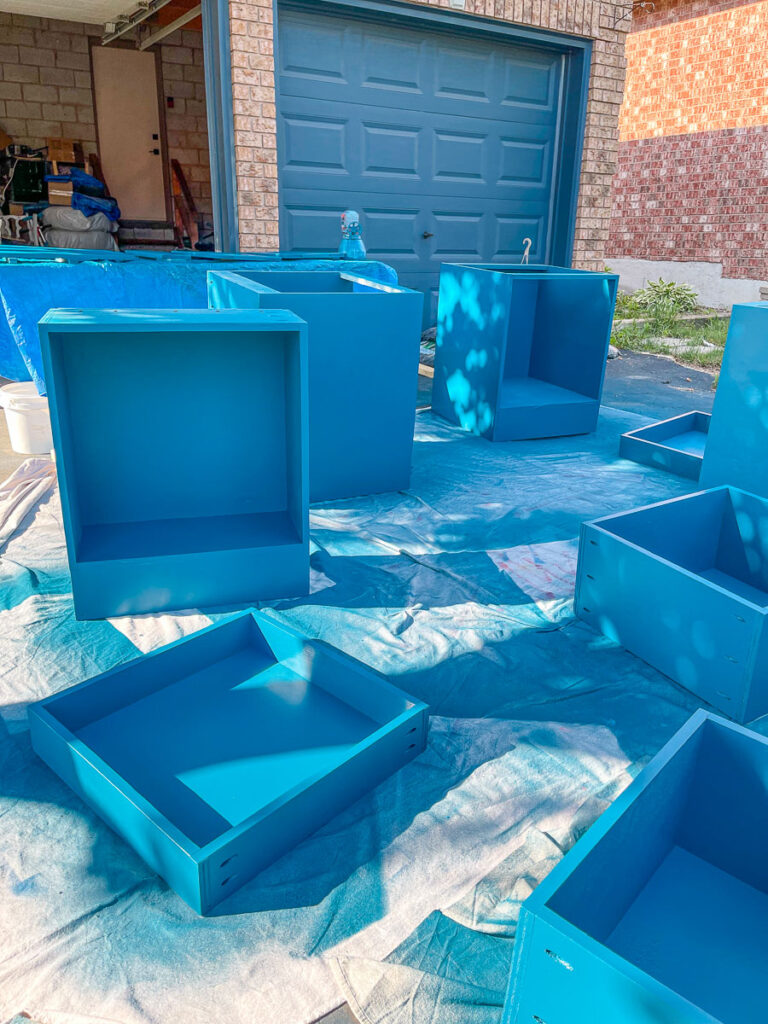 So tomorrow we are going to assemble all of the cabinets and hopefully get them installed. Then Chris will move on to making the upper, open shelved cabinets. I need to prime the drywall on the wall that will be behind the cabinet and then also touch up the ceiling where Chris installed the electrical outlet for the pendant light.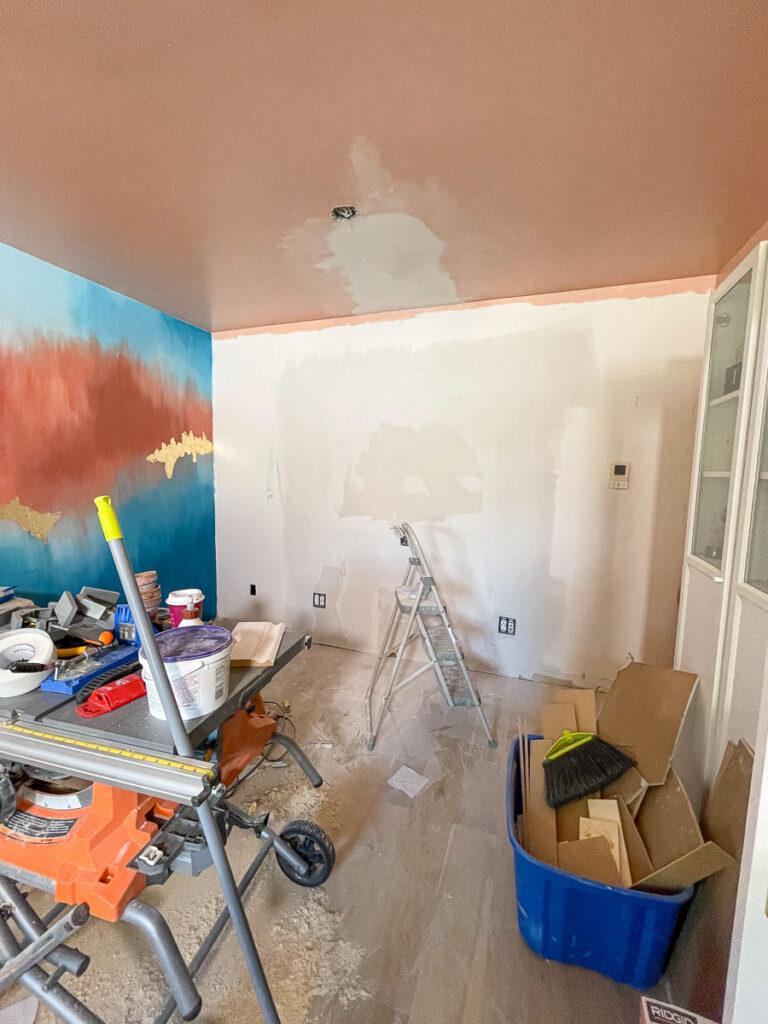 I haven't mentioned the wall and ceiling colour yet which is "Semi-Precious" by Valspar. I absolutely am IN LOVE with this colour. It it like the perfect, muted pink in my opinion. It gives me tropical vibes but also has a depth to the colour – with peach and coral undertones that makes it look somewhat historic. It's also the first time I've ever painted the ceiling a colour other than white before! I just decided that I wanted to go ALL IN with colour in this space and I don't regret it yet!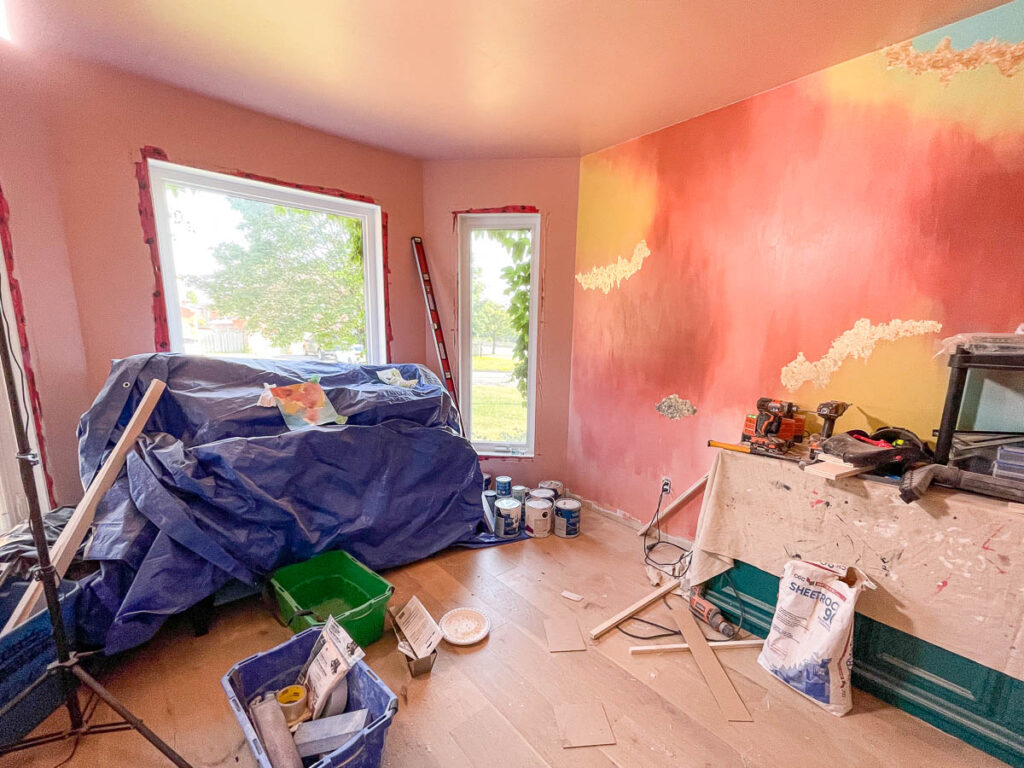 So once the desk and wall unit get installed and the couple of touch up paint jobs completed, it's time to finish up the trim all around the room and door/window casing, clean it all and then style it! I have curtains, pictures and mirrors to hang, rugs to unroll, seats to set up and a TON of decor to style the space perfectly!
So, do you think we can do it? Let me know in the comments below! Either way, you will see what we have completed by this time next week! So stay tuned my friends!
Love & Blessings,
Christine
Note: This post was sponsored by our friends at Valspar Canada where we have received product and/or compensation in exchange for our honest review.