Over the last four weeks we have had the incredible pleasure to partner with Visit York Durham Headwaters to experience all that they have to offer during the Christmas season. Visit YDH created an incredible itinerary for our family to explore the various regions, everything from the small farmer's markets to the new Winterfest winter festival at Wonderland. We met with local wine makers, experienced the Window Wonderland in the small town of Erin and even got to cut down our very first real Christmas tree together as a family. There was even a romantic adults-only weekend in the mix for a much needed rest and recoup together as a couple. We shopped til we dropped, we quite literally went flying high to new heights and were introduced to countless, incredible local artisans creating, crafting, baking, brewing, cooking the most amazing goods! And today is the day we share this ALL the adventures from our York Durham Headwaters journey with you!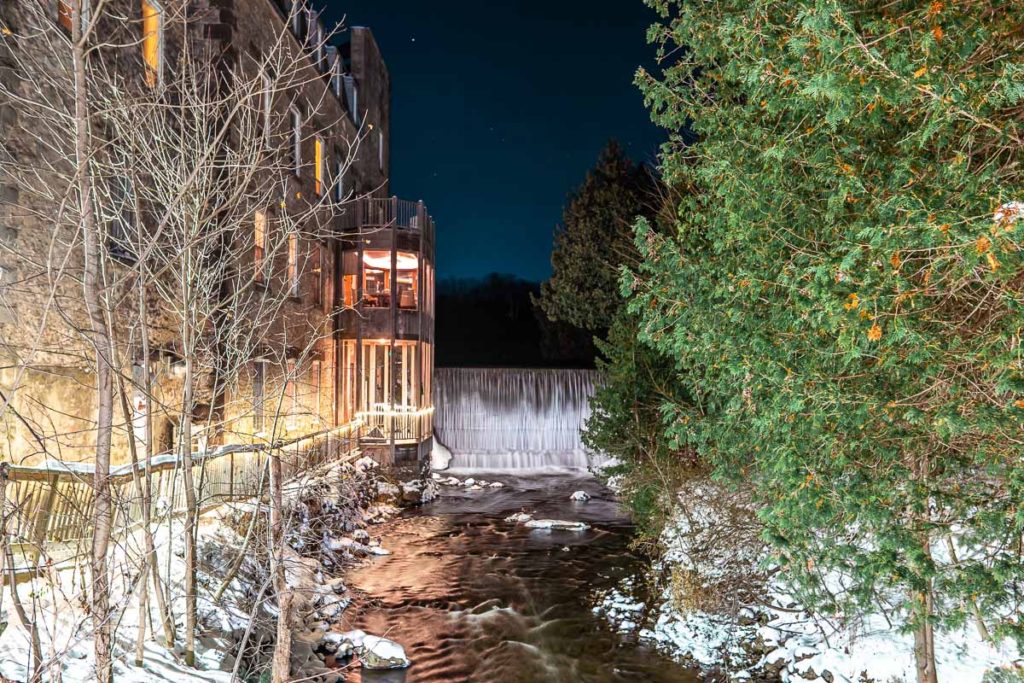 Before I get into this post, I want to preface how I'll be laying it out, because there is going to be A LOT of information! For starters, I hope you guys will pin or save this post for future reference because I know that you won't likely be able to remember every thing I write about in here! So pin this image below so you can come back when planning your Christmas adventures next year in the York Durham Headwaters region!
Secondly, I'll be breaking this post into FOUR sections, by both region and experience: 1. Headwaters Romantic Getaway, 2. A Family Day in Durham: Planes, Trains and Automobiles, 3. York Region Christmas Shopping and WinterFest Experience and 4. A Backroad Adventure through Durham Region. So you can read through the post in it's entirety or you can scroll down to whichever section interests you the most!
Finally before we dive in, I've been asked a few times WHERE exactly York Durham Headwaters region is. These three regions surround the city of Toronto to the north-west side (Headwaters), the north (York) and the east (Durham). From Toronto, everything is within two hours drive, which makes it the perfect destinations for families in the city who want to get out and explore the regions around them. We ourselves live in Durham region so it was fun to discover some local places that we'd never visited before!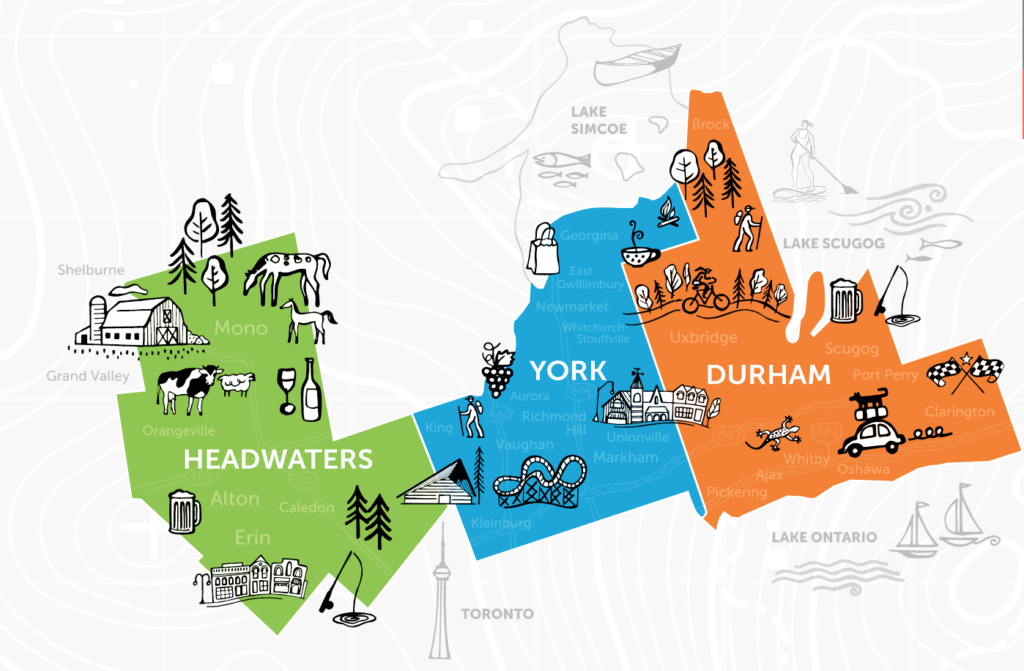 So without further ado, let's just dive right in to the complete guide to Christmas adventures around York Durham Headwaters Region!
1. Headwaters Romantic Getaway
To kick of this four week adventure in York Durham Headwaters, we started in the Headwaters region for a romantic getaway, just me and Chris. This weekend away had two purposes: to get some much needed alone time together and also to get a head start on some Christmas shopping sans kids!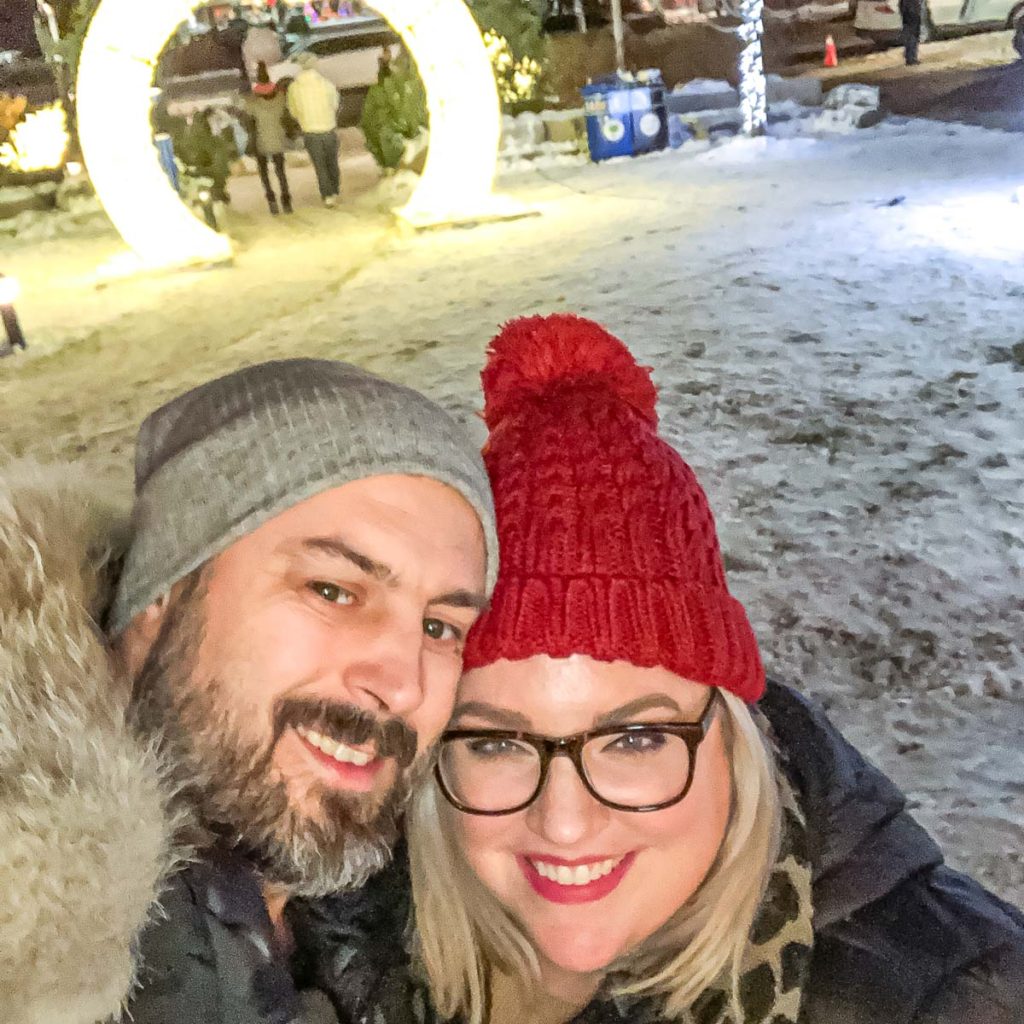 We stayed at the Millcroft Inn and Spa in Caledon, Ontario. This inn is part of the Vintages Hotel family with an award-winning spa that includes 17 different treatment rooms, including both indoor and outdoor pools that are open year-round. While we had a jam-packed schedule, we were happy to get some time in the first afternoon to spend some time in the outdoor pools. I won't lie though, it was COLD but so beautiful! You can spend the whole day at the spa going in and out of the pools and hot tubs for the ultimate thermal experience.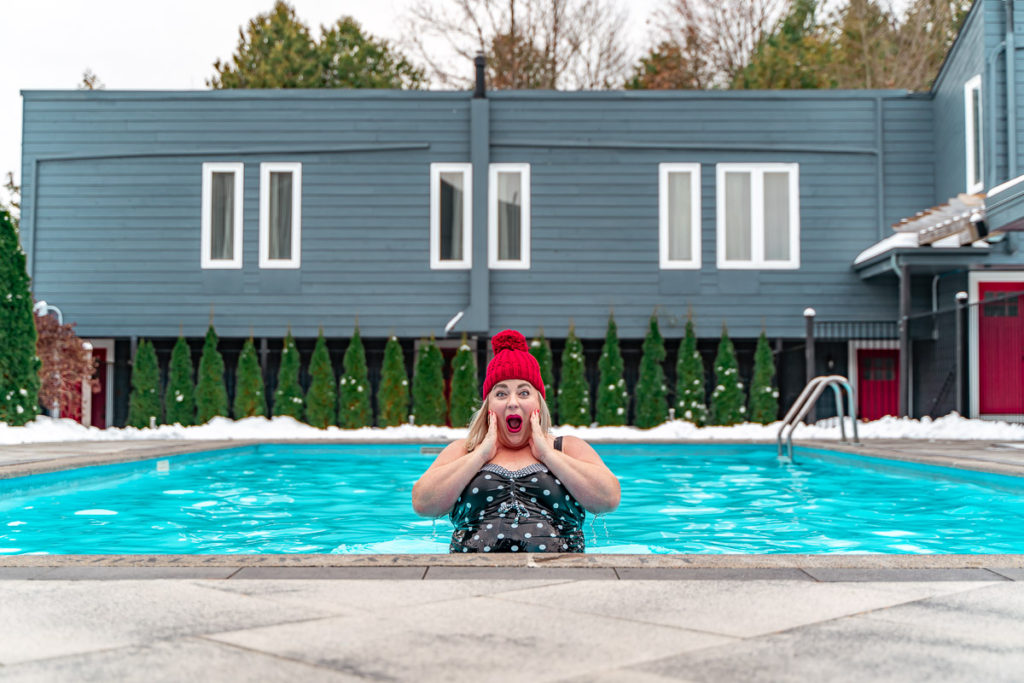 The Millcroft Inn and Spa sits on 100 acres of woodland as well as on the site of an old textile mill that dates from the 19th century. The place has been renovated and updated to feel upscale and somewhat modern while keeping it's vintage charm and heritage markers in tact.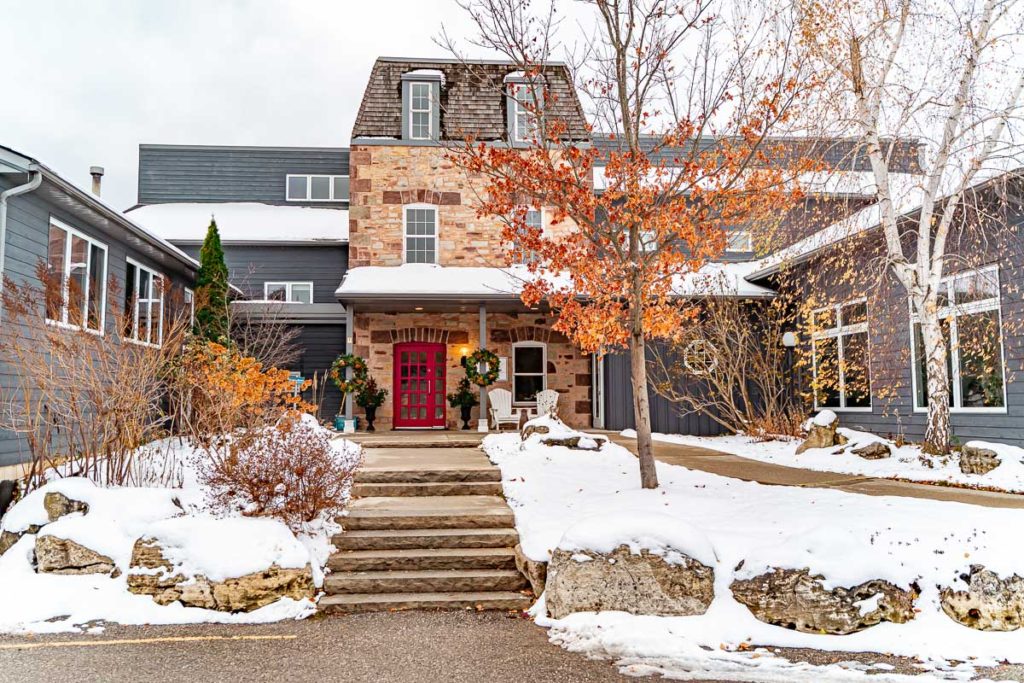 We had dinner on-property at the Headwaters Restaurant, which overlooks the cascading waterfalls that the Inn is famous for. The award winning French-inspired cuisine, with a touch of country flair is seriously some of the BEST food we've ever had. From the fois gras to the goose ravioli to the signature rib steak, every single dish was better than the last. Not to mention, the service was impeccable! I'd highly recommend a special dinner out at this restaurant – you won't regret it!

We had to try and capture the beautiful waterfall both in the daytime and nighttime as it looks absolutely magnificent. This is definitely one of those places that I'm already looking to visiting again!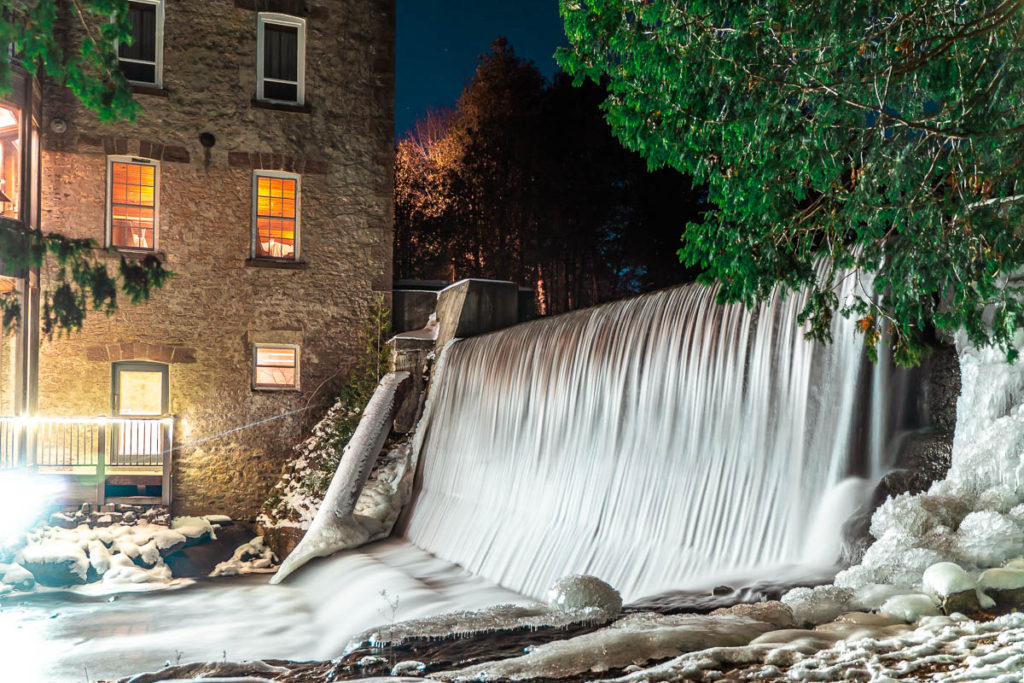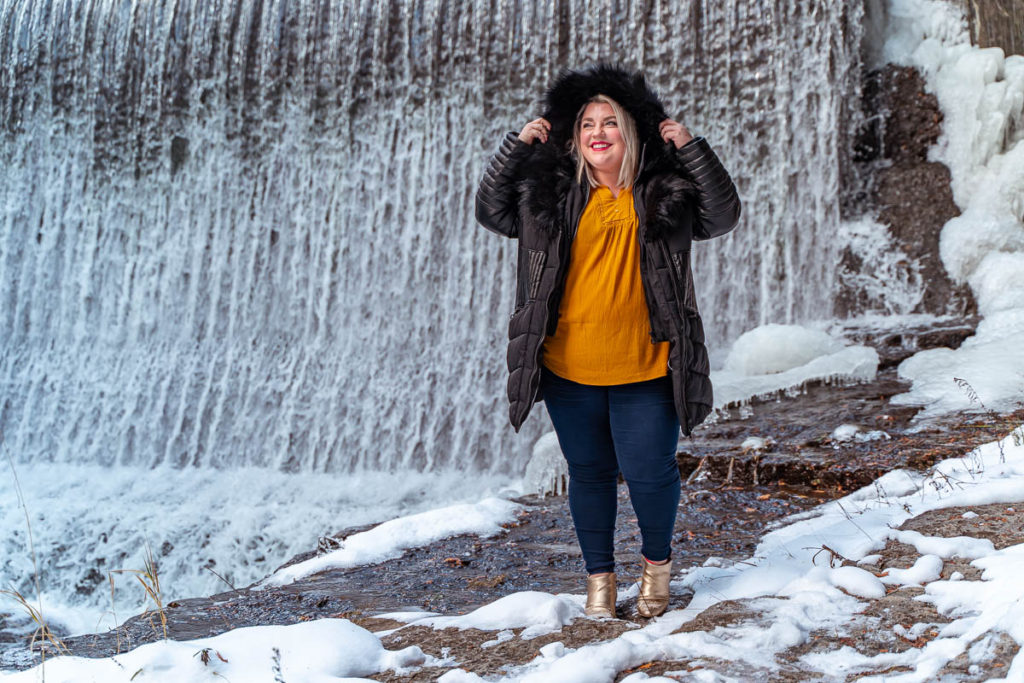 One of my favourite parts of this whole adventure was meeting local makers and trying new things. First up was Goodlot Farmstead Brewing not too far from the Inn. We got a private tour from owner Phil Winters where he told us the incredible history of how he started the brewery to showing us how the beer is made. We got to sample the beer, along with some amazing local treats from Tin Roof Cafe (the most incredible ginger cookies ever) and Heatherlea (the best salami sticks we've ever had).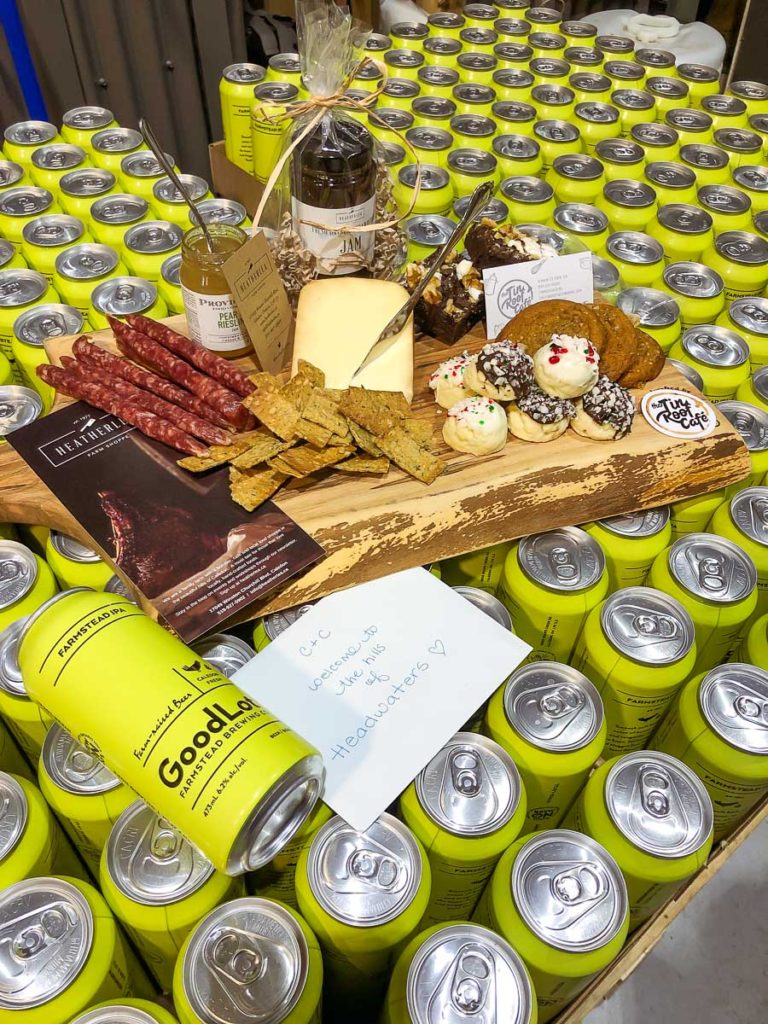 Goodlot Beer is the first farm-to-barrel brewery in the area, growing their own hops along with other locally grown ingredients, many from their own farm! Their flagship Farmstead Ale can now be found in select LCBO's around Ontario!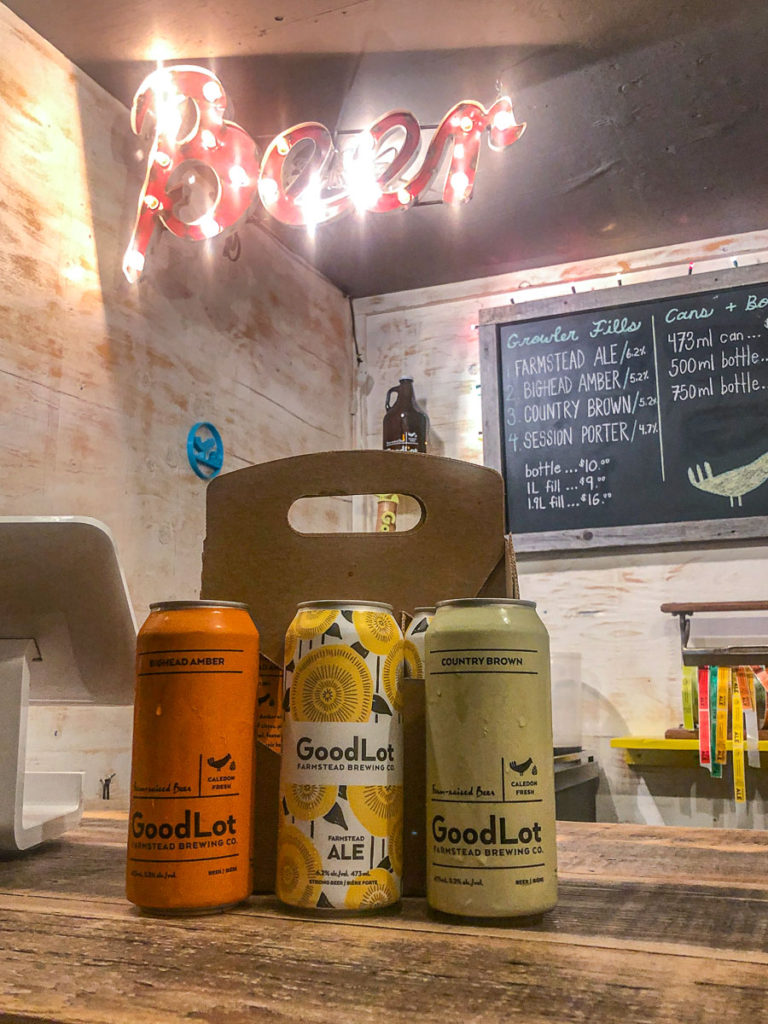 One of the reason we chose that weekend in particular to visit the Headwaters region, November 15th-16th, is because of the annual "Window Wonderland" event that happens every year in the town of Erin.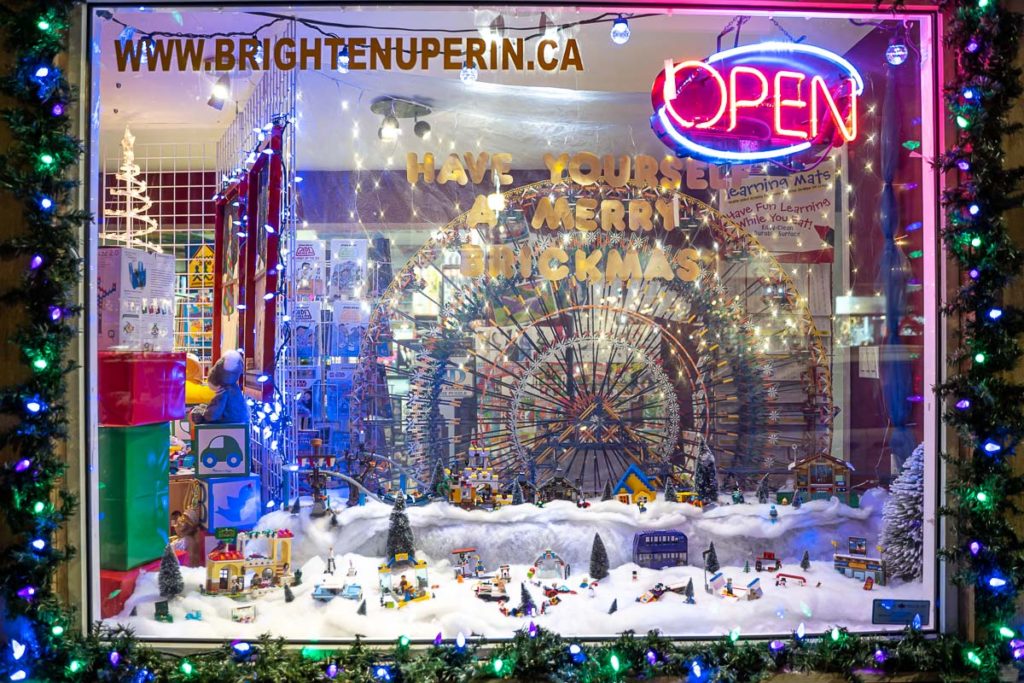 Window Wonderland is where local vendors cover up their exterior windows to create beautiful Christmas displays and then during this event, all the locals gather down main street for a dramatic unveiling. The local clock sounds and it's time to unveil! It was so neat to see so many kids lining the street and helping tear off the paper to reveal the gorgeous displays! It really felt like Christmas magic! There were horse drawn carriage rides, the tree lighting in the town square, street food vendors and even Santa Claus made an appearance!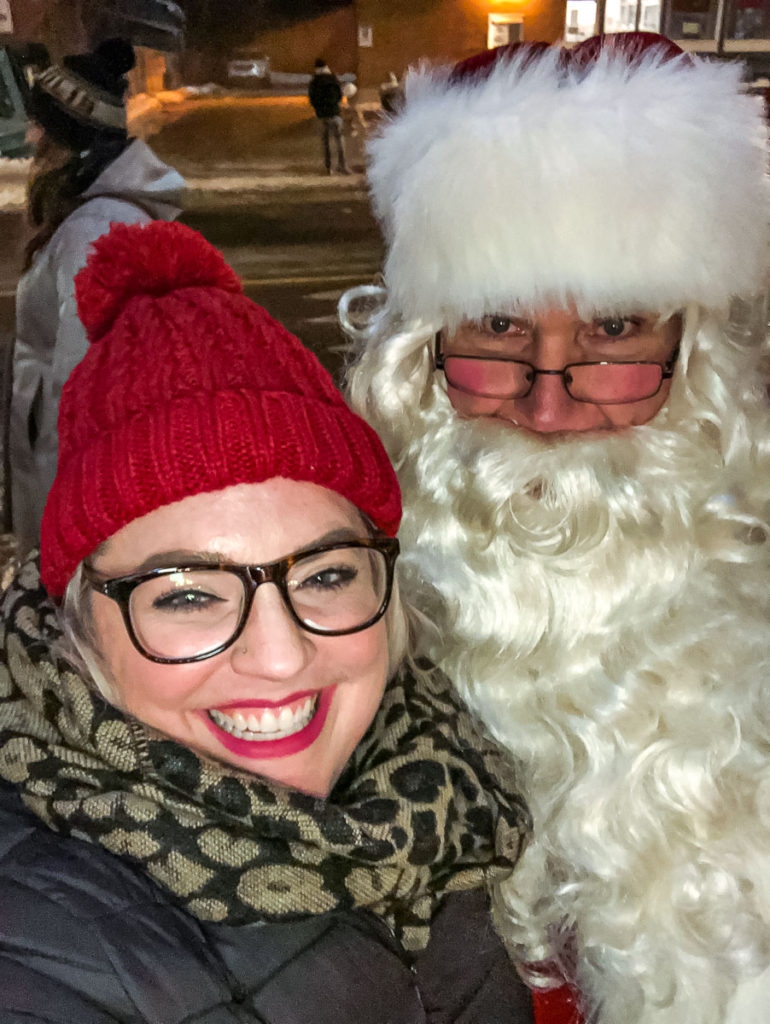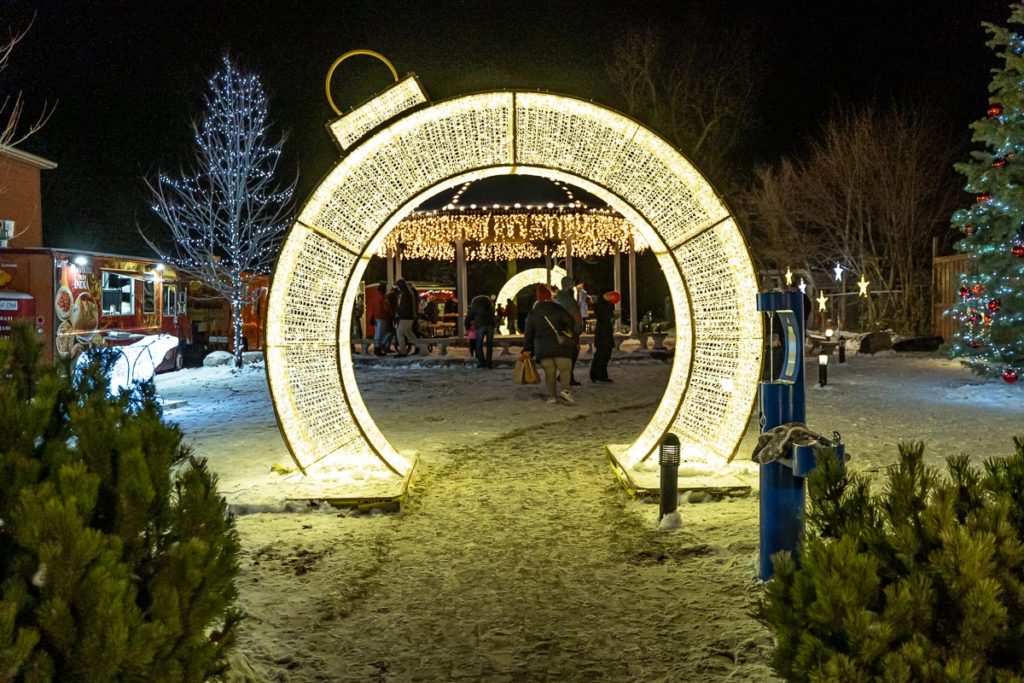 A few favourite local stores we visited included The Weathervane, where we purchased some amazing serving spoons, Decor Solutions Furniture & Design, where we picked up a beautiful white pitcher and some small mint green, pasta ramekins as well as Brighten Up Toys, where we snagged a few gifts for the kids!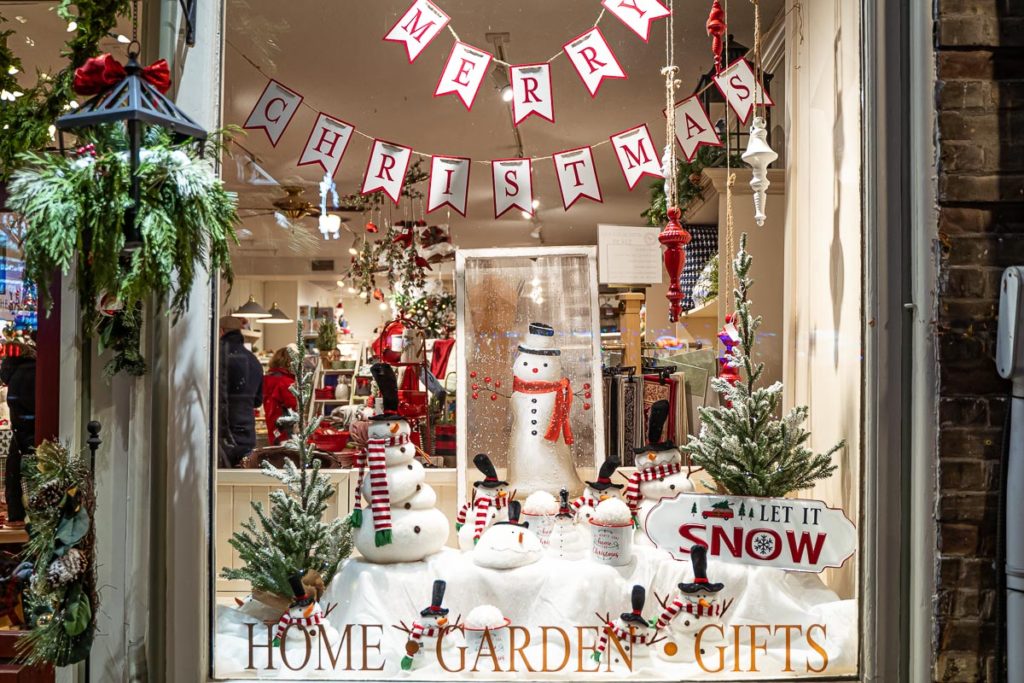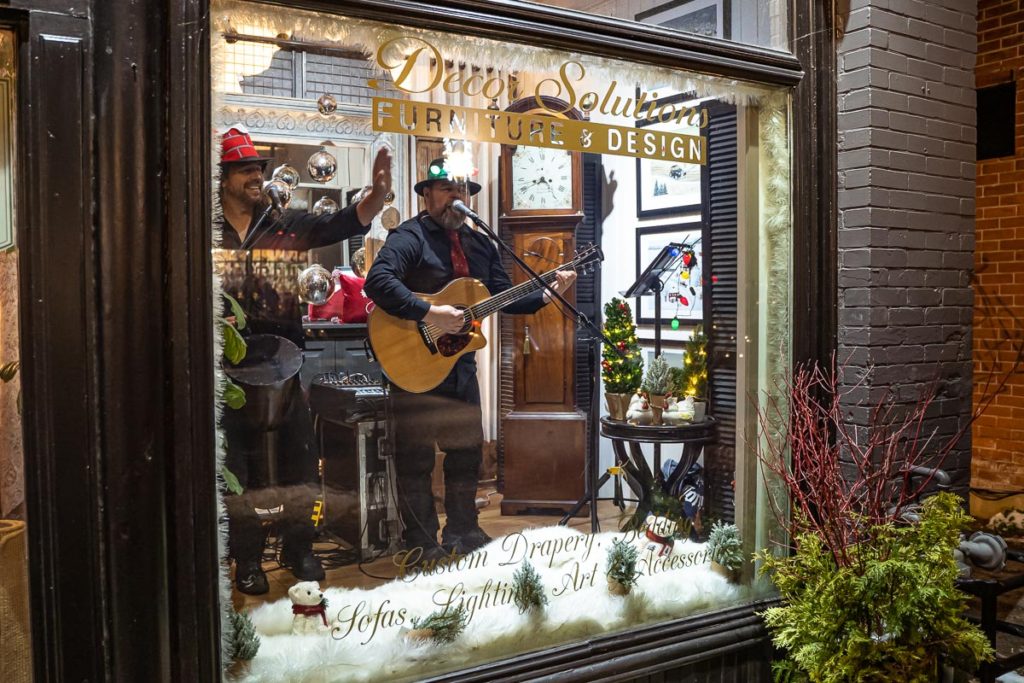 After a hearty buffet breakfast at Headwaters Restaurant at the Inn the next morning, it was off to Orangeville to the local Farmer's Market and to do some more local shopping. We took some videos which we posted on Instagram Stories, but we were so busy enjoying ourselves at the market that we didn't take any pictures! The Orangeville Winter Market is open every Saturday at the Town Center from 9am-1pm and offers a large variety of local artisans and local produce. We picked up some veggies and a pie to bring home and we were off to our next stop, Mrs. Mitchell's in Violet Hill for lunch!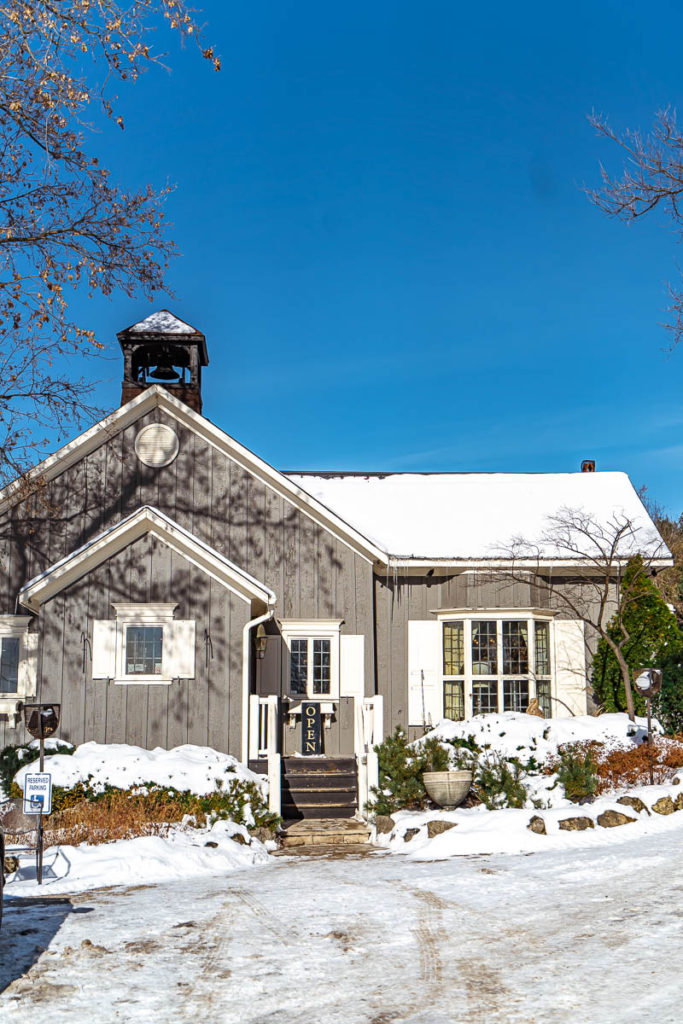 Mrs. Mitchell's is a cozy yet elegant restaurant located in a former schoolhouse, offering upscale meals from duck confit to mussels to exquisite French onion soup (which I had). You definitely feel like you are taking a step back in time when entering the beautifully preserved restaurant while enjoying some of the finest foods offered. It is a definitely a place I'd love to visit again for a special occasion and should be on everyone's must-see destination list in the Headwaters region.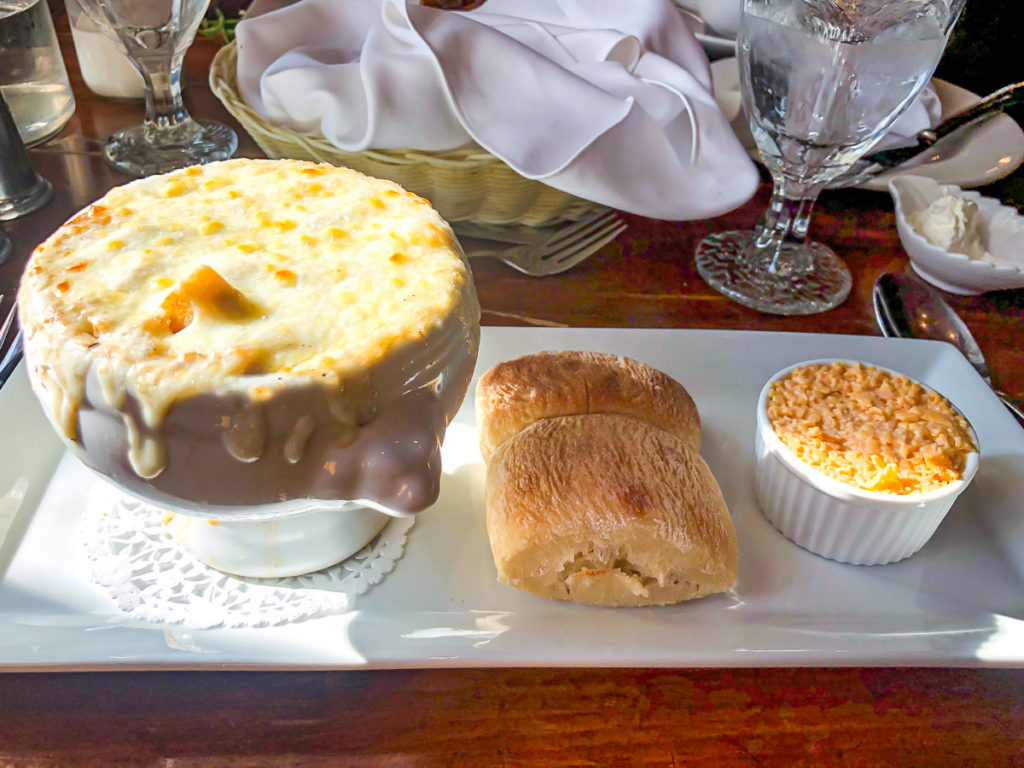 To finish off the weekend, we hopped across the parking lot from Mrs. Mitchell's and visited Granny Taught Us How, filled with beautiful home decor and gifts for any occasion. We picked up a couple of treats for the kids and we on our way back home!
This romantic weekend away in Erin, Caledon and Orangeville was the perfect way to kick off this four week Christmas adventure for our family. Investing alone time in our relationship without the kids is so important to do every now and then to regroup and recharge. We've talked about the importance of investing in your marriage before and this was just another way we could do that! Getting to experience many local gems and tastes was just the cherry on top!
2. A Family Day in Durham: Planes, Trains and Automobiles
For the next weekend on our tour of York Durham Headwaters, it was time to include the whole family and explore our local region of Durham! My mom was in town visiting, so it was really nice to have her join us, especially because I was also very sick that weekend. I came down with such a bad sinus and ear infection that I actually couldn't participate in our first activity, iFly – indoor sky diving, but my almost-60-year-old mother was MORE than willing to take my place!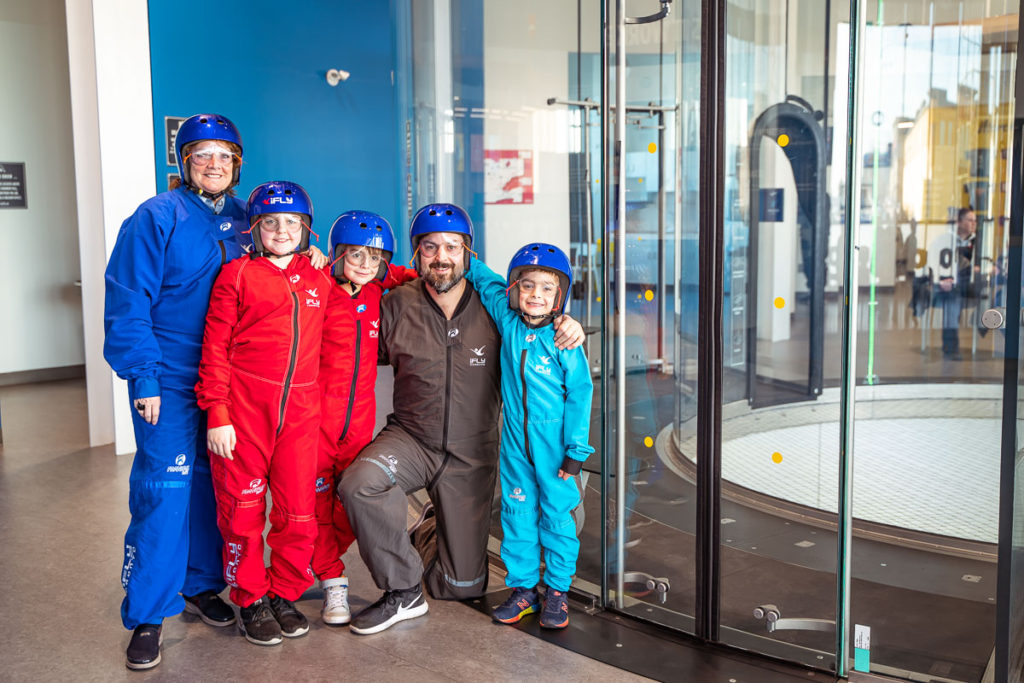 Kicking off our fun-filled weekend, we started not far from home at iFly Whitby – an indoor sky diving facility! There are two locations in the Greater Toronto Area – Whitby and Oakville. This was our first time going and I think it goes without saying, everyone was VERY excited as we'd never done this before!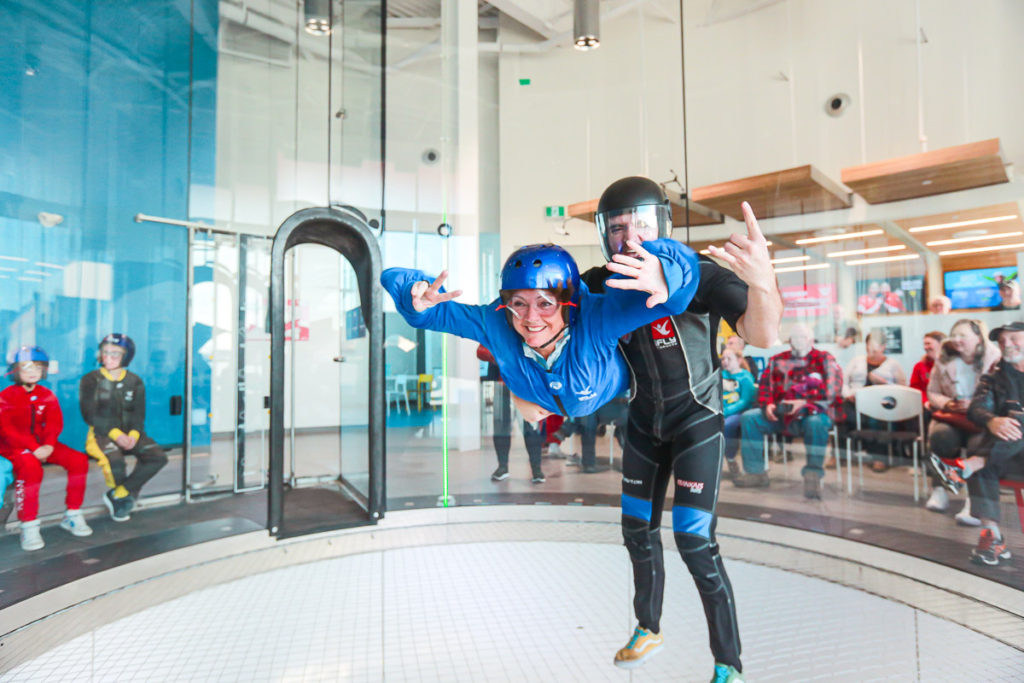 We each had two flights, which are one minute per flight. Before flying, they take your group into a conference room and give you about a 15-20 minute safety briefing. Our instructors name was Dawson and I can't sing his praises enough! I was so impressed with how easily he taught the kids how to fly safely, including teaching them important hand signals for when they are in the wind tunnel so that he (the instructor) can communicate with the flyer.
After the class, it's time to suit up! Everyone needs a flying suit, a helmet, goggles and ear plugs (the wind is REALLY loud, hence the hand signals to communicate).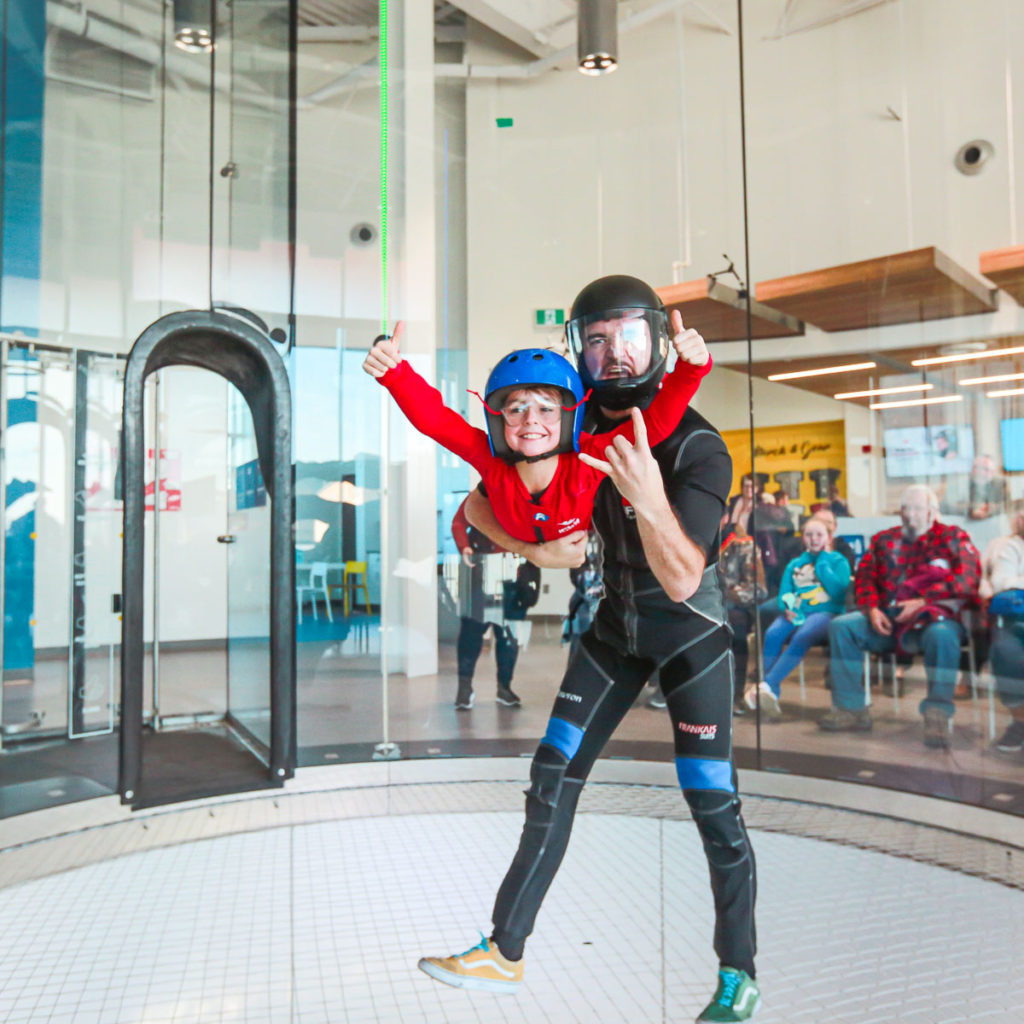 And then it's time to FLY! The group all goes into a waiting chamber and then one by one, the instructor takes each flyer in for their flight. It's all a very well oiled machine, complete with a countdown so the flyer knows how long is left and their own camera to capture the best shots (note, all the flying shots here are courtesy of iFly Whitby).

The first flight for each person was really to get their bearings and see how it feels in the wind tunnel. The instructor didn't stray too far and was always holding them just in case they lost their proper form.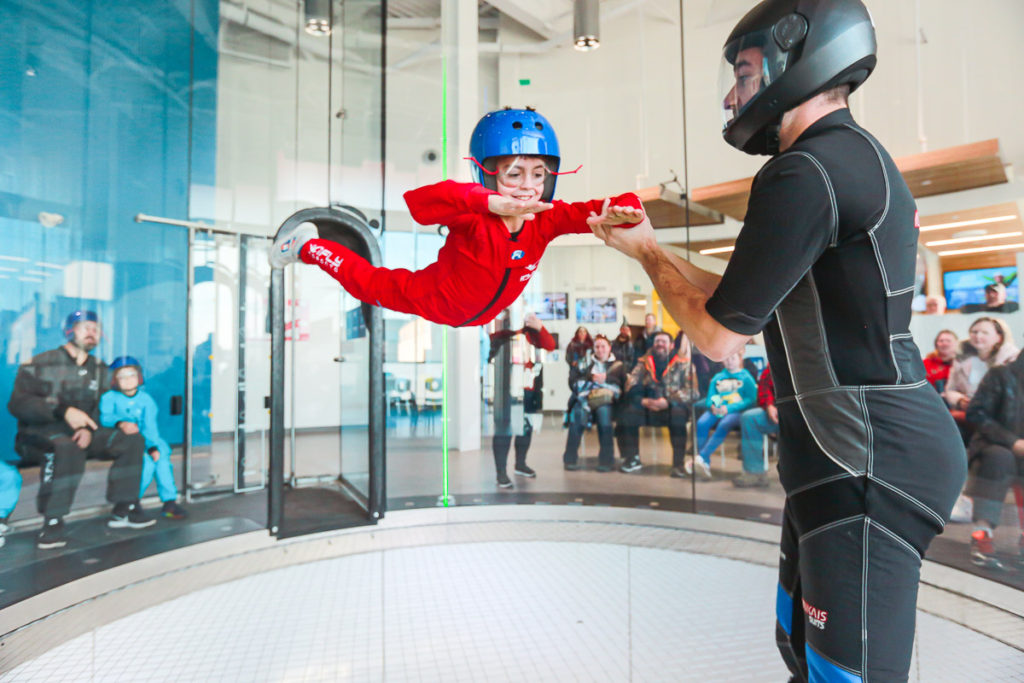 The second flight, I noticed Dawson letting go more, once he felt that the flier was more comfortable. He also took each of our crew up higher into the tunnel to fly with them!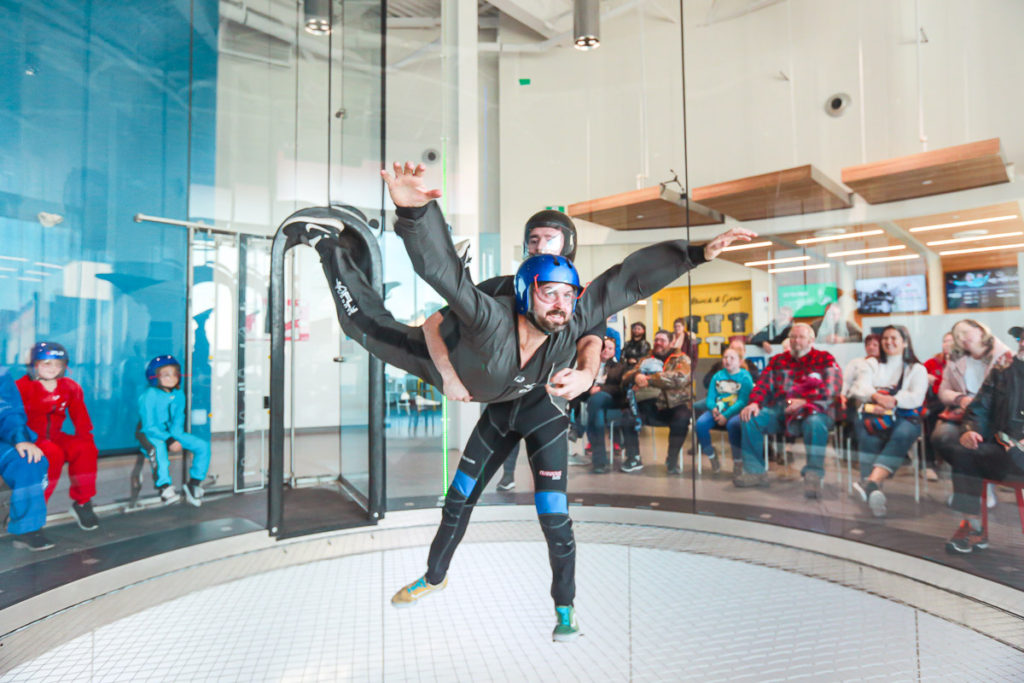 It was honesty a thrill of a lifetime – even for me standing outside of the tunnel watching my family have the best time ever! I think the smiles on their faces speak for themselves!
Once we came back down to earth, it was time to hop in the car and head the short 30 minute drive up to Uxbridge for a snack and letter writing to Santa!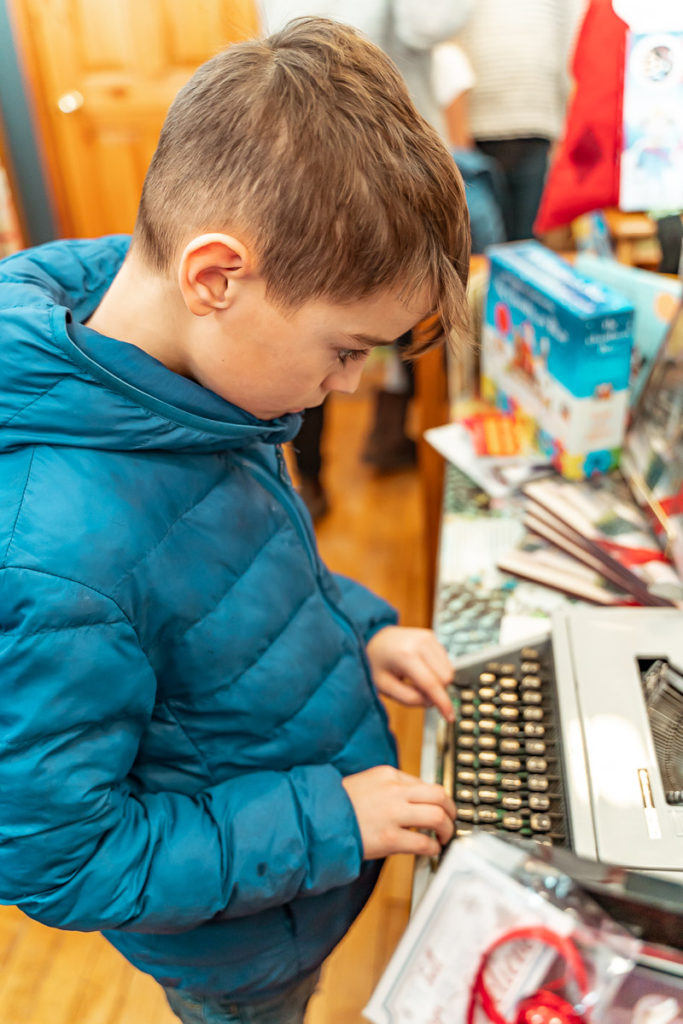 We got some goodies at Tin Cup Cafe before we headed over to Blue Heron Books where each kid was able to write their own letter to Santa. They had an old typewriter set-up, which the kids thought was the coolest thing ever! They wrote their wish lists and were able to mail them off to the North Pole AND — they even got a response a week letter from jolly Ol' Saint Nick!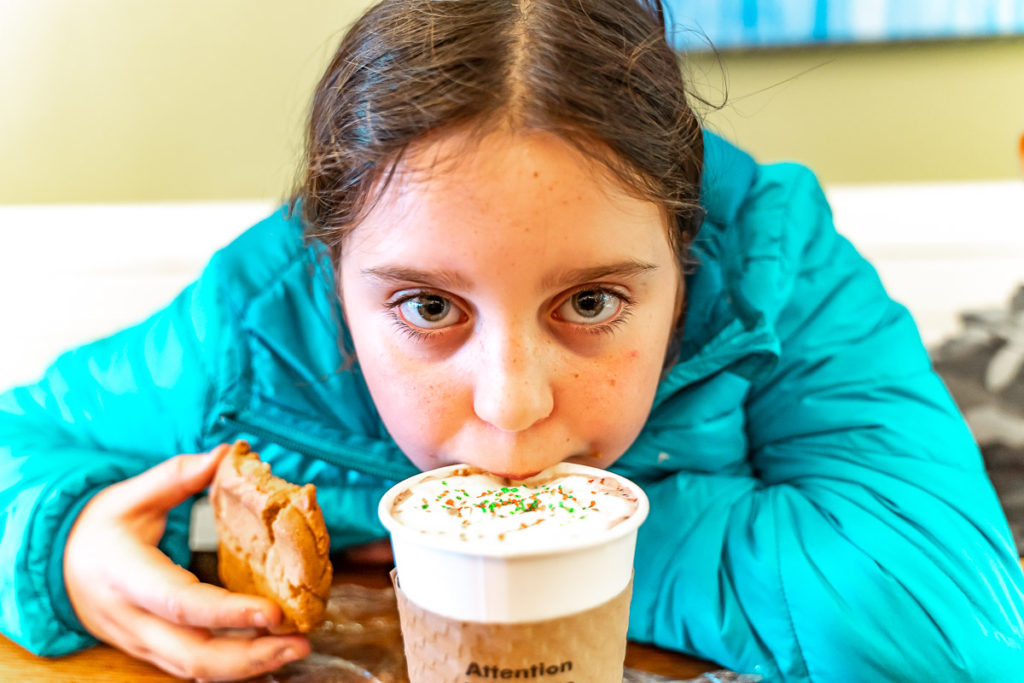 After our treats, it was time to head over to the York-Durham Heritage Railway for a ride on the Polar Express train! If I'm honest, I wasn't 100% sure what to expect on this train ride, but let me tell you how pleasantly surprised we were!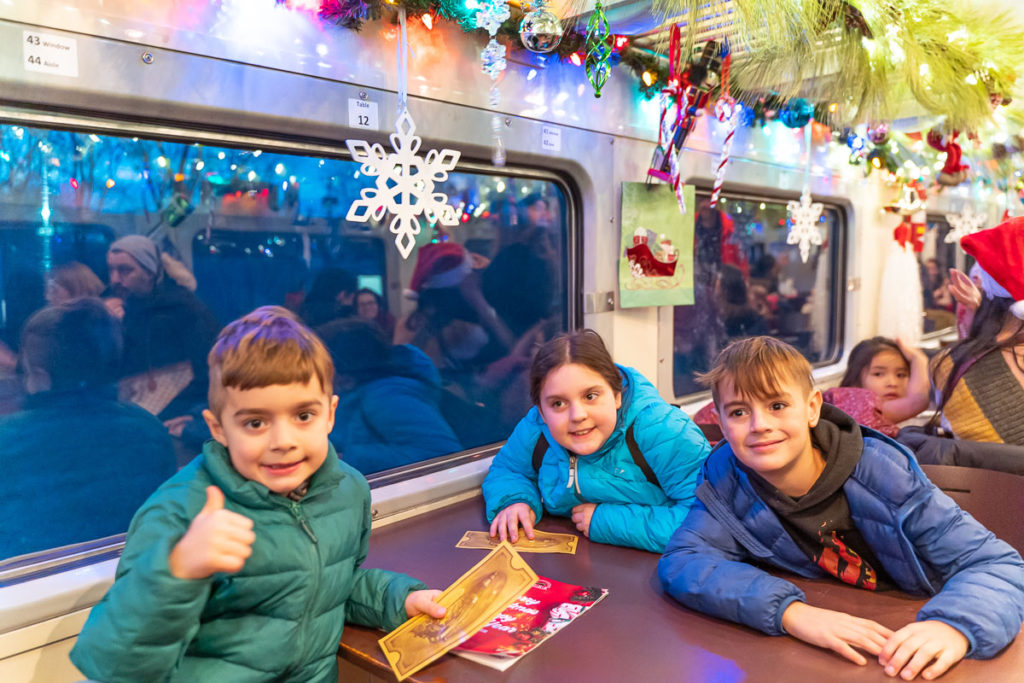 Once aboard and on route to the North Pole, the show commenced complete with an emcee and other actors, acting out the popular book "The Polar Express" by Chris Van Allsburg. They served hot chocolate and we all sang some Christmas carols along the one hour journey. Once we arrived in the North Pole, we were greeted by Santa Claus himself, who came on the train and handed out silver bells to each child. What a memory to see my youngests face light up when he told Santa what was on his wish list!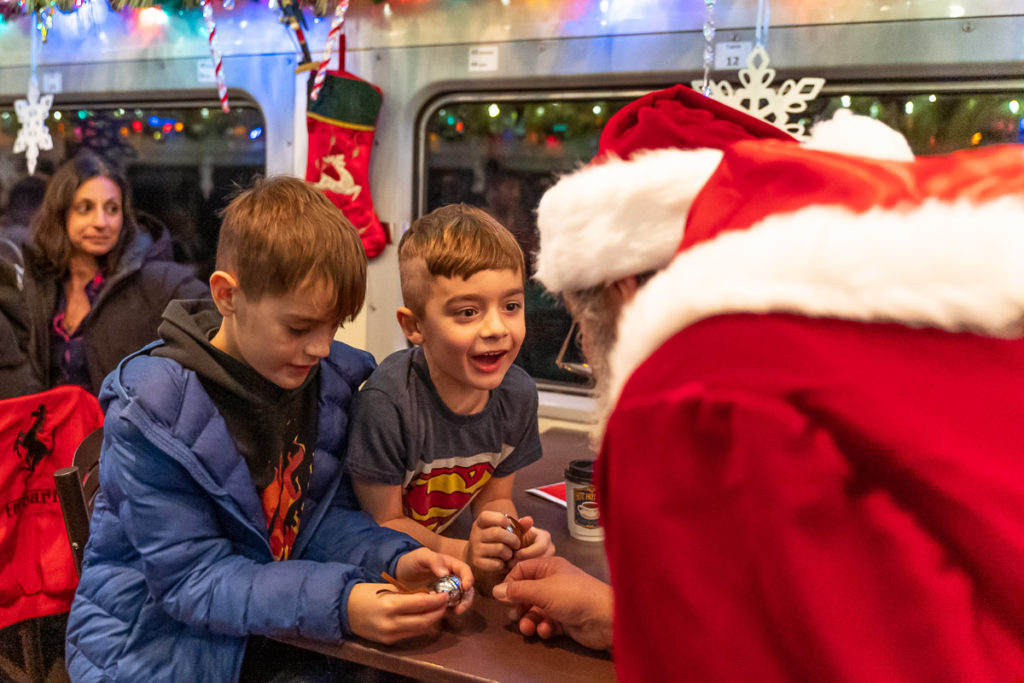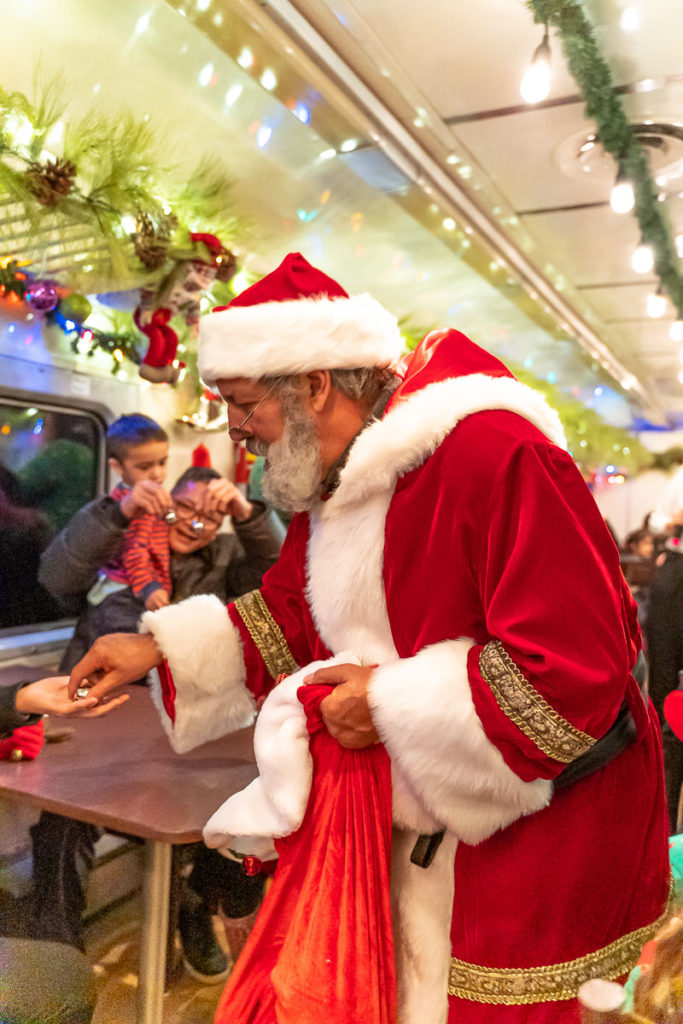 The whole experience from start to finish was just under two hours and was definitely something that I think everyone should do at least once with their kids!
After The Polar Express, we walked over to the Urban Pantry, a contemporary Canadian farm-to-table full service restaurant located downtown Uxbridge. Every single thing we ate was DELICIOUS! From the steak to the fries to the aioli for the fries – we all polished our plates off and ended our amazing day on such a HIGH and FULL note! We plan to go back for their weekend breakfast brunch sometime soon!

3. York Region Christmas Shopping and WinterFest Experience
The following weekend, we bundled up and headed out into a major snowstorm to spend the day exploring York region, specifically the city of Vaughan. We weren't sure if we'd be able to do everything because of the inclement weather but we were determined to have a good time together shopping, exploring and spending time together as a family this holiday season!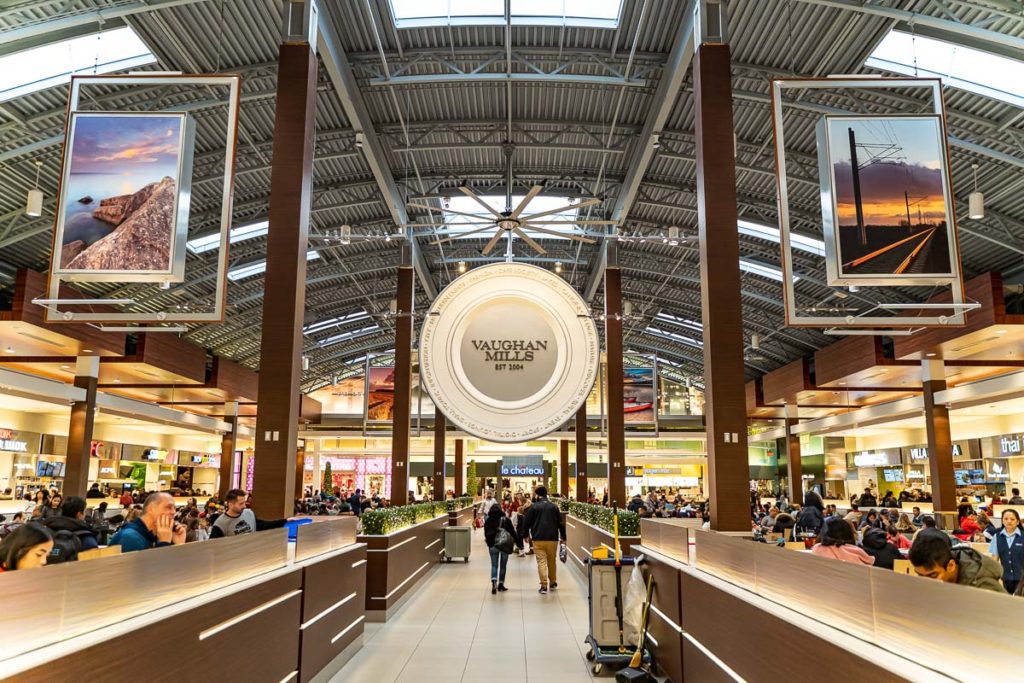 Our first stop was at Vaughan Mills, one of the premium outlet malls in not only York Durham Headwaters, but the entire Greater Toronto Area. It had been years since I had last been there and since then, they've expanded the mall. It is absolutely beautiful in there, for mall standards. Even the food court is impressive with an extensive food selection (legitimately something for everyone)!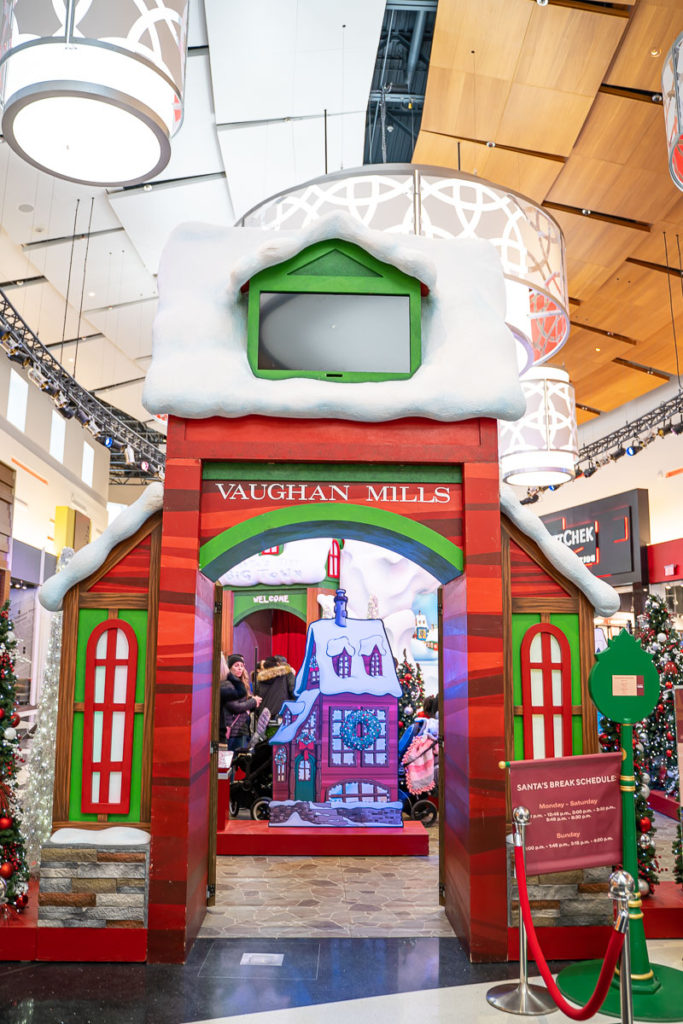 We were excited to check out Santa's village and take pictures with Saint Nick. The display is absolutely gorgeous and all of the proceeds for the experience go to Sick Kids Hospital! We got to meet Santa and the kids were given a key to hang on their door, in case we don't have a chimney so that Santa could unlock the front door! Loved that idea!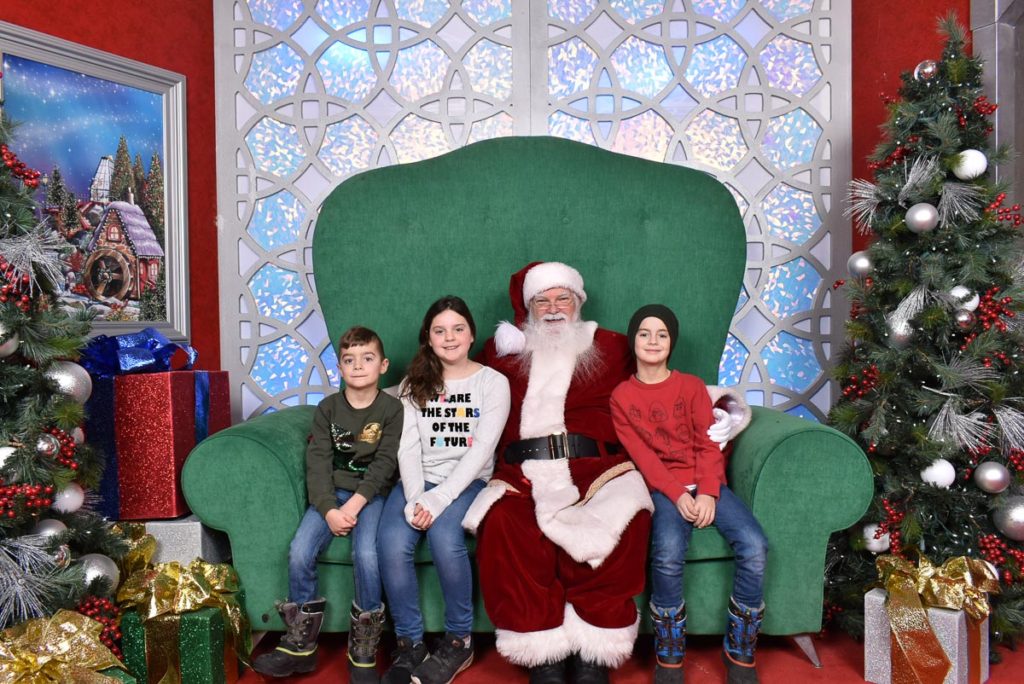 After doing some Christmas shopping at The Disney Store, Urban Kids and a stop in at the Rocky Mountain Chocolate Company, it was off to Reptilia to visit all the reptiles.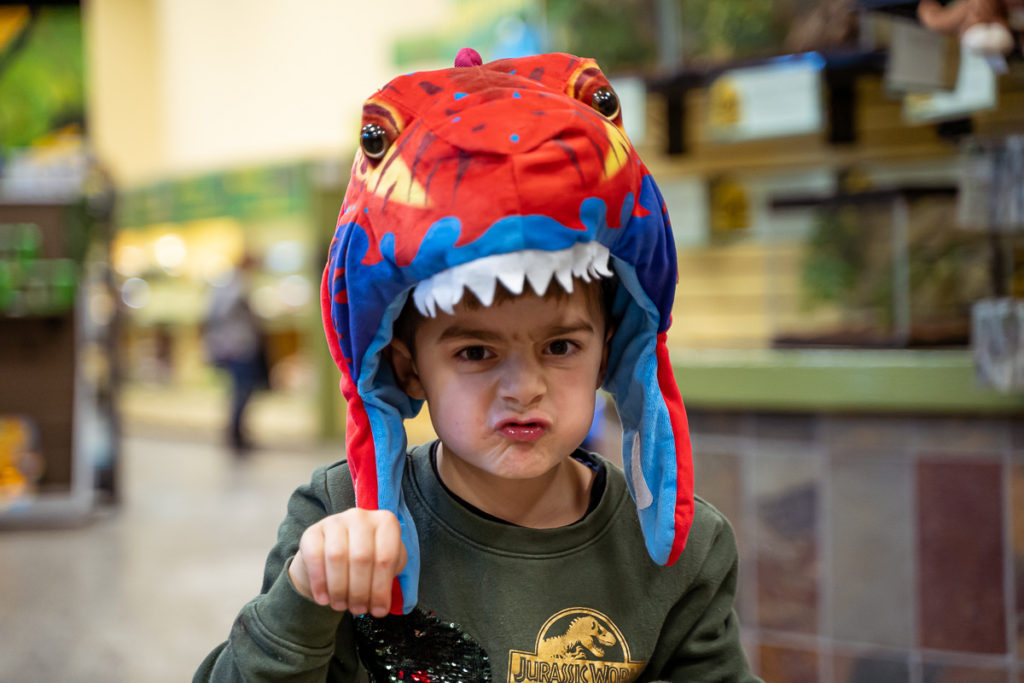 Recently, they opened a Reptilia in Whitby, so I had actually been with my youngest earlier this year for a class field trip. He absolutely loved it so I knew the rest of the crew would be excited to explore too! The Reptilia in Vaughan is less than five minutes from Vaughan Mills, which is nice to have it all close by.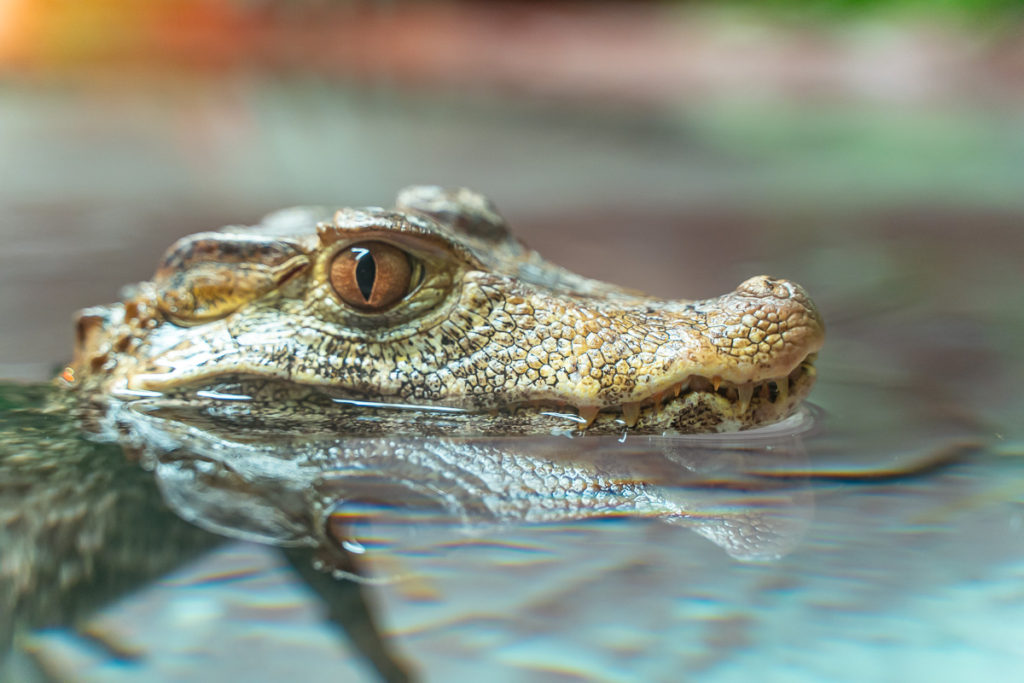 We arrived just in time to actually get to see the crocodile feeding which was so neat! I don't know how those trainers are so at ease in the same enclosed space with those crocs, but one things for sure, you'd never catch me in one of them! I'll watch from behind the thick glass wall!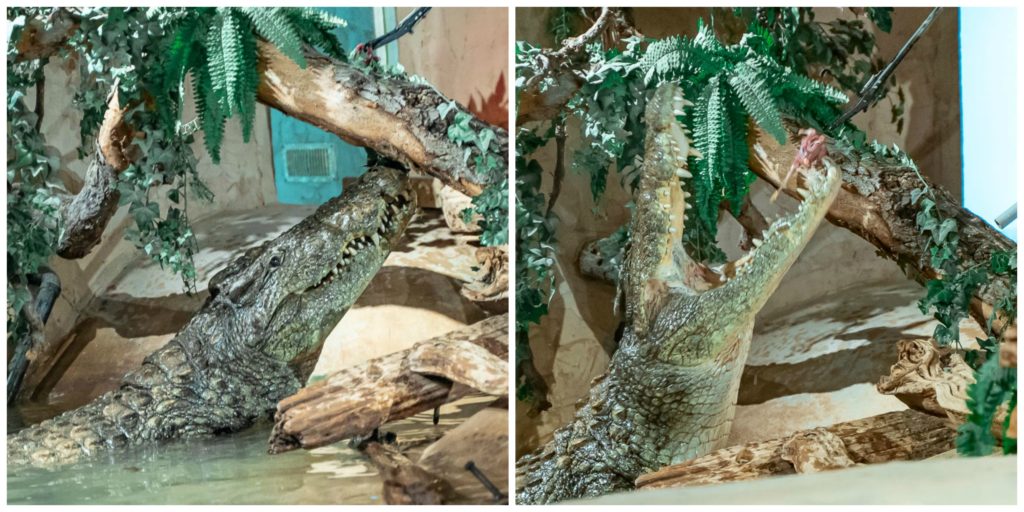 After the feeding, we were able to see a few of the reptiles up close and personal and even pet a few of them. Again, I kept my distance but the kids were right there in the mix!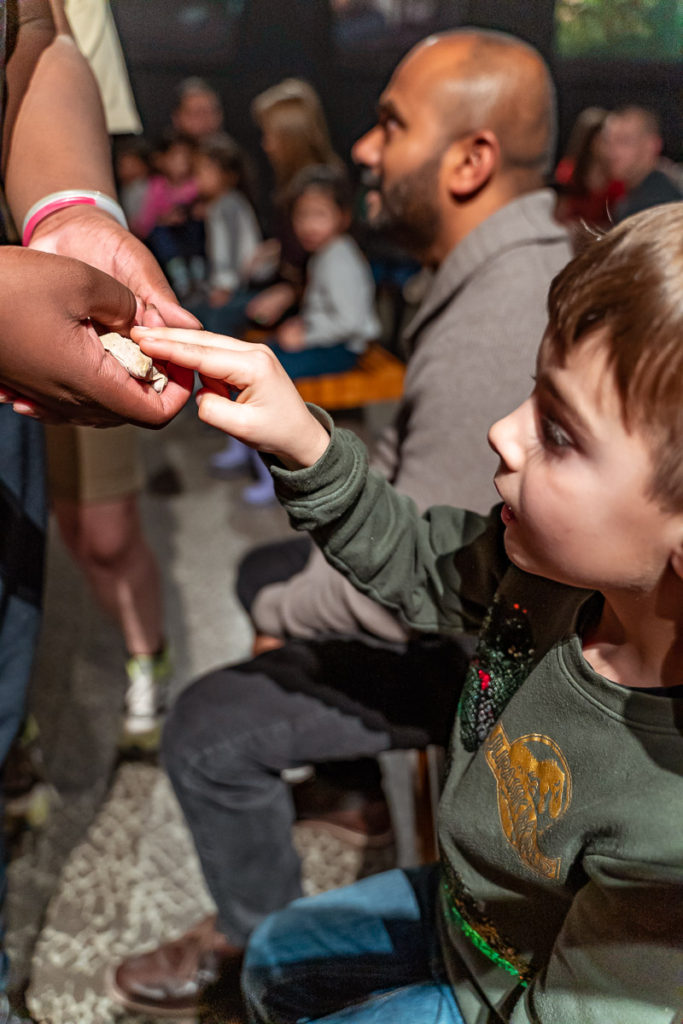 While the Reptilia visit didn't have a seasonal aspect to it, it's a great place to visit any time of year when the kids. There is so much to learn and see up close. They also have party rooms where you can host birthdays AND they also have a service where you can have them come to YOUR birthday! This is actually what we did last year for my youngest sons reptile party and it was awesome having the reptiles right in our own home!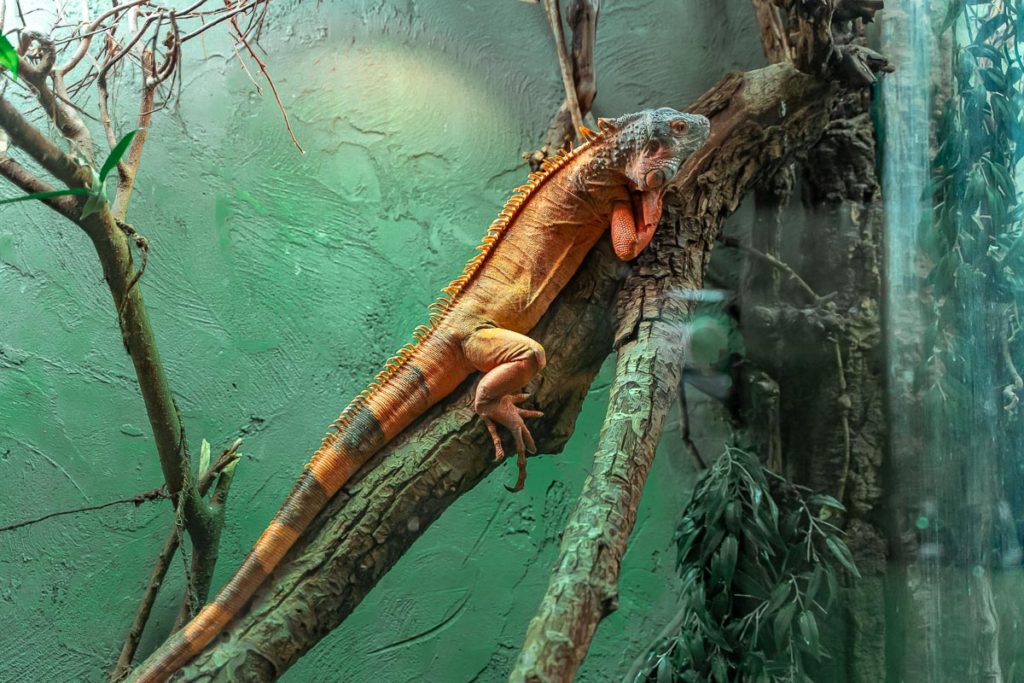 After we visited Reptilia, we headed over to Canada's Wonderland to go to WinterFest. However, remember that crazy snowstorm I mentioned at the beginning of this day? Well, it got much worse and Wonderland decided to shut down the park that day. So we while we didn't actually go that day, we did eventually get to go two weeks later!
This year is the first year that Canada's Wonderland is doing WinterFest – their spectacular winter festival! Open from mid-November until New Years Eve, WinterFest is a place where anyone can go to enjoy the magnificent lights, skating, theatre performances, variety of foods and select rides that are still running during the winter months.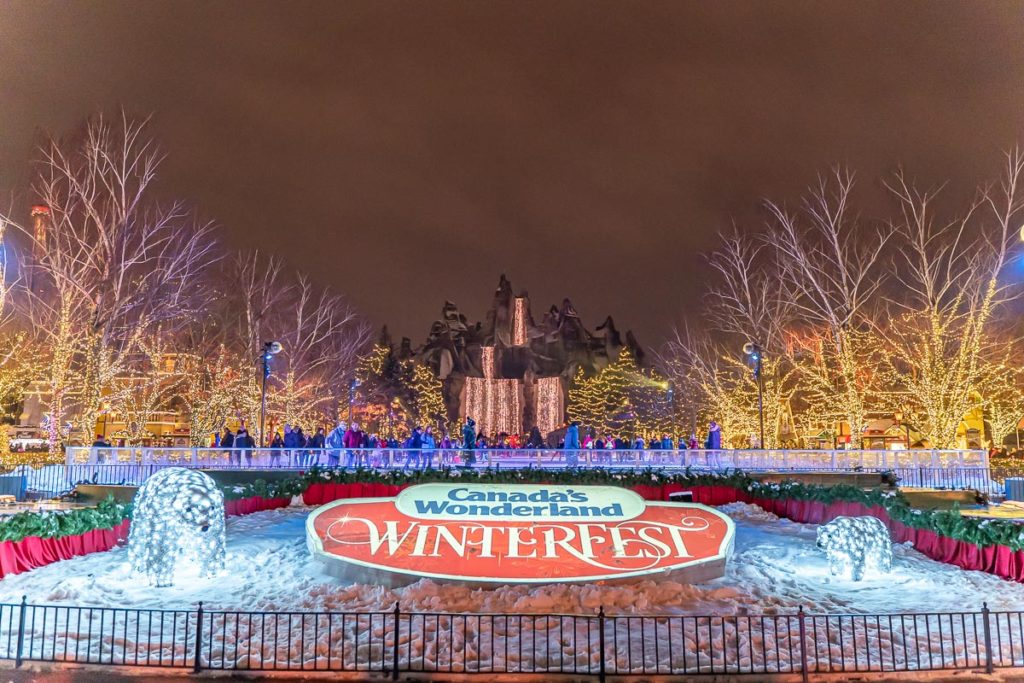 The day we went to WinterFest was another winter storm, although not as bad, so everything was very wet. In fact, we didn't think we'd be able to skate on the rink as it was closed during our initial time slot (Note: skating on the rink is free but you must reserve your time slot beforehand as it's limited space on the ice. There are rentals for skates available at an additional cost). So you can imagine how thrilled the kids were when we found out that the rink would in fact open! Not only would it open, but our time slot was now when the nightly tree lighting ceremony was going to happen all around the rink! I didn't skate (bad back and knees), so I was on the sidelines taking pictures and videos and let me tell you, it was probably the most magical winter wonderland I've ever experienced. From the snow falling, to the Christmas music playing to the kids skating by to the thousands of Christmas lights – it was spectacular!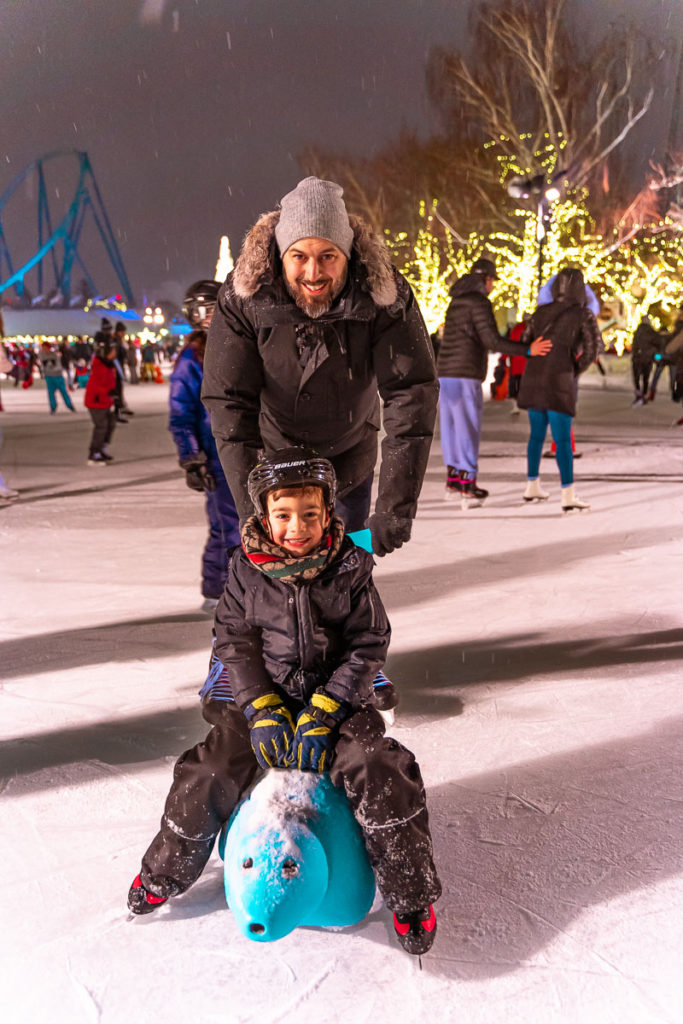 There are many different live shows happening all throughout the park including Tinker's Toy Factory which is an acrobatic musical theatre production meant for the whole family to enjoy. This 30 minute show has a slight Cirque du Soleil vibe and was entertaining for the whole family! It was incredible! We even got to say hello to the cast afterwards!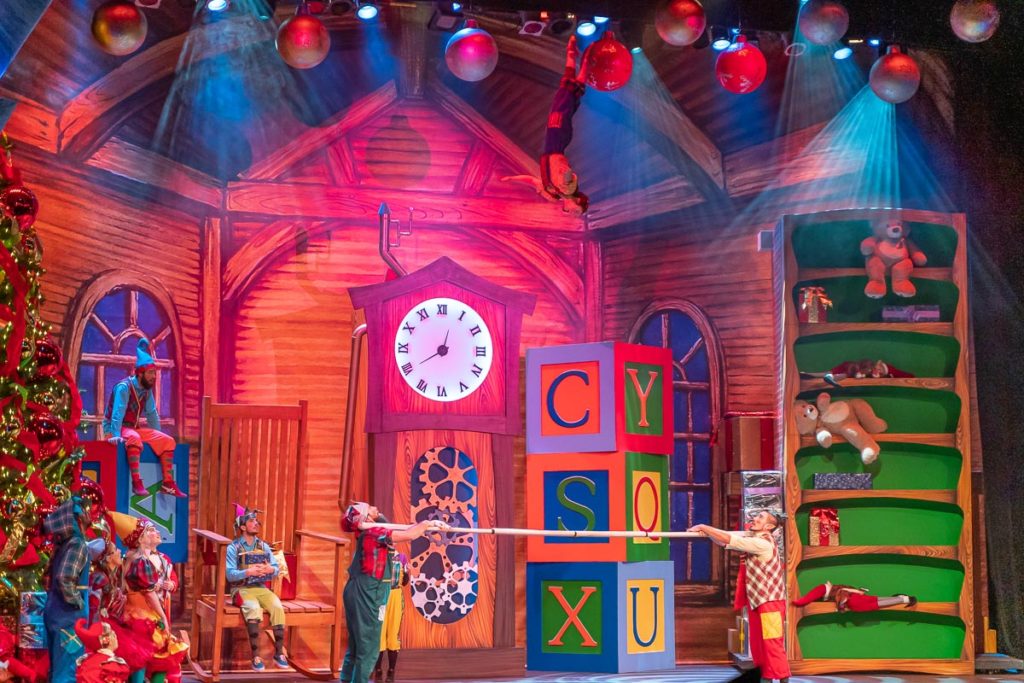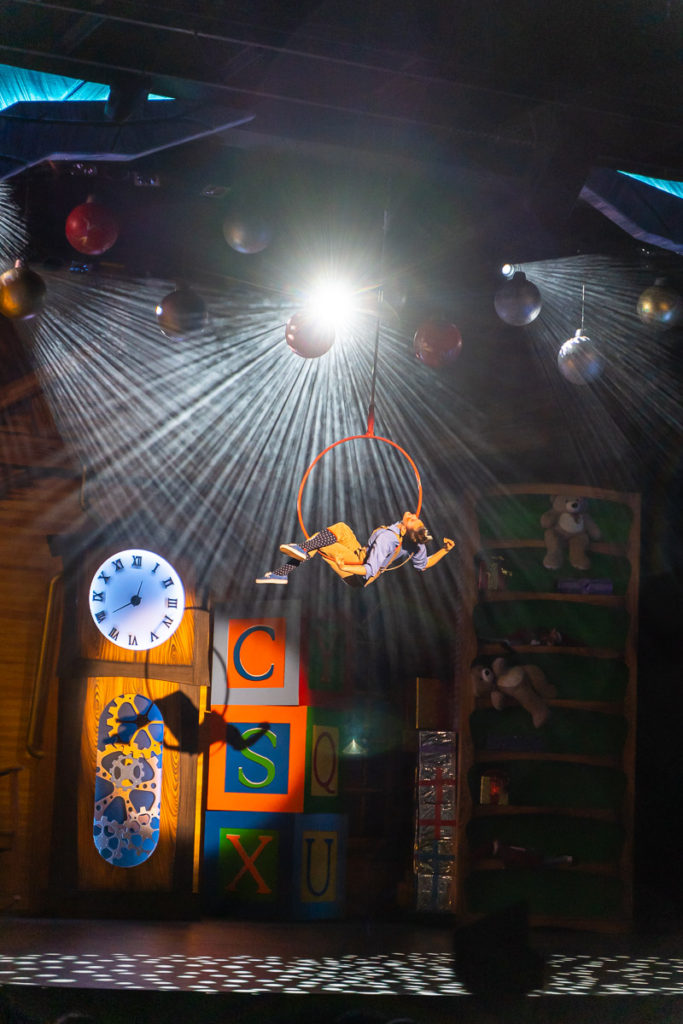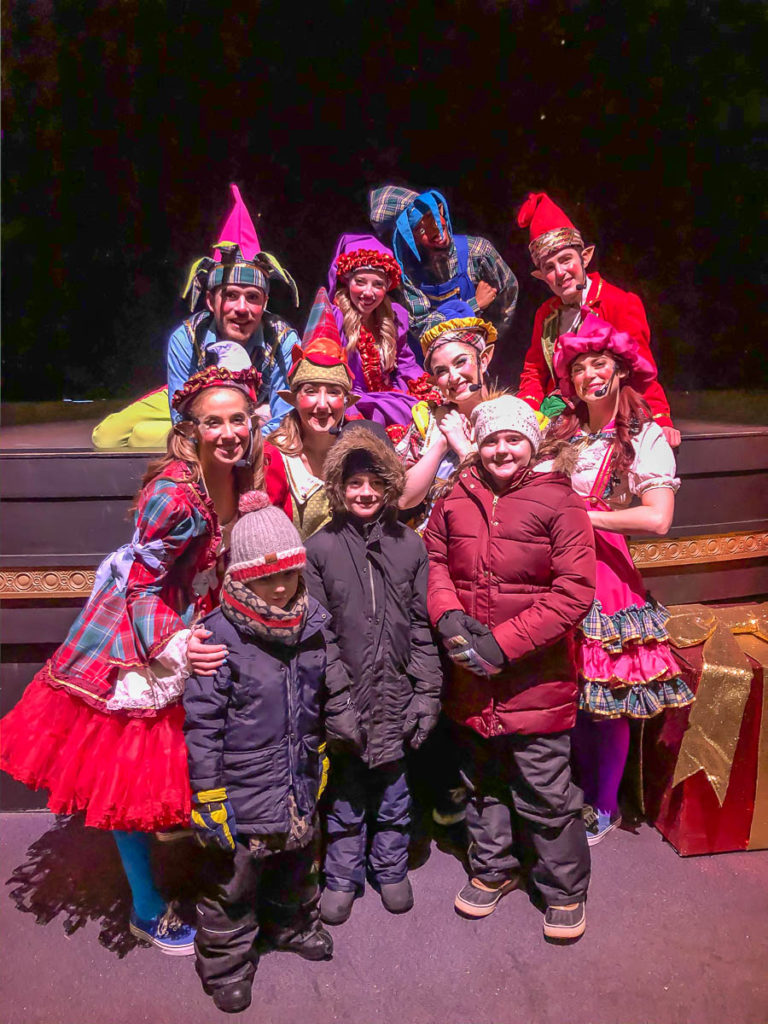 We got to visit Mrs Claus at her kitchen and decorate some cookies together as a family. This is an additional charge – $20 for three large cookies and all the supplies. I will say, the cookies were delicious and it was really nice to get inside, warm up and slow the pace down while we decorated.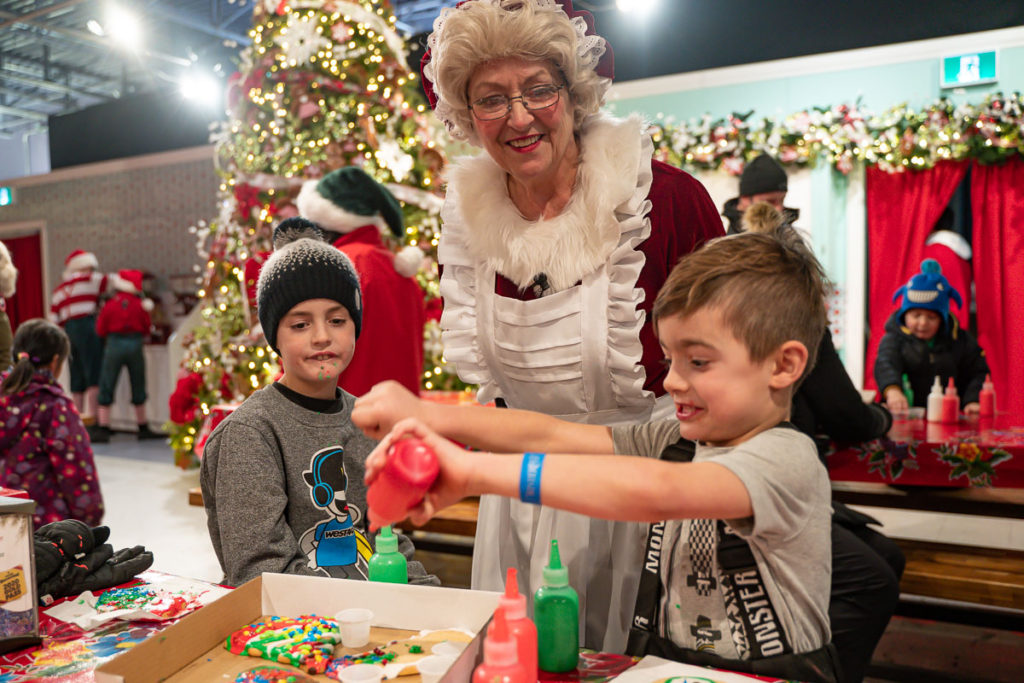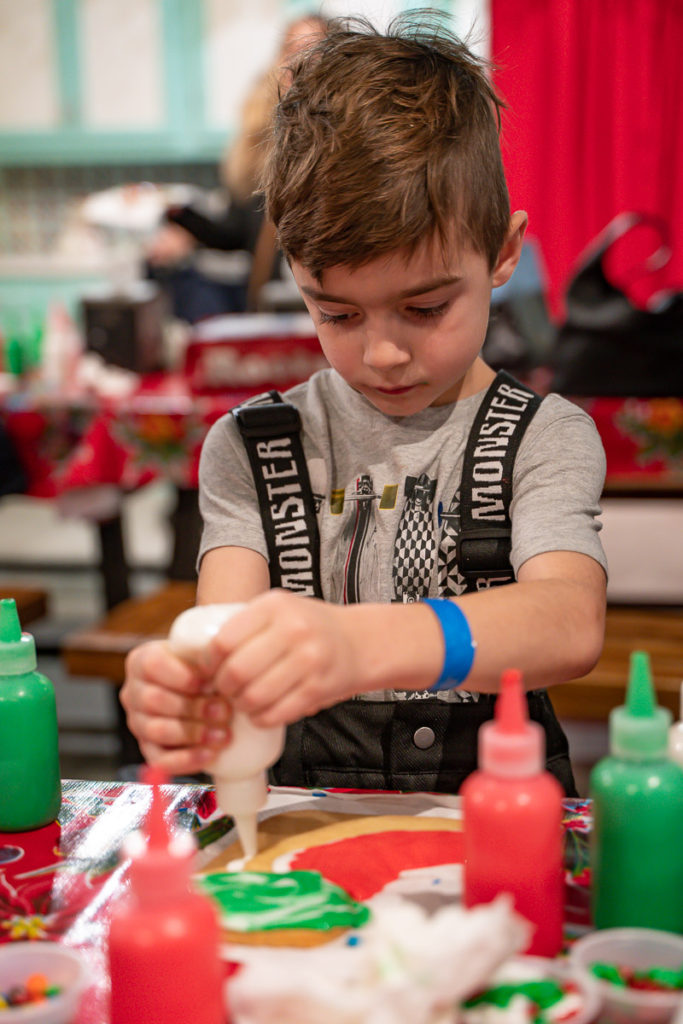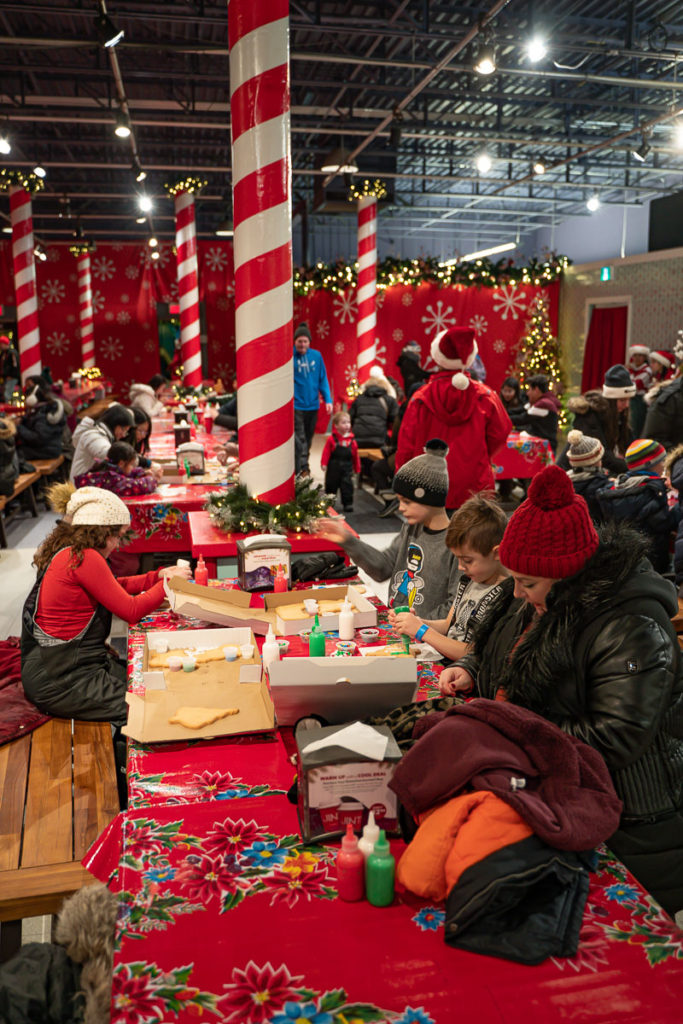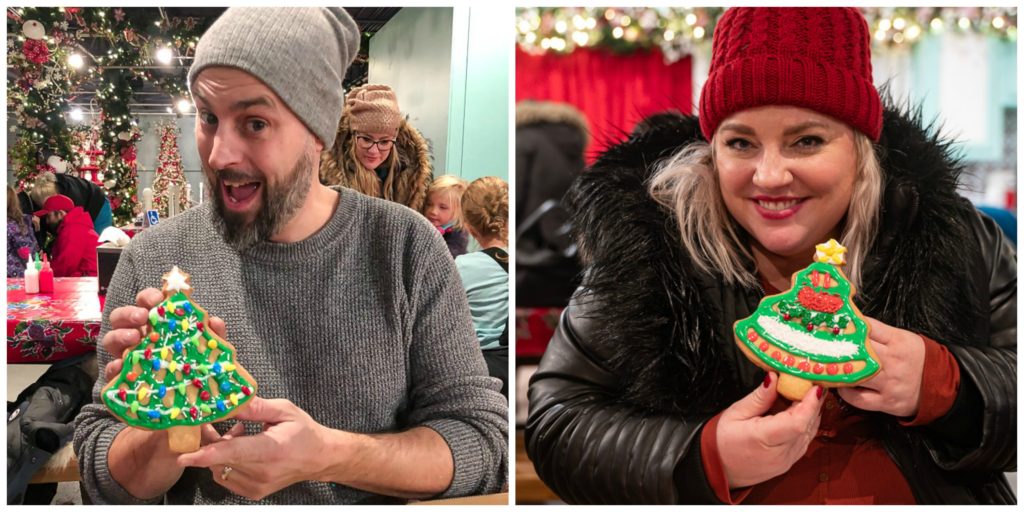 The lights, the decorations, even the store names – everything was quite literally transformed into a winter wonderland! It was absolutely spectacular and while there were a few things that I think they still need to iron out for next year (as this was their first year), overall, it was a wonderful family experience that we won't forget!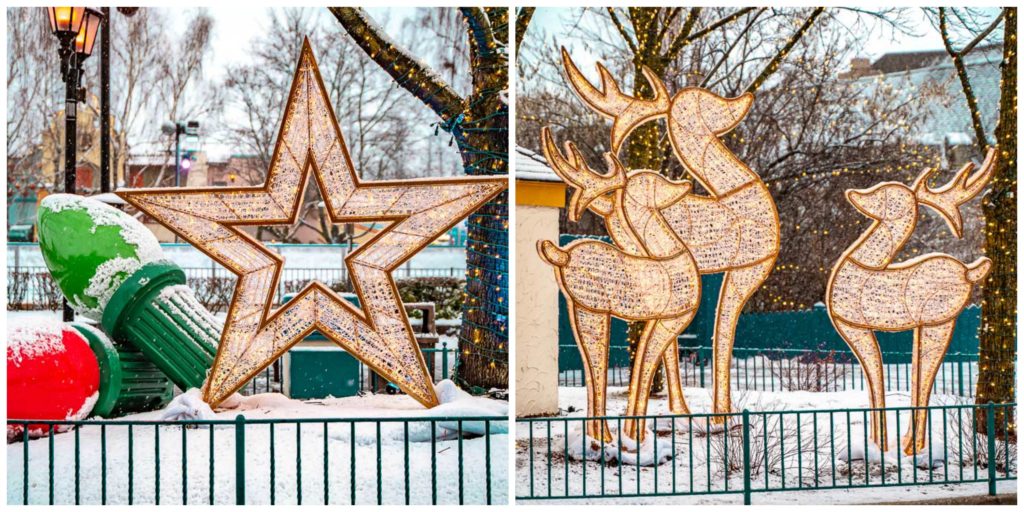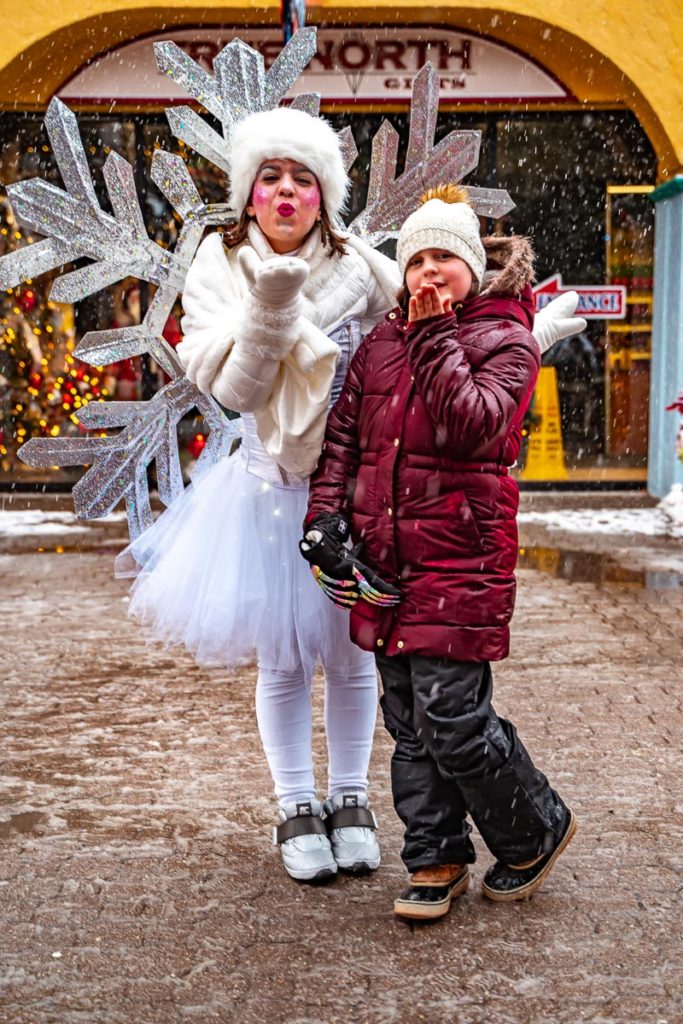 4. A Backroad Adventure through Durham Region
And just when you think we couldn't possibly do more, we did! To wind down this incredible Christmas family adventure through York Durham Headwaters region, we spent our final weekend on a backroad adventure through the eastern parts of Durham region.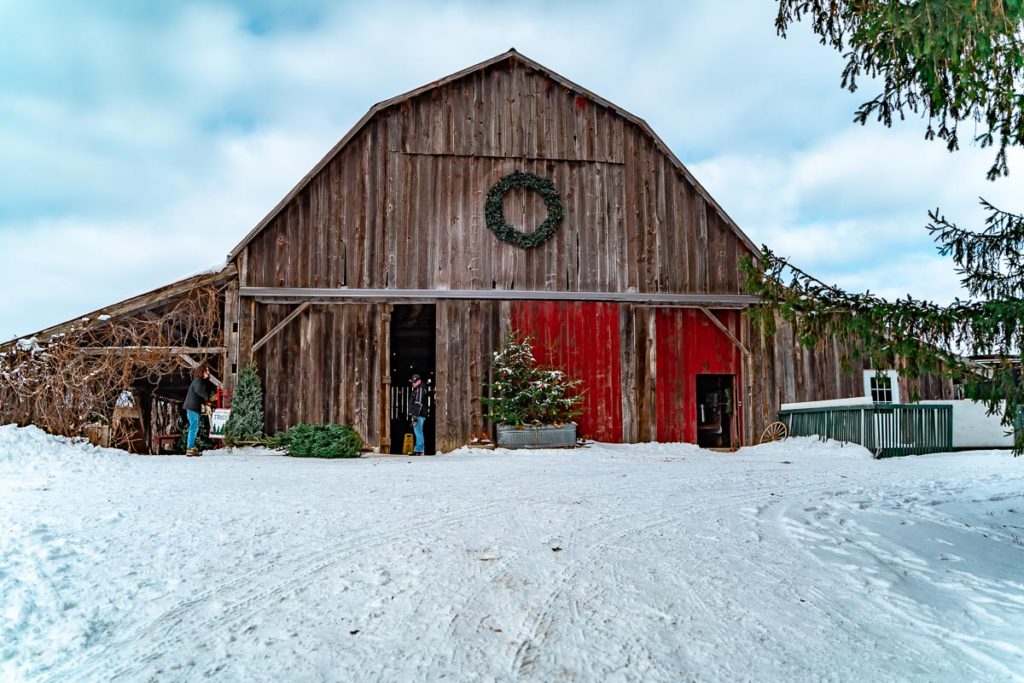 The day started with a trip to Knox's Pumpkin Farm. Again, my youngest son and I had recently been here on a school field trip a few weeks prior during the Fall. So even though we'd been there earlier, it was a completely different experience now in the winter with the grounds snow covered. They have a beautiful barn that sells pre-cut Christmas trees, crafts from local artisans and some baked goods and hot chocolate. We got some drinks and headed down to the fire pit to roast a few marshmallows.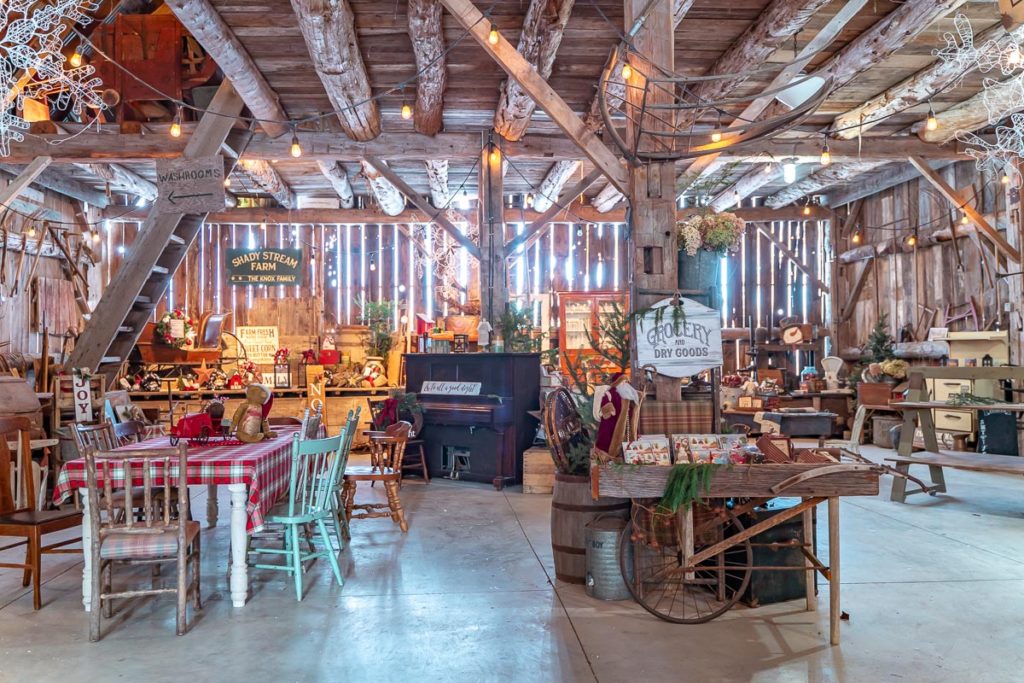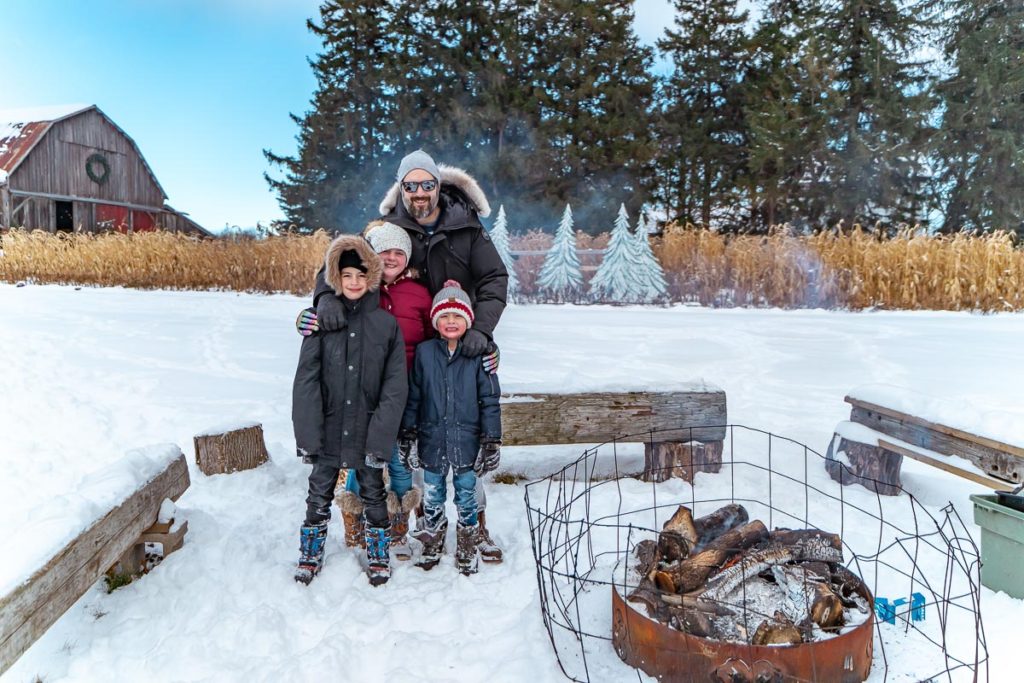 After that, we headed into the barn to see some of the farm animals. I loved that they had a manger scene set up right inside the pen with the goats – made you think of what it really was like when baby Jesus was born. The farm is beautiful and had Christmas music playing throughout – a really beautiful, rural Christmas experience to kick off the day.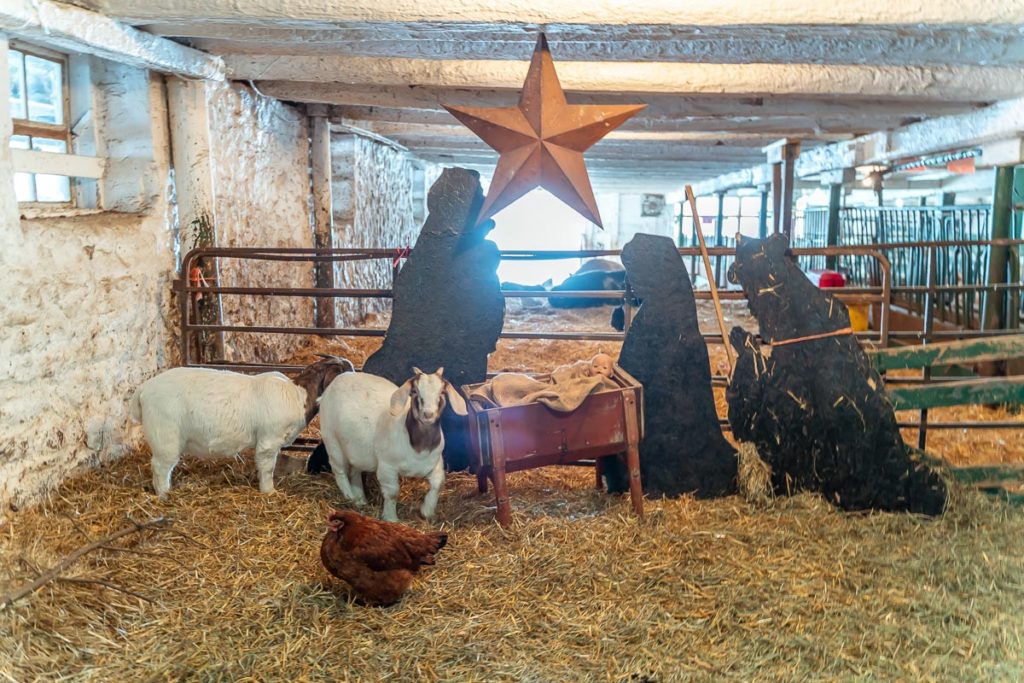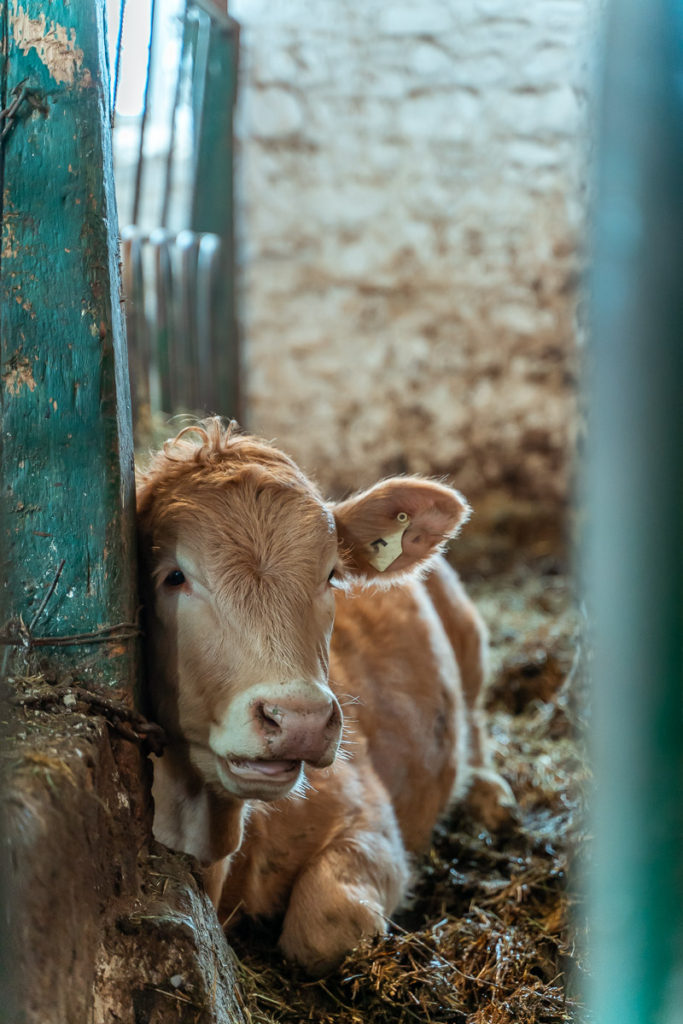 After the farm, it was off again throughout the backroads of Durham region, this time stopping in at Tyrone Mills, a historic water powered mill that has been in operation since 1846 in Bowmanville. A gorgeous building all decked out for the season is filled with local artisans goods and many homemade goods including delicious donuts and fresh apple cider! We definitely indulged, including getting some food for later and were off on the road again to our next destination, Archibald Winery.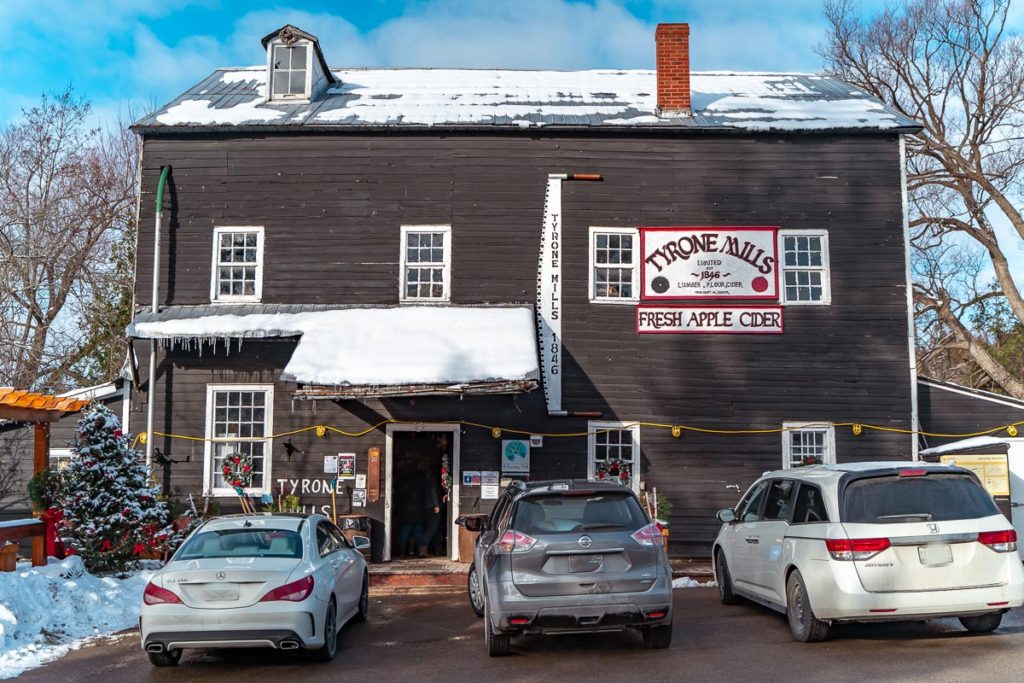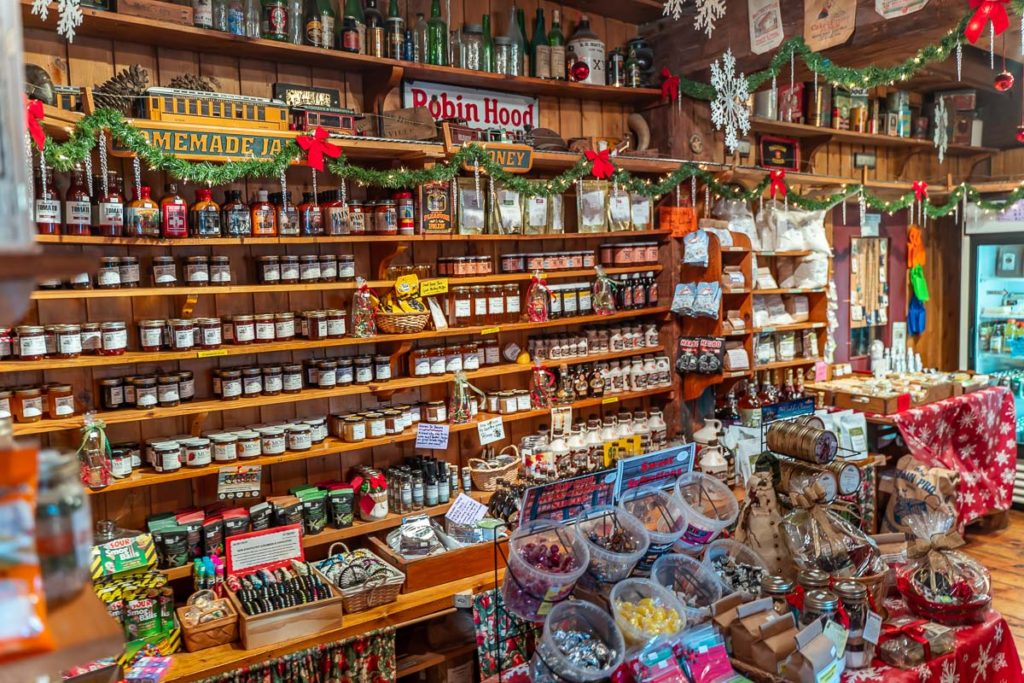 Not far from the Mill is Archibald's Estate Winery – a fruit winery and apple orchard. We got to meet Fred & Sandy, the owners of the place and they are some of the nicest people! We sampled many of their different wines – so many varieties I've never tried before like Sparkling Cranberry and Cherry and so many other interesting flavours! Fred even put our kids to work in the back shop with labelling some bottles! They absolutely LOVED every minute of it and would gladly go back and work for free apples! I can't wait to visit this place in the Fall next year for some apple picking – they sent us home with some and let me tell you, they are DELICIOUS!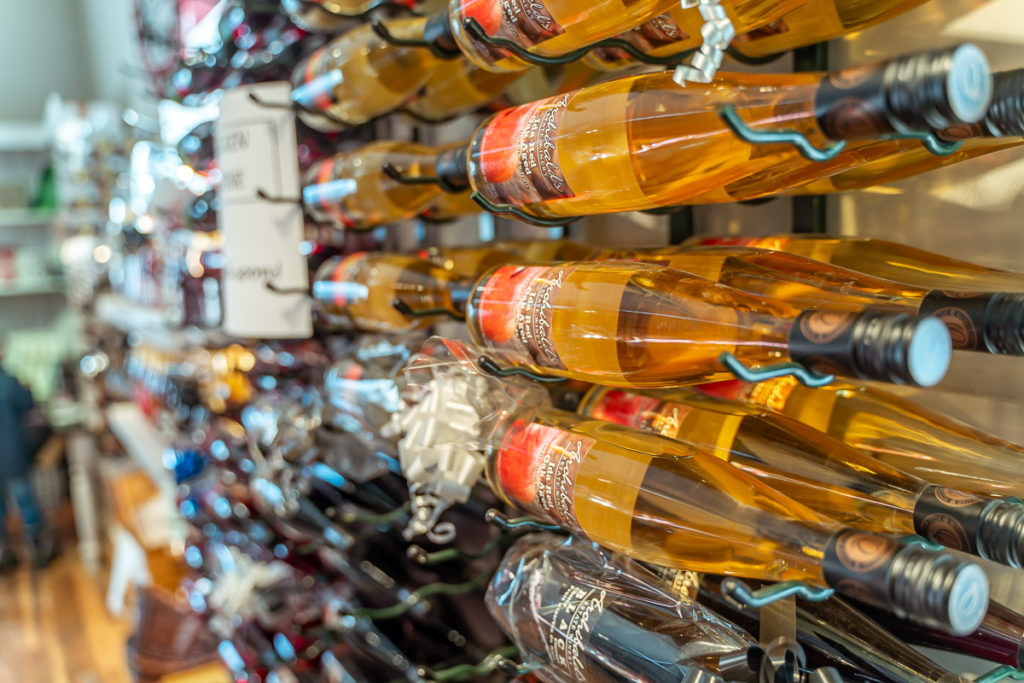 After the winery, it was off to grab a few more groceries and canned goods from Willowtree Farm and then it was time to get our first real Christmas tree! We've visited Willowtree before and love the foods and canned goods that they offer so this was nice to revisit and stock up on some goodies again! They also had a small skating rink open in the winter along with some farm animals for petting.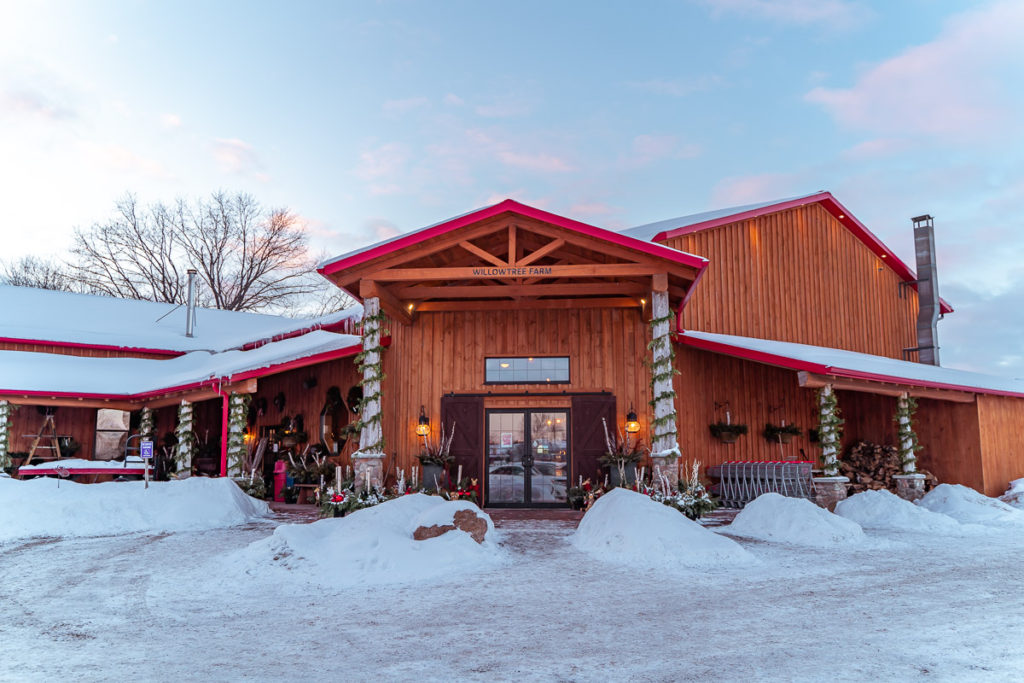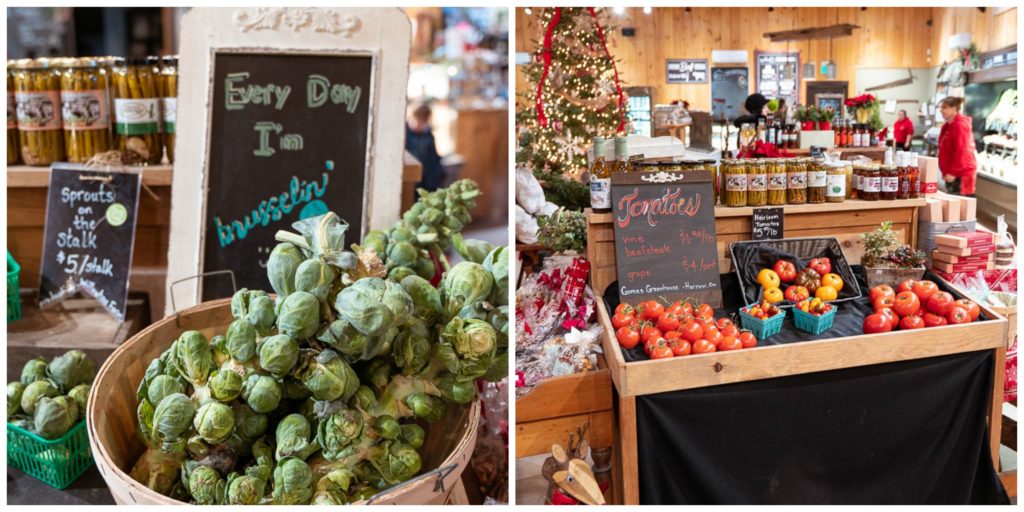 Less than a minute up the road from Willowtree is Spademan's Tree Farm. We were SO excited for this experience as we've never cut down a real tree before. I grew up going to Florida every year for Christmas and my grandpa would cut down an evergreen tree on his property but they weren't your traditional looking Christmas tree. And because we were always away over Christmas, we never cut down one at home.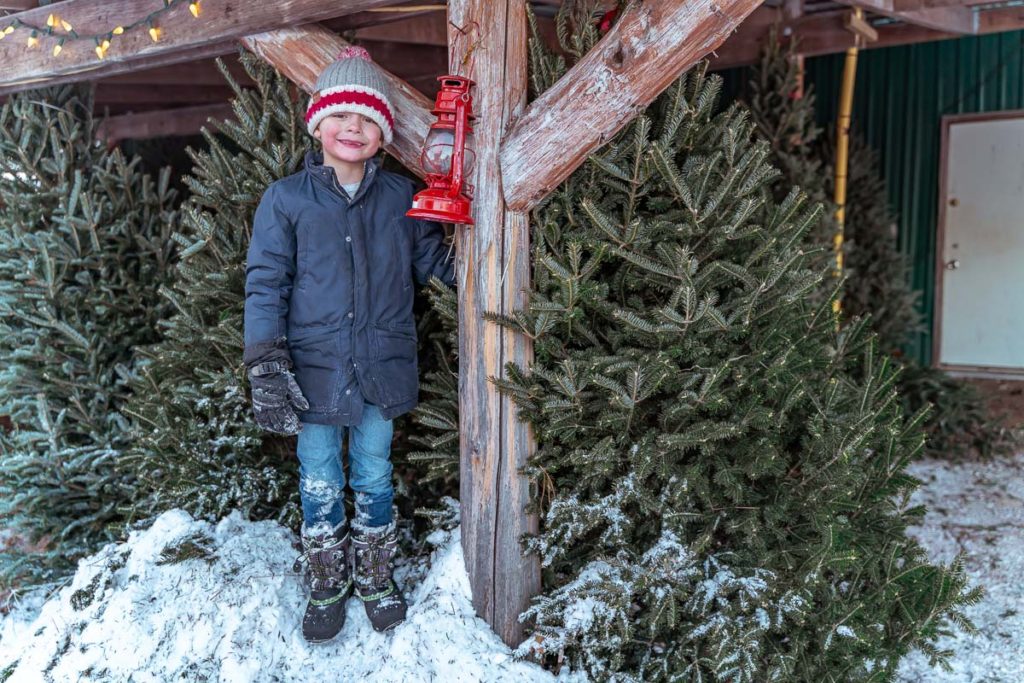 So this was exciting to experience this for the first time with our kids. We met the owner Sarah and she was a delight and helped us find the exact perfect tree for us. It didn't take Chris long to saw the tree down and within a few minutes, we had our first ever real Christmas tree!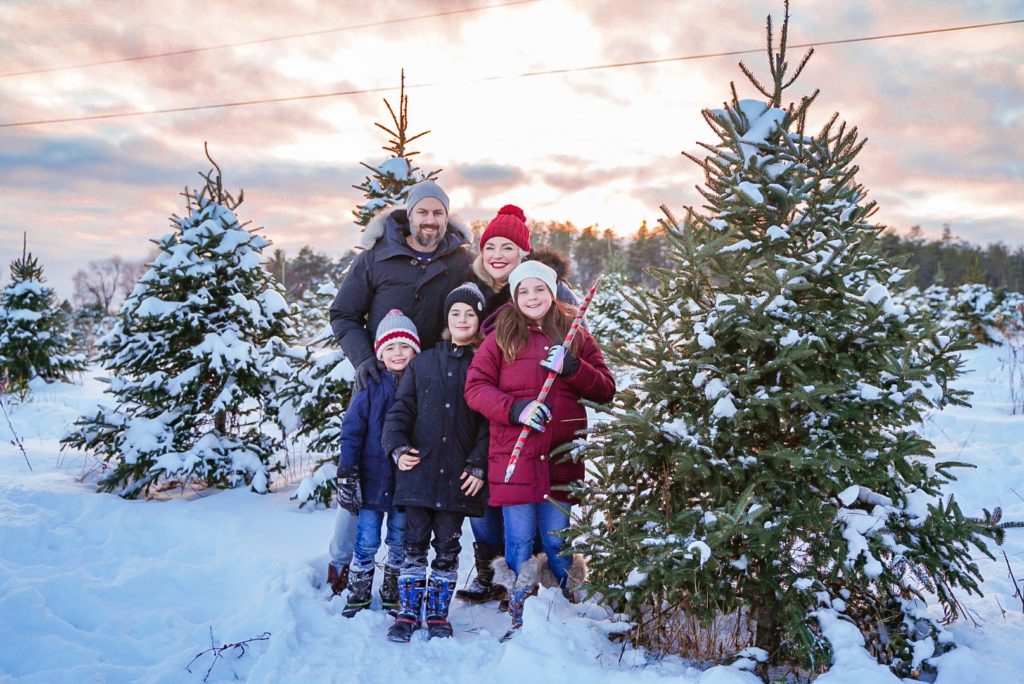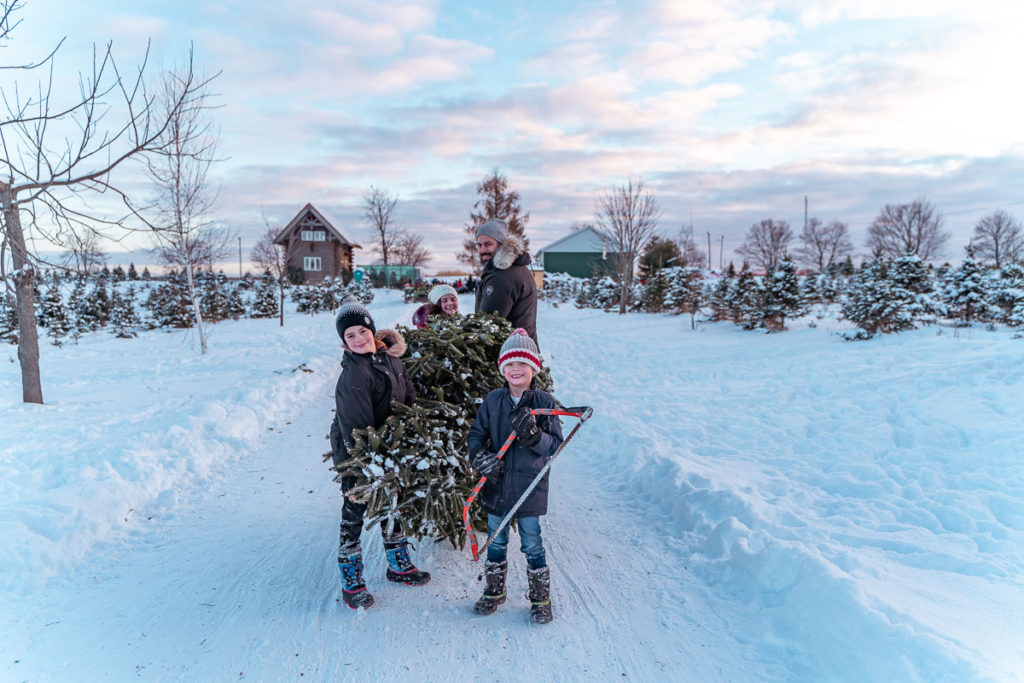 Spademan's was great – they had an outdoor fire pit as well as a building where you could get hot chocolate to warm up! I'd definitely go back again next year for another real tree! And just our luck, there was a classic light blue Ford truck pulling out of the parking lot as we were leaving, so we hopped in for a quick family photo op!
Once we got the tree loaded in, it was off to dinner and for that, we headed to Stract's Smokin' Grill, located in Burketon. It looks like a regular home on the outside but the inside main level has been converted into a southern, cajun style restaurant. We got to meet Steve Stract, who is such a nice man and made sure we were well taken care of. He even had colouring books for the kids and told us lots of stories about how he fell in love with southern bbq and started his own restaurant.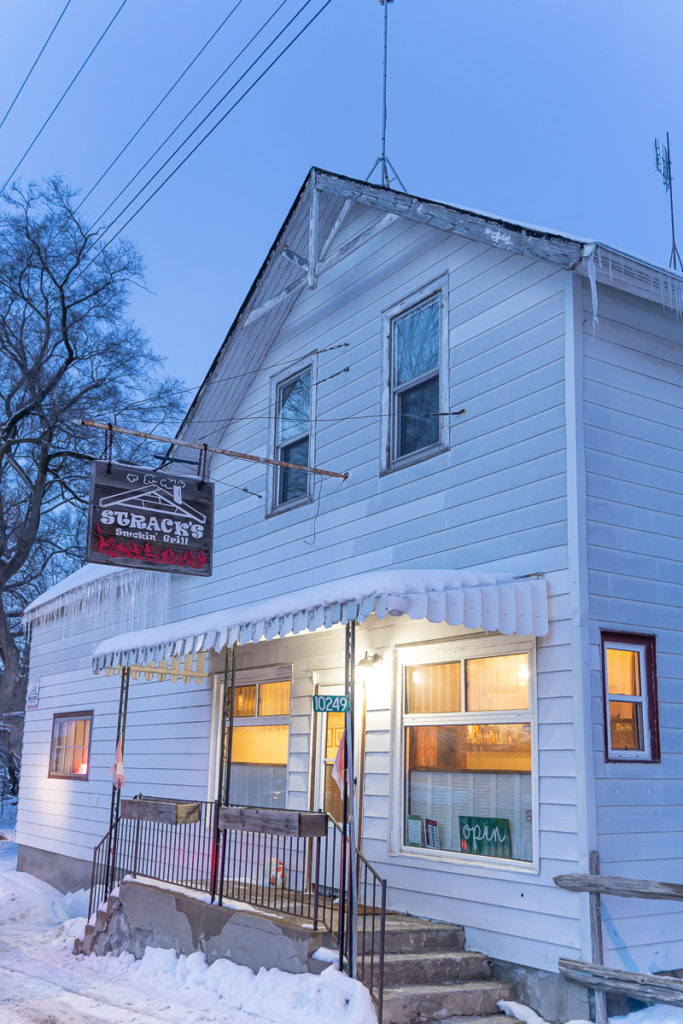 Chris and I both had the BBQ Slow Roasted Beef Brisket and let me tell you, it just melted in your mouth! It was delicious and we ate every last bite!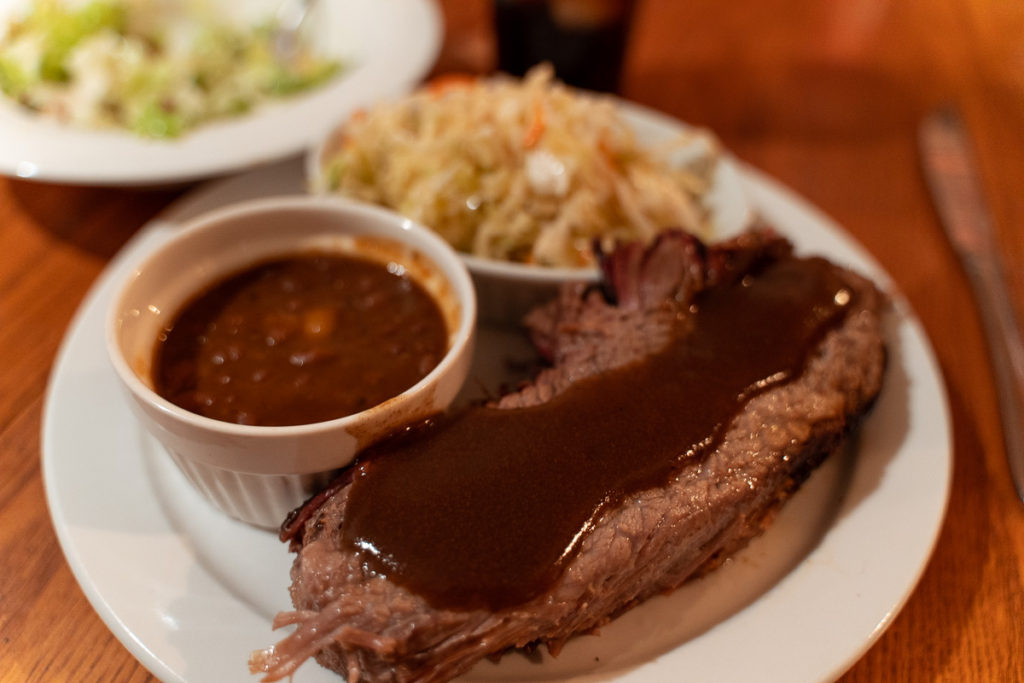 To cap off not only this incredible day but really this entire four week journey touring York Durham Headwaters Region, we drove down the road from Stract's and visited one of our favourite places to see Christmas lights – Old Scugog Road! If you've never been there, let me tell you, it's absolutely incredible! We didn't take any pictures as this wasn't part of our itinerary and we just wanted to do something fun last minute, but last year, we did a video of us driving through the lights, so check it out below!
PHEW! Did you make it all the way to the end?! We had such a blast touring York Durham Headwaters region the last four weeks and learned so much about what this area has to offer. We are so blessed to live in such a beautiful part of the country that has so many different offerings for family adventures! The options in York Durham Headwaters Region are seriously endless!
We hope you enjoyed reading along and we hope that you are inspired to get out with your family and tour the area. Make sure to save this post for next Christmas so you can check out some of the same places with your family!
We want to thank Visit York Durham Headwaters for partnering with us on such a fun adventure! You helped us discover so many incredible places and we are forever grateful!
Merry Christmas everyone!
Love & Blessings,
Christine