How do you start to recap one of the best family vacations you've ever had?! Because our four days in Mont Tremblant were exactly that! Four full days filled with lots of fun activities, delicious eats and very full hearts! So let's just dive right in so you too can plan the most spectacular getaway for your family!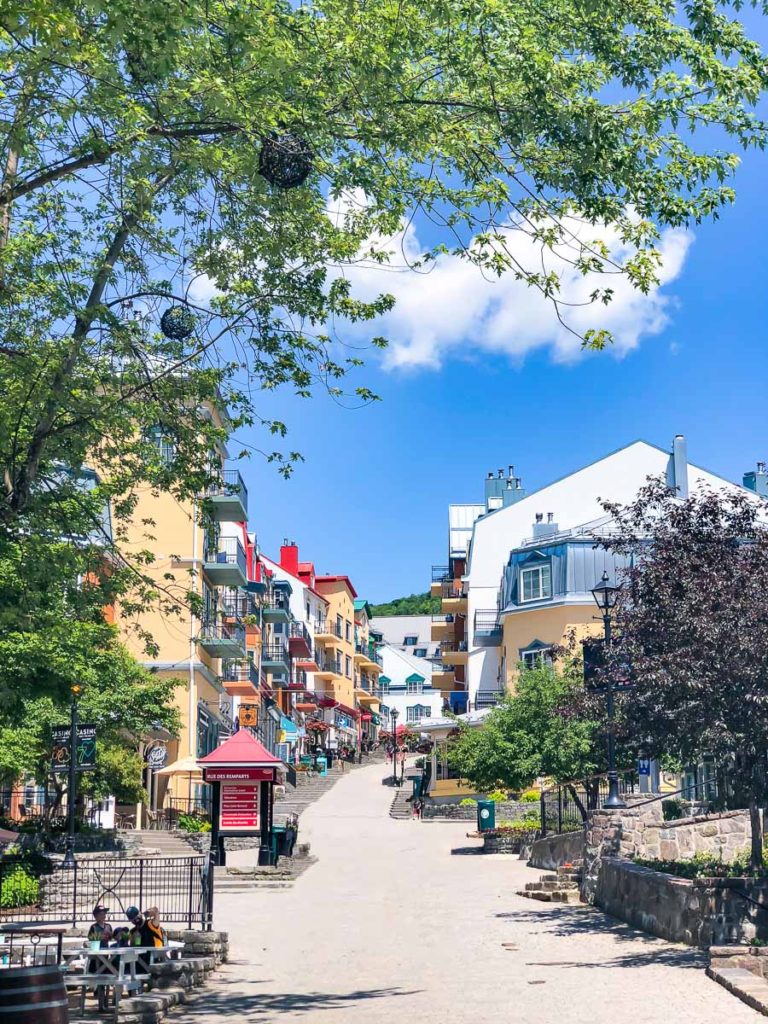 Our family was invited to experience an incredible weekend getaway to the picturesque mountain village of Mont Tremblant, Quebec. I've had the privilege of visiting this ski village almost 20 years ago when I was in high school as part of a travel and tourism class I was taking. While I don't remember a lot from that trip, I do remember riding the newly built Cabriolet, a free lift that takes visitors from the south end to the north end and back again in about four minutes. So you can imagine what a full circle moment it felt to now be here again, 20 years later, with my husband and three kids in tow to experience the village anew!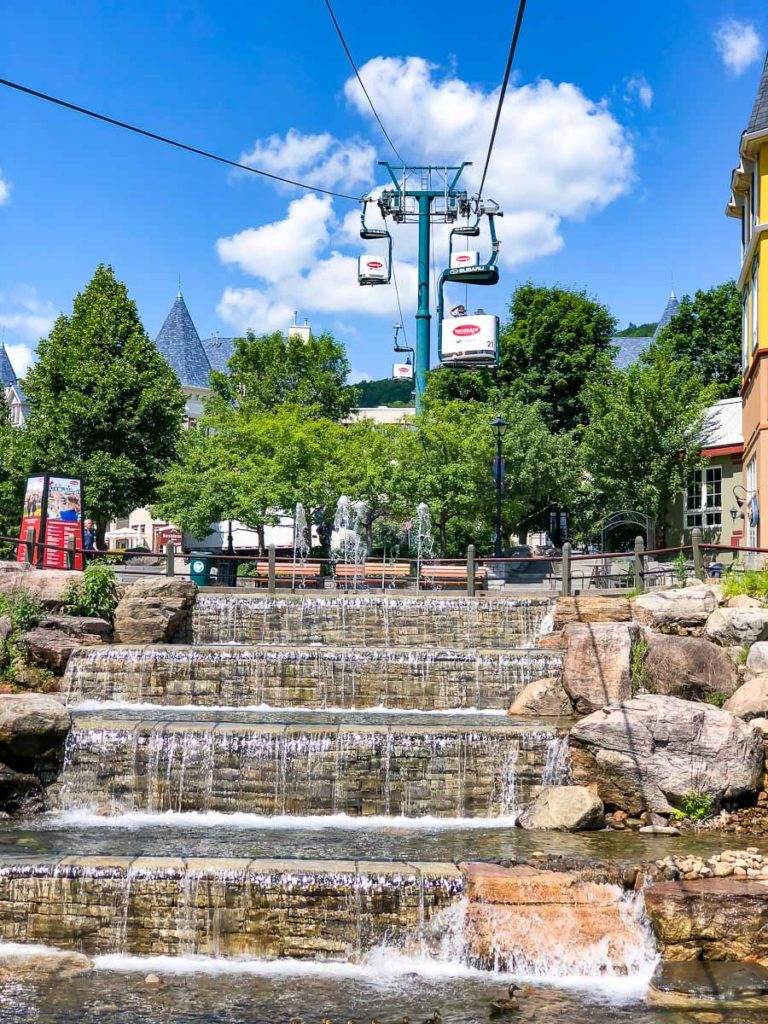 When we were first invited to visit Mont Tremblant in the summer, I can remember being a bit surprised as I didn't think there was much going on during the summer months. I even asked a few friends that I knew had been before and they all said the same thing, "Don't go in the summer, there's so much more to do in the winter." I looked around a bit online and after Chris and I talked about it, we decided there seemed to be enough activities to keep us occupied and we would give it a shot and go!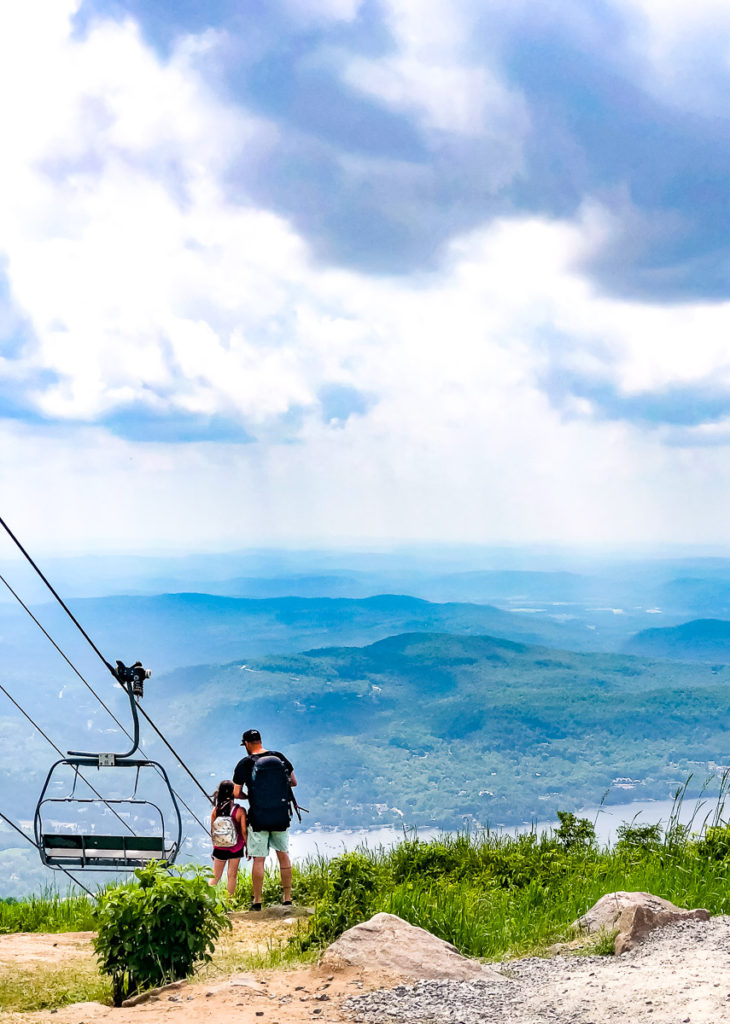 Well let me tell you right off the bat, we barely had time to catch our breath during our four days in Tremblant! The minute our feet hit the village steps, we were off to the races. In fact, we actually ran out of time and didn't get to do it all! Imagine that! There is just so much to do in Mont Tremblant, both in the village and just outside, including checking out the magnificent Laurentians region and we want to tell you all about it! In fact, there's so much to tell you about that we've decided to do a second post just focused on the food of Mont Tremblant! We received so many questions during our time there from families wanting to travel there with their kids that we want to try and cover all that we did so you can hopefully have just as good of a vacation as we did!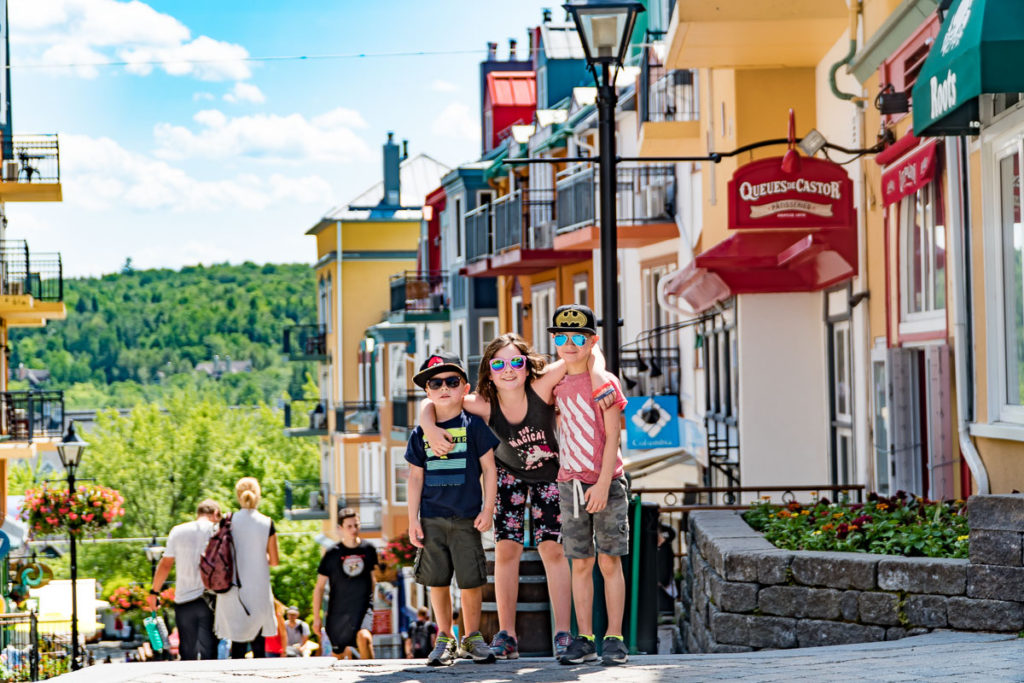 To kick off this amazing four-day getaway, we hopped on a quick one hour Porter Airlines flight, leaving from downtown's Toronto Billy Bishop Airport, flying into the cutest log cabin-esque mountain airport of Mont Tremblant. Porter flies seasonally into Mont Tremblant on weekends, making it easy, especially for Torontonians to get away for a quick escape. The airport in Tremblant is located about 35 minutes from the village, but there are shuttles waiting for you upon arrival to whisk you off to the village!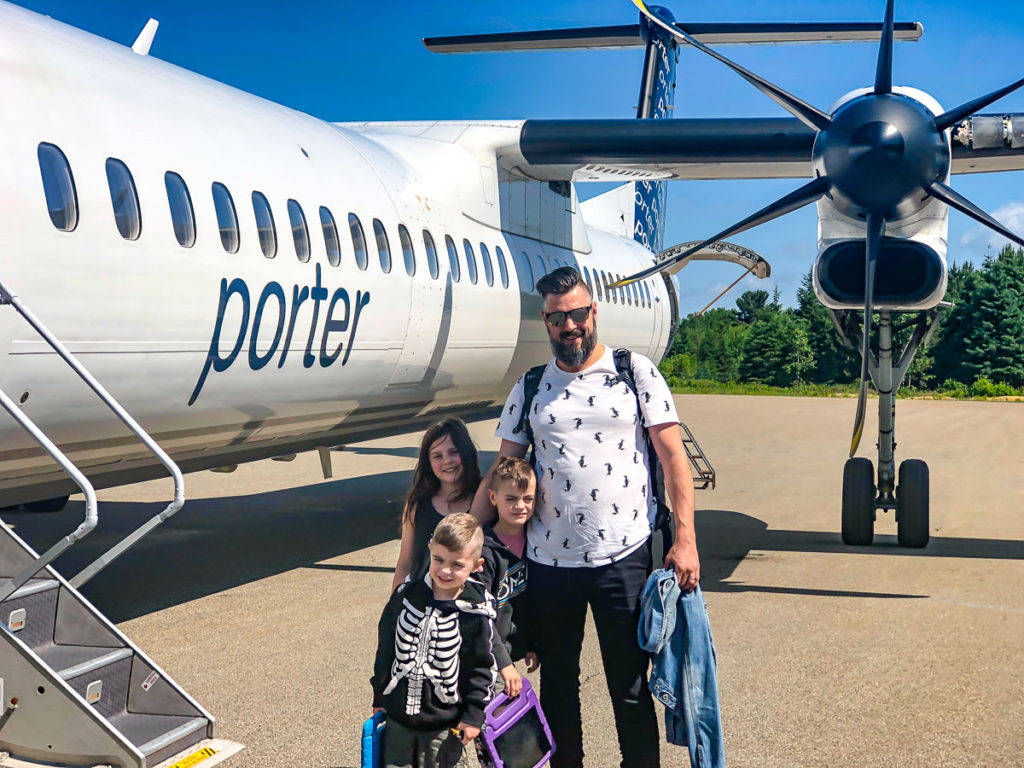 Arriving into the village, it was time to check in to our hotel. We stayed at Le Deslauriers, which are condos part of Place St-Bernard, right in the heart of the village. This hotel is perfectly located on the main strip, overlooking all of the activities in the village. Complete with it's own private balcony, it almost felt like we were staying somewhere in Europe, with the beautiful buildings and mountains surrounding the place.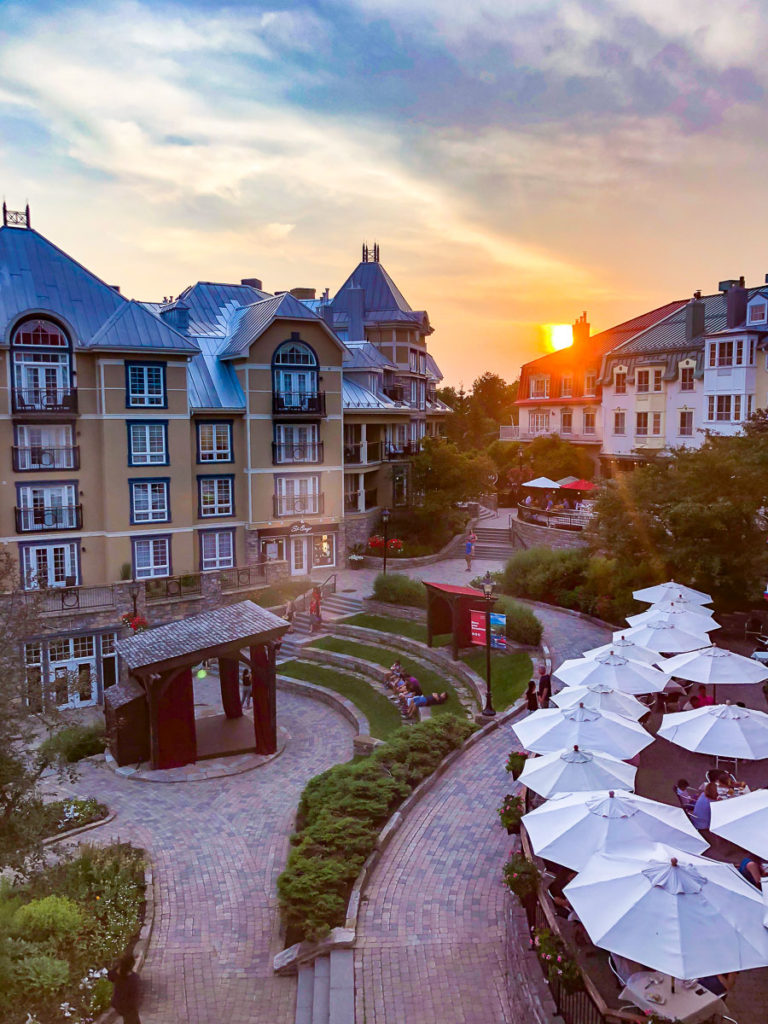 The room itself was incredibly spacious, perfect for a large family or multi-family vacation situation. There was a king bedroom with ensuite bathroom, a second bedroom with two queen sized beds and an adjacent bathroom and a loft upstairs, with a queen sized bed and third bathroom. There was also a complete kitchen with dining room and a living room with a fireplace! The weekend we visited Tremblant there was an insane heat wave that hit most of southern Quebec setting records for the highest temperatures. While we enjoyed being out and about doing all the activities, having our condo right in the heart of the village offered an incredible retreat space from the sweltering heat where we could cool off and rest before hitting the village again.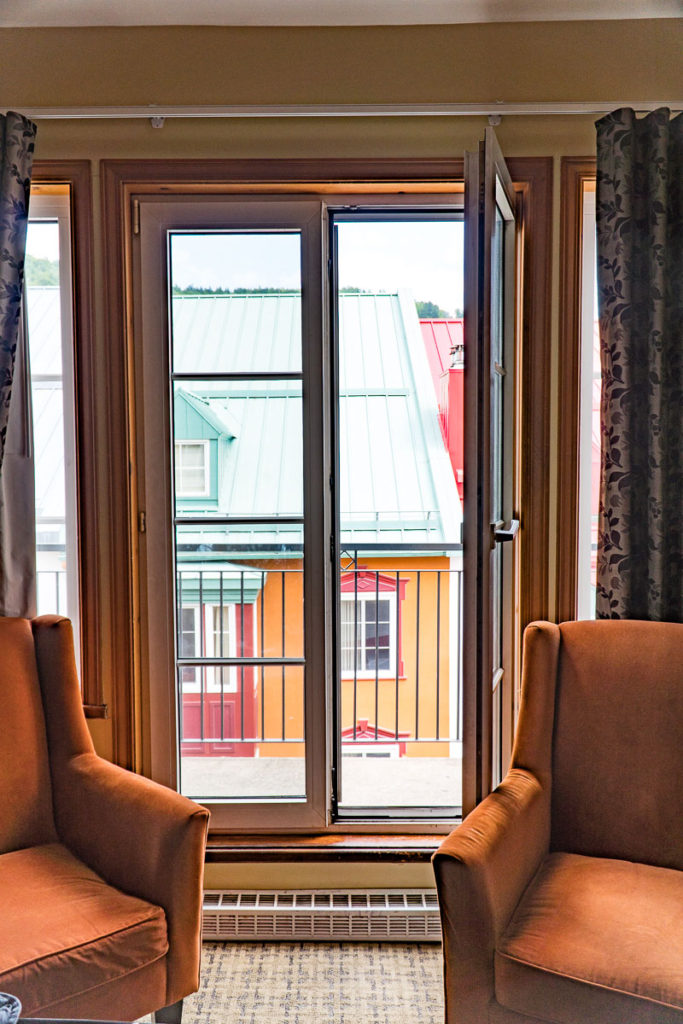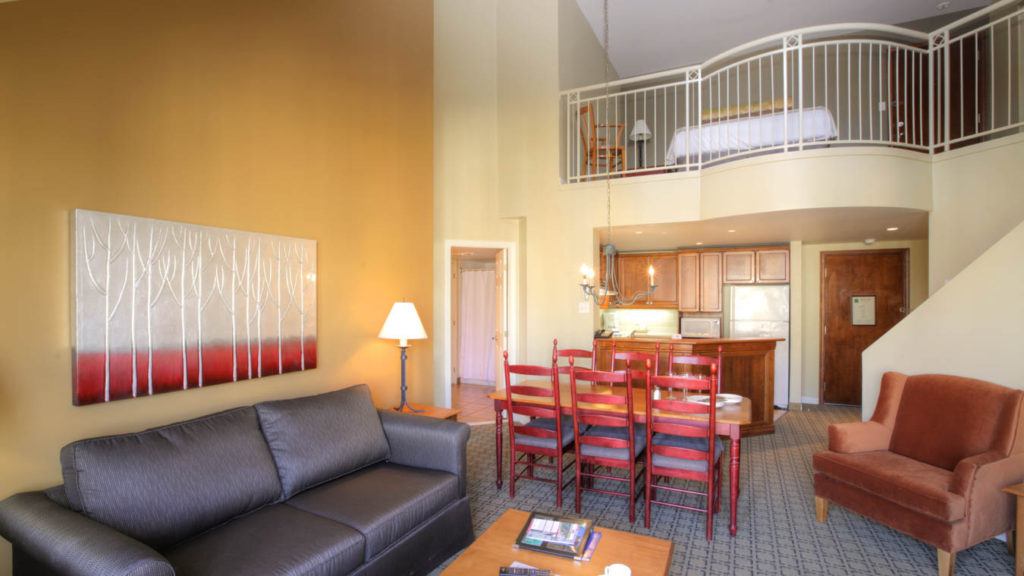 When it comes to activities, there is absolutely no shortage of them during the summer season. There was so much going on that there was no possible way we could do it, so with the help of our friends at Tremblant, we planned out an itinerary of the must-sea things we had to do!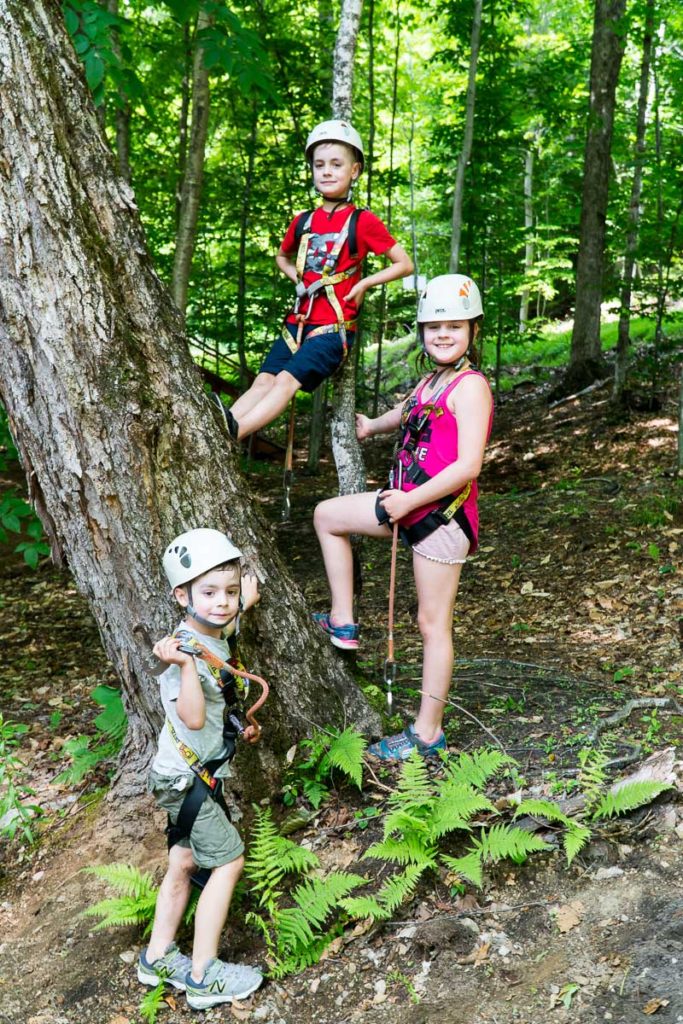 For starters, lets talk about the activities that are included when you stay at Le Deslauriers Place St-Bernard. Across the street from the hotel and just down a block, there is the AquaClub La Source, which all guests have access to during their stay. Guest who aren't staying on site can still gain access as well with a ticket from the Activity Card (more on that in a bit). At the AquaClub you will find both indoor and outdoor pools and hot tubs, as well as a complete fitness centre. With the sweltering heat that we were experiencing that weekend, this place quickly became one of our favorites! The pools were so refreshing and the kids had an absolute blast swimming, swinging from the Tarzan rope, jumping off the make-shift cliffs overlooking the indoor pool and going down the slides!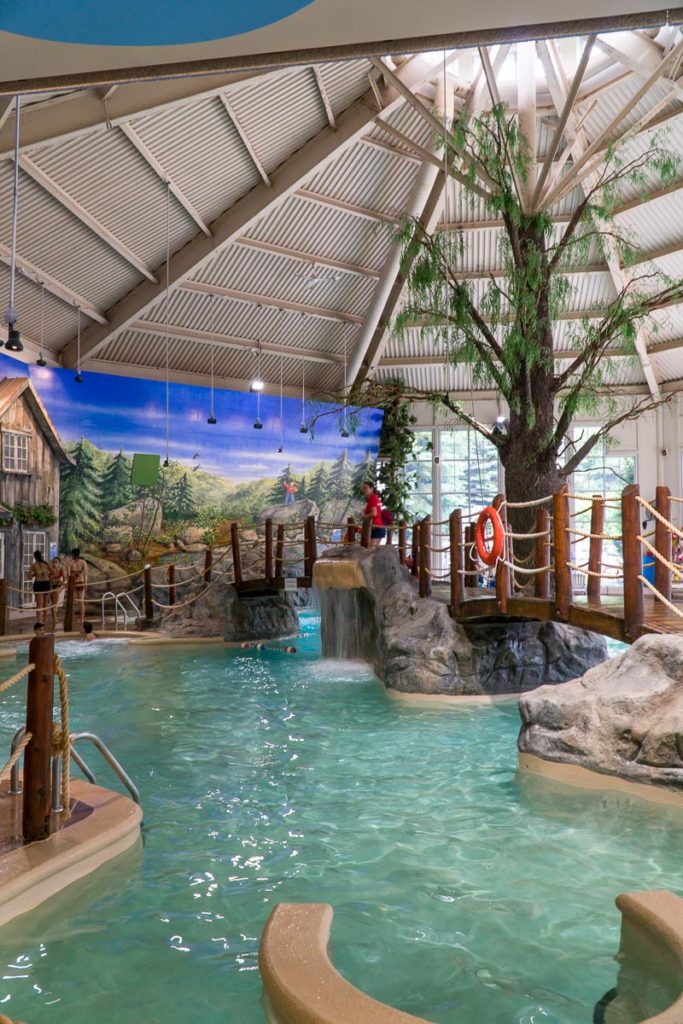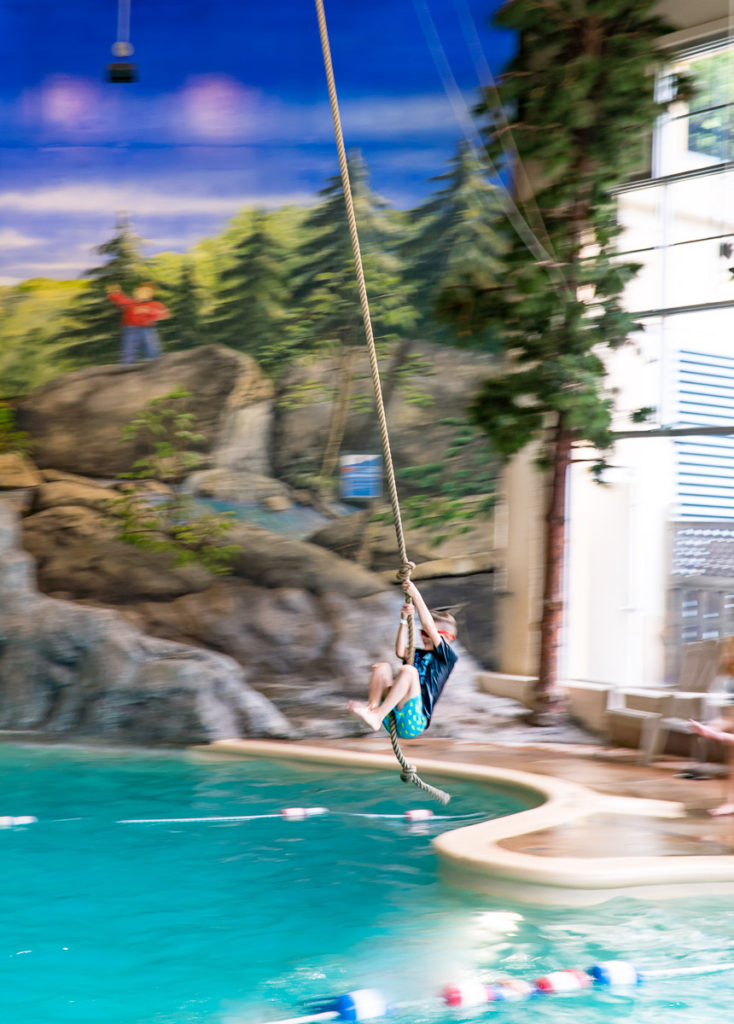 The second activity that comes free with your stay at Deslauriers is a ride up the Gondola to the Summit. The gondola entrance can be found at the north east end of the village and takes about 15 minutes to ride to the summit. Once at the top, the views are spectacular. Overlooking not only the village but seeing the entire surrounding Laurentian region was breathtaking. You can see out to Lake Tremblant and beyond! This region is so spectacular that we decided on that mountain top that we'd love to see it in every season as I imagine there is newfound beauty all throughout the year to behold!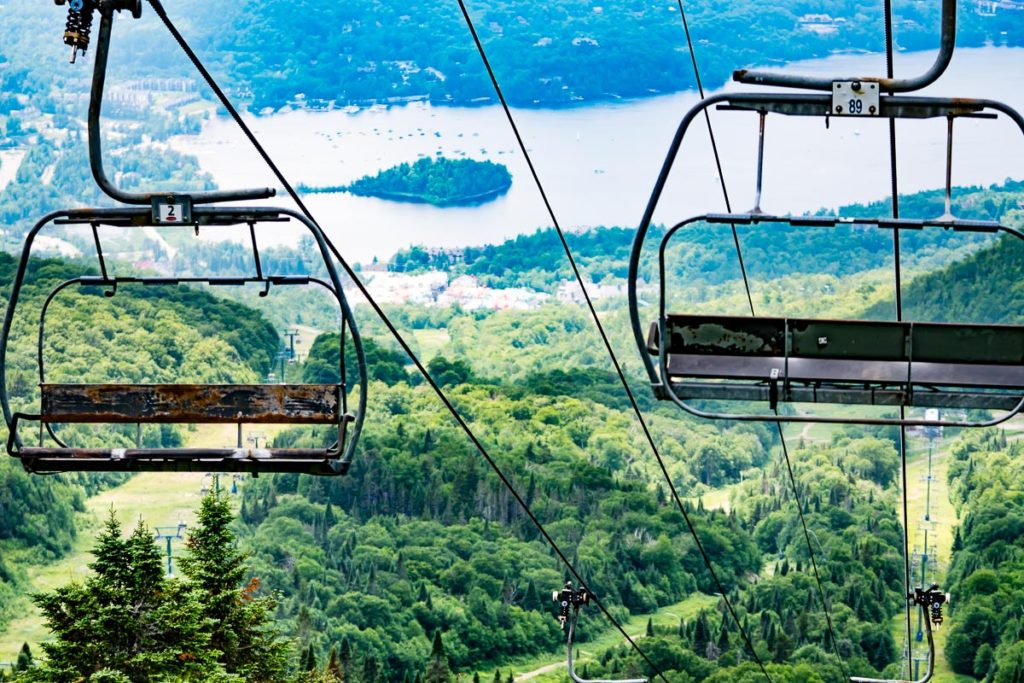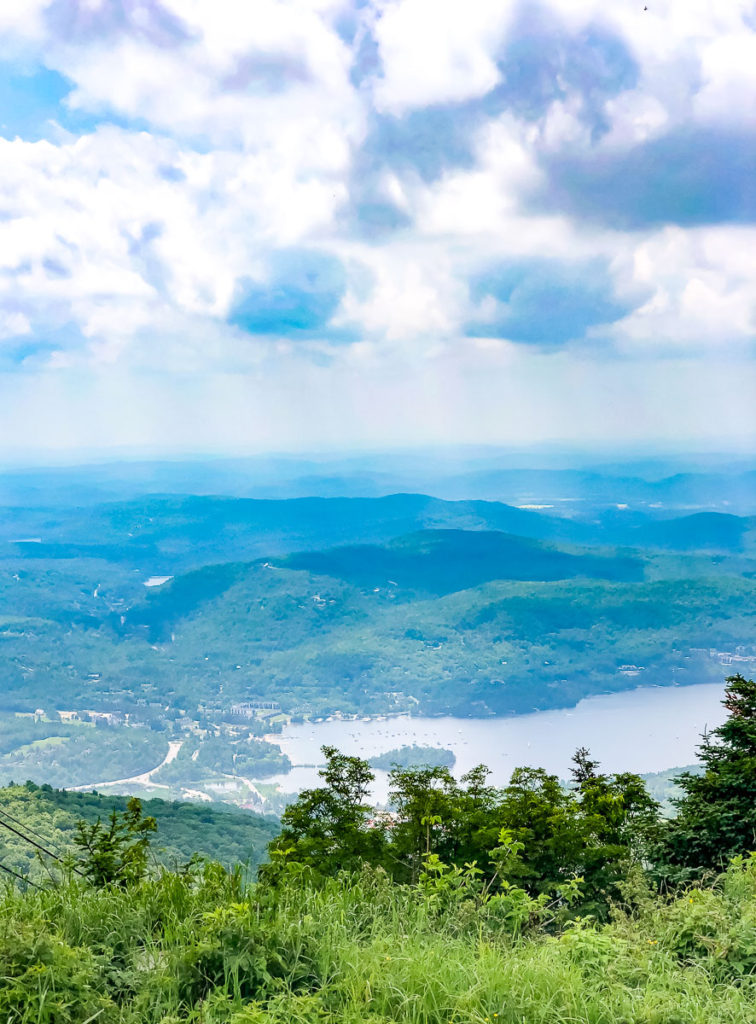 So now let's talk about the Activity Card I mentioned above. Mont Tremblant has so many amazing activities to offer the whole family that they've created an activity card that you can purchase in bundles of 3, 5 or 7 passes so you can enjoy multiple activities. These cards are valid from May until October, so if you live nearby or plan to visit more than once, they will be valid all summer season long. And there are 15 different activities that you can use them for, click here to view them all. Here are some of the activities that we did!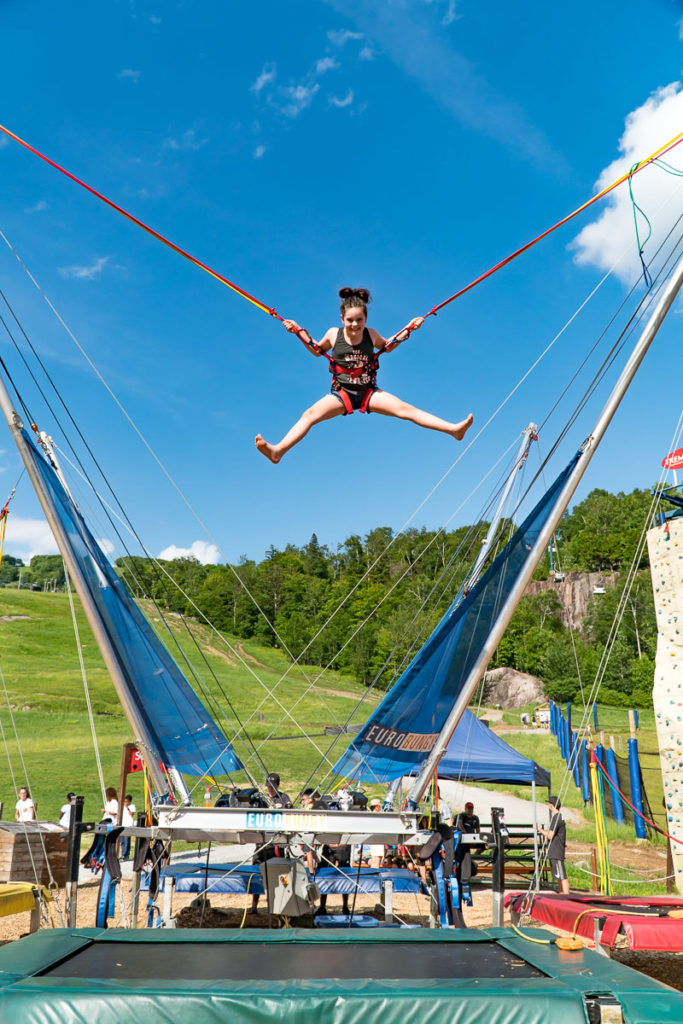 As mentioned above, both the Aquaclub and the Gondola are part of the Activity Card if you aren't staying on site at the hotel that gives free access. In the north part of the village, at the base of the gondola (also where you can purchase the activity cards), they have a number of children's activities set up, including a free splash pad that the kids can run around in. Our kids tried the Akropark Junior, Climbing Tower and Eurobungy.
Akropark Junior was perfect for the older two (unfortunately Jude was just an inch too short to reach the ropes on this course, which bummed him out hard). They actually went around the rectangle quite a few times and it was a great practice run for the larger Tree-to-Tree that they did the following (we will get to that shortly).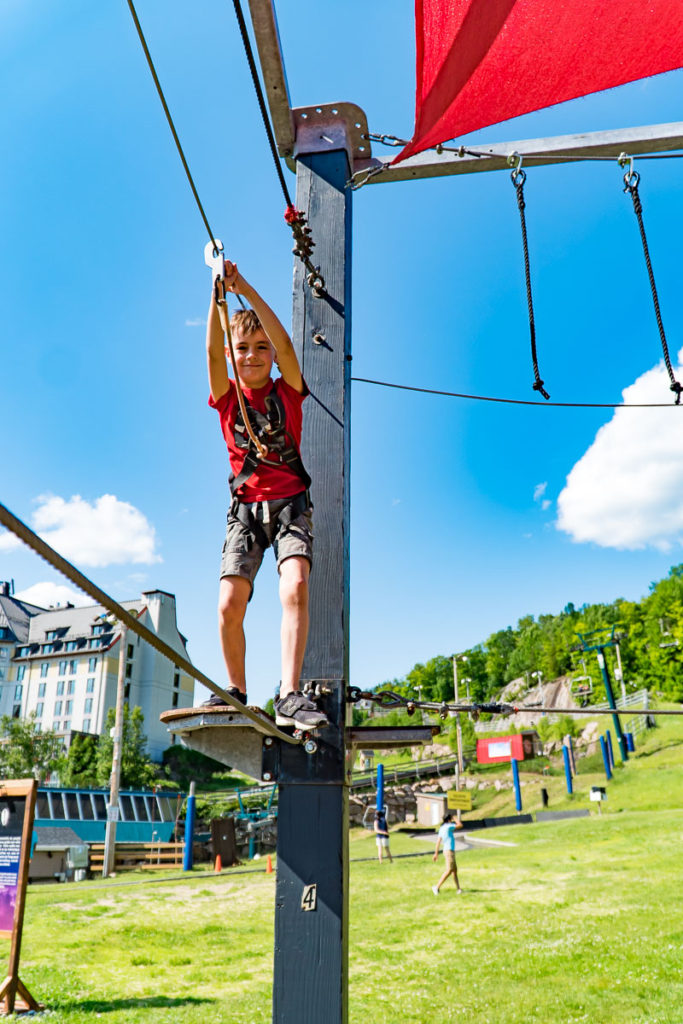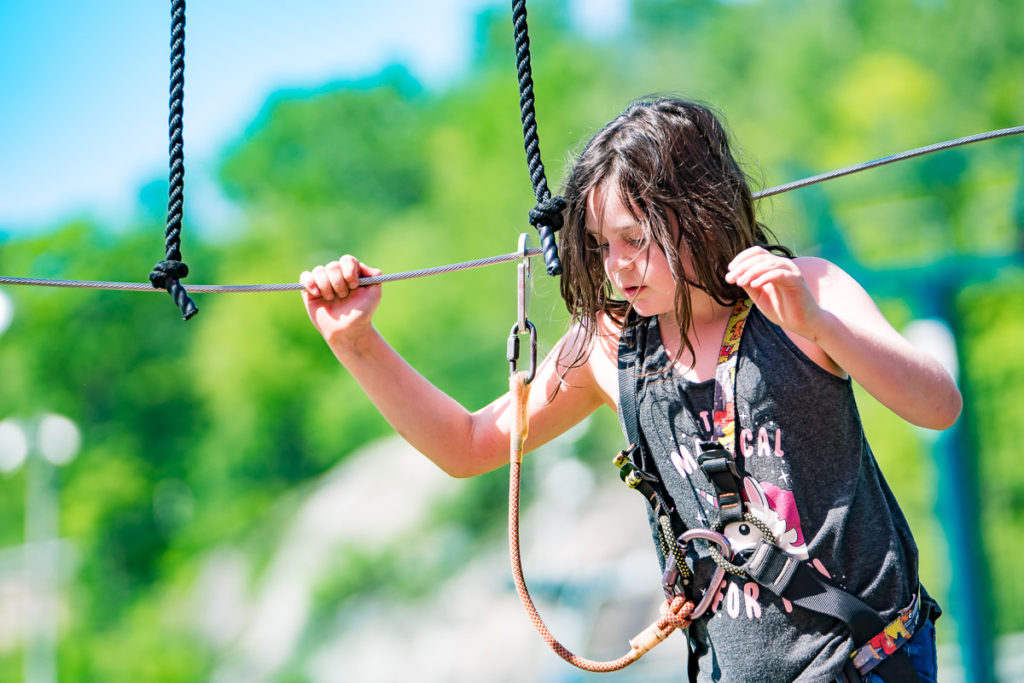 The Climbing Tower was another fun activity, again for the older two, as they would race up either side of the tower to see who could reach the bell first.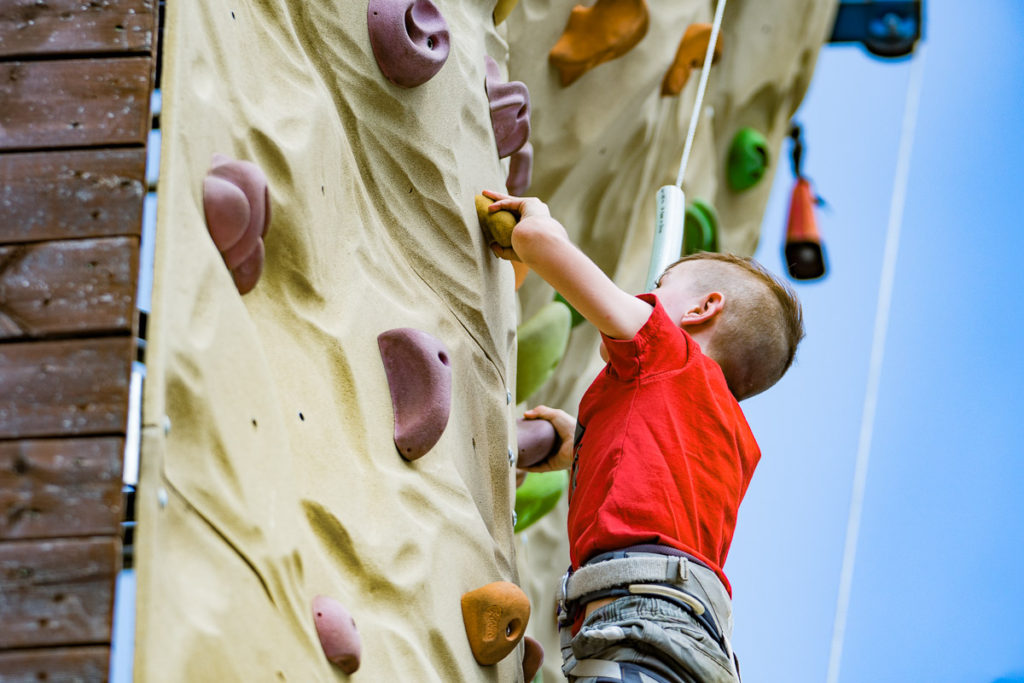 Eurobungy was definitely the kids favorite where all three kids were able to get harnessed up and fly high with their jumps. Gabe was the only brave one to try flips and he absolutely loved it!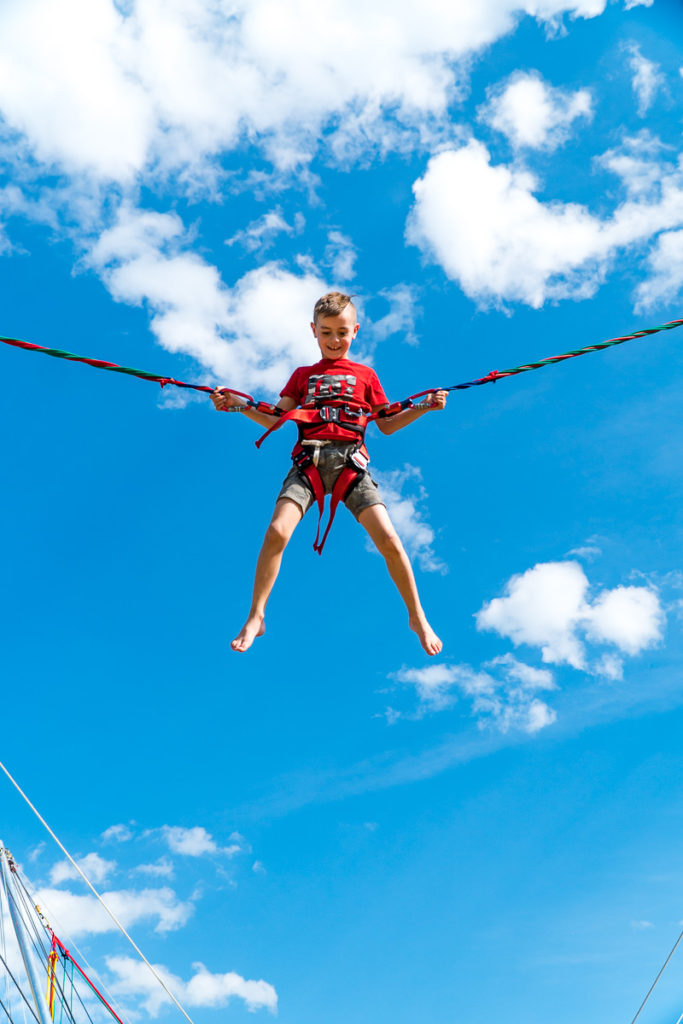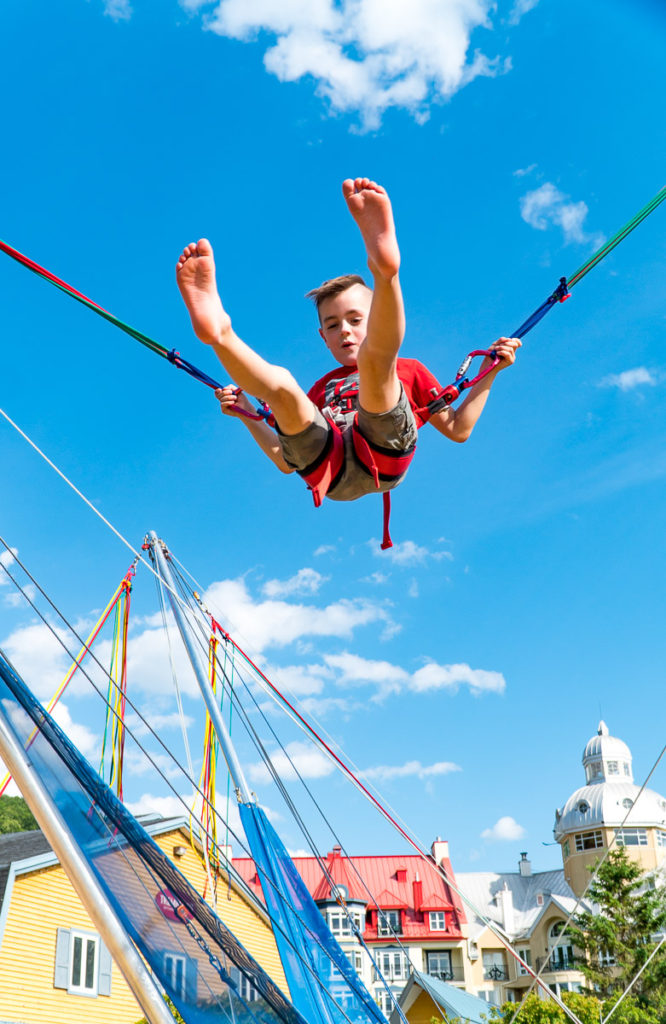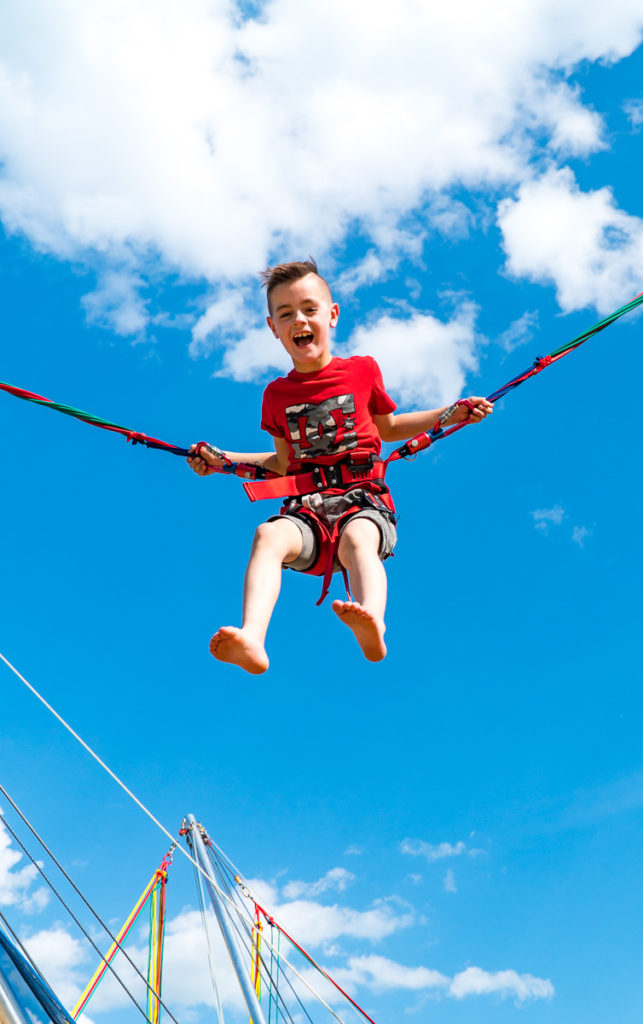 Also part of the Activity Card that we were able to participate in where Mission Liberté, an escape room experience and Mission Laser, laser tag. For the escape room, they had various rooms that you could choose from, but the Pirate themed room is the more family-appropriate, kid-friendly adventure. Unfortunately, we didn't make it out in time, but it was a neat experience to have with the kids. (Note, we don't have any pictures because we weren't allowed due to the possibility of giving away any clues!)
Laser tag was definitely our favorite activity between the two as we worked up quite the sweat running around in the glow-in-the-dark space as a family! We played three rounds: two free for alls and then one where we did boys against girls and had to protect our home base. All of us got really into it and we couldn't stop laughing when we were finished!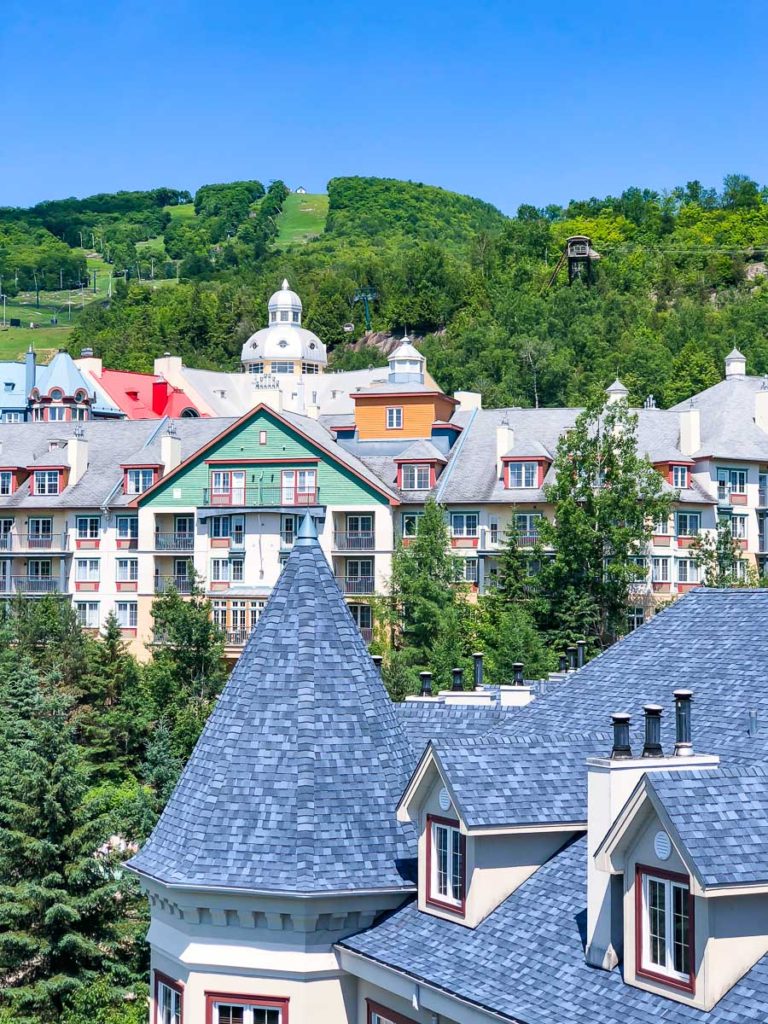 A small hike into the foothills of Mont Tremblant, the kids were able to participate in the Tree-to-Tree course — a larger version of the Akropark Junior. They also have an even larger course for teenagers and adults. Out of all the activities that the kids got to do, I'd say this would rank in the top three of our weekend getaway! With over 15 ariel games to try including a zipline, the kids had so much fun trying to balance and navigate through the various ropes.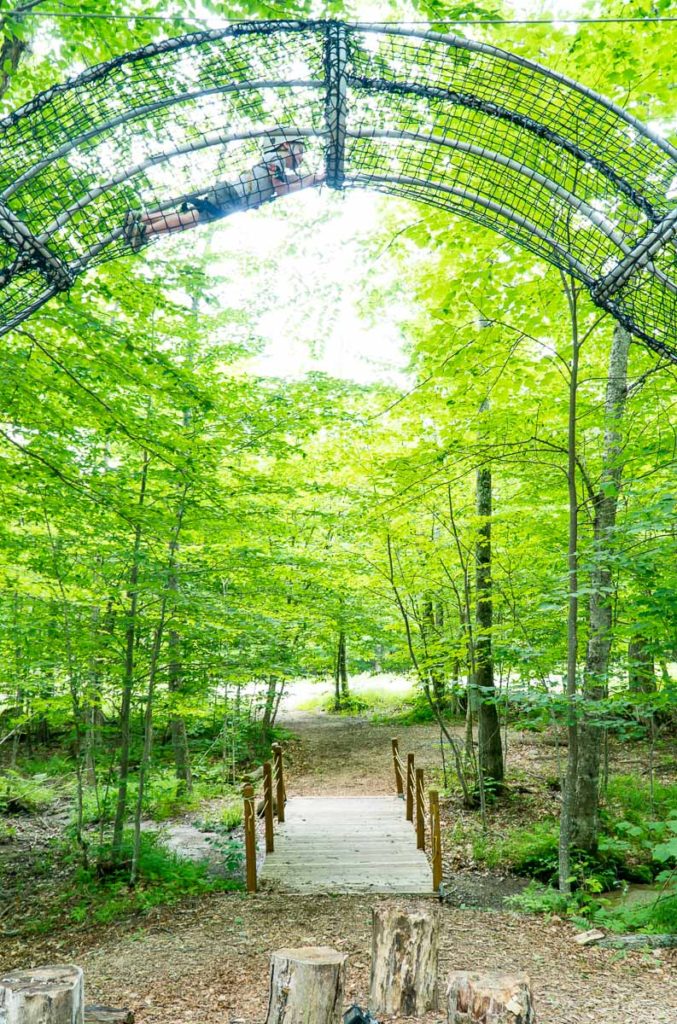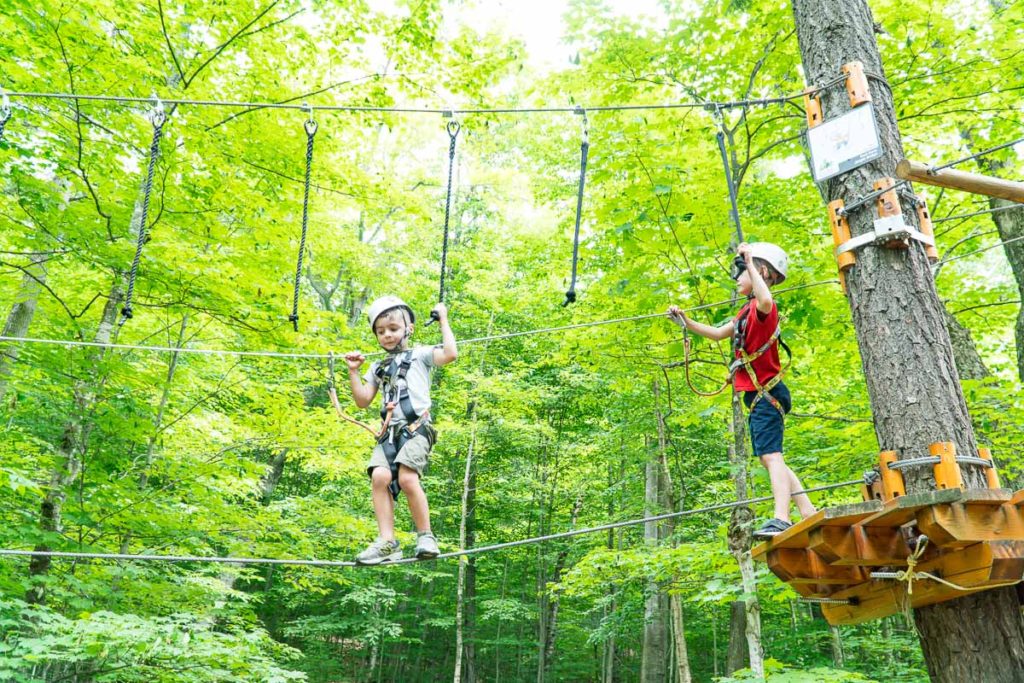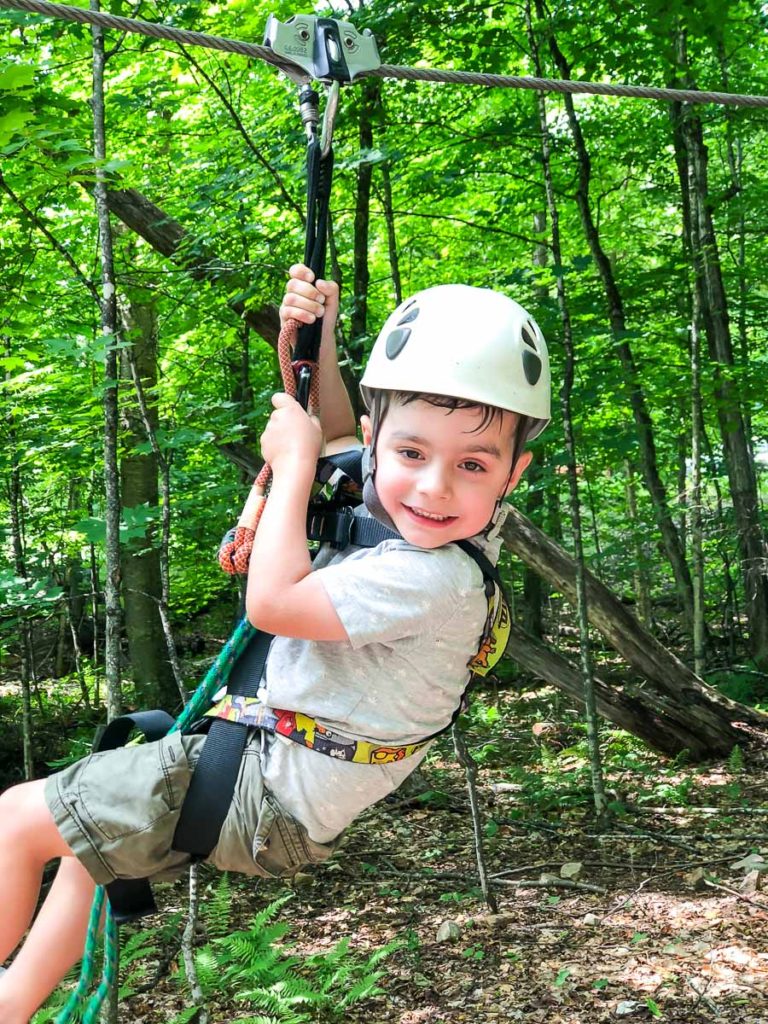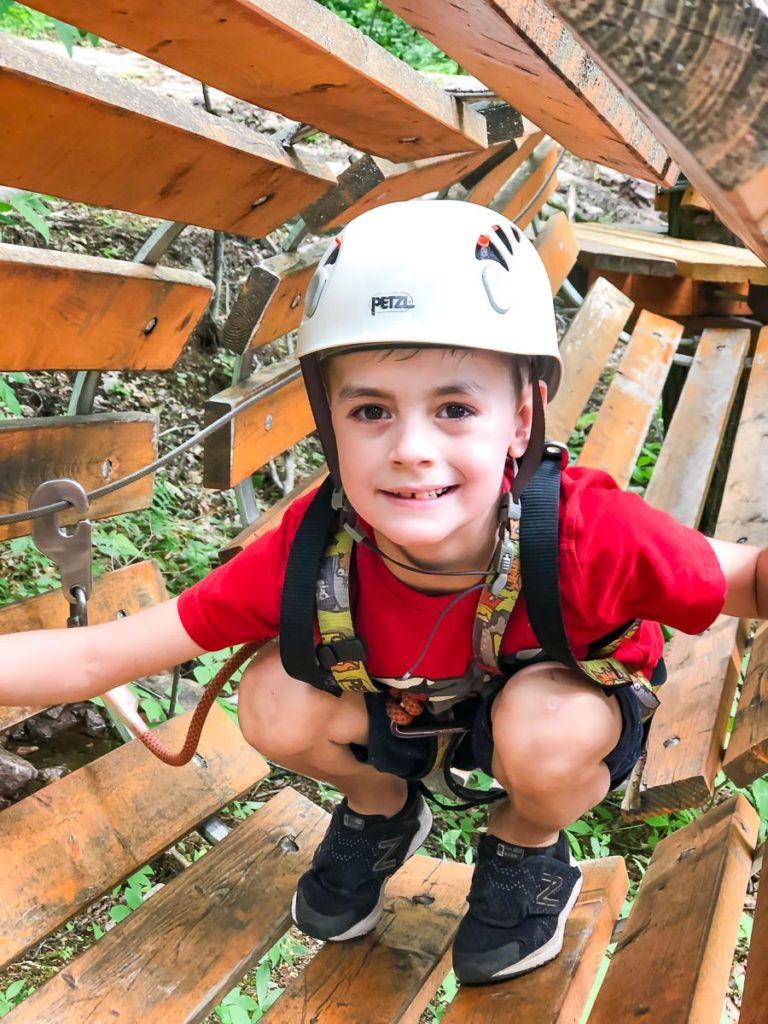 One evening, we decided to venture up the ski lift and take in the light and media show created last year called "Tonga Lumina." This is a sensory 1.5 kilometre walk through the forest, in search of the legendary giant. The whole experience takes between 1 – 1.5 hours if you include the chair lift. There is a short hike once you get off the chair lift before you enter the forest and start the journey downward. You are given a necklace at the start of the journey that will change colors throughout the journey as you walk through the forest.
This was honestly such a cool experience. I had no idea what to expect going into it and was really pleasantly surprised by the lights and visual media, all projected onto trees and rocks! The kids really enjoyed it as well, although, I should note that our oldest was a little freaked out at first by the loud music in the dark woods. She eventually settled in and by the end was skipping through the dark hills! I'd highly recommend checking this out with your family!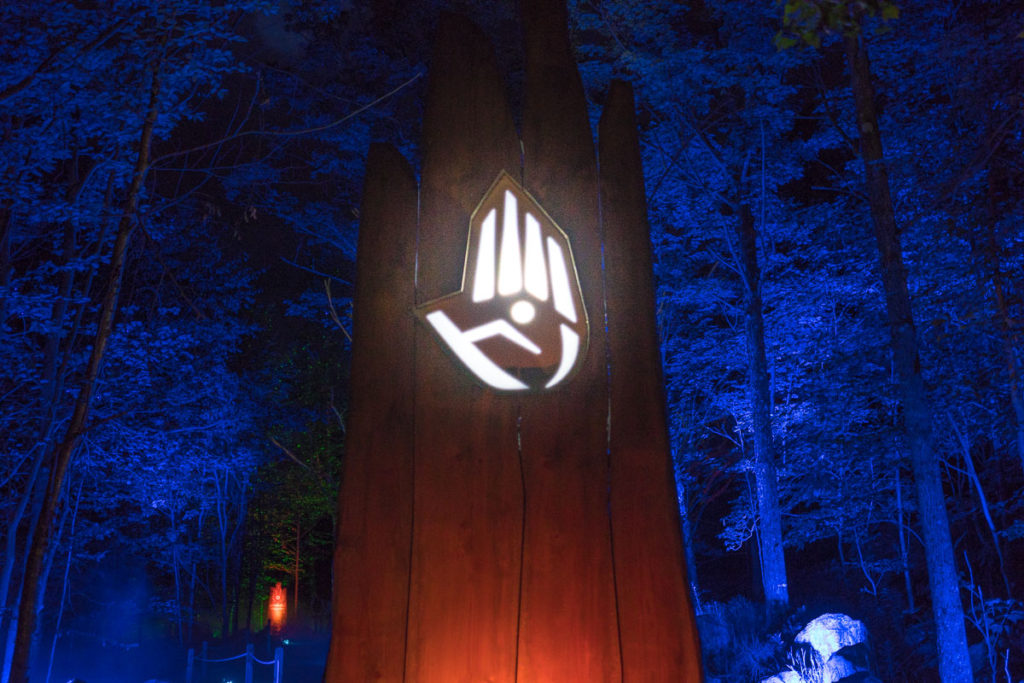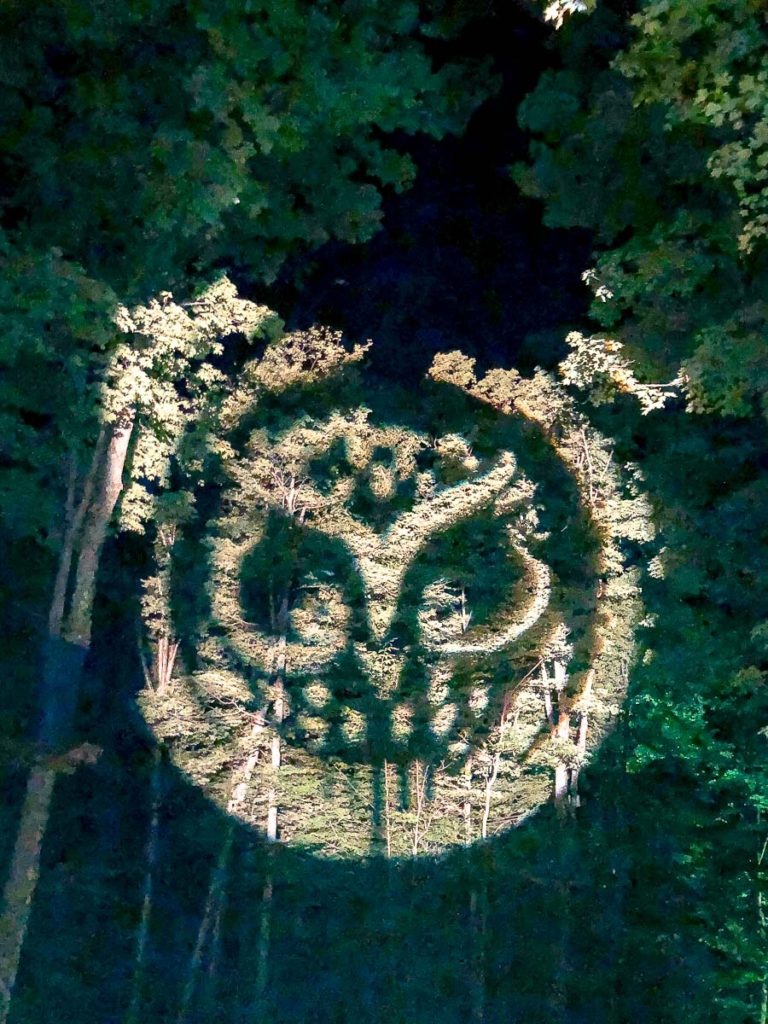 As I've mentioned a few times, the temperatures that weekend were so high that we had to seek shelter after almost every activity to cool off. Thankfully, the village of Mont Tremblant has a number of creative retail spaces where you can go in and create your own unique souvenir from your time away! We were lucky enough to experience two of them: T Bar, where we created our own custom t-shirts and Le Studio Créatif, where we painted pottery. As an artsy family, these were two activities that we were all able to really get into and now all have souvenirs that will last a lifetime to remind us of our time away together!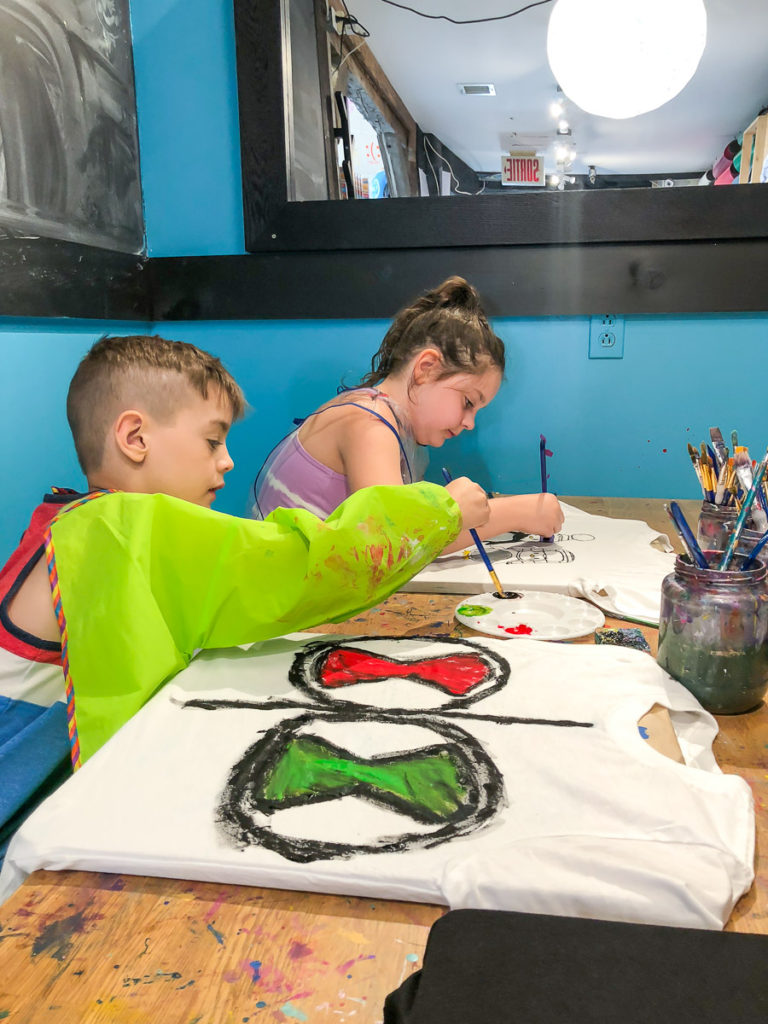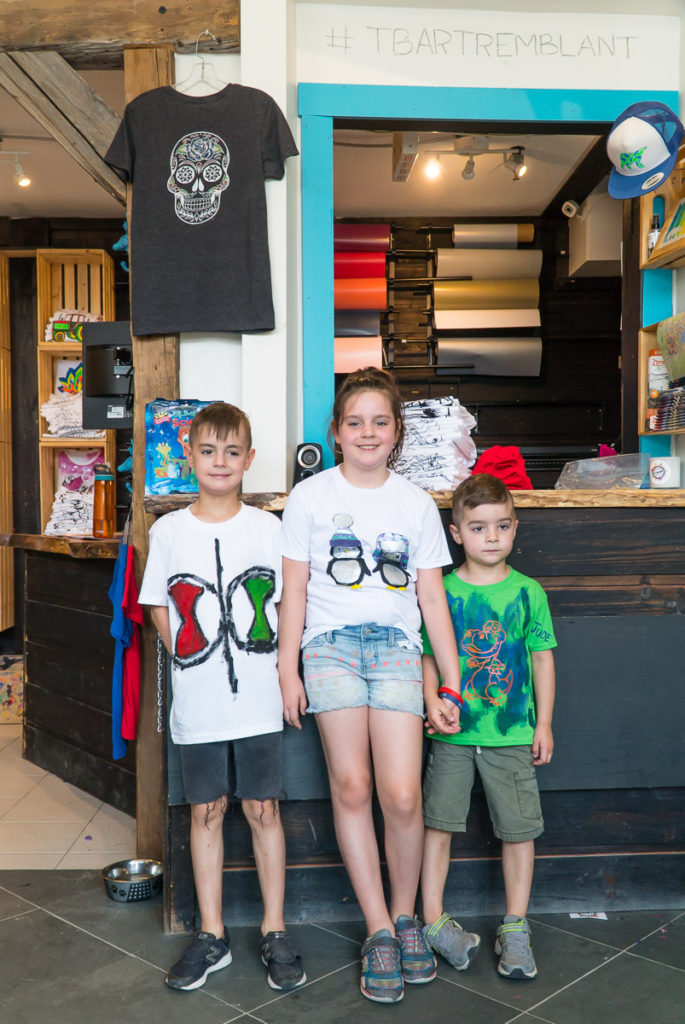 And if you are still reading and thinking "how much more could they possibly have done?", well, we managed to head out of the village for a few activities too!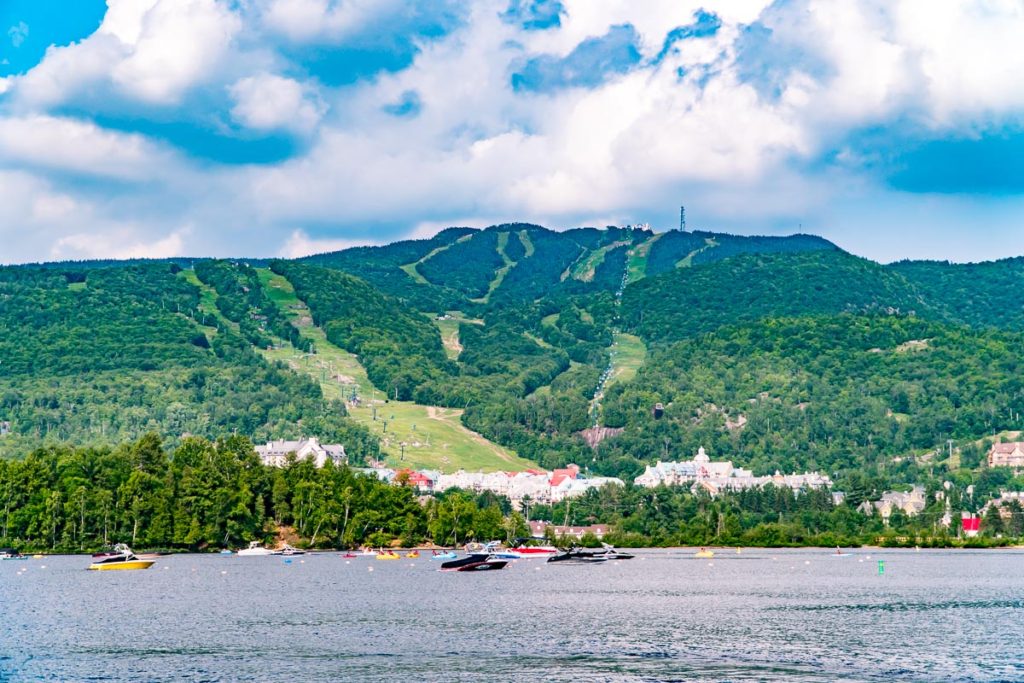 Chris was invited to go on four hour private fly-fishing tour with a local guide on the Rivere du Diable. Mont Tremblant and the surrounding Laurentians area is well known for it's fly fishing opportunities. The Canadian Fly Fishing Championships were held there twice in the last 10 years which says a lot about the quality of fishing! Chris was in his glory to have an afternoon to himself to do one of his all time favorite past times!
One of the final activities that we got to enjoy was a boat cruise on Lac Tremblant aboard Le Grand Manitou II. Cruising on the lake, listening to stories and legends about the surrounding Laurentian mountains while taking in the breathtaking scenery was the perfect end to the perfect family weekend away!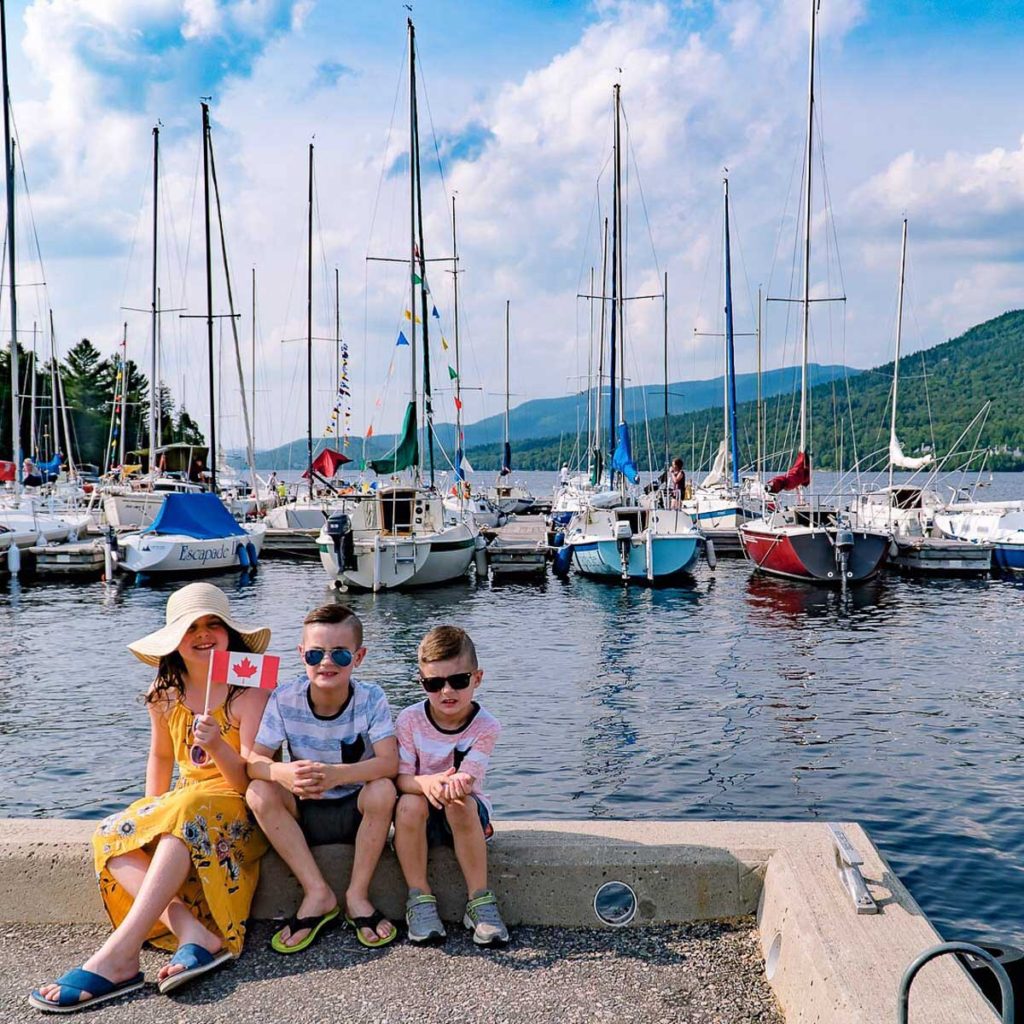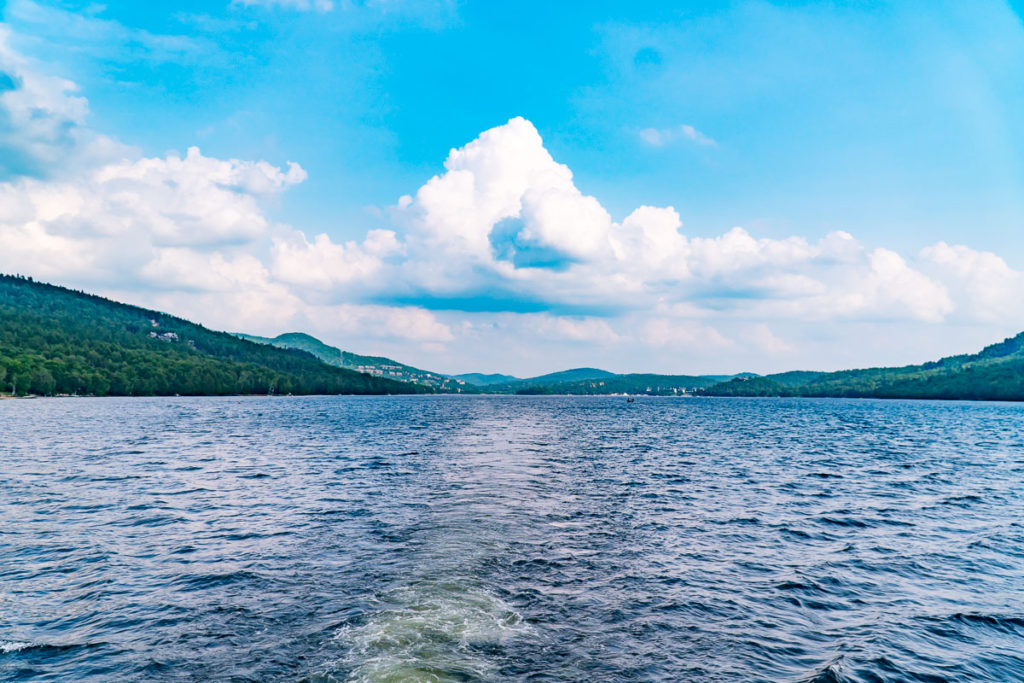 It's hard to image that even after all of these activities, there were STILL more that we didn't get to do from the Luge to the Beach Club to Go Karting and more. The village is bursting with life and energy, especially on holiday weekends or during some of the festivals and events that they host throughout the summer. There was a concert stage set up with local bands playing into the night, fireworks to celebrate Canada Day and an abundance of excitement and life all around! Whether you want a high-energy weekend filled with tons of activities or you'd prefer the slower pace of shopping through the various boutiques and spending time at the spa, there truly is something for everyone at Mont Tremblant, all year long!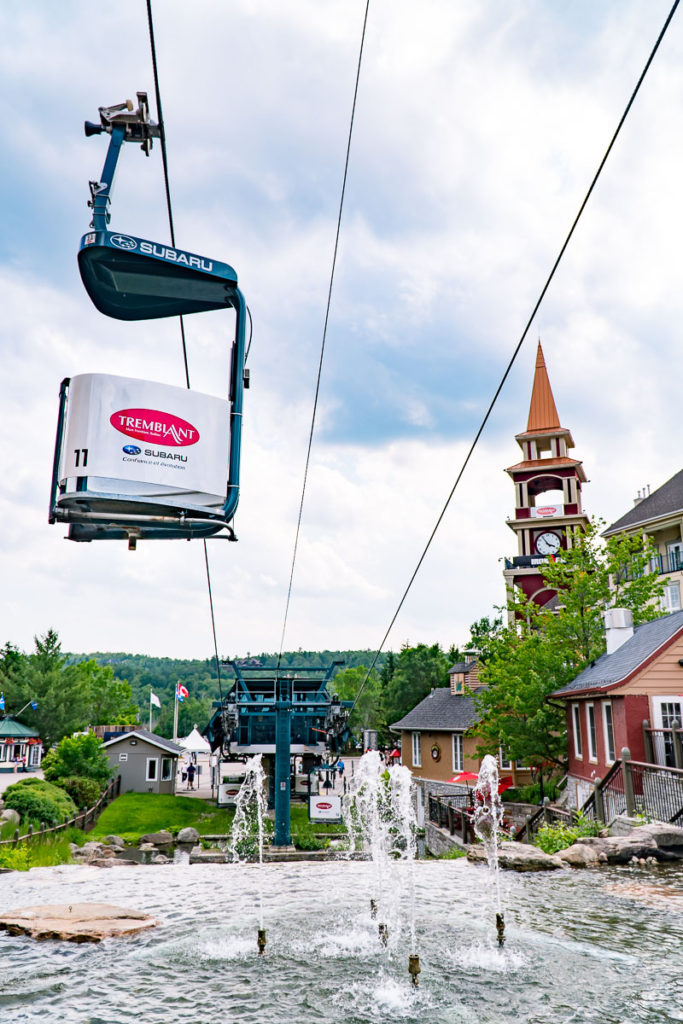 It's safe to say that our family fell in love with this little mountain village and we will most definitely be back soon!
Love & Blessings,
Christine
Note: This trip was made possible by Mont Tremblant and by Tourisme Laurentians. As always the thoughts and opinions are 100% my own.