I've you've been following our family along our summer adventures, you know we've been pretty busy between travel and deciding to sell our home while buying a new one! There seems to always be something on the go every week and while it's been a lot of fun, it's also been a bit exhausting too.
So when the invitation came to do a staycation with the family at the Hilton Mississauga/Meadowvale, roughly 30 minutes from our home in Mississauga, we jumped on it! The idea of not having to travel far nor pack too many items for a two-night getaway excited me.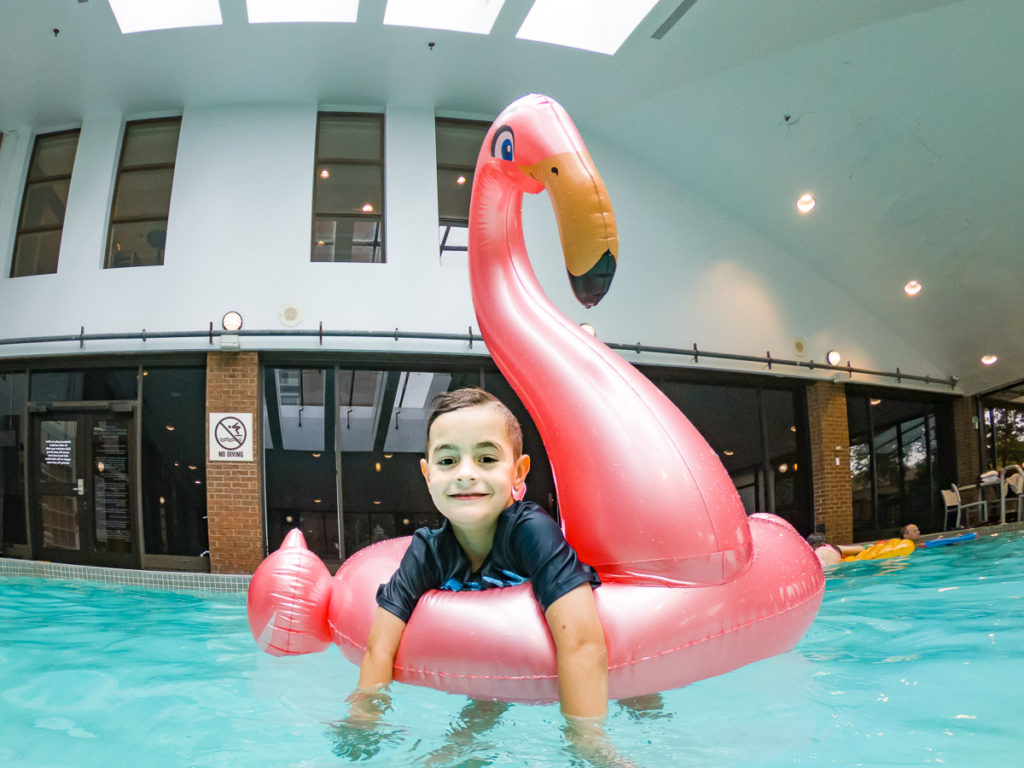 However, nothing could quite prepare us for when we actually arrived at the Hilton Mississauga /Meadowvale. For starters, the service was outstanding from the moment we stepped foot into the hotel. One of the managers was waiting for us and greeted all of us, including the kids, by name and with gift bags. You know that's a great start to a staycation, right?! When the check-in clerk handed us about eight different room keys, I was a little confused as to what kind of room we were getting until I realized that had been given the top two floors of the hotel, with access from both the 14th and 15th floors!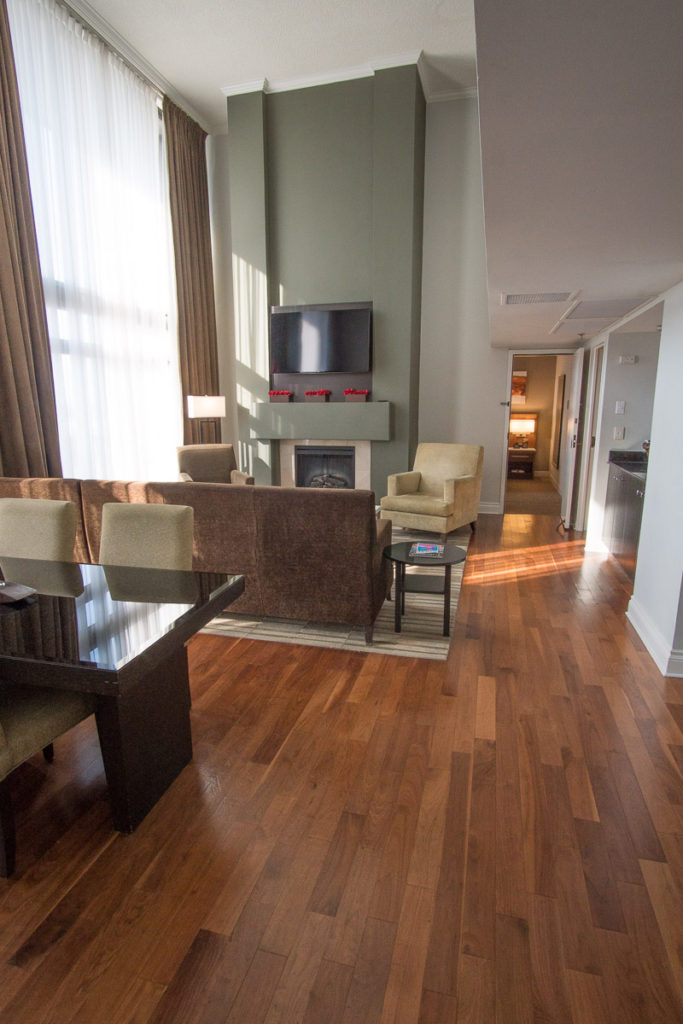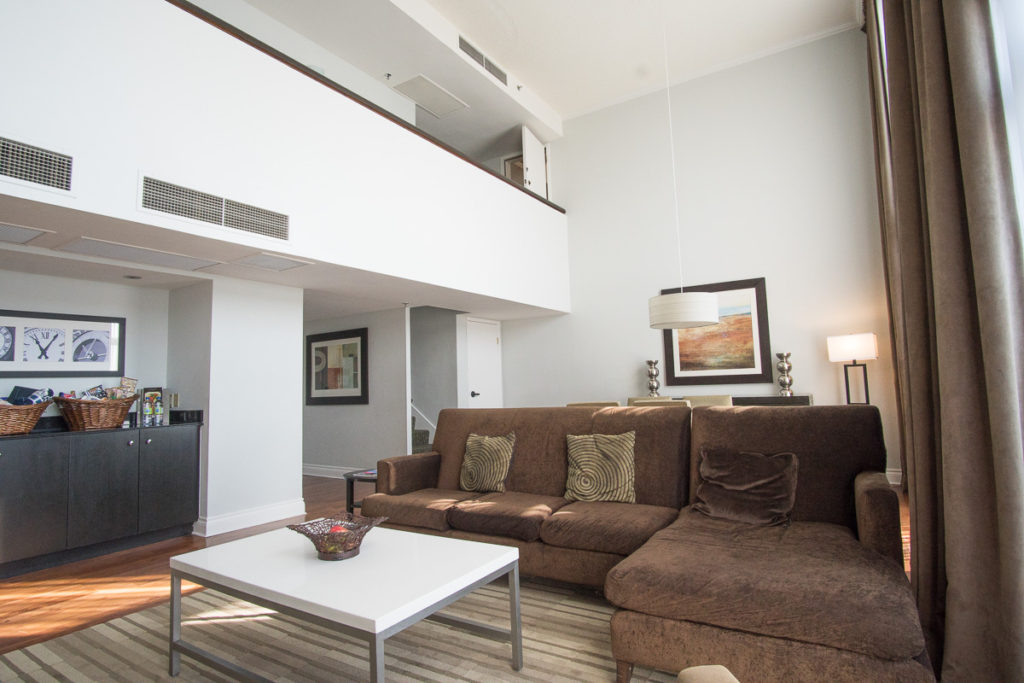 We headed up to the room and once inside, our jaws literally dropped! We had not one, not two but THREE king size suites, all with their own bathrooms, plus an additional bathroom on the bottom floor. The rooms were on either end of the suite with a living and dining room on the 14th floor with a balcony overlooking from the 15th floor, in between. The floor to ceiling windows in that main living area were unreal, bringing in an abundance of natural daylight! Each space also had a balcony off of it which made for the perfect place to watch the spectacular sunset on the second evening there.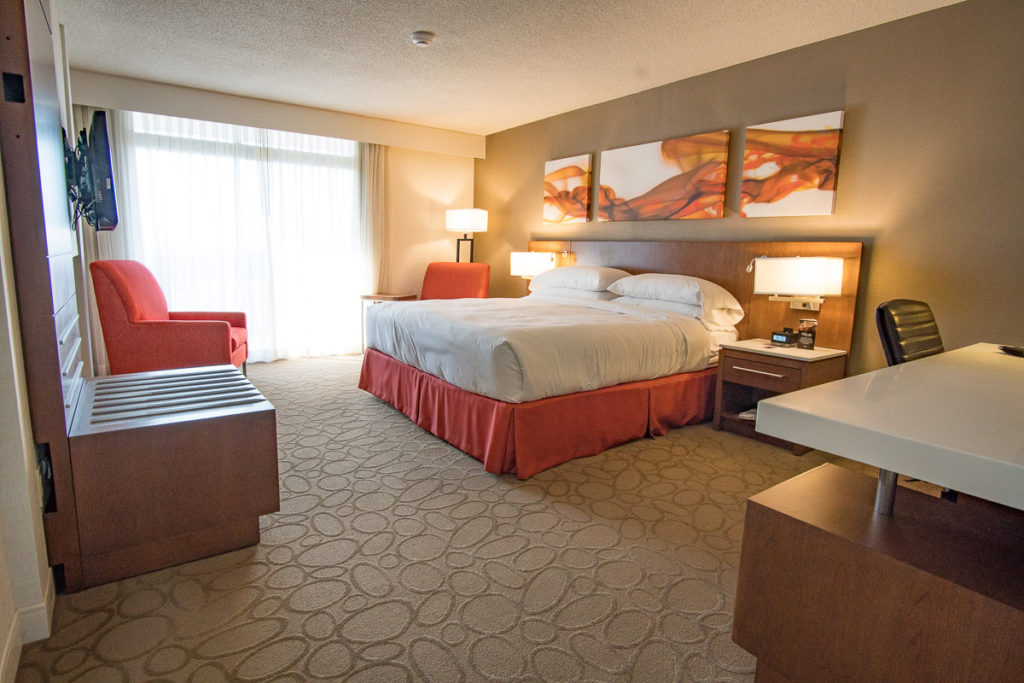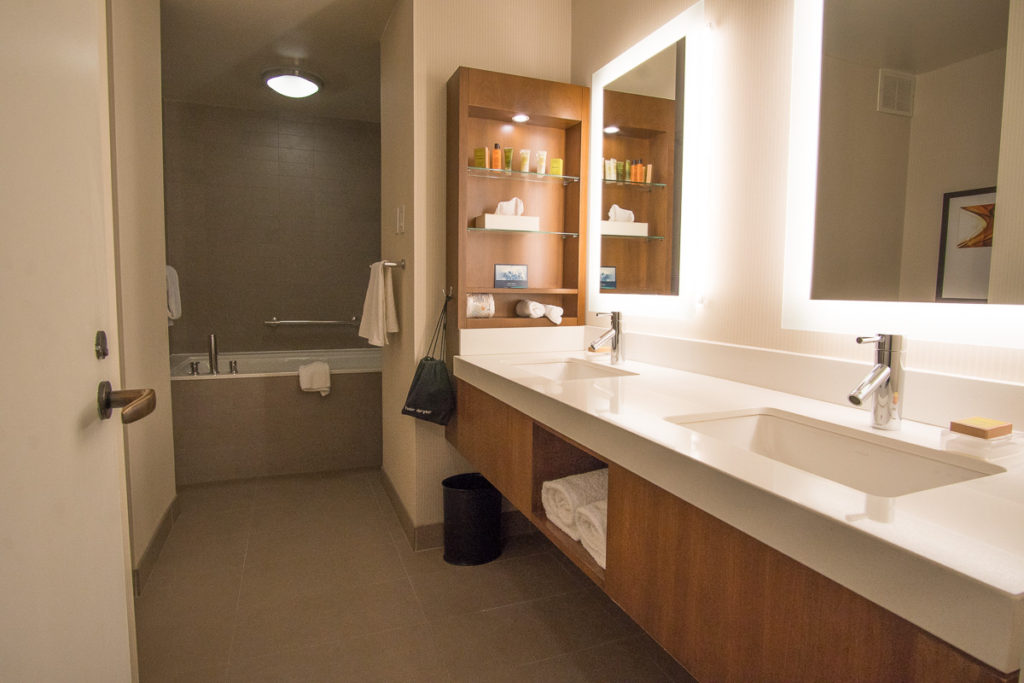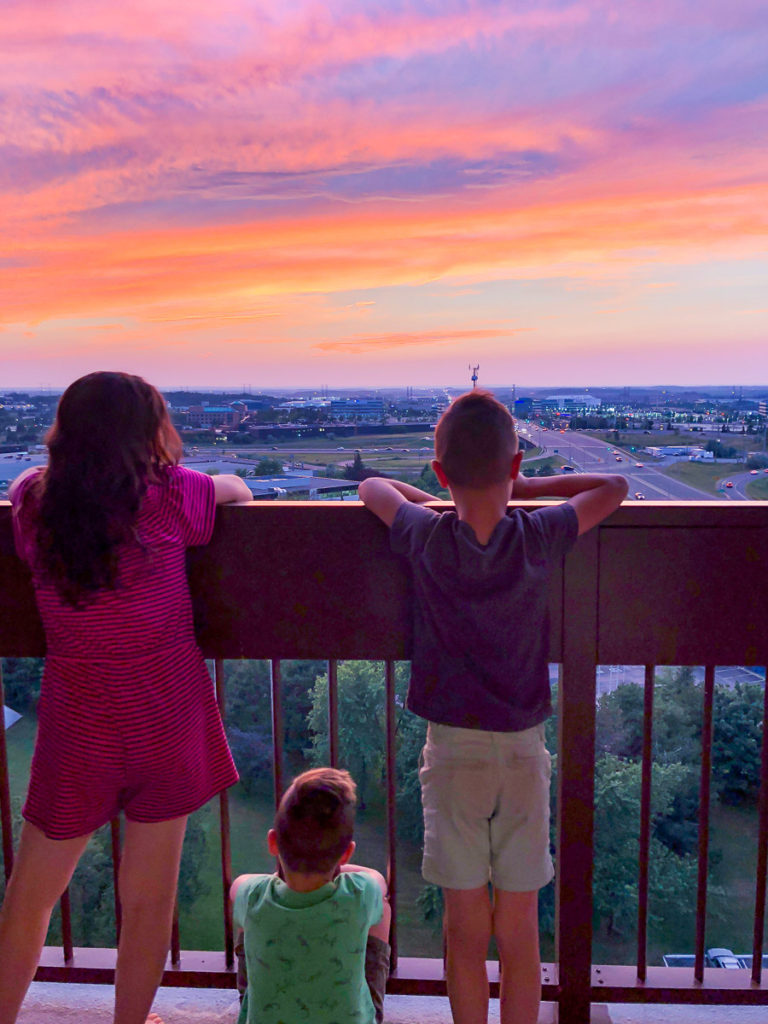 As if the welcome gifts, the friendly service and gorgeous space wasn't enough, our room was filled with all kinds of fun treats for our family to enjoy. From wine to snacks to even some pool floats for us to bring to the pool and enjoy, the Hilton Hotel really went above and beyond to make our staycation absolutely fantastic!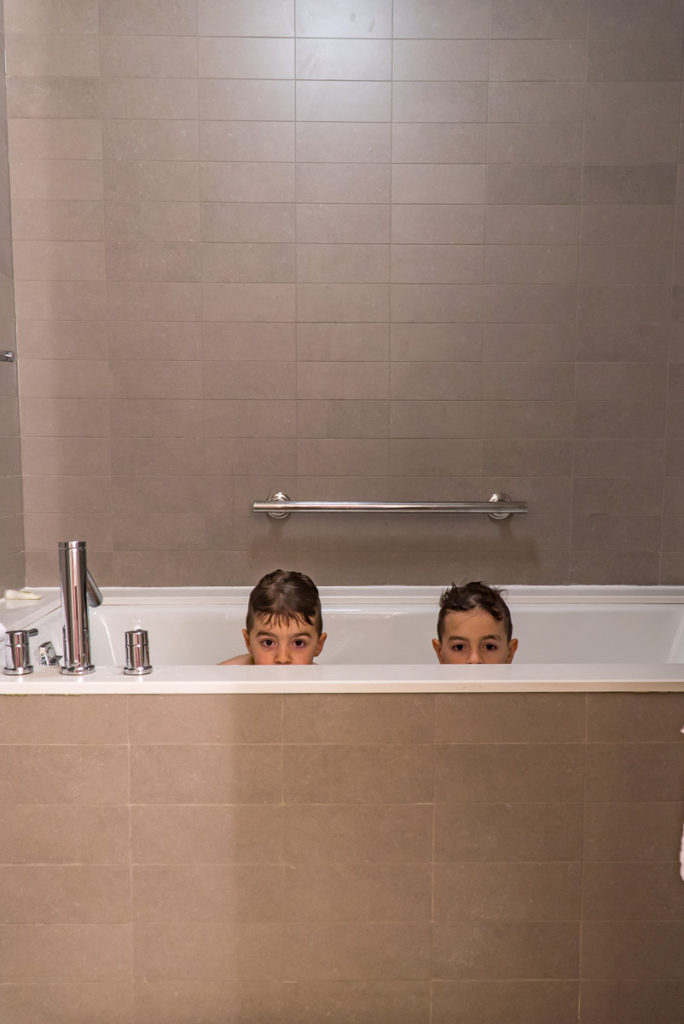 I think what stood out to us the most about our weekend at the Hilton was the way they looked after our kids. And I'm happy to report that it wasn't just because they were my kids, but with their kids Eat, Stay and Play package, they really make sure to treat all the kids onsite like VIP's. Anyone can book this package between now and September 2nd, 2018, where kids will receive free meals at Quest, the onsite restaurant (with a purchase of an adult entree), free in-room movies, pool party and a cookies and milk turn down service at night! My kids were absolutely beside themselves when the late night snack arrived, with fancy wine glasses and all! They felt like complete royalty!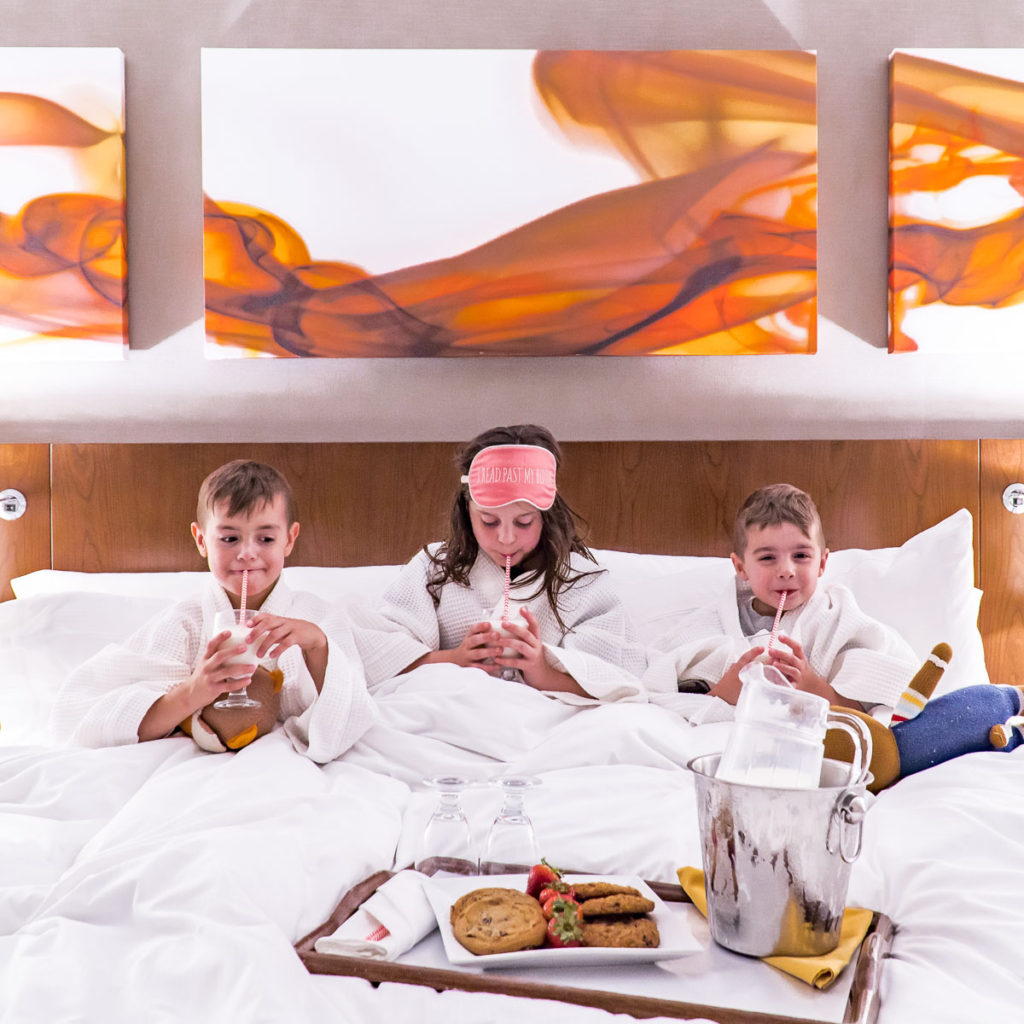 Speaking of the kids and food, we were so pleasantly surprised by the food and service at Quest. They had a table reserved for us all weekend long, the managers and chefs all knew us by name as well as knew the kids allergies and made sure that everything was safe for them to eat! Again, they just really went above and beyond to make sure we had the best experience all weekend long.

The food we ate at the restaurant all weekend was fantastic! I don't think I was hungry once in two days because the portion sizes were so exceptional! They serve a beautiful breakfast buffet mixed with all kinds of hot and cold options as well as eggs to order whatever way you'd like. For dinner, we enjoyed everything from butter chicken to pasta to fish and chips…and every single thing we had was delicious! The manager also selected a few appetizers for us to try each night along with the most perfect wine pairings and it was fantastic!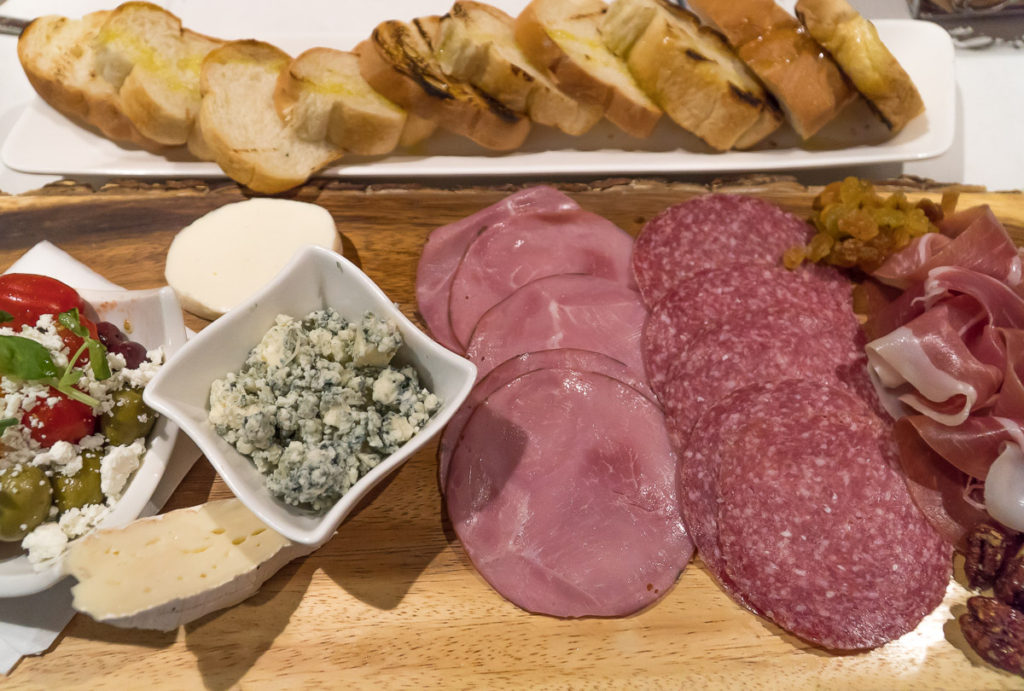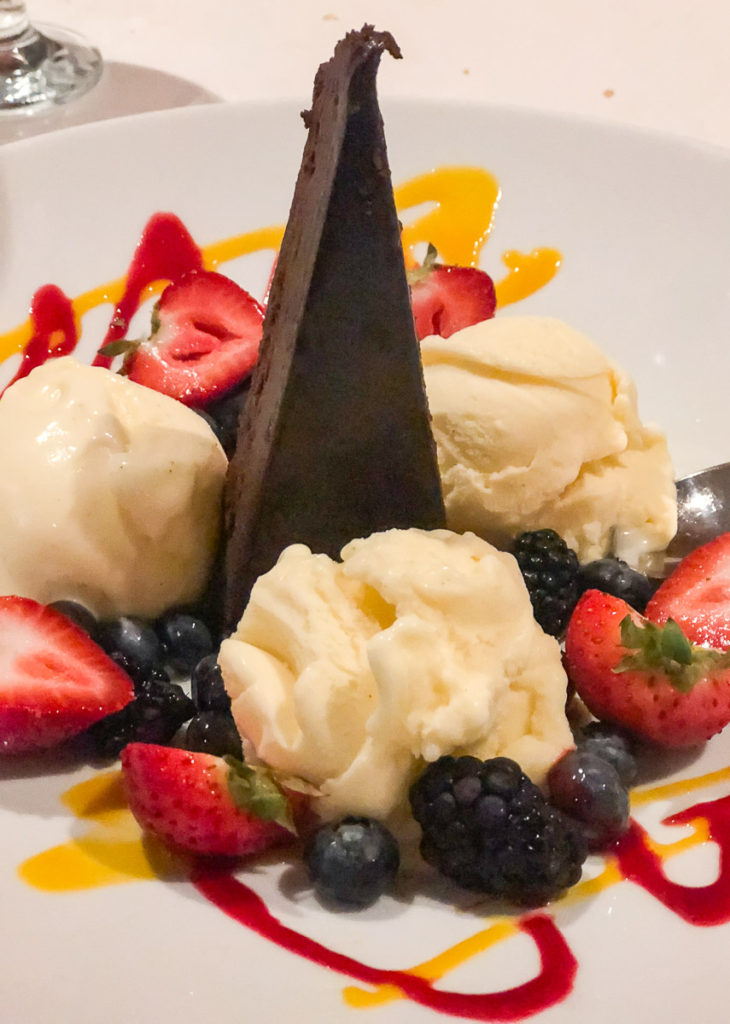 As for the activities, we basically spent the entire Saturday and most of Sunday at the pool! Did you know that the Hilton Mississauga /Meadowvale has the longest waterslide in the GTA?! I cannot tell you how many times the older two kids went on that slide…I would venture a guess that it was well over 100 times each…no word of a lie! Even Chris and I both managed a few slides down "Big Blue", as the hotel locals call it, and it really was so much fun!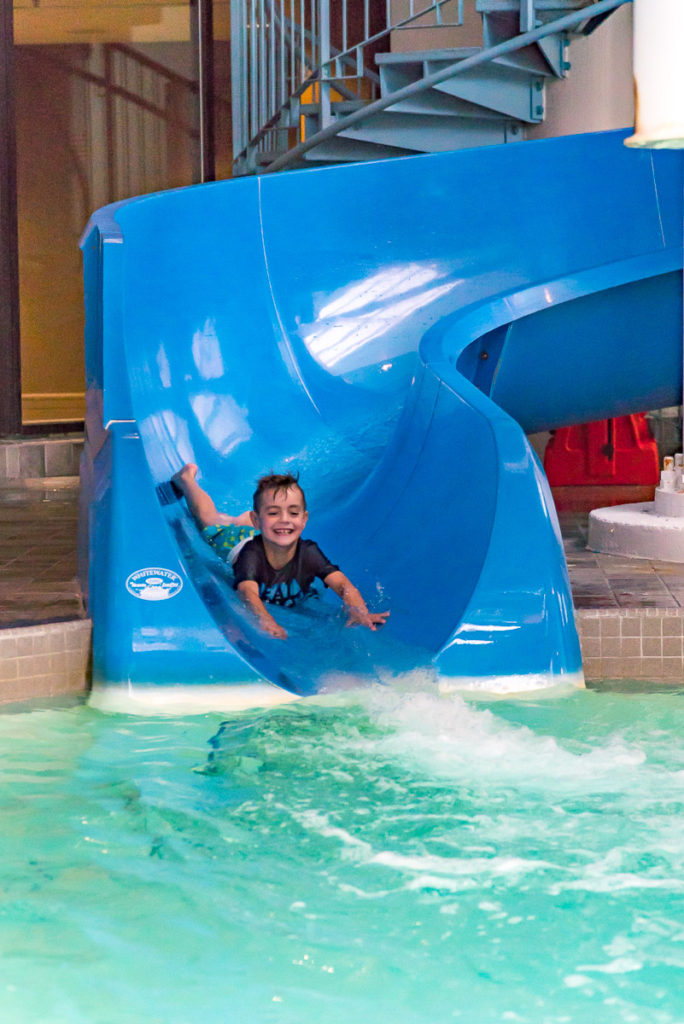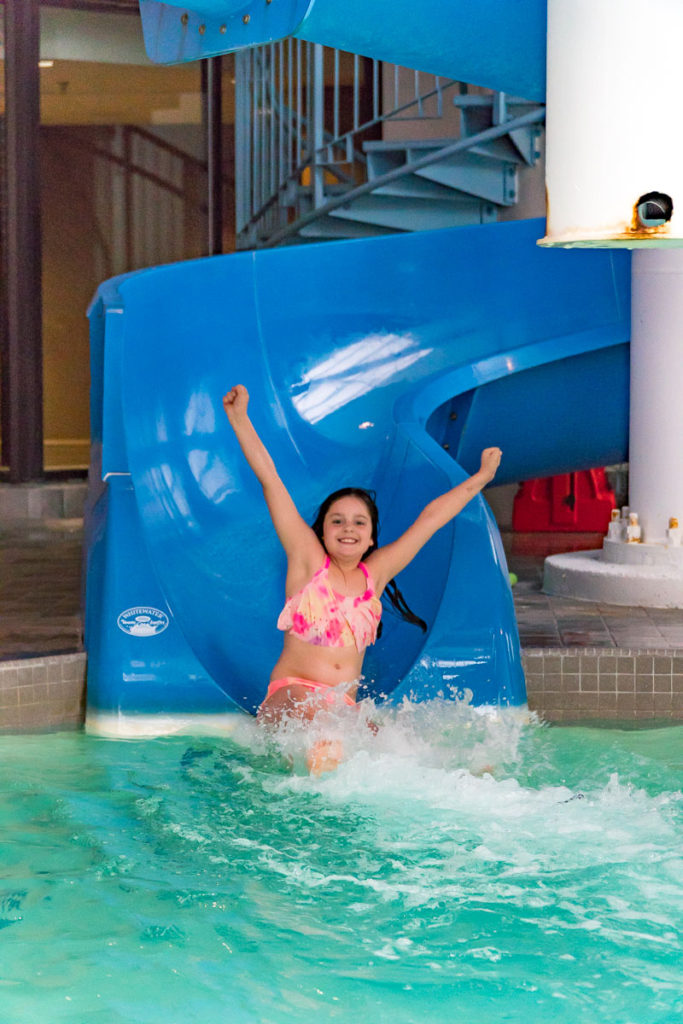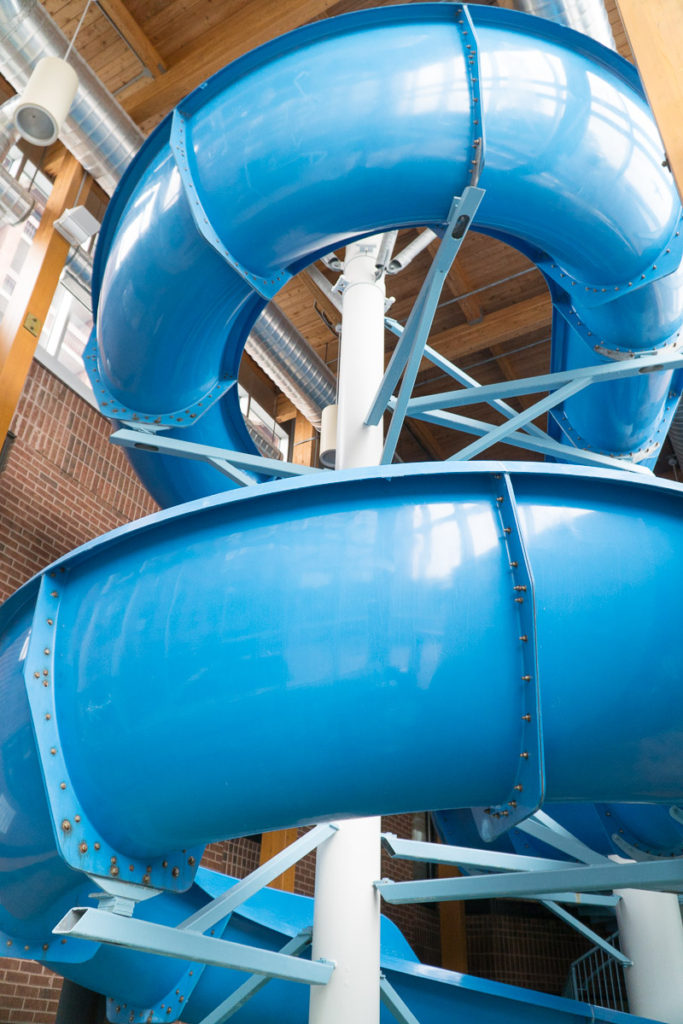 The little guy was unfortunately too short to go on, but he had loads of fun in the big pool with the pool floats and underwater camera we let him test out! On the Sunday, the clouds had lifted and we spent most of the afternoon in the outdoor pool, working on our tan!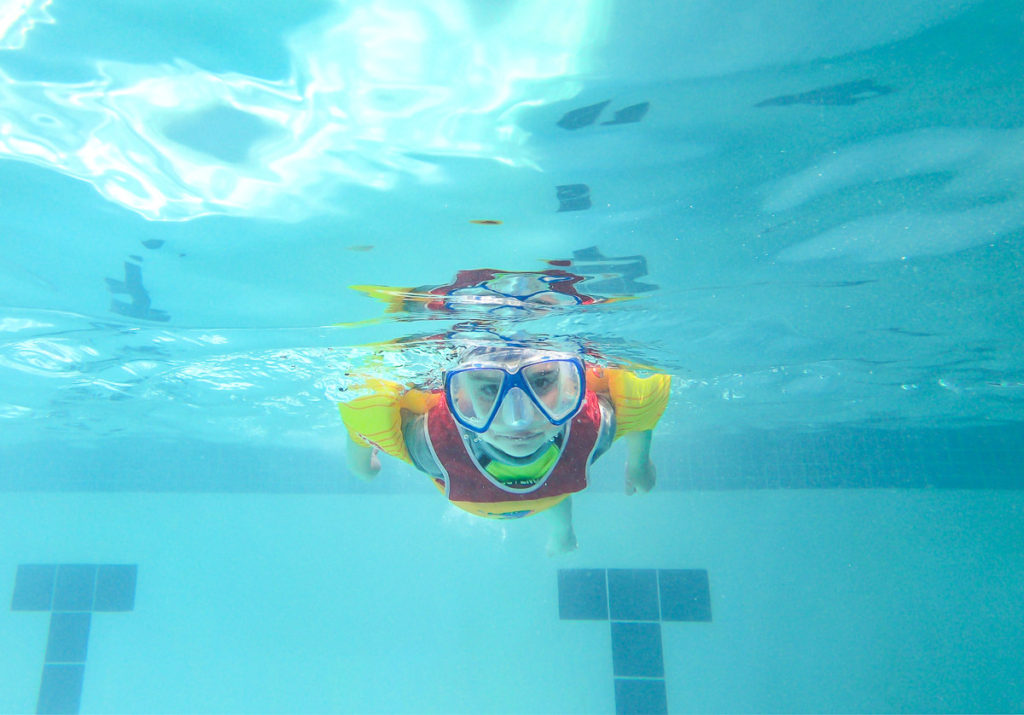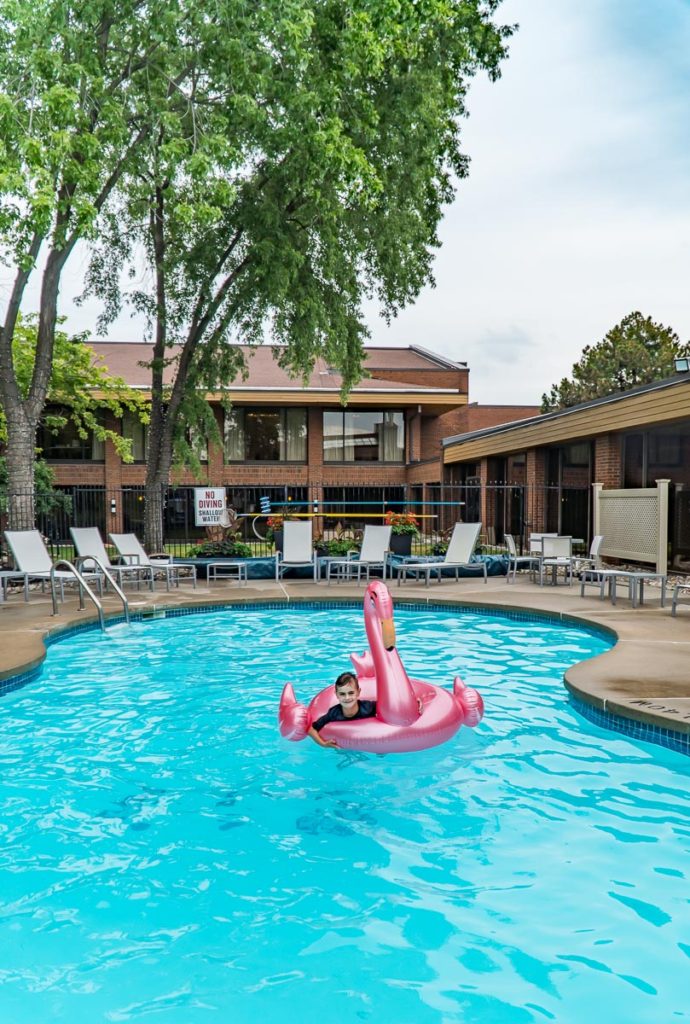 After our pool time on Sunday, we headed over to Glowzone 360, an indoor playground in Brampton, to play a round of glow-in-the-dark mini putt as well as laser tag! Our family has decided that we absolutely love laser tag, even our little four year old! After the two games, the kids had $5 credit to play some of the arcade games where they could earn points to put towards prizes. It was a perfect way to end off a perfect weekend, thanks to Attractions Ontario!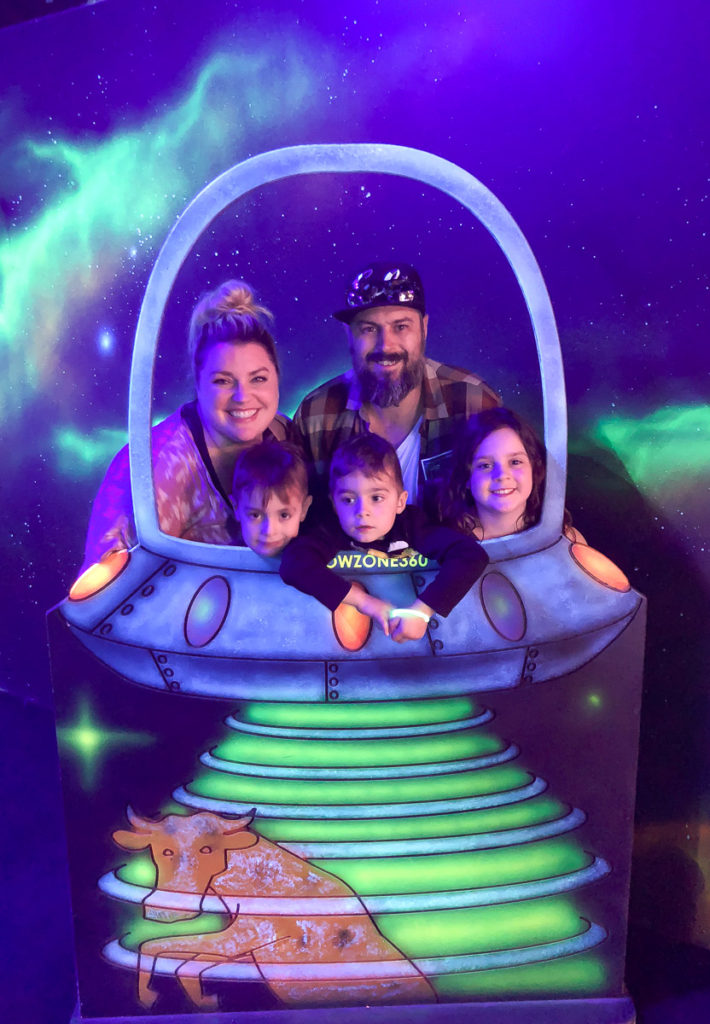 We truly had the best time relaxing in our suite, eating the most delicious foods and playing in the pool. If you are looking for a fun, family getaway but don't want to venture too far out of Toronto or perhaps you don't live in the GTA and are looking for a great place to stay with the family, close to the airport, I would highly suggest checking out Hilton Meadowvale Hotel. I know for certainty, we will be back there again!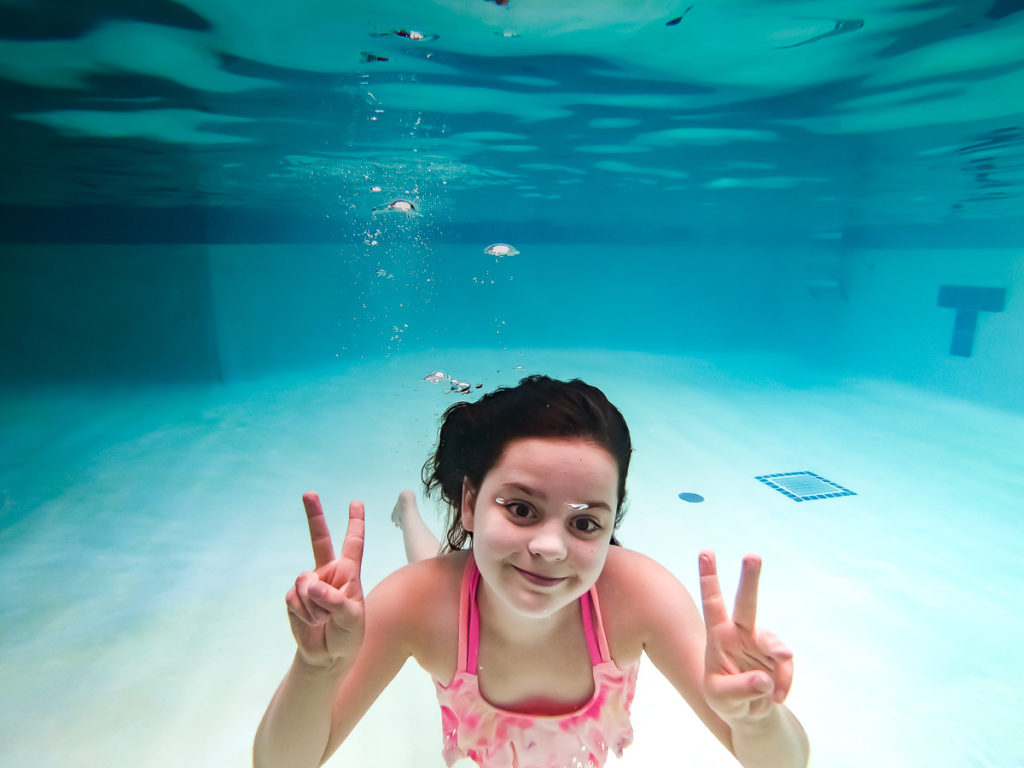 Love & Blessings,
Christine
Note: This post was sponsored by Hilton Hotels and Attractions Ontario. All thoughts and opinions are my own.