This is a sponsored post written by me on behalf of Campbell's® . All opinions are 100% mine.
Weeknight cooking can often feel like a daunting task for two working parents. Even though I work from home, I still find it really difficult to stop what I'm doing to go spend an hour+ at the stove top cooking food that let's be honest, often times my kids don't even want to eat. So we end up having ready-made meals from the grocery store or takeout more times than I'd like to really admit.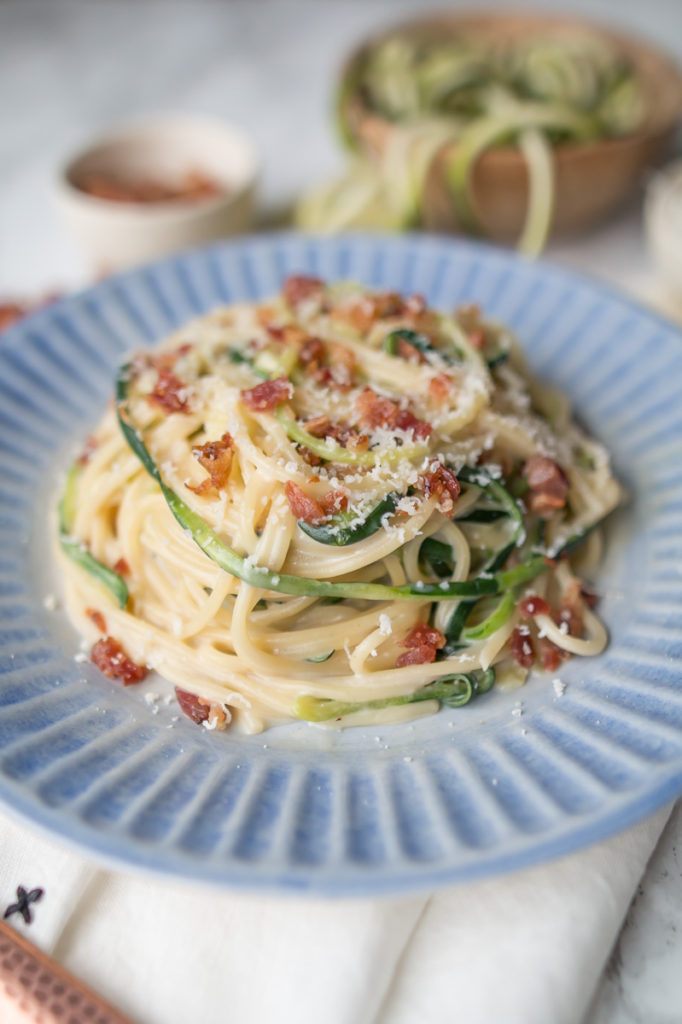 So finding products that will help create a good, home cooked meal in no time flat is crucial in order for me to have a successful dinner hour in the home.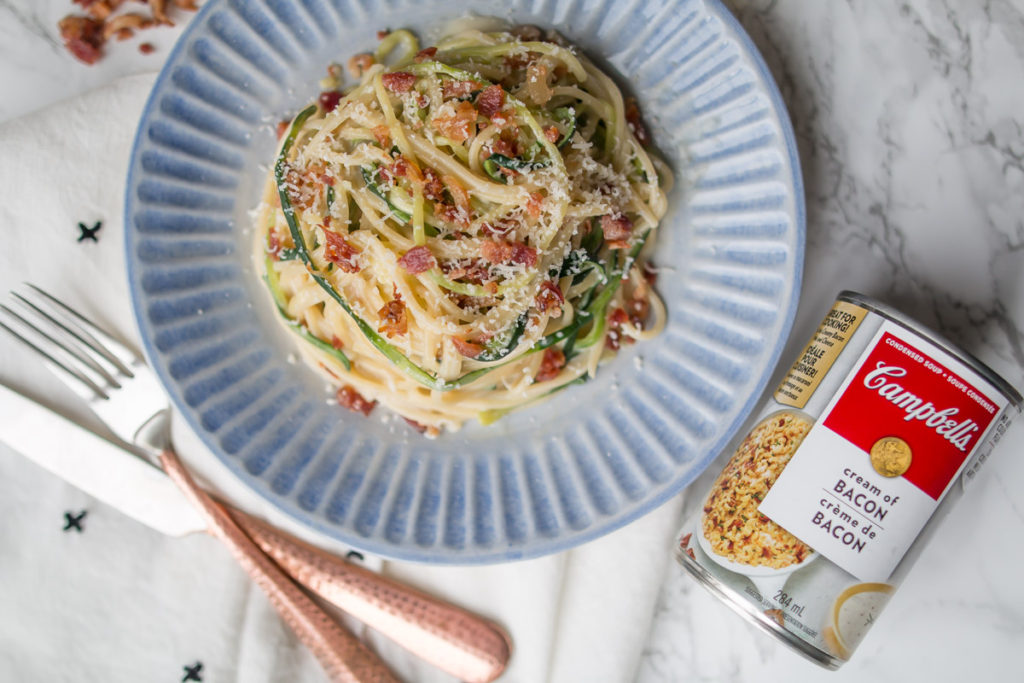 Recently, I discovered Campbell's Cream of Bacon Condensed Soup and decided to create a simple and easy recipe that I knew my kids would love. I really don't have time to create sauces from scratch, so having a soup base like this one cuts down on the cook time by more than half! Talk about a win-win for this busy momma!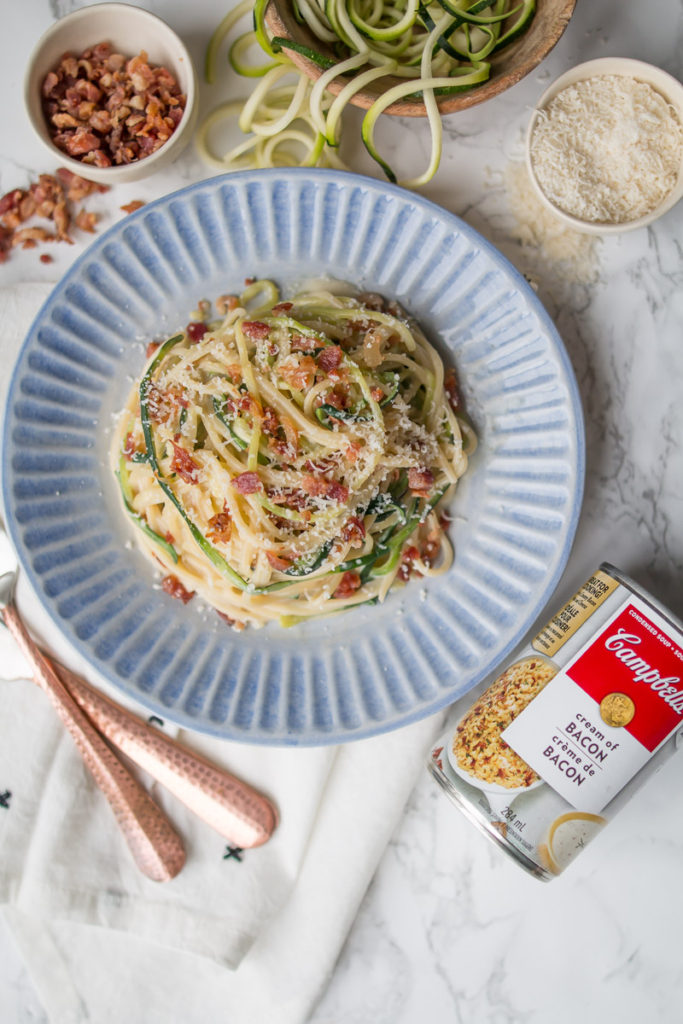 I've actually created a few variations of this Creamy Bacon Alfredo. One is with regular pasta noodles, the second is with spiralized zucchini noodles and the third is a combination of the two noodles. I find that I don't love eating too much pasta, especially as I've started suspecting a gluten intolerance for myself, yet on the other hand, I find that if I eat just vegetable noodles, I am often hungry after. And don't even get me started on trying to feed my kids just veggie noodles – I'm sure you know how that one ends, right? So I've found if I combine the two recipes – using pasta AND zucchini noodles, everyone is happy! The kids get their veggie quotient for dinner while still enjoying eating the meal!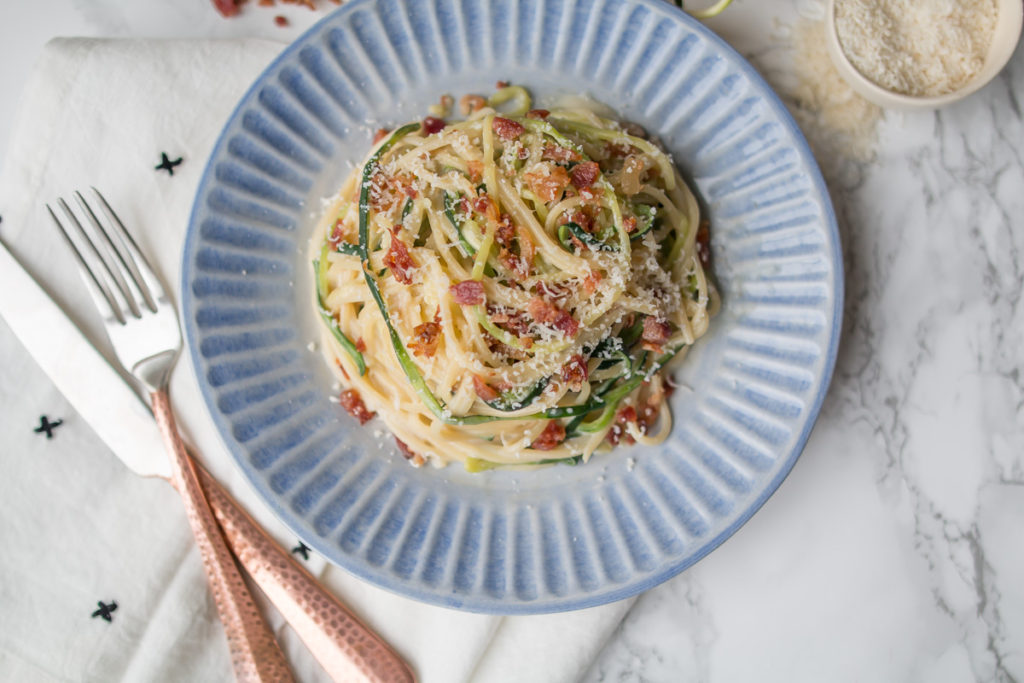 I'll share with you my combined recipe using both noodles, but if you'd prefer to use one noodle over the other, adjust the recipe accordingly!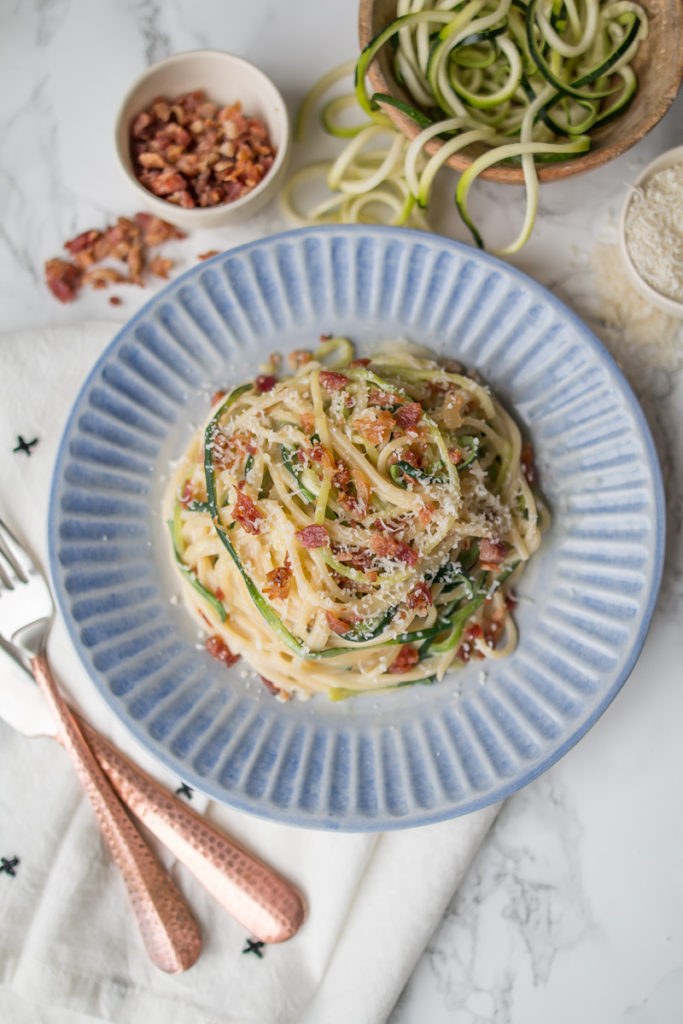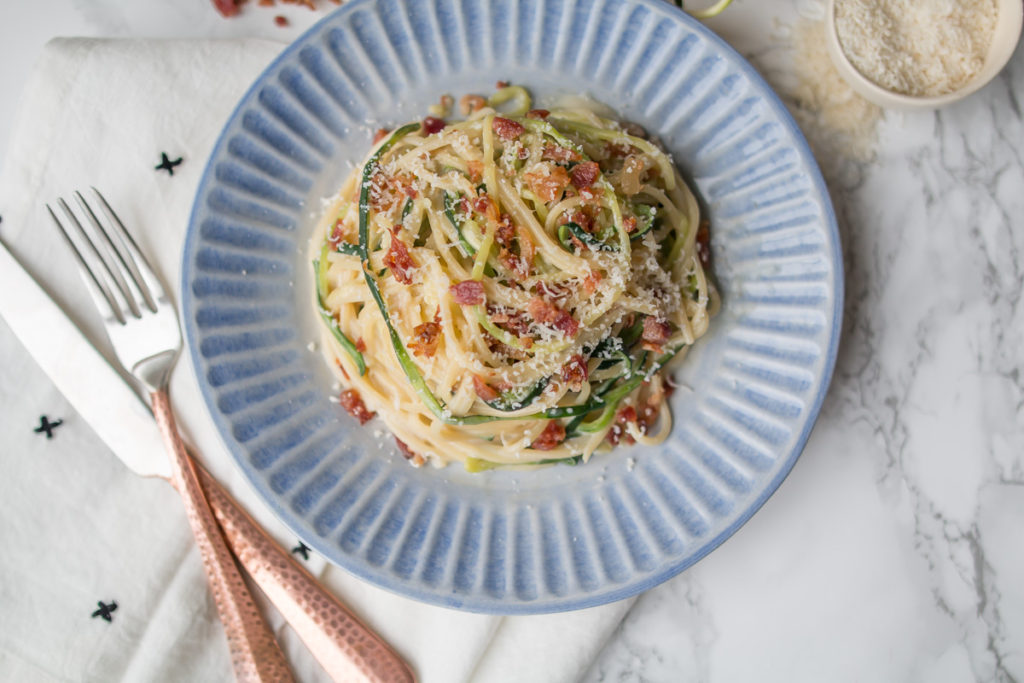 Creamy Bacon Alfredo
2018-03-08 08:10:25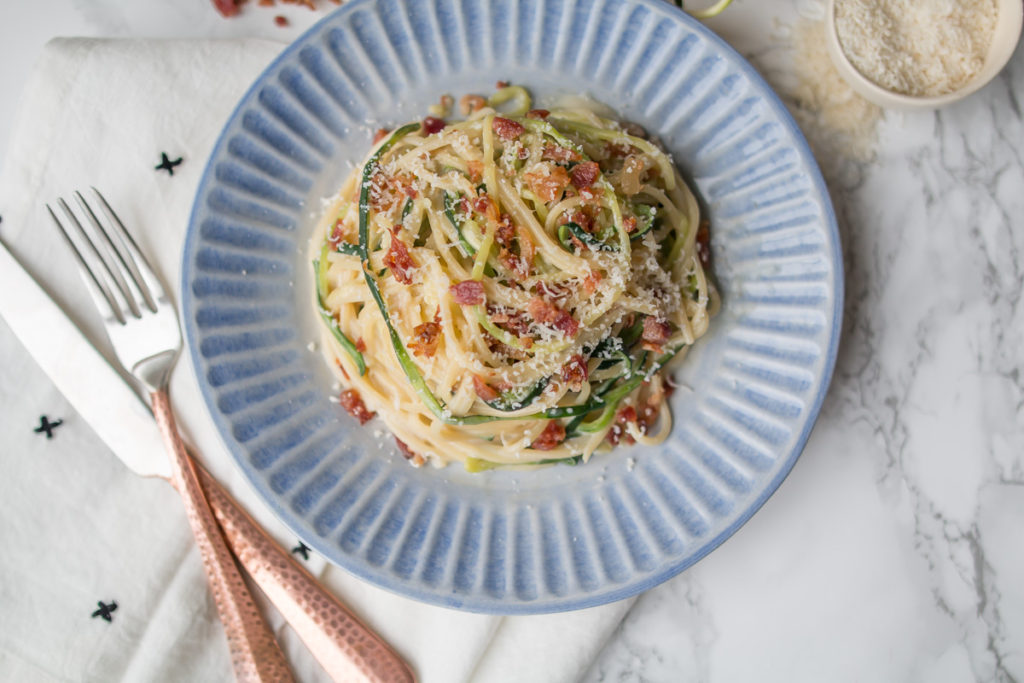 Ingredients
1 can Campbell's ® Cream of Bacon soup
1 tbsp olive oil
2 cloves of garlic, crushed
3/4 cup of milk
1 cup of shredded parmesan cheese + 1 tbsp to sprinkle once serving
1/2 cup pre-cooked bacon crumbled
2 zucchinis, spiralized
1 1/2 - 2 cups pasta (spaghetti, penne, or your choice)
Instructions
Bring a pot of salted water to a boil and cook pasta for 6-8 minutes, or until al dente. Drain and set aside.
In a large frying pan, heat 1 tbsp of olive oil and add in two cloves of crushed garlic. Once garlic is fragrant, add in spiralized zucchini and cook for 2 minutes or until softened.
Add in 1 Can of Campbell's ® Cream of Bacon soup. Stir in milk. Add more milk if you want thinner consistency. Add in parmesan cheese and stir until melted.
Add in pasta noodles and stir until well combined.
Add in bacon crumbled and combine well.
To serve, sprinkle with freshly grated parmesan cheese.
Amidst the Chaos https://amidstthechaos.ca/
And there you have it my friends! A super easy, delicious and quick dinner that you can get on the table, on a busy weeknight in no time flat! Something that the entire family will not only enjoy, but come back wanting more!
To find more great recipes like this, make sure to also visit Cook with Campbell's.
Love & Blessings,