I know we talk a lot about itchy skin on this blog and test out tons of different creams to find relief for dry, irritated skin. Some might wonder why I agree to review so many different types of creams and lotions and there really are two reasons why. Let me share briefly before we dive into the product.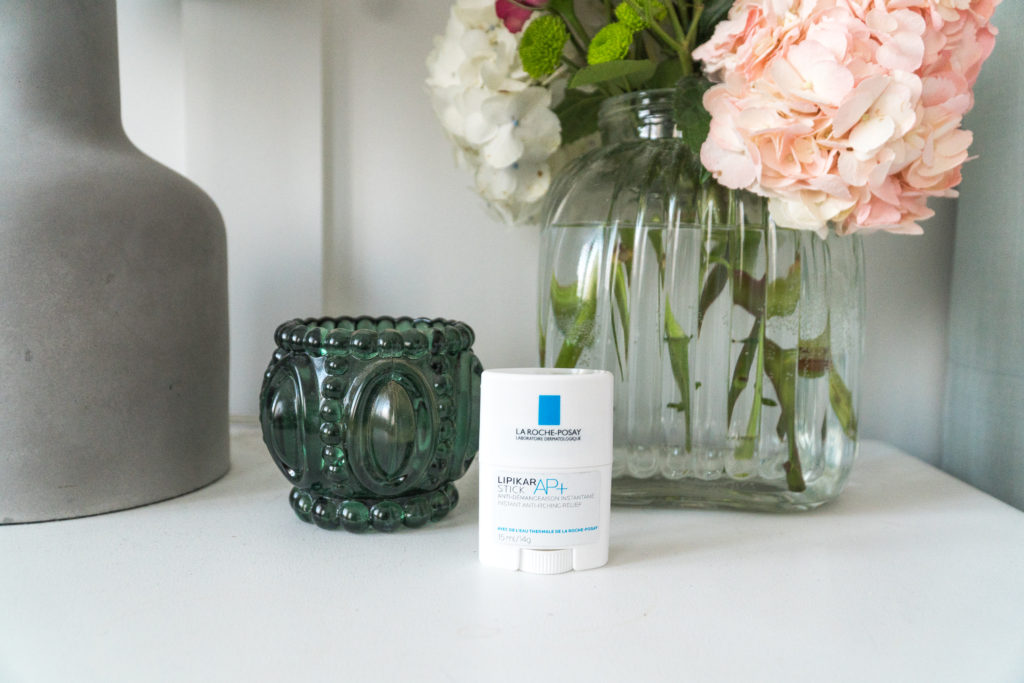 First, as you most likely know by now, our middle son has eczema. In fact, he's struggled with severe eczema since he was about six weeks old. It was so severe that he would stay up all night screaming because he was in pain. This lasted for six months, and we went from doctor to doctor to doctor, trying every treatment in the book, until we finally found one that worked! And we all slept well the night after!
I also am prone to bouts of eczema. If you've been following my Instagram stories, you will know that for the last few months, I've been struggling with really badly cracked and dry lips. I had no idea what was causing it and was desperately trying to find relief. I ended up finding relief with a cream I'd never heard of before, which I'm so thankful I found.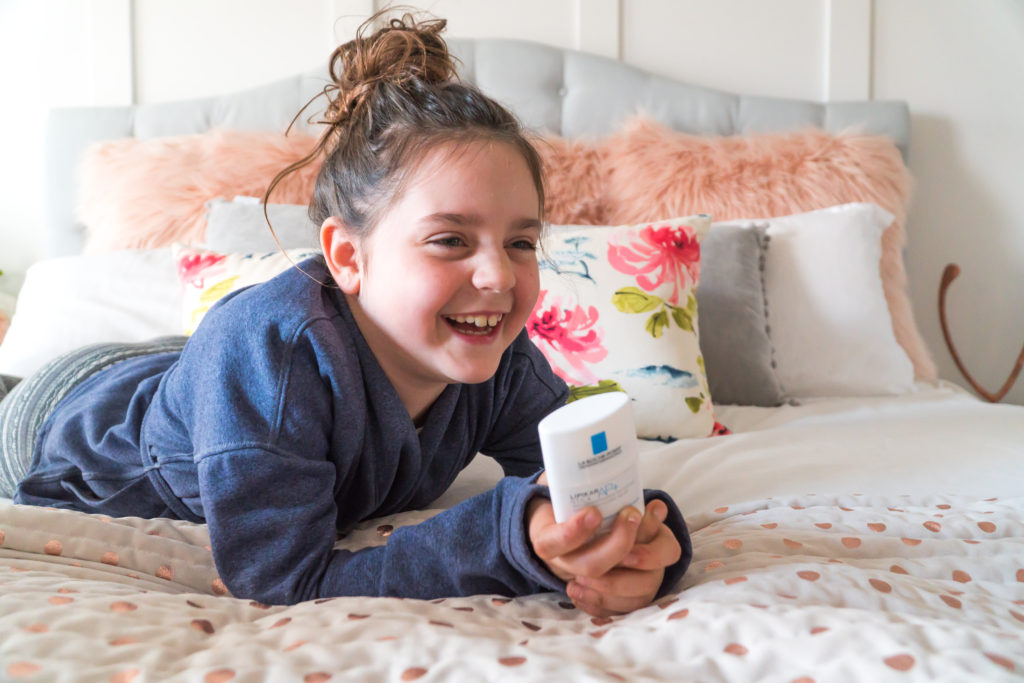 So if anyone "gets" eczema, we sure do. We've dealt with it long enough to know how hard it can be for someone struggling with it and how it can even affect those around them too.
But secondly, and maybe more importantly to communicate, the reason why I agree to test out so many different products and review them all for you is because after six years of struggling within our family, I know that the remedy for eczema is not a "one-size-fits-all." Like I said, with our son, we tried so many recommendation treatments and nothing was working. Since we got his eczema under control, we've actually tested out a number of different products and all seem to have their various pro's and con's. Some work for him and some don't. Some that once used to work for him, have stopped working as his body has gotten used to it.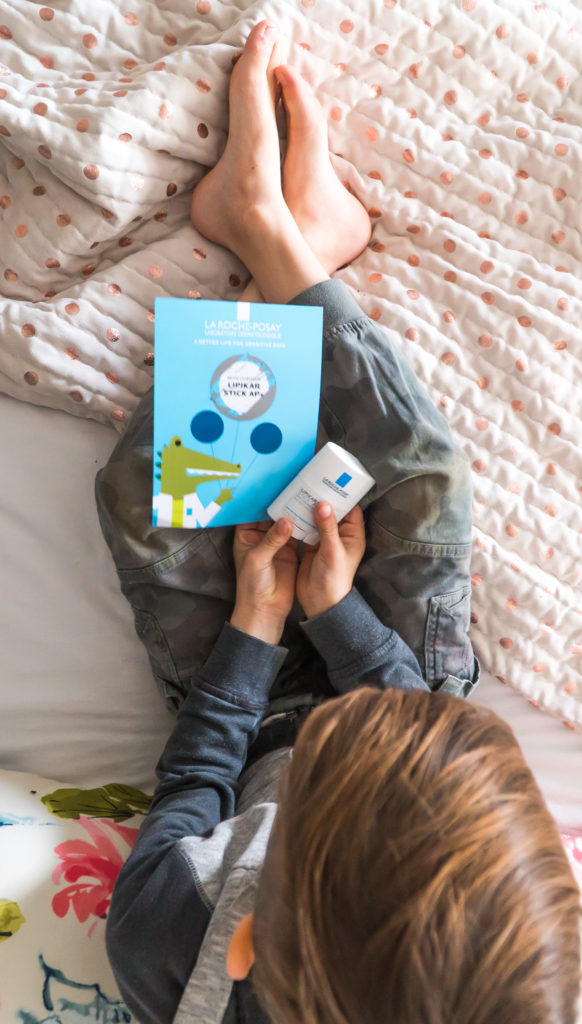 So I truly believe after first hand experience, that one can never have too many remedies for their eczema. There are always new and innovative products coming to market and I absolutely love testing them out to see just how effective they are!
With all of that said, let me introduce you to the NEW Lipikar Stick AP+ from La Roche-Posay, a true game changer in the skin world, debuting this Fall here in Canada!
Right off the bat, when you look at the packaging of the Lipikar Stick AP+, you know something is different as it looks more like a stick of deodorant than a tube of cream. But this, my friends, is all part of the genius design from La Roche-Posay.
You see, Lipikar Stick AP+ is not just here to soothe your skin, which it WILL do. It's also here to do something even better – the Lipikar Stick AP+ is actually designed with the intention to help break the scratch reflex! Say what now?! I know, I told you this was revolutionary!
The idea behind this methodology is that every time you have the urge to scratch, you reach for the stick and rub it on instead. BRILLIANT!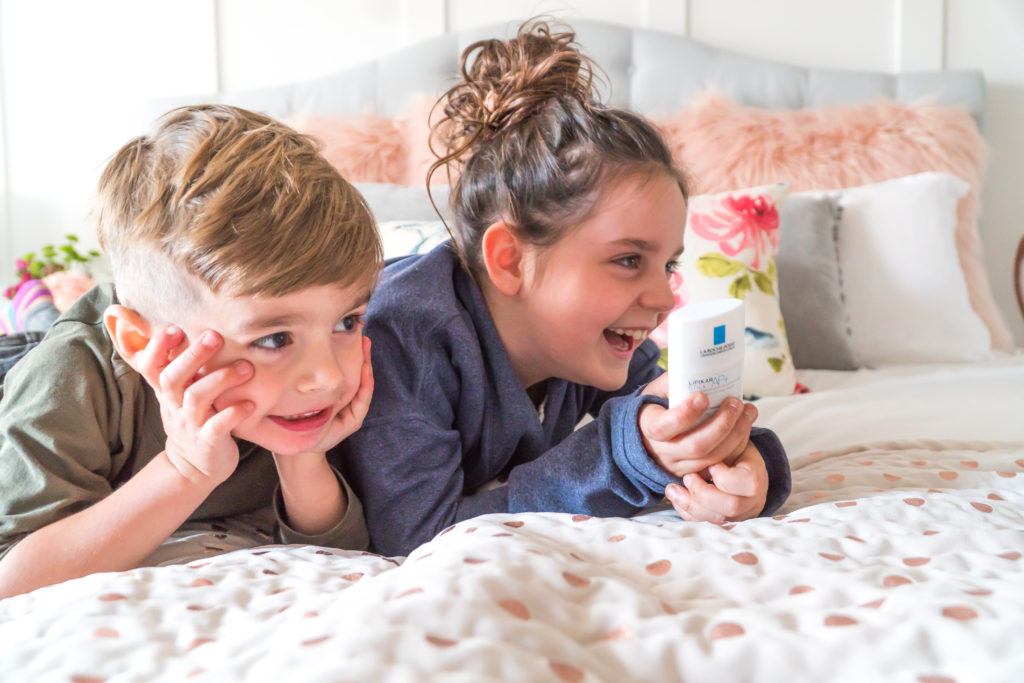 So the idea is that a person can use this personal sized (perfect for on the go) stick and replace the scratching urge by using the mechanical action of application of this stick instead! Pure genius! It satisfies the urge to scratch and at the same time, relieves the skin with its soothing formula. This formula consists of lipid-replenishing Shea Butter, anti-inflammatory madecassoside and anti-bacterial zinc gluconate, for instant relief on the skin's most irritated areas.
Even better, this formula is one you can use all over your body and it won't leave any kind of greasy residue. And it's also safe for adults and kids alike! I mean, really, what more can you ask of from a skincare product?!
I know in my house, this stick is going to be an absolute game changer. Recently, my son had a bad flare up of eczema on his legs. I can remember him scratching away at them all night long, no matter how much lotion I put on. It would still bug him throughout the day, so I decided to fill up a little reusable container with some cream and told him to apply it at school anytime his legs got itchy. Well, he came home after school and of course, when he tossed his bag down outside for morning recess, the cream splattered all over the inside of his bag! NOT FUN!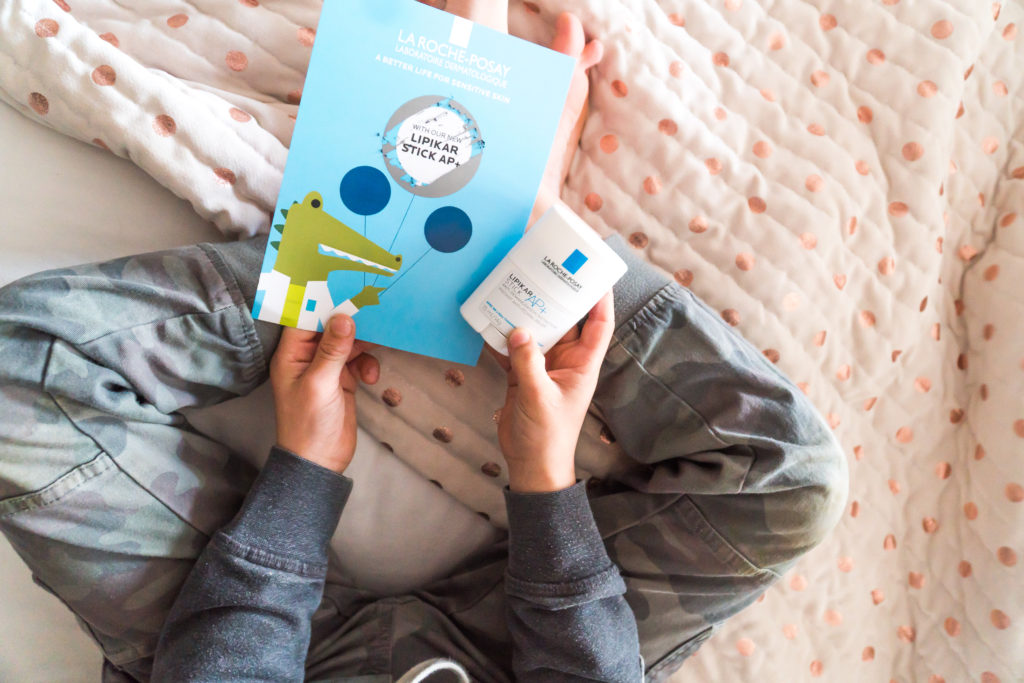 So this Lipikar Stick AP+ is PERFECT for a busy and active little boy like mine! I can toss it into his backpack worry-free that it won't explode the next time he gets a little rough with his bag and yet I also know that he is always armed with relief should a flare up occur away from home.
If you or your little ones are struggling with eczema flare-ups and you want to try and break that scratch cycle, I would highly recommend trying Lipikar Stick AP+ from La Roche-Posay! I know I'm grabbing a few more from the drugstore to have in several places at home and on the go!
Here's to no more scratching!
Love & Blessings,

Note: This post has been sponsored by La Roche-Posay where I may have received product and/or compensation in exchange for my honest review. As always, the thoughts and opinions are 100% my own.