It's no secret that I'm not a fan of traditional Fall colors in my home decor. While I absolutely LOVE everything about Fall, INCLUDING the changing leaves on the trees, I don't find that they work well inside my house because I don't have any of those colors present. So as you probably saw last week, I opted for a more natural palette for my Thanksgiving tablescape that compliments the current colors in my home.
So it should come as no surprise that this year, I decided to extend my orange "aversion" into my Halloween decor and opt for something COMPLETELY different.
To be totally honest, I'm actually not a huge fan of Halloween and I think it's because of how dark and spooky all the merchandise is. Especially having young children who love to help decorate, I don't want them exposed to all the blood, gore and gutts that are on full display this time of the year.
So I started dreaming of ways that I could still decorate and set up a beautiful Halloween party, but make it kid friendly, while still working with the colors in my home.
And this is what I came up with!
I am SO excited to share with you this pastel Halloween decor! Goodbye ugly, gory and scary! Hello beautiful, pastel and pretty!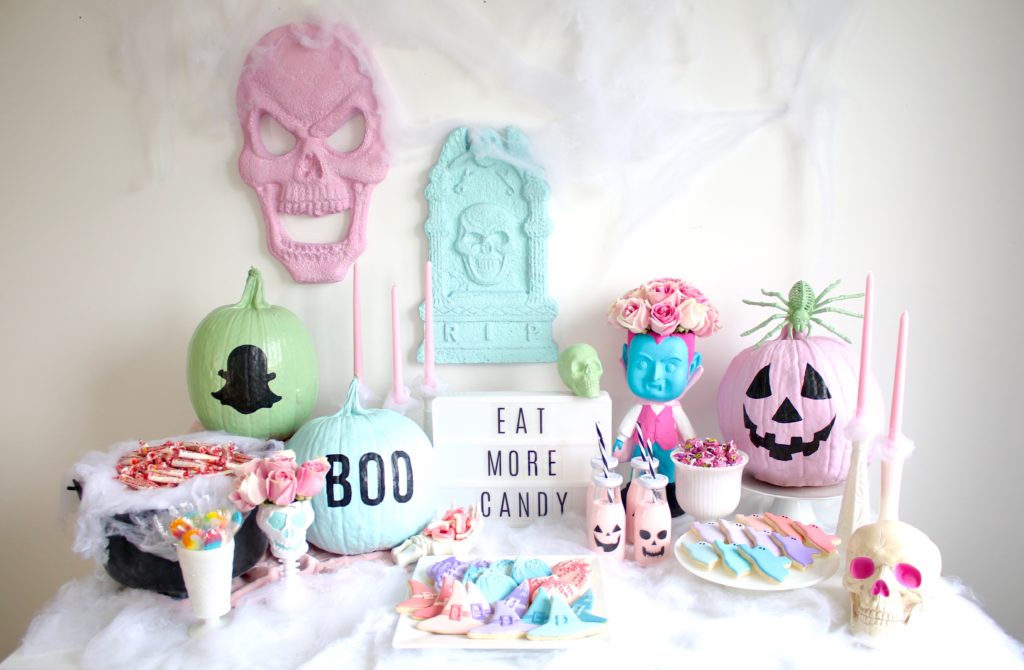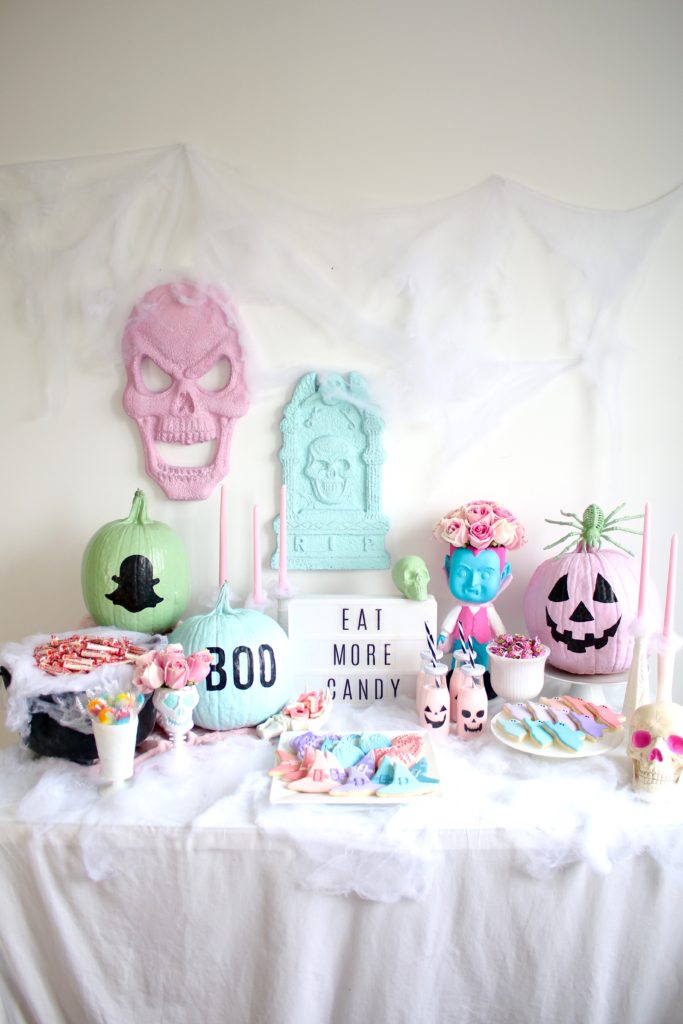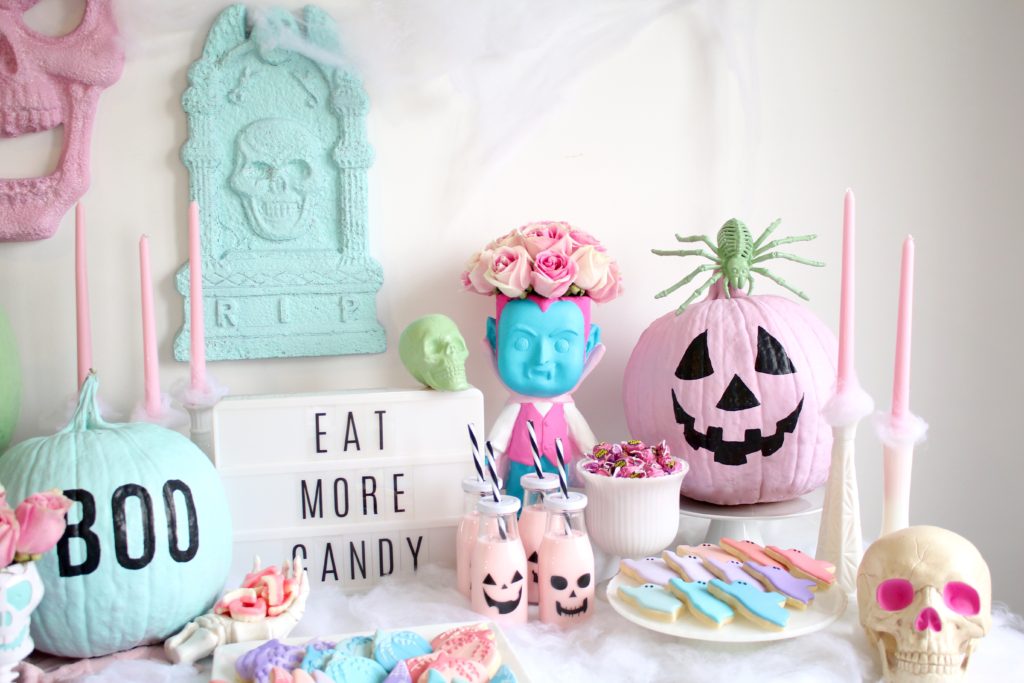 So let me walk you through the set up.
For starters, just about every Halloween item that you see has been painted. I used Krylon spray paint in both their ColorMaster series (blue and green items) and chalk finish (the pink items). I absolutely LOVE how easy Krylon spray paint goes on. For starters, I didn't need any primer because it's already built into the paint. You can imagine how hard it might be to cover up dark orange pumpkins with light pastel colors, but these pumpkins only have TWO coats of paint on them each!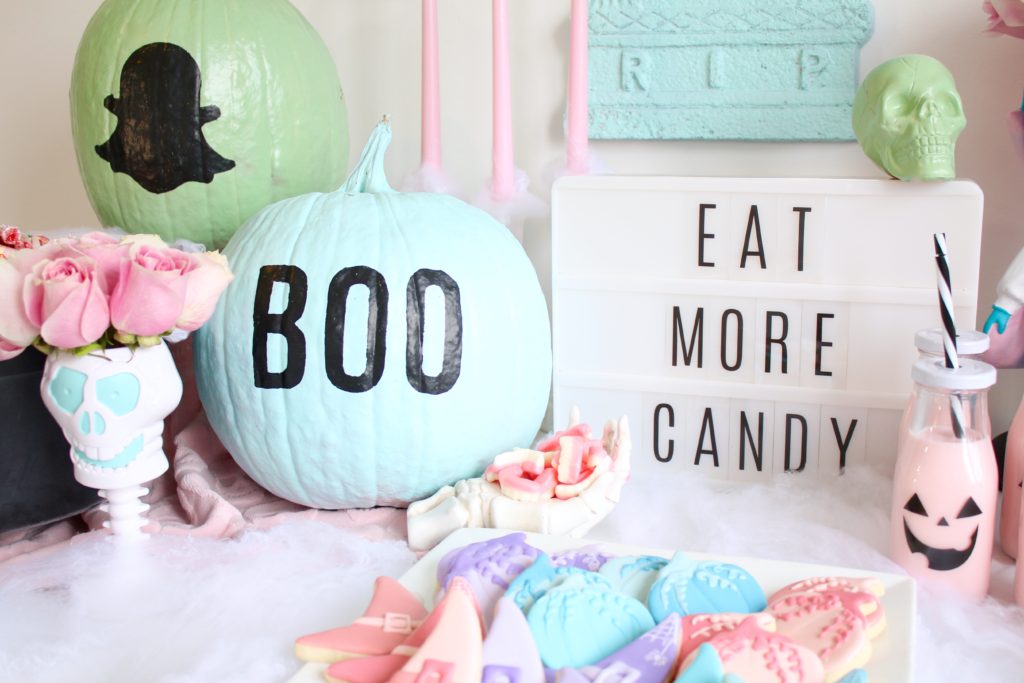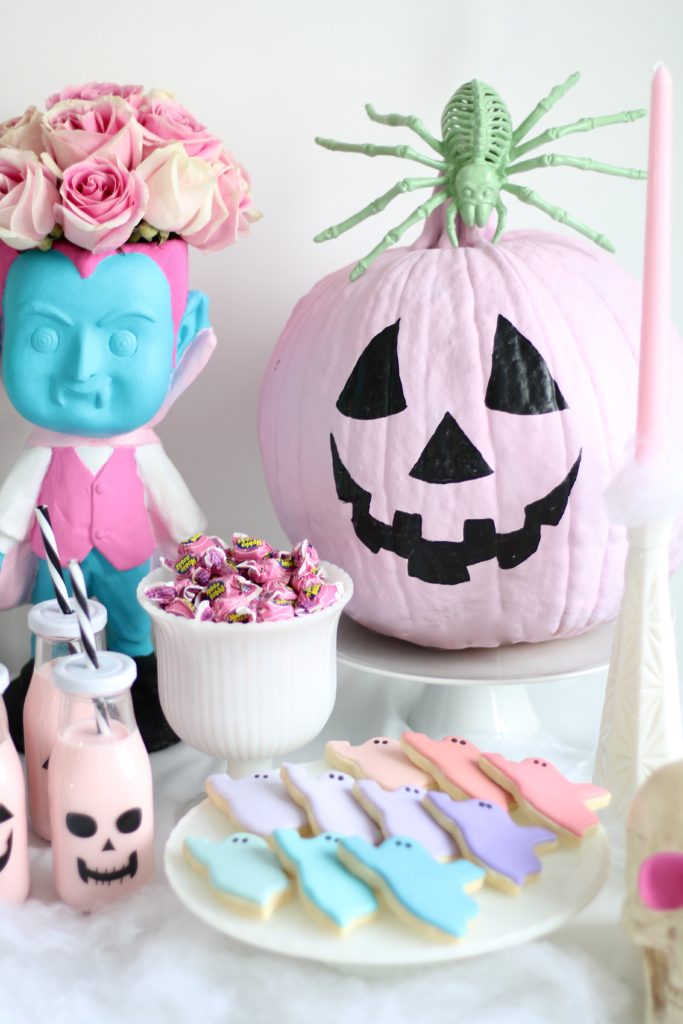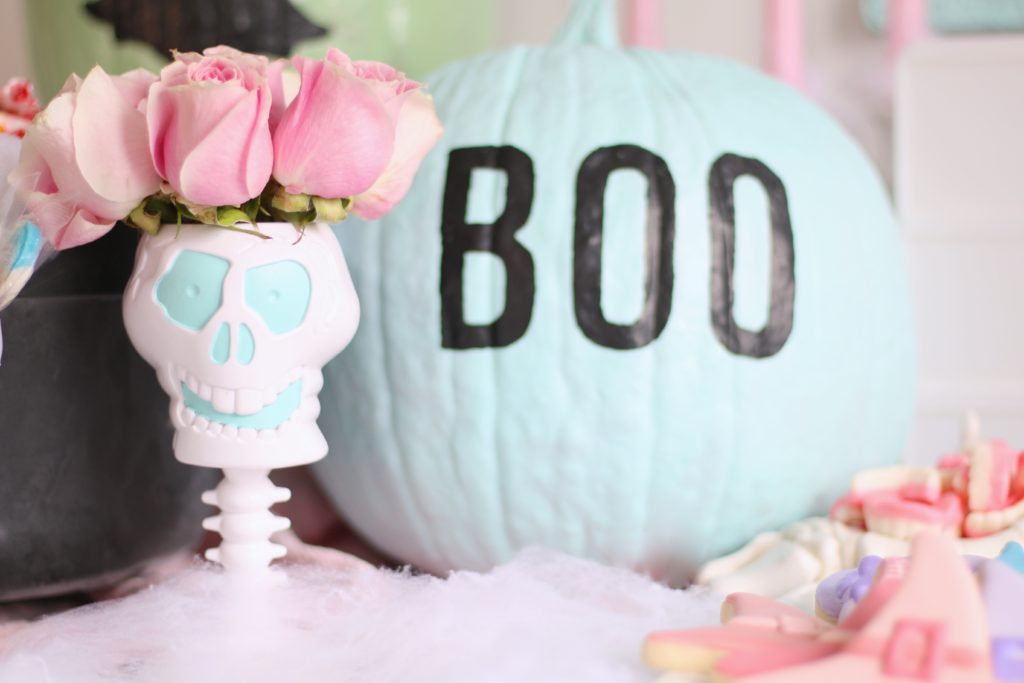 I did use some acrylic paint to paint the Dracula and the eyes/mouth on the skeleton heads. I find acrylic paint so easy to work with, although you definitely need more coats to get a really opaque look. I would definitely suggest starting with a primer first to cover the existing color of the piece and then layer on the acrylic paint. The beauty of acrylic paint is that it dries super fast, so you can do second and third coats fairly quickly.
The top of Drac's head was a bowl for candy, but I decided that I wanted to put some fresh flowers in it because why not?! I always love incorporating a fresh element into any tablescape that I do and I thought the candy bowl was perfect to double as a vase!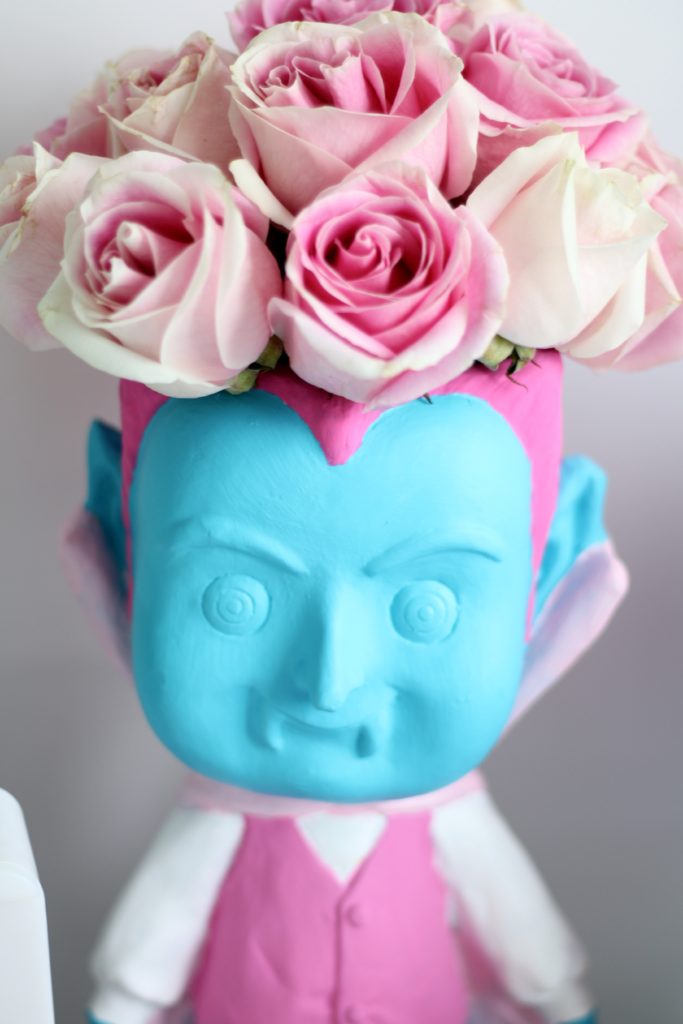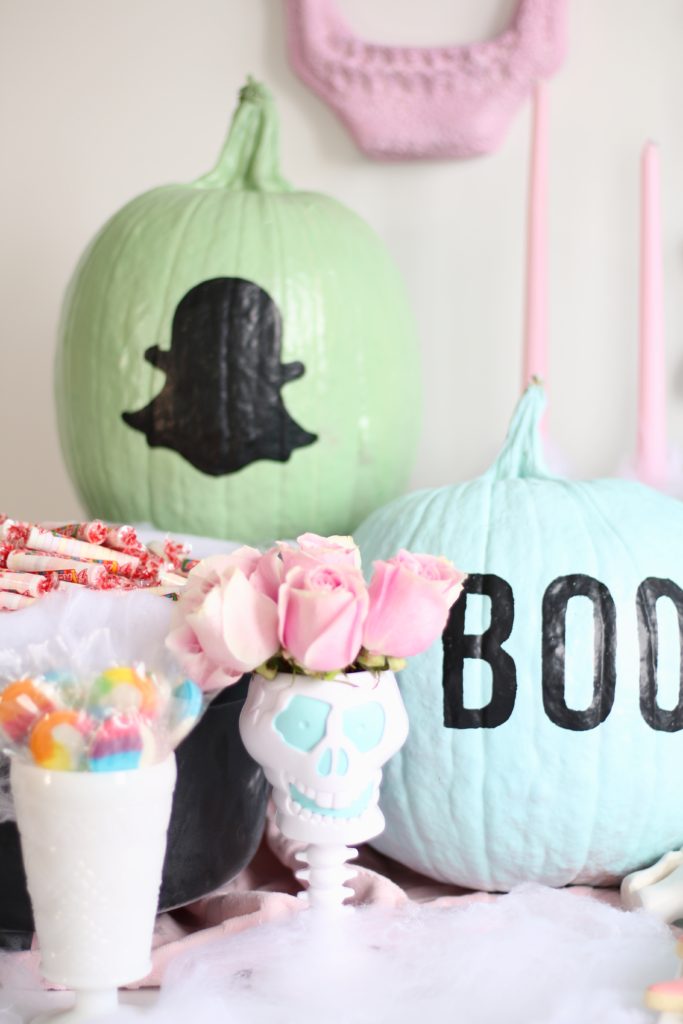 I incorporated my new lightbox, which I am IN LOVE with! You can interchange all the letters and numbers, as well as purchase additional sayings to add a fun twist to your home decor!
Finally, I layered in some tapered pink candles in white milk glass vases and finished it off with some white decorative cotton, to still give it that Halloween touch!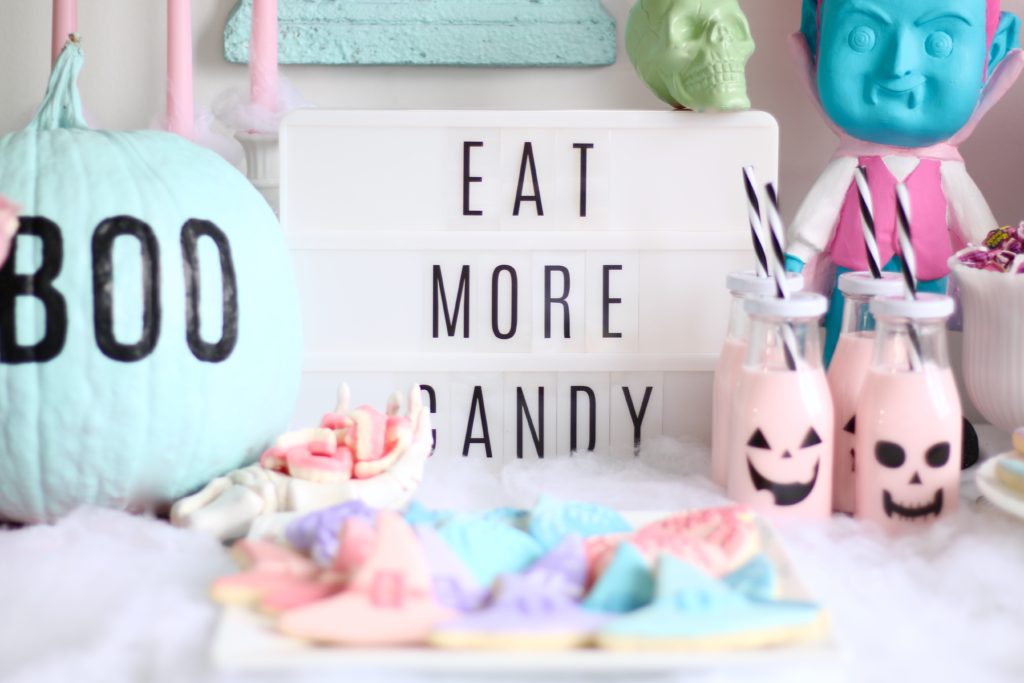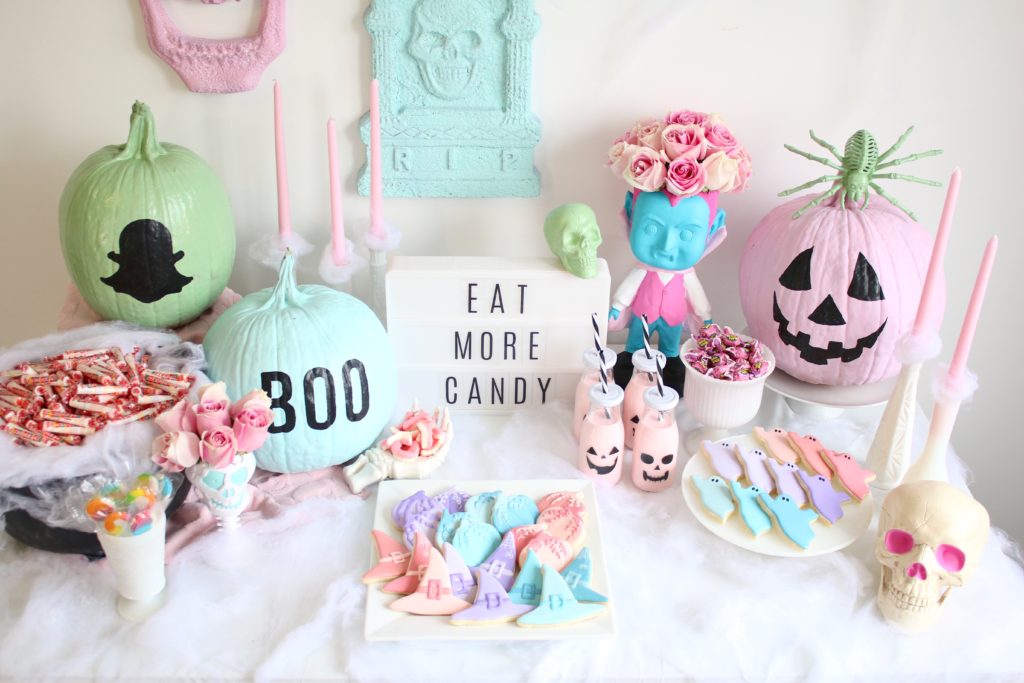 You can't have a Halloween party without some food, right?!
The Painted Flour created the CUTEST ombre pastel sugar cookies I've ever seen! I mean LOOK AT THOSE GHOSTS?! The details on the pumpkins and hats are incredible and I was blown away with how perfectly they turned out! And, they tasted amazing too! Pair it with some strawberry milk in glass drinking jars with jack-o-lantern faces on them that I found at the dollar store and you are SET!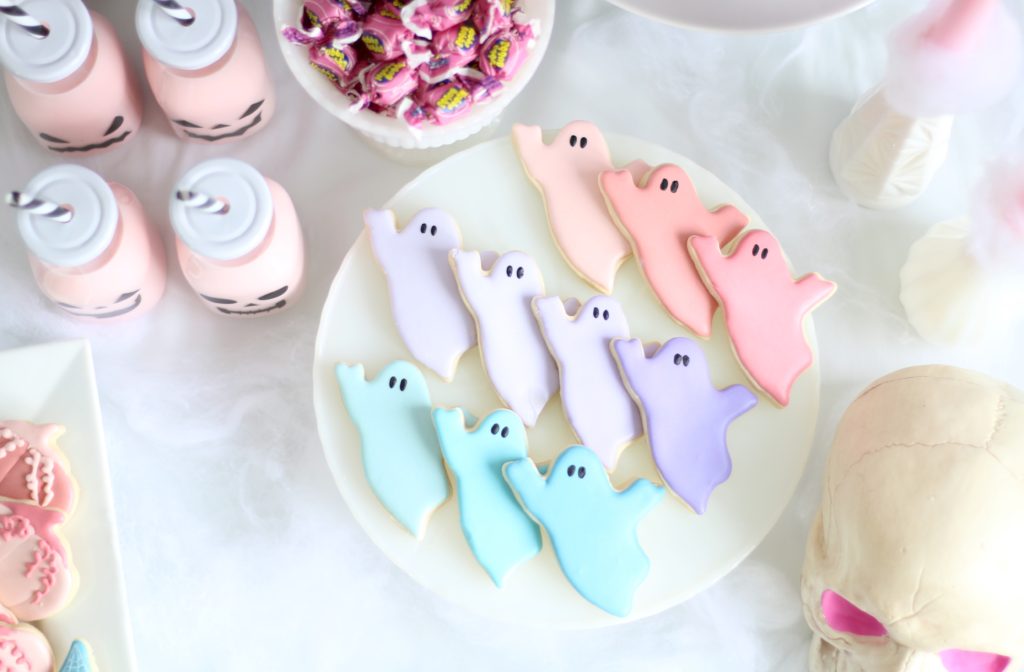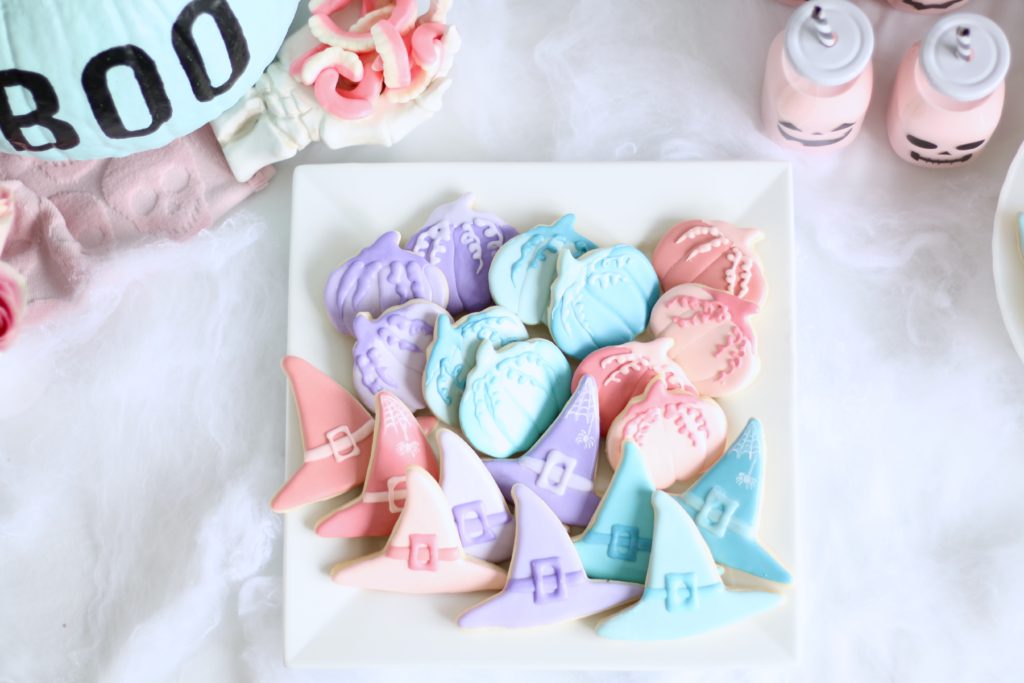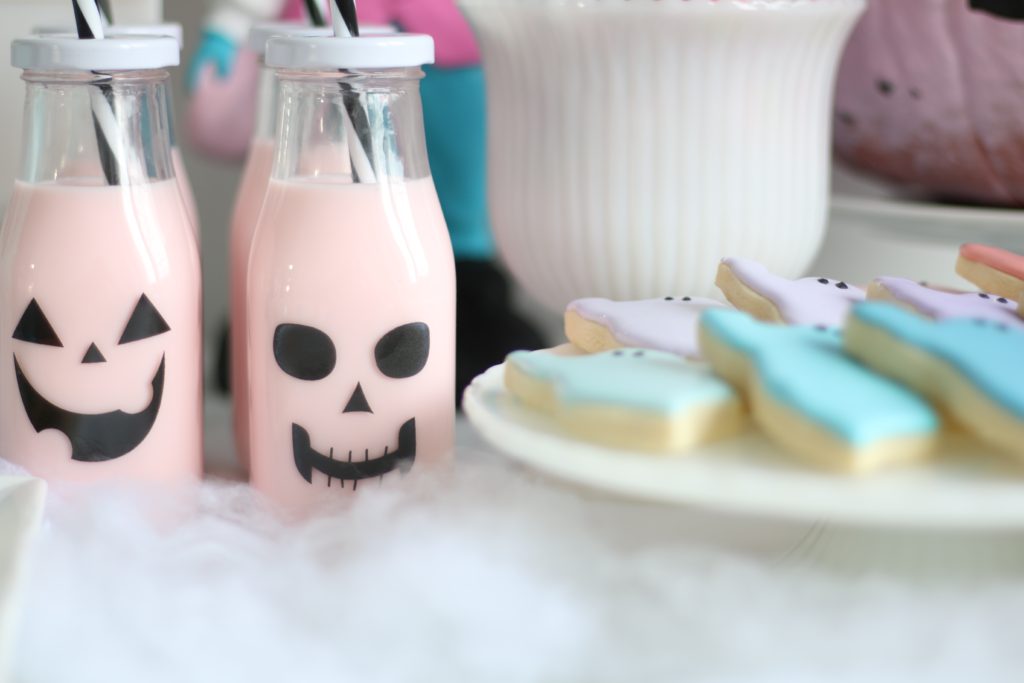 But not before we put out the candy, because after all, it IS Halloween we are celebrating! I like incorporating color co-ordinated food into any party, so I went for hubba bubba bubble gum, rockets, rainbow lollipops and fruit flavored gummy teeth that I found at our local bulk store.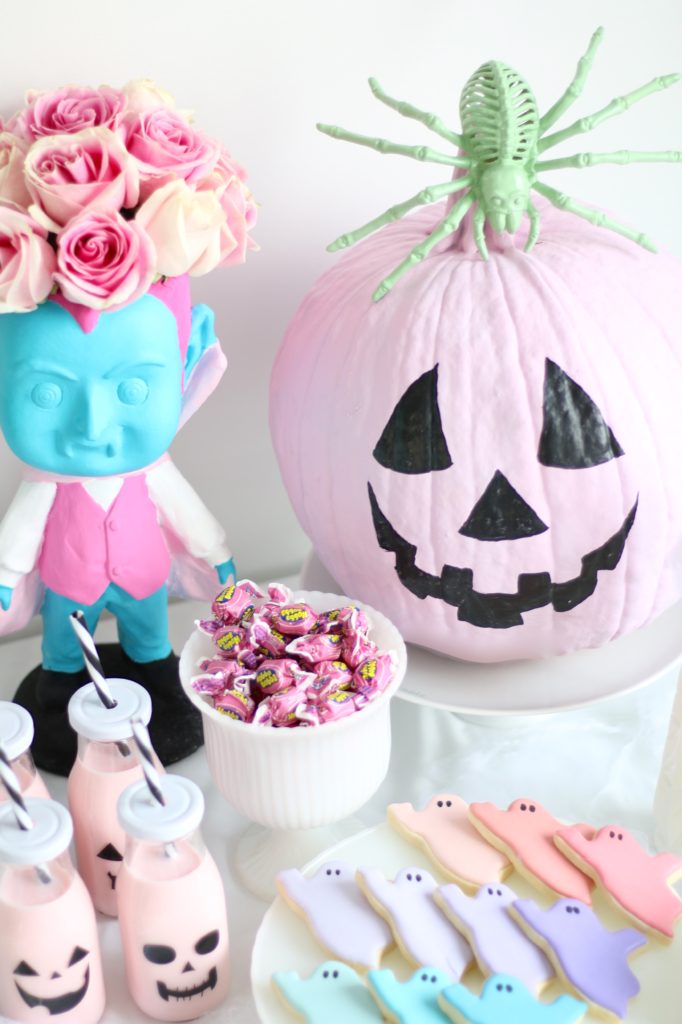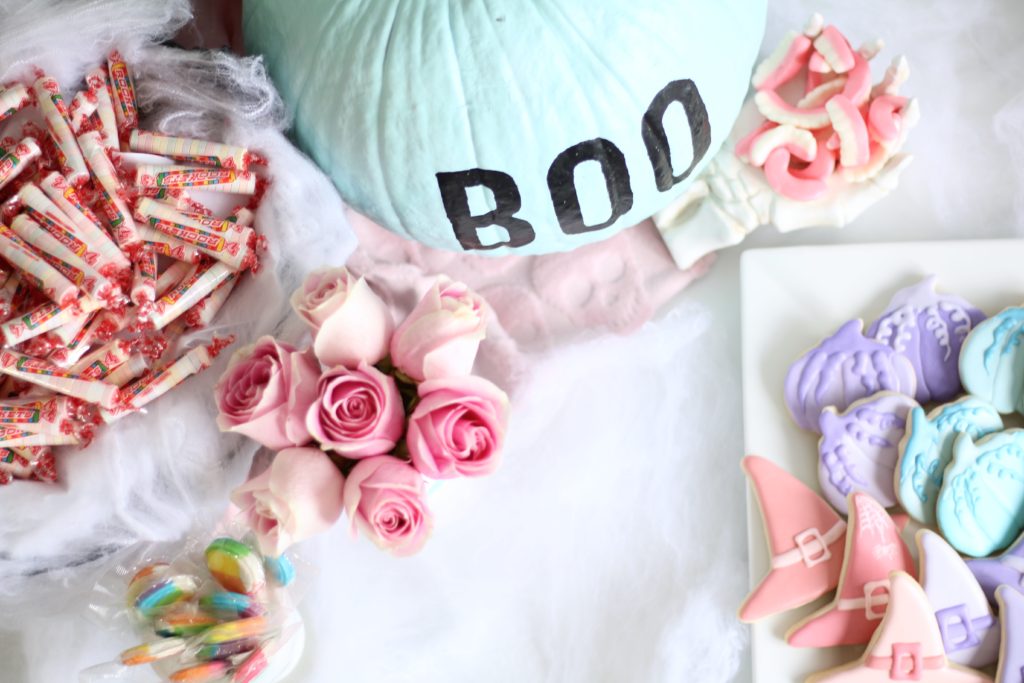 If you are like me and really don't love the dark, spooky side of Halloween, it doesn't mean you can't still celebrate it. By using your imagination and a little bit of spray paint, you can transform anything scary into something beautiful!
Check out this short video I put together of the whole tablescape!
I hope this post has inspired you to think outside the box when it comes to traditional holiday decor. Just because stores don't have the right colors, doesn't mean you have to settle for what they are offering. Look beyond what you see on the shelves and come up with a way to transform your decor into something beautiful and something that is perfect for YOU!