Earlier this month, our family was invited by Great Blue Resorts to come and spend a week at one of their seven resorts (located throughout south central Ontario).
Last summer, we went for a couple of day trips to a various friends cottages and knew that this summer, we wanted to spend a full week at a cottage together as a family. So needless to say, we were REALLY excited for our trip!
They booked us in at Shamrock Bay Resort which is right on the Trent Severn Waterway in Severn Lodge, Ontario. This location is just under two hours north of Toronto and right at the mouth of the Muskoka's.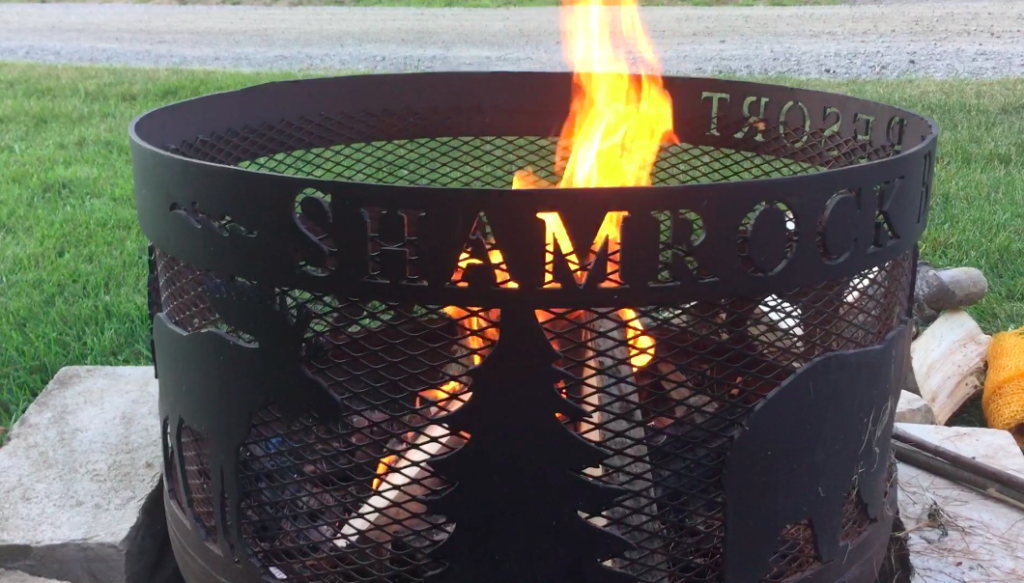 As soon as you enter the cottage community, you know you are some place special with their beautiful Welcome Centre and carefully groomed grounds. In the Welcome Centre, you will find a beautiful place to retreat and have a snack as well as access to their free wifi. This is also the headquarters for their Kidz Club programs that run throughout the week for the kids campers. More on that later.
Once we checked in and received the keys to our cottage, we were excited to go explore. They have a boat launch right beside the Welcome Centre as well as docks where many boats are parked. This proved to be the perfect spot for the kids to fish from! They also have various water recreational toys that you can take out including canoe's, kayak's, stand-up paddle boards and more. These are available all throughout the week, whenever the welcome centre is open and free to use for their visitors. They do have fishing boats and a pontoon boat that you can pay an additional cost to rent for a few hours, but neither of those boats were available the week we were there, so we weren't able to try those activities.
Shamrock Bay is located along the Trent Severn Waterway and has a small beach access point. The beach is beautifully manicured with fun colored adirondack chairs to lounge in. The waterway is narrow and can be quite busy with lots of boat traffic. If you are looking for a true lake experience, I would suggest trying one of the other Great Blue Resorts, such as Cherry Beach or Bonnie Lake as they are located on large lakes. My husband is an avid fisherman and brought a little pontoon boat and he absolutely loved the waterway for his fishing adventures.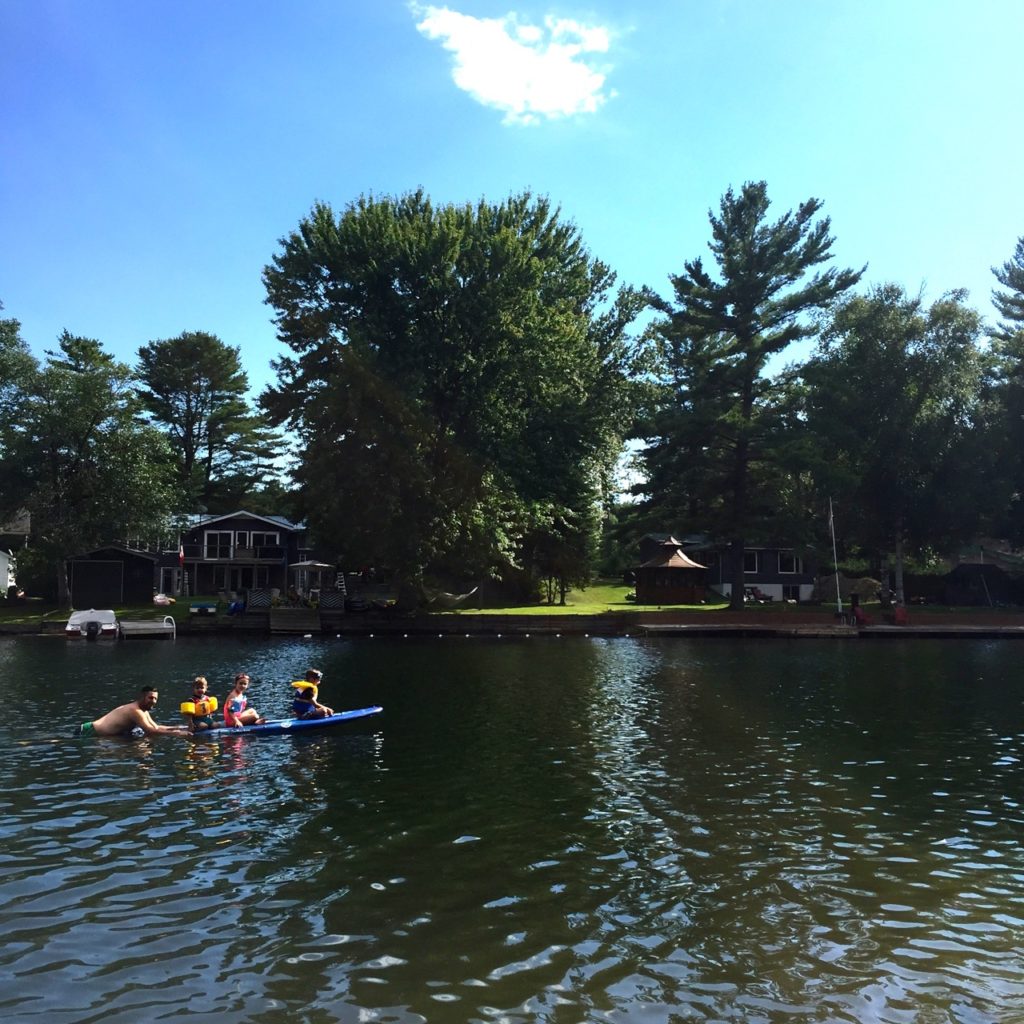 We honestly didn't spend much time at the beach because Shamrock Bay's saltwater pools is where we basically lived for the week that we were there! They have two pools: a kiddie wading pool and a regular sized pool, both of which are saltwater and heated. I always found the pool deck and pools themselves to be very clean, with both a bathroom and shower area nearby. My kids could have swam non-stop, had we let them!
Just beyond the pool area, there was a beautiful playground for kids as well as basketball courts and horse shoe pits to enjoy.
When we arrived at our cottage site, we were blown away by how nice and spacious it was for our family of five. There was a beautiful branded firepit out front, which we used every night we were there. The cottage had a gated deck with a full patio dining set and lounge chairs. Once inside, there was a living room area, complete with a pull out couch and television (which we never turned on). A full kitchen with a gas stove made it easy to enjoy cooked meals onsite. There were three bedrooms: a master bedroom with a queen size bed, a second bedroom with a bunk bed that had a double bed on the bottom and a single on the top and then a third room with another set of single bunk beds. All rooms had ample storage, which was nice to be able to unpack and really feel like we were home for the week. Oh and I should mention that there was a fully functional bathroom with a shower and bathtub! You don't always get that in a cottage!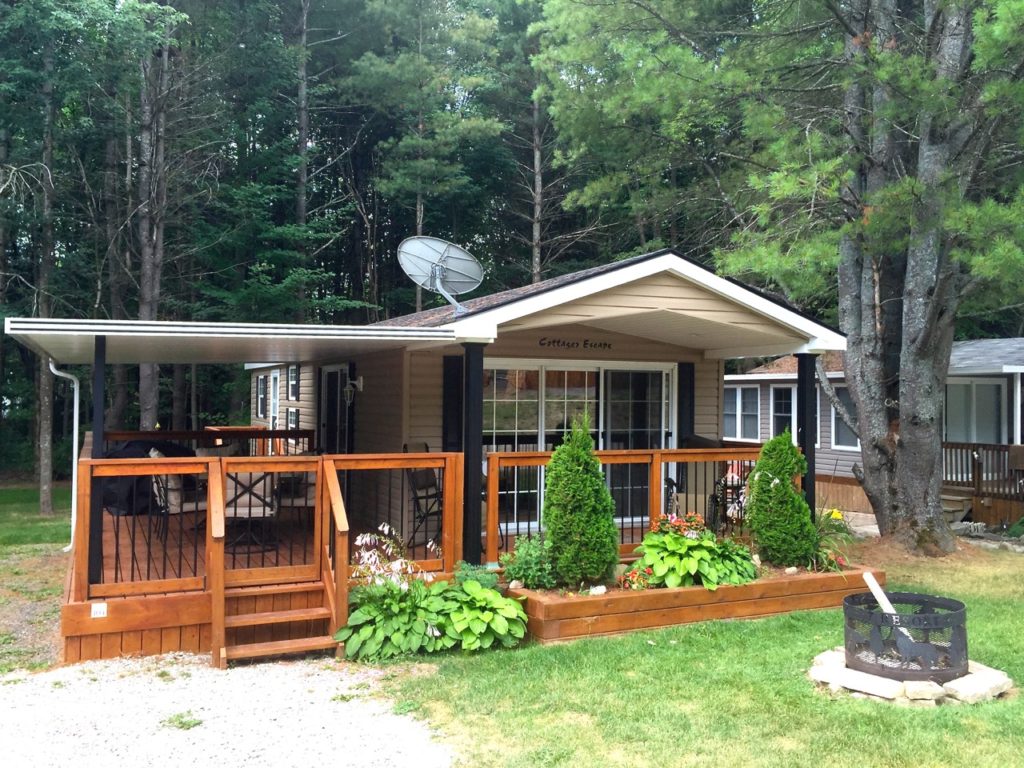 One thing that all Great Blue Resorts have to offer is their Kidz Club program that runs Tuesday through Thursday and Saturdays throughout the summer from 10am – 2pm. This is a program where school-aged kids can have a time away from their parents and come together to play, craft and explore nature. The first day at the resort, there seemed to be a ton of kids for the one program facilitator, so I hung around and helped where I could. By the end of the week, the kids were running to the program and the adults were able to have a few moments of rest while they were gone!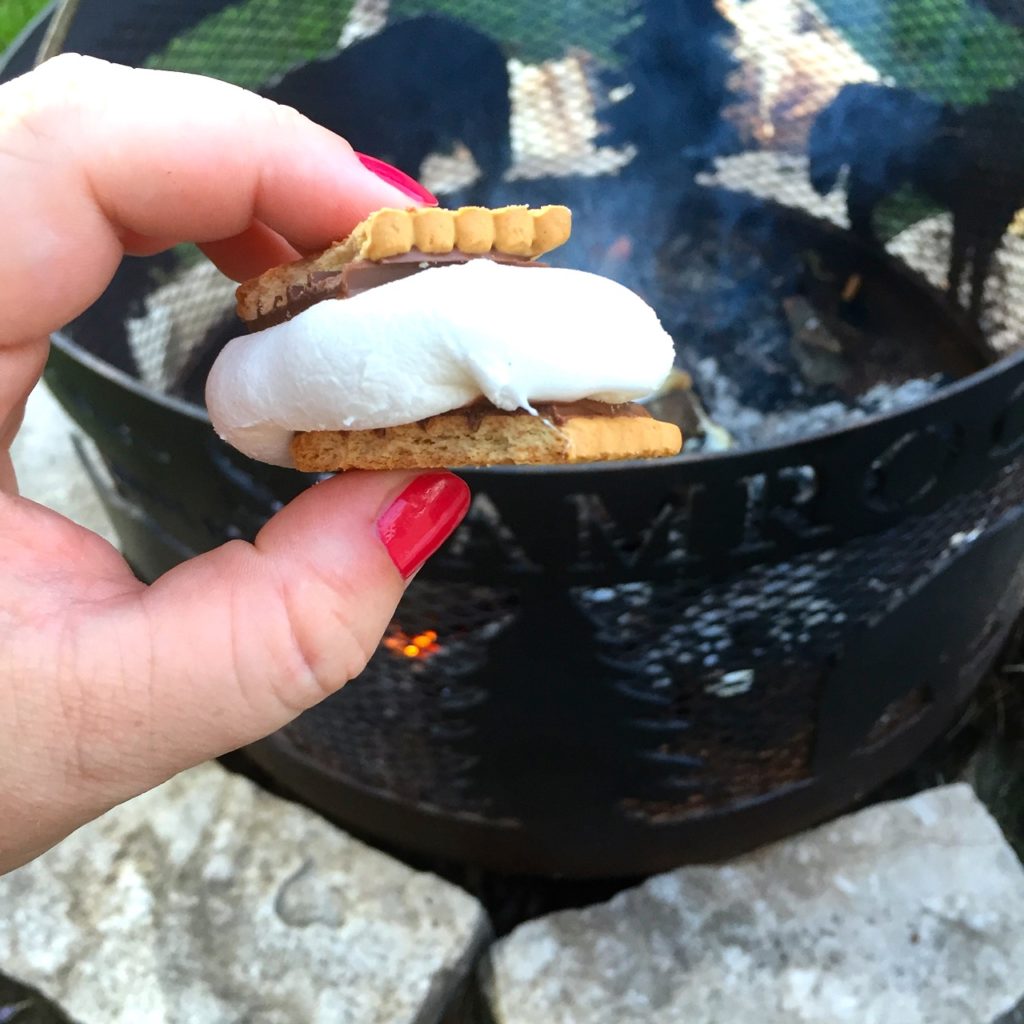 Overall, our time spent at Shamrock Bay Resort was one of the best weeks we had this summer. We had s'mores every night, the kids learned how to fish and we swam every single day! Some incredible memories were made for our family and it's thanks to Great Blue Resorts and Shamrock Bay!
Watch below to see the amenities and the highlights of our week, including my youngest catching his first fish ever! I promise it's a GREAT reaction!