On this cold January day, I wanted to share with you one of my favorite and incredibly easy chicken chili recipes! You basically don't have to do anything, as it cooks in the slow cooker, other than simply assemble the ingredients. And in four hours, it's done! It's THAT easy!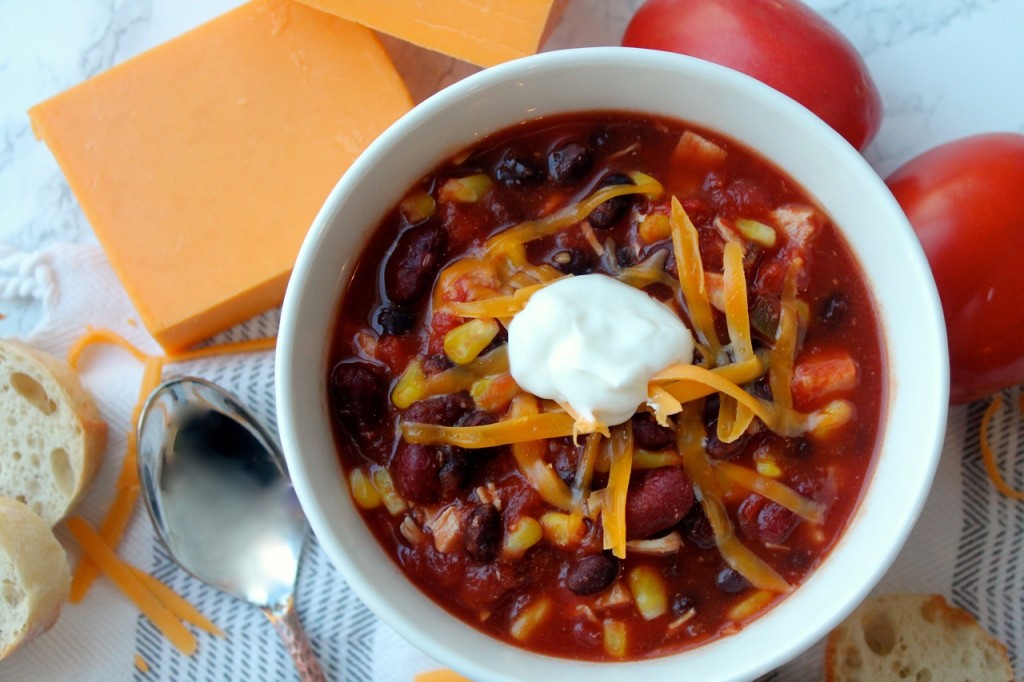 I do just want to pause here for a minute and mention my slow cooker. Over the last 10 years, I've had a few slow cookers and none of them can even compare to the one I use now. This Hamilton Beach Set & Forget 6 Quart Slow Cooker is amazing! For starters, it's HUGE! It can fit so much into it. It has three cooking methods: manual, programmable or probe. If you have a roast or large cut of meat cooking, you can set it to cook with the probe setting, where it will turn off, once reached desired temperature. It also has a locking lid for easy transport as well as a spoon rest! They've literally thought of everything with this slow cooker! Not only that, Hamilton Beach has amazing customer service! When my slow cooker had a cord malfunction, I reached out to the company and they sent me a new one right away! And I've had no issues since!
So let's get back to the recipe! There are only six ingredients that go into the slow cooker and you layer them. Start with the chicken breasts (I always use frozen, so your cook time may vary if you are using thawed), then your tomatoes and salsa, next your beans and finish with the corn. Set it and literally forget it! Then, four hours later, remove the chicken, dice it up, put it back into the chili to stir it in and you are set!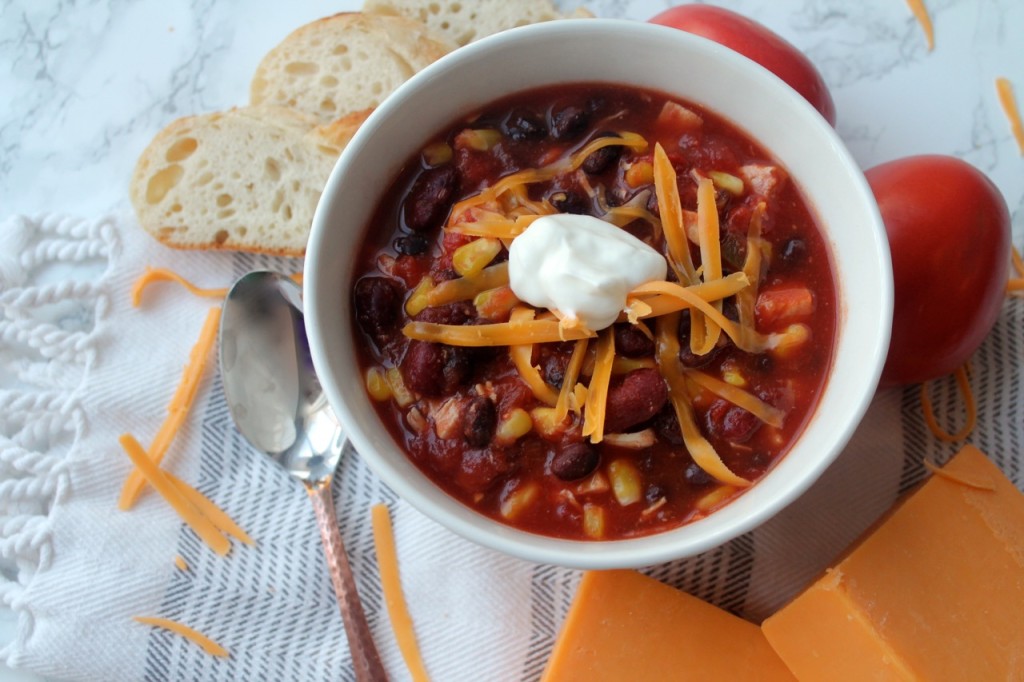 We add in a dollop of sour cream, a few slices of avocado and some shredded cheddar cheese for garnish, but this is totally optional. Depending on what kind of salsa you use, you may want to season it additionally at the end.
So if you are still wondering what's on the menu for dinner tonight, it's not too late to pull out your slow cooker and throw this together!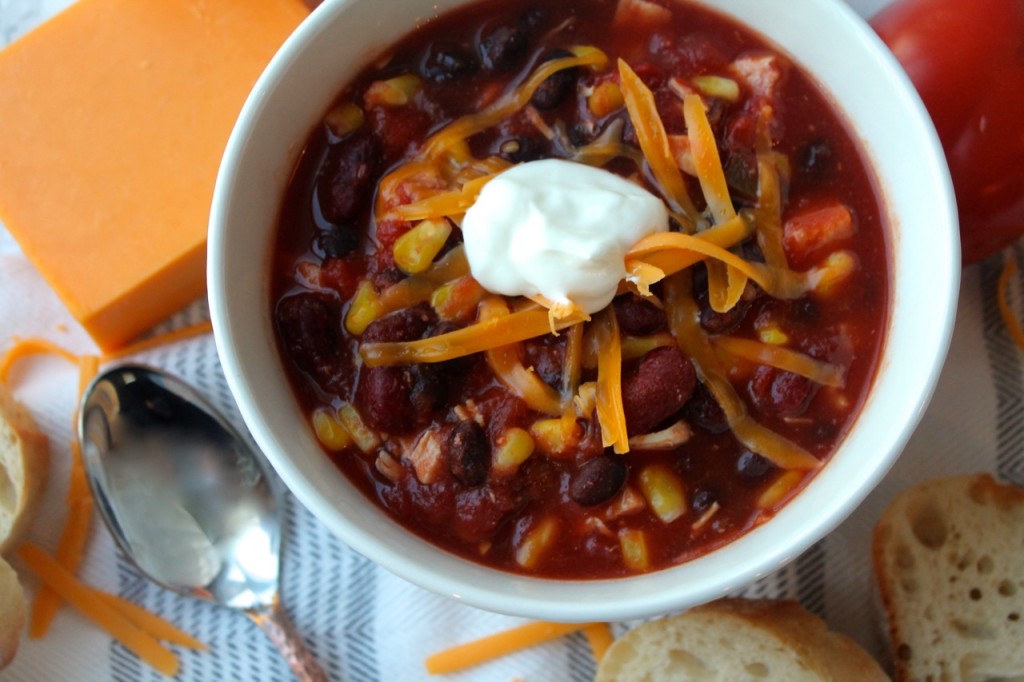 Clean Chicken Chili
2016-01-15 12:08:35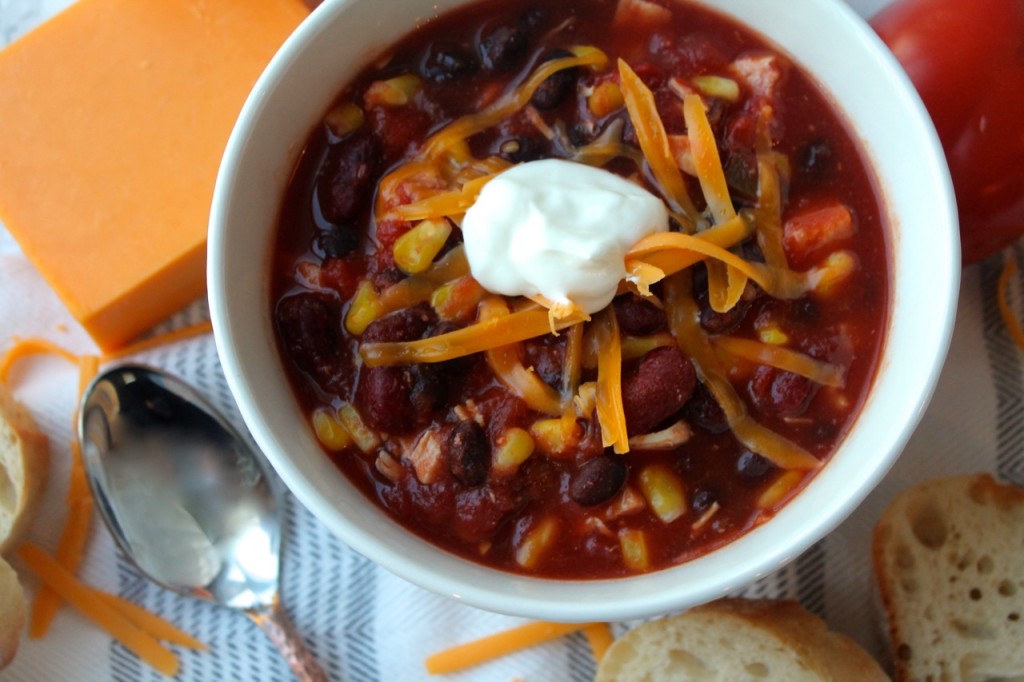 Serves 6
A super simple, clean and delicious slow cooker meal that you're whole family can enjoy!
Ingredients
2-3 boneless, skinless chicken breasts (5 oz)
1 can of black beans, drained and rinsed (15 oz)
1 can of kidney beans, drained and rinsed (15 oz)
1 can of diced tomatoes, in juice (28 oz)
12 oz of salsa
1 cup of corn
Instructions
Spray slow cooker with non-stick spray
Place chicken breasts on bottom
Next, layer the tomatoes and salsa on top of the chicken
Next, layer the beans and finish with the corn
Set to cook on High, for 4 hours.
Once finished cooking, remove chicken breasts and diced.
Place diced chicken back into the slow cooker and stir well.
Serve with sour cream, avocado and shredded cheddar cheese (optional)
Amidst the Chaos https://amidstthechaos.ca/
Here is a quick assembly video I did for your enjoyment! Let me know if you like them and I can keep them coming!