This post is part of the YummyMummyClub.ca and #CartersOshKoshPlaydate sponsored program. I received compensation as a thank you for my participation. This post reflects my personal opinion about the information provided by the sponsors.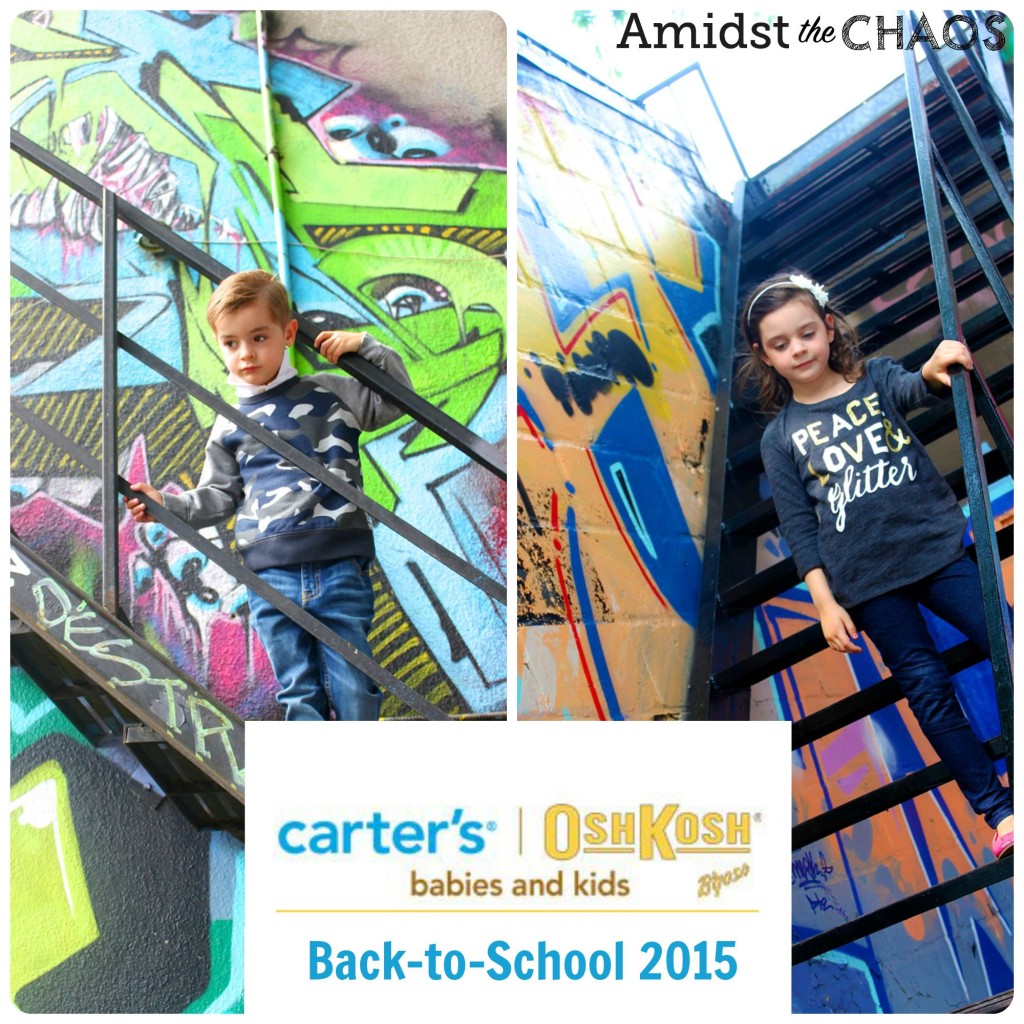 As we have been thoroughly enjoying the summer, it's hard to believe that next week, the kids will be heading back to school. This year will be a new transition for us as we send TWO kids to school. Our oldest will be heading into senior kindergarten and our middle child will be headed into junior kindergarten.
Time really does fly by when raising little babies. Have you heard that expression "The days are long but the years are short?" I couldn't agree more, especially when it comes to our middle child. He was a high maintenance baby right from the get-go (unlike our daughter) and there were moments in his first year of life where it felt as though time stood still. And now here we are, getting ready to send him off into his first year of school education!
Aside from getting backpacks and lunch bags ready, a main area of focus for many moms when back-to-school shopping is buying their kids new clothes. Kids are hard on their clothing (or is it just mine?) and what they wore the previous year for school is more than likely to have holes, stains or just no longer fit due to them constantly growing.
Well thankfully, Carter's | OshKosh B'gosh are here to help! They want to assist you in making sure your kids are back-to-school ready with their brand new fall 2015 line filled with updated classics, mix n' match, personality driven, price conscientious clothing. Also, by signing up for their emails, you will receive $10 off your next purchase of $50+! Talk about a fab deal!

I had the opportunity to visit my local Carter's | OshKosh B'gosh this past week and spent some serious time shopping around, sans enfants! The manager Janette and assistant manager Kat, were super helpful in showing me the layout of the store (there is a Carter's side and an OshKosh B'gosh side) and where the various sizes were located. Janette also let me know that with this coming fall line, they've now increased their size options and are offering up to size 8 for both girls and boys!

I've been shopping at Carter's | OshKosh B'gosh for nearly six years now and I've always enjoyed their clothing. I find their clothes very durable and made with quality care. They are also fresh and colourful, to match my kids' vibrant personalities. One thing about Carter's | OshKosh B'gosh that I've always loved is that there is no limit on their return policy! So you never have to worry if something will fit or not, as long as you keep the tags on, you can always return your items.
But there was something I found to be a little different with this recent visit to Carter's | OshKosh B'gosh. While I have always loved their clothes and my children's wardrobes are filled with many of their classics and mix n' match pieces, I have found in the past that some of their items are very "kid" oriented. Lots of animals, flowers and just general kid-friendly fashions. And while there is nothing wrong with that, especially considering they are kids clothing store, it's not necessarily the kind of fashion that would appeal to all adults dressing their children.
But with this new back-to-school line, let me tell you, I had such a hard time deciding what I wanted to buy my kids because I loved it ALL! No joke. Especially with the girls' selection, I found myself saying to the managers more than once, "Man, can I get this in MY SIZE?!"
Carter's | OshKosh B'gosh seems to have really stepped up their game when it comes to being fashion forward. Let me show you how I styled my favorite finds.
Let's start with the girls. My favourite piece was this 'Peace, Love & Glitter' shirt paired with a pair of dark denim moto-patch jeggings. My daughter refuses to wear jeans, so jeggings are a perfect compromise. I paired it with a white purse, black leather boots and a white headband to complete the look. The second look I put together at Carter's | OshKosh B'gosh was this extra-long 'Meet Me in Paris' tunic with a pair of French Terry Pants. Add a pair of pink patent leather flats and braided stretch headband, and the look is complete.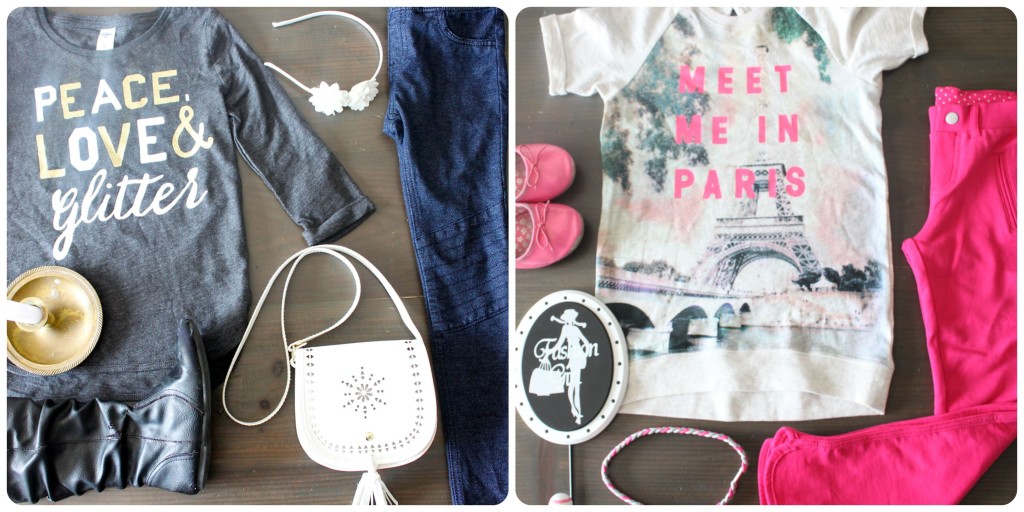 For the boy's look, I found many more classic pieces but still filled with stylish trends. My favorite piece was this Camo French Terry Pullover sweater. I layered it with a white polo (summer clearance) and paired it with their medium faded skinny jeans and a pair of high top hiking boots for the coolest look on the playground. The second look started with the same basic skinny jeans paired with their Space Explorer tee (I knew this would be my son's favourite, and it was) topped with a blue plaid binary button down shirt. Oh, and we can't forget the Jordan's!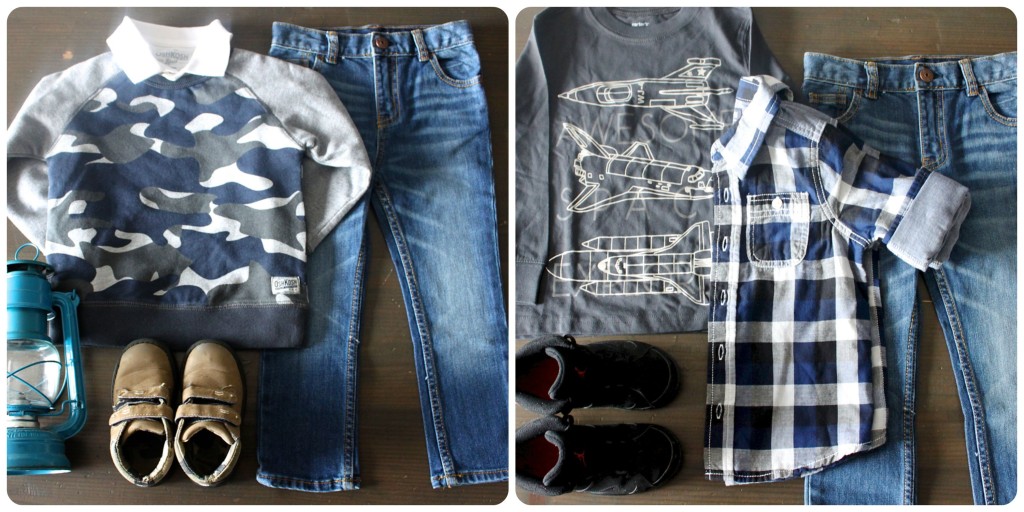 I was so inspired by this new back-to-school line from Carter's | OshKosh B'gosh that I decided I wanted to do a photoshoot with my kids in one of the coolest spots in Toronto to really reflect how on trend, fresh and updated these classic looks are. We headed to Queen West, which was voted the second coolest neighbourhood in the world and if you've ever been down there, you know why. This back alley, known as Graffiti Alley, is world famous and the perfect background for this Carter's | OshKosh B'gosh back-to-school collection!

Shop these and many other fabulous back-to-school looks at Carter's | OshKosh B'gosh now in your local stores.
Let Carter's | OshKosh B'gosh get your kids back-to-school ready today!
Love & Blessings,

Keep your cool and savour the last few weeks of summer fun because we've taken the stress out of back-to-school shopping.
Check out these back-to-school basics from Carter's | OshKosh B'gosh that are anything but basic and don't miss out on your chance to win a $250 wardrobe for your kids.
Then sign up to become a member of the Carter's | OshKosh B'gosh family and automatically receive $10 off your next $50+ purchase.