It's hard to believe that it's been six months that I've been blogging here at Amidst the Chaos. But on the other hand, it feels like I've been at it for years. Before I ever started this blog, I knew that it wasn't going to be just a hobby blog but rather I wanted this to be my new "job" where I could make money with it. I thought I knew how much work I was going to need to put into it and boy, was I ever wrong! It's about 10 times MORE work than I ever imagined. I'm not complaining AT ALL, but rather, reflecting on how much I've learned and worked over the past six months.
I find that I am at a point now where I am getting weekly private messages and emails from other bloggers and friends who are considering blogging asking me two things: 1) how can they achieve that same layout, look and feel as I have with this blog and 2) how am I growing my brand and site to the point it is at now.
For me, I don't have a superstar blogger in my life that I know personally. When I first started this blog, I will honestly admit that I had maybe read a handful of blogs before. I wasn't overly familiar with the world of blogging and without having someone to really guide me through it, there was some trial and error. It's been A LOT of research and asking questions. It's been A LOT of work and not enough sleep. But it's all been worth it as I sit back and reflect what this blog has achieved in six short months.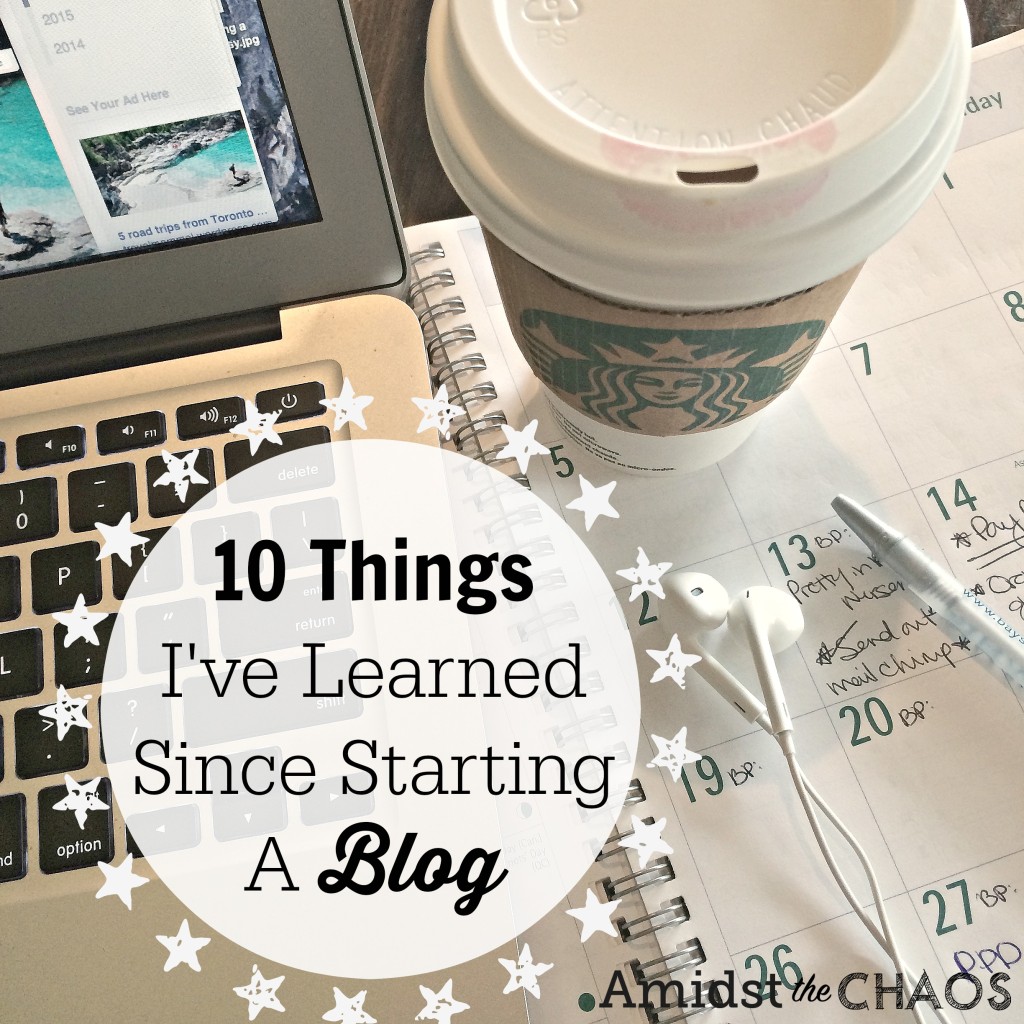 So I thought that I would do a post today where I can try to answer those questions for my blogger friends and anyone else who might be interested in possibly starting a blog. I am by no means an expert AT ALL and still have so much to learn. Even in just six months, I find that the game is constantly changing and therefore I am daily learning new things to incorporate into my blog and brand.
10 Things I've Learned Since Starting a Blog
1. Have a Game Plan & Set Goals
Before you even think about launching a blog, have a game plan in mind. In the same way a sports team would never go into a major sporting event without a plan of how to win, you do not want to enter the blogging arena without your own strategies in mind.
Especially if you are wanting to monetize (make money) your blog, you are going to need to think through your purpose, your niche, your targeted readers and your platform. This will become the mission and purpose of your blog and it's crucial that this is set in place either before you start your blog or very early on to help keep you on task and focused.
Once you know what your game plan is, you must set goals. Where do you want to be in six months from now? What do you want your blog to achieve? How many times a week do you want to post? It's crucial that you plan this out ahead of time to help keep you on track and make your blog successful.
2. Blog With a Purpose to Build Your Brand
To further our first point, you want to make sure you are always blogging with a purpose that will ultimately help you build your brand. You don't want to blog about anything and everything. You want to pick your niche and try to stick within it. And then everything you do should reflect that purpose.
You are wanting to build your brand across everything you do. So you want to make sure that whatever you are blogging about, that it will always point back to your brand and stick in line with it. This includes partnerships with specific brands: there have been some brands that have contacted me and I have decided not to work with them because either it wasn't beneficial to me and/or it didn't keep in line with my brand messaging.
3. Great Content & Consistency Are Paramount
This is huge. You want to sure you have great content and consistent content. You can have a fabulous design and even a large enough social media following, but if you don't have great content, people aren't going to want to read your blog.
People have often asked me how I have so much content. Well when I was in that planning phase, before I ever launched my blog, I made a MASSIVE list of everything and anything I could blog about, that fit within my niche (which is food and lifestyle). No exaggeration, there are over 100 items on that list and growing. From recipes to past events to my favorite places, I have a huge list that I can always pull from if I'm ever stuck for content. Some days, I am inspired by something totally new and that's what I choose to blog about. But it's important to always have a place where you can refer back to.
Sticking with great content, you also want to make sure you are consistent with when and how you post. I threw in an extra post a few weeks ago and one of my readers actually commented "Oh that's weird, you never post on Thursdays!" They are paying attention. Keep it consistent. And be realistic with those goals (back to point #1). If you don't have enough content to post three times a week, then don't! If it's only once a week, that's fine. But be consistent with it and make it great!
4. Hustle Hard
You are going to have to work much harder than you thought you would. If you really want to make blogging a full time job and a source of income for yourself, you will have to hustle and hustle hard.
This is a business you are creating…a brand. You are the boss, the CEO, the chief executive. You are doing ground breaking work that's never been done before because it's unique to YOU. While that can seem scary and daunting to some, for us creative entrepreneurs, it's exciting. But it also means it's going to require A LOT of work.
I don't really have "down time" anymore. Whenever I'm free, I'm working on the blog. I don't watch tv shows that often because I'd rather spend my time at night doing stuff for the blog. I'm ok with that because that was part of the ultimate goal to make my blog into a brand and ultimately a source of income for our family.
The hustle is real and not for the faint of heart. You will only get from your blog what you are willing to put into it.
[Tweet "You will only get from your blog what you are willing to put into it. #amidstthechaos #thehustleisreal"]
5. Networking
No one builds a blog and a brand alone. You want to find yourself great blogging friends who will be there for support you and help you along the way. Facebook blogging communities are HUGE. This is where I've met most of my blogging friends, some of whom have become really great friends of mine.
Find groups that you want to be a part of and become an active member in them. If you want comments, likes and shares on your posts, make sure you are doing the same for others on their posts. Organize giveaways and link parties and guest posts with some of your new blogging buds. In the end, this will only help boost your blog. It does require time, but it is worth it to invest in others along the way.
6. Constantly Be Learning
As I've mentioned above, this blogosphere is constantly changing. You need to be always learning. Being a part of those blogging communities is a great way to learn. You can ask questions and get helpful tips from other seasoned bloggers.
There are also loads of free webinars out there from expert bloggers. Sign up for their newsletters and soak in as much as you can. Don't think you know it all, cause truth be told, none of us do. I am always on the look out for new ideas, new campaigns, new networks to join up with. It will only make you better as a blogger.
While anyone can start a blog, not everyone can have a successful one. In the same way you have educated yourself for whatever career path you've taken, you must do so with blogging too. There is TONS of information out there, so start searching for it, studying it and applying it to your blog.
7. Marketing
You can have the best blog, filled with the most amazing content but if you aren't sharing with people other than your family and friends, it's really nothing more than a glorified personal Facebook page. Boom, there, I said it. Unless your goal is to simply have an online journal that is mainly for your family and friends, you need to be spending a lot of your time marketing your blog.
I recently heard in a webinar that blogging is really 20% writing great content and the other 80% is marketing that content. He went as so far to say that there really is no point in blogging if you aren't sharing with new readers. I tend to agree. Always be on the lookout for how to find new readers. You can do this through Facebook blogger communities, as I've mentioned before, through partnering with brands, through guest posting on other blogs. There are tons of different ways. Be creative, put yourself out there and you will start seeing a big boost in your blog reach.
8. Get Social & Engage With Your Readers
I have a friend who has been blogging for some time and she only ever shared her blogs with her friends and family through her personal Facebook page. I was on her case for a while telling her that she desperately needed to branch out and start using more social media platforms, such as Twitter, Facebook fan pages, Instagram and Pinterest, to start gaining more readership. This allows you to broaden your audience as well as connect with more bloggers and brands.
Once you begin doing this, it's important to make sure you are engaging with your readers. When someone leaves you a comment, respond back. You are having an online conversation with these people and you don't want it to be all one way. You want to hear from your readers because this means they are reading and are invested in what you are sharing. This is how you are ultimately building your brand.
9. Be a Flamingo in a Flock of Pigeons
I'm not even sure where this expression came from, but I'm loving it! Some of the best advice I was ever given was to NOT do everything else that you see all the other bloggers do, but try your own unique things.There are obviously some tried and true avenues to take when blogging, but as a creative, especially in an industry that has millions of other competitors, make sure you stand out. There are well over 250 MILLION blogs worldwide! Let that number set in for a minute…250 MILLION! So how are YOU going to stand out amongst those millions? What unique gifts and talents do you bring to the table? Why should people read your blog versus the other millions out there?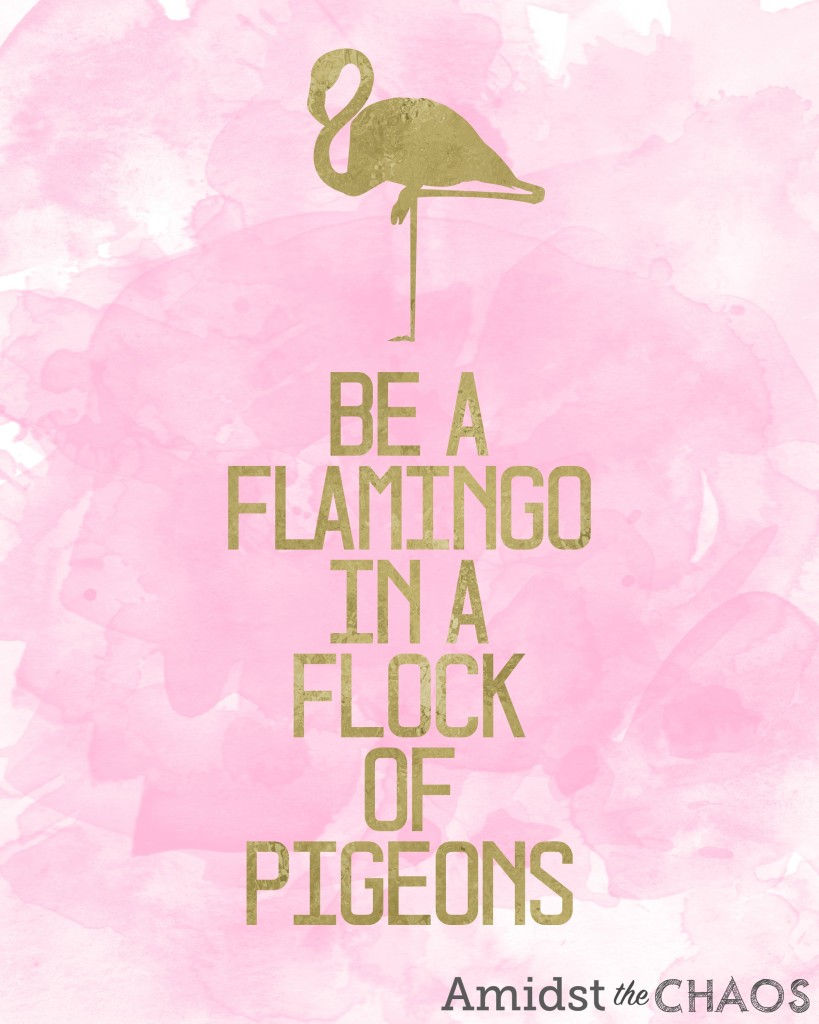 10. Become an Expert
People are looking at YOU to tell them how to do things. How to make something, how to cook a certain food, how to decorate their house, how to save their money, how to organize their home, etc, etc, etc. You are a perceived expert in their eyes, even if you don't feel like one. When you post about something, you need to come across like you have authority on that subject. You want buy-in, you want your readers to feel confident in what you are telling them to do and how to do it.
Even if you don't feel like you are an expert, you need to start taking the stance of one. Do your research before EVERY SINGLE POST. Don't just assume things, know what you are talking about…even if you just learned it five minutes before you posted it. People are counting on YOU to know what you are talking about. So learn and present it well.
[Tweet "10 Things I've Learned Since Starting a Blog #amidstthechaos #blogging"]
Well there you have it, my Top 10 things I've learned since starting this blog. There are honestly so many other things I've learned as well and like I said, I'm constantly learning. I will be starting to share more on specific areas I've learned about such as growing your social media, partnering with brands, etc. So be on the lookout for those in the coming months.
I want to take one final minute to say a HUGE THANK YOU to all my faithful readers and supporters. You guys are the reason why I do this and have allowed me to continue on with this. This is only just the beginning. I honestly have some amazing things lined up…you aren't going to want to miss them!
Love & Blessings,