For my birthday, this past fall, my mother-in-law gave me a dutch oven! I have been wanting one for a few years, ever since I really started cooking (I will post about my journey into cooking sometime). I couldn't believe when the box arrived just how heavy the pot actually was! It's honestly so beautiful! I almost feel like it's a piece of artwork that deserves a much nicer resting place then the bottom cupboard!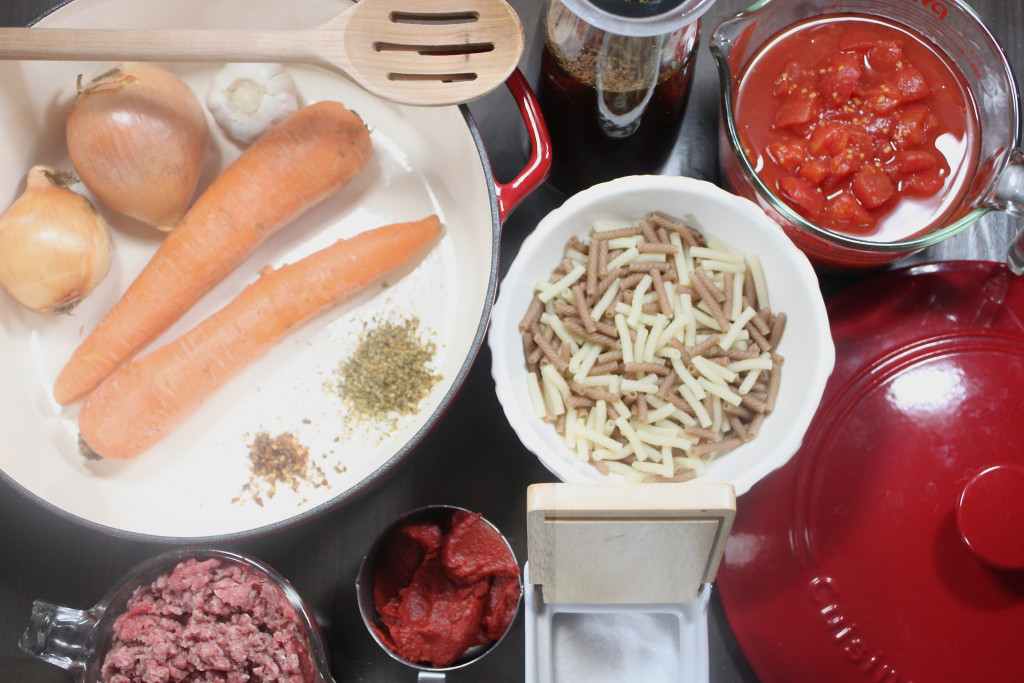 So with this new Dutch oven, which by the way is 7 quarts…it's massive…I can now finally make big one pot meals! Do you hear me? ONE. POT. MEALS! And all the mom's of this world rejoiced! Have you ever made a one pot meal before? They are the real deal. I was skeptical at first (and I'll be honest, I've tried a few that were really bad). But with a few tweaks here and there, I've managed to come up with a handful of these meals that our family love! And how much easier does it get then throwing all of your ingredients for your entire dinner, into one pot and within 20 minutes or less, it's DONE! I am having so much fun exploring these types of meals right now. So you can expect to see many more of these recipes! Amidst the chaos of my everyday, these are game changers and I'm loving it!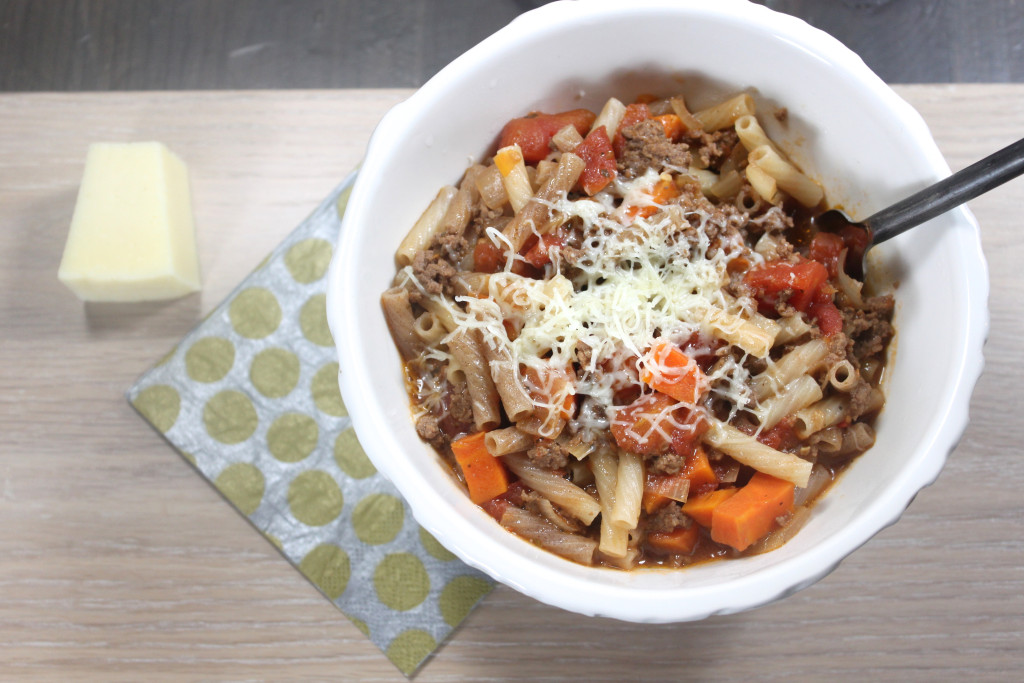 This one recipe that I'm posting for you today is a combination of a few recipes I tried plus my own added ingredients! And I think, it's a winner! My kids inhaled it! I bought this quinoa macaroni from Costco and it's fantastic! Much healthier and none of us notice a difference! And I find the pasta cooks faster then regular pasta. I also find macaroni is just much easier for the little ones rather than spaghetti, hence the title! But you can totally make it traditionally and use spaghetti, if you'd rather.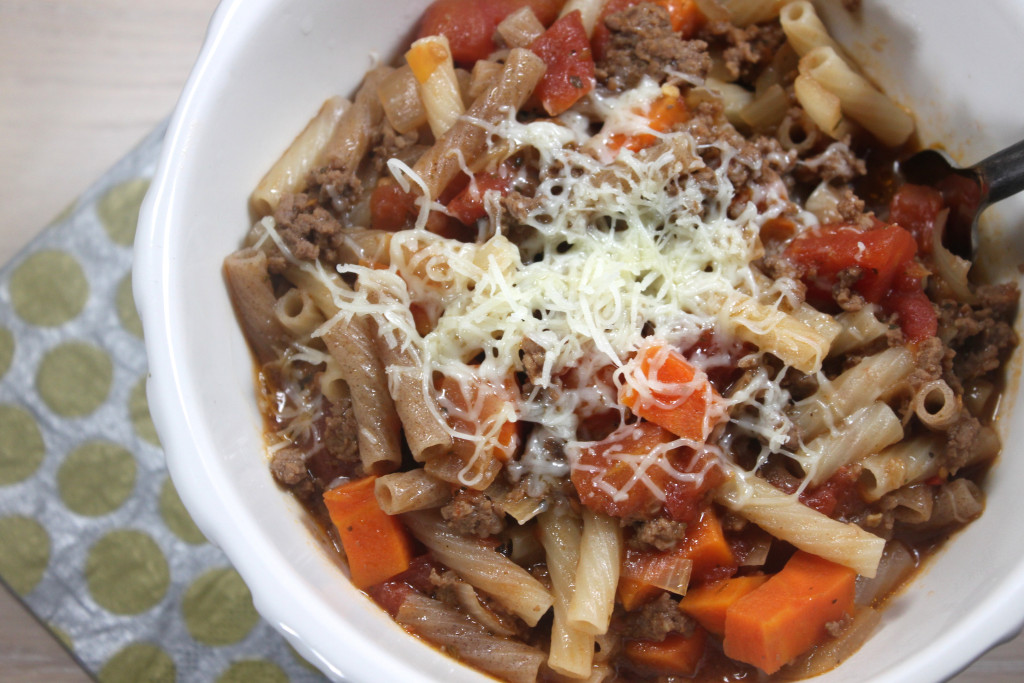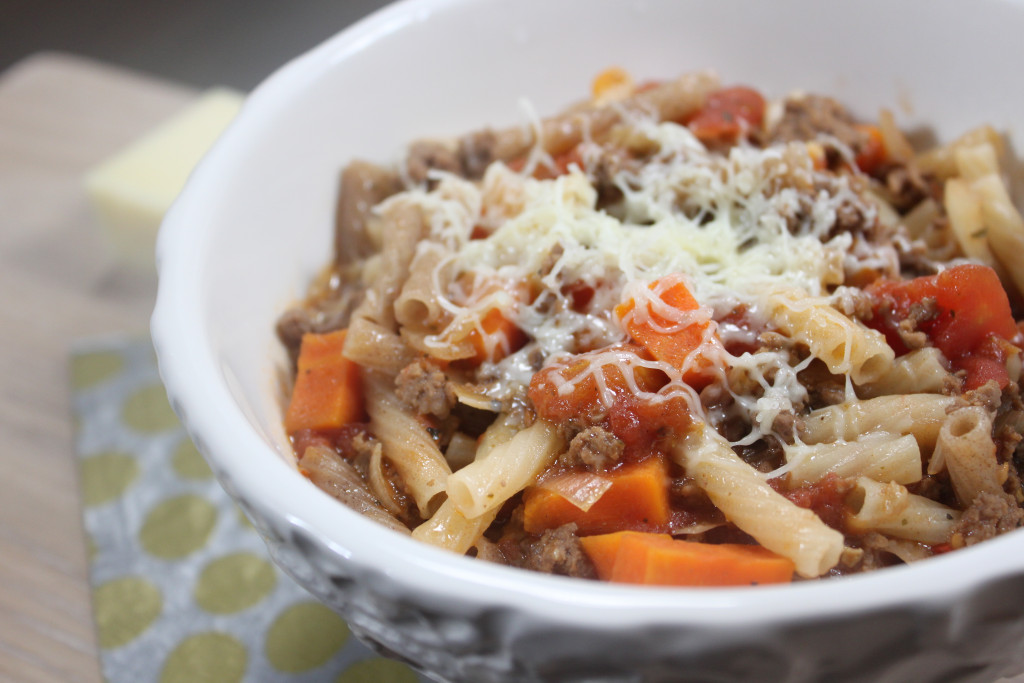 One Pot Wonder: Macaroni Bolognese
2015-01-11 21:51:05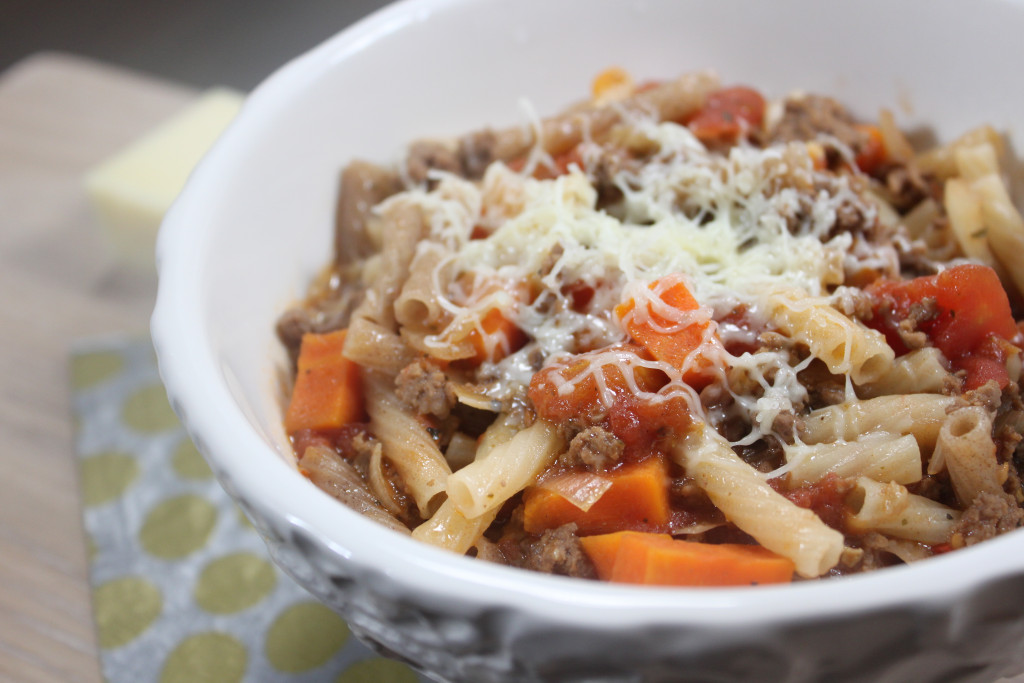 Serves 6
A whole meal in one dish! Packed full of flavor and ready in about 20 minutes, why dirty more dishes then necessary?!
Ingredients
2 tbsp olive oil
2 onions, diced
3 cloves of garlic, crushed
2 carrots, peeled & diced
1 tsp salt
1 lb lean ground beef
1 can (28 oz) diced tomatoes, undrained
1/2 cup tomato paste
1 carton (4 cups) beef broth
1/2 tsp crushed chilli flakes
2 1/2 tbsp Italian seasoning
1 lb uncooked macaroni (I used quinoa macaroni)
Freshly ground pepper
Freshly grated parmesan cheese when serving
Instructions
In Dutch oven, heat oil over medium-high heat until hot.
Saute garlic until fragrant
Cook onions and carrots until softened, about 5-7 minutes.
Add beef; season with salt and pepper. Stir frequently until browned.
Stir in tomatoes, tomato paste, broth, red pepper flakes and Italian seasoning. Heat to simmering.
Stir in macaroni, covering completely with liquid. Reduce to medium low; cook 7-12 minutes or until pasta is soft (cooking times will vary depending on type of pasta).
Top with freshly grated parmesan cheese and serve!
Amidst the Chaos https://amidstthechaos.ca/
Love & Blessings,

PS. Do you have a favorite one pot meal that your family loves? Would love to hear about it! Leave a comment below!