The Fall is basically here and that means time for warm soups and soul-soothing slow cooker meals! I honestly could use my slow cooker every single day! It's just so convenient for a busy family and fits so well into our lifestyle.
Today I'm sharing with you a super simple yet packed-with-flavor chicken fajita chili slow cooker recipe. Aside from seasoning and browning the chicken, you are literally putting FOUR ingredients into the slow cooker! FOUR! It's so easy and yet so delicious!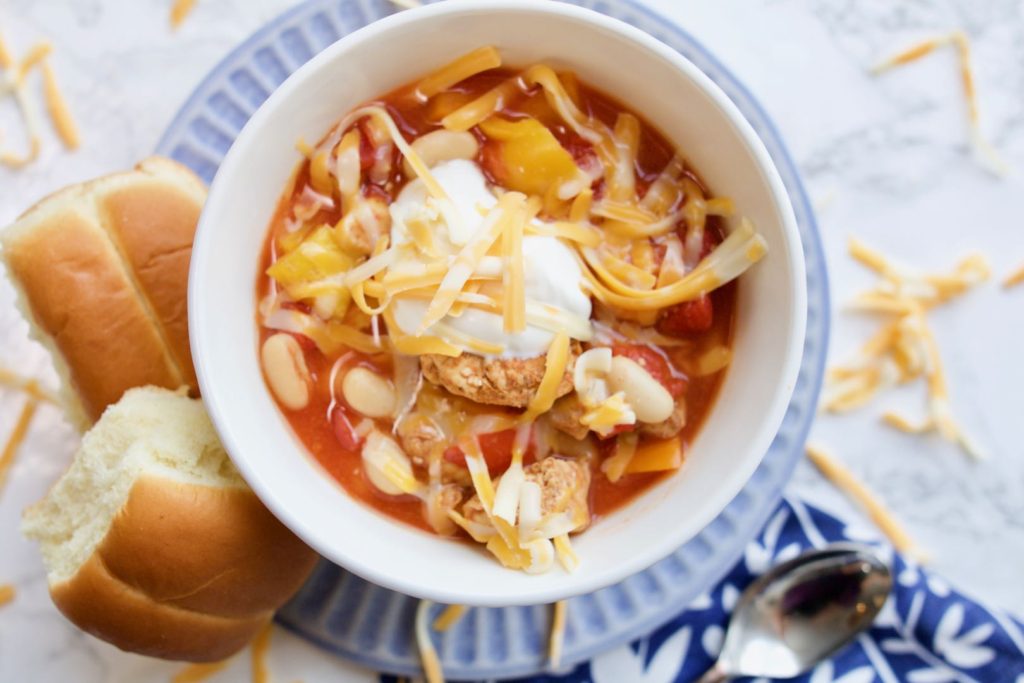 So let's get to it!
First, you are going to dice up the chicken and mix in all the seasonings. The reason it's called fajita chili is because we are using fajita seasoning! You could very well make your own seasoning, but if you're like me and really want that easy convenience, just pick up a packet when you're grocery shopping!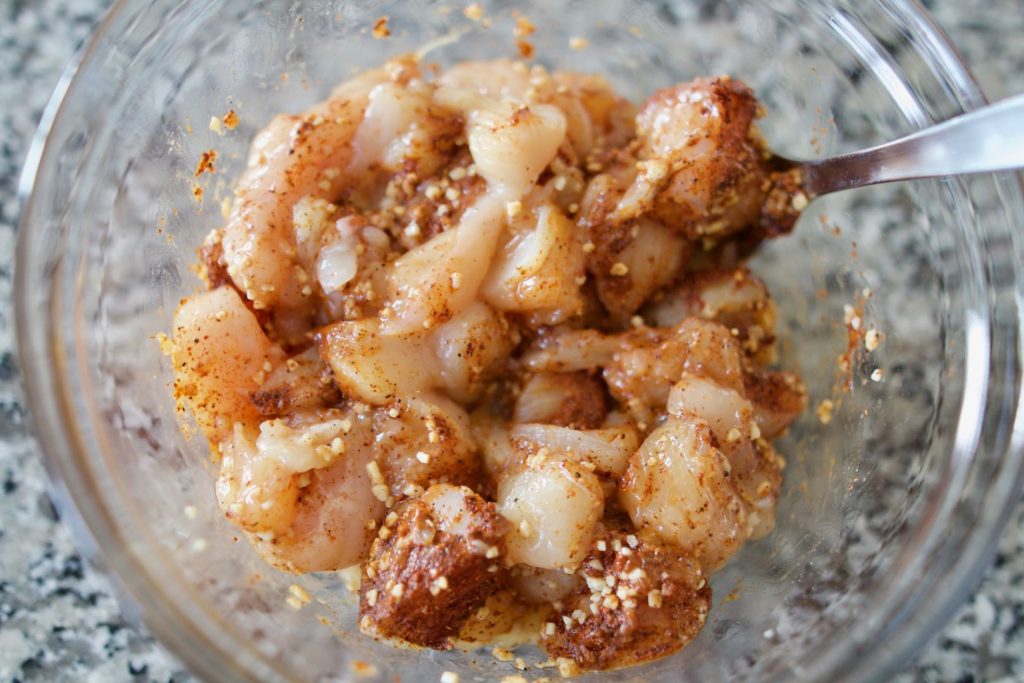 After you've mixed the diced chicken in with the seasonings you are going to want to brown the chicken quickly in a frying pan. I know this is an extra step that many slow cooker recipes don't call for…but trust me…it's GOING to make the chicken taste better and more tender.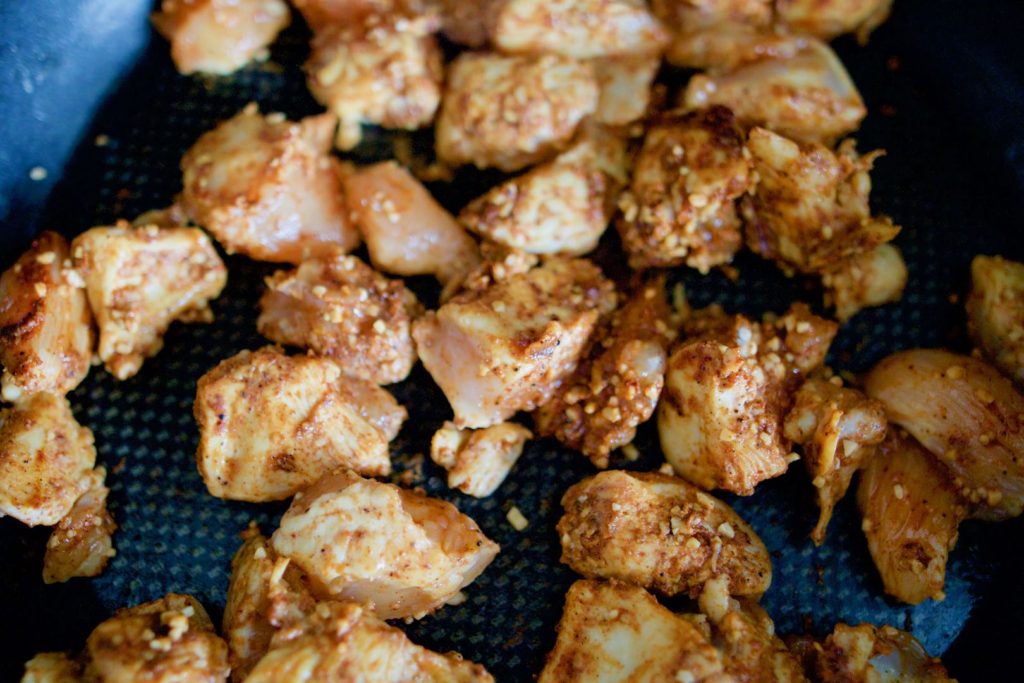 Once the chicken is browned, toss the four remaining ingredients into the slow cooker: chicken, white kidney beans, canned tomatoes and diced fresh peppers. Now, let's talk about the fresh peppers for a minute. I've tried this before using frozen peppers and it was NOT good. So soggy! I personally don't find peppers freeze and then thaw/cook well afterwards. It's almost like they break down into mush. So I experimented and started using fresh peppers and what a difference this makes. Now, something you MUST NOTE: if you are choosing the longer, 4-5 hour cook time on low, you may want to hold off putting in the fresh peppers until the last two hours. Again, peppers are a little moody in the slow cooker! For me, I only ever cook this on the 2-2.5 hour, high setting (I just find it doesn't over cook the food that way) and so I always place the peppers in from the start and they are tender yet still a little crisp when ready.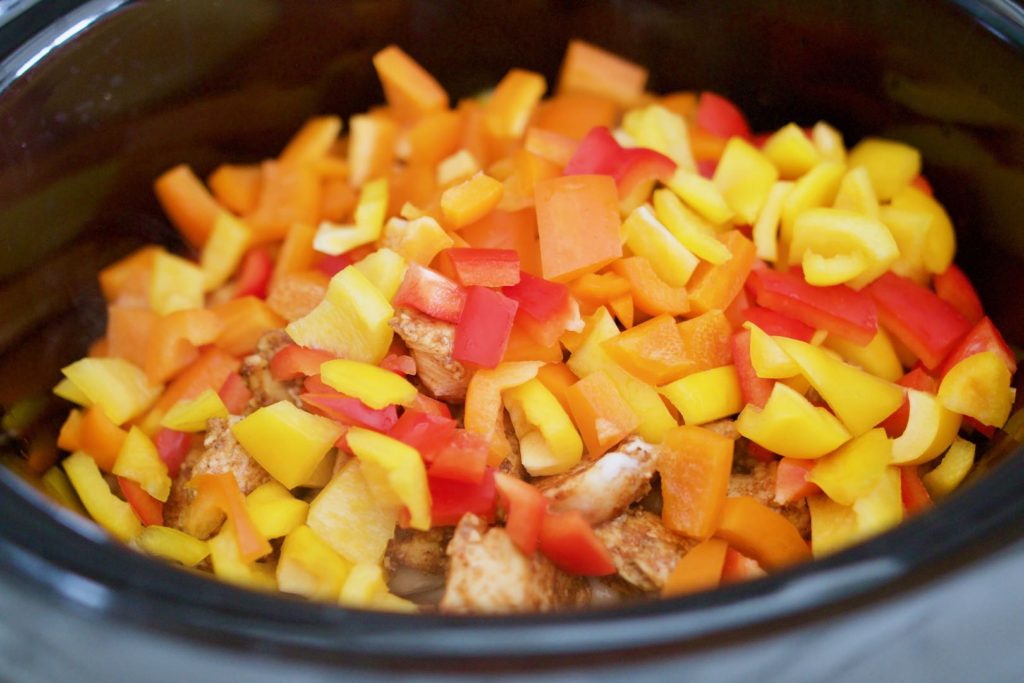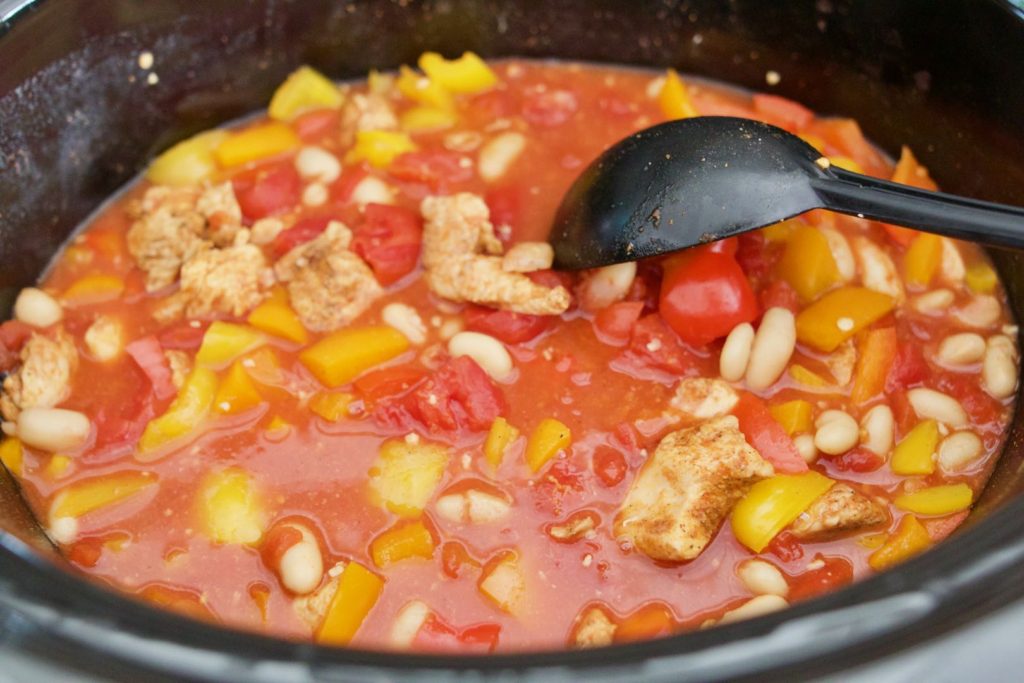 You can top this with just about anything you'd like. We always put a dollop of sour cream and sprinkle some cheddar cheese overtop. I've also put some guacamole in it, which is SO tasty. My husband likes to put a little bit of adobo sauce in it for a bit of kick. So play around with the toppings and see what your family likes best!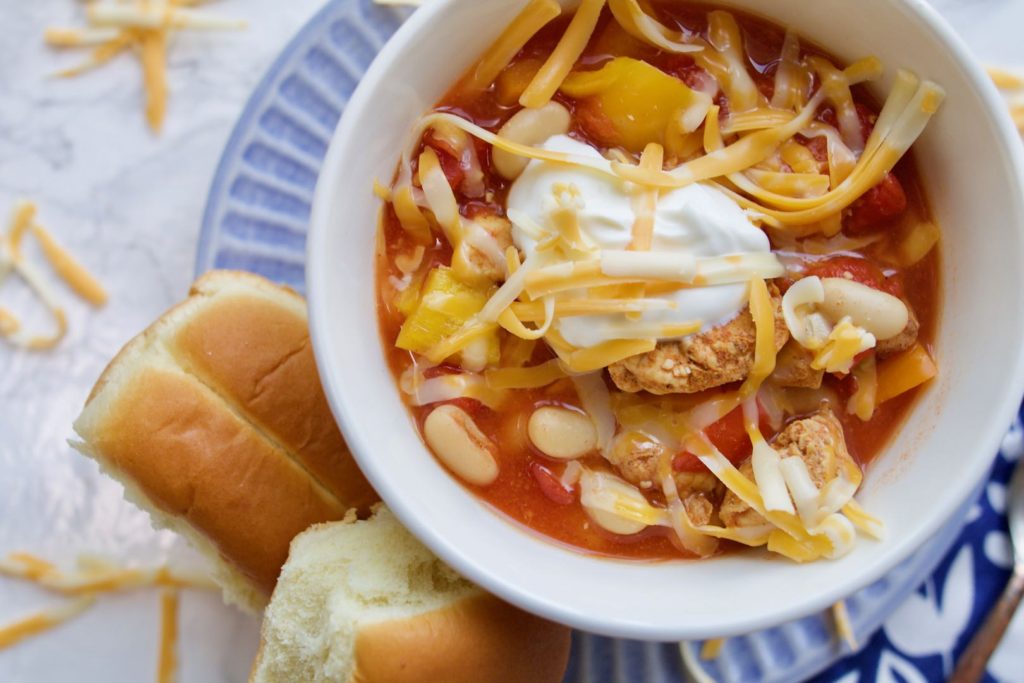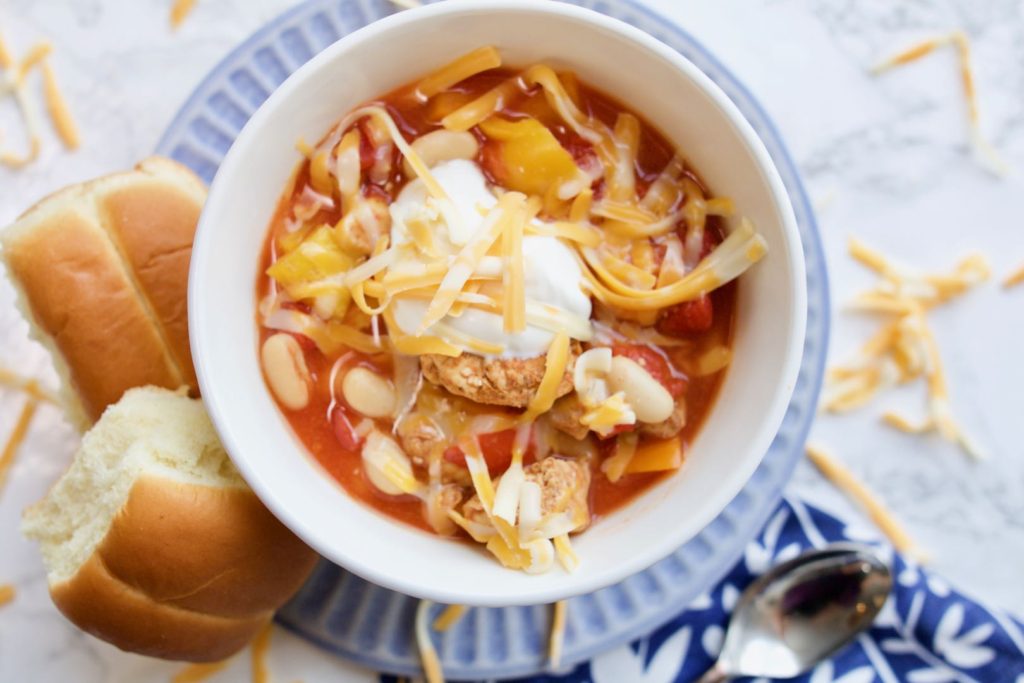 Slow Cooker Chicken Fajita Chili
2017-09-12 19:07:02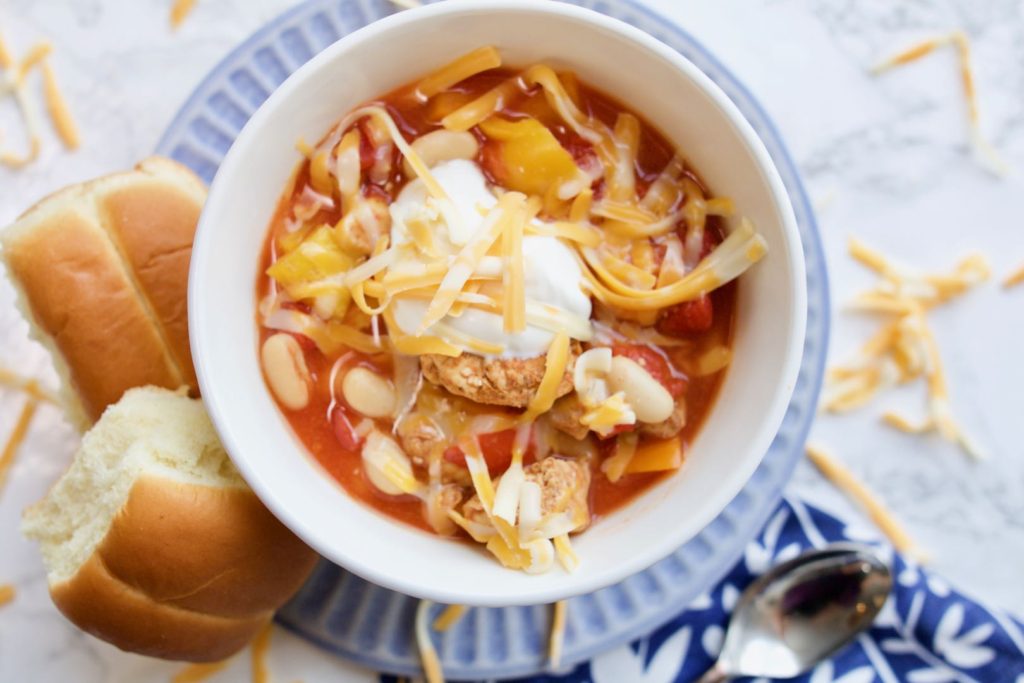 Ingredients
1 lb skinless, boneless chicken breast halves, cut into 1" pieces
1 tbsp chili powder
1 tsp fajita seasoning
2 cloves garlic, minced
1/2 tsp ground cumin
Nonstick cooking spray
1 can diced tomatoes, undrained
3 fresh peppers, diced (I use red, yellow and orange)
1 can white kidney beans, rinsed and drained
Sour Cream (optional)
Shredded Cheese (optional)
Instructions
In a medium bowl combine chicken, chili powder, faijita seasoning, garlic and cumin. Mix gently to combine.
Coat a large frying pan with cooking spray and heat over medium-high heat. Cook the seasoned chicken in until brown. Transfer to the slow cooker.
Stir tomatoes, peppers and beans into chicken in slow cooker.
Cover and cook on low heat setting for 4-5 hours or on high for 2-2.5 hours.
Top with shredded cheese and sour cream, if desired and serve!
Amidst the Chaos https://amidstthechaos.ca/
Once you've tried this recipe, I encourage you to check out 10 other slow cooker recipes from some of my blogger friends! Between all of us, you've basically got dinner covered for the next two weeks! I can't wait to try a bunch of them myself!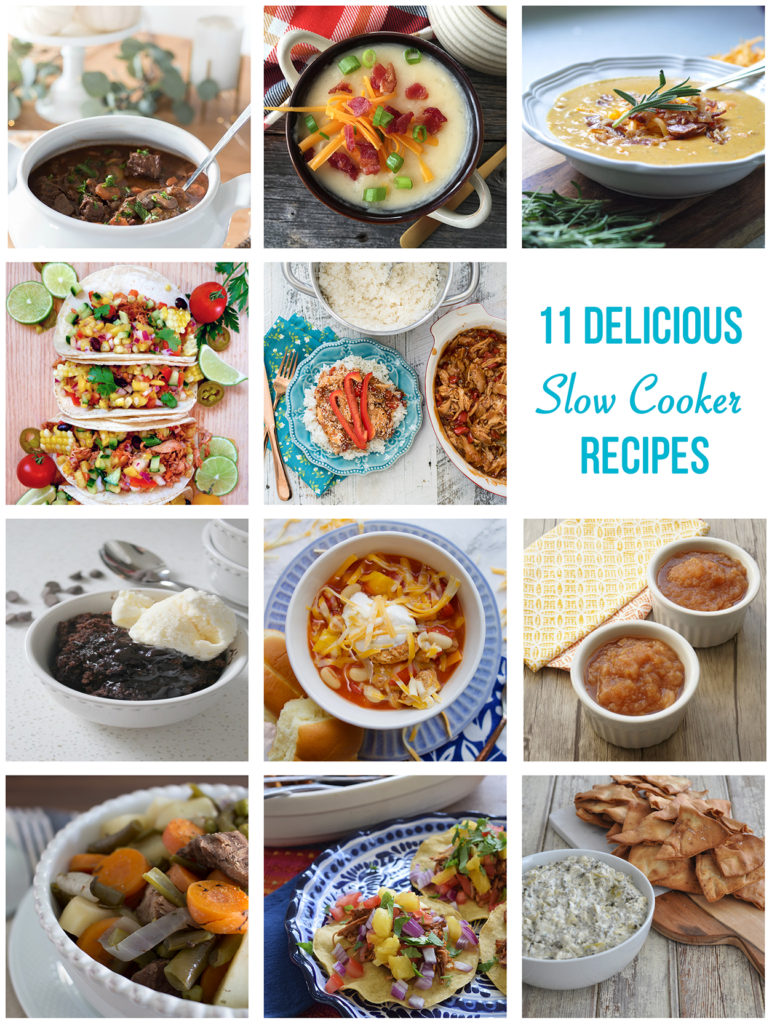 Slow Cooker Beef Bourguignon by Kim of Kim Power Style
Slow Cooker Loaded Baked Potato Soup by Jo-Anna of A Pretty Life
Cheesy Sweet Potato and Bacon Soup by Tara of Suburble
Weight Watchers Crock Pot Chicken Tacos by Virginia of Fynes Designs
Slow Cooker Honey Garlic Chicken with Peppers by Christina of The DIY Mommy
Slow Cooker Hot Fudge Cake by Kendra of Joy In Our Home
Slow Cooker Chicken Fajita Chili by Christine of Amidst the Chaos
Slow Cooker Apple Sauce by Jen of Kitchen Counter Chronicles
Slow Cooker Beef Stew by Shannon of AKA Design
Mexican Pulled Pork by Sarah of Flourish & Knot
Slow Cooker Spinach and Artichoke Dip by Dannyelle of Life is a Party
Happy Cooking!
Love & Blessings,