Typically around Christmas time, my home explodes with decorations in just about every room because it truly is one of my favorite seasons of the year. I absolutely love setting up multiple trees around the home, hanging twinkling lights and creating Christmas planters for the porch.
Christmas time is truly my favorite time of the year.
But this year has been a little bit different. If you've been following around on any of our social media channels, you will most likely know that I had to go in for surgery at the end of November. While this was a somewhat minor procedure (tonsillectomy, to be exact), for adults, the recovery is quite tough. I was told that I needed at minimum three weeks to fully recover.
Having to set three precious weeks aside during one of the busiest times of the year was a crazy idea, but it had to get done. So I knew that in order to make this happen, I would need to work like crazy the weeks leading up to the surgery, in order to afford that down time post-op.
And that's exactly what I did. WORKED.LIKE.CRAZY!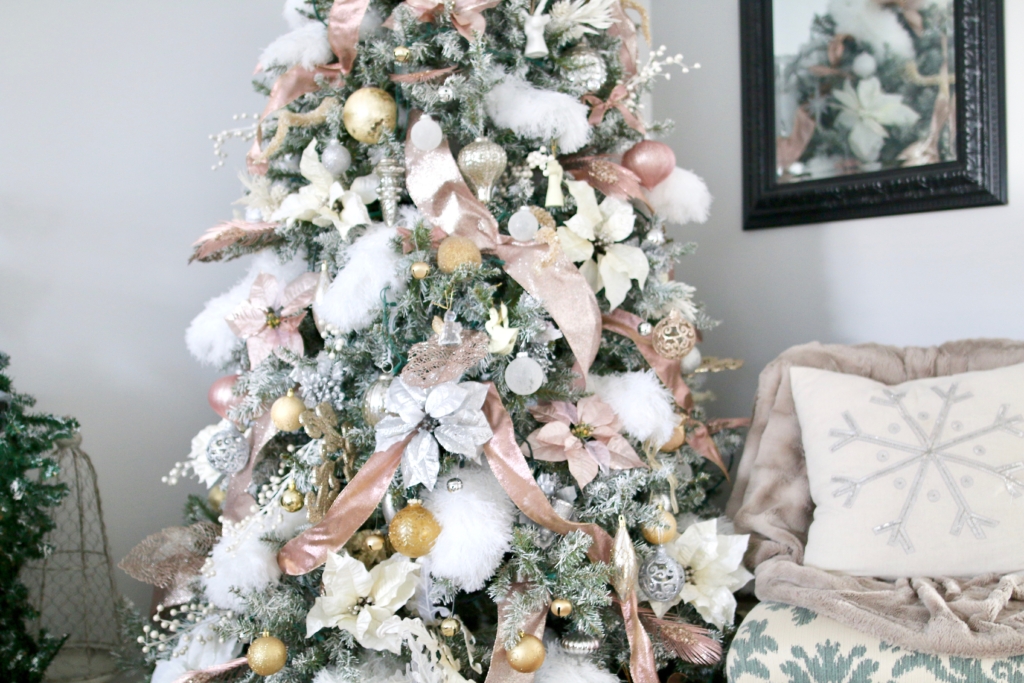 Thankfully all the work got done in time, however, it did mean that other things had to put aside or "re-configured."
One of those things that had to be re-configured was our Christmas decorating. As much as LOVE Christmas and trimming the house with an abundance of Christmas decor, I knew this was an area I simply had to pull back on this year, in order to make everything work.
But that being said, I knew we couldn't go entirely without at least one beautiful area to cozy up the home!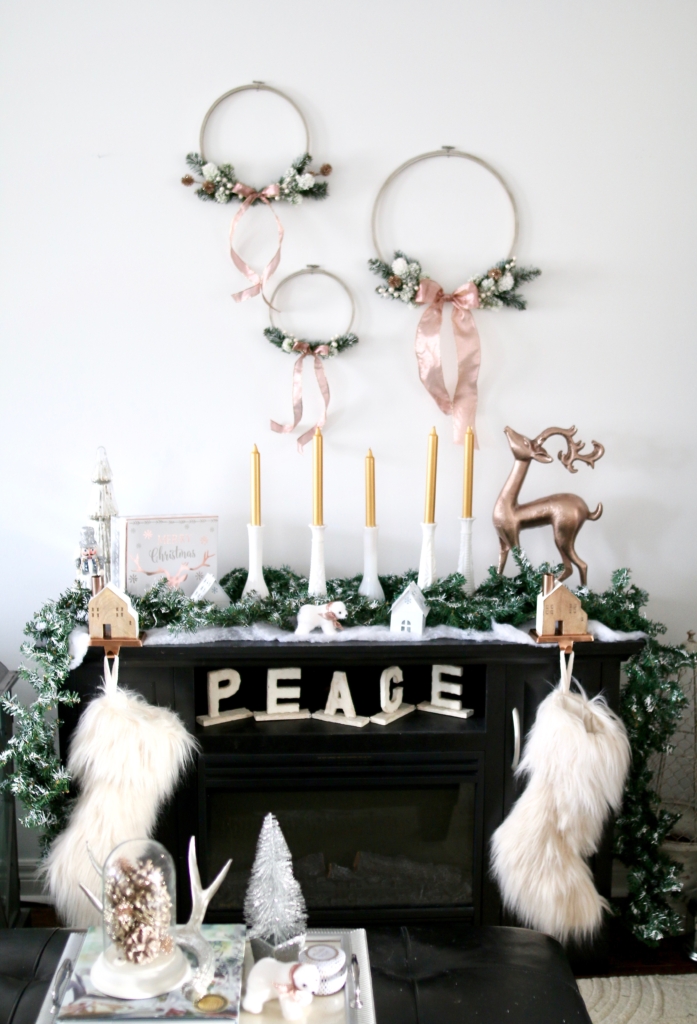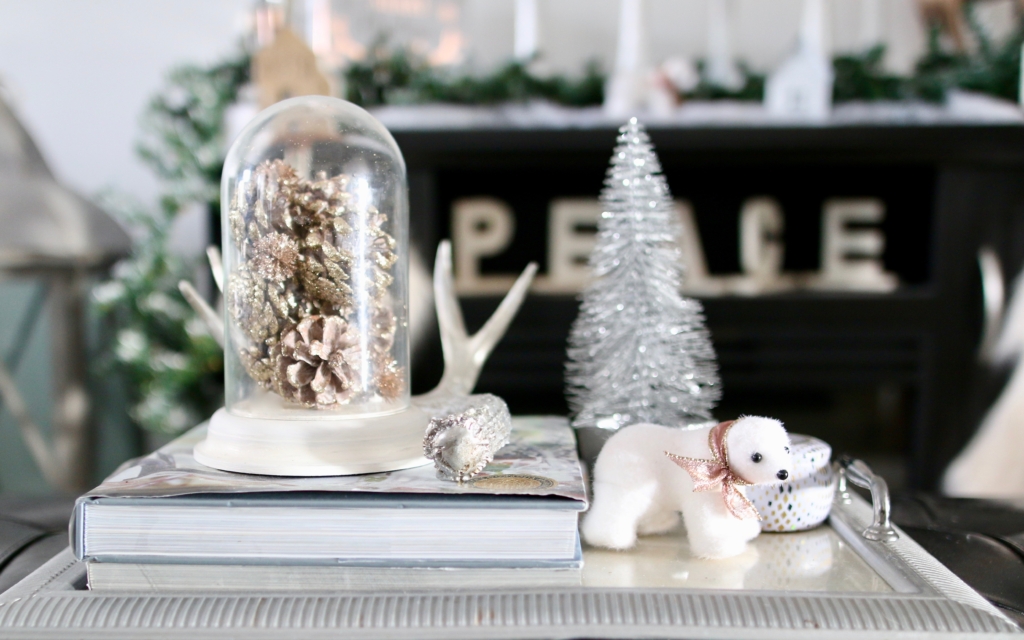 So I set our sights on our living room and went to town!
Rose gold has been my color of choice this season and I knew it would be the perfect addition to our Christmas tree. Adding in some ribbon, as well as a few flowers and ornaments, I absolutely LOVE the overall look of the tree.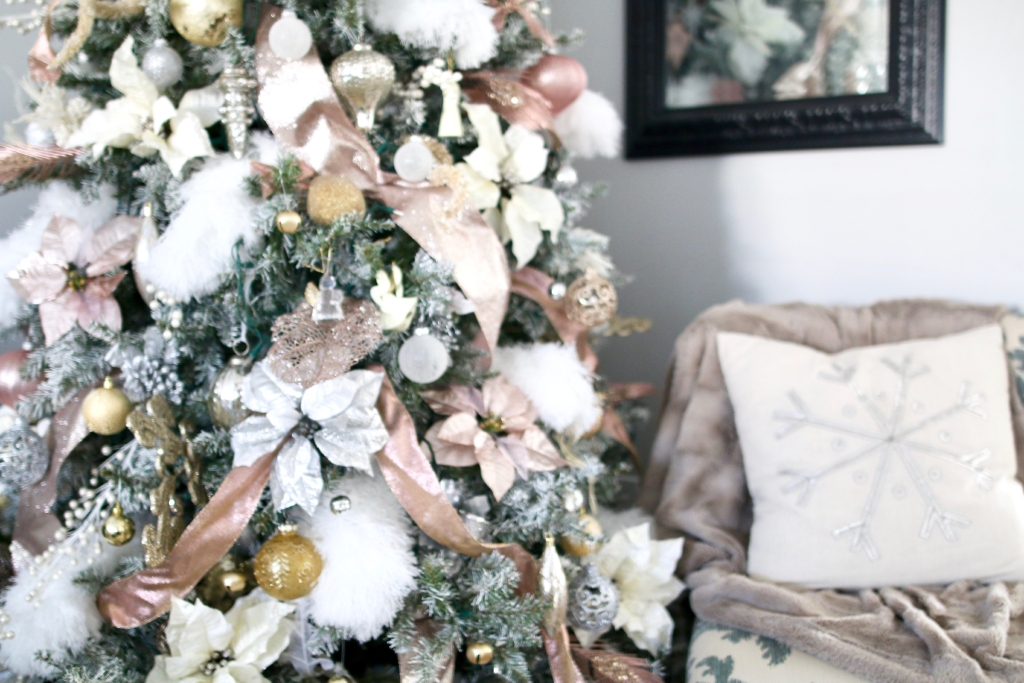 I also added in a touch of fake snow, using a tip that my friend Lucy from Craftberry Bush used. The snow is actually dusters from the dollar store! I couldn't believe what an amazing trick that was and how perfectly it worked in the tree to really give it that faux snow look! Thanks Lucy!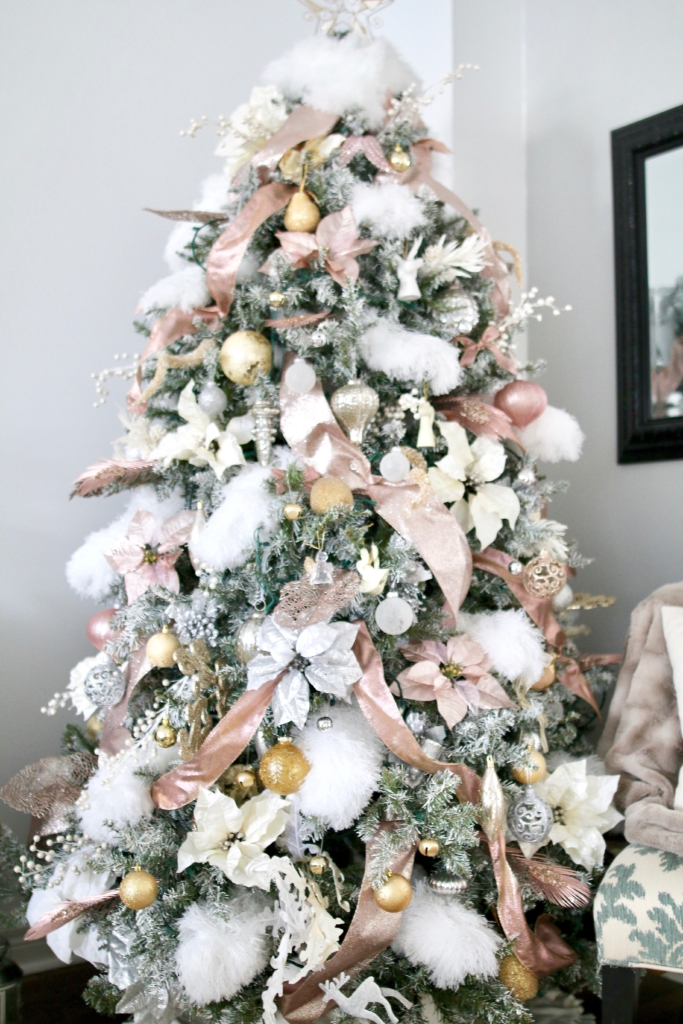 Then I knew I needed to set up my mantle. Using some faux greenery from Christmas past, I wanted to continue the snowy look, so I simply painted the tips white with some white acrylic paint that I had on hand.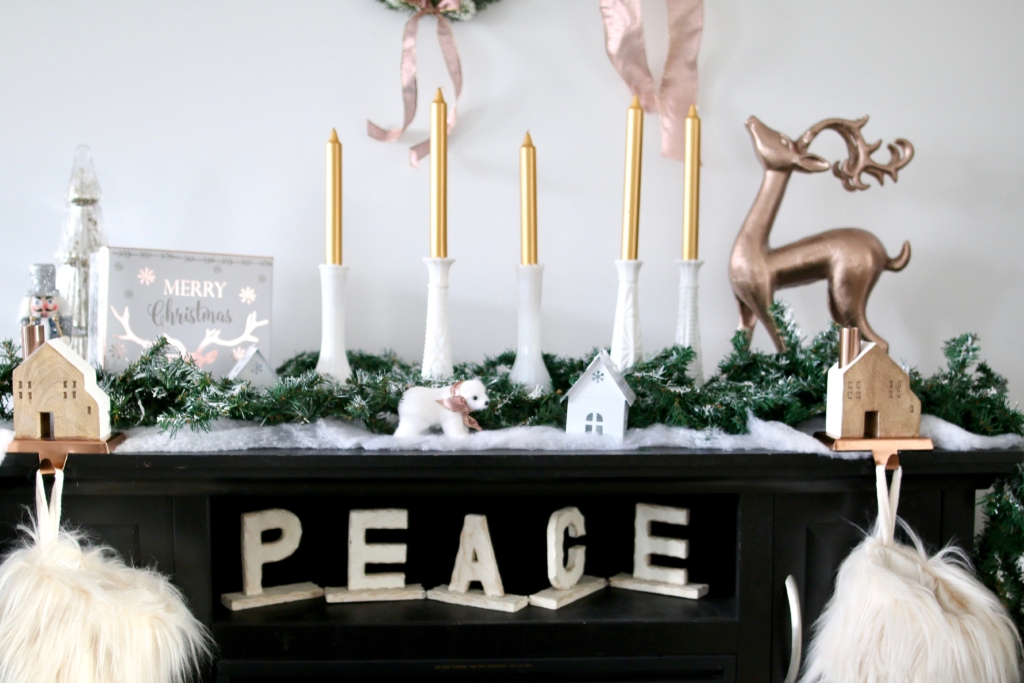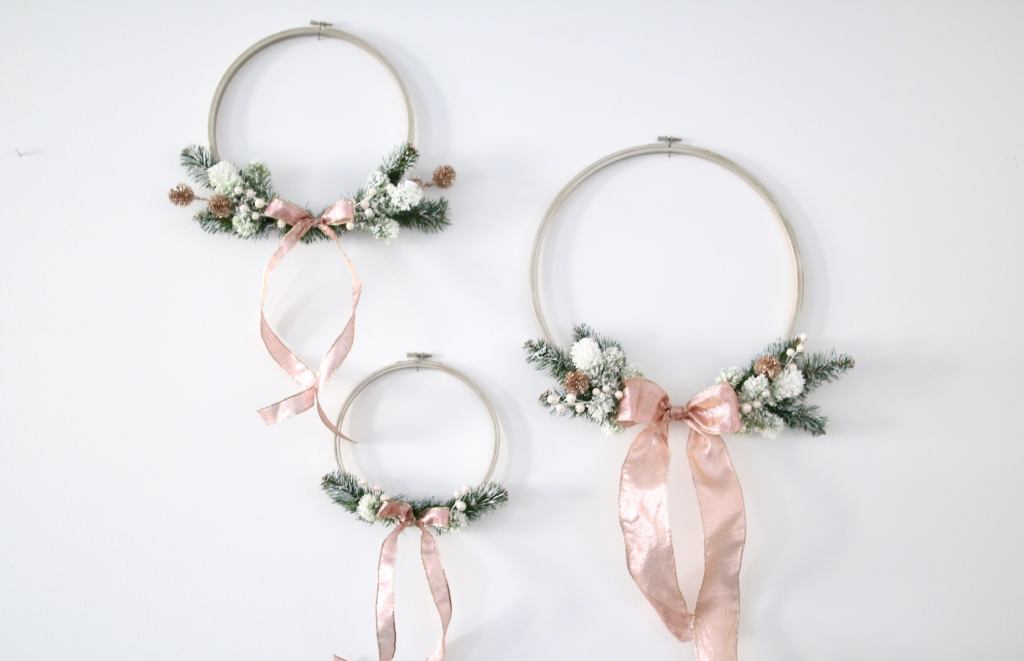 I wanted to add a unique DIY piece to the wall for art and I knew making embroidering hoop wreaths were exactly the look I was going for. You can watch the whole video tutorial here! Super easy, crazy inexpensive and totally high end design! There's also a bonus tutorial in there for how I turned an old brass domed clock into a modern, high end cloche!
And that my friends, is it for this Christmas tour! I would have loved to have been able to do more, but as I said, this year, it just wasn't possible. But I'm so glad we at least have this space to cozy up in and enjoy the beauty!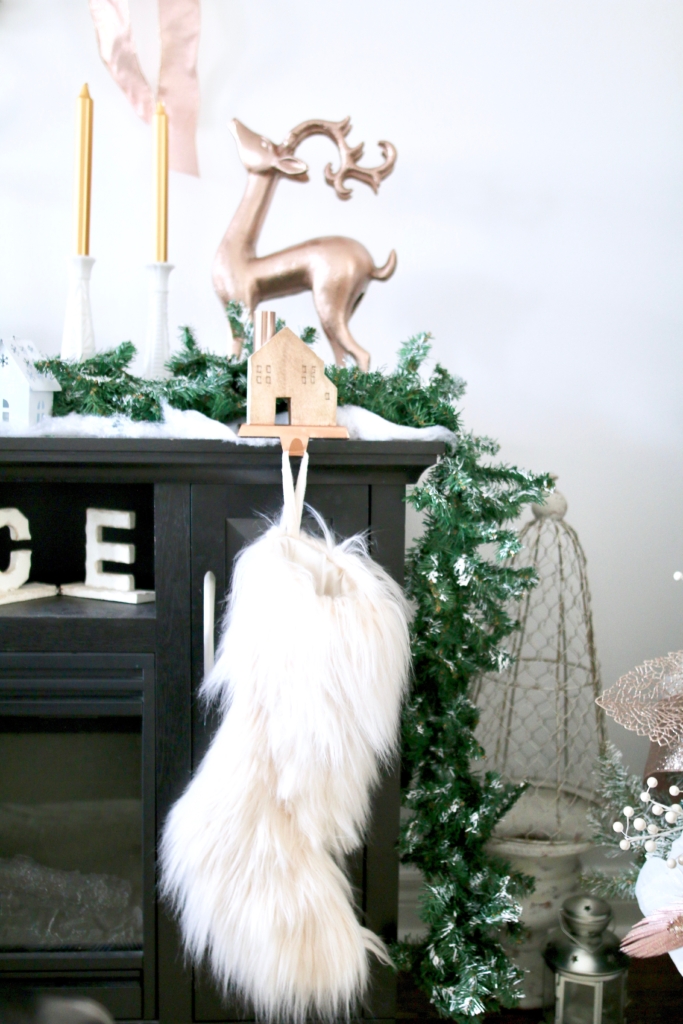 What colors did you choose for your decor this year? Are you doing more minimal decor or going full out? Let me know in the comments below!
Also, I'm SO excited to have teamed up with some AMAZING Canadian decor bloggers for a Canadian Bloggers Christmas Home Tour! These are some seriously talented ladies! Every day this week, a few more will be posting their home tours, so make sure to check out all the links below for some serious Christmas home decor inspiration!
Monday
Northern Style Exposure
The Learner Observer
The Uncommon Law Heather In Heels
Clean and Scentsible
The Sweetest Digs
Tuesday
Amidst the Chaos
Brooklyn Berry Designs
Lemon Thistle
Suburble
Life is a Party
PMQ for two
Wednesday
Love Create Celebrate
Satori Design for Living
A Pop of Pretty
So Much Better With Age
VinYet ETC
Woman in Real Life
Thursday
The DIY Mommy
Fresh Crush
Time With Thea
A Pretty Life
Home To Heather
Nalles House
Friday
This Little Estate
Craftberry Bush
The Happy Housie
Kimpowerstyle
Elliven Studio