Well it's been one full week since we revealed our master bedroom makeover! And you guys responded SO well! I was blown away by all the lovely comments, messages, texts, etc. that we received! Thank you for supporting us!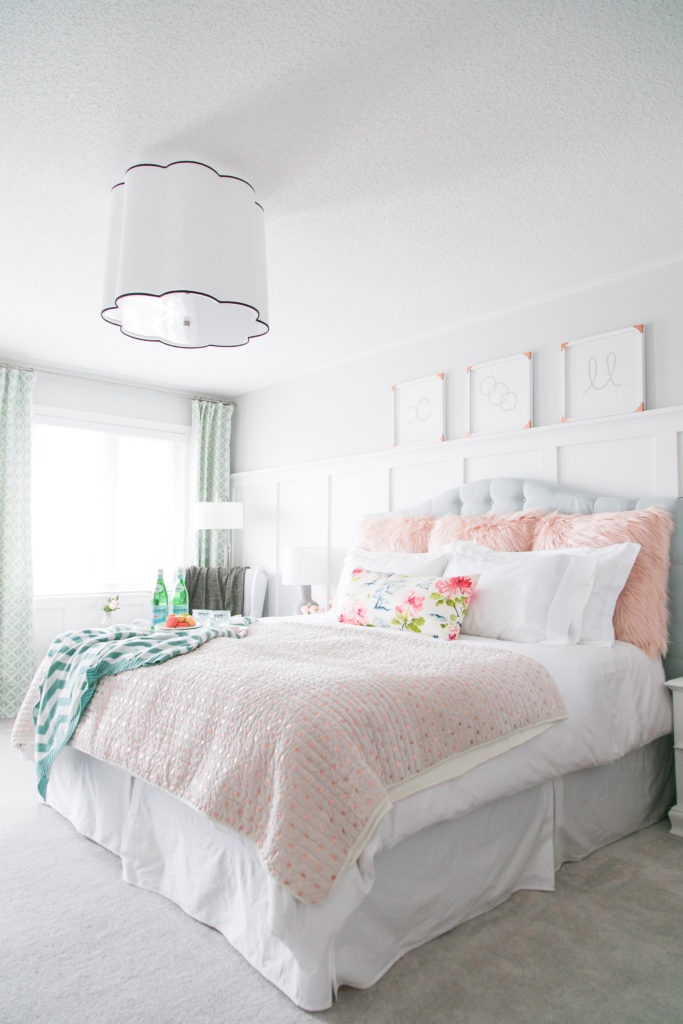 So now that the dust has settled, quite literally, I thought that I would share with you some reflections from this one room challenge makeover. Anytime I've made over a space, there's always been some surprises, both positive and negative. Plans change, for any number of reasons and more often than not, my end result is quite different from what I first had in mind.
It's easy to look at a completed space and think that it was a piece of cake to pull it all together and that there were no setbacks, but that is almost never the case. So I thought I would take you through a few of the challenges that we faced and share with you some things that surprised us, both good and bad.
Inspiration Board
When we first started, I had two main pieces already in the space that I thought were locked and loaded: the aqua blue head board and the bold white and grey striped curtains. These were items I purchased over two years ago when I first attempted to decorate the space (and then failed miserably). As the room started coming together, I had to come to terms that the curtains no longer worked with the design, even though the "frugal" side of me desperately wanted them to work. They were just too bold for the space and so I had to ditch them from the plan.
The second part was that my husband was having NOTHING to do with the flower peachy duvet cover I was trying to sell him on. NO WAY! And in the end, I'm kind of glad that he was so strong about that (which, typically, he is very laid back and trusts my design aesthetic) because I think I would have regretted that choice in a year or two.
Instead going with solid white linens, I was able to bring in color and pattern with items that are more easily changeable like throw pillows and blankets.
Lighting
Originally, I wanted a wooden beaded pendant light. I LOVED (and still do) the look of these. They are, however, quite expensive. I scoured Pinterest to see if I could make one myself and still, the time and effort that it would take, plus collecting enough beads was just not going to be worth it.
Similar to the white and grey curtains, I finally came to a point where I thought, "I need to rethink this and maybe go an entirely different direction." I find that whenever I am hitting road blocks in design, it's good to step back from the issue at hand and reevaluate it to see the bigger picture.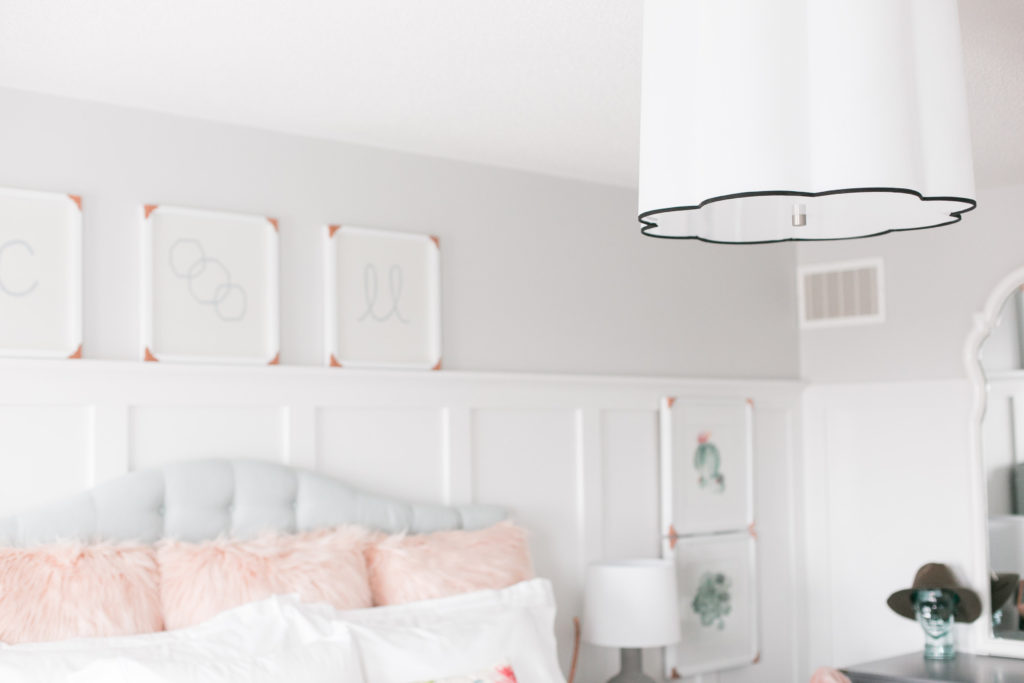 And am I ever glad that I did with the light because I ended up finding my DREAM light! This Robert Abbey Pendant light was one I had pinned a few years back on Pinterest. I remember searching where to purchase it from and it wasn't available to Canadians at a reasonable cost, once you factored in shipping and duties. So like thousands of other pins, I quickly forgot about it.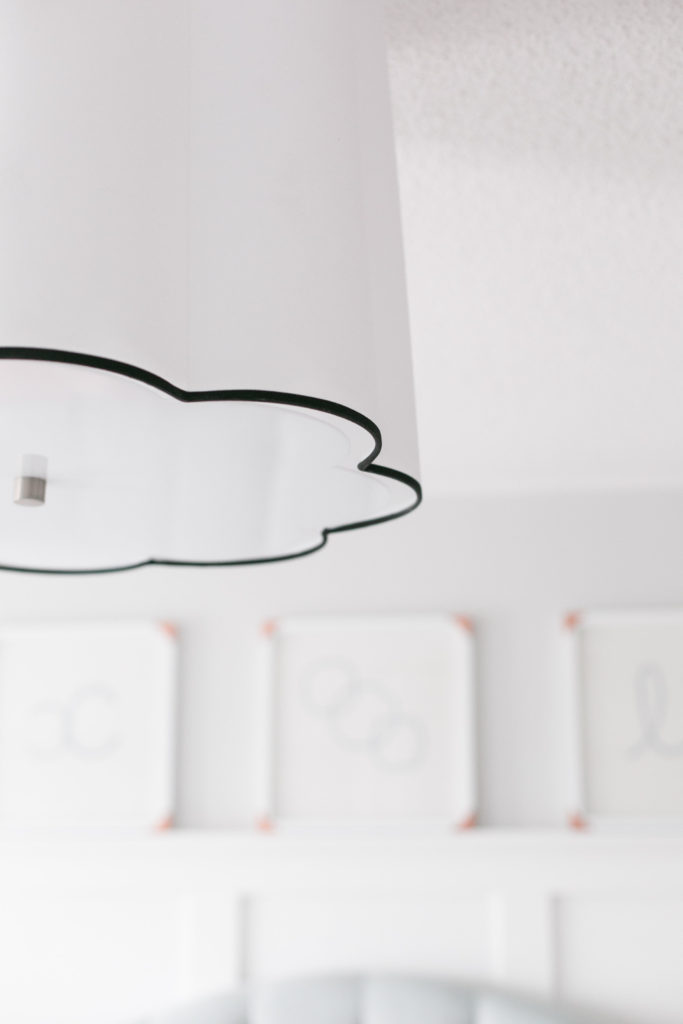 Until I randomly came across it on the Wayfair.ca site and my jaw DROPPED! Instantly I knew this was it and I HAD TO HAVE IT!
There were a few "turning points" in the design of this space and I would say when I totally left turned on the light from a beaded chandelier to this scalloped pendant, that was a HUGE one. This light is far more of a grand and regal feel versus more beachy casual look with the beads. Both gorgeous, just totally different vibes.
Hardware:
This was one of those "heartbroken yet turned out nicer than I imagined" aspects of the room. Let me explain.
Originally we thought we would be selling our existing dresser and that hubby would be building a built-in, with a custom top. The idea quickly had to change when we realized that the pieces we were going to use from Ikea for this were no longer available.
So we had to start improvising.
I knew I didn't want to purchase a new piece if we couldn't do the built-in's so I suggested that we repaint our old dresser and change out the hardware. At first, I'm positive that hubby thought I was crazy, but he quickly jumped on board with the idea.
White was the color and the search was on for cool hardware to go with it. Problem is, we don't have the best selection of hardware here in Canada (or so I thought then).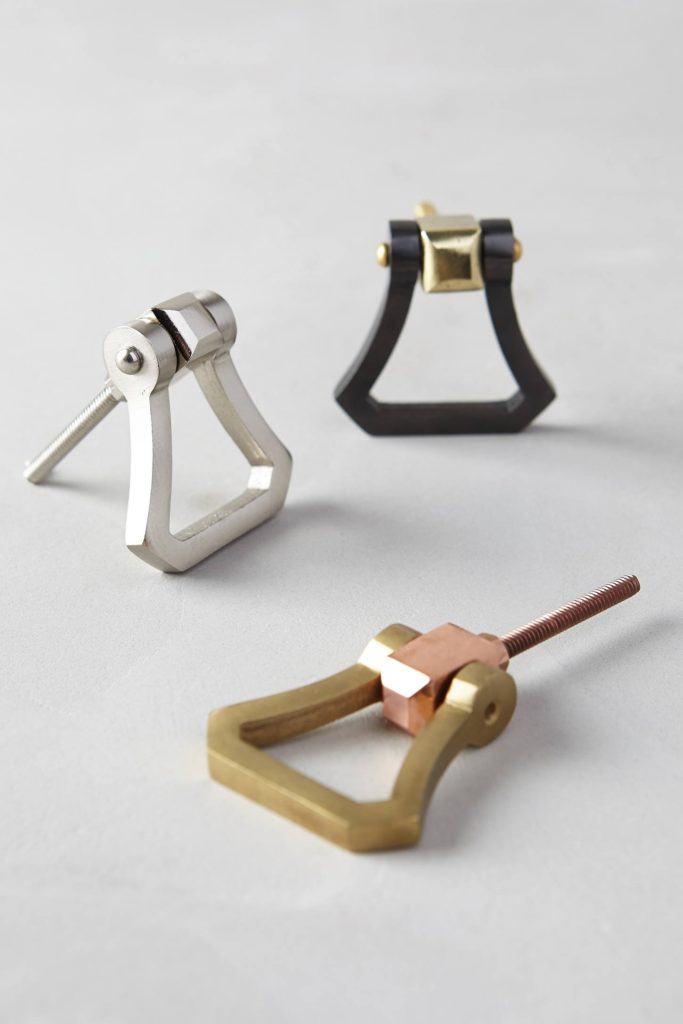 I ended up finding these AMAZING knobs and drawer pulls from Anthropologie and I was SET. I went in to pick them up and was surprised when I couldn't find the handles. When I asked the sales associate to look into it, she informed that NOWHERE in Canada had those handles anymore. DEVASTATED was an understatment. I started Googling how far the nearest Anthro was over the US border because I would have driven to get them…I was THAT committed. Unfortunately, the ones in the US didn't have them anymore either.
We were out with old friends that night (when I tried to purchase them) for dinner and I think at least five times I randomly blurted out "I'm so sad about the drawer pulls!" because I had not found anything else that I liked.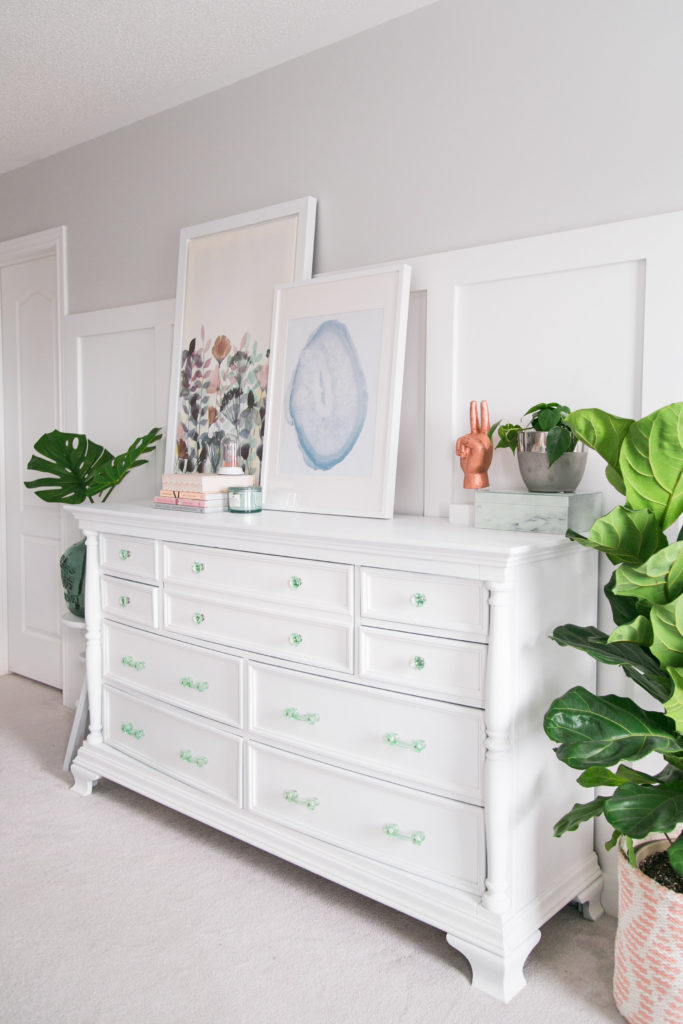 I finally had to come to terms with the pulls being gone and needing to refocus and figure out what I was going to do. In another complete about face turn, I ended up at Lee Valley Tools, having no idea what knobs I would find, and falling in LOVE with these beautiful green glass knobs and pulls.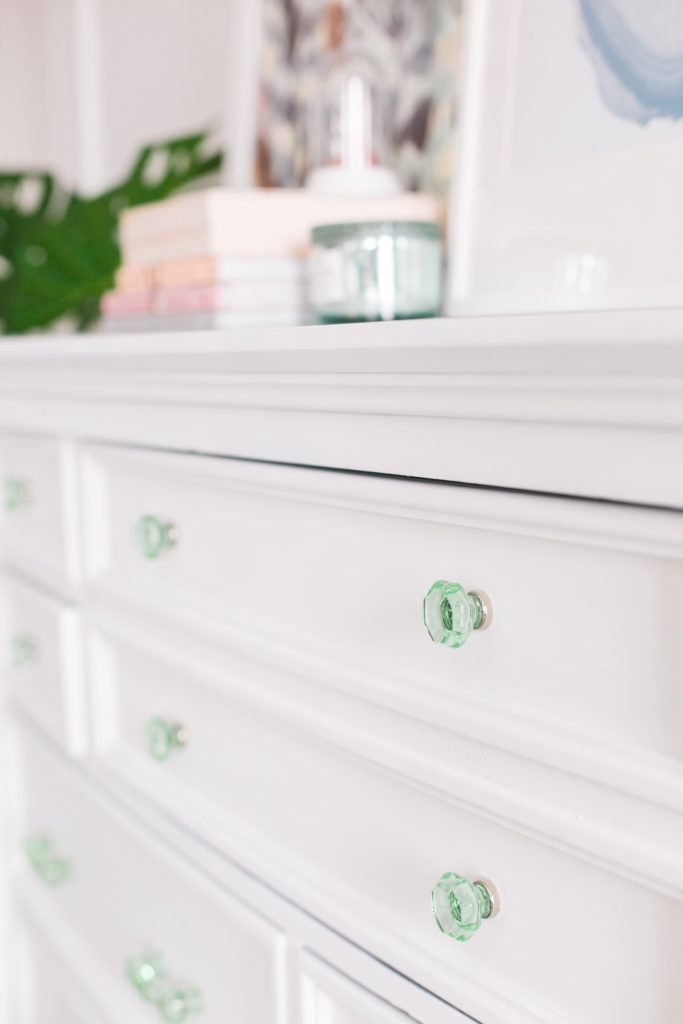 I was a little scared to text a picture of them to my husband because they were SO different from what I originally wanted. They were much more pretty and delicate looking. However, he was sold on them and once we brought them home and placed them on the newly painted white dresser, we've never looked back!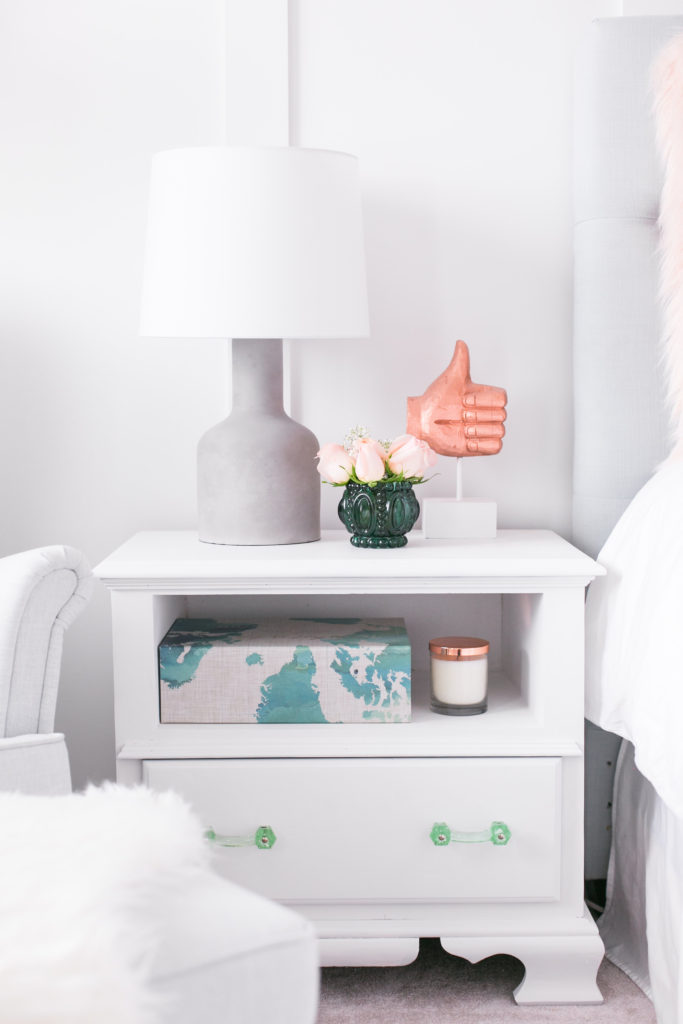 Along with the pendant light, the drawer hardware are one of my favorite features in the entire room!
Time:
This might seem like a weird one to you but I wanted to talk about how time was a surprise on this project, both in a good and negative way.
Six weeks isn't a long time to completely renovate a space, especially when you have three small kids to look after. So we got to work rather quickly on the construction aspects of the room.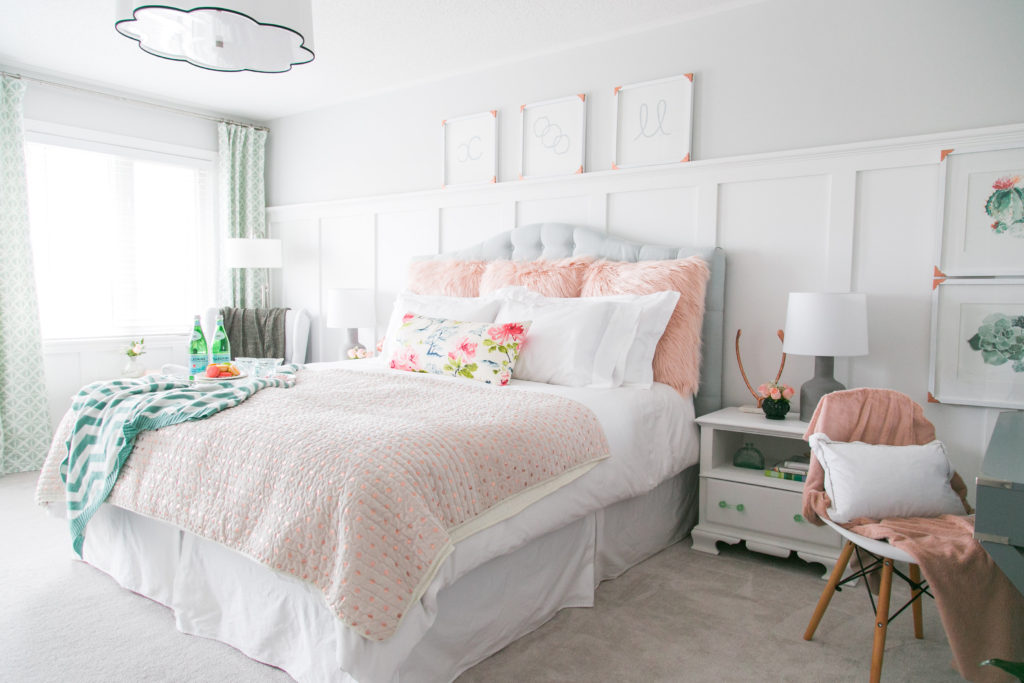 But here's the problem, I ALWAYS seem to underestimate how long a job will take to do. I always think it will be done faster. But that's just not the case when you have other variables entering the equation. So all of the construction aspects took longer.
The paint was also a huge stress for us. Because we were dealing with a supplier and paint being delivered straight from a warehouse, we had to wait until it showed up on our doorstep, rather than running out to the store and grabbing some cans. There were two to three major delays and issues with the paint, and so in the end, we painted the room the LAST week of the challenge! That means that EVERYTHING else that had to be done and set up had to wait until after that paint as well.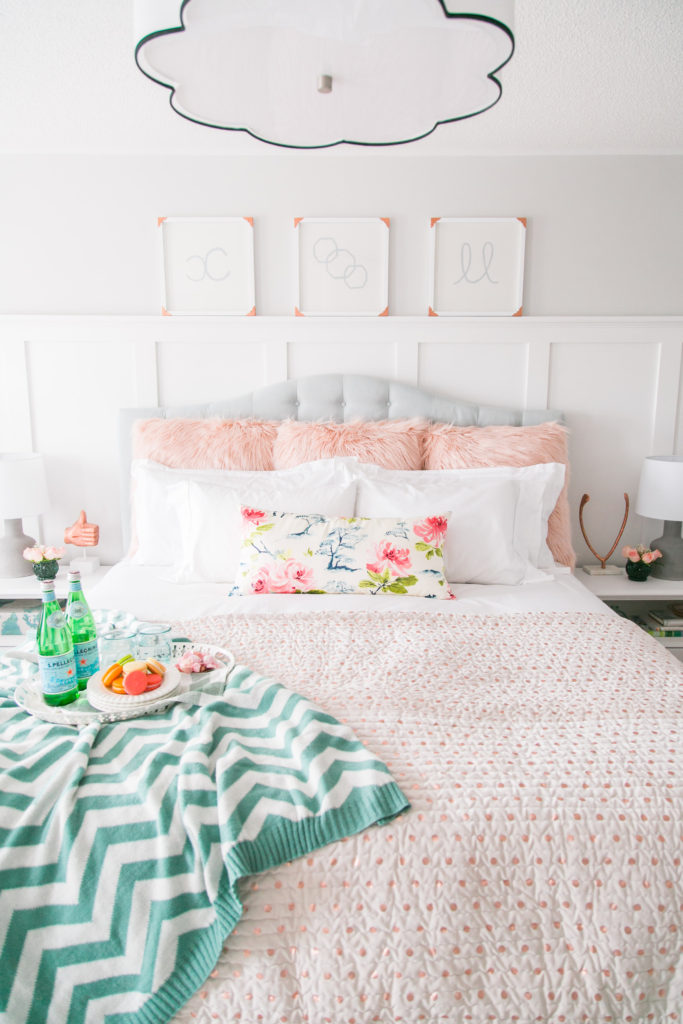 As best as you can, make sure to have ALL of your supplies on hand before tackling a project, especially one that is on a tight timeline. This will save you not only time but a lot of stress!
On the flip side of that, because I had to wait on the paint, I ended up doing a lot of the smaller projects ahead of time. This meant that once the room was finally ready to be set-up, it went really quickly, which was awesome!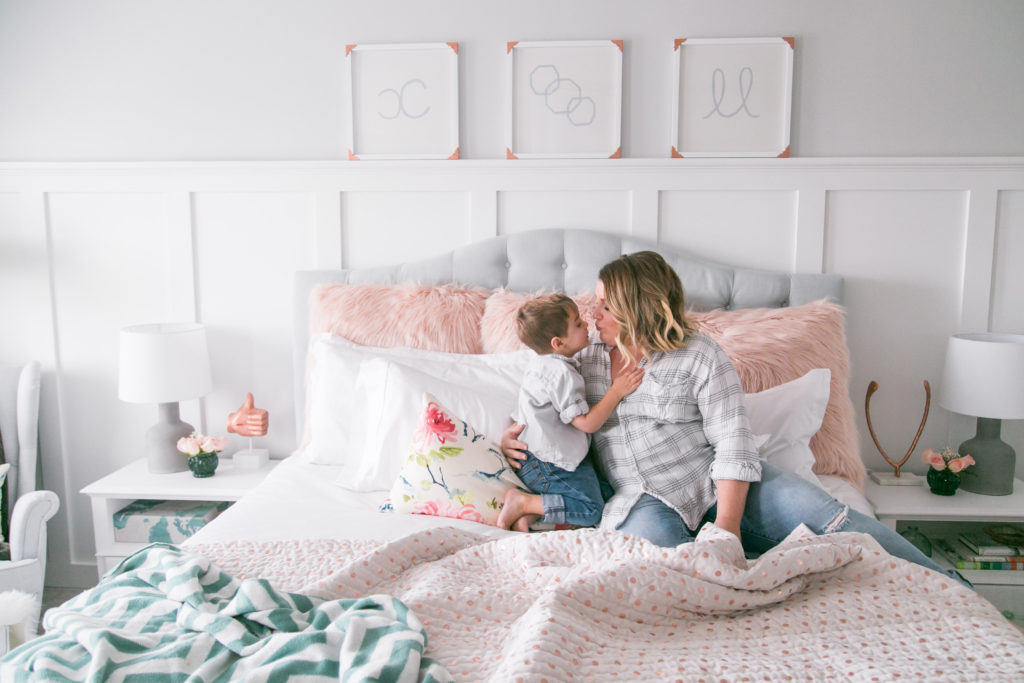 So there you have it, my reflections on our master bedroom makeover, including some good and not-so-good moments during the design process that changed the course of this final room.