Our home decor style has changed SO much over the last few years. We used to have a super colorful home spanning from green and yellow walls in our playroom to red in our bedroom and blue in our kitchen. Maybe a tad too much color.
When we moved to our current home, we decided to go for a more minimal approach and really toned down the colors while opting for more whites and light greys. I wasn't always a fan of those color choices, but recognizing how much sophistication and class can come from a room that is really neutral while letting the pops of color be the decorations.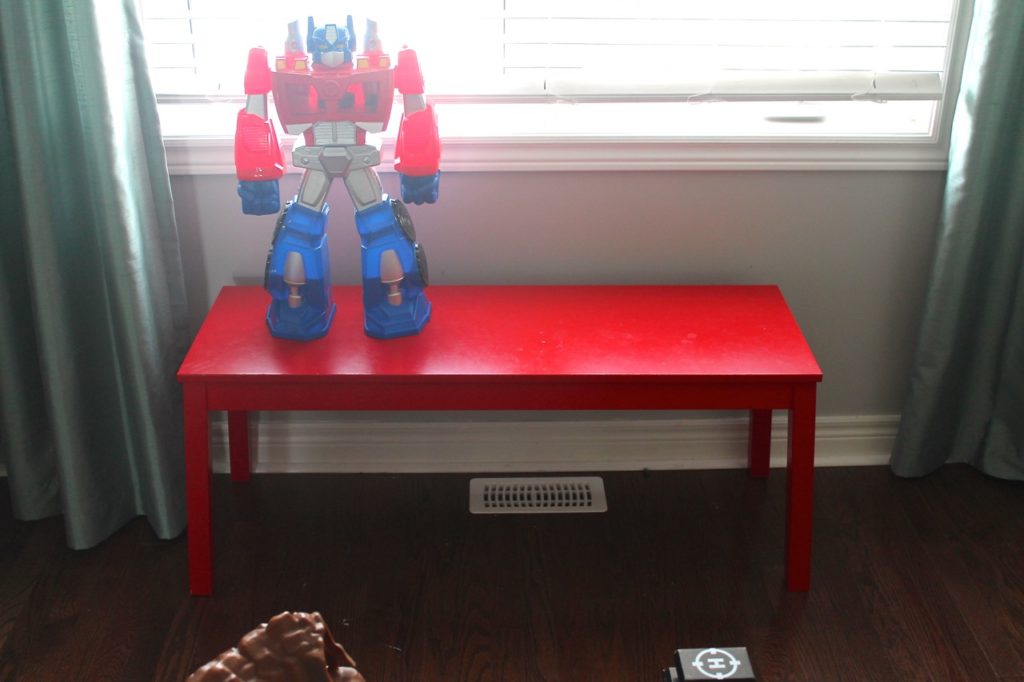 Recently, we switched our playroom and our office space. We originally had the kids playroom in the den on our main floor and then had our offices set up in the extension of our living room (which is a very long and somewhat narrow space). We made the switch primarily because as my blog has continued to grow, I need more space for all the various PR packages I am sent, to the many projects that I'm working on. So having my office in a closed off space made more sense.
We haven't quite finished off the the spaces but one thing we've noticed is that the kids playroom apparel no longer fits into our living room space. Since we had the green and red decor in their old playroom, we had kept it in this home. But because it was in the den, it still worked. Not so much now that it's part of our living room.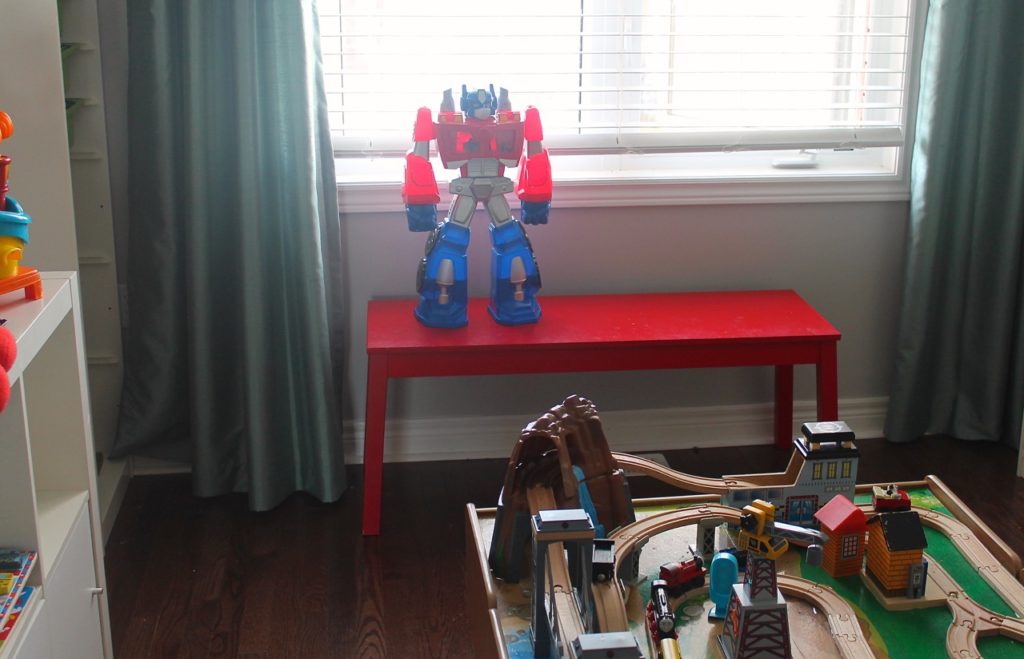 We plan to build a built-in desk under the window for the kids to do their crafts and homework, so we knew that bench wouldn't be staying there long term. So this week, I decided to give our red bench a fun makeover and put it into my office space.
I wanted to show you you can do a fun and relatively easy DIY project using wallpaper OFF the wall! Traditionally we think of it just as a product for walls, hence the name "wallpaper." But there are so many different applications in which you can get creative and really bring a smaller piece to life with a small piece of wallpaper.
So let's get started!
DIY Bench Makeover with Wallpaper
Step 1: You Need a Plan & Supplies
Come up with your idea for you DIY makeover project and gather your supplies. For me, I had the paint already from our kitchen and simply needed some wallpaper, which I was able to find at Wayfair.ca.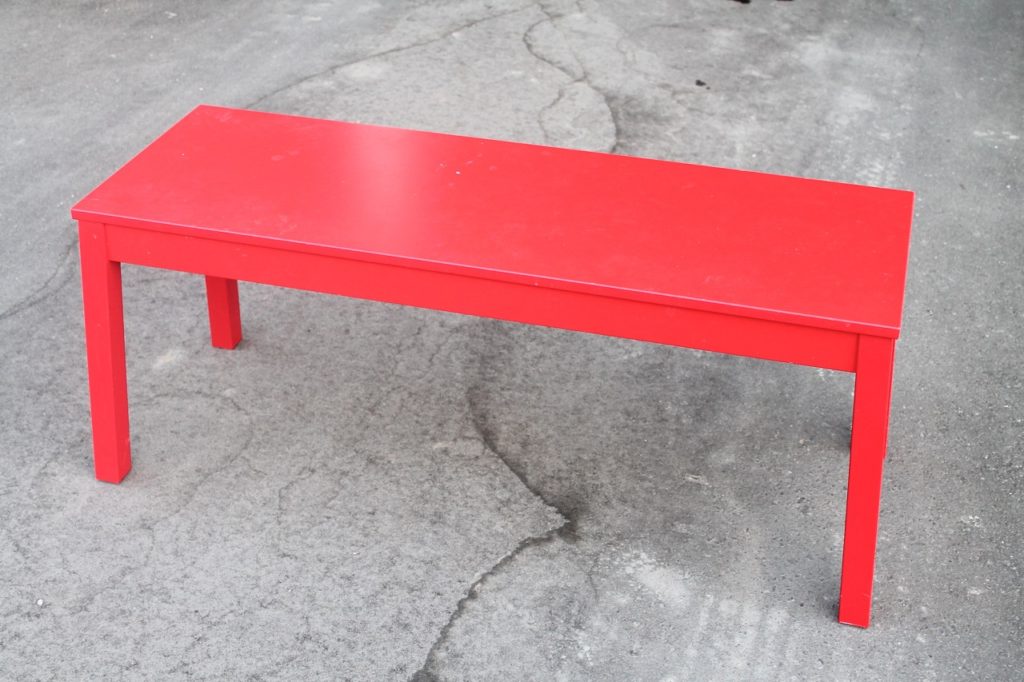 Step 2: Clean & Sand Your Item
It's important that you wipe down your item, in our case, the bench to make sure it's cleaned. Then you want to use a palm sander to try and strip down as much of the original finish as possible. This will make it easier for the paint you use, to really adhere to the surface.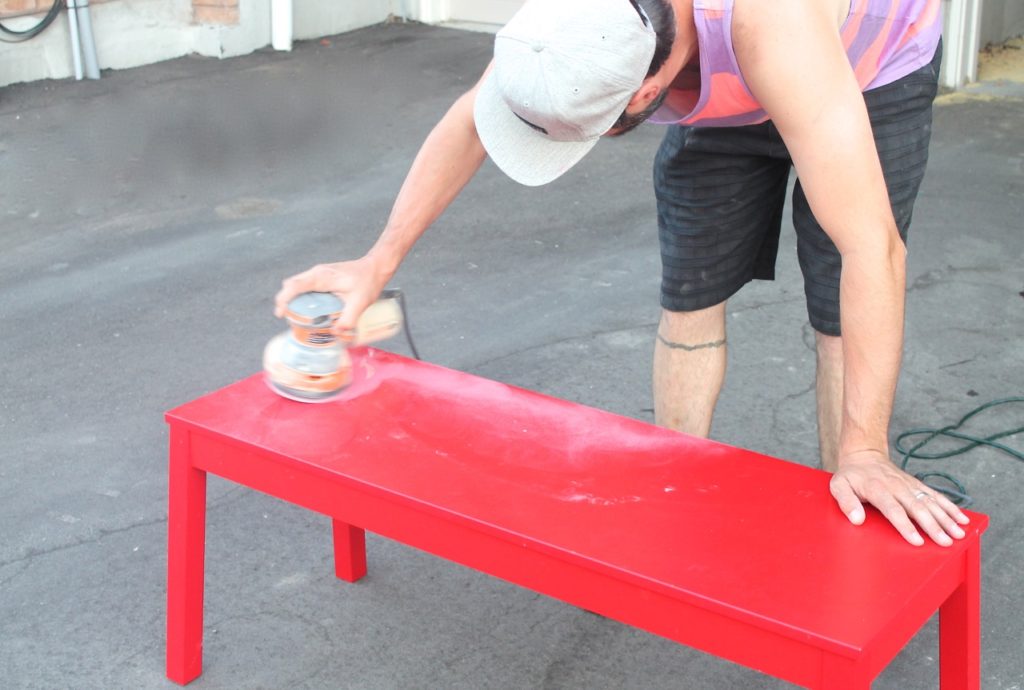 Step 3: Paint, Measure, Glue and Stick
Once your piece is sanded down, you will need to give it a very good wipe down again. There will be loads of dust particles still on the surface that you don't want on there once you paint.
At this point, you will start painting the piece. We did a base coat with Para Paints "Superstick" paint. Once that dried, we painted two coats of Para Paints Premium paint called "Out for a Stroll."
Then you want to measure out the piece of wallpaper you are using. We left overhang on all sides because we wanted to go in with an exacto knife at the very end and trim it to the perfect fit.
Once your piece is measured, remove it and spread wallpaper paste all over the surface with a paint brush or roller. Make sure to get an even coat so that all surfaces will stick.
Finally, carefully place the piece of wallpaper in the exact spot that you want it. You will be able to move it around somewhat once it's down, before it dries. Make sure to line up any pattern so that it's straight and centered.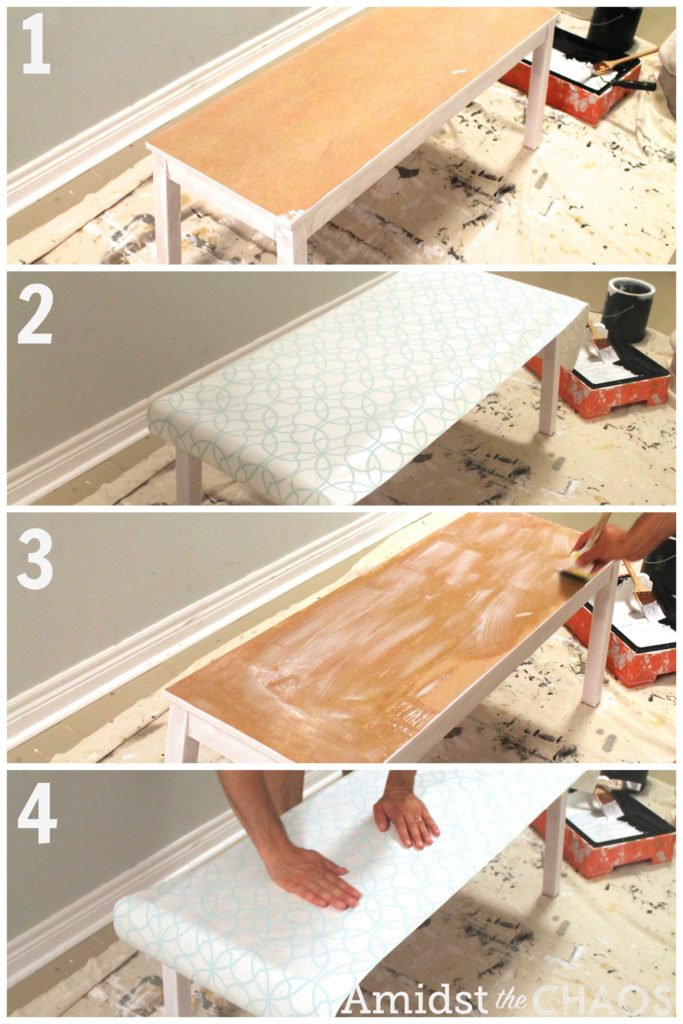 Once the entire piece has dried, go through with a sharp knife and clean up the edges of the wallpaper. And just like that, your piece is finished!
Here is a look at our finished bench makeover, which goes perfectly in my new office space!